The INNOVA SDS50 is a diagnostic tool created with care by tech, specially tailored for home mechanics. In our week-long evaluation from October 12 to October 19, 2023, we discovered that it's ideal for DIY enthusiasts. Its user-friendly features and excellent support from tech experts based in the USA make it a must-have for home mechanics who seek accurate and detailed vehicle diagnostics.
While it excels, there are limitations, such as limited active tests and special functions support on certain car models. In comparison to products like XTOOL D7, it lacks ECU coding and key programming. Nevertheless, it remains a worthwhile and versatile choice for the majority of DIYers. 
For in-depth insights, read on!
Testing Records
| | |
| --- | --- |
| Tester | Jeff Kreen |
| Test period | One week (Oct 12 - Oct 19, 2023) |
| Vehicles tested | 2008 Chevrolet Trailblazer 4.2L; 2014 Chevrolet Silverado 4.3L; 2006 Ford Expedition 5.4L; 2016 Toyota Tundra 4.6L |
| Functions tested | Read and clear codes; Freeze frame data; Live data; Service functions; Bi-directional Controls |
Overview
Price range: $200 – $500
Target users: Home mechanic
Overall score: 8.6
Pros
Full-system diagnostics
RepairSolutionsPRO app (exclusively for INNOVA SDS50 and SDS43)
Bi-directional control
Live data of many systems (including ECM/PCM, TCM, ABS, and SRS)
16 workshop tools
Ergonomic design
US-based manufacturer
Cons
Not very sensitive touchscreen
Live data works wrongly sometimes
Reports are not received by RSPro sometimes
Performance: Enhanced Diagnostic Capabilities
Performance Summary
| Product | INNOVA SDS50 |
| --- | --- |
| Performance Rating | 8.5 |
| Code Reading Time | 3-10s |
| Supported Systems Diagnostics | All-system network scan |
| Bi-directional system tests | Support for the top 7 brands (Ford, GM, Toyota, Fiat/Chrysler, Honda, Nissan, Hyundai/Kia) |
| Live Data Retrieving Time | ~6s |
| 10 OBD2 Modes | ✓ |
| Serviced Functions | Up to 16 workshop tools |
Read and clear code
The INNOVA SDS50 not only scans codes from the engine but also supports other systems like transmission, ABS, and SRS modules, and more. 
You can access the engine diagnostic by choosing the OBD2 diagnostics button. On the other hand, if you need to scan codes from other systems, you can press the "OEM Diagnostics" instead.
One significant advantage of the INNOVA SDS50 is its well-organized code scanning results display. When you get codes, there's an I/M readiness result on the side, along with LED colors indicating your car's health. This helps you determine if your car could pass the emission test or not. Additionally, below the codes, there's a button to retrieve freeze frame data to understand the issue better. Other functions like rescanning DTC and live data also appear on the screen. Everything you need is available at a glance, making it super convenient.
RepairSolutionsPRO
What sets SDS50 apart is its dedicated app, RepairSolutionsPRO, designed exclusively for INNOVA SDS43 and SDS50. With RepairSolutionsPRO, you can easily discover common fixes, check safety recalls, Technical Service Bulletins (TSBs), and predicted repairs.
RepairSolutionsPRO goes beyond just providing repair insights. It allows users to create three types of reports: Diagnostic Report, Collision Industry Report, and Service Writer/Service Manager Customer Report. These reports can be customized and sent to customers when they need. For instance, if a customer requires a collision report for their insurance claim, RepairSolutionsPRO can generate it. This feature is highly beneficial for home mechanics and even auto shops, especially if their needs are encapsulated within the functionalities provided by the INNOVA SDS50.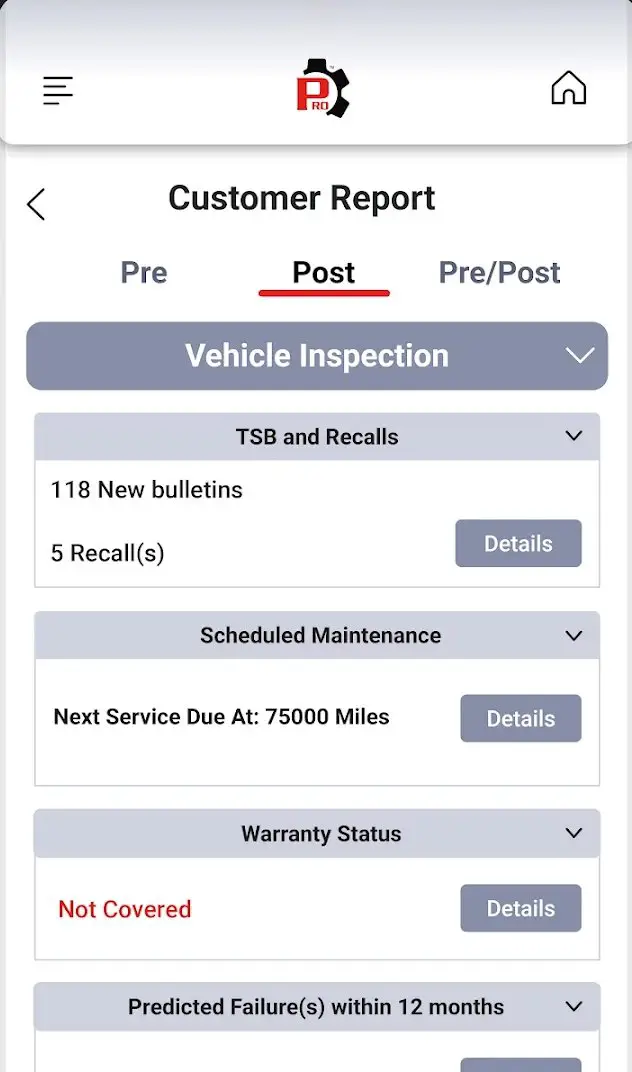 Additionally, the reports provide scheduled maintenance information, keeping customers informed about their next service. This feature ensures the vehicle stays in excellent condition and boosts customer retention by encouraging them to return to your shop. During our Tundra test, the app reminded us of the next maintenance at 115,000 miles, ensuring optimal performance.
Bidirectional controls
A bi-directional scanner goes beyond a regular OBD2 scanner. It not only retrieves data but also allows you to send commands to your vehicle's systems. This means you can actively test and identify issues. Fortunately, the INNOVA SDS50 offers bi-directional control, letting you perform tests and access special functions for Engine Powertrain and Transmission modules in top brands like Ford, GM, Toyota, Fiat/Chrysler, Honda, Nissan, and Hyundai/Kia.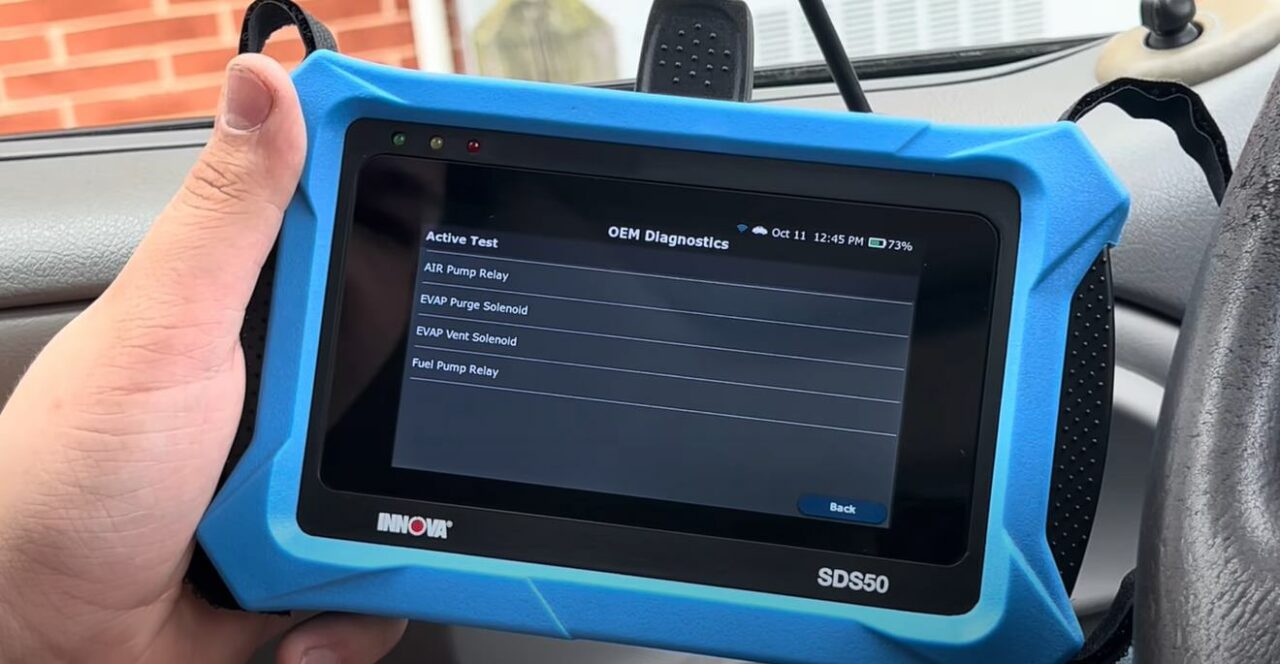 If you're a DIY enthusiast and know how to make use of these functions, it can save you a lot of time and money. Specifically, during testing, we performed an EVAP Purge Solenoid active test on our '08 Chevy Trailblazer. All we had to do was use the buttons on the screen to control it and then inspect the solenoid's operation to check if it was still closed for the required duration.
Without this scanner, we would have had to remove the solenoid and use a vacuum pump to test if it was leaking or not. Doing these tasks would have taken a lot of time and effort.
Live data
Using the INNOVA SDS50, you can see the live data from various systems like ECM/PCM, TCM, ABS, and SRS, based on the manufacturer's specifications. However, not all vehicles are compatible with the SDS50 for viewing live data from all systems. This depends on your car's make and model.
For example, we conducted tests on the four vehicles mentioned. Out of these, three cars, namely the 2008 Chevrolet Trailblazer, 2014 Chevrolet Silverado 4.3L, and 2016 Toyota Tundra 4.6L are supported for retrieving data from all systems using the scanner.
Based on our experience using OBD2 scanners, we find that the refresh rate during live data readings of this product is quite good. What we appreciate is that we can visualize the data in graphs. You have the option to view the graph in different ways, such as a single graph, multi-graph, or merged graph. 
Moreover, you can customize the parameters you need for easier monitoring. This is an advantage compared to XTOOL D7, which lacks this function. Sometimes, we have to scroll through many items just to get some basic fuel system readings while using the D7.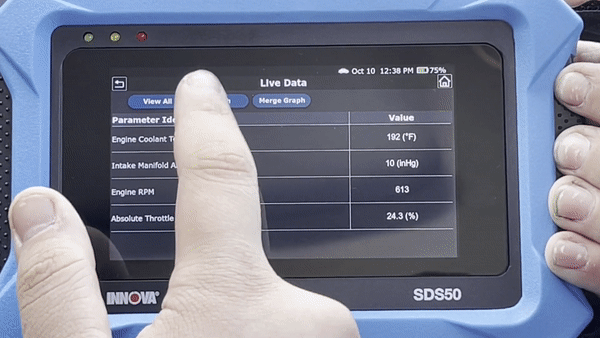 However, on a few occasions, this function didn't work as expected. Even when we retrieved live data with the engine on, the graph remained still. We weren't sure whether there was a problem with the car or if there were issues with the scanner itself. Nonetheless, this occurrence is rare, and if it happens, you can turn the scanner off and on again or unplug and reconnect it to the OBD port to restore normal operation.
Read more: XTOOL D7 Review: Real-hand Experiences You Need
Workshop Tools
The INNOVA SDS50 can perform up to 16 workshop tasks like resets, relearns, self-tests, and calibrations. However, not all vehicles support all 16 tools. The number of supported functions depends on your vehicle's make and model. So, if you're a home mechanic or only need specific functions for certain cars, you can use the site's coverage checker to see which workshop tools are supported for your vehicle.
For example, our 2014 Chevrolet Silverado supports three workshop tools: Oil Light Reset, ABS Bleeding, and Steering Angle Reset. On our 2008 Trailblazer, only two functions are supported.
Currently, the variety of workshop tools supported for different cars is limited. We hope this will be updated soon.
Vehicle Coverage: Wide Range of Compatibility
The INNOVA SDS50 covers all vehicles from 1996 to the present, including battery electric vehicles (BEV), hybrid electric vehicles (HEV), and plug-in hybrids (PHEV).
Although this scanner works for most cars in the market, the number of active tests, special functions, and workshop tools supported can vary depending on your car's make and model.
We've tested this product on several cars to check compatibility and the supported functions for each model. Below are the cars we used during the testing process and the results:
| | 2008 Chevrolet Trailblazer 4.2L | 2014 Chevrolet Silverado 4.3L | 2006 Ford Expedition 5.4L | 2016 Toyota Tundra 4.6L |
| --- | --- | --- | --- | --- |
| Full-system code reading | ✓ | ✓ | ✓ | ✓ |
| Live data | ECM, SRS, ABS, TPMS | ECM, TCM, SRS, ABS, TPMS | ECM, SRS, ABS, TPMS | ECM, TCM, SRS, ABS, TPMS |
| Bi-directional control | ✓ | × | ✓ | ✓ |
| Workshop tools | Oil light reset và ABS bleeding | Oil light reset, ABS bleeding and Steering angle reset | Battery reset, ABS bleeding and Steering angle reset | Oil light reset and ABS bleeding |
As you can see, Different car models support different functions. Therefore, always check your car's compatibility before buying.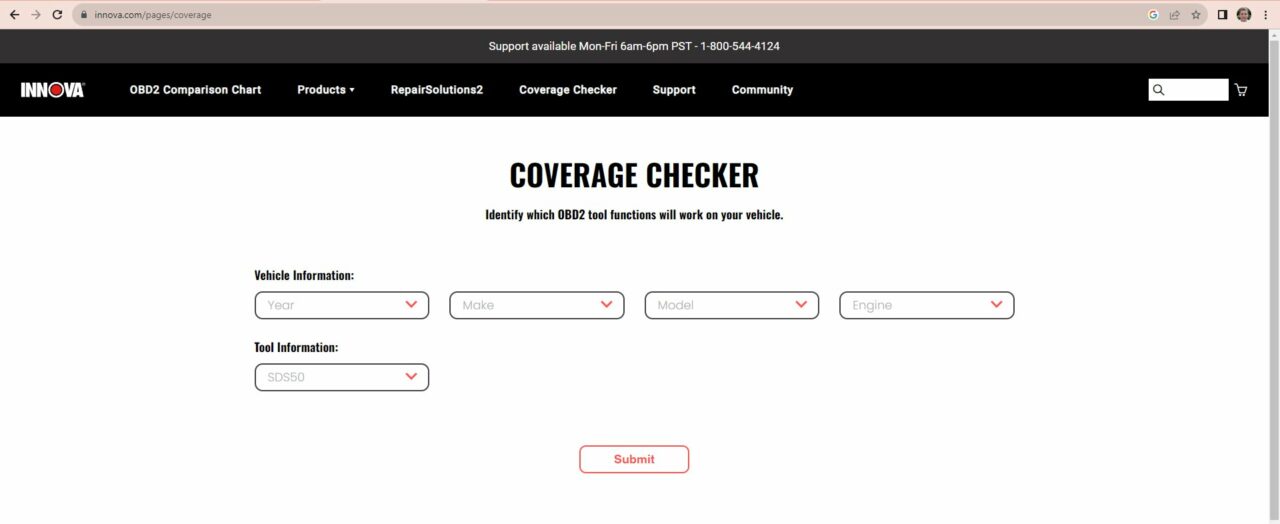 Ease of Use
The SDS50 features an ergonomic design and uses a rubberized outer layer for a secure grip. Since tablet scan tools tend to be quite heavy, the company has thoughtfully added two straps to allow you to hold the device effortlessly and prevent accidental drops.
Regarding the interface, as mentioned earlier, everything is well-organized. You can easily access the product's functions quickly and conveniently. This product is designed for effortless navigation through Innova's patented software, featuring OEM, making the user experience smooth and intuitive.
After-sales Services
INNOVA products come with a one-year warranty, shorter than competitors like XTOOL D7's 3-year warranty. However, after the initial purchase, INNOVA offers free updates for the SDS50, unlike Autel MK808, which charges $125 annually after two years. This makes INNOVA SDS50 more cost-effective in the long run.
Another notable advantage of the SDS50 is its efficient tech support. INNOVA, being a USA-based company, sets them apart from many other scan tool companies based in China. This difference is reflected in their prompt and timely tech support. We contacted them via email with some queries, and they responded within 6 hours during weekdays. This quick response time is crucial in ensuring a positive customer experience. Additionally, their excellent customer service for returns and exchanges adds significant value to their products.
Read more: Autel MK808 Review: A Reliable and Affordable Bi-directional Scan Tool with Key Programming
Durability
The SDS50 is equipped with a rugged 5-inch drop-tested screen. The inclusion of this toughened screen is well-suited for the demanding environment of a mechanic shop.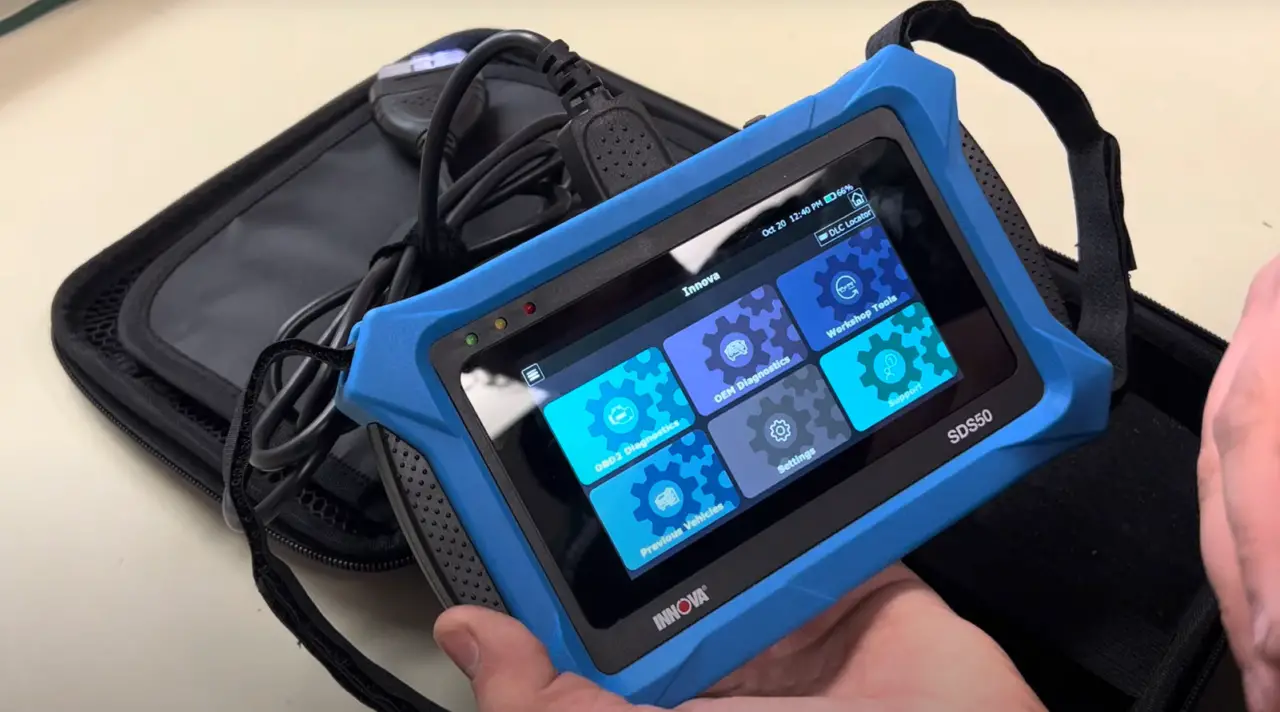 Additionally, in terms of its external build, we find the product to be exceptionally robust. In this regard, we highly appreciate products from INNOVA and especially this new SDS series. These designs enhance the product's durability, allowing you to use it for a very long time.
BlueDriver
Final Thought
With the features of the INNOVA SDS50, we believe this product is suitable for home mechanics. It offers many shop-level functions, and the unique aspect is that it has dedicated software, making information organization more logical and convenient. However, compared to other scan tools on the market, it still has some limitations when it comes to service functions, active tests, ECU coding, and key programming. We hope that future updates can improve these aspects of the product.
If you find this article helpful or have any questions that need clarification, please don't hesitate to comment below. We'll be here to support you.