A reader named Jimbo sent me this message last week.
"I plan to buy an XTOOL D7. However, I am tired of fake reviews and false advertising everywhere. I can't tell what is true and not true. I'm not sure if I should buy it. Can you give any opinion on this product?"
So the problem is, this man couldn't find any reliable review of XTOOL D7. He could not make a decision yet. 
I know he's not the only one struggling. 
This review is the solution. No promotion here, only real tests and opinions.
Scroll down if you want to know:
if XTOOL D7 does exactly what it says on the tin
XTOOL D7's performance testings on 15+ vehicles
things that XTOOL D7 can and can not satisfy me
other customers' thoughts after purchasing
the benefits you can get from XTOOL D7
two XTOOL D7's alternatives
Bet that your purchase decision will become easier than ever after this post.
Let's dive right in.
Key Features: 
Here are some key functions of XTOOL D7:
Bi-directional/ Active Test,
Key Programming,
Live data & graphs,
OE Full System Diagnostics,
36+ Special Functions.
Obviously, you'd want to know if these functions work well in real life. Let me quickly walk you through my real-life experiences.
My First-hand Experiences
1. Vehicle Coverage:
I have tested XTOOL D7 on 16 different vehicles, namely:
2001 Toyota Camry
2011 Prius
1997 GMC Sierra 1500
2001 Ford Ranger
2016 Ford Mustang
2009 KIA
2000 Sienna
2018 GMC Acadia
2019 GMC Acadia
2018 Jeep Grand Cherokee
2020 Subaru
2009 Acura
2005 Dodge
2005 Toyota Tundra
2019 Ford F350
2018 Nissan Sentra B17
It turned out that, this tool couldn't perform all the listed functions on all vehicles:
Bi-directional function didn't work on the 2009 KIA.
Key programming didn't work on the 2001 Ford Ranger, and  2018 Nissan Sentra B17
ABS Bleed function didn't work on the 2005 Tundra, and 2000 Sienna
Only read basic codes on the 2005 Dodge and 2018 GMC Acadia
For the rest of the list, XTOOL supported all advertised functions
So if you have any favorite function in mind, I recommend doing a compatibility check. Here's the feature coverage list.
2. Ease Of Use and Durability:
Of course, I had no trouble using this all-system scan tool with my mechanical knowledge.
But for beginners? 
To be honest, it will be pretty harsh at first. There are many options on the menu display. Sometimes you must go through more than five steps to perform a function. However, be patient. It only takes a few uses to learn.
And if you aren't clear about anything, ask for assistance. I'm talking about the "remote control" in the main menu. Click this, and XTOOL's staff will help you in minutes.
They also offer you remote diagnostics via that "remote control." XTOOL is king when it comes to customer support.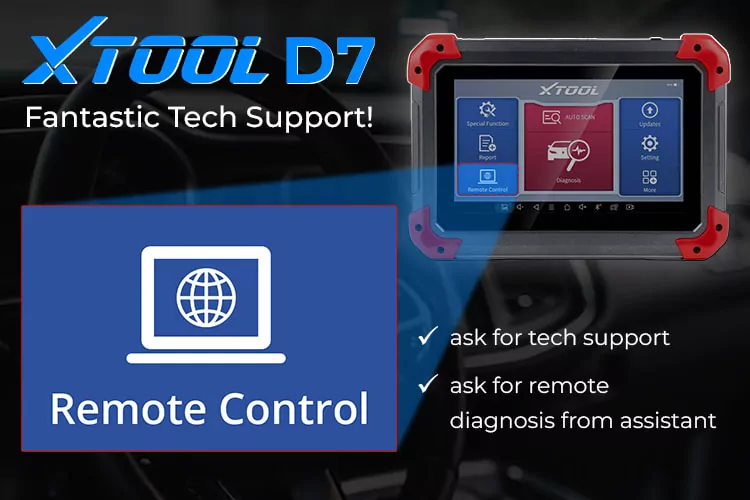 Now it's time for the bad side:
XTOOL D7's battery life is not good. It's still fine during use. It can last about 1-2 hours.
But the battery will quickly drop when you put it in sleeping mode. I forgot to charge this scanner once, and it dropped from 95% to 0% after two days without any use.
If you don't mind charging the scanner most of the time, it's OK.
3. Functionality and Accuracy
Active Tests: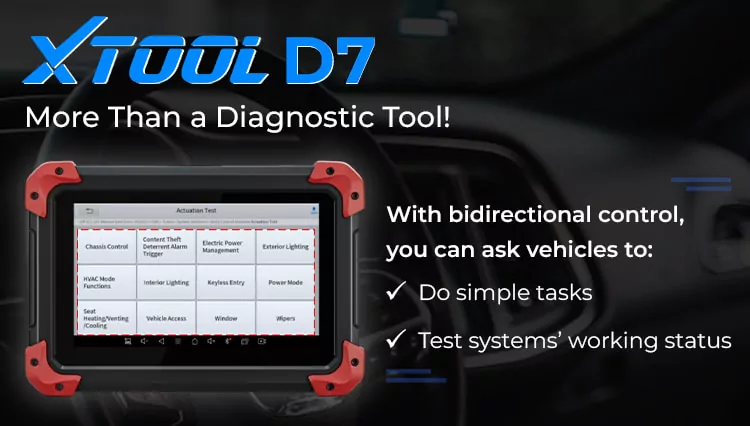 Only dealerships and repair shops need to do these advanced tests?
It's a big mistake!
If I were you, I'd deny paying the repair shops $500+ to test my fuel injection. I'd rather do it myself, XTOOL D7 can help with it, and more. 
With this bi-directional scanner, you can ask your vehicles to
Do simple tasks (raise/ lower windows, operate fans, wash the windshield, etc.)
Test systems' working status (test cooling fan, cycle the ABS pump, recalibrate HVAC Actuator, turn fuel injection ON/OFF, etc.)
Let me be clear. 
Want to cycle the ABS pump manually?
Then you have to:
jack up the car
remove four wheels
drain the brake fluid
loosen the bleeding port
reverse the brake fluid
pump the brake continuously
tighten the bleeding bold
repeat the process on each wheel
But with the help of XTOOL D7, all you need to do is:
connect with the scanner
ask the scanner to cycle the ABS pump
let it do the rest
It's like a whole new world.
Last time when I did this function on the 2018 Nissan Sentra B17. The brake system didn't respond. I knew there was a problem and did some fixing.
It's why bi-directional control is important for car maintenance. This function of XTOOL D7 makes troubleshooting problems much faster and easier.
Key Programming
Key programming is where the money at. Here's why:
If you go to the dealers, they will ask you for at least $300 for ONE key.
But with XTOOL D7, you only need to spend under $500 for NUMEROUS extra keys for NUMEROUS cars.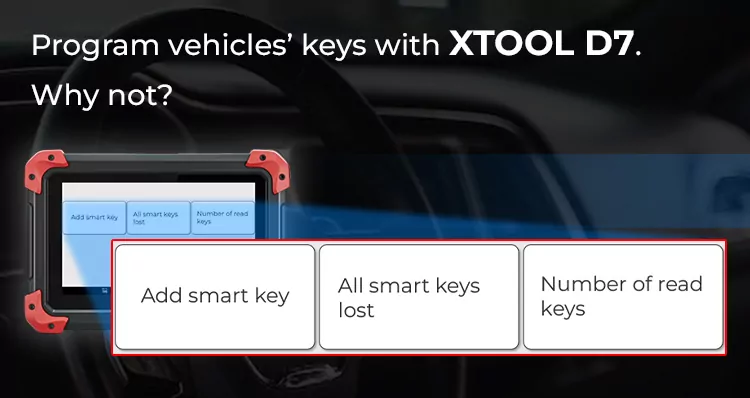 What can you do here?
add remote keys
replace lost or damaged keys
delete lost keys
I had programmed a bunch of keys with this scanner. So far, so good. It only takes me under 10 minutes to program any key.
Live Data
Live data must be one of the best bets. 
XTOOL D7 will keep up with everything that's going on with your vehicles. The amount of information XTOOL D7 covers gets me surprised. I can read the value of almost every system.
Can this scanner graph data?
Of course.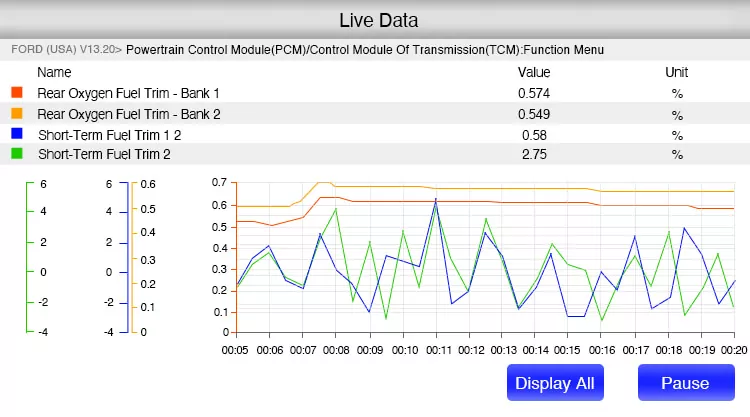 I will give you one real-life advantage of this function:
Last week, I used XTOOL D7 to check the live data of a 2019 Ford F350. It turned out that the Transmission Oil Temp was 242 degrees. 
What would happen if I didn't know and fix that immediately?
The seals and clutches would burn out; carbon would form, and, ultimately, break down.
But XTOOL D7 has helped me avoid all those situations.
That's it; live data shows all systems' working conditions, in real-time.
However, It would be better if XTOOL D7 groups some of the live data. Sometimes, I need to scroll through many items just to get some basic fuel system readings.
Diagnostics and Advanced Functions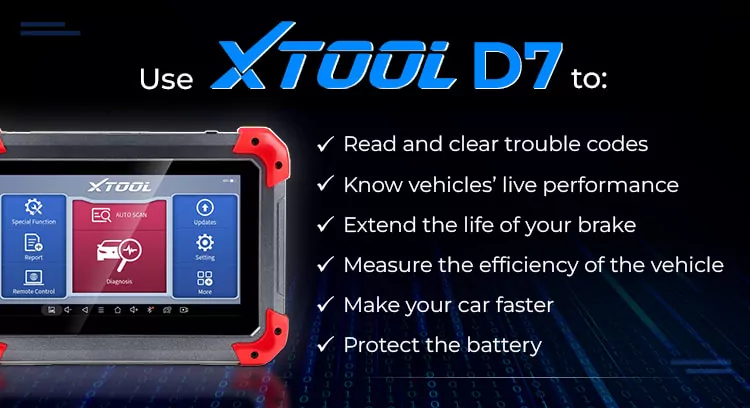 XTOOL D7 offers two types of scans: "Diagnosis" and "Auto Scan"
The "Auto Scan" must be quicker and easier. You do not need to do anything here.
Unfortunately, it may not work on your vehicles. Then you must input things manually with the "Diagnosis". Have to say that it is pretty annoying.
Anyway, XTOOL D7 still works excellently on reading and clearing codes. Nobody buys a $500-dollar scanner just for these kinds of things, though.
XTOOL D7 can offer much more than that. You can:
Extend the life of your brake with ABS Bleeding;
Measure the efficiency of the vehicle with Injector Coding;
Make your car faster with Throttle Relearn;
Protect the battery with BMS Reset;
Increase Horsepower with DPF maintenance;
And so on.
The downside is that I wish the menu would only show available functions, not everything.
Even if the feature appears on the menu, it doesn't mean the function is available.
For example, when I scanned the 2000 Sienna, it showed all diagnostics options. But when I chose "ABS Bleeding," it said "Not Available".
And there's only one way to know what functions are compatible:
Click on each function to check. 
What Are Customers Saying?

You can read 1,024 ratings yourself.
Or let me do it for you. Just read my summary below.
Positive comments:
There are 460 comments on XTOOL D7 with 4-star ratings or higher.
More than 50 reviews are related to its fantastic support. It makes sense. Few companies care about customers' experiences these days.
"Initial after sell support was excellent and when I have some issues learning to use the unit and other issues that cropped up possibly caused by the age of my vehicle, the tech support team led by Hannah was great! She arranged a time so that she and her tech support teammate were able to help me do diagnostic remotely.." – Bud bud
When it comes to customers' favorite function, key programming must be the one with 69 related reviews. They adore how much this function saves their wallet.
"I've been using the D7 for a couple months and I've been very impressed. On my 2011 Land Rover and 2012 Mini countryman it has given me access to full diagnostics and dealer level controls including programming extra keys. I couldn't be more happy with my purchase and look forward to using more into the future.." – Amazon Customer
Furthermore, customers are also satisfied with XTOOL D7's rich advanced features. They said it helps them save loads of time and money.
"I paid around $500 for mine. Spendy, but definitely worth it. The stealership wanted like $300 to get a new key fob programmed for my car.I said screw that and bought one online and eventually bought this thing. Saved $250 in labor by doing it myself. Yeah it took some time to figure it out but I was able to do it." – N. Jackson
Negative comments: 
There are 70 comments with 1-star or 2-star ratings.
Just like me, many customers feel horrible about XTOOL's poor battery life. 
"Battery life is EXTREMELY PATHETIC!!!!! . I can use it for 30 minutes and battery life will drop some 50%. I shut the system down properly with 75% Battery life. Went to turn it on about three weeks later and 0% battery. What the heck? This system has a serious battery drain in both examples." – wrandy407
Incomplete compatibility is also a big problem of XTOOL D7. This scanner doesn't support them with the function they need. Their purchase turns out to be a huge waste of money.
"this does do a lot of cool things, but even though it ranges alot of vehicles it doesn't do enough for older vehicles. i wanted to do a crank variation relearn for my 2000 silverado. however silverado is not even a vehicle i can do it on which is stupid as it's a popular truck. other special services only did models past 2014. I can understand some people not having this issue and it having even vehicle they need. but something like this should have the earlier obd II vehicles. it does have alot of updates that seem pretty regular. for me a used scan tool that can do more vehicles consistently was worth spending more than something i have no idea if it will work for any vehicle i actually need it on." – Nicole R.
Just keep in mind that a functional coverage check is super important. 
Check XTOOL D7's latest price:
Alternatives:
You may hesitate to buy XTOOL D7 because of its bad battery and imperfect compatibility. Then take a look at its two alternatives that can cover those issues.
#1 Autel Maxicheck MX808
Autel Maxicheck MX808 performs every function I love on XTOOL D7:
Bi-directional
Key programming
Live data
About tech support? Autel MX808 received 4.7 points for "tech support" on Amazon.
And this scanner has the same problem as XTOOL D7: incomplete functional coverage. Some functions do not work on all cars. Honestly, with a budget under-$500, finding a scanner with these advanced functions and full coverage is challenging.
So, what makes Autel Maxicheck MX808 different?
The battery. Autel Maxicheck MX808's battery life is much better. It can last 3-4 hours longer than XTOOL D7.
Check Autel Maxicheck MX808's latest price:
#2 XTOOL D8
If you were an experienced enthusiast, you'd probably look for a higher-end scanner that can work on most vehicles.
Consider XTOOL D8 – an upgraded version of D7.
So why does XTOOL D8 outperform its older sibling?
Firstly, XTOOL D8 offers broader vehicle and functional coverage. Well, wonder what I did when XTOOL D7 couldn't perform particular functions on some cars? I asked for XTOOL D8's help.
Secondly, this version has a 10000mah battery. It can last more than 7 hours of use.
And lastly, more advanced. XTOOL D8 offers vehicle customization, ECU configuration, etc.
Check XTOOL D8's latest price:
---
What's Next?
So that's it for my review on XTOOL D7.
Now I'd like to hear from you.
Which function of XTOOL D7 that you want to try the most? Bi-directional control or Key Programming?
Is your purchase decision easier after reading this post? If not, can you tell me the reason? 
Comment below.