At OBDadvisor, we have developed a set of specific tests to evaluate every type of OBD II scanner. After conducting these tests, our experts employ a method to rate each scanner. Here's a simplified breakdown of how we assess and rate scanners:
---
How We Test Scanners
Who are the testers?
Our team of testers consists of experienced technicians with extensive knowledge of the automotive and scanner industry. They have the expertise necessary to ensure that the scanner you choose is not only suitable for your vehicle but also value for money. Get to know more about our testing team here.
Our testing process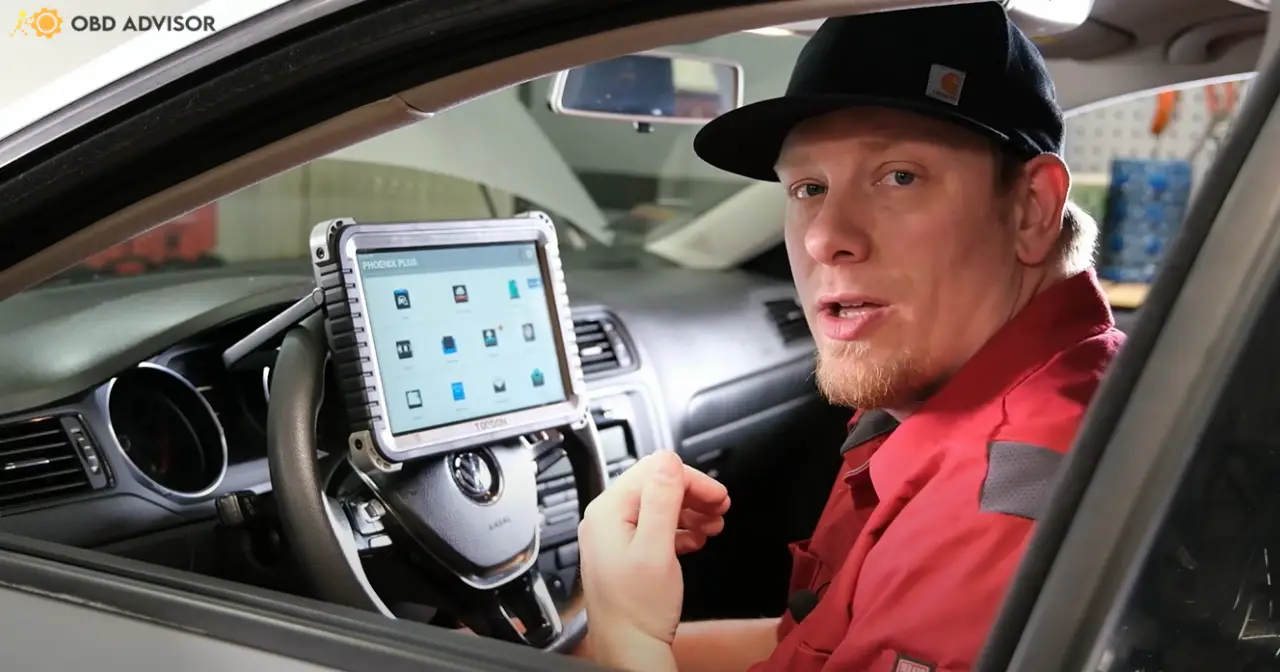 Research and select: We will research and choose the products to test based on our experience, and then we will buy the products from Amazon or from other sellers (sometimes the manufacturers give us products, but it will not affect our honest reviews)
Put on the test:
Our testers unbox the scanners and evaluate their design and quality. We connect each scanner to the vehicles, test their functions, and assess the menu layout. Multiple scanners (usually 5 to 7) are tested simultaneously on different vehicle types (up to 5) to provide detailed and comparative results.
We carefully evaluate the performance of each scanner and compare their strengths and weaknesses. This approach provides a complete understanding of their capabilities and limitations.
Our testing period lasts about two weeks, allowing us sufficient time to thoroughly evaluate the scanners beyond their initial performance. This duration ensures reliable and comprehensive assessments.
Reporting & Scoring:
Our testing team creates a comprehensive report that includes diagnostic results, test procedures, findings, opinions, and scanner details. We follow standardized criteria (How We Rate Scanners) for consistent and objective assessments.
Each scanner is scored by our testers based on standardized criteria. The scores reflect their experiences and opinions, considering both individual scanner performance and how they compare to others in the test.
Through this simplified testing process, we provide unbiased reviews and detailed reports to help you make informed decisions about the scanners we evaluate.
---
How We Rate Scanners
What is OBD Advisor Rating (OA Rating) ?
Our testers will provide honest and detailed opinions to offer comprehensive scanner reviews. However, evaluating and comparing scanners based solely on text reviews can be challenging. 
To make it easier, we have introduced an "OBD Advisor Rating (also called OA Rating)" This score is a combination of criteria that rates the most important aspects of each scanner. These aspects include
Performance (40%)
Compatibility (25%)
Ease of use (15%)
After-sales service (10%)
Durability (10%)
Rating Score Scale
| | |
| --- | --- |
| 8.5 – 10.0 | Excellent |
| 7.0 – < 8.5 | Fair |
| < 7.0 | Poor |
We recommend choosing scanners with a green OA Rating, indicating good and excellent quality scanners. Even if a scanner has a lower score in one aspect, as long as its overall score is good, we still recommend it. 
However, if a scanner has an OA Rating below 7.0, indicating poor quality, don't worry – we won't review or recommend that particular scanner after testing it.
How we rate each aspect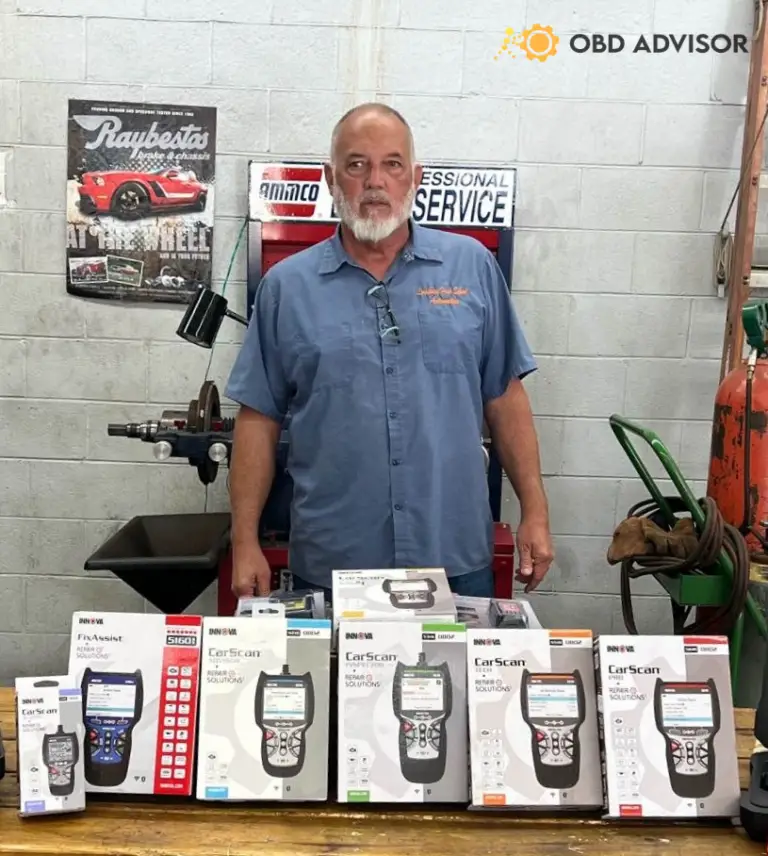 1. Performance (40%)
We evaluate scanners based on how well they perform overall instead of focusing on specific features. Our assessment involves analyzing various factors to determine how effective a scanner is:
Ability to handle multiple diagnostics and maintenance (considering its price range and level).
For example, if a scanner priced under $50 can accurately read engine codes, provide live data, and perform smog tests, it would receive a high score. It would be considered on par with a scanner priced over $1000 that offers advanced features like Topology Map or ECU Coding. 
We understand that low-budget and home scanners cannot be directly compared to professional scanners. Our evaluation considers what the scanner offers relative to its price and level.
Effortless and speedy performance
To evaluate this aspect, we will assess both the software and hardware of the scanner. We will specifically examine the processor's performance to determine its quality. Additionally, we will conduct tests by running various functions of the scanner to assess the speed of the loading process and how quickly the scanner can complete a task.
Capability to provide reliable diagnostic results and tests
We have the expertise to determine if the scanner is displaying accurate data or if it's just showing incorrect or irrelevant information. We will also conduct tests to ensure that using any functions of the scan tool won't harm your vehicle. Our goal is to provide you with reliable and trustworthy diagnostic results, and we take our profession seriously.
2. Compatibility (25%)
If a scanner performs well but doesn't support your vehicle, then its performance is meaningless. The same goes for a scanner with advanced features that are not available for your vehicle. This is why we prioritize the coverage of vehicles when evaluating scanners. We don't just test scanners on one vehicle but on many popular ones. 
We assess how compatible a scanner is with our sample vehicles and if it supports all the necessary functions. Different rating criteria and testing methods are applied based on the type of scanner. For instance:
For scanners designed specifically for one vehicle make (e.g. Ford), we test them on that particular make, including different models (e.g. Ford Ranger, Ford Focus, etc.). 
For professional scanners, our focus is on the availability of advanced functions across a wide range of vehicles. A professional scanner that only supports basic OBD2 functions or full-system scans will receive a low score.
3. Ease of use (15%)
Our evaluation is based on the perspective of a first-hand user rather than a professional. We assess factors such as
the user-friendly menu layout, 
straightforward navigation between functions, 
clear data presentation, 
connection type, 
comfortable cable (if it's wired), 
size and mass (some scanners are too bulky)
and the quality of buttons and touch screen.
4. After-sales service (10%)
After-sales service is crucial, especially in this diagnostic world. It is important to have support from the manufacturer to ensure that the scanner is compatible with your vehicle, and to obtain any needed information or solutions for any problems that may arise while using the scanner. Additionally, the affordability of a scanner is not solely determined by its price, but also by the availability of free updates and the cost of future updates. 
Regarding customer support, we assess its reliability, helpfulness, provision of information, and promptness (we consider a reply within 24 hours as being fast).
5. Durability (10%)
We determine the quality of the product based on our experience when holding and using it. We surely don't conduct drop tests or something like that. We assess whether the product is well-built or made of low-quality materials, whether it comes with a protective case, and if there are any issues with the scanner during testing.