An accurate and fast bi-directional scan tool is a must for any auto professional these days.
Whether you own a service or repair shop or are a DIY car enthusiast, you will want to find the best option available when looking to revolutionize your workflow.
We cover the best bi-directional scanners in every price category to help home mechanics and professionals conduct their work hassle-free.
Let's save you loads of time when performing simple to complex repairs and maintenance.
Choose the suitable type and go with me:
What is a bi-directional scan tool?
A bidirectional scan tool is a device that can send and receive information to and from a vehicle's onboard computer. In other words, it can request information from a vehicle's computer or send commands to the vehicle's modules. Those commands will make the module perform specific tests and functions. Ordinary scanners can only receive info from a car's computer, but they can't send orders.
Just in case you didn't know, an OBD scan tool is a device that pulls diagnostic data from a vehicle. OBD is short for onboard diagnostics. And it explains how cars work. Every car has an onboard computer that checks to ensure that its mechanical and electrical systems are working correctly. When a system fails, the car's computer detects that failure. It then records the issue in its built-in memory as a diagnostic trouble code (DTC or "code"). When you view that code, you'll know two things.
First, you'll know which system malfunctioned. It could be the engine, transmission, ABS, airbag, body component, etc. Secondly, you'll see whether it's a mechanical problem (a module, sensor, or similar component failed) or an electrical problem (open circuit, short circuit, power not reaching a module, etc.)
The thing is, you can only view those codes if you plug an OBD scan tool into the car. The scanner initiates a request from the vehicle's computer. The latter responds by sending the diagnostic data (recorded codes) to the scan tool. From there, you can view the DTCs on the scanner and figure out precisely what the issue is. At least that's what you can do with an ordinary scanner, i.e., view diagnostic codes.
On the other hand, a bidirectional diagnostic tool can display codes and send commands to the car. Hence the "bidirectional" property of it. For example, you can activate and pressurize the fuel pump by merely sending a command from the scanner to the car's computer. Similarly, you can use it to receive fuel pump codes like Error Code P0230. Thus, it will have sent a command and received information from the ECU.
Sending commands is also known as an "active test," actuator test, system test, or inspection test. It is necessary when you want to activate and control an onboard system remotely.
Recommendation – LAUNCH X431 V PRO – Top-rated bi-directional scan tool 2021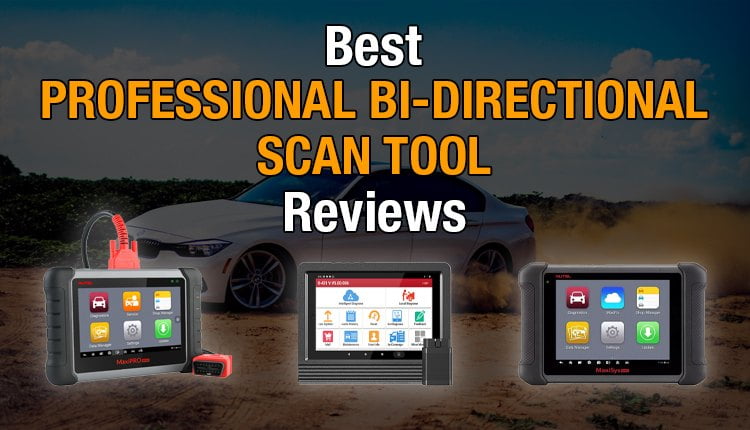 6 Best Bi-directional Scan Tools Comparison Chart (Editor's Picks)
Whether you're a professional auto technician or a home mechanic, I've got you covered. Check it out!!
Affordable Bi-directional Scan Tools for Home Mechanics
[Price range: $300-$700]
Bi-directional scan tools in the $300-$700 range are an excellent choice for DIY home mechanics who know their way around the engine, exhaust system, suspension, or airbag system. It helps you do your homework in that you can perform essential maintenance before heading to a dealer for issues that require complex repairs.
Now, with a bi-directional scan tool on the cheap, you get lots of valuable functions beyond what you'd get with an introductory code reader. Let's look at what's in store for you to help you choose between the INNOVA 5610 and Thinktool Mini affordable bi-directional scan tools.
INNOVA 5610
This scan tool is for advanced home mechanics or DIYers. This is because Innova 5610 supports basic and enhanced OE-level diagnostics. The scanner has all ten OBD2 modes. It can check why the engine light came up by giving you DTCs alongside their severity. So, if you're a DIYer, you can get on the repair as soon as possible or do it at a later time.
Apart from diagnostics, Innova 5610 can perform special reset functions. It is capable of steering angle reset and DPF regeneration. The scanner can also perform  ABS bleeding, electronic parking brake retracts, and battery reset and initialization.
The best feature about Innova 5610 is that it is bidirectional. It allows you to actuate components such that you can give a specific command to an element. This means you can retract an electronic parking brake or test the fuel pump on/off. And since it's pocket-friendly, the scanner gives you professional results without breaking the bank.
Well, the Innova 5610 scan tool does not feature very sturdy construction. Its plastic exterior can break if it's bumped around in a toolbox. I would have loved to see a storage case or bag for protection. It also does not come with a plastic film for the screen to prevent scratches during transport. 
In addition, this device does not have a printed manual. Instead, it comes with a 106-page PDF manual. You can also not update the Innova 5610 using your mobile phone. It requires a PC where you download the RepairSolutions Updater. Unfortunately, you have to buy a cable for the device to connect to the PC for firmware updates. 
Thinktool Mini
If you're a home mechanic looking for a tool that can diagnose a vehicle, you may want to consider Thinktool Mini. You'll have full system diagnostics at your fingertips as well as 28 maintenance reset functions.
Thinktool Mini can perform injector coding, key immobilization, DPF regeneration, and other functions only capable with a dealer-level device. As for advanced features, Thinktool Mini has bidirectional functions and can perform actuator tests.
This model also tackles brake pedal position learning, idle learning, enable/disable glow plug, among others. You'll be thrilled to know that Thinktool Mini is super-fast, thanks to its 4-core processor. It also has a responsive touchscreen and operates on Android 10.0.
On top of that, Thinktool Mini supports both Bluetooth and Wi-Fi connectivity. Plus, it can generate a diagnostic report after finishing a diagnosis. Hence, you can share it with other mechanics or customers for better communication of results.
Looking at the Thinktool Mini, I found that it can easily become expensive in the long run. It does not come with software for a specific vehicle brand. If you need vehicle-specific software, you'll have to pay a yearly subscription. The same goes for the bidirectional function since you have to update the device and pay for the feature.
Top 2 Affordable Bi-directional Scan Tools for Home Mechanics Comparison Chart
*Notes: Excellent: 9-10; Good: 7-8; Fair: 5-6; Poor: 3-4; Very poor: 1-2
Which to Pick: INNOVA 5610 or Thinktool Mini?
Let's compare Innova 5610 and Thinktool Mini before buying!!
Bi-Directional controls
Both the INNOVA 5610 and Thinktool Mini provide advanced functionalities. You can manually test actuators on both scan tools. However, on the Thinktool Mini, this feature is optional.
In particular, you have to update the Thinktool Mini to access active actuator tests.
Nevertheless, you can send commands to perform diagnostic self-tests and enable functionality for operating electronic parking brakes, injectors, and fuel pumps on both devices.
System diagnostics
The INNOVA 5610 and Thinktool Mini are more advanced than common scan tools. These devices can perform OBD2 diagnostics on all major systems, including the engine, transmission, ABS, and SRS.
Both devices are Bluetooth scanners that give you enhanced data stream and real-time readings of live data in either chart or graph form.
They allow you to retrieve diagnostic trouble codes and any freeze-frame data, after which, you'll be able to clear the Check Engine Light.
You'll like that the data can be recorded and played back if you want an in-depth analysis on the Thinktool Mini which makes it a better option over the INNOVA 5610.
Advanced service functions
The common repair functions on these diagnostic tools include oil reset, battery maintenance, ABS bleeding, EPB retract, DPF regeneration, and SAS calibration. The Thinktool Mini adds 24 other reset functions meaning it's a more advanced scanner than the INNOVA 5610.
In addition to the six reset functions above, you can also perform sunroof reset, injector coding, gearbox reset, suspension reset, and many others. It's a big help in performing resets after significant repairs.
Coding/Programming
You won't modify the ECU settings with the INNOVA 5610 or perform any sort of programming. But with the Thinktool Mini, you can activate the ECU coding feature by paying a yearly fee.
However, on the Thinktool Mini, the device does not support TPMS programming despite supporting TPMS reset as one of its advanced service functions.
Vehicle coverage
The best thing about these automotive scanners is their comprehensive vehicle coverage. Both tools are compatible with foreign and domestic SUVs, cars, light trucks, and hybrids made from Jan 1996 and newer.
The INNOVA 5610 can also support older vehicles with an OBD1 port. But you have to buy an adapter for the OBD1 port to take advantage of the OBD1 protocols support.
Read more: Innova CarScan Pro 5410 vs. 5510 vs. 5610: Why many home mechanics bought them?
Affordable Bi-directional Scan Tools for Professionals
[Price range: $700-$1,000]
If you are looking for an advanced scan tool that will pay for itself in a short time, you may want to consider the Autel MP808K or the Launch X431 V Pro. Both are excellent scanners that will help you achieve steady and successful results in a cinch.
Autel MP808K
This device provides maximum reliability and convenience at a midrange price. It is still a full-system diagnostics scanner, so you can access all modules in a vehicle. It can read and clear DTCs and show you live data in graph form.
In addition, this scanner boasts bidirectional control. It allows you to perform various active tests such as pump motor tests, ABS automated bleeding, and checking ECU information.
I particularly like that it offers 23 reset and service functions. As such, it is capable of oil reset, BMS, ABS bleeding, and SAS calibration.
Autel MP808K is also useful for key fob programming. It allows you to either add a new key or disable lost keys. With this gadget, you can also access the MaxiFix online community for a database of proven fixes and repair tips.
Autel supports the MP808K with a year of free updates. What's more, the company offers remote tech control support 24/7. So, no worries if you have any questions. The Autel team is always ready to help.
What I don't like about Autel MP808K is that it comes in a huge case that is super large to lug when you're doing house calls. In that case, you'll want to buy a small case or purse to ease transport. Also, you only get 1-year of free updates. After that, the updates are a bit costly, and they are vehicle-specific. If you opt to use the device without updates, you can't improve its capabilities over time. Lastly, this bidirectional scan tool does not support Bluetooth. It only connects via an OBD2 connector or over Wi-Fi. 
Launch X431 V Pro
You are looking at a powerful bidirectional tool that can perform ECU coding. Launch X431 V Pro is best in the hands of auto technicians, advanced mechanics, and advanced DIYers. It supports high-end features on over 150 car brands sold worldwide, so it will come in handy in a busy repair shop.
You can count on this model to perform OBD2 diagnostics as well as advanced system diagnostics and advanced maintenance functions. In particular, Launch X431 V Pro can perform diagnostics on the engine, SRS, ABS, suspension, and all other electric systems in a car.
This bidirectional scan tool supports 31 advanced service functions. It is capable of engine reset, oil reset, EPB reset, steering angle reset, AFS reset, immobilizer reset, and 25 other service functions.
When you invest in this tool, you'll have two years of free updates. It only needs Wi-Fi connectivity to receive remote updates.
So, what don't I like about the Launch X431 V Pro? Well, this tool is listed to have 24/7 technical support. But that's not the case. We noticed replies could take a day or two. Also, you cannot check its battery health. When you use it often, you'll notice deterioration in the battery performance. Finally, you will need a PDF viewer that's compatible with a printer for you to print a diagnosis. This is because the device's print button is made for the Launch printer.
Affordable Bi-directional Scan Tool for Professionals Comparison Chart
*Notes: Excellent: 9-10; Good: 7-8; Fair: 5-6; Poor: 3-4; Very poor: 1-2
Which to Pick: Autel MP808K or Launch X431 V Pro?
Let's compare MP808K and X431 V PRO before buying!!
Bi-directional controls
Autel MP808K and Launch X431 V Pro are ideal affordable bi-directional scan tools for auto technicians and experienced home mechanics. Both devices can carry out extensive bi-directional functions.
For the Autel MP808K, you can perform eight active tests, while the Launch X431 V Pro offers more than ten bi-directional control tests. Together, these models allow you to perform active tests for the fuel pump, fuel injectors, A/C, reset control unit, and other bi-directional tests.
You will like the Launch X431 V Pro if you are a shop mechanic looking to get specific information by commanding a module to perform particular functions and tests. This way, you can request information from the powertrain control module and get the information on the tool's display. 
Launch X431 V Pro allows you to command the car to perform tasks outside the vehicle, and you can observe how the vehicle responds thanks to the inclusion of Bluetooth.
System diagnostics
These are entire system diagnostic scanners. Both have Auto VIN such that you'll automatically get diagnostic trouble codes when you input either unit in your car's OBD2 port. They can carry out all ten OBD2 tests, meaning they can identify and erase error codes, and you'll be able to view freeze-frame data, onboard tests, and read DTCs, etc.
The Autel MP808K can also access OBD1 system diagnostics when combined with an OBD1 adapter.
Generally, you can diagnose all available modules from the EPS to PCM, ABS, airbag, suspension, transmission, and many other systems.
Advanced service functions
These bi-directional scan tools are awe-inspiring professional products. Autel MP808K helps you access over 23+ service resets, while the Launch X431 V Pro gives you access to more than 31 active resets.
It's an absolute breeze to service reset after an oil change or TPMS reset after changing the tires. Whether you want to perform an EPB reset, ABS bleeding (releasing of trapped air), or throttle reset, these scanners will help you intervene in your car's system before minor problems grow into complex ones.
Still, the Launch X431 V Pro has more advanced service functions, which means you're better off with the device if you lean on the professional mechanic at a shop or an experienced home mechanic more than you do DIY.
Coding/Programming
Perhaps the best function for these scan tools is their coding/programming capabilities, which you will not find on ordinary scanners.
The Autel MP808K, in particular, can add a key fob that allows you to record the transponder on a mechanical key. However, this is a reserve of Asian-made cars with low-grade anti-theft systems. As a result, the key fob is not intended for BMW, Benz, Audi, and VW.
Looking at the much-more-advanced Launch X431 V Pro, you gain access to key programming and ECU coding to help you reprogram adaptive data for specific components after making repairs or replacements.
Not to mention, Launch X431 V Pro can also do Programmable Module Installation for Ford and Mazda. Online coding is supported on VW, Audi, BMW, Benz, Porsche, Seat, etc.
Of the two, Launch X431 V Pro is still a better pick for shop mechanics or experienced home mechanics.
Vehicle coverage
Apart from comprehensive service options, these scan tools offer extensive vehicle coverage. The Autel MP808K provides for over 80 US, European, and Asian vehicle makes. Nevertheless, you may still want to send a VIN to Autel to confirm if your car is compatible with the device.
The Launch X431 V Pro, on the other hand, gives OE-level features for over 200,000 car models. It's not easy to find a car that does not support it as long as it has an OBD2 port and was manufactured after 1996.
Read more: Never buy Launch X431 PRO (V PRO or V PRO 4.0) before reading this review
Professional Bi-directional Scan Tools for Auto Technicians
[Price range: $1,000-$1,300]
This section looks at two incredible, professional-level scanners that provide exceptional functionality for auto technicians and experienced mechanics. These models give you all OEM functions, system diagnostics, and added data logging and key coding features.
We are talking about the Autel MS906 and Launch X431 V+. Read on to find out which one fits your needs.
Launch X431 V+
Launch X431 V+ is one of the best diagnostics scan tools you can buy today. It is designed with professionals in mind. This bi-directional scan tool can access all vehicle systems and electronics to perform diagnostics. As such, it will save you repair time by providing instant results for each ECU module.
Thanks to its auto VIN technology, Launch X431 V+ will automatically read a vehicle's VIN code. It makes repairs a breeze by performing all sorts of OE-level maintenance functions. For example, it can perform online coding for VW, Skoda, and seat vehicles.
Additionally, Launch X431 V+ can perform ECU modifications for BMW, offline coding, and customization of various vehicle models. What's more, you can achieve full bidirectional functions with this scanner. From actuating solenoids to active testing, Launch X431 V+ will provide complete maintenance on a vehicle.
Launch X431 V+ is a bit expensive compared to other scan tools with similar capabilities. As such, it's not the best option if you are a beginner or DIYer. 
Since the device is made in China, I found many unauthorized dealers selling counterfeits. That's why you need to verify that you buy from a credible seller. A good way of knowing this is by reading reviews about the seller. 
In addition, the translations in languages other than English are not accurate. It can be unpleasant, so keep that in mind. 
Autel MS906
This scan tool is a favorite among auto technicians and professionals. It is not only fast and accurate but also packs lots of useful features. Perhaps the first feature you'll like is its capability to perform active tests. You can test everything from the idle control to air conditioning, door controls, wipers, windows, and other components.
With its auto VIN technology, this scanner provides instant scans without inputting any vehicle info. And since it uses an Android operating system, you can expect a reliable live data stream every time. Additionally, you get OE-level diagnostics for every system on thousands of vehicle models.
Autel MS906 supports 31 service functions. These include ABS bleeding, throttle matching, BMS, EPB, SAS calibration, and DPF regeneration.
Additionally, you can carry out ECU coding. It means you can reprogram various ECU modules so you can customize multiple functions in your car.
To the Autel MS906 weaknesses, it's still an expensive device. But for the price, you cannot add an inspection camera or an oscilloscope to the device. Also, it takes a pretty long time to recharge, and the battery does not last long either. To this end, you have to recharge it every day. 
Furthermore, updates are only free for a year. I'd have expected at least five years or better lifetime updates like other devices in its price range.
Top 2 Bi-directional Scan Tools for Auto Technicians Comparison Chart
*Notes: Excellent: 9-10; Good: 7-8; Fair: 5-6; Poor: 3-4; Very poor: 1-2
Which to Pick: Autel MS906 or Launch X431 V+?
Let's compare the two scan tools before buying!!
Bi-directional controls
Autel MS906 and Launch X431 V+ are favorites among professional auto technicians/mechanics thanks to their capability to conduct active tests. You can do vehicle check-ups that test air conditioning, door controls, wipers, windows, and other features with either tool.
After performing actuation tests, you will be able to view reports via the live data function. You'll like that you don't have to operate either device on a USB cable. Both units support Bluetooth and Wi-Fi connectivity, giving you an easy time when performing tests outside the vehicle.
You may like the intuitive interface of the Autel MS906 since it has a smaller 8-inch touchscreen that allows for multitasking unlike the Launch X431 V+ which is larger with a 10.1-inch touchscreen.
System diagnostics
These high-end scanners give you access to all systems for reading and erasing diagnostics codes on the engine, suspension, transmission, powertrain, fuel system, and many more. You will find them accurate and fast since they have an Android operating system that's well known for its up-to-date nature.
While the Launch X431 V+ has 3GB RAM and 32GB embedded memory, Autel MS906 boasts 2GB of RAM and 32GB of embedded memory. Apart from performing extensive diagnostics, you'll organize, reference, and print past data reports.
Autel MS906 can create customer profiles with vehicle and contact info which makes it quick and easy to diagnose chronic problems without sifting through manual records.
Launch X431 V+'s storage is expandable to 128GB so you can store more data and vehicle info than on the Autel MS906.
Launch X431 V+ is the winner here for its storage ability and speed.
Advanced service functions
You get over 31 advanced service functions on both bi-directional scanners. From common resets like oil, ABS, airbag, and EPB to DPF regeneration, transmission reset, relearning idle TPS system, and even electric throttle position reset. 
Both tools also support guided functions, component matching, power balance, and online account login service.
Both diagnostic tools seem strong here. Again, Launch X431 V+ wins the game for its better speed.
Coding/Programming
As we said, these scan tools go beyond reset functions to include coding functions like ECU coding and anti-theft IMMO service, enabling you to disable lost vehicle keys and perform key fob programming on both scan tools.
Launch X431 V+ also offers online coding for VW, Skoda, and Seat car models and modifications for BMW. It also supports offline coding, customization, personalization, Nox sensor reset, and setting and changeover like AdBlue reset and cancel ABS driving test for Benz models.
On the other hand, Autel MS906 does not support ECU coding for Ford, BMW, and Toyota models. It does, however, allow auto shops and garages to reprogram adaptive data for the modules you replace and reinforce some of the car's functions, such as power loss, fuel efficiency, and drivability.
Both scanners offer the same ability of coding and programming. However, I highly recommend Launch X431 V+ for its stability and speed.
Vehicle Coverage
Autel MS906 covers over 80 car manufacturers for car models as far as 1987. It can support OBD2 and OBD1 protocols meaning you can work on virtually any vehicle as long as it was made between 1987 and now. The kit comes with nine adapters for the likes of BMW-20, Chrysler, Nissan-14, Rolls-Royce, GM/Daewoo, Benz-38, and VW/Audi.
Launch X431 V+ supports OBD2, OBD1, JOBD, and EOBD protocols. It comes with 24 adapters for major brands like Honda, Nissan, Toyota, Ford, and Mazda. This gadget is compatible with over 10,000 cars, including light-duty trucks and many heavy-duty trucks.
Read more: Autel Maxisys MS906: Professional car diagnostic scanner review
Final thoughts
It's brilliant when you have an advanced bi-directional scan tool. It saves money on car repairs and saves time when performing complex maintenance and repairs.
Now, for the DIYer who needs a nice, easy-to-use tool for at-home use, we recommend the Thinktool Mini with 28+ service functions and optional ECU coding. You can grow your experience as a car enthusiast.
For the guy or gal with a small auto repair shop, investing in the Launch X431 V Pro opens your world to performing more active tests and ECU coding and key programming.
And if you are a professional technician/mechanic, you never want to waste your time going back and forth from the car to the hood. Take Launch X431 V+ to perform wireless diagnostics and get access to countless advanced features, including ECU coding and anti-theft IMMO at a high speed.
So, are you ready to operate with only the best? Make sure to choose your pick of the best bi-directional scan tool from our top, well-researched recommendations.
Read more: Launch CRP Touch Pro Elite vs. Launch X431 V+ vs. X431 V PRO: Which I shouldn't buy?
Buying Guide: How To Choose the Best Bi-Directional Scan Tool
If you're looking to get your hands on an automotive diagnostic scanner with bidirectional control abilities, here are the things to keep in mind:
The Brand Matters
Strong brands offer peace of mind. And as far as diagnostic scanners, it's always wise to buy your scan tools from the best brands out there. They not only deliver a positive experience consistently, but they also provide frequent software updates. That's important because you want a scanner that will be compatible with current and future vehicles.
Besides, most of the big players offer the best customer support. If your scanner (and at times vehicle) fails, you can give them a call, and they will help. With that in mind, which OBD brands have the best products?
Launch
Website: https://en.cnlaunch.com/index.aspx
Founded in 1992, Launch Tech Co Ltd is the biggest manufacturer of automotive diagnostic tools. The company has sold over 1 million units of scanners, including a good number of bidirectional models. It operates worldwide with distribution centers in the U.S., U.K., Australia, Japan, Mexico, South Africa, Germany, Russia, and other countries.
Like Autel, Launch takes pride in R&D. However, it has a broader range of products that include diagnostic tools, auto testing, and auto cleaning equipment. While most Launch scanners are entry-level, some models are high-tech and suitable for mechanics and experienced DIYers.
Recommendation – LAUNCH X431 V PRO
Autel
Website: https://www.autel.com/
Autel's biggest strength as a brand is research and development (R&D). The company invests just over 10% of its revenue in product development. For that reason, every new Autel product is always better than the previous one. The scanners improve based on changes in automotive technology.
It's a good thing that Autel has operations in the U.S., Germany, U.K., Australia, and a few other countries. The vast network enables them to track auto tech in real-time.
One good thing about Autel is that they offer after-sales support for their old and new scanners. Most other brands usually abandon customer support when a scan tool is 2 or 3 years old. Not Autel. You can rest assured that even if you buy their 2010 products, it will come with customer support.
Recommendation – Autel Maxisys MS906BT
Innova
Website: https://www.innova.com/home/
Innova is one of the oldest manufacturers of aftermarket car diagnostic tools. It was established in 1990 by Equus Products as an R&D wing of the company. Through R&D, Innova became an industry leader in OBD scanners.
In 1996, the company became the first to make it mandatory for all its product development team to have Automotive Service Excellence (ASE) certificates. The move paid off because today, there are well over 30 highly-trained ASE+ Master Techs at Innova.
They focus on bringing brilliant automotive diagnostic ideas into life through OBD scanners. For example, Innova has its own OBD database, allowing users to quickly access repair tips and procedures.
Recommendation – INNOVA CarScan Pro 5610
Key Features
A bidirectional scan tool has professional and DIY-level features. Below is a list of the critical functions to look for:
Actuator Tests ("Active Tests")
This process involves the scanner sending commands to solenoids, switches, and relays. Those commands ask a module or sensor to perform specific tasks. One good example is using a scanner to turn the fuel pump on or off.
But please note that not all scan tools in this review can perform active tests on all systems. For example, Foxwell NT630 Plus can only run actuation tests on the ABS and airbag system; Autel Maxicheck Pro can support component tests on all detectable modules.
If you want to perform bi-directional control on all systems in your vehicle, Launch X431 V PRO and Autel MS906BT are perfect picks. A cheaper choice is the Launch X431 PROS Mini.
Adaptation
Often used synonymously with matching and relearning, adaptation is the process of making a new, replacement part compatible with the vehicle's existing ECU. Usually, when you replace a component like transmission, brake, or TPMS, the ECU needs to communicate. For that to be possible, you have to create a sort of "communication channel" using a bi-directional scanner.
Recommended product – Autel Maxidas MP808
Coding And Programming
Coding and programming involve changing a vehicle's settings (parameters) through deep access to the engine control unit. You can tune, remap, code, or program a module to perform differently from its specifications. For example, you can modify the throttle stop by coding the injector. Simultaneously, coding and programming provide an in-depth look into vehicle systems, thus helping mechanics troubleshoot and deal with complex vehicle problems like drivability issues, fuel inefficiency, power loss, the durability of parts, fault codes.
Recommendation – Launch X431 V+
Full OBD2 Diagnostic Functions
Any bi-directional scan tool can offer all the OBD2 functions, such as: 
Retrieve a car's VIN, read DTCs, 
Provide live sensor data, 
Locate bad O2 sensors, 
Give access to emissions readiness status, 
Run EVAP system test, 
Turn off the Check Engine Light (CEL) or malfunction indicator lamp (MIL), 
Reset monitors, 
EVAP test, 
Read live data, etc.
Recommended product – Foxwell NT630 Plus
Full System Diagnosis
An added feature of bidirectional scanners is that they enable you to control onboard systems. The scanner can tell you what is wrong with the Engine, Body, Powertrain, Chassis. They include the ECM, ABS, SRS, transmission, BMS, EPB, SAS, TPMS, wiper system, fuel system, etc. You can pull ECU information, read and clear codes, and view live data. In doing so, the scanner helps you to detect issues and perform major maintenance and repair tasks.
Service Functions
Finally, a half-decent bidirectional scan tool can perform a ton of service functions. For example, it can reset oil service, reset EPB, perform battery service, bleed brakes, regenerate the DPF, do IMMO keys, calibrate the SAS, etc.
Pricing
You'll generally find bidirectional scanners in all price ranges starting from $100 to $1,200 or more. Here's a better breakdown and what to expect in each price tier:
Under $500: these will typically offer actuation tests and full OBD functions. The biggest concern with these scanners is that they mostly don't give you access to all available systems. For example, you may find that you can diagnose the engine, transmission, ABS, and SRS but not the SAS, EPB, or any other systems.
Recommended product – FOXWELL NT630 Plus
$500+: a bidirectional scanner in this price range will often do actuator tests, adaptation, coding, and programming. However, most of them are only compatible with OBD2 vehicles, not OBD1.
Recommended product – LAUNCH X431 V PRO
1,000+: in addition to actuator tests, adaptation, coding, and programming, high-end bi-directional scan tools offer fancy features. For example, most of them come with a browser that you can use to troubleshoot diagnostic issues online. Plus, they support wireless connectivity, which allows for high mobility as you work.
Recommended product – LAUNCH X431 V+
One underrated feature of high-end scanners is that they run on Android OS. It is faster when refreshing live data and can graph multiple PIDs effortlessly.
Compatibility/Vehicle Coverage
A car is either OBD1 or OBD2. OBD1 vehicles are those that were manufactured in 1995 or earlier years. OBD2 ones, on the other hand, are 1996 or newer models. Bidirectional scanners are created with those two systems in mind.
While some are designed strictly for OBD2, others are compatible with both OBD1 and OBD2. Of course, if you are a mechanic or enthusiast who works on many different cars, you'll want a compatible device with OBD1 and OBD2.
On the other hand, if you are just an ordinary car owner, you'll most likely be happy with a scanner that's only compatible with your vehicles. If they are all OBD2 vehicles, it won't hurt to go for an OBD2 bidirectional scan tool.
If you frequently work on both OBD1 and OBD2 vehicles, it is better to buy Launch X431 V PRO, Launch X431 PROS Mini, or Innova 5610.
How to Use A Bi-Directional Scan Tool?
An automotive diagnostic scanner with bidirectional control abilities can send and receive information from the vehicle's control modules. It, therefore, needs to connect with the car first.
To do that, start by connecting your bi-directional scan tool to the car's onboard computer. There are two ways of doing that.
The first is using a cable. Most bidirectional scanners – including the FOXWELL NT630 Plus and Autel Scanner MaxiCheck Pro – come with a connector that runs from the device to your car.
Simply hook that cable to your car's OBD2 port. You can find that port inside the driver's compartment, usually below the steering wheel. It's easy to identify because it has 16 pins. Power up the scanner, and you'll be good to go.
The second method of connecting an OBD scanner to your car is wireless, which applies to bi-directional scan tools that either use Wi-Fi or Bluetooth to connect to the car's ECU.
Some examples include the LAUNCH X431 V PRO and LAUNCH X431 PROS Mini, both of which use Bluetooth. They come with a small dongle for transmitting wireless signals. Plug that dongle into your car's OBD2 port. Now power up the scanner, head over to its settings, and pair it with the dongle via Bluetooth. That's it!
But how do you use a bidirectional scanner for diagnosis? Here's a step-by-step guide. We will assume that you want to test the driver window. However, the process applies to any other bidirectional test.
Step 1: connect the bi-directional scan tool with your car's OBD computer. Power up the scanner.
NOTE: Steps 2 to 9 provide a general procedure. The exact process may vary slightly from one scanner to another. 
Step 2: On the scanner, choose the type of diagnostics that you want to run. That would be "Traditional Diagnose" for bi-directional functions.
Step 3: Enter the make and model of your vehicle. The scanner will automatically identify the car and display the VIN, engine type, year of manufacture, etc.
Step 4: You'll get a menu asking you to choose between a health report, system scan, and system selection.
Choose "system selection."
Step 5: The scanner will pull all the available systems and display them. Choose the system that you want to actuate.
For example, if you want to test the steering wheel, you will select the "Power Steering Control Module (PSCM)." In our case, we are trying to test the driver window. Therefore, we will choose the "Body Control Module (BCM)."
Step 6: The next menu will contain all the functions you can do to the selected system. You can simply view its information. You can read and clear its trouble codes. There's even the option to pull live data streams or perform special functions.
But since we are interested in an actuation test, that's what we should select.
Step 7: Select the car component that you want to run bidirectional tests on. Each module has several parts. For example, the BCM has chassis, power management, lighting, keyless entry, wipers, and windows, just to name a few.
We are interested in windows. Therefore, that's what we will select.
Step 8: Choose the window regulator that you want to actuate.
In this example, that would be the driver window motor. When you tap on it, the scan tool will display a notification telling you what to expect. I.e., if you express the window up, it will roll-up. Conversely, if you express it down, it will roll down.
Step 9: Tap "OK" and proceed to the next menu. It will allow you to choose specific commands.
Now, if you want to roll the window up, tap "Express-Up. " "Express-Down" does the opposite while "Up" rolls the window one step upward.
With that, you will have performed an actuation test on the driver's window. If the window rolls up/down, you can tell that the regulator is working just fine. Proceed to diagnose the circuit and other components.
It's the same with other systems. For example, if you're dealing with a no-start situation, you can use an automotive diagnostic scanner with bidirectional control abilities to turn on the fuel pump. If the fuel pressure gauge indicates sufficient fuel pressure, you can rule out the fuel pump and fuel pump circuit failure. Proceed to check whether the fuel input sensor is working correctly and enough oil in the car.
Those are just a few examples. There are tons of actuation tests that you can run with a bidirectional diagnostic tool. You can turn the steering wheel, cycle the A/C on and off, perform an EVAP system leak test, etc. But of course, you need the best bi-directional scan tool to get the job done.
Read more: Best Professional Automotive Diagnostic Scanner 2021 Buying Guide