Enough with the small talk, my friends! In this article, I'll cut to the chase and reveal the 5 best transmission code readers.
Check out the comparison table below for quick recommendation!
6 Best Transmission Scanners Comparison Chart
[Mobile users: Swipe left for full table]
Click HERE to see full comparison chart (PDF, Free Download)
---
Table of content:
---
Best Transmission Scanners for the Price
[Mobile users: Swipe left for full table]
#1. BlueDriver: Cheapest, super easy to use, perfect for DIY.
I've got the ultimate budget-friendly scanner for you: the BlueDriver! 
It's not just the cheapest on my recommendation list, it's also the only app-based scanner out there.
When I got my hands on this Bluedriver, I was amazed at how easy it was for newbies/those who don't have much experience.
The BlueDriver comes with a game-changing feature called RepairReport. This function goes above and beyond just telling you what's wrong with your car. 
It recommends the type of repair needed and even estimates the cost! It's like having a personal mechanic right in your pocket, giving you step-by-step instructions to troubleshoot and fix the problem.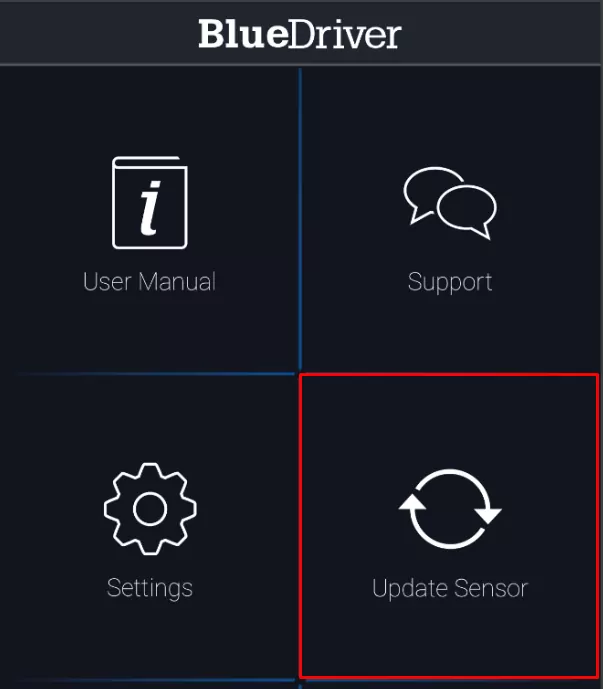 Besides, I also love the one-click update function. BlueDriver is the only scanner in this group that provides such a capability, saving users like us significant time and effort.
Very convenient!
Does Bluedriver read transmission codes?
Absolutely! Bluedriver is capable of reading transmission codes.
In fact, I have used it to retrieve transmission codes on an Audi A6. Let me share with you the results Bluedriver provided me: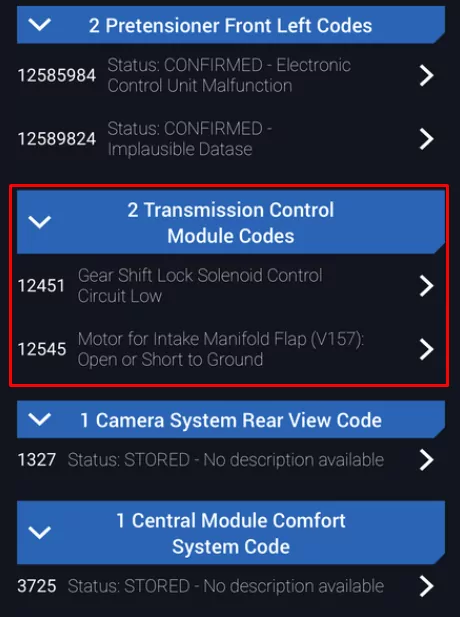 But here's the kicker. BlueDriver doesn't stop at just the transmission system. It can pull trouble codes from the remaining systems too! All-system diagnostics at such an affordable price is an absolute steal. No doubt about it.
Now, I do have one little gripe. The BlueDriver won't show you transmission live data, which means you won't be able to read trans temperature to check the fluid level. If that's a deal-breaker for you, I suggest giving the Ancel FX2000 a shot instead.
All in all, the BlueDriver is a worthy investment. It's cheap, reliable, and won't break the bank. Trust me, it's a solid choice!
Today's best BlueDriver price:
Read more: BlueDriver Bluetooth Pro Scanner Review [Updated 2023]
#2. Ancel FX2000: Best OBD2 scanner for transmission temperature
Ancel FX200 doesn't have all those advanced functions like active tests or reset services. But let me tell you, it's the best transmission scanner DIY mechanics should have in the toolbox.
The Ancel FX2000 is a versatile scanner that pulls codes from not just transmissions, but also, ABS, and SRS systems. 
And get this: you have the power to choose whether you want to scan the transmission system directly or go all-in and scan all four systems at once. So flexible.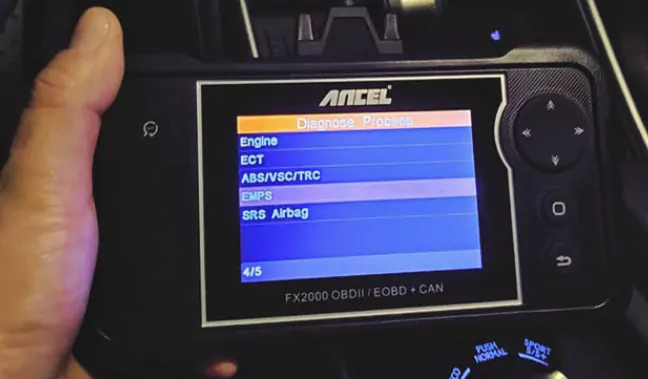 Plus, it can even show you the transmission temperature so you can find the right fluid level. This function is as good as the rumors say! 
The 3.5″ screen makes viewing transmission temp live data in landscape format a breeze (unlike smaller vertical screens you'll find on the Autel ML629). 
Now, here's a little downside: the updates can be a bit tricky. You gotta use a USB and update the scanner via PC, and that can be a bit of a hassle. I mean, come on, Ancel, give us a touch screen and a one-click update!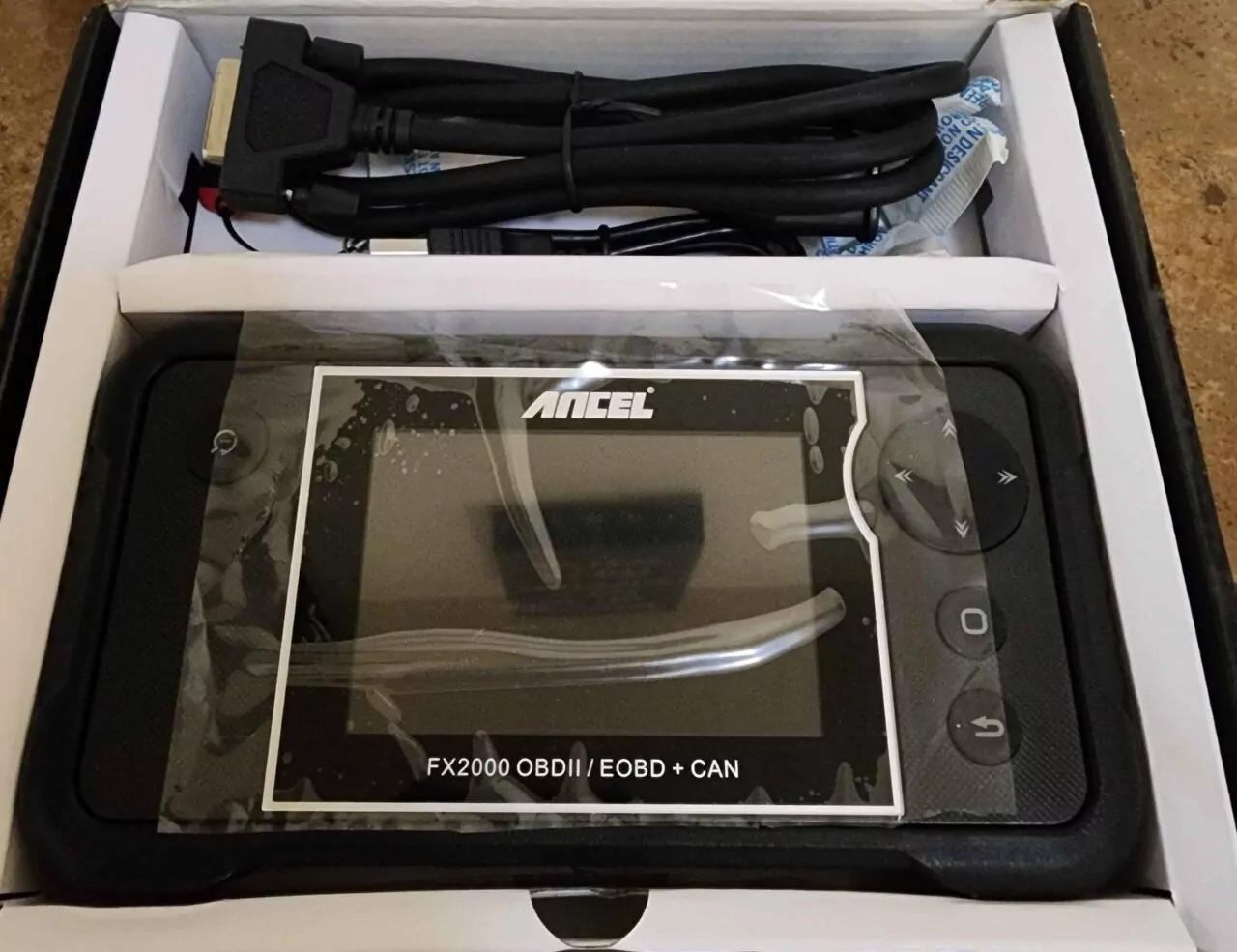 And yes, Ancel FX2000 does come with a slightly higher price tag compared to its competitors. I was a bit on the fence about it at first. 
But guess what? I stumbled upon Ancel.com and found a sweet discount of up to $40, so I couldn't resist. Happiness and savings all around!
Overall, Ancel FX2000 is the ultimate solution when you want to dig deep into your car's transmission. It's reliable but it won't make your wallet cry. 
Today's best Ancel FX2000 price:
Read more: Ancel FX2000: 4-system full-OBDII car scan tool review
#3. Autel ML629: Still cheap, but come with a small screen
First things first, the Autel ML629 impresses me with its user-friendliness.
It's like that remote control you've got lying around the house. Even if you're not the handy type, you'll be navigating this scanner like a pro in no time. It's even easier to use than the Ancel FX2000.
Just like the Ancel, the Autel ML629 can scan 4 systems (including the transmission), and even read transmision fluid temperature. 
Now, here's a little heads-up for you tech-savvy folks. The update process can be a bit tricky because the download software website is all in Chinese. This might be easy for you if you know the language, but for most of us – not so much. 
Then, I found an update guide from the seller that helped me through it. So updating this device is not as scary as it seems.
Despite a few downsides, the Autel ML629 still shines as one of the top-rated transmission scanners. It can read trouble codes that simple OBDII diagnostic tools would miss. 
For example, it pulled codes for the transmission on a 2008 Honda CRV! Impressive, right?
In conclusion, if you need a budget-friendly scanner that can pull all codes from the transmission, the Autel ML629 is a solid option. It may not be perfect, but hey, it gets the job done.
Today's best Autel ML629 price:
Read more: Autel ML629: ABS SRS CAN OBDII Scan Tool Review
Autel AL319: Best engine and transmission scanner
The Autel AL319 is an affordable OBD2 scanner that is capable of reading engine and transmission codes.
Specifically, it can read transmission codes that start with the letter "P" ("P" codes). 
Here is an example of a transmission code that the AL319 pulled from a 2012 Honda Civic:
Additionally, you can use this code reader to clear codes as well. 
However, it's important to note that the Autel AL319 can only read and clear transmission codes that are triggered by the check engine light and are not permanent codes.
If you require direct diagnosis of the transmission system, you may need more advanced 4-system scanners like the Ancel FX2000 or Autel ML629 above, which come at a higher cost.
You will also appreciate the Live Data and I/M Readiness features of the Autel AL319. 
The Live Data feature allows you to track voltage readings from specific O2 sensors, helping you determine if:
the output from your catalytic converter is consistent (indicating good performance)
or fluctuating (indicating potential issues).
Regarding I/M Readiness, it will inform you when your car is ready for an emission check. 
If all the check marks are green after you press the I/M button, you can confidently take your car to a smog station.
While the Autel AL319 may not have advanced functions, it is still a useful tool for diagnosing common car problems.
Today's best Autel AL319 price:
Read more:
---
Best Transmission Scanners with More Advanced Functions
[Mobile users: Swipe left for full table]
#1. Launch CRP123X: Best transmission scanner for the price. Super powerful, and convenient.
The Launch CRP123X is the real deal, and it's here to make your life easier than ever. Let me break down its 3 BIG strengths that set it apart from its competitors:
Accurate code reading: It reads Transmission/ABS/SRS exactly like a pro, and you can even choose to scan the transmission system directly. 
Touch screen: 1-touch update function is a lifesaver for those of us who are impatient.
3 special functions – Oil/Throttle/SAS Reset: you can now repair more at home, and save more. 
Out of these 3 reasons, I gotta say, the touch screen combined with the button is what really makes me impressed the most. 
With just a single touch, you can zip through menus at lightning speed, saving you precious time in the garage. 
But when my hands are covered in grease and grime, those trusty buttons come to the rescue. No worries about smudging up the screen—just press the button and keep on repairing like a boss.
Launch CRP123X is a better compared to its previous version – Launch CRP123. One notable improvement is that the CRP123X can check the transmission fluid temperature on a 2008 Lexus ES350, which the CRP123 couldn't do.
If you're looking for a reliable scanner to solve transmission problems, the CRP123X is definitely worth investing in.
The only downside is that the download updates can take a little while. But good things come to those who wait, right?
Overall, this scanner is affordable, user-friendly, and has the most features you could ask for. So if you want to save time in your garage, get yourself a Launch CRP123X.
Today's best Launch CRP123X price:
XTOOL D7: Best transmission relearn scan tool
I've got another option for you if you want to enhance your repair skills: the XTOOL D7.
Trust me when I say that the XTOOL D7 is a professional-grade scanner. Once you start using it, you'll be amazed by its advanced features:
full system scanning, 
transmission relearn, 
and over 35 other service functions.
What sets the XTOOL D7 apart is its ability to relearn transmissions, a feature not commonly found in scanners at this price range. 
Don't let the affordability fool you, though. This scanner can relearn a transmission after a valve body replacement on a 2013 Subaru Legacy CVT, or even perform a transmission quick learning on challenging vehicles like a 2008 Ram 2500.
What does this mean for you?
It means that with this powerful scanner, you can diagnose and address any transmission issues, saving you the costly shop fees.
As a professional scanner, the XTOOL D7 also offers a wide range of special functions such as: key programming, TPMS diagnostics, and ABS bleeding.
While these special functions may not be available for every vehicle, the key programming function, in particular, works flawlessly on most cars.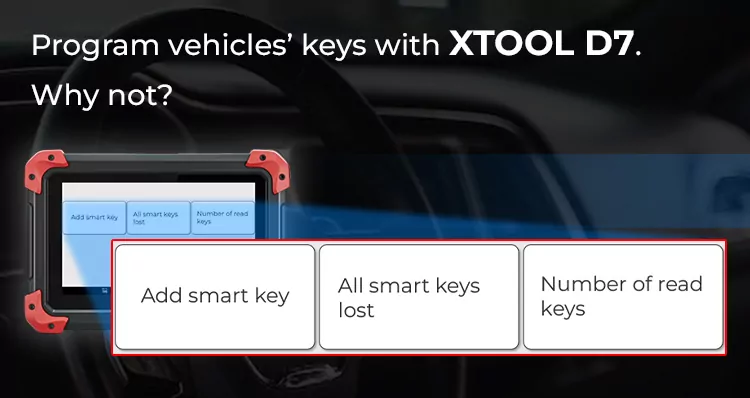 In fact, the D7 scanner programmed Dodge key fobs faster than all devices under $500 I had previously used. 
This function alone can save you $300 each time you need to program new keys compared to dealership prices.
Overall, the XTOOL D7 is an excellent bidirectional scan tool that excels in transmission relearn and offers numerous advanced functions, especially when considering its affordable price.
Today's best XTOOL D7 price:
Read more:
---
6 Best Transmission Scanners: Full Comparison Chart
[For mobile users: Rotate your phone and swipe left for full table]
| | CRP123X | Ancel FX2000 | Autel ML629 | XTOOL D7 | BlueDriver | Autel AL319 |
| --- | --- | --- | --- | --- | --- | --- |
| | | | | | | |
| TRANSMISSION | | | | | | |
| Transmission codes | ✅ | ✅ | ✅ | ✅ | ✅ | ✅ |
| Transmission live data | ✅ | ✅ | ✅ | ✅ | – | ✅ |
| Check transmission fluid | ✅ | ✅ | ✅ | ✅ | – | – |
| Transmission relearn | – | – | – | ✅ | – | – |
| OTHER FUNCTIONS | | | | | | |
| ABS/SRS codes | ✅ | ✅ | ✅ | ✅ | ✅ | – |
| Full system diagnostics | – | – | – | ✅ | ✅ | – |
| Reset functions | 3 | – | – | 36+ | 3 | – |
| Oil reset | ✅ | – | – | ✅ | ✅ | – |
| 1-touch update | ✅ | – | – | ✅ | ✅ | – |
| Repair suggestion | – | – | – | ✅ | ✅ | – |
| VEHICLE COVERAGE | OBD2 cars & light trucks | OBD2 cars & light trucks | OBD2 cars & light trucks | OBD2 cars & light trucks | OBD2 cars & light trucks | OBD2 cars & light trucks |
| DESIGN & HARDWARE | | | | | | |
| Connection type | Wired | Wired | Wired | Wired | Bluetooth | Wired |
| Screen size | 5″ | 3.5″ | 2.8″ | 7″ | 2.8″ | 2.4″ |
| Touchscreen | ✅ | – | – | ✅ | ✅ | – |
| AFTER-SALES SERVICE | | | | | | |
| Free update | Lifetime | Lifetime | Lifetime | 3 years | Lifetime | Lifetime |
| Update fee | $0 | $0 | $0 | $99/year | $0 | $0 |
| Warranty | 5 years | 5 years | 1 year | 2 years | 1 year | 1 year |
| Customer support | 8.5/10 | 7.5/10 | 9.0/10 | 10/10 | 9.0/10 | 7.5/10 |
| | Check Price | Check Price | Check Price | Check Price | Check Price | Check Price |
| | | | | | | |
Reset functions: Vary by vehicle models.
---
Final thought
I hope you've enjoyed reading this far and found the perfect product that fits your needs and budget. 
But don't go just yet! I want to hear from you! 
Do you think my grouping of products is helpful? 
Are there any other product groups you'd like to see me cover? 
Let me know in the comments below so I can keep improving and giving you what you need.
And if you want to support me, be sure to use the link provided in this post when you make your purchase. I don't receive any payment from the brands mentioned, so your support is what keeps this website up and running.
Thanks for reading and happy trucking!