Welcome to our comprehensive review of the best live data scanners on the market! 
In this review, I have carefully selected and tested the top 7 scanners, ensuring that you have all the information you need to make a well-informed decision.
Now, scroll down and explore the perfect one that suits your specific needs.
Best OBD2 Live Data Scanners Comparison Chart
[Mobile users: Swipe left for full table]
Click HERE to see full comparison chart (PDF, Free Download)
---
Table of content:
---
Group 1: Best Live Data OBD2 Scanner (Under $100)
#1. Ancel AD410: Cheapest scan tool with graph live data
ANCEL AD410
Pros
Cheap

Powerful live data function
Live data function:
In the affordable range of under $50, the Ancel AD410 stands out as a scanner that offers the best graph live data.
With this excellent scanner, you can view real-time data straight from your vehicle's sensors: intake air temperature, manifold air pressure, coolant temperature, O2 sensors, RPMs, and more.
One of my favorite features is the ability to graph the O2 sensor voltage. I actually managed to diagnose a faulty catalytic converter using this function. 
Moreover, the live data loads up pretty quickly too, which is seriously impressive.
However, what truly sets the Ancel AD410 apart is the ability to select and view any 3 parameters in graph live data.
This feature is incredibly useful when you need to compare multiple data points and identify issues faster.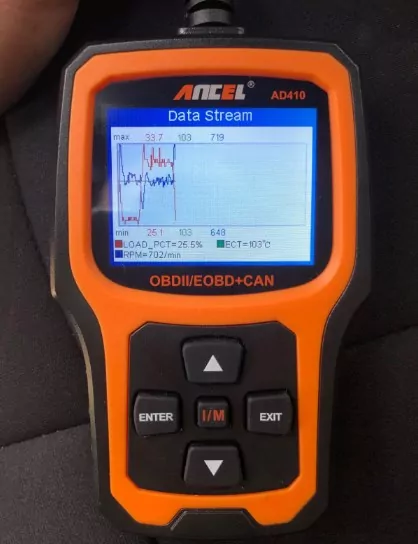 Other special functions:
1. Reading engine codes accurately
Ancel AD410 provides you with quick and concise information about the engine codes, and clearing them is just as effortless. 
The menu layout on the screen is intuitive and straightforward, so you will have no trouble navigating and performing the necessary tasks.
2. Convenient smog check hotkey
One of the standout features is the dedicated I/M readiness check button, which is extremely convenient. 
With a simple press of the I/M button, you can instantly check if your car is ready to pass the state's emission requirements. It makes the smog check process a lot faster and hassle-free.
Key takeaway:
The Ancel AD410 is an excellent live data scan tool, offering convenience and peace of mind at an affordable price. 
While it doesn't have advanced features like ABS or battery check, it serves its purpose well and helps you avoid unnecessary expenses at the mechanic shops.
Today's best Ancel AD410 price:
Read more: ANCEL AD410: OBD2 I/M Readiness MIL Scan Tool Review
#2. Foxwell NT301: Best OBD2 data logger
Foxwell NT301
Pros
Can record live data for later review

Easy to use
Cons
Show only 1 parameter at a time on graph
Live data function:
If you need a scanner that offers graphing capabilities for live data, look no further than the Foxwell NT301. 
This amazing tool allows me to view live data in two different formats: 
graph,
and digit (chart).
One feature that truly impressed me is the data logging function.
With this handy feature, you can easily record PIDs (Parameter IDs) and playback the data later for review and analysis.
The screen size of the Foxwell NT301 is large, ensuring that you can effortlessly read live data in either graph or chart format.
However, it's worth noting that the graphing live data feature can only display one parameter at a time. If you're looking to view 3 parameters simultaneously in a graphing format, I recommend considering the Ancel AD410 instead.
Other special functions:
1. Smog Check
With the Foxwell NT301, you can quickly determine if your car is ready for a smog test. 
The I/M button placed in the middle of the keyboard makes checking I/M readiness faster than ever before.
2. Code reading & clearing
When it comes to those frustrating check engine lights, the Foxwell NT301 proves to be highly reliable. 
It accurately reads the codes, allowing you to pinpoint the reasons behind the warning lights. Once you've fixed the problem, clearing the code is a breeze.
I have full confidence that this function will save you significant diagnostic fees from repair shops!
Key takeaway:
The Foxwell NT301 is an affordable scanner that offers live data capabilities. However, it's important to note that it can only display 1 parameter at a time for live data.
If you're a fan of the Foxwell brand, then this scanner is definitely a great option to consider. It provides reliable functionality and is well-suited for various diagnostic tasks.
Today's best Foxwell NT301 price:
Read more: FOXWELL NT301: Universal Full-OBD2 Scanner Honest Review
#3. INNOVA 3040RS: Perfect choice for ABS live data
INNOVA 3040RS
Pros
Can read & reset ABS codes

Repair suggestions for FREE

Hotkey for live data function
Cons
Show only 2 parameters at a time on the graph
Live data function:
The Innova 3040RS is specifically designed to make accessing live data functions quicker and more efficient. 
It features a convenient hotkey "LD" (live data). This hotkey lets you quickly find and diagnose problems without wasting time scrolling through menus.
When it comes to viewing live data, you have the option to see it as numbers or as a graph.
The custom view feature is a real plus, allowing you to select and monitor specific sensor readings that you're interested in.
However, please note that the scanner can display only two graphs at a time.  
Other special functions:
1. ABS codes reading
When diagnosing and resetting engine codes and ABS codes, the Innova 30340RS performs admirably. 
It delivers highly accurate results, which is essential for effective troubleshooting. 
It would have been even better if it could also read SRS codes, but unfortunately, that feature is not available.
2. RS2 app for FREE predicted repairs
Another standout feature is the RepairSolutions app, which can be paired with your mobile phone. 
This free app offers valuable information, such as:
show your car's issues and likely parts that will need to be replaced.
suggest scheduled maintenance.
The combination of the scanner and the app elevates the Innova 30340RS beyond your typical code reader, making it an even more valuable tool.
Key Takeaway:
The Innova 3040RS is an excellent choice for those seeking a scanner that offers both live data functionality and the ability to read ABS codes.
As a bonus, it's proudly made in the US, ensuring quality and reliability.
Today's best INNOVA 3040RS price:
---
Group 2: Best Live Data OBD2 Scanner ($100 – $250)
#1. BlueDriver: Best Bluetooth OBD2 scanner with live data
Bluedriver
Pros
Full-system diagnostics

Repair suggestions

Oil/TPMS reset
Cons
Can't work with third-party apps

Can't change the size of the gauges
Live data function:
When it comes to live data, my top choice is definitely the BlueDriver. What sets it apart is the ability to display live data in three different forms: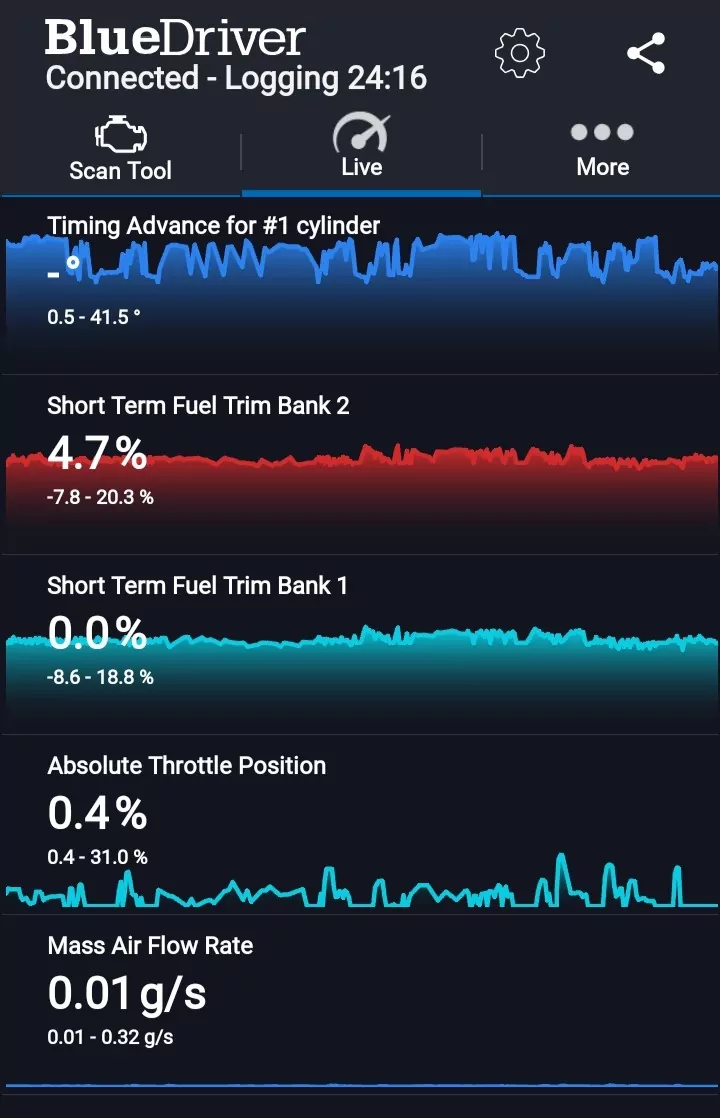 It's worth noting that the size of the gauges and numbers cannot be adjusted, but that doesn't take away from the overall functionality and usefulness of the BlueDriver.
Regarding graph live data, the maximum number of items you should monitor simultaneously is 5.
If you select more than five PIDs, BlueDriver will warn about potential excessive lag.
During my testing, I did notice a slight lag when graphing 4 to 5 PIDs. However, it was minimal and didn't significantly impact my overall experience.
Other special functions:
1. Full-system diagnostics
BlueDriver is a fantastic scanner that can read trouble codes from a wide range of systems in your vehicle. However, the specific systems BlueDriver can scan may vary depending on your car model. 
While some cars can enjoy full system scanning, others may be limited to the four main systems: ABS, SRS, Transmission, and Engine.
2. Repair report functions
You can rely on this function when you don't know where to start after reading codes. Repair report will tell you:
Estimated cost 
Fixing suggestions on how to repair based on the experience of hundred US technicians.
Suggested parts to replace with links to purchase
It's like you have a mechanic tutor by your side and ask him whenever your car has problems.
Key takeaway:
The BlueDriver is a truly versatile tool that can handle everything, from OBD2 real time monitoring to full-system diagnostics and even oil reset. 
I highly recommend it to anyone working with cars and light trucks!
Today's best BlueDriver price:
Read more: Never Buy BlueDriver Before Reading This Review [Updated 2023]
#2. OBDLink MX+: Best for specific car brands
OBDLink MX+
Pros
Customizable gauge for live data

Fast refresh live data

Perfect for specific car brands
Cons
Random connection troubles
Live data function:
In my experience, the OBDLink MX+ and its app OBDLink surpass the BlueDriver when viewing live data. 
Here's why:
Lightning-fast refresh rate: The live data refresh on the OBDLink is incredibly speedy, outperforming the BlueDriver with virtually no lag. You'll be impressed by how quickly the data updates in real time.
Customizable gauges: With the OBDLink, you can customize gauges for each sensor. This means you can tailor the display to your preferences, allowing for a more personalized and detailed view of your car's performance.
By using the OBDLink MX+, you can also gain the ability to monitor live data from various systems in your car, including ABS, SRS, TPMS, and more. 
This comprehensive coverage enables you better to understand your vehicle's overall condition and performance.
Other special functions:
1. Enhanced diagnostics for specific car brands: Toyota, Ford, Mazda ..
OBDLink MX+ let you get the add-on for specific car brands like Toyota, Ford for FREE. Therefore, you can scan and pull the trouble codes from all systems.
This function is FREE only when owning OBDLink MX+, so it's a worthy investment.
Unlike Bluedriver, OBDLink MX+ can work with other OBD2 third-party apps, such as:
Carista app: for Toyota, Audi
BimmerCode app: for BMW
By combining the OBDLink MX+ with these powerful apps, you can unlock advanced functions like ECU coding. This makes the OBDLink MX+ a top choice for those seeking more comprehensive diagnostics.
2. Sleep mode for battery saving
OBDLink MX+ has a convenient sleep mode that activates after 10 minutes of inactivity, saving battery power. 
You can leave it plugged in without worrying about draining your vehicle's battery unnecessarily.
Key takeaway:
When reading live data and performing enhanced diagnostics, the OBDLink MX+ stands out as a truly powerful tool. 
I can't recommend it enough, especially for specific car brands like Toyota, Ford, Mazda, Nissan, and more.
Today's best OBDLink MX+ price:
Read more: OBDLink MX+: OBD2 Bluetooth ABS SRS Scanner Review
#3. Launch CRP123X: Affordable live data scanner with large screen
LAUNCH CRP123X Elite
Pros
Touchscreen for 1-click update

Large screen

Can read ABS, SRS, and Transmission codes
Live data function:
The LAUNCH CRP123X stands out from basic scanners like the Foxwell NT301 and Ancel AD410. Its large touchscreen takes the live data functionality to the next level. 
You can tap the screen to select specific data lines, saving you time compared to scrolling. The screen is also large, providing clear horizontal graph live data.
However, the cable is short. If you place the scanner on the passenger seat while capturing live data, you should pay attention to prevent disconnections from the OBDII port.
Other special functions:
1. Read and clear ABS/SRS/Transmission codes
Launch CRP123X will do much more than just check and clear engine codes. It can diagnose the ABS, SRS, and transmission systems.
Recently, I had the SRS light come on in three different cars – a Chrysler, Fiat, and Kia.
With the Launch CRP123X, it quickly retrieved the SRS codes and provided me with specific details about the faulty sensor causing the issue.
It saved me a lot of time and guesswork in pinpointing the problem.
But here's the coolest function: The scan tool allows you to look up the codes directly from the tool itself.
You can access the internet, watch YouTube videos, and even listen to audio related to the specific code. 
This function makes the diagnosis process even more comprehensive and user-friendly.
2. Three hot reset functions
Launch CRP123X also offers three useful reset functions: oil reset, SAS reset, and throttle adaptation. 
These features are useful when performing routine maintenance or addressing specific issues related to these systems.
3. One-click update
The touchscreen interface enables you to update this Launch CRP123X with just one tap via Wi-Fi.
No more dealing with the hassle of USB connections and complicated computer processes.
Key takeaway:
Launch CRP123X has got everything you could ever want in a scan tool: a user-friendly interface, powerful diagnostic capabilities, and an affordable price tag. 
Today's best Launch CRP123X price:
#4. TOPDON AD600S: Best for performing service functions
TOPDON AD600S
Cons
Need wifi to use Autovin function
Live data function:
Topdon AD600S is really easy to use. It allows you to effortlessly track live data points and access all the modules you need with its convenient touchscreen.
And let's talk more about that screen!
It's large and comfortable to view live data on (5 inches). It's a breath of fresh air compared to those small 2.8" scanners you can find for around $50. 
And here's where the Topdon AD600S truly shines: It can show live data from the ABS. Not only that, but it also gives you access to transmission temperature and provides other valuable data from the A/T.
Other special functions:
1. 8 hot service functions
The Topdon AD600S is equipped with a range of handy reset tools for various maintenance needs, including:
Oil/SAS/TPMS/BMS/DPF reset
Brake reset
ABS bleeding
Throttle adaptation
Undoubtedly, Topdon AD600S stands out as the leader in service functions among all the scanners I've reviewed.
2. One-touch wifi update
Updating your scanner has never been easier! With the Topdon AD600S, a simple tap on the touch screen is all it takes for a lightning-fast Wi-Fi update.
Gone are the days of connecting your scanner to a PC with a USB cable for updates. 
It's the perfect solution for those who are always in a hurry or feel a bit overwhelmed by technology.
Key takeaway:
I must say, this scanner is definitely worth considering. It's easy to use, has a large screen for live data, and offers 8 reset service functions.
Go ahead and give the Topdon AD600S a try. You won't be disappointed!
Today's best Topdon AD600S price:
---
7 Best OBD2 Scanners with Live Data: Full Comparison Chart
| | Ancel AD410 | Foxwell NT301 | Innova 3040RS | Bluedriver | OBDLink MX+ | Launch CRP123X | Topdon AD600S |
| --- | --- | --- | --- | --- | --- | --- | --- |
| | | | | | | | |
| CODES READING | | | | | | | |
| Engine codes | ✅ | ✅ | ✅ | ✅ | ✅ | ✅ | ✅ |
| ABS, SRS, Trans codes | - | - | - | ✅ | ✅ | ✅ | ✅ |
| Full-system codes (*) | - | - | - | ✅ | ✅ | - | - |
| OTHER FUNCTIONS | | | | | | | |
| Graph live data | ✅ | ✅ | ✅ | ✅ | ✅ | ✅ | ✅ |
| Smog check | ✅ | ✅ | ✅ | ✅ | ✅ | ✅ | ✅ |
| Reset functions (*) | - | - | 3 | - | 3 | 3 | 8 |
| ECU coding | - | - | - | - | ✅ | - | - |
| Repair suggestions | - | - | ✅ | ✅ | - | - | - |
| 1-touch update | - | - | - | ✅ | ✅ | ✅ | ✅ |
| VEHICLE COVERAGE | Car & light trucks | Car & light trucks | Car & light trucks | Car & light trucks | Car & light trucks | Car & light trucks | Car & light trucks |
| DESIGN & HARDWARE | | | | | | | |
| Screen size | 2.8" | 2.8'' | 2.8'' | - | - | 5" | 5" |
| Touch screen | - | - | - | ✅ | ✅ | ✅ | ✅ |
| Wireless connection | - | - | - | ✅ | ✅ | - | - |
| AFTER-SALES SERVICE | | | | | | | |
| Free update | Lifetime | Lifetime | Lifetime | Lifetime | Lifetime | Lifetime | Lifetime |
| Waranty | 1 year | 1 year | 1 year | 1 year | 3 years | 5 years | 1 year |
| Customer service | 8.0/10 | 8.5/10 | 8.5/10 | 8.5/10 | 8.5/10 | 8.0/10 | 9.5/10 |
| | Check Price | Check Price | Check Price | Check Price | Check Price | Check Price | Check Price |
| | | | | | | | |
(*) Reset functions: Vary by vehicle models.
---
Conclusion
I hope you've enjoyed reading this far and found the perfect scan tool that fits your needs and budget. 
And if you want to support me, be sure to use the link provided in this post when you make your purchase.
I don't get any commissions from brands, so your support is what keeps this website up and running. 
Thanks for reading.