Looking to buy Bluedriver but not sure if it's worth the money or if it's compatible with your car?
Wondering if Bluedriver offers the functions you want?
How good is it in comparison to other top Bluetooth scanner?
I've got you covered.
BlueDriver is a special Bluetooth scanner in the market today. It is special because of its reliable repair reports, functionality, reputation among DIYers in North American, and many more things nobody knows.
In this review, I will help you discover the secrets of this OBD2 Bluetooth scanner.
Let's Start NOW with the Comparison Chart!!
Bluedriver Vs. OBDLink MX+ Vs. BAFX Products Comparison Chart

BlueDriver


OBDLink MX+


BAFX Products

Customer Rating

Price range
Supported
Operating Systems
iOS and Android
iOS, Android,
and Windows
Android and Windows
Matched Apps
Bluedriver (included)
OBDLink (included);
OBDWiz (included);
Torque Pro (paid);
OBD Fusion (paid);
other 3rd party apps (paid)

OBD Fusion (paid);
Torque Pro (paid);
DashCommand (paid);
other 3rd-party apps (paid)
OBD2 diagnostics
✔
✔
✔
System diagnostics
All systems (with Bluedriver app)
All systems (OBDLink app)
Engine, ABS, SRS, Transmission (Torque Pro)
Advanced service functions
n/a
Depends on the app. e.g.
- BimmerCode App on BMW: ECU coding/ programming;
- FORScan app on Ford: ECU coding/ programming
Depends on the app. e.g.
- BimmerCode App on BMW: ECU coding/ programming;
- FORScan app on Ford: ECU coding/ programming
Reset ABS, Airbag, TPMS light
✔
✔
✔
Free OEM add-on
✔
✔
--
The BlueDriver OBD2 Scan Tool is comparable or better than most models at or near its price point.
It can read and clear both basic trouble codes and manufacturer specific codes from virtually every make and model.
Unlike its competitors,
BlueDriver OBDII Scanner comes with a high-quality free app that requires no additional expenditure to get the most out of the scanner.
While the BlueDriver Bluetooth Professional OBDII Scan Tool requires you to use your phone to scan your vehicle, it displays live data and trouble codes in an incredibly clear format.
BlueDriver Vs. OBDLink MX+ Bluetooth Scanner
Competing Bluetooth scanners (like this one) tend to be a bit worse. In this case, the OBDLink MX+ will read and clear basic trouble codes. But it won't work with most manufacturer-specific codes. This means that you can't clear ABS, SRS, oil, or stability control lights. While this specific OBDLink MX has some neat features with GM and Ford vehicles, the app is nowhere near as comprehensive as the BlueDriver. Depending on what you want to do, you'll probably have to pay money to upgrade the free app or get a third-party paid app. Like the BlueDriver Bluetooth Professional OBDII Scan Tool, the OBDLink MX+ scanner uses your smartphone or tablet.
---
READ MORE: BLUEDRIVER Vs. OBDLINK MX+ Vs. OBDLINK CX: WHICH MOST HOME MECHANICS ARE USING IN THEIR GARAGE?
---
BlueDriver Vs. BAFX Bluetooth Scanner
Just like the OBDLink MX, the BAFX scanner doesn't work with manufacturer specific codes very well.
It doesn't work with ANY manufacturer specific codes, even if you buy an expensive app!
You can still use your phone to:
It's one of the best cheap OBD2 scanners in the market. But you'll have to buy a third-party app to do any of this. This makes BAFX quite a bit more expensive than the list price.
---
READ MORE: BLUEDRIVER Vs. BAFX: WHICH SCANNER SUITS A HOME MECHANIC?
---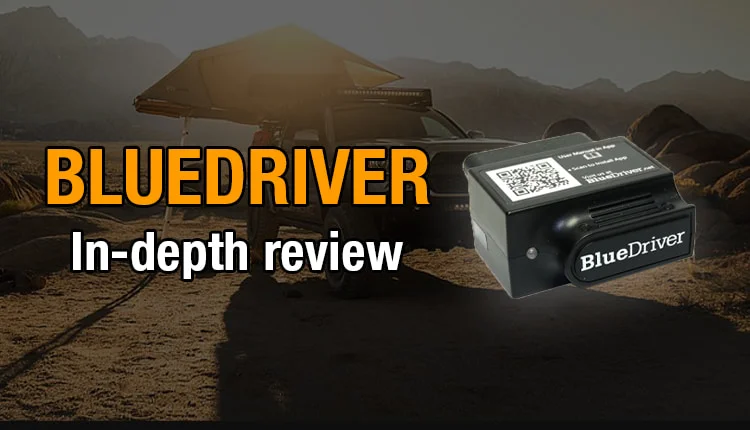 The BlueDriver OBD2 Diagnostic Scan Tool is a package of two items: a Bluetooth sensor to plug into the OBD-2 port and the free app to install on a tablet or smartphone. The combination of the sensor and the app makes a complete OBD2 scan tool.
While the BlueDriver adapter doesn't perform any better or worse than other scanners in its price range, the app is especially excellent. It's free (no in-app purchases, upgrade fees, or additional costs) and can work with almost every make of vehicles. Besides, it gives you incredibly complete diagnostic information.
BlueDriver Review
The OBD-II standard (the part that's universal across all cars) only specifies codes for specific engine problems.
This means that vehicle manufacturers can (and do!) have their specific trouble codes and protocols for ABS systems, airbags, stability control systems, and your A/C.
While these things can be accessed via an OBD-II port, your scan tool needs special software to interact with each car.
Luckily, the BlueDriver OBD2 software is special!!
It interacts with pretty much every major make right out of the box, with no fees or upgrades costs, which means BlueDriver OBDII Scan Tool works with:
Worldwide available makes:
GM,
Ford,
Chrysler,
Toyota,
Nissan,
North America available makes:
This fact makes BlueDriver OBD2 Scanner perfect for someone who plans to work on lots of different vehicles.
The BlueDriver Scan Tool also supports all OBD2 protocols, including:
SAE J1850 PWM,
ISO9141-2,
ISO1430-4 KWP,
SAE J1850 VPW,
and ISO15765-4 CAN.
BlueDriver Bluetooth Professional OBDII Scan Tool for iOS and Android
The BlueDriver Bluetooth Professional OBDII Scan Tool does everything you'd expect an OBD-II scanner to do.
Incredible Interface
The BlueDriver Professional Bluetooth OBD2 Scanner can give you almost all you need with its super easy interface. Your phone's screen is much larger and brighter than the cheap screen on a standalone scanner.
While some apps provide you with a brief description of each trouble code, the BlueDriver app gives you a list of possible causes and helps you fix each problem.
The interface has many other impressive features, like customizable live data dashboards, data saving, and the ability to print and export vehicle data.
Honestly, it blows most competing apps clean out of the water.
Great Functionality
The BlueDriver Bluetooth Professional OBDII Scan Tool for iPhone iPad Android does everything you'd expect an OBDII scanner at this price range to do.
You can:
pull live data,
view and reset trouble codes,
and look up freeze frame data from when a check engine light was turned on.
The manufacturer-specific programming in the app expands this compatibility
And allows you to:
view make-specific diagnostics,
read and clear Airbag, ABS, and Transmission,
read stability control codes and more.
BlueDriver offers a lot of functions, including:
reading the codes,
clearing codes,
getting reports,
clearing reports,
getting your smog test,
getting car repair reports,
checking engine light,
how long it has been running,
and finally, you have access to the live data.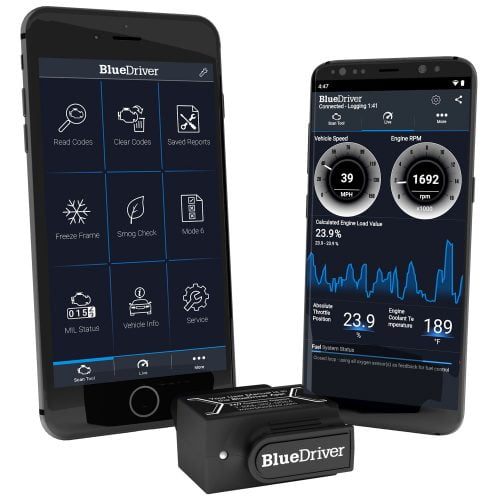 Check Price at Amazon
5 Special Functions
BlueDriver Bluetooth Professional OBDII scan tool offers FIVE special functions that no one of the same price range can.
#1. Mode 6
Mode 6 allows you to have access to each of the sensors and see if they are within the parameters.
For mode 6, you may have the information on the malfunction indicator lamp (MIL) status, how long it has been on, and so on.
The additional advantage of this feature helps the user access the VIN by just entering and all information on the model, the year is availed.
The information on mode 6 is important, especially if you are buying a used car, as this gives you all the driving data.
#2. Flashlight
The flashlight, which is found on the BlueDriver, helps aid its use in dark conditions.
Though this may not be so much of use, it can save a lot if you are in critical situations and want to read the data codes.
#3. Live data reading
Live data reading on the BlueDriver OBD2 scanner makes it easy for the user to access the data in real-time, including the graphical presentation and even the oxygen sensors.
Additionally, you have the option of having this data saved for the future.
Read more: BlueDriver Vs. BAFX: Which Scanner Suits a Home Mechanic?
#4. Social Media Sharing
Because of its advanced nature, BlueDriver has the option of social media data sharing such as: emailing, sharing to Facebook, Twitter, putting the data on Dropbox, and even copying the data.
#5. Gauge
The gauge on the BlueDriver is part of the essential features as it is a combination of a digital reader and the voltage reader, which are important in the course of scanning.
This makes many people love it right in the first use.
Check Price at Amazon
BlueDriver Shortcomings
Force-Paired App
It's pretty tricky to use the BlueDriver scanner with other apps. This isn't a problem for most people since BlueDriver's app is excellent.
If you're used to using a different app with a different scan tool, however, it may take some time to get used to the BlueDriver's paired program.
Doesn't Support OE-level Advanced Features
If you're crazy about cars, you might be aware that you can get pretty cool access to a car's computer system via the OBD2 port.
This is not the tool you'll use to reset things or reprogram your ECU.
Suppose you want to do advanced stuff like changing the car settings, programming your car's computer, or access your car's non-diagnostic computer systems. In that case, you need a professional-grade automotive diagnostic scanner.
The Bottom Line
For its simplicity and price, BlueDriver is the best choice of Bluetooth OBD2 Scanner for yourself, either you're a fan of iPhone or Android devices.
You can also have the thought of recommending Bluedriver to a friend as it appears among many OBD2 automotive diagnostic tools you may have come across on the market.
Go ahead!! Bluedriver Bluetooth Professional OBDII Scan Tool never fails you at all!!