After testing the Bluedriver product for a week (from Oct 15 to Oct 23, 2023), we highly recommend this Bluedriver, especially for beginners and home mechanics. Its user-friendly interface simplifies complex diagnostics, allowing effortless code reading and giving repair reports.
For novices, it offers a seamless experience, decoding car troubles without confusion. Besides, home mechanics benefit from its special functions, such as reading enhanced codes or performing service functions, eliminating the need for pricey professional services. 
While this product offers a good experience in reading codes, advanced users might miss some high-end features, including active test or ECU coding. Despite this, Bluedriver's cost-effective solution bridges the gap between user-friendliness and affordability, making it a valuable companion for anyone diving into vehicle diagnostics.
Let's dive in to get the details!
Testing Records
| | |
| --- | --- |
| Shopping platform | Amazon |
| Price | $89 (25$ discount) |
| Shopping date | Oct 10, 2023 |
| Tester | Jack Gannon |
| Test period | One week (Oct 15 - Oct 23, 2023) |
| Vehicles tested | 2001 Ford Ranger 2.5L; 2011 Toyota Prius 1.8L; 2007 Toyota Tundra 4.7L |
| Functions tested | Read and clear codes (including enhanced codes); Freeze frame data; Mode 6; Smog check; Live data; Service functions |
| | |
Overview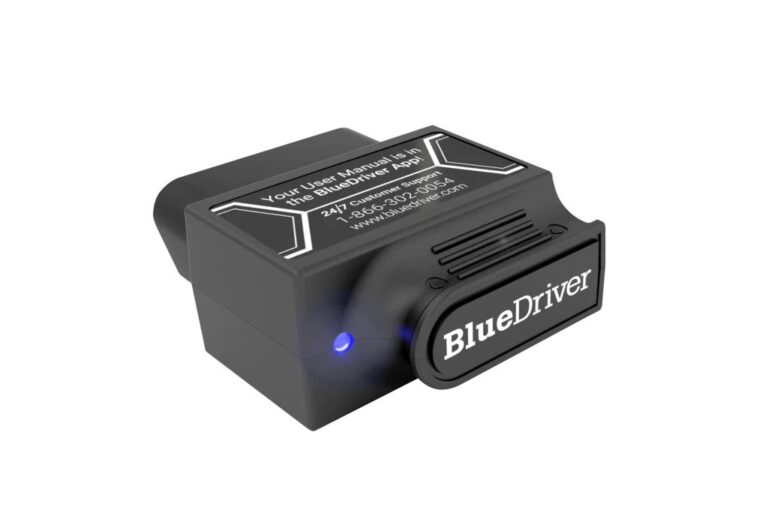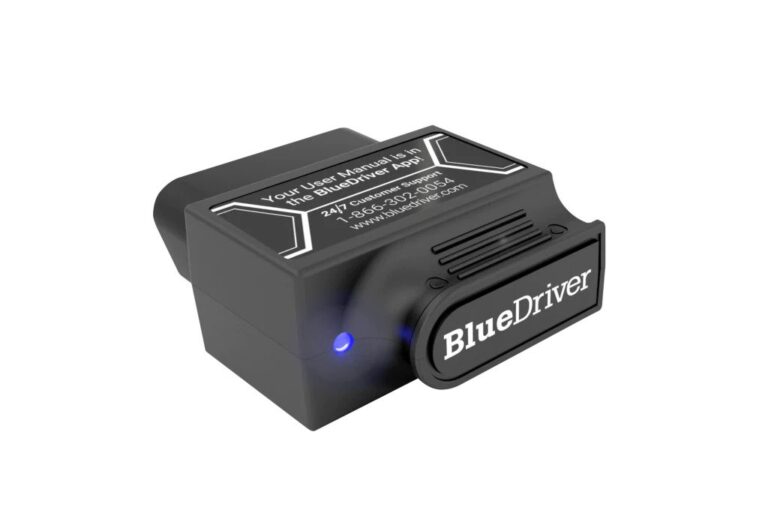 Price range: $100 – $200
Target users: Beginner and Home mechanic
Overall score: 9
Pros
Enhanced diagnostics
User-friendly app interface
Free lifetime update
Helpful repair suggestions
Easy to carry
Cons
Low refresh rate in Live Data
Lost connection at random
Performance: Reliable Diagnostic Capabilities
Performance Summary
| Product | Bluedriver |
| --- | --- |
| Performance Rating | 9 out of 10 |
| Code Reading Time | 3-5s (Engine codes); up to 5m (All system codes) |
| Numbers of Supported Systems | Up to 5 systems depending on your make and model (Engine, Transmission, TPMS, SRS, ABS) |
| Mode 6 Scanning Time | 6-9s |
| Freeze Frame Data Retrieving Time | ~7s |
| Smog Check Executing Time | ~3s |
| Serviced Functions | Reset oil light, reset TPMS light, and register a new battery |
Read and clear code
Bluedriver can read and clear engine codes in almost all vehicles equipped with the OBD2 protocol. However, when compared to OBDLink MX+, this scanner has limited ability to scan certain Ford or GM manufacturer-specific codes due to the lack of SW-CAN and MS-CAN network communication.
Regarding other systems, it varies depending on your vehicle. Bluedriver allows you to scan ABS, SRS, or Transmission codes in specific models. Therefore, always REMEMBER to check compatibility with your vehicle.
One thing to note is that Bluedriver might sometimes provide inconsistent reading results. This means you might get different results between two consecutive scans. 
For example, we used it to scan a 2005 Toyota Tundra 4.7L. The first scan showed two codes (P0462 and P0460). However, after we tried scanning again, the P0460 code disappeared, and we really needed to find out where it went.
Read more: Bluedriver Vs. OBDLink: Which app wins the game?
Connectivity
The Bluetooth version of a Bluetooth OBD2 scanner plays a crucial role in determining whether the device provides accurate information quickly or not. To give you a broader perspective, let's compare Bluetooth versions on Bluedriver (v2.1), OBDLink MX+ (v3.0), and TOPDON TOPScan (v5.0). First, let's take a look at the specs below:
Bluetooth v2.1
Bluetooth v3.0
Bluetooth v5.0
Range
30 meters (100 feet)
30 meters (100 feet)
240 meters (800 feet)
Transmission data rate
2.1 Mbps

Enhanced Data Rate (EDR)
24 Mbps (via Wi-Fi)
2 Mbps (Low Energy Mode)

50 Mbps (EDR)
Latency
<100ms
<6ms
<3ms
Based on our tests, TOPDON TOPScan offers a smoother experience because it has quick data transfer and low latency(under 3ms) when showing live data. OBDLink MX+ is quite fast but feels slightly slower than the preceding one. Bluedriver, on the other hand, disappoints with its slow live data updates, taking 4-5 seconds.
When it comes to connection stability, both TOPScan and OBDLink MX+ perform similarly with no significant differences. However, Bluedriver's connection is not as stable as the other two products. You might experience disconnections, although this doesn't happen frequently. In case the connection is lost, all you need to do is unplug and replug the dongle, and everything will be back on the right track.
To download and use the app from Bluedriver, you'll need a smartphone with iOS 10.2 or higher for iPhone/iPad or Android 6.0 and above. These are the links to download and install the Bluedriver app on the App Store or Google Play.
Repair report
The Repair Report feature will create a report for your vehicle for every Diagnostic Trouble Code (DTC), outlining potential causes and reported solutions. This feature is exceptionally helpful for beginners and DIY mechanics. It empowers you to troubleshoot issues independently and prevent overcharging by some mechanics. For instance, when we had an EVAP code P0442, it correctly pointed out that the issue might be a faulty gas cap. 
However, it's essential to double-check the solutions provided in the report. This function suggests fixes based on common problems; use them step by step to pinpoint the actual issue. Avoid purchasing all the recommended items at once to avoid wastage. If you encounter a serious issue, it's advisable to seek help from a skilled mechanic.
There is an option that you can save the report as a PDF file, which makes it easy to share when you're in need.
Live data
The main issue of Bluedriver's live data function is that the refresh rate is too low. So, if you're looking for a faster refresh rate, you should choose another one. OBDLink MX+ is a good choice when it comes to reading live data due to its high refresh rate.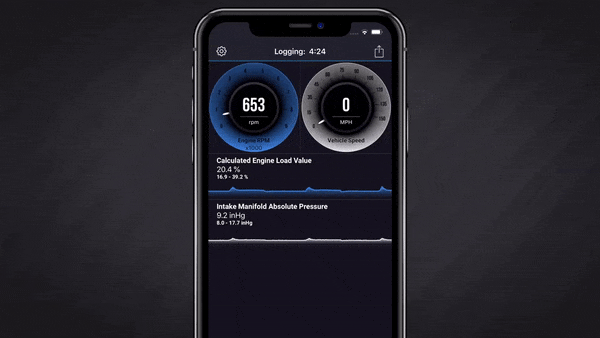 Additionally, this scanner only supports reading live data from the engine, like engine RPM, vehicle speed, fuel system status, etc. It cannot retrieve information from other systems such as ABS, Transmission, or TPMS. In case you need the data from those systems, the XTOOL Anyscan A30M is a budget-friendly choice.
Service Functions
According to the update on Jan 31st, 2020, from Bluedriver manufacturer, you can now reset the oil light, TPMS light, and register the battery. These functions usually appear in expensive scanners. Fortunately, you can access them with a Bluedriver at a cheap price.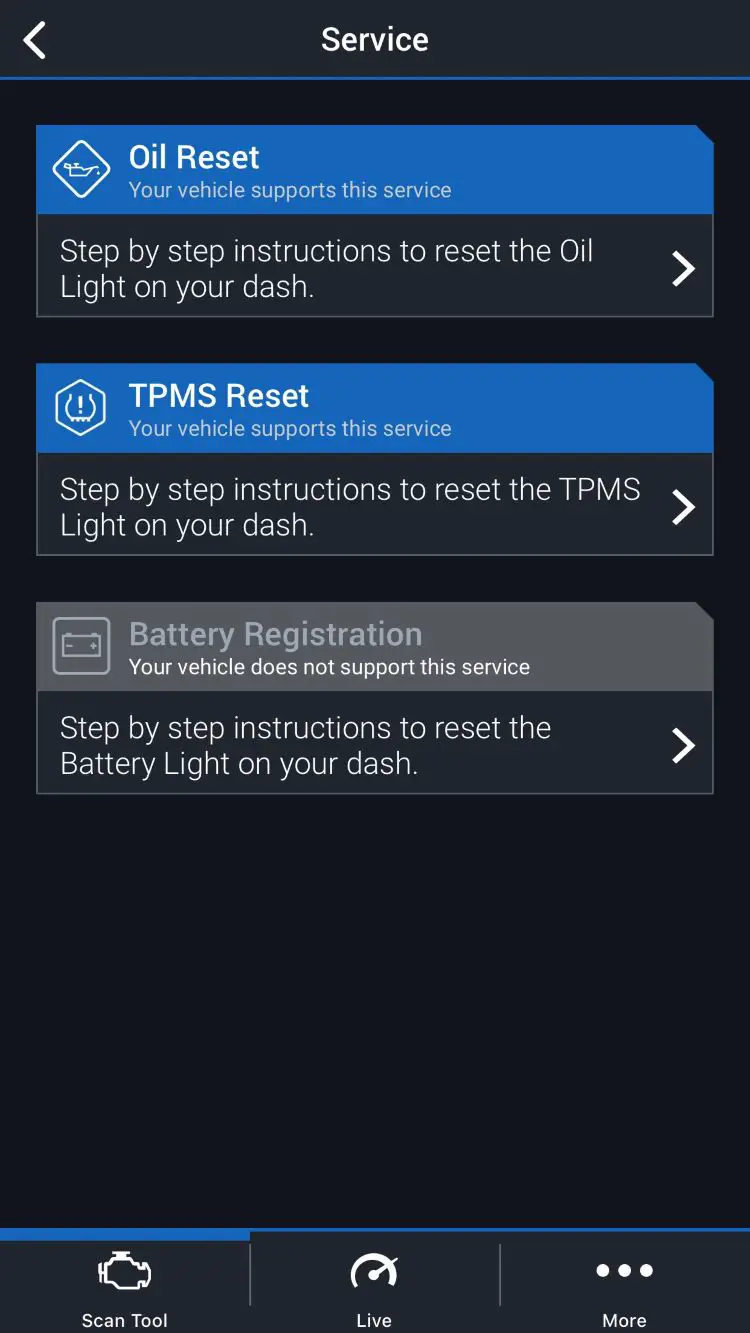 Concerning the battery registration feature, not all cars need it after a battery replacement. Only vehicles equipped with an Intelligent Battery Sensor (IBS), like BMW, VW, or MINI, require battery registration after a replacement. If your car falls under these manufacturers, this scanner can assist you in this process. This feature could save you hundreds of dollars compared to mechanic fees, which typically range from $200 to $400.
Bluedriver also offers other important functions, such as Mode 6, Smog checks, and Freeze frame data, and they all work well.
Vehicle Coverage: Wide Range of Compatibility
According to the manufacturer, the read engine code function works on all vehicles supported by the OBD2 protocol. Besides, enhanced engine code reading (reading codes from other systems, such as ABS, Transmission, etc.) is only supported on some brands, namely in the list below:
| | |
| --- | --- |
| Mazda | All |
| Toyota | Including Toyota, Lexus, & Scion |
| Chrysler | Including Chrysler, Dodge, Jeep, Ram, & Plymouth |
| Ford | Including Ford, Lincoln, & Mercury |
| Nissan | Including Nissan, Infiniti, & Renault |
| GM | Including Chevrolet, GMC, Cadillac, Buick, Saturn, Pontiac, etc. |
| Subaru | (sold in the US) |
| Mitsubishi | (2008 models & newer) |
| Hyundai | Including Hyundai & Kia (2011 models & newer) |
| Mercedes | Including Mercedes & Smart (2005 models & newer) |
| BMW | (sold in North America) including BMW & Mini (2005 models & newer) |
| Honda | (sold in North America) including Honda & Acura (2003 models & newer) |
| Volkswagen | (sold in North America) including VW, Audi, Lamborghini & Bentley |
However, from our testing process, not all enhanced code features are available for the listed brands. This depends on the specific make, model, or year of the vehicle. 
Below are the cars we used during the testing process and the results:
2001 Ford Ranger 2.5L: It worked great on this buddy. It's able to read enhanced codes, including ABS, SRS codes, etc. 
2011 Toyota Prius 1.8L: It doesn't support TPMS and Airbag codes in this car.
2007 Toyota Tundra 4.7L: Only engine codes and transmission codes are supported in this car.
Regarding service functions, all the mentioned cars are supported for resetting oil and TPMS lights.
As you can see, even though the vehicles mentioned above are supposed to support enhanced code features, Bluedriver can't retrieve enhanced codes from all systems. Therefore, always remember to check your car's compatibility before making a purchase. 
Ease of Use
We were really impressed with Bluedriver right out of the box. Its compact size (2.2 x 1.9 x 1 inches), just a bit larger than Airpods, makes it incredibly portable. You can effortlessly slip it into your coat pocket and have it ready whenever your car's check engine light comes on. It's super convenient for quick problem detection!
One more thing we really appreciate about Bluedriver's design is its raised portion with grooves, making it much easier to grasp, plug in and unplug. Let's compare it to one of their rivals, the FIXD scanner. FIXD has a sleek design with no grip, making it harder to grasp and requiring more effort to use.
Additionally, we also like the Bluedriver app's interface. Because they are intuitive and self-explanatory. Everything is displayed clearly, from reading codes to running a smog check. As a result, you can use the functions without needing much help from the manual or referring to websites. In case you need instructions from the website, check it here.
After-sales Services
Bluedriver offers a fantastic deal with its lifetime update policy. When you buy their dongle, you get all the latest functions without any extra charges for updates. This is perfect for regular users who enjoy fixing things at home. 
In contrast, FIXD requires you to pay annually for special features. From a customer's point of view, Bluedriver's approach is highly appreciated because it means you don't have to worry about additional costs for keeping your device up-to-date.
We purchased a Bluedriver on an Amazon Prime Day deal at just $89 after a 25% discount. We also have a FIXD, priced at $40, with a $100 Premium package per year to access advanced features. Let's do a comparison here:
| | Bluedriver | FIXD |
| --- | --- | --- |
| Price | $89 | $40 |
| Subscription | No | $100 Premium package per year |
| Diagnostic | Full system diagnostic on certain car | Engine code reading only |
| Warranty | 1 year | 1 year |
| Tech support (via email) | Within a day | Quite slow |
| Confirmed fixes | ✅ | Premium only |
| Mechanic Hotline | ❌ | Premium only |
| Issue commonality | ✅ | Premium only |
| Issue forecast | ❌ | Premium only |
| Smog check | ✅ | Premium only |
Although Bluedriver's warranty period is only one year, which is the same as FIXD and lower than OBDLink MX+'s three years, we believe that timeframe is quite reasonable for an affordable scanner like the Bluedriver.
We also tried reaching out to them via email with queries about the product, and they replied within one day, even on Saturdays. We really appreciate their tech support.
Read more: FIXD Vs. Bluedriver: Which is Better for a Home Mechanic?
Durability: Sturdy
The BlueDriver scanner is crafted from sturdy plastic and features a rubberized coating, preventing it from slipping out of the OBD-II port. It's designed for durability, so I believe you can use it for several years without trouble.
BlueDriver
Final Thought
Bluedriver offers enough functions to suit the needs of an average user. The Bluedriver manufacturer has performed their job very well, offering quality features such as enhanced code reading, service functions, and so on, all at a very reasonable price with no extra fee.
If you have any questions, don't hesitate to drop it below. We're always here to help.
FAQs
Is it OK to leave BlueDriver plugged in?
Leaving the scanner plugged into the car's diagnostic port, even when the engine is off, is not a good idea. We tried it over a weekend and came back to find the car's battery had significantly drained. Normally, the car's battery reads around 12.6V, but after leaving the scanner plugged in, it dropped to 11.8V. Consequently, the car's headlights and taillights were dim.
It was a lesson learned: always make sure to unplug the scanner when you're not using it to avoid unnecessary battery drainage.
Is BlueDriver bidirectional?
Bluedriver does not have bidirectional capabilities. While it excels at reading codes and giving solutions for your problems, it doesn't offer the ability to send commands to control modules in your vehicle. If bidirectional control is essential for your needs, consider XTOOL Anyscan A30m, which can perform some active tests thoroughly.