BlueDriver is the talk of the town due to its useful functions, ranging from smog check to battery registration.
Moreover, it is designed for an average person.
So don't you worry if you are a beginner DIY-er, just let the BlueDriver take the rest.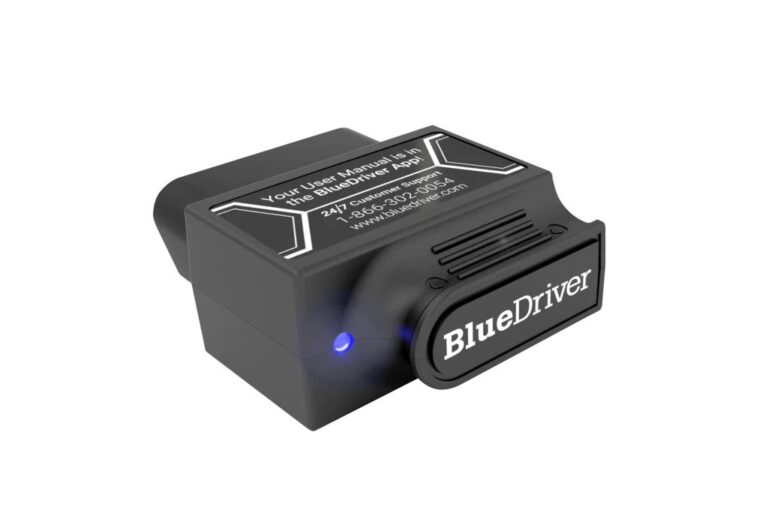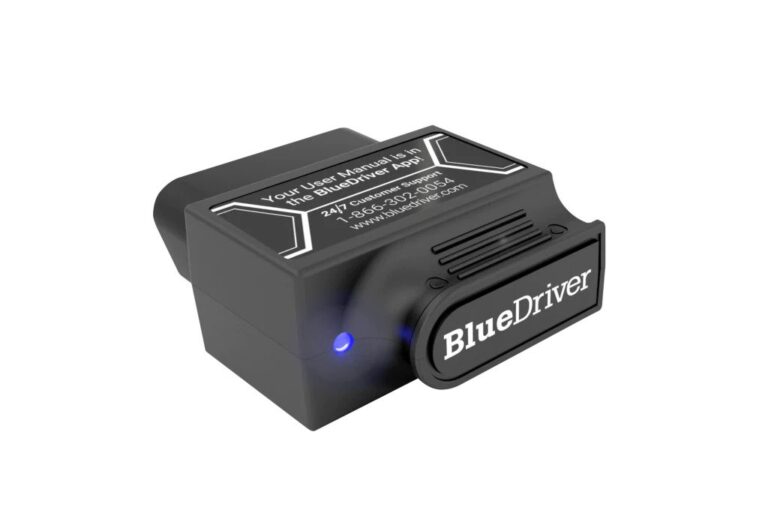 Scanner type: Full-system scan tool
Fit for:  Home mechanics, Experienced enthusiasts
Vehicle type: Car/Light truck
(Gasoline/Diesel)
Connection type:
Work on: OBD2 vehicles
Price range: Under $150
Buy this scan tool if you want to …
DON'T buy it if you want to …
Pros
Quick response from Tech Support
A valuable tool for everyone
User-friendly
Quick diagnostics
Free lifetime updates
Cons
Random Bluetooth disconnection
Slow data refresh rate
No bidirectional controls
I used to be a newbie in fixing car stuff just like you right now, so I know what you want from a scan tool or a code reader as a beginner.
And $120 for the OBDII scan tool with free lifetime update, believe me, BlueDriver will never disappoint you!
The review below was written based on my experience, feel free to scroll down for more details.
Bluedriver's Pricing: Pay For Itself The First Time 
Normally, you have to pay around $120 for a BlueDriver with a 1-year warranty, but this price can be lower depending on the seller's promotions.
Also, unlike FIXD, you don't have to pay any penny to update the app on both Android and iOS. 
As a customer just like you, I appreciate the amazing benefits this handy Bluetooth scanner has brought me compared to its price. 
Bluedriver's Vehicle Coverage: Cover Almost Vehicles Supporting OBDII Diagnostics
According to the manufacturer, except for advanced diagnostics, such as ABS, and airbag code reading, BlueDriver features can work on any vehicle that supports OBDII protocols. 
Here is the list of vehicle brands that you can get advanced diagnostics on:
| | |
| --- | --- |
| Mazda | All |
| Toyota | Including Toyota, Lexus, & Scion |
| Chrysler | Including Chrysler, Dodge, Jeep, Ram, & Plymouth |
| Ford | Including Ford, Lincoln, & Mercury |
| Nissan | Including Nissan, Infiniti, & Renault |
| GM | Including Chevrolet, GMC, Cadillac, Buick, Saturn, Pontiac, etc. |
| Subaru | (sold in the US) |
| Mitsubishi | (2008 models & newer) |
| Hyundai | Including Hyundai & Kia (2011 models & newer) |
| Mercedes | Including Mercedes & Smart (2005 models & newer) |
| BMW | (sold in North America) including BMW & Mini (2005 models & newer) |
| Honda | (sold in North America) including Honda & Acura (2003 models & newer) |
| Volkswagen | (sold in North America) including VW, Audi, Lamborghini & Bentley |
However, from my experience and research, the BlueDriver maker does not deliver on their promise. 
In other words, not all enhanced code features are available on listed brands. This somehow depends on the individual make, model, or year of the vehicle. 
For example, Chevrolet is mentioned on the list, but when I checked on their website, TPMS and airbags are not supported by the 2011 Chevrolet Malibu 3.6L V6.
To avoid getting this device for nothing due to the compatibility issue, you can check at us.bluedriver.com/pages/compatibility to ensure your vehicle can come along with a BlueDriver.  
Bluedriver's Hardware & Design: Small And Easy To Carry
Just forget all the specifications. Let me describe it in reality so that you can imagine what a BlueDriver adapter is like.
The box containing the adapter is kind of small and light, so you can easily grab it with one hand. But believe me, the BlueDriver itself is much smaller. You can put it in the middle of your palm and feel nothing due to its lightweight.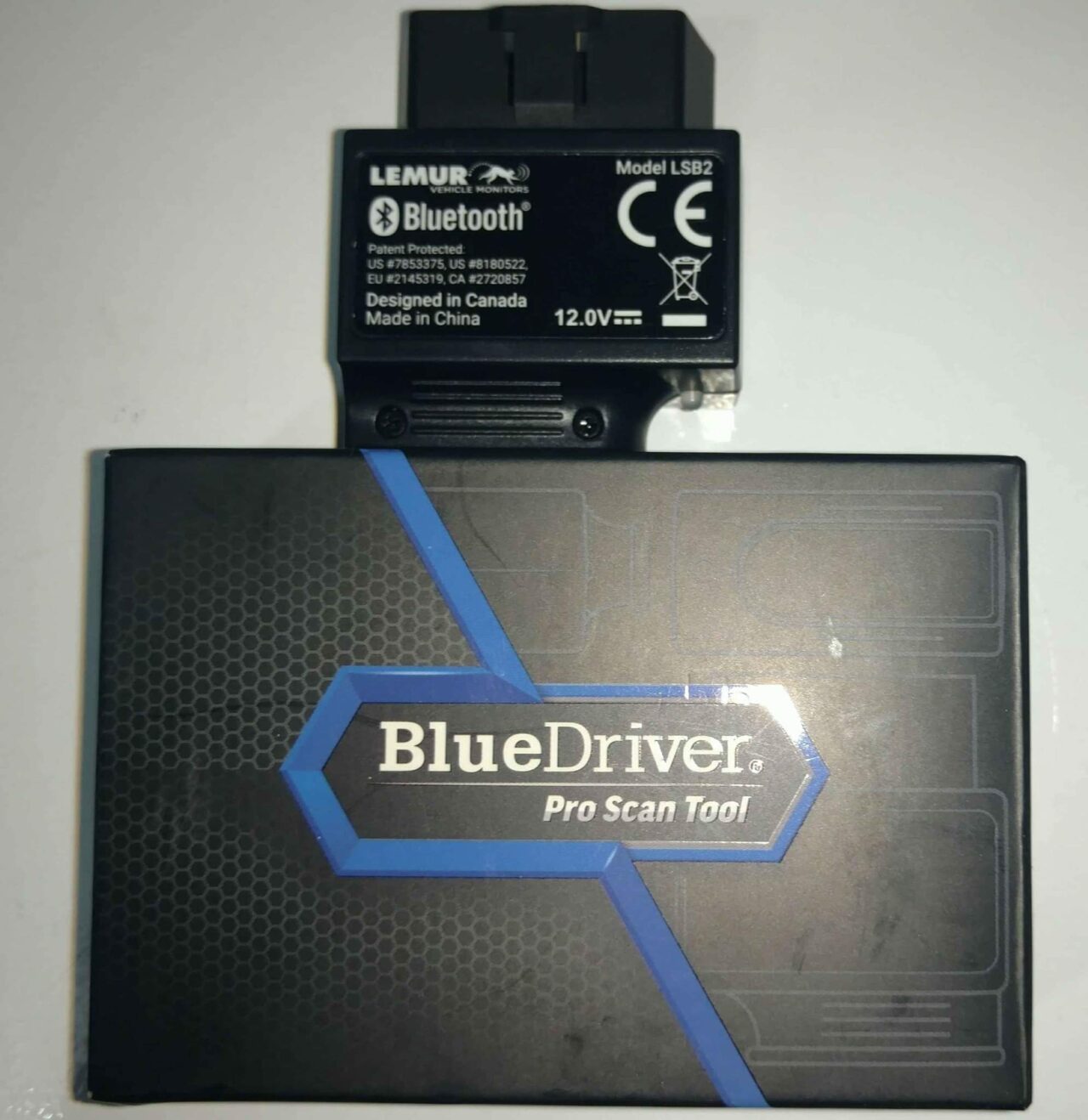 The package does come with a user manual. However, what annoys me is that there's no specific instruction for each feature. So consumers have to go to the manufacturer's website to learn by themselves. 
Luckily, their tech support is outstanding. I once emailed them when having difficulty in receiving the top reported fix associated with the P0740 code. And an actual human named Dan Walsh replied to me within a day in a polite manner. 
Another plus point is you don't have to worry about how to connect it to your vehicle. This is because BlueDriver Pro Scan Tool is designed to have ribbed sides, making it easy to grasp, match up or detach the device from the vehicle's OBD-II port.
One more thing you should be aware of is the light color of this device while operating.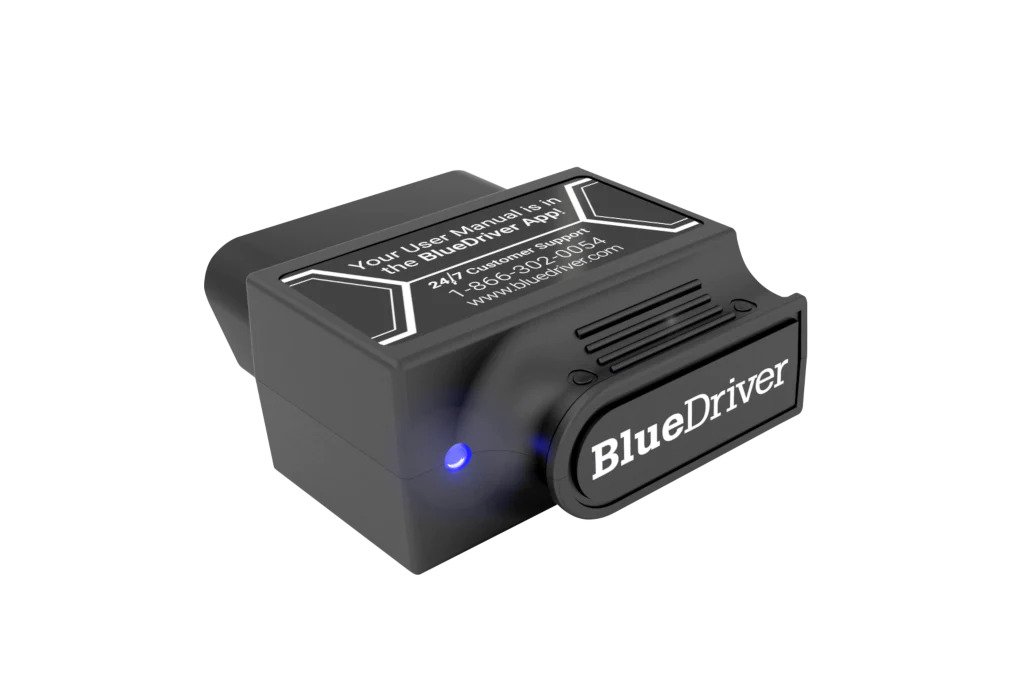 If you connect to both your vehicle and phone (Bluetooth connection is on), there will be a steady blue light. On the other hand, if you only connect BlueDriver to the vehicle, not the phone, the device will blink red, while a solid red light means the scanner is in recovery mode. 
You can totally leave your BlueDriver plugged in the car with no safety-related problems, but it will lead to car battery drain.
If you want to see more pictures of BlueDriver, click here.
Bluedriver's Performance: Work Better Than A Plug-In Handheld Scanner
No more references with reliable fixes suggestions
With a BlueDriver, you can read and clear all the error codes popping up from main systems, such as engine, transmission, ABS, airbag, or TPMS in a minute.
Besides a code name with a short definition, you will be provided with a repair report. This contains all the confirmed fixes, so no need to surf the Internet for references. Just follow them and save some time.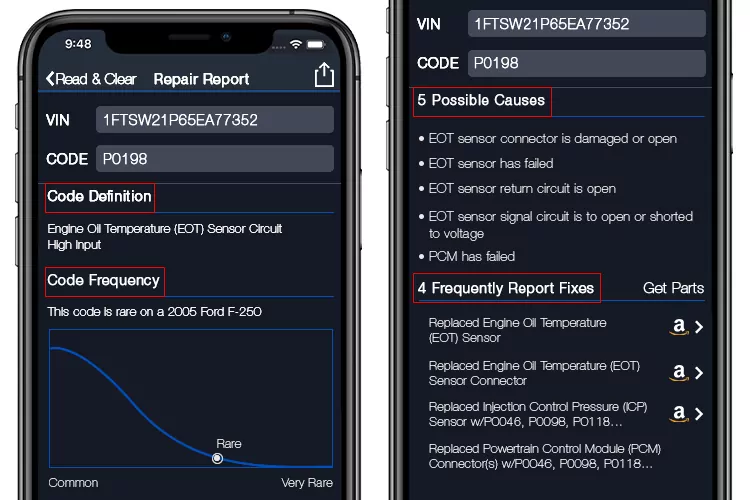 However, be aware of the inconsistent code readings issue. I once got P0700 and P0705 at the same time, but a few minutes later, they disappeared. After scanning one more time, P0705 popped up again.
I had the car fixed but still don't know where the P0700 code was going.
And, of course, you can clear the DTCs once you fix the underlying problems, just like the way I did with the P0705 code.
No more ripping-off from the mechanic
You can go to the mechanics and show them your repair report. In this case, the report works as evidence. So, they can't lie to you about what's going wrong with your vehicle for some extra money.
What's more, you can become a real mechanic on your own and for your family and friends. This is because BlueDriver allows you to save and email the repair report to others. So distance is no longer a problem.
For example, your daughter, who is living in New York for studying, and you – an old man who always sticks around Oklahoma needs help to fix her car. Thanks to BlueDriver, she can literally email the report to you, and done, you got her covered. 
Car's statistics observing to know the root of the problem 
You can consider mode 6, live data and freeze frame function as an excellent combo for discovering the exact cause leading to problems in your car. And why so?
Here's the answer.
Mode 6 will give you access to advanced test results for emission control components, sensors to see if they are within the ideal parameters. 
Additionally. freeze frame allows you to "freeze" the time and the vehicle state, like fuel system status, engine coolant temps, etc., when your Check Engine Light (CEL) comes on with a snapshot. 
With such information, you will find it more useful when getting to the main culprit of the problem. 
And with live data on the BlueDriver, you can view the diagnostic inputs when the engine is running in real-time, such as vehicle speed (km/h), engine RPM (rpm), Mass Air Flow Rate (g/s), etc., in digital and graphical form.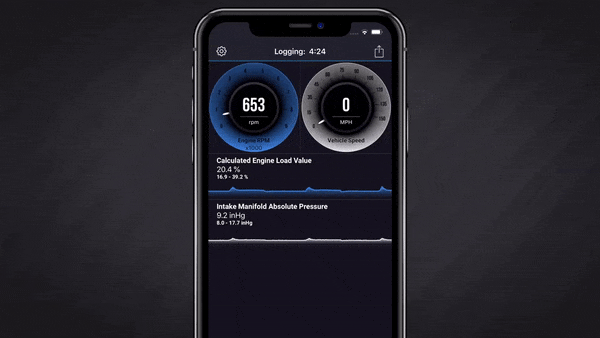 Of course, these parameters will not help you discover how to fix your vehicle, yet, they will give you an overview of the problem so you can determine the actual fault.
Furthermore, live data graphs can be viewed in portrait or landscape modes. But honestly, I don't see the purpose of this separation. 
I also feel a little annoyed as the device normally takes 5-6 seconds to refresh live data. This makes it difficult to diagnose intermittent issues, especially when it comes to sensor problems. 
No more wasting money on taking over and over the smog test
BlueDriver will give you a definite pass or fail when you perform a smog check by showing you the status of the car's readiness monitors. So if a particular part is not working correctly, it will give you a "not complete" reading.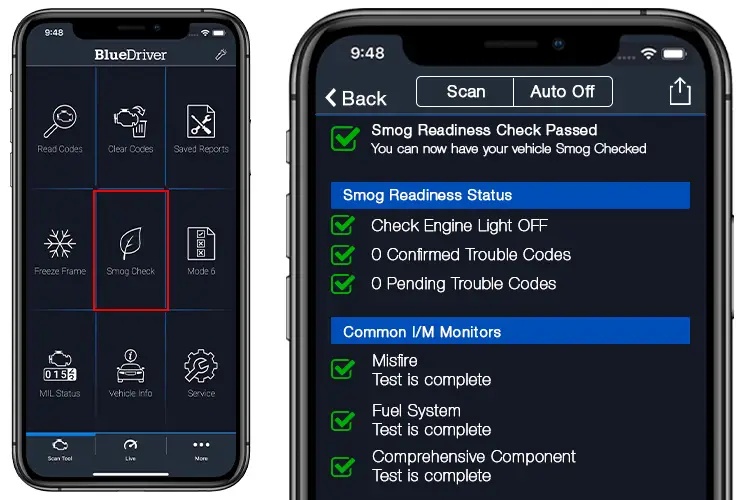 But as a customer just like you, I recommend you not to place your faith in this function completely. Keep in mind that BlueDriver only shows the test results as reported by the vehicle but cannot guarantee that your car will pass or fail its inspection. 
You can read real customer reviews on Amazon if you want more information about BlueDriver.
There are 47,005 people rated for BlueDriver on Amazon. More than 80% of them gave 5 stars rating for this scanner (This data was collected on Jan 13, 2023). So, BlueDriver is worth trying.
BlueDriver
Bluedriver's Setup: Straightforward And Quick
Setting up BlueDriver is so straightforward that even non-technical people can do it easily.
And the whole process should not take you over 10 minutes. 
Here's how you can do it. 
BlueDriver's Alternatives
If you are still here with me, I know you are wondering that with the same budget, what else can you get beyond a BlueDriver? 
Let me help you to the end of this journey!
Find the key similarities and differences of Bluedriver and its 2 alternative scan tools in the comparison chart below:

BlueDriver

Editor's Pick

OBDLink MX+


FOXWELL NT630 Plus

Customer Rating

Price range
Read & Clear Codes
✔
✔
✔
Enhanced Diagnostics (ABS, SRS, TMPS)
✔
✔
✔
Read Live PCM Data Stream
✔
✔
✔
Over-voltage protection
--
✔
--
Compatible with 3rd-party Apps
--
✔
--
Compatible Operating Systems
iOS, Android
iOS, Android, Windows
Windows
Supported Protocols
OBD2
OBD2, EOBD, JOBD
OBD2, EOBD
TPMS Reset
✔
--
--
Oil Reset
✔
--
--
Battery Registration
✔
--
--
Supports GM-LAN/MS-CAN
--
✔
--
Overall score
8/10
9/10
7/10
Vehicle Supported
OBD2 cars, SUVs, 12V trucks
OBD2 cars, SUVs, 12V trucks
OBD2 cars, SUVs, 12V trucks
#1 Alternative: OBDLink MX+
An OBDLink MX+ can do almost anything that a BlueDriver can.
Yet, there are some key differences that you should take into consideration.
Although OBDLink MX+ cannot offer advanced functions such as TPMS Reset, Oil Reset, and Battery Registration like BlueDriver, OBDLink MX+ can be paired with third-party apps, which you don't see in BlueDriver.
Also, besides working well with iOS, Android, OBDLink MX+ can be used in Windows, while Bluedriver only works with iOS and Android.
Furthermore, OBDLink MX+ supports GM-LAN/MS-CAN.
The last thing that OBDLink has but Bluedriver doesn't is over-voltage protection and battery drain protection.
Obviously, OBDLink MX+ might be the better option for Ford and GM driver if you don't mind paying a few more bucks.
If you are sitting on the fence, let's go on!
---
RELATED POST:
---
#2 Alternative: FOXWELL NT630 Plus
If Bluetooth connection sounds complex to you because you're not really into technology, go for a FOXWELL NT630 Plus.
This unit is designed to have a clear font, size, and symbols with responsive buttons, which is easy to use and understand for old folks like me.
The way of using it is also straightforward. Just plug the other end of the cable in your vehicle's port and see the results from the screen.
Moreover, with this scan tool, you can totally bleed ABS on your vehicle, which is impossible with a BlueDriver. It also resets Steering Angle Sensor (SAS), but you should check carefully if this feature can work on your car or not before the purchase. 
In conclusion, both BlueDriver and FOXWELL NT630 Plus are all suitable for a DIY-er.
Just focus on what you need on a scan tool, you'll know what's best for you. 
RELATED POST:
BlueDriver: Final Thoughts
With enhanced diagnostic capabilities, I am confident that BlueDriver is one of the best smart scanners on the market today.
With $120, it turns a smartphone into a $3000 scanner. This also has free lifetime updates and supports both iOS and Android.
So, if you're a beginner DIY-er, BlueDriver can save you thousands of dollars in maintenance costs by knowing your car's problems.
Are you ready to experience a special Bluetooth scanner for your vehicle?
FAQs
1. Does BlueDriver show oil pressure?
No. BlueDriver does not currently support oil pressure since this feature does not belong to standard OBDII live data PID. 
2. BlueDriver vs. Carly: which one is better?
BlueDriver would be the go-to option for those who are looking for a straightforward and free lifetime app. 
Thanks to all the pro tips and confirmed fixes provided, you can have your vehicle repaired at home and save some money. However, you can't customize your vehicle with the BlueDriver app.
On the other hand, such feature is available on the Carly app. But you have to pay a yearly fee to access advanced maintenance, coding, and other additional features. 
If you own an Audi, BMW, VW, Seat, or a Skoda and want to customize the ECU, Carly is much more suitable for you. 
---
RELATED POSTS:
---