BlueDriver and OBDLink are among the two most popular names in the world of scan tools. This is why it is not very uncommon for people to worry about BlueDriver vs. OBDLink and compare their apps.
In this BlueDriver vs. OBDLink article, we'll have a look at the two OBDII Scan Tools (the apps and the adapters) in detail to find the best one.
Let's get started!!
Bluedriver Vs. OBDLink MX+ Vs. OBDLink EX
It is important to know about these scan tools for a complete understanding of the BlueDriver vs. OBDLink concept.
Editor's Pick

BlueDriver


OBDLink MX+


OBDLink LX

Customer Rating

Price range
OBD2 functions
Full OBD2 functions
Full OBD2 functions
Full OBD2 functions
System diagnostics
All systems
All systems
Engine
Advanced service functions
Oil Reset, TPMS Reset, Battery Registration
--
--
Supported
Operating Systems
iOS, Android
iOS, Android,
and Windows
Windows and Android
Vehicle Coverage
OBD2 cars, SUVs, 12V trucks
OBD2 cars, SUVs, 12V trucks
OBD2 cars, SUVs, 12V trucks
*Notes: Excellent: 9-10; Good: 7-8; Fair: 5-6; Poor: 3-4; Very poor: 1-2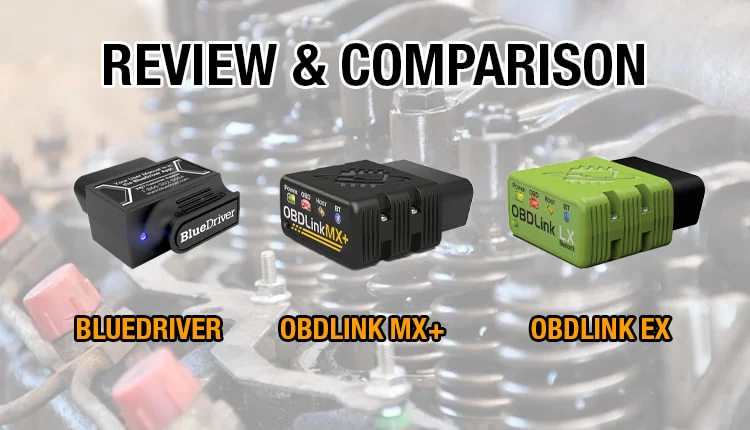 #1. BlueDriver
With this scan tool, you will be able to use all the features the BlueDriver app has to offer. It's officially licensed for Android and Apple devices and is said to be suitable for professionals due to its comprehensive features.
#2. OBDLink LX
Known to be quick, this scan tool offers excellent wireless security and can even help you prevent your battery from draining. It comes with a variety of functions and is also quite durable.
#3. OBDLink MX+
This scan tool supports a wide variety of vehicles and is very quick. At just 1.26 ounces, it is relatively light in weight, and you will face no difficulties in using it.
BlueDriver App Vs. OBDLink App: complete comparison chart
BlueDriver App
OBDLink App
Customer Rating

Supported
Operating Systems
iOS and Android
iOS, Windows, and Android
Full OBD2
Test Modes
✔
✔
GPS tracking
--
✔
Read and Clear
Enhanced Codes
✔
✔
Identifix Free Reports
✔
--
Emissions Readiness
✔
--
Paid Features
--
✔
Personalization
--
✔
Size
> 30 MB
< 30 MB
Price
Free
Free
Update Fee
Lifetime Free
Lifetime Free
Speed
Faster
Slower
The BlueDriver app can be an excellent option for users who do not know much about vehicles as it offers over 6.6 million verified fixes. This feature can help you understand what you need to do in order to solve a problem. It will also help you calculate expected costs if you were to take your vehicle to a professional.
Download BlueDriver App for Android
Download BlueDriver App for iOS
Similarly, OBDLink can be good if you want an app that feels personalized without the worries of ads. It's also said to be suitable for both pros and DIYers.
Download OBDLink App for Android
Download OBDLink Software for Windows PC
BlueDriver Vs. OBDLink: How Good Are The Apps
From the front, both the apps look quite similar as they are designed to do the same thing – help you diagnose your car with the help of a scan tool. However, once you start to use the apps, you will notice how greatly they differ in terms of use, performance, and features.
Let's have a look at the similarities and differences between these 2 apps.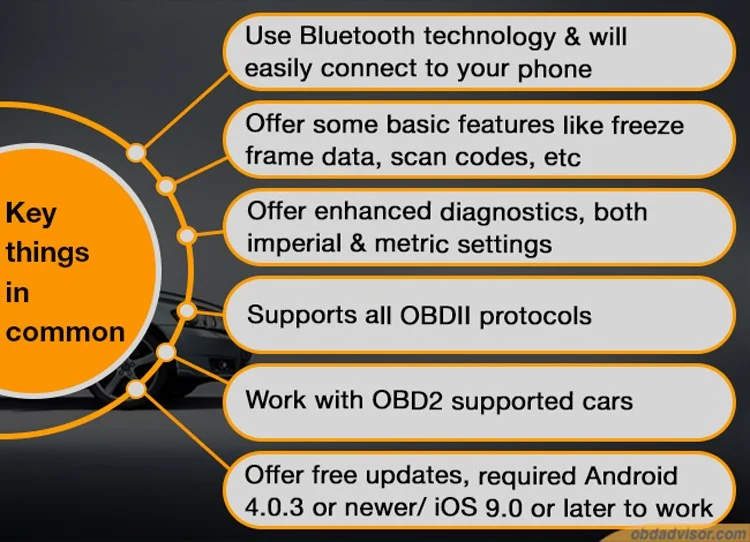 Features And Functions
Both the apps use Bluetooth technology and will easily connect to your phone. However, the OBDLink app appears to be faster in this regard, especially when it comes to Android devices. The BlueDriver app seems faster for iOS devices and even connects automatically with iPhones and iPads.
They both offer some basic features like freeze frame data, scan codes, clear codes, generate and share reports, etc. However, from our experience, BlueDriver wins in this regard as the reports it generates are more detailed. However, they are both correct.
Both the apps offer enhanced diagnostics but for a limited number of cars. The good thing, however, is that they offer both imperial and metric settings. Hence you will have no trouble using the app no matter where you are.
Supported Protocols
The OBDLink app displays over 90 parameters and also shows real-time data. It supports all OBDII protocols.
The BlueDriver app isn't very far behind either, and it also supports all OBDII protocols.
Supported Vehicles Models/Makes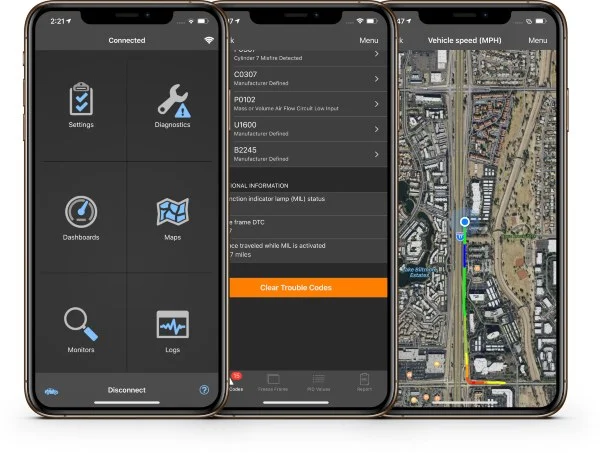 Both the apps will work with OBD2 supported cars, but the brands they'll support will depend on which scan tool you use. OBDLink typically works with Lexus, Toyota, Scion, GM, Ford, Nissan, Mazda, and Infiniti, whereas the BlueDriver tool works with Honda, VW, BMW, Mazda, Nissan, Toyota, Gord, GM, and Chrysler.
It's safe to say that the BlueDriver scanner supports more makes and models.
Apps, Software, And Updates
Both the apps offer free updates, but we'd give an extra point to OBDLink as the updates here appear to be easier to download.
BlueDriver seems to be a little slow in this regard, and it also does not offer very regular updates. Moreover, they both have an easy to use interface, and it will not take you a lot of time to do what you need to do.
Both the apps required Android version 4.0.3 or newer to work. For iOS devices, you will need version 9.0 or later.
Price, Extra fee, In-app Fee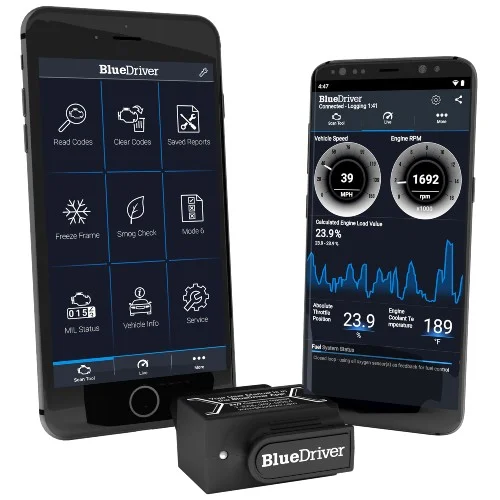 The BlueDriver app is free to install. However, it will work with the official sensor, which you can buy separately by going to the app and ordering one online.
Without a sensor, you will only be able to generate repair reports by entering the trouble code and VIN information manually.
On the other hand, the OBDLink app works exclusively with OBDLink MX and OBDLink MX+ adapters.
Once you have bought the tool, you can use all the other features offered by the app without any worries. There are no extra charges or in-app purchases.
On the other hand, the OBDLink app is paid in the form of in-app purchases that start as low as $9.99. The app itself is free to use when you buy one of the supported adapters from the manufacturer.
Pros and Cons of Bluedriver and OBDLink
Pros and Cons of BlueDriver
Pros
It is globally compatible which is a great plus.
This app allows you to export PDF files.
Cons
The BlueDriver app may not work well if it is not updated.
Pros and Cons of OBDLink
Pros
OBDLink allows you to customize the dashboard according to your requirements.
Regular updates from the company.
Cons
The OBDLink app may freeze.
Video Reviews
BlueDriver and OBDLink are designed to help you diagnose your car with the help of a scan tool, as well as offer over 6.6 million verified fixes.
FAQs
Can I use both apps?
You will need two scanners to use both the apps, and that may not be the best option. You should pick one that suits you.
Which company offers better customer support?
BlueDriver is known for offering excellent customer support. However, OBDLink isn't far behind either. The representatives are professional and friendly.
I am a professional, which app should I use?
This largely depends on which scanner you have. However, if you haven't decided on any yet, then pick one that supports the vehicle you mostly deal with.
What should I do if my app keeps on freezing?
This usually occurs when you are using an older version of the app. Since updates are free, do not hesitate to update the app and restart your device before using it again.
Can we use these scanners with other apps?
OBDLink apps offer support for third-party scanners, but the BlueDriver scanners will only work with the official app. This gives OBDLink an edge in this BlueDriver vs. OBDLink battle.
Will the app slow my phone down?
We used both the apps on multiple devices and did not face such issues. However, if your mobile phone lags after installing the app, then it might be due to a lack of space. Check storage settings and remove unwanted apps.
Now that you know all about the BlueDriver vs. OBDLink app battle, we are sure you will find it easier to pick the right option.
Read more: OBDLink EX Vs. MX+ Vs. OHP ELMconfig FORScan: Review and Comparison