"What's the difference between OBDLink MX+ vs. OBDLink LX? What's better?"
Not to worry, I've got you covered! In this post, I'll give you a quick and easy breakdown of the similarities and differences between the two adapters. 
So, let's dive into the OBDLink comparison and get your questions answered!
OBDLink MX+ vs. LX: Key Differences
Here are three key distinctions between OBDLink MX+ and LX:
Compatibility with operating systems:
OBDLink MX+ is compatible with three different operating systems: Android, Windows, and iOS. On the other hand, OBDLink LX supports only Android and Windows operating systems.
When you purchase OBDLink MX+, you gain free access to unlimited add-ons for various car brands through the OBDLink app. Conversely, OBDLink LX users need to make separate purchases to use these add-ons.
Third-party app supported:
OBDLink MX+ offers remarkable compatibility with up to 18 apps and software, making it incredibly versatile. 
OBDLink LX also supports a good number of apps, with 15 being compatible.
However, there's a catch for iOS users since the LX doesn't work with their devices. This means iOS users can't use 15 apps above and are limited to only one supported app, the OBDLink app.
---
OBDLink MX+ vs. LX: Full Comparison Chart
| | OBDLink MX+ | OBDLink LX |
| --- | --- | --- |
| FUNCTIONS | | |
| Full-system diagnostics | ✅ | ✅ (*) |
| Live data | Number, graph, gauge | Number, graph, gauge |
| Enhanced live data | ✅ | ✅ (*) |
| Advanced functions | Depends | Depends |
| VEHICLE COVERAGE | | |
| Cars/Light trucks | ✅ | ✅ |
| SW-CAN/MS-CAN supported | ✅ | - |
| DESIGN & HARDWARE | | |
| Sleep mode | ✅ | ✅ |
| Over-voltage protection | ✅ | ✅ |
| Smaller size | - | ✅ |
| Compatible with 3rd-party apps | 18 | 15 |
| Compatible OS | iOS, Android, Windows | Android, Windows |
| Bluetooth version | Classic 3.0 | Classic 3.0 |
| AFTER-SALES SERVICE | | |
| Free update | Lifetime | Lifetime |
| Warranty | 3 years | 3 years |
| Customer support | 8.5/10 | 8.5/10 |
| | Check price | Check Price |
| | | |
Click here to DOWNLOAD the Full Comparison Chart in PDF (FREE)
(*): The add-ons are not free for OBDLink LX. You must purchase them through OBDLink app.
---
OBDLink MX+ vs. LX: Detailed Comparison
Performance
1. Diagnostics
When it comes to diagnostics, OBDLink MX+ shines with its ability to perform full-system diagnostics on various car brands using the OBDLink app.
In contrast, OBDLink LX is limited to reading engine and transmission codes. If you want a full system check with LX, you'll need to buy additional features in the default app.
2. Live data
Similar to diagnostics, OBDLink MX+ provides real-time data from the car's systems for some brands like Ford, Toyota, Nissan, and others. However, with OBDLink LX, you'll have to make additional purchases to access similar real-time data features available with MX+.
3. Advanced functions
OBDLink app is mainly designed for reading codes and real-time data, so it doesn't support advanced features. If you want to use advanced features like service functions, coding, active tests, etc., you'll need to use third-party apps. For example:
Carista (VAG cars, Asian cars)
Forscan (Ford, Mazda, etc)
Bimmercode (BMW/MINI)
AlfaOBD (FCA vehicles) and more.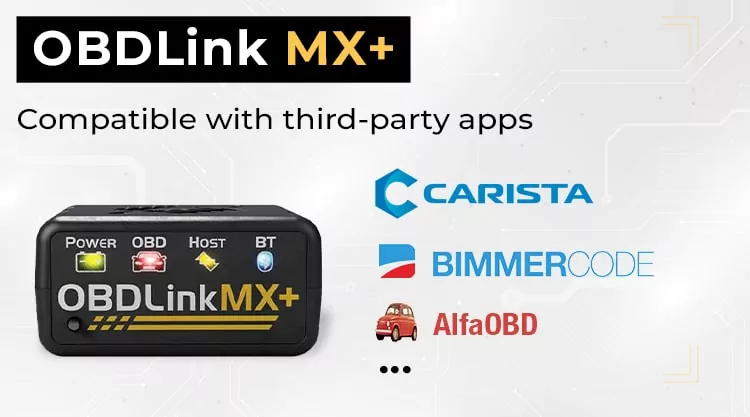 Both scanners work with many third-party apps. The difference is that MX+ supports all operating systems, so any user can use the apps mentioned above. In contrast, LX doesn't support iOS, limiting those apps to Android users only.
Today's best OBDLink MX+ price:
Today's best OBDLink LX price:
---
Vehicle Coverage
I have tested both OBDLink Bluetooth adapters, and they are capable of supporting all OBD2 protocols and performing well on various vehicles.
Yet, the OBDLink MX+ has an extra advantage as it also supports SW-CAN (for GM vehicles) and MS-CAN (for Ford vehicles) protocols. This makes it an excellent choice for GM or Ford vehicle owners seeking a more comprehensive diagnosis.
Furthermore, the LX lacks support for hybrid and electric vehicles, whereas the MX+ fully supports them. Therefore, if you own such vehicles, I strongly recommend choosing the OBDLink MX+.
Today's best OBDLink MX+ price:
Today's best OBDLink LX price:
---
Design & Hardware
At first glance, both scanners seem to be the same small size, making them easily portable for carrying around.
Both OBDLink MX+ and LX are equipped with overvoltage protection, ensuring they remain safe from catching fire during a load dump condition.
Additionally, they have an automatic sleep mode when not in use, which saves you the hassle of dealing with a dead car battery.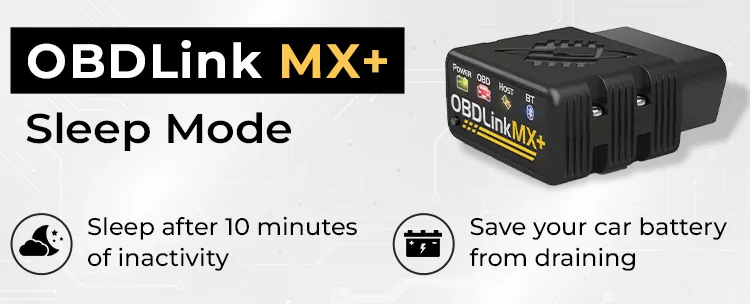 Both OBDLink MX+ and LX feature classic Bluetooth 3.0, offering a fast refresh rate for quicker screen updates and increased graph points.
Today's best OBDLink MX+ price:
Today's best OBDLink LX price:
---
After-sales Service
Both the OBDLink LX and MX+ come with a 3-year warranty and lifetime software and firmware upgrades. And they also offer a 180-day money-back guarantee on their website.
If you're interested in updates, you'll be pleased to know that this company regularly adds new features through updates.
For example, they recently added add-ons for Mitsubishi and FCA vehicles. I've noticed that they consistently update their products every month.
Their customer support is really good too. They respond to my questions within 24 hours, ensuring a great experience.
Today's best OBDLink MX+ price:
Today's best OBDLink LX price:
---
Recommendations
If you're looking to get a complete and thorough diagnosis of your vehicle, then the OBDLink MX+ is the way to go.
But if you just want to take care of the most important part of your vehicle, and if your vehicle doesn't support OEM diagnosis, OBDLink LX is enough.