Are you looking for a Bluetooth scan tool but aren't sure which one to buy? There are many options out there, and for home mechanics especially, figuring out the best one for your needs can be tricky.
The good news is that I am here to help! OBDLink CX, OBDLink MX+, and BlueDriver are amongst the top wireless scanners on the market for DIY mechanics.
In this review, I'll compare their functions and design side by side so you can see more clearly the exact difference between them.
Let's go.
OBDLink CX vs. MX+ vs. BlueDriver: Complete comparison table

OBDLink CX

Editor's Pick

OBDLink MX+


BlueDriver

Customer Rating

Price range
Read & Clear Codes
✔
✔
✔
Enhanced Diagnostics (ABS, SRS, TMPS)
--
✔
✔
Read Live PCM Data Stream
✔
✔
✔
Over-voltage protection
✔
✔
--
Compatible with 3rd-party Apps
✔
✔
--
Compatible Operating Systems
iOS, Android
iOS, Android, Windows
iOS, Android
Supported Protocols
OBD2
OBD2, EOBD, JOBD
OBD2
TPMS Reset
--
--
✔
Oil Reset
--
--
✔
Battery Registration
✔
--
✔
Supports GM-LAN/MS-CAN
--
✔
--
Overall score
7/10*
9/10
9/10
Vehicle Supported
OBD2 cars, SUVs, 12V trucks
OBD2 cars, SUVs, 12V trucks
OBD2 cars, SUVs, 12V trucks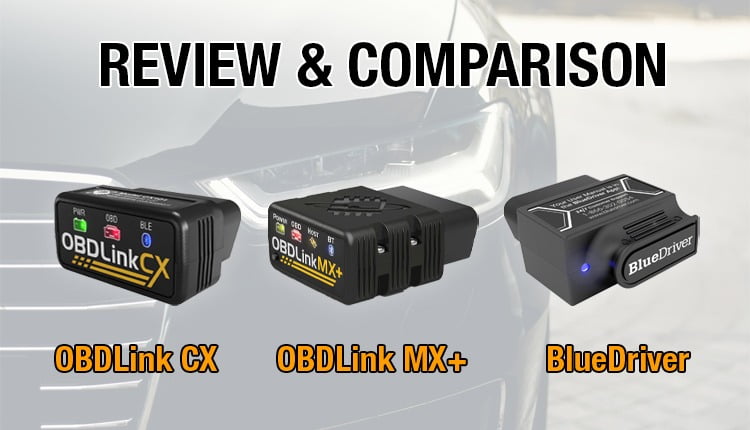 Key things in common of OBDLink CX, OBDLink MX+, and BlueDriver
BlueDriver and the OBDLink CX and MX+ adapters all work on the same basic premise. Plug the adapter into the OBD2 port of a vehicle, and it wirelessly communicates with a diagnostic app on a paired device. This lets you turn your phone or tablet into an automotive scanner, often with more functions and capabilities than hand-held scanners in the same price range.
The diagnostic functions of these tools are all based on the OBD2 protocol. They can read and clear DTCs and show the live data stream from a range of systems. Since they also retail for less than $100, any of these is an affordable and convenient way to monitor your engine's health.
OBDLink CX vs. OBDLink MX+ vs. BlueDriver: Key differences explained
Design and specifications
The OBDLink CX and MX+ have built-in protection against power surges and data corruption, as well as a sleep mode that reduces power usage. This means you can leave they plugged in full-time without worrying they'll drain your battery or damage the ECU.
OBDLink CX
The OBDLink CX is incredibly convenient for continuous monitoring because of its slim profile. It sticks out less than an inch from the OBD2 port, so it's utterly unobtrusive once it's plugged in. Conversely, the OBDLink MX+ is a bit larger but has a better processor. This means it reads data up to 3 times faster than other scanners.
BlueDriver is also nicely compact, if a bit larger than the OBDLink CX. It also has a low power drain and can be safely left plugged in full-time.
Features and functions
OBDLink CX Diagnostic Scanner
It reads data up to 3 times faster than other scanners and is ideal for BMW and Mini owners.
Paired with the included OBDLink app, the OBDLink CX serves as an OBD2 diagnostic tool. Its core functions include reading and clearing trouble codes, viewing live data streams, and testing vehicle emissions.
The OBDLink CX also has some advanced functions for BMW vehicles. This includes customization of the mirrors, sound system, and other on-board electronics. It even has a remote start option for some cars, which can be handy on cold winter mornings.
OBDLink MX+ Bluetooth Scanner
It's broad protocol support makes it an ideal choice for GM and Ford owners.
The OBDLink MX+'s core function are similar to those of the CX and covers all the basic OBD2 diagnostics offered by hand-held scanners. The MX+ can also read live data from systems like the ABS, SRS, and TPMS. While these enhanced diagnostics aren't available for all vehicles, they support popular brands like Toyota, Nissan, Ford, Mazda, and GM.
BlueDriver Scan Tool
It has the advantage of convenience. The user-friendly interface makes automotive diagnostics easy to understand, even for non-experts.
The BlueDriver functions as a universal OBD2 scanner for most vehicles sold in the US after 1996. One unique feature of BlueDriver is the Repair Reports function, which suggests verified repairs for any trouble codes that trigger. That's a big time-saver for DIY mechanics.
BlueDriver also offers Enhanced Diagnostics for about a dozen major manufacturers. For these vehicles, it can read data and trouble codes from the ABS, SRS, and TPMS systems and includes them in its Repair Reports with suggested fixes.
Supported protocols
These wireless scan tools support all 5 OBD2 protocols in everyday use in the United States. This includes ISO15765, ISO9141, ISO11898, KWP2000, and SAE J1939 for heavy-duty vehicles.
The OBDLink MX+ also supports proprietary GM-LAN, Ford MS-CAN networks, and international protocols like EOBD and JOBD.
OBDLink MX+
Supported vehicle makes
If you want to conduct OBD2 diagnostics, all three of these adapters offer universal compatibility. The difference in their vehicle support mostly comes down to their extra features and Enhanced Diagnostics.
OBDLink CX is ideal for BMW and Mini owners, supporting a range of advanced customization features in addition to its diagnostic capabilities.
The broad protocol support of the OBDLink MX+ makes it an ideal choice for GM, Ford, Infiniti, Lexus, Lincoln, Mazda, Mercury, Nissan, Scion, Toyota owners. It can access manufacturer-specific codes and data other scanners don't see, along with performing Enhanced Diagnostics.
Find the details of enhanced diagnostic support of OBDLink MX+ here.
BlueDriver's Enhanced Diagnostics are available on vehicles from 13 major manufacturers, including Subaru, Chrysler, and Volkswagen, that aren't included in the Enhanced Diagnostics coverage of the MX+.
Use the compatibility check tool on the BlueDriver support page if you want to double-check what it can do for your vehicle.
Warranty, software, and updates
Since these are all Bluetooth scan tools, installing firmware updates is easy. These updates are free for the device's life from both OBDLink and BlueDriver and can be installed automatically to the adapter. The same is true for software updates for the associated apps, as long as you have automatic updating allowed on your phone or tablet.
The OBDLink CX and MX+ both come with the free OBDLink app, which gives users access to basic OBD2 functions. They're compatible with other third-party apps as well. OBDLink CX works exceptionally well with BimmerCode and BimmerLink, for example, while the OBDLink MX+ is compatible with a range of popular apps, including FORScan, Torque, and Dashcommand, among others.
This is a big difference between the OBDLink tools and BlueDriver. BlueDriver is designed to work exclusively with the BlueDriver app, which comes free with the scan tool's purchase. That's a convenient option for those who don't want to think about which app they'll use, though it does limit your function options to those offered in the proprietary app.
As to the warranty, OBDLink offers 3-year warranty coverage for all registered tools, including the CX and MX+. They also have a 90-day money-back guarantee policy, so it's a genuinely risk-free device to try. BlueDriver is covered by a 1-year warranty, with a 180-day money-back guarantee.
OBDLink CX
OBDLink MX+
BlueDriver
User manual download
BlueDriver provides comprehensive information about the tool on their support page instead of a downloadable user manual. This includes general info about how to use the device as well as tips specific to certain manufacturers.
Quick start guides for the OBDLink tools can be found on the same page where you download the OBDLink app.
Pros
Value is the main strength of the OBDLink CX. It's one of the few comprehensive OBD2 scanners you'll find in the under-$50 price point. The slim profile is an advantage, too, making it an unobtrusive way to monitor engine data.
On the other hand, the OBDLink MX+ wins for versatility. It's the only tool that supports manufacturer-specific protocols for Ford and GM vehicles, giving you access to more information. Along with that, it has robust support for 3rd-party apps, offers Enhanced Codes for more cars, and can be used with Windows devices, iOS, and Android operating systems.
Finally, BlueDriver has the advantage of convenience. The user-friendly interface makes automotive diagnostics easy to understand, even for non-experts.
BlueDriver
Cons
The OBDLink CX doesn't go beyond OBD2 diagnostics for most vehicles, which is its main limitation. Unless you drive a BMW or Mini, it's basically an OBD2 scanner and can't access all systems in the vehicle.
The cost of BlueDriver and OBDLink MX+ is their main disadvantage compared to the OBDLink CX. While they're still more affordable than most hand-held scan tools offering the same features, they cost more than twice as much as the CX. This could be a significant factor for buyers on a budget.
Recommendation
BlueDriver is our top recommendation for everyday drivers. Features like the Repair Reports and the easy to read dashboard make it a great way to get into home car maintenance, and its broad vehicle compatibility is a plus here, too.
OBDLink's tools are a better option for more advanced home mechanics because of their wider 3rd-party app compatibility.
The OBDLink CX is ideal for BMW and Mini drivers, while the OBDLink MX+ is the perfect fit for Ford and GM vehicles.
FAQs
Will OBDLink CX work on BMW motorcycles?
Unfortunately, no. BMW motorcycles use the MotoScan diagnostic app, which is not yet compatible with OBDLink CX.
Will the OBDLink CX and MX+ work on diesel engines?
As long as the vehicle supports OBD2 protocols, yes. You can verify which diagnostic protocol the vehicle uses by checking the vehicle's repair manual. 
Do the Enhanced Codes on OBDLink MX+ require an extra purchase?
No, all the capabilities of the MX+ are available right out of the box. Some of the compatible apps require payment, but there are no additional purchases needed if you're using the free OBDLink app.
Can BlueDriver perform ABS bleeding?
No. BlueDriver can diagnose issues with the ABS, but it doesn't support bi-directional control. This means it can't perform maintenance functions like adjusting the steering angle or bleeding the brakes.
Do these scanners use batteries? How are they powered?
These Bluetooth diagnostic tools are powered by the vehicle battery when they're plugged in, so they don't require their own batteries. This does mean the vehicle needs to be on when using these tools. When conducting diagnoses in your garage, you can turn the ignition to the "on" or "running" position instead of starting the engine.
---
RELATED POSTS: