If you are interested in FORScan software, you must hear about OBDLink EX at least once. 
This adapter is mentioned everywhere on the FORScan forum, as one of the best FORScan companions. 
So, you may wonder if OBDLink EX's worth the hype, right?
Well, I bet you can find the answer after reading this post.
I'll show you my own experiences and opinions. Thus, a summary of 6,000+ customers' reviews is included too.
Let's dive right in.
Key Features: 
Please remember that OBDLink EX is just an adapter, it doesn't have any features itself. The real beauty of this adapter comes when you open FORScan.
The seller claims that OBDLink EX can unlock all features of FORScan, like:
Programming and Coding
Bi-directional control
Service functions (battery reset, DPF regeneration, oil reset, etc.)
Live data
OE-Level FULL System Diagnostics
Want to know how those functions work in real tests, right?
Scroll down to see. 
My First-hand Experiences
1. Vehicle/ Software Coverage: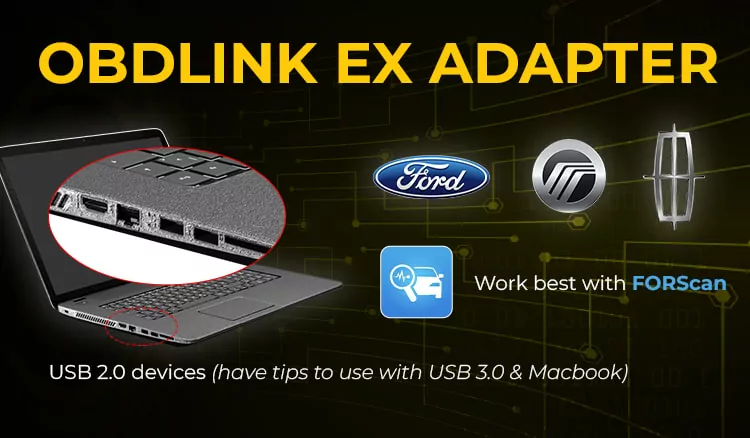 Software
There are two software options: FORscan and OBDwiz.
In fact, FORscan is a better choice. Why?
OBDLink EX is designed to take full advantage of FORScan. In turn, FORScan takes advantage of exclusive OBDLink functionality. This is a win-win relationship.
Device
At first, I couldn't connect OBDLink EX to my 2021 HP Spectre. I realized that OBDLink EX only supports Windows devices with USB 2.0; this is something that the seller didn't mention. 
*Tips:
For USB 3.0 laptop users: Use a converting cable between type C and USB 2.0.
For MacBook users: Install Windows 10 on your Mac with Boot Camp. 
Vehicle Coverage
Below, I list some vehicles that I have tested OBDLink EX on (the list is too long; I can't name everything here):
2003 Ford Expedition
2008 Lincoln Town Car
2012 Ford F-350
2013 Ford Edge
2014 Ford F150
2015 Ford Fiesta
2019 Ford Lariat
2020 F-350 Super Duty
2022 F-250 Super Duty
And 30+ more.
You can see that the models are super diverse.
The best thing is, OBDLink EX combined with FORscan could support all vehicles that I have tested!
2. Ease Of Use
You may be worried about the driver installation. Here's the process:
Make sure to have the FORScan software on your device first. (download package here)
Then, plug the OBDLink EX in and check the light. There are two situations:
If the light is yellow or green, the USB driver has been installed automatically 
If the light is red, you have to install the driver yourself
To do that, 
go to OBDLink® EX Support to download the driver (CDM21228_Setup is the newest driver version)
extract the file "CDM21228_Setup.zip"
run the "CDM21228_Setup.exe" installation file
Quite easy, right?
Well, the tricky one is the OBDLink EX's menu layout. There are many items and you may not know where to go. It's ok, I will show you right below: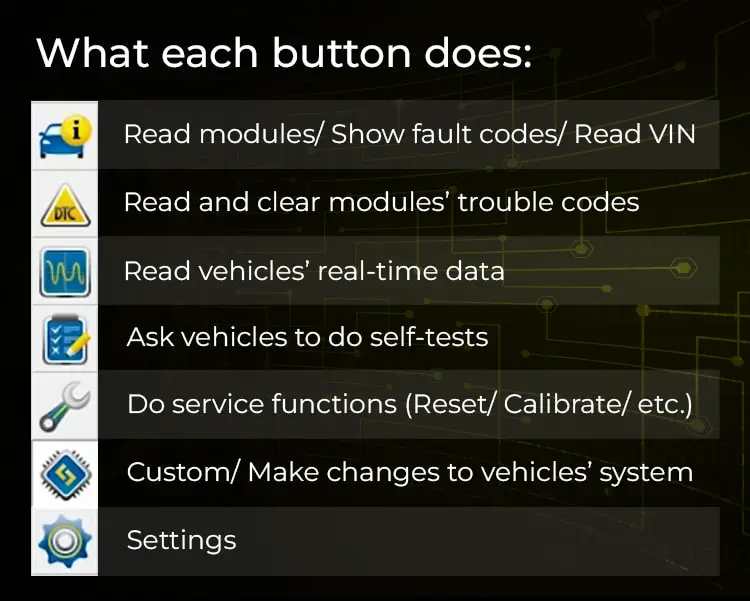 It would be nice if the software was a little more user-friendly. You may spend countless hours on the FORScan forum or Youtube to figure out how to use each function. However, the power of OBDLink EX deserves your patience. 
3. Functionality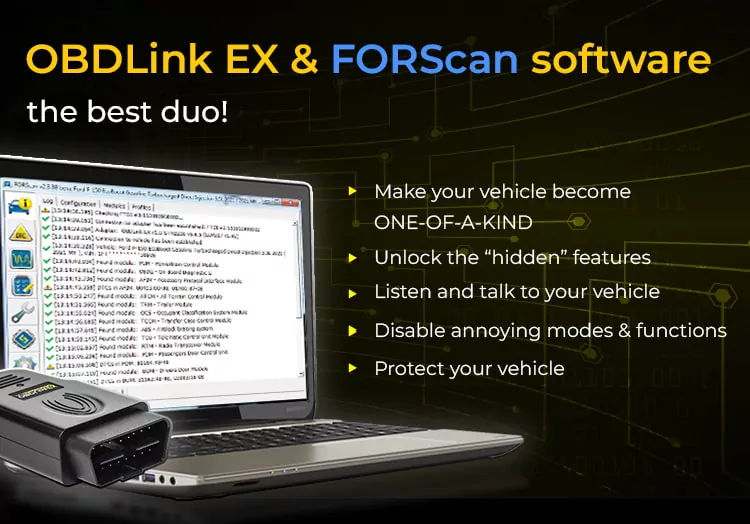 Coding/ Programming Function
Want to disable annoying features (like bambi mode or double honk)? Want to add a warning sound for any action? Want the car to do any tasks automatically? Or add a new mode to your vehicles? 
OBLink EX can do all, and even more than that. 
In short, you can customize and personalize your vehicles.
I often do tasks that FORScan has coded already. All that's left to do is choose between the options.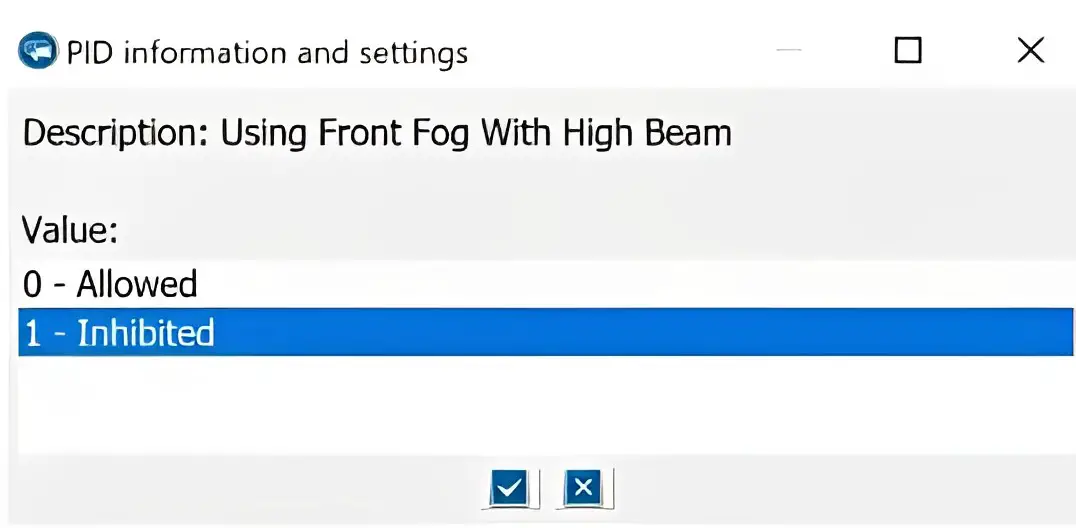 However, FORScan doesn't code everything. 
For example, last week I wanted to enable the Autofold Mirrors on the 2014 Ford F-150. But it is noted as "AS BUILT Format". That means, I had to code it myself. I made changes in the DDM and PDM modules by entering some weird values.

Then, I could make my mirrors automatically fold back out as soon as I open the door, within 5 minutes.
Bi-directional Control and Advanced Special Functions
There's a lot we can do here:
demand self-test to check systems' performance
add a new key 
reset and regen many systems
You can see some service functions below: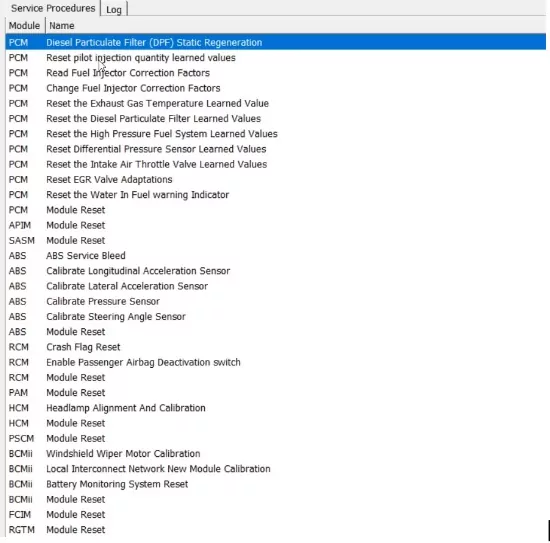 It seems to me this adapter with Forscan can do anything I need.
Yesterday, I used OBDLink EX to:
reset the electric power steering on a 2017 Ford Fusion Hybrid
reset the battery routine on a 2014 Focus ST, Ford Kuga Mk II, and 2010 Ford Fusion
add keys on a 2004 Ford Explorer, 2010 Ford F150 and 09 Lincoln MKS
do a DPF clean on a 2016 Ford F250
ask a 2015 Ford Fiesta to do self-tests on its ABS and PCM systems
I mean, this adapter and FORScan has helped me a lot in the garage. It makes all tasks much easier and faster.
But, you have to pay the extended fee for FORScan to unlock the advanced functions. The free trial only supports basic features. The license fee is cheap, though. Only $12 per year, less than one trip to a repair shop.
Diagnostics Function and Live Data
As soon as you open the software, FORScan will do a full diagnostic scan of the vehicles. And if there is any fault code, go to the "DTC" to see everything related to the codes: the description, status, and even a freeze frame.
You can double the fun with live data. There are three options to view:
dashboard
oscilloscope, and
table
So, those are basic things to know what's wrong with the car, which parts need to be repaired and which do not.
Here's what you should know, the software has some quirks. Last time when I chose 7 PIDs to see in oscilloscope view, the software became buggy and suddenly shut down. It seems that FORScan couldn't stand a heavy workload.
What are customers saying?

That's impressive, right?
I bet you are not willing to read more than 6,000 ratings. 
Then let me summarize it for you. (Fact: I spent a whole day reading all the comments)
Positive comments: 
There were 1,269 comments on OBDLink EX with 4-star ratings or higher.
Most customers love this adapter because
They can use OBDLink EX flawlessly with FORscan
They can use OBDLINK EX to make changes on their vehicles
They do not need to switch between modes manually
They can add new keys and reset modules
They can disable annoying features like bambi mode or double honk.
"It is nearly impossible to do any repair's yurself on modern vehicles without the abilty to interrogate the ECM and to run tests. This tool provides the hardware "adapter" to the car's computer systems, and allows software on a laptop to connect to, read, and interact with our car. The adapter is good, but to get the most out of it and what it offers you need good software.
I've used this with both OBDLink and ForScan. I have only Ford vehicles (ford trucks and cars, and lincoln car). The ForScan is the software I prefer, and I went ahead and purchased the extended license (1 year for $19 if I remeber correctly). That fee is to help them continue developing the code." – Dewayne H
"Flawless communication with my 07 Mustang GT. Would recommend to any Forscan user." – jeremiah
"Worked like a charm." – Marcus Abdo
Negative comments:
There were only 57 comments on OBDLink EX with 1 and 2-star ratings.
Some people struggled with the driver download process. It took them a while to find the driver package. 
"First of all I would like to 'like' this product. I just can't because I can't get the USB to Serial Driver to install on my Windows XP computer. I have installed and uninstalled and installed several times and always get an error Code 39 and a Red LED on the scanner." – J. Caro
Others expected to use OBDLink EX on their Macbook or 3.0 USB laptop but this adapter didn't support their devices. They got a bit disappointed. 
"I bought this with the intention of using it with my Mac Computers . It does not work with Mac . I had to borrow another lap top to use with the tool. I wish the description would have mentioned that . It caused a large inconvenience trying to retrieve information. Once we used it on a non Mac computer it seemed to work. The website wasn't much help in terms of trying to use a Mac . Had to research on my own . As mentioned before it seemed to work with the brand computer other than Mac. I'm not finished with the tool and I'm confident that using it with the other computer will be fine ." – BTLRGVT 
I did mention these issues and gave tips in the vehicle/software coverage section.
And, a few customers said that OBDLink EX is quite pricey for them. I don't consider these as "negative comments", though. It depends on the customers' budget.
Check OBDLink EX's latest price:
OBDLink EX's Alternatives
Again, OBDLink EX is a top-notch adapter. But if you want something more convenient or cheaper, look at these two:
#1. FORScan ELM327 
If your budget is a bit tight, I recommend ELM327.
It's clear that this $20 adapter can't beat OBDLink EX in terms of working with FORScan.
But ELM327 can still do a lot of advanced things: program keys, disable annoying features, and reset functions. You cannot find a scanner this advanced in this price range. 
Beware that the driver download process of ELM327 is much more complex than that of OBDLink EX.
However, will you spend 30 minutes downloading the driver or hundreds of dollars on repair shops?
I bet you know the answer.
Check FORScan ELM327's latest price:
#2. OBDLink MX+ 
OBDLink MX+ doubles the price of OBDLink EX.
What makes the gap?
First, OBDLink MX+ connects your devices via Bluetooth, you don't have to care about the driver. This Bluetooth scanner also covers a lot of devices: Macbooks, Windows laptops, and iOS/ Android smartphones. The wireless design is much more convenient in a garage, too.
Second, OBDLink MX+ can work with dozens of apps like Torque/ Dash/ etc. to support all OBD-II vehicles, not only Ford.
Check OBDLink MX+'s latest price:
---
What's next?
So, this is the end of my review.
Now, I have some questions for you:
Which function of OBDLink EX and FORscan seem beneficial to you? 
What is the most interesting information that you can find in my post?
Let me hear you in the comments.