OBDLink MX+ is a Bluetooth OBD2 scanner that can diagnose your car and display error codes if it finds an error. It can be used wirelessly and supports Android, iOS, and Windows devices.
The tool works by syncing it with one of many supported apps, including the device's own OBDLink app that works quite well. It's a small scanner and occupies little space under your car's dashboard.
OBDLink MX Plus can do various things such as read and clear check engine light codes, check codes for ABS and SRS in a wide variety of vehicles, show fuel usage, offer TPMS, and more.
Let's get to know OBDLink MX+ in detail and see if it really is worth it or not: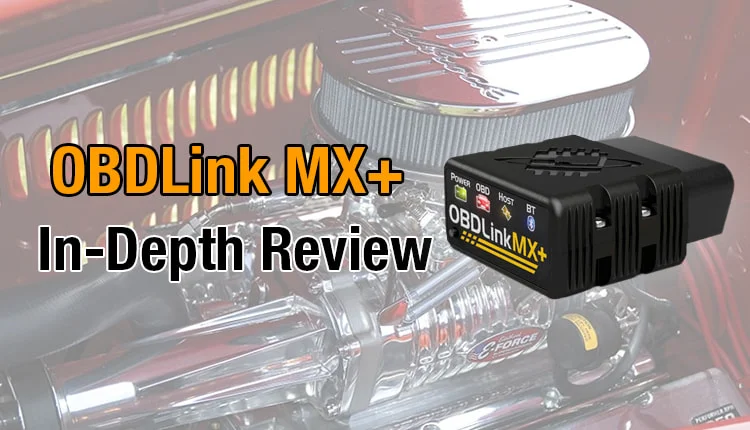 Why Should I Choose OBDLink MX+?
There are many OBD2 wireless scanners on the market, but few are as powerful as the OBDLink MX Plus.
First, let's have a look at the features it has to offer:
Special Functions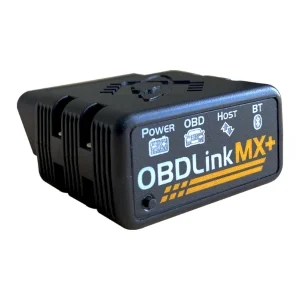 OBDLink MX+ Professional OBD2 Scanner for iPhone, iPad, Android & Windows
OBDLink MX+ is a scanner for DIYers and beginner mechanics as it offers real live data reading, reads and clears ABS/SRS codes, TPMS etc.
Read and Clear ABS/SRS Trouble codes
Some of the essential features of a car are its anti-lock braking and airbag systems. ABS is responsible for ceasing rotation by preventing the tires from locking up so that they do not skid. On the other hand, SRS is related to the airbag system. It signals you about the airbag system and ensures it deploys in case of an emergency.
Both of these features are crucial for a driver's safety, which is why most of the modern cars (1996 and beyond) light up the engine light when there's something wrong with the ABS and SRS.
OBDLink MX plus is capable of reading all ABS and SRS related codes and tell you if they are functioning correctly or not. Some of the essential features of a car are its anti-lock braking and airbag systems.
TPMS
The tire pressure monitoring system monitors the air pressure inside the tires and signals you if it's low, which helps prevent accidents and helps ensure you enjoy a good ride.
The ABS comes with sensors. They monitor each wheel's rotational speed, and display live data on the screen, which helps you know how well the wheels are performing while also informing you about the pressure.
The TPMS light turns on if the tires are not correctly inflated. You can fill them up to prevent wear and tear.
Protection And Voltage Consumption
This OBD2 scan tool can bear overvoltage and doesn't fry up. Moreover, it automatically goes to sleep when you turn on the engine so that the battery doesn't drain quickly.
OBDLink MX+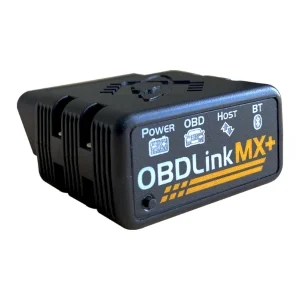 Hack Proof
Put your worries to rest as the tool offers excellent security against hackers. Wireless scanners are prone to hacking if they have easy four-digit pin code access. However, this one comes with a strong encryption system that is hard to break into.
With this one, you will not have to worry about someone getting access to your car.
Basic Features
When you drive a car, you will have several questions regarding it, especially if you notice the performance deteriorating over time. It's a natural process.
It doesn't matter which car you drive, and it will begin to show errors after a while. A good thing about most recent cars is that they indicate engine light problems, but you will need a scanner to understand these lights.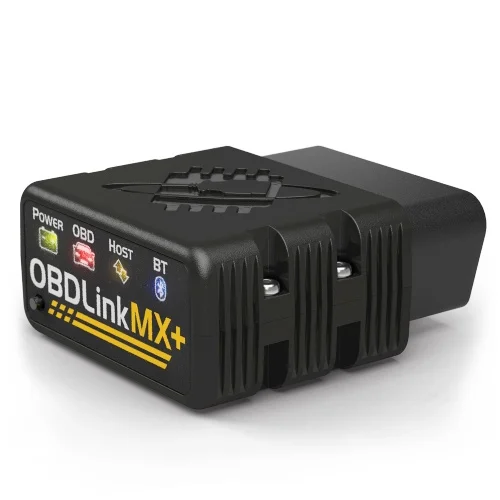 OBDLink MX+ can read these lights and also help you clear them. It allows you to keep an eye on your engine's current transmission temperature so that you know it's not overheating.
You can also customize the dashboard and keep the features on top that you frequently use, which will make it easier for you to keep an eye on things.
It can also help you understand how economical your vehicle is by measuring fuel economy. It can help you calculate the cost of a trip and also allow you to understand the optimum speed of your car.
Moreover, the tool can do more depending on the app that you use. We suggest you check multiple apps and pick ones that offer the features that you are interested in.
For example, Torque lets you lock/unlock doors or remote start the engine. However, it works in a few vehicles only.
Performance
OBDLink MX+ offers 4X more data per second than its rivals and is said to be 300% faster than rival scanners.
Compatibility
Once you get your hands on OBDLink MX, you will not have to worry about compatibility as it is one of the few scanners that support the different OS, including Android, iOS, and even Windows.
You can use it with its own app or try it with a third-party app as it supports several third-party tools as well.
Note: This is one of the few OBD2 scanners that offer iOS compatibility with GM LAN and Ford MS-CAN.
It supports EOBD, JOBD and OBD2 supported cars.
Here's a list of supported modules by OEM and specific MY/Makes/Models that are supported by OBDLink MX+ (support depends on which modules were initially fitted by OEM).
Apps, Software, and Updates
OBDLink MX+ comes with an original free app and a free pack of software for Windows laptop. The app is OBDLink, the software is OBDWiz.
You can download them here.
A perfect thing about this tool is its ability to support third-party apps, which can be a great feature, especially if you have been using a specific app for a while and recently shifted to OBDLink MX+.
You can continue to use the same app while enjoying the improved performance.
OBDLink MX + can work with dozens of apps such as OBDLink, Dashcommand, Forscan, Torque, etc.
Our personal favorites with this tool are OBDLink or Torque. Both of these apps offer many features such as door lock/unlock, ABS, SRS, read live data, remote start/turn off the engine, etc.
You need to install an app and connect it to the scanner via Bluetooth.
Technology changes at a rapid pace, and so do solutions. With this tool, you will not have to worry about updates since it allows you to download and install updates for free.
The company introduces new firmware updates to resolve bugs and make it more reliable. Moreover, you can also enjoy free technical support from the company.
Pros
Free lifetime firmware updates.
Is not easy to hack.
Shows real-time fuel consumption display.
Excellent customer support.
Unlimited OEM enhanced add-ons for free.
3-year warranty
Cons
Doesn't offer Key programming.
Doesn't reset maintenance lights in Honda.
OBDLink MX+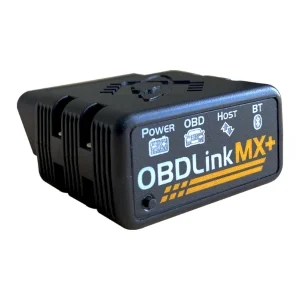 Who Should Take It?
OBDLink MX+ best suits GM and Ford DIYers with entry level as it offers a great deal of enhanced diagnostics for them.
Besides, it supports enhanced diagnostics on Infiniti, Lexus, Lincoln, Mazda, Mercury, Nissan, Scion, and Toyota.
It also work well on other brands.
Have a look at the enhanced diagnostic support here before buying.
Check Price at Amazon
OBDLink MX+ Vs. Bluedriver Vs. FOXWELL NT630 Plus Comparision Chart
Let's see how good it is in comparison to its brothers.
[table "1182" not found /]
The Bottom line
OBDLink MX+ is one of the best OBD2 scanners on the market. It supports all mobile devices and a wide range of vehicles, too. Plus, you can use it on multiple cars and enjoy great results as it covers several basic and advanced features.
FAQs
Which cars does the OBDLink MX Plus support?
It supports all 1996 and newer models that are OBD2 compliant.
Will It Read ABS and SRS in my car?
So far, this scanner offers ABS and SRS in Ford, Lexus, Mazda, Toyota, Scion, Lincoln, Mercury,  Nissan, Infiniti, GMC, Buick, Cadillac, and Chevrolet.
Will it support Hybrid and Electric vehicles?
Unfortunately, it does not support hybrid and/or electric cars.
---
RELATED POSTS: