An OBDII adapter is a convenient, affordable alternative to hand-held diagnostic scanners. When you're comparing OBDLink EX vs. OBDLink MX+ vs. OHP ELMconfig for FORScan, the question is one of value vs. convenience.
Just what is the difference between these three OBDII scan tools? Let's break it down feature by feature.
OBDLink EX vs. OBDLink MX+ vs. OHP FORScan comparison chart
Editor's Pick

OBDLink EX


OBDLink MX+


OHP ELMconfig FORScan

Customer Rating

Price range
Best matched app
FORScan
OBDLink
FORScan
FORScan
OBD2 functions
Full OBD2 Functions
Full OBD2 Functions
Full OBD2 Functions
System diagnostics
All systems
All systems
All systems
Advanced service functions
✔
✔
✔
Customizations/ Coding
✔
✔
✔
Vehicle Compatibility (Full Features)

Ford, Mazda, Lincoln, Mercury

OBD2 cars, SUVs, 12V trucks
Ford, Lincoln, Mazda, Mercury

Let's dive into the details now!
What do they have in common?
All three of these OBD2 scan tools are affordable ways to access comprehensive diagnostic functions for a range of OBD2-equipped vehicles. To get a hand-held scanner with this functionality, you'd expect to pay hundreds of dollars.
All of these OBD2 scanners are also compatible with FORScan. For OBDLink MX+, that's just one of many options (more on that later).
OBDLink EX Vs. OBDLink MX+ Vs. OHP ELMconfig: Key differences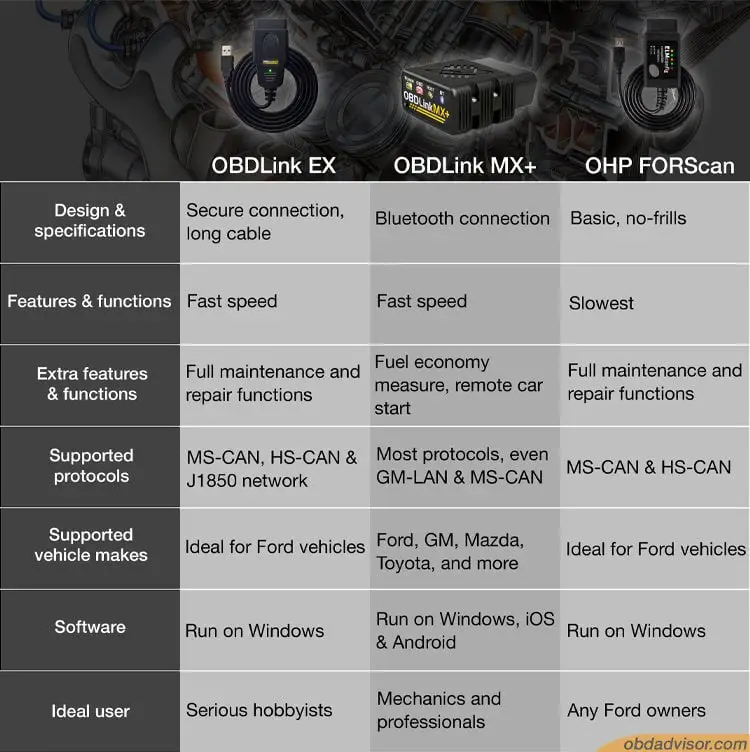 Design and specifications
ELMconfig is a basic, no-frills OBDII scan tool. It isn't the most rugged adapter, and some users have issues with the USB connection, which is looser than most.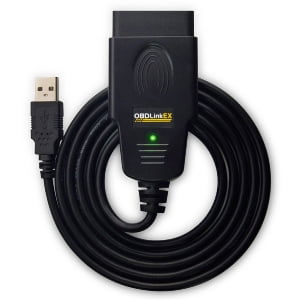 OBDLink EX
With the OBDLink EX, you get solid craftsmanship from one end to the next.
With the OBDLink EX, you get solid craftsmanship from one end to the next. The connection is secure, with no risk of data corruption and a relatively long cable for easy connection and diagnosis.
The OBDLink MX+ is equally well-made but more convenient for one key reason: it connects via Bluetooth, eliminating the cord. This allows it to be plugged in full-time for continuous monitoring. Extra features like low-current sleep mode and hacker-proof security make it safe to use in all situations.
Basic features and functions
The basic diagnostic functions of these three OBD2 scanners are the same in many respects. All three are compatible with a wide range of diagnostic software. All three let you read and clear trouble codes, run I/M readiness tests and other OBD2 functions.
Speed is the main difference between these car diagnostic tools. The OBDLink MX+ is the fastest, even when displaying multiple and complex parameters. You'll get a high maximum throughput from the OBDLink EX, as well, which is about 20 times faster than basic adapters like ELMconfig.
Extra features and functions
With FORScan, you have full maintenance and repair access to your vehicle. Both the OHP ELMconfig and the OBDLink EX let you do everything from resetting the oil light to reprogramming the engine computer.
Having said that, FORScan isn't the most straightforward program to navigate. It also doesn't offer every service function for every vehicle make and model. While OHP ELMconfig or OBDLink EX can perform BMS, for example, you may spend some time searching the menus for the option—only to find it doesn't work for your vehicle.
For the most advanced functions on most vehicles, the OBDLink MX+ is the way to go. It includes features like measuring fuel economy and can even let you remotely start your car. This is in addition to the full repair functions found on other adapters. 
OHP ELMconfig
OBDLink EX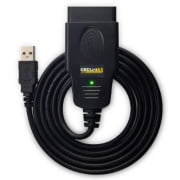 OBDLink MX+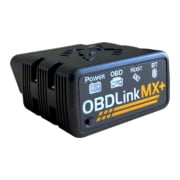 Supported protocols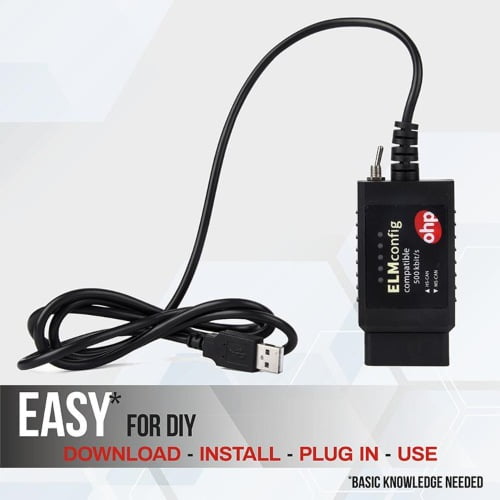 Both the OBDLink EX and OHP ELMconfig support Ford protocols, including MS-CAN and HS-CAN. The OBDLink EX is no-toggle, reading multiple CAN networks simultaneously with no need for manual switching. OBDLink EX also supports the J1850 network. 
Of the three, the OBDLink MX+ supports the most protocols. It even supports proprietary vehicle networks like GM-LAN and MS-CAN for the broadest diagnostic support on the market.
Supported vehicle makes
OBDLink EX and OHP ELMconfig are designed to work with FORScan. While they'll perform basic diagnostics on other vehicle makes, both are ideal for Ford vehicles. They can even give you capabilities Ford dealers aren't able to access, thanks to the inclusion of proprietary protocols.  
If you want the widest vehicle compatibility, go with the OBDLink MX+. The support is expanded to offer its full diagnostic and maintenance functions for most major brands, including Ford, GM, Mazda, Toyota, and more.
Software and updates
The FORScan software recommended for OBDLink EX and OHP ELMconfig is built to run on Windows. You can use it to read codes on Apple operating systems, but you won't get the full capabilities.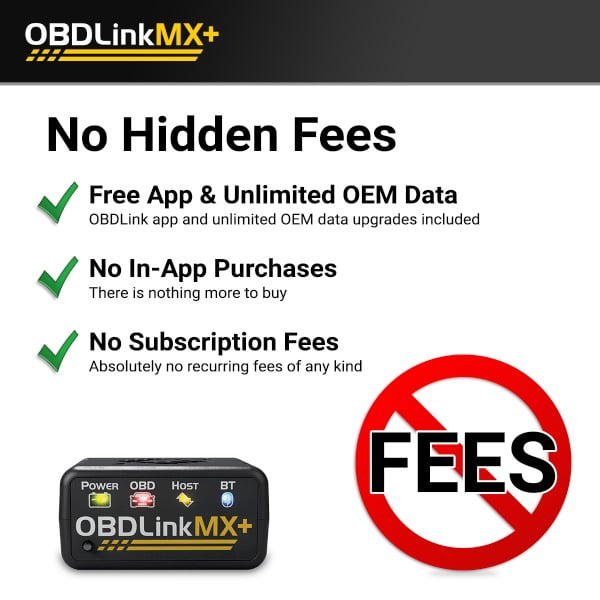 The Bluetooth capability of the OBDLink MX+ allows communication with all devices. Also, you can use it with Windows and Apple PCs and even Android-based devices like tablets and smartphones. It's compatible with dozens of software programs as well. More options means you're more likely to find one that works for your device.
Pros and cons
Pros and cons of the OBDLink EX
Pros
It is up to 20 times faster than traditional adapters.
It offers a stable connection with no corruption.
It is designed to be compatible with FORScan.
It supports simultaneous parameter readings from multiple CAN networks.
It has long cables with high build quality.
Cons
The scanner can be tricky loading the right driver on your computer.
It is not ideal for iOS users.
OBDLink EX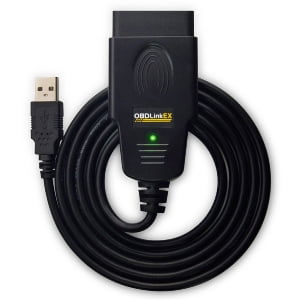 Pros and cons of the OBDLink MX+
Pros
It has broad vehicle compatibility.
This scanner can read and define codes from all systems.
It has a Bluetooth connection for easy, wireless diagnosis.
OBDLink MX+ works with all devices (Windows, iOS, and Android).
Its sleep mode and safety protections allow continuous monitoring.
It operates fast, even on enhanced diagnostics.
Cons
It is the most expensive option.
Some users report difficulty pairing with their devices (especially smartphones.)
OBDLink MX+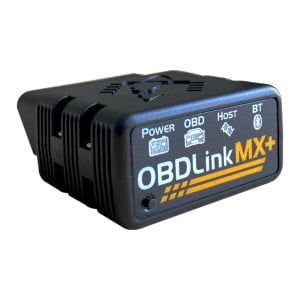 Pros and cons of the OHP ELMconfig
Pros
It is very affordable.
The OHP ELMconfig offers a full range of diagnostic and repair functions.
It also supports proprietary Ford buses.
The device driver is easy to install.
It allows ECU programming and customization.
Cons
It supports fewer protocols
The diagnosis is lower and less efficient.
The USB connection may be loose.
OHP ELMconfig
Who's the ideal user?
Ford owners looking for the most affordable OBDII scanner should buy the OHP ELMconfig. It communicates with FORScan as effectively as more expensive adapters and is by far the cheapest way to get access to your ECU.
Serious hobbyists will want to upgrade to the OBDLink EX. It's about twenty bucks more, but the construction quality is much higher. The higher coding and diagnostic speed are worth the money, too. 
For mechanics and professionals, we recommend the OBDLink MX+. Expanded software compatibility lets it work with more vehicles. The wireless design is much more convenient in a garage, too—no more hunching in the passenger seat to make your diagnosis.
FAQs
Q: Does FORScan come with OBDLink EX, OBDLink MX+, or OHP ELMconfig?
FORScan software isn't included in the box when you buy one of these OBDII scanners. The easiest way to get FORScan is to download it from their website, which you can do for no extra cost.
Most features, even advanced coding, and customization are available on the basic license that comes with FORScan. However, a few functions are only available with the Extended License, which you'll need to pay to get.
Q: Can FORScan only be used with Windows?
The full version of FORScan is only available for Windows. However, there is an alternate version of the software, ForScan Lite, which is available for either iOS or Android.
FORScan Lite has fewer functions and more limited support than the full version (see the full comparison chart). You also have to pay for it, as opposed to the free download of FORScan for Windows.
Q: Will the OBDLink EX, OBDLink MX+, and OHP ELMconfig work with all Ford model years?
These OBDII adapters are built to fit any vehicle made after 1996. If you have an older Ford, you'll want to look for an OBDI scan tool.
FORScan does have a few gaps in its capability, especially when it comes to repairing functions like battery reset or ABS bleed. Search the FORScan forums for discussions about your vehicle to find out specific issues you may face. For the most part, however, they will work with any Ford.
Q: Can you program and make keys with the OBDLink EX, OBDLink MX+, or OHP ELM config?
FORScan added an Erase and Program Keys function in v2.2.5 of their software. With the basic license, you can program two keys, though you have to do it one at a time. More advanced key coding options are available under the extended license.
Q: Do I need to install a driver to use these adapters?
Both OBDLink EX and OHP ELMconfig require drivers. The information for downloading the driver is listed on the card that comes with the adapter. 
With the OBDLink MX+, it depends on how you're communicating with the adapter. If you're using Bluetooth, enabling it and pairing the device are all you need to do. For those using Bluetooth-to-USB adapters, a driver will be required. You can download it from the manufacturer's website.
---
RELATED POSTS:
---