Keeping track of your car, including problems that may not be immediately apparent or visible to the naked eye, is critical to proper maintenance and extending the life of your vehicle. Bluedriver and Torque, both Torque Pro and Torque Lite, are designed to make that maintenance easy.
Torque offers an app that works with many compatible OBD2 scanners, whereas Bluedriver provides a scanner tool that connects to a free app on your phone.
Both provide the basics you need to diagnose and perform maintenance on your vehicle accurately, but they also have strengths and weaknesses. How they work, the ease of menus and diagnostics, and which cars they are most compatible with all differ.
In this article, we go in-depth into each app, its strengths and weaknesses, and make some suggestions for which will work best for you.
Bluedriver Vs. Torque Pro Vs. Torque Lite: Comparison Chart
Torque Pro
Bluedriver - Editor's Pick
Torque Lite
Best matched adapter

BAFX for Android


Bluedriver


Veepeak Mini for Android

Operating Systems
Android, Windows
iOS, Android
Android, Windows
Rating

Price range
$5
Free
(included with Bluedriver adapter)
Free
OBD2 functions
7/10*
Full OBD2 functions
5/10
System diagnostics
Engine, ABS, SRS, Transmission
Engine, ABS, SRS, Transmission
Engine, ABS, SRS, Transmission
Advanced service functions
--
TPMS reset, Oil Reset, Battery Registration
--
MPG Tracker (gasoline)

✔️
--
✔️
MPG Tracker (diesel)
✔️
--
--
Freeze Frame Data
--
✔️
--
ABS, Airbag, Transmission Diagnostics
✔️
✔️
--
Emissions Readiness
✔️
✔️
--
GPS Based Compass
✔️
--
--
Repair Reports
--
✔️
--
Data Graphing
✔️
✔️
--
Vehicle coverage
OBD2 Cars, SUVs, 12V trucks
OBD2 Cars, SUVs, 12V trucks
OBD2 Cars, SUVs, 12V trucks
*Notes: Excellent: 9-10; Good: 7-8; Fair: 5-6; Poor: 3-4; Very poor: 1-2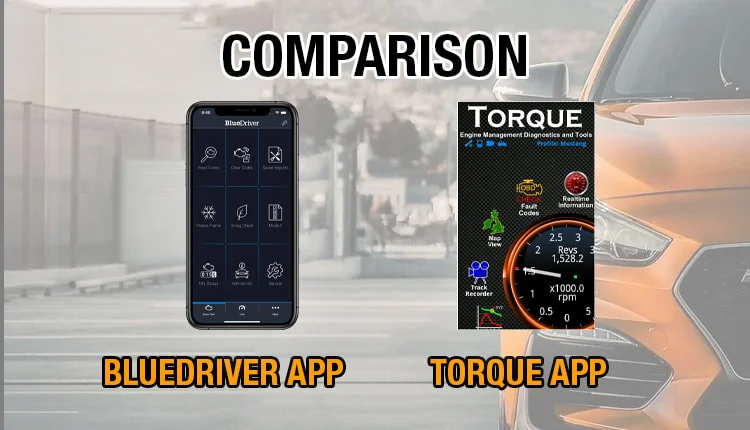 Bluedriver vs. Torque Pro vs. Torque Lite: Detailed Comparison
Key Things in Common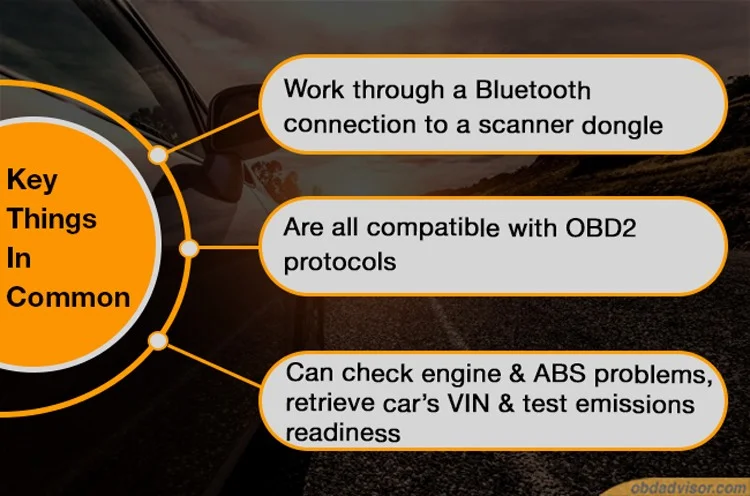 All three of these programs work through a Bluetooth connection to a scanner dongle, which you plug directly into your car.
They are all compatible with OBD2 protocols.
All three will run checks for engine problems, retrieve your car's VIN, test for emissions readiness, and check for ABS (airbag) issues.
But none of these programs will be able to help with some other common problems for home mechanics. Neither scanner type will allow you to reset oil indicators. Nor can they help reset EVAP codes.
Key Differences
For difference, we'll start with Torque Lite. Unlike the other two apps, Torque Lite does include ads and is missing some of the advanced features you can find in Torque Pro.
As the company admits outright, it's designed to serve some of the most important purposes and give you a chance to see if the format works well for you and is compatible with your vehicle.
Missing from Torque Lite are the following features:
Turbo Boost Support
Data graphs
Map trackview
Quarter mile testing
Diesel MPG
Advanced ABS support
This isn't an exhaustive list but instead gives a good sense of the main differences between the two apps.
Among the most significant differences between Torque Pro and Bluedriver is how you get the information from your car in the first place. Torque Pro provides a list of compatible scanners, while Bluedriver requires that you use their specific scanning tool.
Key Differences Explained
To get a sense of each of these apps, we need to take a detailed look at each one.
Bluedriver
Bluedriver is designed to be a professional or near-professional tool. It's highly specialized and only provides details directly relating to your vehicle's performance and maintenance needs.
It doesn't offer driving aids, like a compass, map, or MPG ratings for your vehicle's performance. It does, however, capture freeze-frame snapshots of your car. That makes it easier to determine what's wrong with inconsistent issues presenting one moment and then disappearing the next.
Bluedriver also offers repair reports. Once you have successfully cleared an error code, Bluedriver will track that information for you. You can print these reports, which are much more detailed than simply the code and recommended repair action, to provide to your mechanic or if you sell your car.
It's compatible with all OBD2 compliant vehicles, which means purchased in 1996 or after in the US. It also has advanced diagnostic info on cars from the following brands: GM, Ford, Chrysler, Toyota, Nissan, Mazda, BMW/Mini, Honda/Acura, Volkswagen/Audi.
The app is free. The scanner adapter is approximately $100. This system gets updated frequently, keeping it up to date with the latest cars and any new error codes and updating diagnostic procedures.
Bluedriver also has the advantage that it's compatible with both Android and Apple devices. If you are an Apple user, this is the only app of the three that will work with your current devices.
Bluedriver is a good option if you're looking for an advanced diagnostic tool and don't need drivers' assistance or other features geared toward casual users and drivers.
This tool is excellent for mechanics taking care of their cars at home and advanced DIYer's who need a more specialized tool to interface with their vehicle's computer.
Download Bluedriver: iOS | Android
Torque Lite
Torque Lite is the most bare-bones option of the three. It's the most cost-effective since the app is free, and you can spend as little as $20 on a decent compatible scanner adapter. However, it only works with Android devices, so it's not a good option if you primarily use Apple products.
Torque Lite receives updates when Torque Pro does read and reset engine error codes from the same massive database.
It's also OBD2 compatible, so the vast majority of vehicles purchased initially after 1996 are consistent with this app and its compatible adapters.
Depending on the adapter (some have different compatibility), this app will work with the following vehicle makers: Ford, GM, Chrysler, Mercedes, Volkswagen, Audi, Jaguar, Kia, Mazda, Lexus, Mitsubishi, Nissan, Honda, Hyundai, BMW, Toyota, Seat, Dodge, Jeep, Pontiac, Subaru, and others.
This OBD2 app is a good option for casual users and users who experiment with multiple different apps and diagnostic tools. Since this is a free app, it's not as complete as either Bluedriver or Torque Pro, but it is still more than enough to diagnose your vehicle's most pressing concerns.
If you don't drive a diesel vehicle, this app may be all you need in terms of other driving benefits. It does track your progress, MPG, and other driving data. This app is useful for users concerned about economic driving habits or who wish to monitor new teen drivers' driving style and use.
Download Torque Lite: https://play.google.com/store/apps/details?id=org.prowl.torquefree&hl=en&gl=US
Torque Pro
Torque Pro is the more detailed and more effective version of these last two apps. Torque Pro has more fantastic diagnostic abilities.
In addition to reading engine error codes, Torque Pro will also read transmission temperature, torque, horsepower used, and both gasoline and diesel MPG. It provides quite a bit more driving information and translates the raw data from each of its diagnostic readings into easily read graphs.
The app will also provide real-time warnings for certain immediate issues, like coolant overheating. That makes this an excellent app to use as a driving companion for new drivers or vehicles with known problems waiting for repair.
The addition of a GPS compass, social media interfaces, and a real-time speedometer make Torque Pro especially useful for long-distance drivers and parents monitoring their teen's driving.
This app is the right choice for Android users looking for a combination of diagnostic and driving trackers, but that doesn't need highly specialized tools in either category. This app won't allow you to become your own mechanic entirely, but you'll be able to take care of significantly more errors and problems than you would without it.
In terms of price, this app is very affordable. It has a one-time $5 charge. The compatible adapters range in price from $20-$100, so they have a great deal of control over this system's cost.
Download Torque Pro: https://play.google.com/store/apps/details?id=org.prowl.torque&hl=en&gl=US
Best Adapters for Bluedriver and Torque
Best Adapter for Bluedriver App: Bluedriver Scan Tool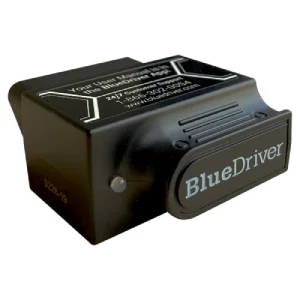 BlueDriver Bluetooth Professional OBDII Scan Tool for iPhone, iPad & Android
This adapter is comparable to handheld scanners, it checks for a similar number of error codes, and is equally good at identifying the most important codes .
There is only one compatible adapter for Bluedriver. In part, this is because Bluedriver pushes frequent updates, and using their adapter ensures that you can access the new features and scan codes that come out with those updates. However, they also require that you use their adapter because the app itself is free.
This adapter is comparable to handheld scanners; it checks for a similar number of error codes and is equally good at identifying the most important codes if your car's computer is throwing more than one error.
The adapter and app also allow you to generate repair reports. That makes it easier to provide records of important maintenance and repair without paying a mechanic to get the job done.
Bluedriver OBD2 Scan Tool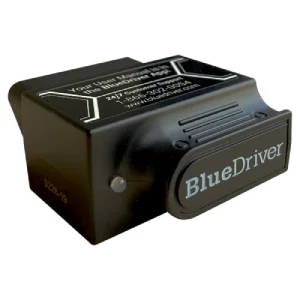 Best Adapter for Torque Pro: BAFX OBD2 Bluetooth Adapter for Android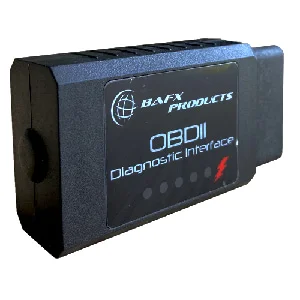 BAFX for Android
This Version of BAFX is only compatible with Android products.*
*Check out BAFX for iPhone iPad HERE.
The BAFX is only compatible with Android products. Unfortunately, if you have an iPhone or other Apple products, this adapter will not be able to interface with those products. You'll need at least one Android phone or tablet to receive reports and information.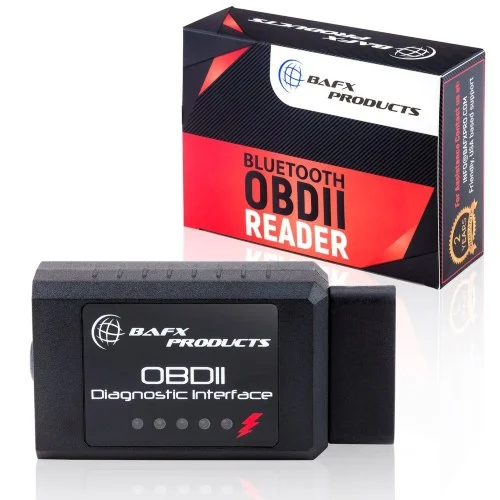 That said, it comes with a 2-year warranty and is a good bit cheaper than the Bluedriver adapter. It's designed to work on all cars purchased in the USA after 1996.
As a bonus, this adapter goes one step further and provides real-time reports on the workings of your car. If there is something wrong or starting to go wrong, you'll know long before it's become a larger and more expensive problem.
However, unlike the Bluedriver adapter, the BAFX doesn't interface with any of the systems outside of OBD2, so that it won't help with ABS, SRS, or oil change alerts.
BAFX for Android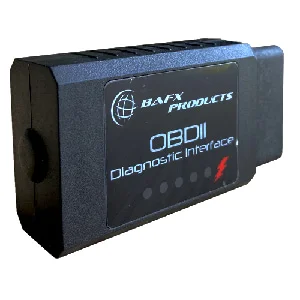 Best Adapter for Torque Lite: Veepeak OBDCheck BLE+ OBD2 Bluetooth Adapter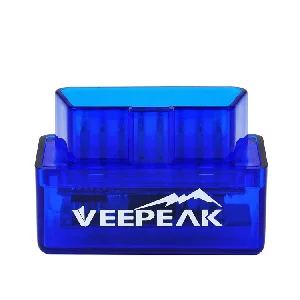 Veepeak mini
In the USA, this adapter is compatible with all cars sold after 1996, which are OBD2 compliant.
Like the BAFX, this adapter is only compatible with PC and Android devices. It has a 12-month replacement warranty and a 30-day money-back guarantee. If it doesn't perform the way you want it to, you can contact the company to make it right. 
This adapter is compatible with several different OBD2 apps, including both Torque Lite and Torque Pro. You can use different apps for different interfaces if you have preferred tools for different tasks.
This adapter is compatible with all cars sold after 1996, which are OBD2 compliant in the USA. OBD2 compliance starts at different points for other countries.
Veepeak Mini Bluetooth Adapter for Android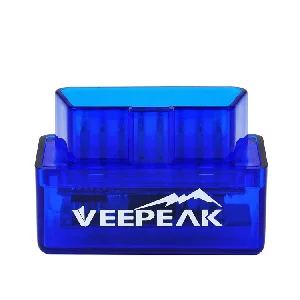 FAQ's
Q: How fast are real-time updates from these apps?
A: It varies with each app how quickly you'll receive real-time alerts. It also depends on the distance between your phone and the car and what the app is reporting.
Torque Pro gives near instantaneous reports from its speedometer and temperature monitors. At the same time, Bluedriver captures freeze frame data but may take a minute or two to transmit the full detailed report.
Q: Does the app make repair recommendations?
A: Bluedriver does; Torque Pro and Torque Lite do not. Instead, you'll look up the error code to see repair requirements and recommendations.
Q: I'm not car literate, is there any value in getting these apps for someone like me?
A: Even if you aren't car literate and don't intend to do your maintenance and repair, a monitoring app can still have a lot of value.
It's important to catch errors in your vehicle as early as possible. Getting a code reading quickly, potentially even before it impacts your car's actual function, can make a huge difference in your repair costs.
Having the error codes at hand and a detailed record of your driving habits and the car's performance (which both Bluedriver and Torque Pro can provide) can also help your mechanic diagnose and repair your vehicle more quickly. They might even be able to give you insight into how you can avoid similar errors in the future.
---
RELATED POSTS:
---