Auto Doctor (OBD Auto Doctor) is one of the first diagnostics apps that come to mind when talking about OBD2 apps. The popular software is available for Android and iOS, and it lets users diagnose car problems within a matter of seconds. All you need is an OBD2-compatible vehicle, an adapter, and, of course, the OBD Auto Doctor app.
The Android OBD2 app allows you to connect your phone to your car and assess any technical issues that you may have facing. Whether you want to make sure everything is working as intended or want to diagnose a problem, OBD Auto Doctor for Android gets the job done quite well.
Setup and Usage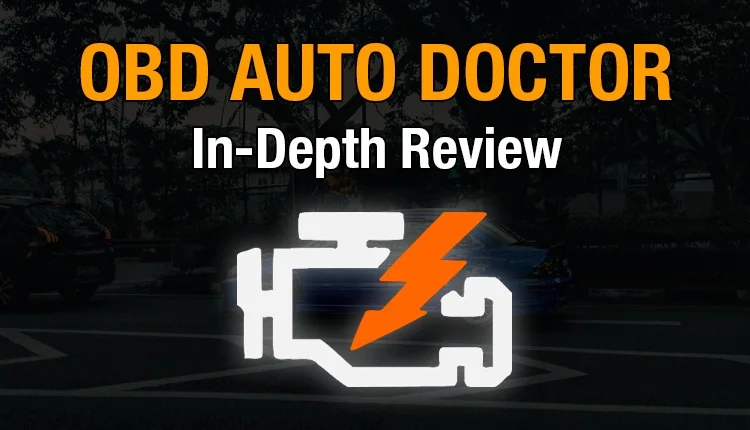 But how does the app work? The OBD Auto Doctor app connects to a computer-based system commonly seen in nearly all modern vehicles. These systems are responsible for storing important information about your car's components. If the system detects anything unusual, error codes are generated to identify underlying issues.
The free version of the OBD Auto Doctor app should be good enough for most users to be fair. While the extra features are worth it for professional mechanics, they might not be worth much to you. However, the app's premium version is relatively cheap, so it's not a significant investment to begin with. For such a small price, you get access to a lot of diagnostics information.
Features
Error Codes: OBD Auto Doctor is capable of reading all generic and manufacturer-specific error codes. The compatibility stretches far beyond just OBD2-compliant vehicles, with Asian and European cars being scannable by the app as well.
Fuel Consumption: You can reliably monitor your fuel consumption and save money on your gas/fuel costs thanks to the app's fuel monitor. It allows you to track the distance traveled and manage your fuel economy very efficiently.
Real-Time Monitoring: You will be able to take full advantage of the OBD-II parameters to detect any kind of abnormalities in your vehicle in a matter of seconds. All of the data can also be represented visually using graphs to make the data far more accessible to users who are not technologically adept.
Data Sharing: You can share your error code data via email, making the repair process streamlined. All you need to do is share your data with your mechanics to help them address common issues far more effectively.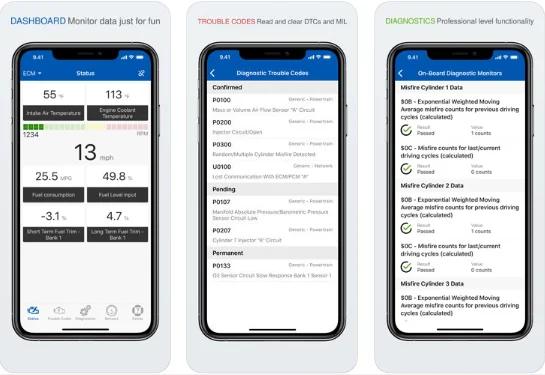 Verdict
Overall, we are quite satisfied with the app. As long as you get a compatible adapter for the app, you should be good to go. OBD Auto Doctor is compliant with all OBD-II compliant vehicles manufactured in the US in 1996 or later. It also supports both WiFi and Bluetooth adapters offering stellar connectivity options.
Pros
Real-Time Diagnostics
GPS Support
Check Emission Levels
Bluetooth and WiFi Support
Compatible Al All OBD2 Compliant Automobiles
Cons
Average WiFi Signal Strength
Syncing Process is Slow
Who Should Have OBD Auto Doctor?
Auto-Enthusiasts: The app is ideal for auto enthusiasts who like monitoring things like fuel consumption, coolant temperatures, and fuel pressure. As a car owner, you will be able to scan your vehicle for potential issues closely.
DIY Mechanics: If you are someone who likes a hands-on approach to repairing things, OBD Auto Doctor can help you fix your car and save hundreds of dollars on repairs. Many car mechanics want to overcharge unsuspecting customers, and you can save yourself the hassle by doing things your way.
Download OBD Auto Doctor App:
OBD Auto Doctor for Android Devices
Compatible OBD2 Adapters of Auto Doctor (iOS/Android)
Veepeak OBDCheck BLE+
Veepeak OBDCheck BLE+
The Veepeak OBDCheck app is compatible with both iOS and Android smartphones.
The Veepeak OBDCheck app is compatible with both iOS and Android smartphones. You will be able to use OBD Auto Doctor and other common diagnostic apps and fix problems yourself. The device can read both generic and manufacturer-specific codes to help you diagnose issues for nearly every modern car in existence.
Veepeak Mini WiFi OBD2
Veepeak Mini WiFi OBD2
The device goes far beyond what standard OBD2 adapters are capable of and is compatible with a suite of popular Android and iOS diagnostics apps.
Most OBD2 adapters are notorious for not being compatible with light trucks and SUVs. Fortunately, the Veepeak Mini WiFi OBD2 is great for smog tests, monitoring fuel economy, and logging trips. The device goes far beyond what standard OBD2 adapters can and is compatible with a suite of popular Android and iOS diagnostics apps.
[table "640" not found /]
FAQs
How do I know if my car is OBD2 Compatible?
Nearly all cars in the US are compatible with OBD-II unless your vehicle was manufactured before 1996. However, some vehicles may not use the standard OBD protocols and rely on manufacturer-specific diagnostic systems instead. Even though they share similar connectors, they might not be OBD2-compliant. For countries outside the US, you should check the OBD Auto Doctor documentation for more information.
How do I connect the app to my car?
You will need to acquire an OBD adapter to perform diagnostics. Any ELM327 adapter should get the job done. You need to keep an eye out for compatibility requirements to ensure your phone or computer works with your choice adapter. Some adapters may not support SUVs and light trucks, which can limit your options.
How many computers can I use my license key on?
You can use your OBD Auto Doctor license on as many computers, phones, or tablets as you want. However, only one device using your license may be active at a time.
How much does OBD Auto Doctor cost?
While local taxes may affect the pricing, the app's Pro version costs about $18 per year.
Does the free version of the app require a serial number?
No, you can use the free version without any licensing.
Read more: Honest Review of The Best OBD2 Apps (IOS, Android) 2021.