Want to turn your smartphone into a diagnostic tool with an OBD2 app? 
Why not?
In this review, I'll be sharing my top 6 picks for the best OBD2 apps that can provide you with detailed information about your car's performance.
Whether you're a seasoned gearhead or a newbie to the world of car diagnostics, these apps will provide you with the insights you need to keep your car running smoothly.
So, why wait?
Let's start with the comparison table and find the perfect OBD2 app for you!
---
Table of content:
---
6 Best OBD2 Apps: Comparison Chart
[Note for Mobile users: Swipe left for full table]
---
#1. Bluedriver: Best Free ELM327 App for iOS and Android
What Makes Me Like BlueDriver?
1. User-friendly interface for DIYers
What I like most about the BlueDriver OBD2 app is how user-friendly it is, even for someone who's new to OBD2 functions. 
I find the menu easy to navigate.
And the specific functions such as "Read & Clear codes," "Freeze Frame," and "Mode 6" are easy to find at first glance. This way, I never feel overwhelmed by too many features.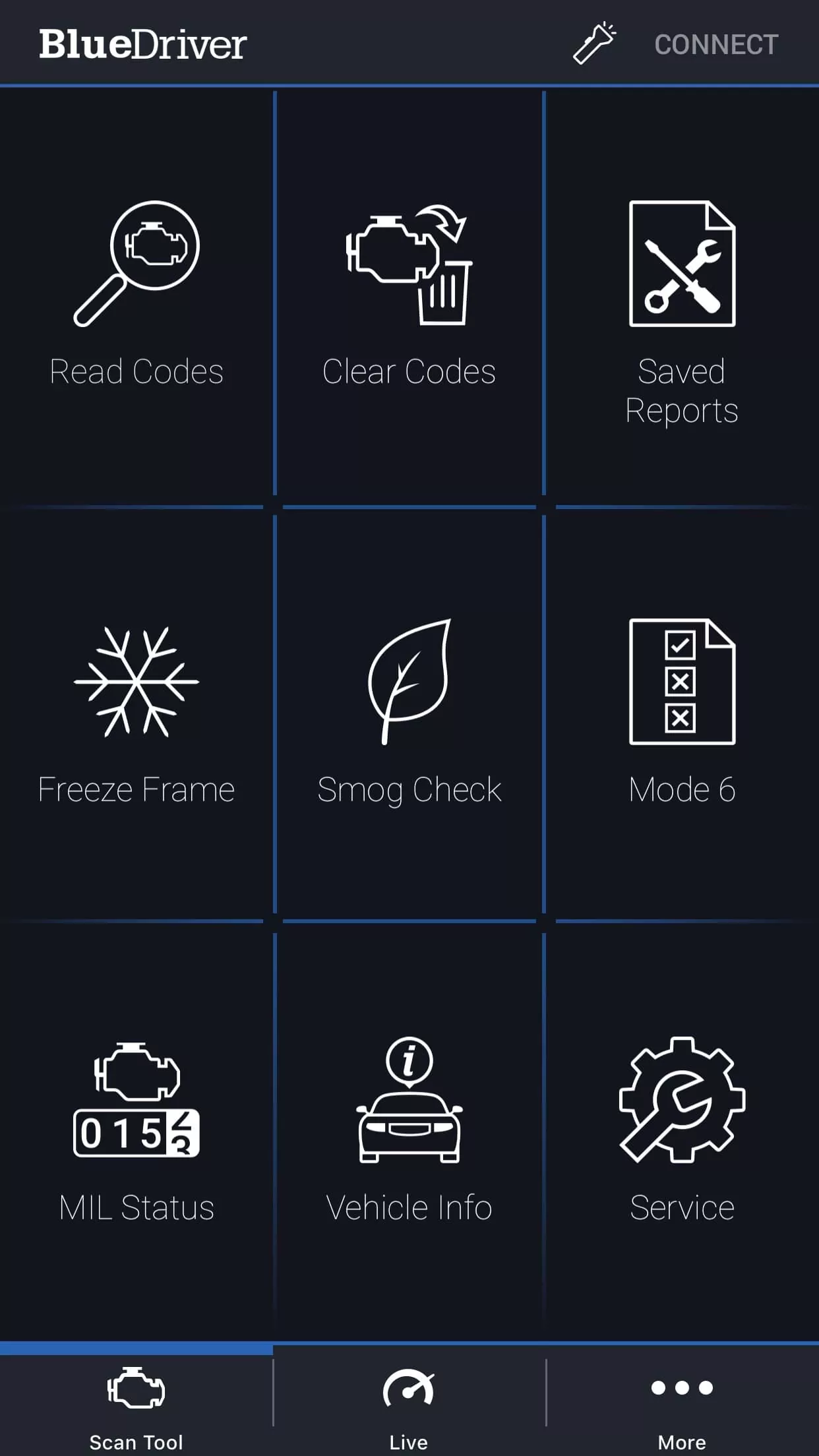 Plus, the graphics and options are extensive, and I appreciate the ability to drill down on vehicle systems and data.
2. No more external lookup because you have the Repair Reports
Repair report is one of the factors setting BlueDriver apart from other apps on this list.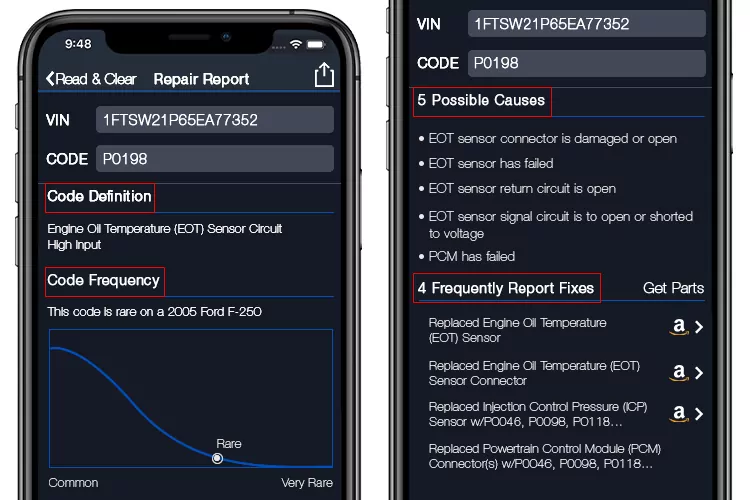 I love how it provides a comprehensive overview of each code detected, including:
definitions, 
possible causes, 
and how common the code is on particular car models. 
Plus, it even provides directions to Amazon for each part needed, all within the app. 
This means you no longer need to perform external lookups. 
You can also save the report, print it or share it with the mechanic of your choice.
3. No more oil light or TPMS light on your dashboard
Moreover, I can perform basic service functions with BlueDriver, such as: 
– TPMS light reset, 
– Oil light reset, and 
– Register a new battery (BMW and Mini only).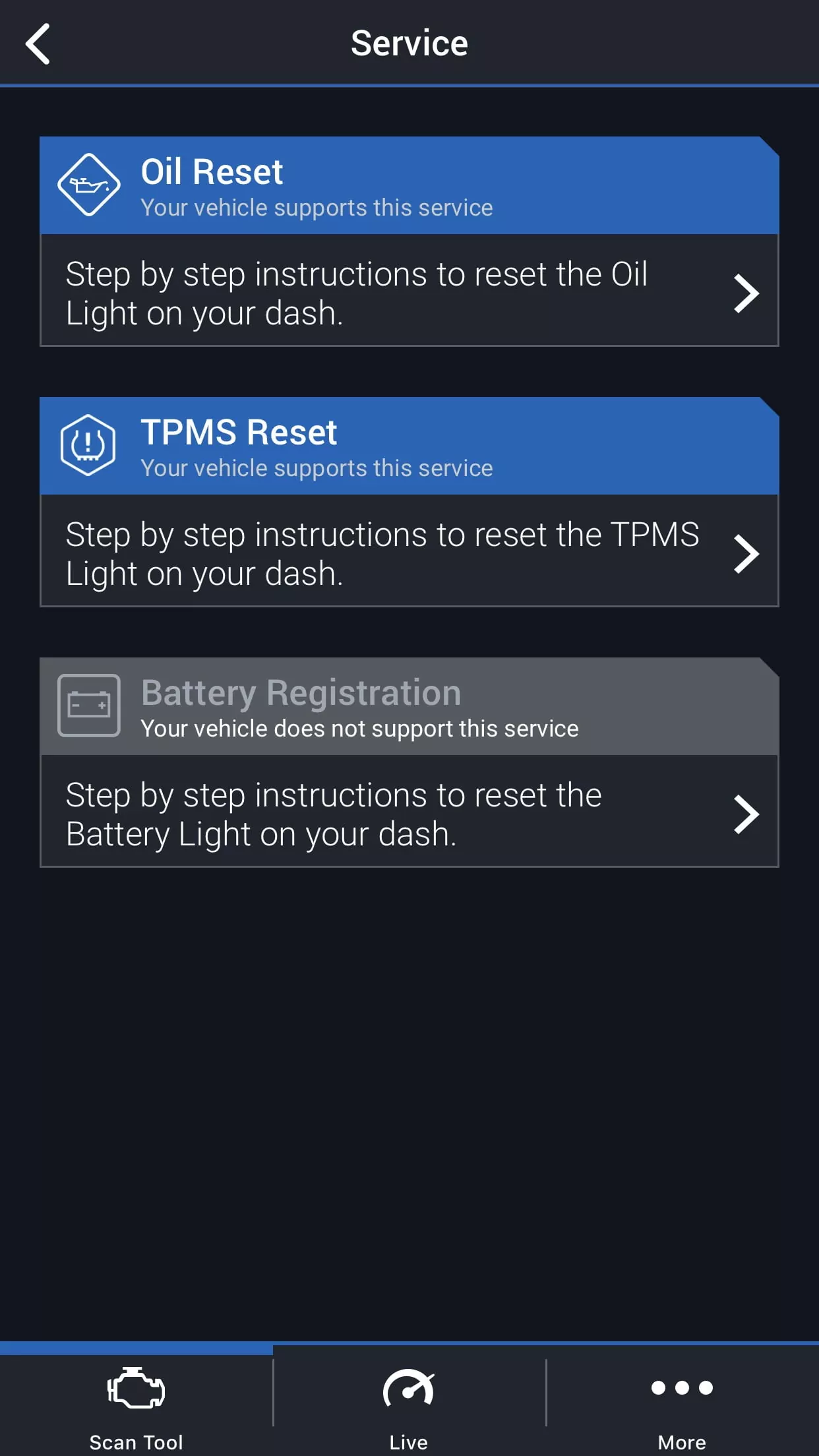 These 3 functions are really helpful after changing the car's tire, and oil, or when registering a new battery. 
Even though these services provide step-by-step instructions for each model, I find it limited for advanced repairs.
Note: Some specific vehicles don't support these functions.
4. No more codes from the main systems
I'm sure you also love the BlueDriver app's ability to read codes from the 4 main systems: engine, transmission, ABS, and airbag.
Combined with the repair report, you'll know every code in your car and identify whether to fix it yourself or not. 
No more unnecessary trips to the repair shop!
What I Dislike?
1. Slow live data
Although BlueDriver allows you to perform many diagnoses, its slow live data disappointed me. 
The data refresh rate is sluggish, and selecting more than 5 PIDs makes it even slower.
If you require faster live data, you may need to consider using another app like OBDLink.
2. No screen rotation
I couldn't read real-time data horizontally on my iPad because Bluedriver doesn't support screen rotation for this function.
Therefore, I had to prop it up in portrait mode to read the output.
Fortunately, the app would work in both portrait and landscape mode for live data when I rotated my phone 90 degrees.
Recommended Adapter
BlueDriver app can't work on universal adapters because it exclusively works with BlueDriver one.
So, I highly recommend you buy a scanner from BlueDriver to use this comprehensive app.
Read more: Never Buy BlueDriver Before Reading This Review [Updated 2023]
---
#2. OBD Fusion: Best Third-party OBD2 App for iOS & Android
What Makes Me Like OBD Fusion?
1. Work perfectly on iPhone and iPad
I've been using OBD Fusion with the Veepeak BLE adapter on my iPhone X for 2 years. And let me tell you: it's one of the best diagnostic tools for iOS devices!
What's really cool about this app is how convenient it is to use on iPhones and iPads.
I don't even have to go through the pairing process like with other apps. OBD Fusion app connects to adapter automatically! 
How amazing is that?
The interface is also super user-friendly, making it easy to navigate through all the different menu options. And even better, it's simple enough for mechanics of all skill levels to use!
Considering all of its features and convenience, I have to say that this iOS app is well worth the App Store price.
2. Best for reading live data
OBD Fusion has the best live data monitoring I've seen since everything is super customizable and the gauges look great.
The live gauges on BlueDriver are pretty basic and not very customizable whereas OBD fusion lets you change the type (analog or digital), size, colors, pages, and much more. 
3. Perform enhanced diagnostics on several car makes
OBD Fusion now supports enhanced diagnostics for Ford, Mazda, Nissan, Lincoln, Lexus, Toyota, Scion, and Infiniti vehicles. 
With the ability to scan ABS, SRS, and Transmission modules, I can diagnose issues with greater precision than ever before.
What's more, I'll get access to hundreds of additional parameters that are not available over standard OBD2.
I highly recommend buying the enhanced add-on. It provides a wealth of additional information.
What I Dislike?
One thing that bothers me about OBD Fusion is that it does not save data for previous vehicles. 
Whenever I use the app on another car, the data for the previous car gets lost, or I cannot find it. 
The app seems to "forget" the vehicles, so I have to re-enter the information every time I switch cars.
It would be a huge improvement if the app could store data for each car separately and allow me to reference it later.
Recommended adapter
Looking for an affordable diagnostic tool that works well with the OBD Fusion app? Look no further than the Veepeak BLE adapter!
When paired with OBD Fusion, Veepeak BLE provides a wealth of detailed information that surpasses what you'd get with a standard scanner. 
And the best part? 
You can get started for as little as $40, turning your smartphone into a powerful diagnostic tool and saving you money in the process!
If you're hesitant to shell out $120 for the BlueDriver, the Veepeak BLE adapter is a great alternative that won't break the bank.
---
#3. Torque Pro: Best OBD2 App for Android
What Makes Me Like Torque Pro?
1. The power of Torque Pro is its accuracy in code reading
If you're a car enthusiast, you'll know that diagnosing car issues can be a real headache. 
And your headache will be blown away with Torque Pro – an app that lets you read any car's red light in a matter of seconds.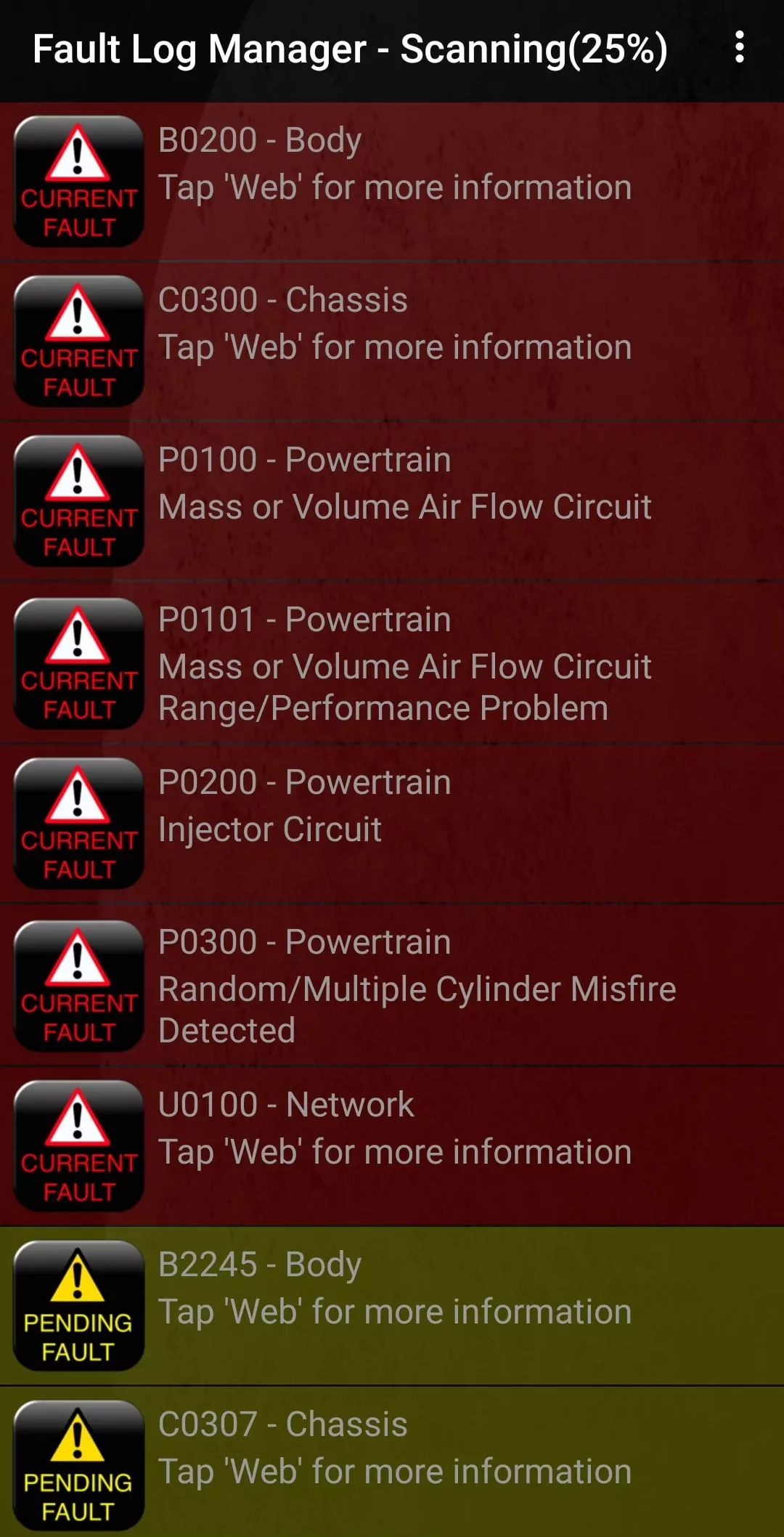 Not only does it provide you with all the information a mechanic would have, but it also pulls the same codes as much more expensive scanners. 
I've used it on 6 different cars, and it hasn't failed me yet.
Don't let an annoying CEL ruin your day. Get Torque and get back on the road with confidence!
2. Torque Pro is the cheapest app I've ever used
Another thing I love about the Torque Pro is its affordability. 
Unlike other apps such as BlueDriver or Carly, which require a specific adapter, Torque Pro works with any ELM327 Bluetooth adapter.
This allows you to create a diagnostics combo at a very low cost.
BlueDriver requires a $120 adapter, while Carly requires a $139 app.
In contrast, Torque Pro only requires a $23 BAFX adapter and a $5 app, bringing the total cost to just $28 for a lifetime. 
It's an incredible deal that can save you a lot of money in the long run.
3. It will keep your cars safe on the road
Torque Pro is not just a diagnostic tool but also a reliable safety companion on the road. 
How so? 
With Torque Pro, you can set warning alarms and visual prompts for when certain metrics, like temperature, RPM, and voltage, exceed a specific range.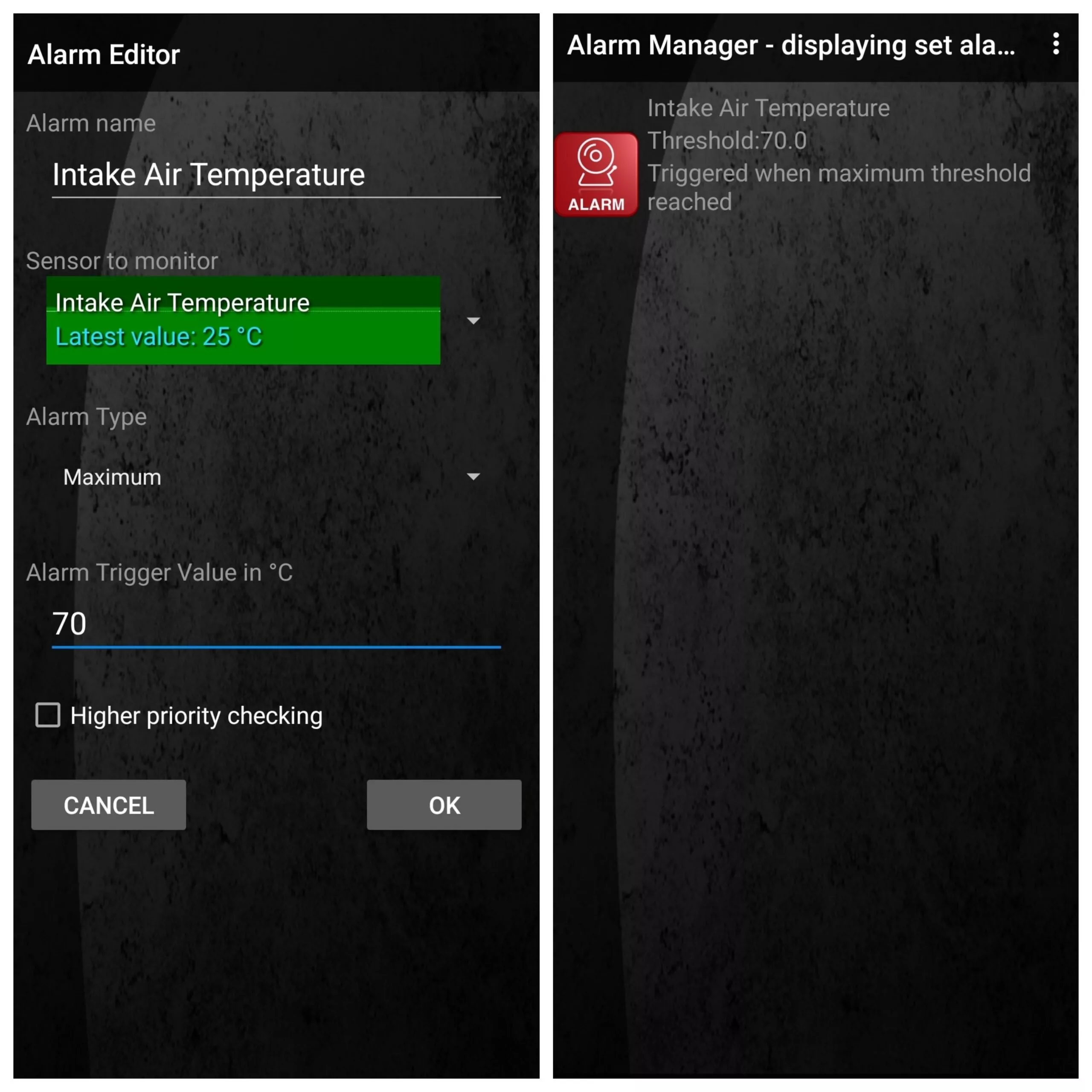 This means you can be immediately alerted if your car starts to overheat or experience any other issues while driving, for example.
It's like having a personal mechanic in your pocket, right? 
What I Dislike?
Despite being a powerful app, Torque Pro can be a hassle to learn and navigate due to its clunky and convoluted interface. 
Even after years of use, I still feel like I'm missing out on some of its advanced functions.
It would be great if the app received a much-needed interface refresh, making it easier to use for both beginners and non-techs. 
Recommended adapter
Pairing Torque Pro with a BAFX or Veepeak BLE is the cheapest but most reliable combination. 
---
#4. OBDeleven: Best app for VAG group
What Makes Me Like OBDEleven?
1. Dealer-level functions for VAG group & BMW
OBDEleven is among the most professional tool for Volkswagen Group (VAG), with numerous advanced functions:
Advanced diagnostics
Car feature customization
Coding/ Adaptations
This app is always my first choice when it comes to VAG vehicles, as it can help me reach the most advanced thing I can do with these vehicles. 
And for BMW group, OBDEleven cannot reach that professional, as it lacks the coding and adaptation features. But you can still get the most advanced diagnostics and car customization.
2. Super advanced long coding for VAG group
OBDeleven has been popular as a super advanced app for coding/ and long coding for VAG group
You can find the long coding function in the Control Unit menu.  This function is especially useful for professionals who want to explore the hidden parts of the vehicle.  I can spend the entire day exploring the codes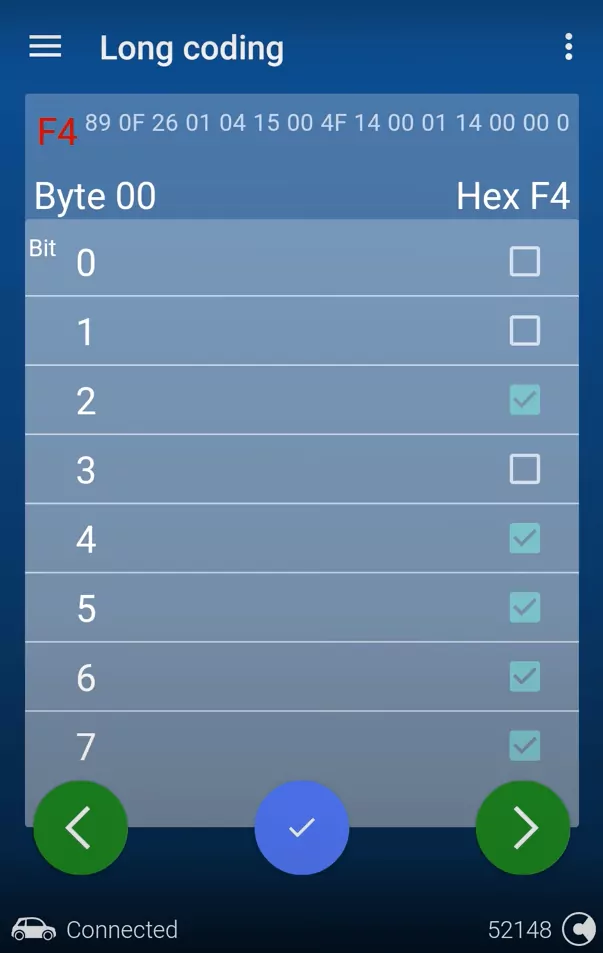 If you want to know more about this long coding function, check this OBDeleven's post about their function. 
3. Change car behavior with one click
OBDeleven offers a wide range of coding options that are already programmed for you to choose from. You don't need to be a car expert to use it – simply pick the changes you want to make, like
turning on or off certain comfort features, 
customizing functions, 
or unlocking hidden features 
Here are some of the most popular coding choices available on OBDElven:
Modify the side marker lights
Activate unique-looking lights
Change cockpit theme
What I Dislike?
1. Enhanced functions are only available on some brands/ models
It's important to know that these features are only fully supported for certain types of vehicles. Specifically, VAG group models and some BMW models.
If you're driving a different make or model, OBDEleven can only help you out with basic OBD2 diagnostics and engine-related issues. 
Just make sure to check their official website to see what features are available for your specific car.
Recommended Adapter
To use the OBDeleven app, you'll need to have their OBDeleven NextGen device.
Once you have the device, you can use the app's basic functions for free, or you can purchase credits, or upgrade to the Pro or Ultimate plan to access more advanced features.
#5. Carly: Powerful App for ECU Coding
What Makes Me Like Carly?
1. You can read trouble codes from the main systems
Similar to BlueDriver, Carly allows me to read trouble codes from the engine, transmission, ABS, and airbag. 
These enhanced diagnostic features are available for BMW, MINI, Toyota, Ford, Nissan, Lexus, etc. 
Other rare brands like Alfa Romeo, Bently, Chrysler, etc., still get basic OBD2 functions as long as they support OBD2.
Besides, Carly shows the trouble codes with color to let me know whether the problem is severe or not.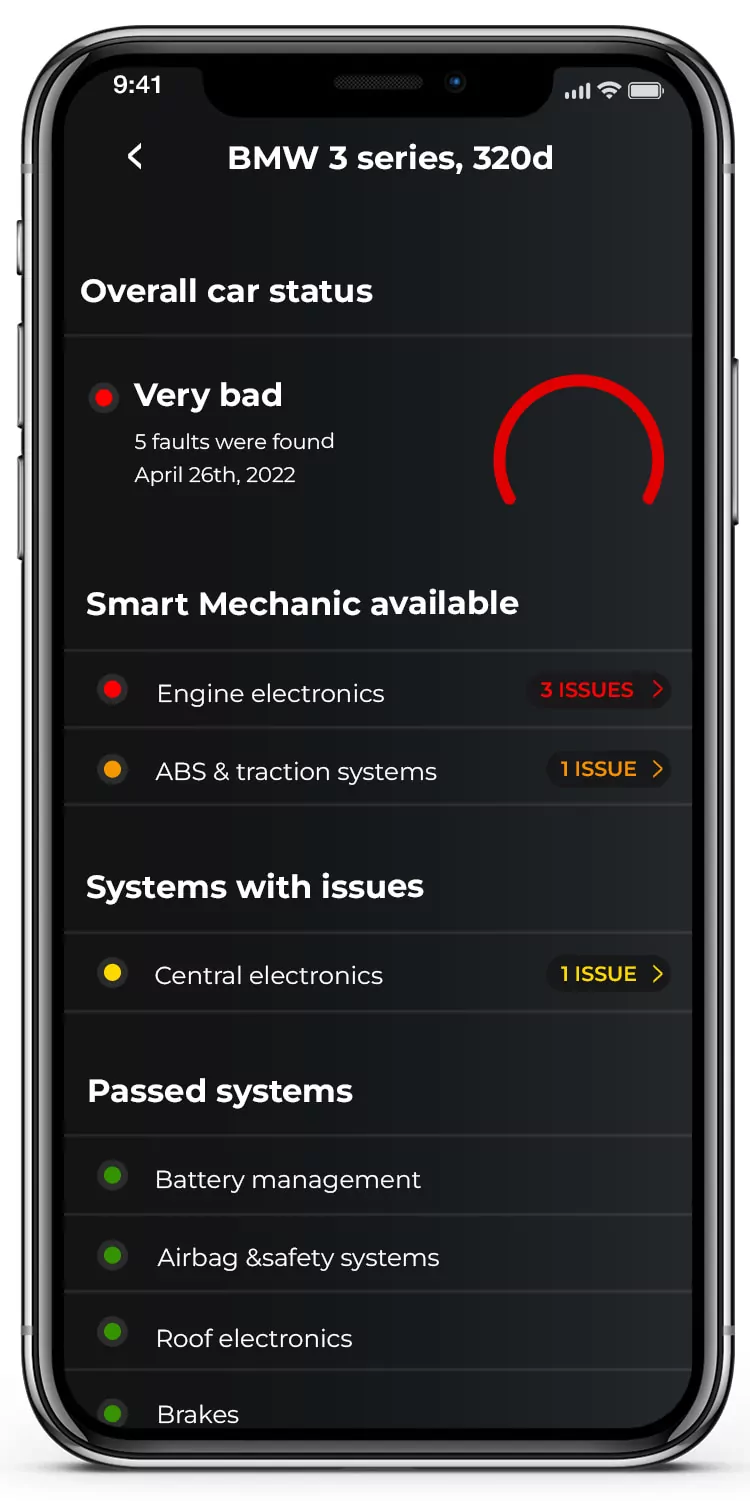 With Carly, it will be easier to decide whether to bring your car to the mechanic immediately or keep driving. 
2. You can perform advanced functions or customization via Bluetooth connection
Not only does Carly read enhanced codes, but it also offers coding and advanced service functions, such as:
Battery registration
DPF regeneration
Brake parking reset
Especially for BMW and MINI vehicles, I can customize the iDrive and exhaust flap if the car is equipped. 
In the first 1-2 weeks I've tested it, I've programmed a new battery and performed DPF regeneration for a 2018 320d BMW. The coding function also lets me get rid of some minor annoyances in my client's BMW. 
3. So convenient for checking used cars before buying
A prominent function Carly offers is the "Used Car Check" function. 
To avoid buying a used car in poor condition, you can use this scanner to check if the car's mileage is correct. 
Also, VIN information is available for checking in this feature.  
What I Dislike?
1. High annual subscription fee
One thing that I dislike about the Carly app is the requirement for an annual subscription, which the website doesn't clearly explain. 
In reality, you have to pay $150 (all car brands) to renew the app and keep using it.
And when you add up the cost over the next 5 years, it's not a small amount of money. 
As much as I love Carly, I simply can't justify spending over $595 to use the app.
2. Customer service is not responsive
I'm tired of dealing with unresponsive customer service. Well, unfortunately, Carly's customer support is one of the worst I've experienced. 
I once sent them an email asking for a refund, and after providing the necessary information, they simply stopped responding. 
Despite their promising to get back to me, they ended up closing my support ticket without a resolution. 
It's frustrating to see a reputable app brand handle their customers' problems so poorly. 
When it comes to choosing an app, good customer service is essential. I truly hope Carly improves in this area soon.
Recommended Adapter
When buying the Carly app, you will be provided with a scanner for free. Of course, like BlueDriver, the Carly app works exclusively with its scanner for full features. 
Yet, you can use this app with other adapters, but only basic diagnostic functions like reading codes are available.
---
#6. Smart Control: Free App with the Best Tech Support
What Makes Me Like Smart Control OBD?
1. Feel more active with the colorful interface
When first using this app, I bet you will get impressed by how colorful the app's interface is. 
The developer also put icons to demonstrate the meaning of each item.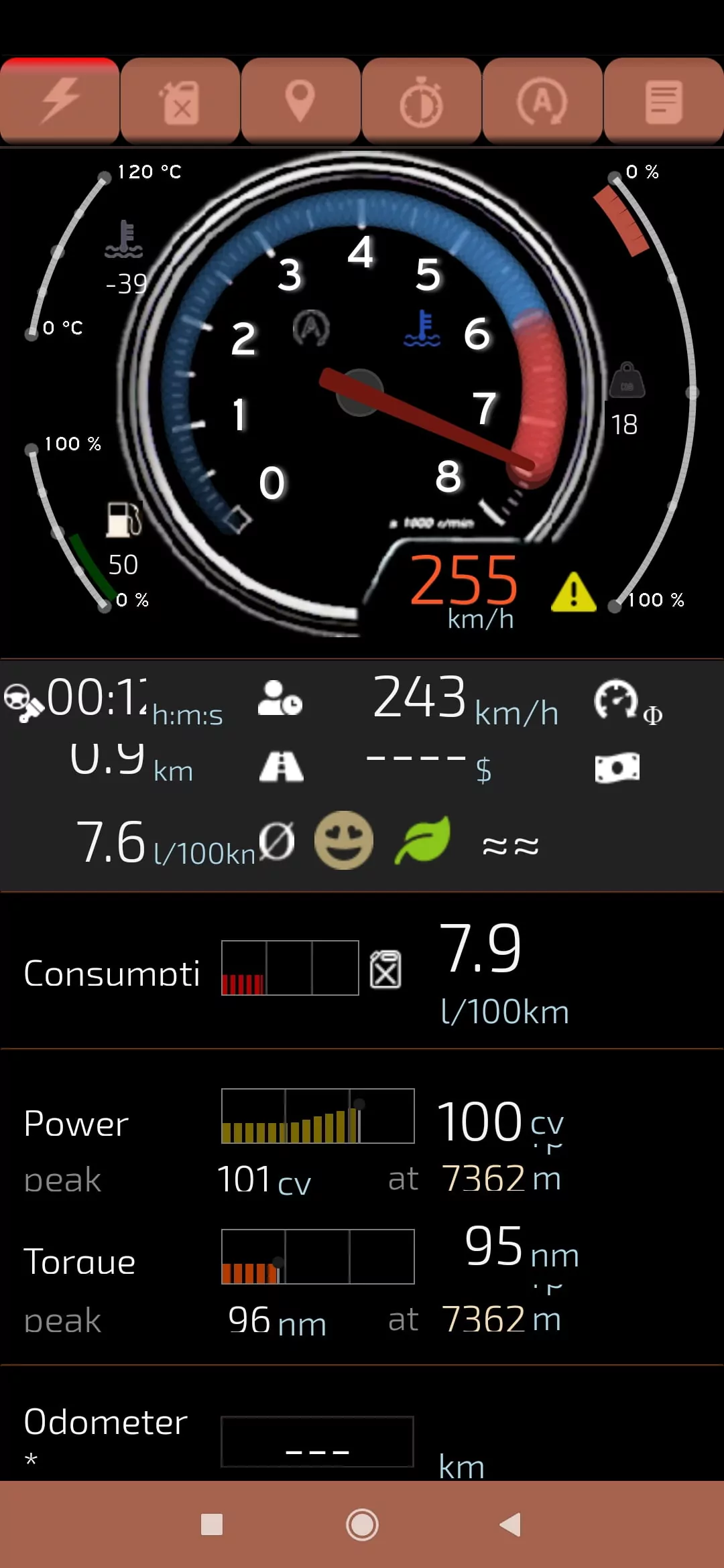 However, as a mechanic, I'm more into simple styles like Car Scanner ELM OBD2 or BlueDriver. 
Yet, the interface and the whole icons are still good at conveying messages to users, especially newbies. 
2. Prevent your car from serious problems
With this app, you can take action whenever problems arise before they become more serious. 
Do you know why?
Because Smart Control will provide you with helpful information like power acceleration and DPF-related data.
One of my clients had a 2012 Mazda 3 diesel that was constantly stuck in limp mode. I suspected a faulty DPF system. 
Using the premium version of the app, I was able to confirm my suspicions by viewing the DPF soot accumulation. 
After replacing the DPF, I was able to fix the issue and get my client back on the road.
3. Vocal notifications
I also love that the app allows me to receive notifications in vocal messages by automatically activating speakers on my phone. 
These messages might be:
your car's fuel consumption, 
the start & end of the trip, 
or the speed limit alert by a custom message.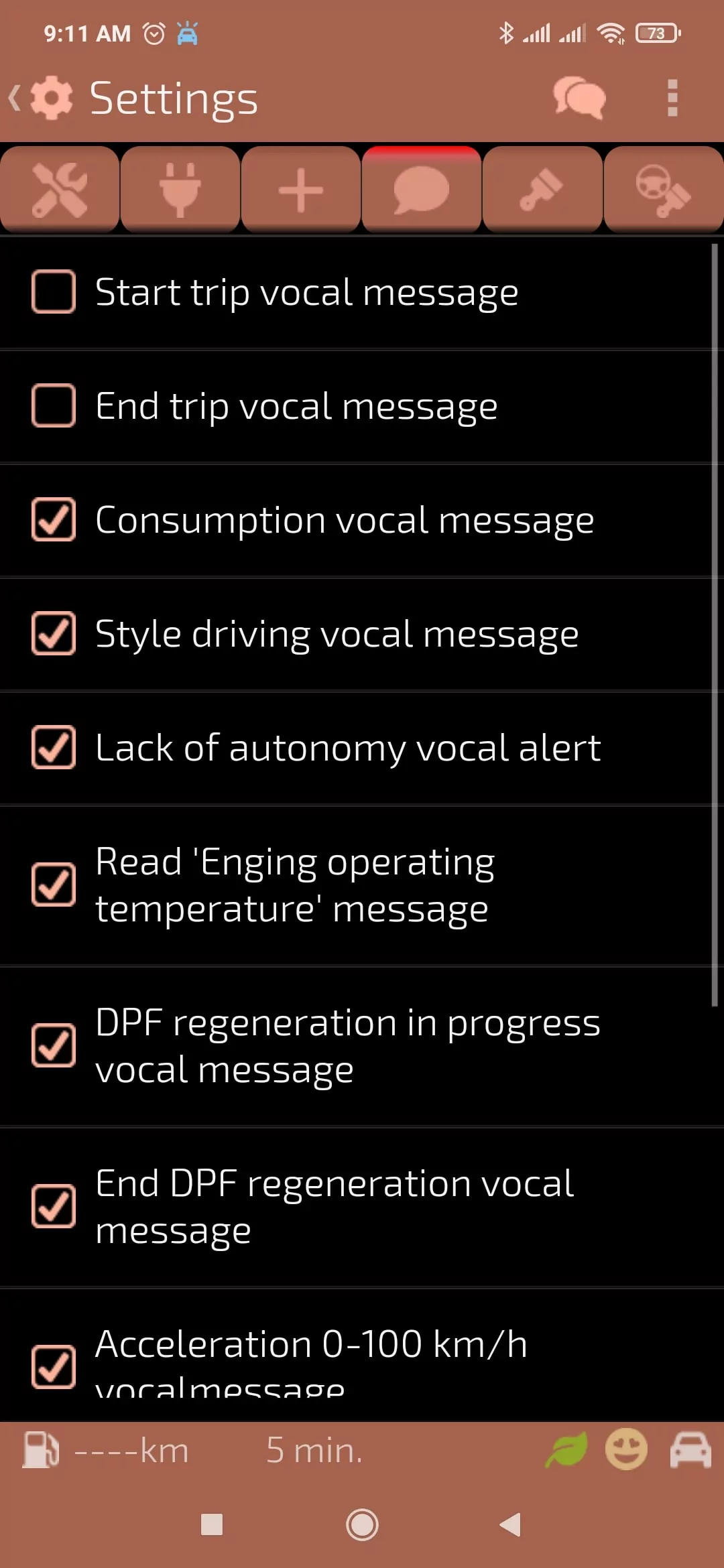 You can now focus solely on driving without the distraction of constantly checking your phone for data.
It's like a breakthrough.
4. Tech support team is always beside you
I appreciate Tech Support's polite manner and thoughtful customer service. 
They always try to answer as many of their customer's queries to offer indeed support, especially on the Google Play platform. 
Furthermore, they created a community group on Facebook for Smart Control users' convenience. 
In that group, you can share your experience working on the app or just put any problems to get help from others and the developer. 
What I Dislike?
1. Annoying constant icon in the notification bar
A little annoying thing I want to mention is that I can't get rid of the constant icon in my notification bar. 
The point is it seems to signal nothing.
Fortunately, the app doesn't draw my phone battery while displaying the icon. 
I hope the developer will improve it someday in the near future.
Recommended Adapter
To work on your car well, Smart Control OBD must be paired with ELM327 Bluetooth or Wifi devices. 
From my first-hand experience, Vgate iCar Pro Bluetooth 4.0 is the best choice for this app. They are combined perfectly as an assistant for your car. 
Vgate iCar Pro is around $35, meaning that for this excellent combo, you only need to spend less than $40 in total. 
Worth the try!
Check Vgate iCar Pro's latest price here:
---
What's Next?
In conclusion, after reviewing the top 5 OBD2 scanner apps, it's clear that:
BlueDriver is the best choice for iOS devices, offering unparalleled features and ease of use. 
Meanwhile, Torque Pro is a budget-friendly yet reliable option for Android users.
Which one is your favorite?
Are there any other OBD2 apps that you'd like me to review?
Share your thoughts in the comments below!