Hey, you are searching for an OBD2 app to pair with your Bluetooth obd2 adapter, aren't you?
Or wondering what the best OBD2 app for your smartphone/tablet (iOS or Android) is and want to buy the most suitable Bluetooth adapter for it?
An OBD2 app is installed on a smartphone or tablet and pairs with an OBD2 Bluetooth/Wi-Fi adapter to make a complete set of OBD2 scanners. All the repair reports and live data are shown (in graphs or text) on the devices' screen. Interestingly, what you can do with the scan tool depends largely on the app you pair.
OBD2 App + OBD2 Adapter = OBD2 scanner
While some apps come in their own OBD2 Bluetooth adapters, others are third-party apps that work with a different adapter.
If you're looking to buy a new OBD2 Bluetooth scanner with the FREE pro-version app included, go for either Bluedriver or OBDLink MX+.
If you're looking for a FREE OBD2 app, take Car Scanner ELM for iOS/Android or Torque Lite for Android.
If you already have an OBD2 adapter in-house, get a third-party app such as Torque Pro for Android or OBD Fusion for iOS.
Best OBD2 ELM327 Apps for iOS/Android [Comparison Chart]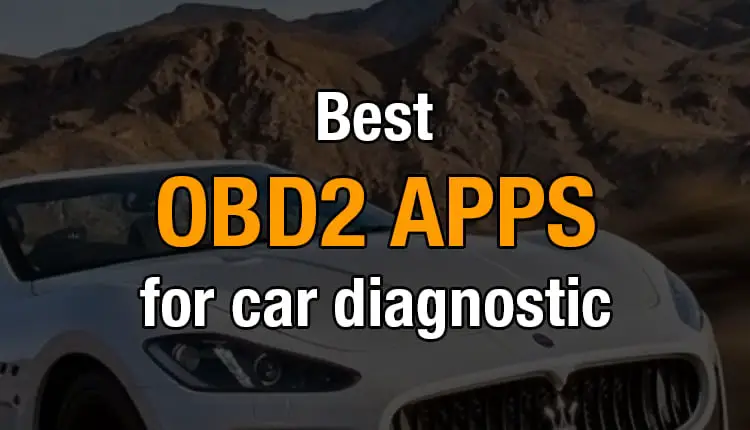 Choose the type you love in the list below and go with me!!
Best OBD2 ELM327 Apps for iOS and Android
OBD2 Apps that work on both Android and iOS devices can help you cut costs. If you have both an Android and an iOS device, you won't have to buy a different app on both phones. Perhaps you only have either of the devices, you also won't need to worry about losing your progress on buying a new app or scanner if you change your OS in the future. 
With Car Scanner ELM OBD2, Carista OBD2, and BlueDriver, you get the best OBD2 ELM327 apps with dual-OS support on the market. But what makes each of these OBDII apps stand apart?
Top 3 ELM327 OBD2 Apps for iOS/Android Comparison Chart
 
BlueDriver
Car Scanner ELM OBD2
Carista OBD2
Best matched adapter

BlueDriver


Veepeak OBDCheck BLE+


Veepeak OBDCheck BLE

App Price
Free included with Bluedriver adapter
Free
$9.99/month
Download
Bluedriver for Android

Bluedriver for iOS
Car Scanner ELM for Android
Car Scanner ELM for iOS
Car Scanner ELM for Windows
Carista for Android
Carista for iOS
OBD2 Functions
Full OBD2 functions
Full OBD2 functions
Full OBD2 functions
Enhanced Codes and System Diagnostics
All systems
ABS, SRS, Transmission
All systems
Advanced service functions
Oil Reset, TPMS Reset, Battery Registration
Find more here
Oil Reset, EPB Service, Launch Control Count Checking
Customizations/ Coding
--
Find more here
Customize your car lights, windows, instruments etc.
Vehicle Coverage
OBD2 cars, SUVs, 12V trucks (made in 1996 and later)
OBD2 cars, SUVs, 12V trucks (made in 1996 and later)
OBD2 cars, SUVs, 12V trucks (made from 2000 till date)
*Notes: Excellent: 9-10; Good: 7-8; Fair: 5-6; Poor: 3-4; Very poor: 1-2
1. BlueDriver OBD2 App
Free | Included with Bluedriver adapter | for iOS/Android
BlueDriver is becoming even more popular – for good reason. It is portable, efficient, and offers choice features to keep your car in a tip-top state. BlueDriver is built in the US by expert technicians that ensure that customers get what they paid for.
Instead of an LCD screen on the scanner, you simply connect it to your smartphone or tablet. It works just as great on Android phones as it does on iOS, so there's no trade-off between OS like some other OBD2 apps. You can read enhanced codes and get repair suggestions on your smartphone/tablet.
You could say that the BlueDriver scan tool itself is sizable, but it isn't obstructive. Besides, the scanner's diagnostic prowess is based on its components. The app is also well-organized and can capture useful data like a pro tool should. That data can then be exported and interpreted from the app.
BlueDriver is definitely a great starting point for fixing many car troubles.
BlueDriver doesn't really have a lot of cons, although its connection can drop sometimes.
BlueDriver Bluetooth Pro OBDII Scan Tool for iPhone & Android
BlueDriver is a free app with no in-app purchases. It uses verified repair data from its millions of users to recommend the best approach for your repair. Its database of successful repairs will save you time and money.
Download:
2. Car Scanner ELM OBD2 App
Free | for Android/iOS
Car Scanner ELM is available for Android and iOS smartphones and tablets. When connected to a compatible adapter like Veepeak OBDCheck BLE+, your smartphone/tablet turns into a diagnostic beast. With Car Scanner ELM, you can monitor and show real-time data, check for fault codes, and read sensor data all from your smartphone's screen.
Gone are the days of fiddling with the tiny screens on some scanners. All your sensors, emission test results, and freeze frame data are now accessible on your smartphone with this free app. It is also one of the few smartphone apps that do car coding properly. You can get access to on-the-road data as well on any OBD2-compliant vehicle.
Another cool thing this app has is its HUD mode, which allows you to project data to your windshield. The app is built for excellent user experience and customizability. It is one of the most convenient ways to turn your garage into a mechanic shop and save yourself money and time.
Car Scanner ELM OBD2's main weakness is noticed during its first use when you might encounter a couple of errors. 
Veepeak OBDCheck BLE+ Bluetooth 4.0 OBD2 Scanner for iOS & Android
When paired with the Veepeak OBDCheck BLE+, Car Scanner ELM OBD2 not only maintains your car's health but also lets you customize how it functions easily.
Download:
3. OBD Fusion OBD2 ELM327 App for iPhone/iPad
$9.99/month | For iOS and Android
If you're having engine light troubles or simply want to keep track of your engine's health and fuel efficiency, try OBD Fusion.
It has impressive visual graphs and gauges for displaying the data it collects from your vehicle. With more than 90 performance indicators, this app is a joy to use for enthusiasts.
Like other OBD2 apps, it isn't a standalone app. OBD Fusion connects to an adapter like BAFX for iOS, which in turn connects with your car engine.
Setting it up on an Android or iOS smartphone is smooth and painless, and the reports it generates are stunning.
OBD Fusion works with recent car models, supporting both OBD2 and EOBD for European drivers.
It is a small investment when you think of the cost, but a worthy one all the same.
At the least, you get a good idea of what your car issues are, so you aren't overcharged at the mechanic. At most, you fix your car issues yourself, at home, for free.
OBD Fusion doesn't allow you to share diagnostic data with other people, such as your mechanic. 
BAFX Products for iOS
OBD Fusion meets many of the needs of car owners and enthusiasts who want to monitor their engines and get the best of OBD2 diagnostics. Download the app and use it with BAFX for iOS for best results.
Download:
4. Carista OBD2 App for iOS/Android
Free Trial | for iOS/Android
Carista is simply one of the best OBD2 apps for both drivers and mechanics. Drivers can use it to check error codes and clear dashboard lights in their vehicles without bothering to pay a mechanic. It also packs impressive features that enthusiasts will love to use.
Right out of the box, it can reset airbags and perform other service functions – things you would need a mechanic for otherwise. The cost savings don't end there since the app itself is free. There are some in-app purchases within the app, but they are all worth it if you ask me. It does all this while being easy to use for almost anyone. The only requirement is that you pair it with its proprietary scanner, which you have to buy.
Mechanics as well can benefit from having it around the shop. It supports popular brands like Toyota, BMW, Lexus, Audi, Mini, Scion, etc. This allows mechanics to change car settings on those cars like pros.
Carista is quite expensive, and it doesn't offer any free trials on non-Carista adapters. 
Veepeak OBDCheck BLE OBD2 Bluetooth Scanner
Carista delivers professional diagnostics on many levels and is easy to use both for beginners and expert repair technicians. You should buy the app with Veepeak OBDCheck BLE.
You can also buy Carista Adapter at https://caristaapp.com/adapter
Download:
Carista for Android
Carista for iOS
5. Torque Lite OBD2 App for Android (Free)
Free | For Android only
Torque Lite offers all the essential functions anyone can ask for in an OBD2 app. It is free to download, and it works with many Bluetooth-capable OBD2 adapters, even cheap ones. Since it is free, there's little risk to checking to see if it works with your adapter and vehicle combo. The app is only available for download on Android and Windows smartphones.
Most cars made after 1996 will connect with the Torque Lite app since it works with OBD2 vehicles. The only vehicles it isn't compatible with are Nissan, Chrysler, and Subaru brands. In fact, they often update the app download page and app with helpful information about bugs if you have any issues.
The Pro version has more features, but Torque Lite also offers most users a satisfactory range of features. It can check engine performance data, reset fault codes, log and transfer data to web servers. The Lite version also lets you customize the dashboard with gauges and dials according to your taste.
Torque Lite is free, which begins to explain its limited functionality and lack of support for diesel vehicles.
BAFX Products for Android/Windows
Despite its sizable range of diagnostic functions, Torque Lite is free and easy to use for car owners. All you have to do is buy BAFX Products for Android, its most compatible app, and use it to find the cause of your car issues.
6. Torque Pro ELM327 OBD2 App for Android
$5/month | For Android only
Torque Pro packs the full punch of the two Torque apps. Car owners and enthusiasts must have an app like Torque Pro, considering its functions and diagnostic capabilities.
Without an app like this, you're forced to the dealer or mechanic's shop when something as small as the Check Engine Light comes on. Torque Pro saves you all that stress and cost by allowing you to fix more complex issues right from your garage. All you'll need is an Android or Windows smartphone to connect to a compatible adapter like BAFX for Android.
Apart from clearing engine lights, it can read horsepower, torque, and transmission temperature info from gasoline and diesel engines. You can check a couple of systems and reset ABS as well.
It also performs driving tracker functions, has a GPS compass, and can connect to social media platforms.
It is barely $5 and will pair with cheap, authentic scanners, making it one of the cheapest OBD2 apps out there.
Torque Pro is quite technical to use and can be confusing for newbies. 
BAFX Products for Android/Windows
Torque Pro is an affordable app with many useful features for repairing your car and cutting costs. Its most comprehensive functions are best used with BAFX Products for Android.
Bonus 1: Best ELM327 OBD2 software for PC laptop 2021
7. OBDEleven App for iPhone/iPad/Android
There are many reasons why OBDEleven is one of the best OBD2 apps to buy. It comes with its own dongle that fits nicely in any OBD2 DLC, and it has a couple of scanner variations for different budgets. Another reason is its Pro plan, which combines some of the most advanced diagnostic features you'll find in an OBD2 adapter. Traditional code readers don't come close at all. 
The manufacturers recently added support for iOS on top of its usual Android and Huawei smartphone support. Although a few advanced features are still in development for iOS devices, you'd get a kick out of its current capabilities. 
The app offers these features as One-Click Apps, so you only ever need to buy what you need. You can purchase more features with Credits, which you can either buy or earn for free by watching a few ads. If you have a VAG vehicle or often repair one, there is no better app and scanner for them than OBDEleven. 
OBDEleven's main con is that it requires credits to use more features.
OBDEleven Pro
OBDEleven is an excellent app with its own powerful scanner. Both deliver excellent diagnosis that is difficult that makes it hard to compare with similar apps. It is perfect for DIYers and professional mechanics alike and is best used with the OBDEleven scanner.
You can buy OBDEleven adapters or app subscriptions at OBDEleven.com.
Download:
Read more: Best OBDEleven Scanners Review
8. Carly OBD2 App for iPhone/iPad/Android
Price $79-$179 (lifetime included a free adapter) | For iOS and Android
Carly has a must-have set of diagnostic features for Renault, BMW, Toyota, Lexus, and other core-supported brands. Other non-core brands still get basic OBD2 diagnostics as long as it supports OBD2.
If you want to find out which functions are supported your car, the manufacturer helps you with that on their website.
Made in Germany, there's little to find fault with this app. It can do everything from live data checks to diagnostic checks, advanced reset functions, coding, and so much more. If you're into coding, the Carly app allows you to code but in a safe way so as to prevent bricking your ECU.
There's a Carly Scanner to match the Carly app on both Android and iOS. Both devices can have the Scanner+ plan, which will set you back $90.89. The good news is that that plan includes the Carly scanner, so there's no additional spending.
Carly offers a couple of in-app purchases that can add up, especially if you want all brands and maximum features.
Carly Scanner+
Carly can fix both commonplace and in-depth car issues with its advanced diagnostic functionality. The Carly Scanner+ is ideal for professionals and mechanics and comes with its own proprietary scanner.
Download:
Read more: Carly Vs FIXD Vs Carista
9. OBDLink OBD2 App for iOS/Android
Free (included with OBDLink adapter) | For iOS and Android
Another one of the best OBD2 apps to consider is the OBDLink app. It supports all OBD2 vehicles, although features may vary depending on your adapter. For the best range of features, you should pair it with the OBDLink MX+ or OBDLink LX from the same company.
Nothing beats an easy-to-use app that turns your smartphone into a full-blown diagnostic device. Besides, this one is free to download and completely ad-free, albeit with some in-app purchases. The company behind OBDLink is dedicated to making updates more accessible and free for life on Android, iOS, and Windows smartphones and tablets.
This app is as useful for checking emissions readiness as it is for performing complete system diagnostics on your car. It can also keep track of fuel economy, retrieve any vehicle's information, and provide detailed reports. Additionally, it has a GPS tracker that plots your vehicle's map in real-time.
OBDLink may sometimes freeze, although this is not a regular occurrence.
OBDLink MX+ Bluetooth OBD2 Adapter
OBDLink diagnoses car modules at an advanced level and regularly receives updates from the company. It is best matched with OBDLink MX+ to get the most out of it.
Download:
Read more: OBDLink MX+: OBD2 Bluetooth ABS SRS Scanner Review
Recommendation
Modern cars with OBD2 ports have become incredibly easy to diagnose right from your smartphone's screen. Once you have the right app and best-matched scanner with the features you want, you can connect wirelessly to your vehicle and repair it with ease. Here are my top recommendations depending on your phone's OS:
Best OBD2 Apps for iOS/Android:  BlueDriver app + BlueDriver Scanner
Best OBD2 apps for Android: OBDEleven app + OBDEleven Starter Scanner
Download: OBDEleven App for Android
Best OBD2 apps for iPhone iPad: Carly Scanner+ app + Carly Scanner
Download: My Carly App for iOS
Bonus 2: [review&tips] Best ELM327 OBD2 adapters 2021 (Bluetooth, Wifi, USB)
How to Choose a Suitable OBD2 ELM327 App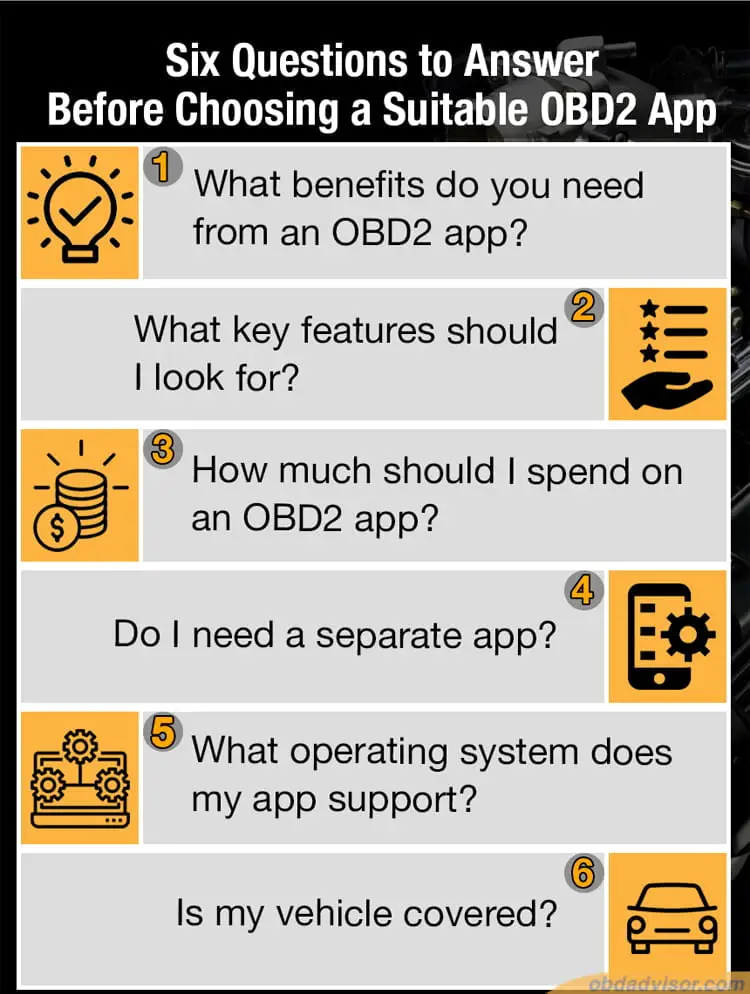 Step 1: Benefits
Because it will help you get to the cause of the problem quickly and find the information you need to put it right – so you can be quicker and more effective at doing your job.
OBD2, the letters standing for 'on-board diagnostics,' is the name for the industry standard for the warnings produced by a vehicle's electronic control unit, or ECU. Equipped with a smartphone, tablet, or laptop computer, and a compatible connector to link the two devices together, you can then download an OBD2 app to get lots of useful information in an easily-understood way, often with suggestions for rectifying the problem.
Using an OBD2 app and compatible scanner, you can check the fault codes programmed into the engine management unit (EMU) and determine what has caused any warning light to illuminate a car, van, or truck dashboard. These fault or error codes pinpoint precisely where in the vehicle the issue is stemming from, so give useful information as to how you can best go about fixing the problem.
Step 2: What Key Features Should I Look for?
As OBD2 apps can read the brain of any vehicle's engine and control systems, they are versatile tools that help you analyze many of the parameters for measuring how efficiently your engine performs.
It will give you a visual representation of many of the primary gauges and measurements collected by a car's on-board computer. The best apps will then give you a comparison against the criteria considered optimal for any particular vehicle's performance.
Because you get an overview of how the vehicle you are working on performs in 'real-time,' you can also get information about what might be triggering a particular problem, which is useful for finding the right fix.
Step 3: How Much Should I Spend on an OBD2 App?
You can get many of the OBD2 apps reviewed below for free via one of the leading app stores, but you often have to pay extra to access their full suite of features. We suggest paying no more than about $20 for this, as you also need to consider that, if you are setting up from scratch, you may need to buy again an OBD2 scanner to read and interpret the codes.
Be sure also to check that, although you might get an app for free, to begin with, you should pay for any updates which will keep your data current. Free apps give you a way into using OBD2 apps, so they are undoubtedly useful to help you explore their features. But for professional use day-to-day, the outlay on a full-service app, such as BlueDriver, or the Pro version of ScanMaster (see more in the descriptions below).
If you are fixing cars regularly, then an OBD2 scanner is essential because it will significantly speed up your work by directing you straight to possible cures. It possibly even lets you print out the information to give you or the vehicle's owner a permanent record.
A budget of $200 will expand your choice to the most capable scanners on the market – so you need to consider whether you will get a return for this level of outlay in the shape of it, helping you fix more cars, more quickly.
Step 4: Do I Need a Separate App?
Reading live data from an OBD2 scanner will be much easier if the scanner already contains a database of fault or error codes. Some do not have this feature, so that you will need access to a separate database – and possibly have to pay more for it.
Before you buy an OBD2 scanner, you should check the vehicle manufacturers' list with which the particular scanner is compatible. These do vary between scanners, so be sure to do some homework and consider how many different vehicles you want to use the scanner with. If you're specializing in a single marque, your choice will be much simpler than if you're offering a diagnostic service for all manufacturers' vehicles.
For the record, of the OBD2 apps listed below, OBD Fusion, AutoDoctor, and Torque Pro all offer adapters to work across the broadest possible range of vehicle scanners.
However, BlueDriver, Carista, and FIXD are proprietary apps that are only used in conjunction with a manufacturer-specific adaptor and their respective dedicated app.
Step 5: What Operating System Does My App Support?
Operating system compatibility is an essential question if you are using an OBD2 app downloaded to your smartphone or tablet. There is no single OBD2 app that is compatible with or collects data that every device is readable. Therefore, you need to check in the specifications for the app you are looking to use or buy whether it is compatible for use with the Android, Windows, or iOS operating system, as appropriate.
We have included this information under the description of each app, where appropriate.
Any vehicle built or imported into the USA after 1 January 1996 will be OBD2 compliant – so that will cover most cars on the road – but if your car is older than this, you can find checklists online to check compatibility.
Step 6: Is My Vehicle Covered?
We suggest using the checklist available here, as this shows a full list of US-spec vehicles with which an OBD2 app and scanner can be used.
You might find a sticker under the hood in some countries, including wording such as 'OBD2 compliant'.
Every OBD2 app is designed to read the information stored on a vehicle's diagnostic computer chip. But there is no common standard for storing and reading such data. So as well as the app, you will need a compatible wireless adapter to allow you to download the information gathered and produce printed copies of and store it for future use.
The Final Thoughts
To round up, all OBD2 scanner apps listed above will give you high-quality and reliable data if you use them with a compatible adapter. So please read our recommendations to get the full benefit from the particular app you want to use.
Beside OBD2 ELM327 apps for your smartphone, you can also try OBD2 ELM327 software for Laptop/PC to have a better view on a large screen. Let's check out this post!
Read more: Review of the Best Professional Automotive Diagnostic Scanner 2020/2021 [Review]