Hey, you are searching for an OBD2 app to pair with your Bluetooth obd2 adapter, aren't you?
Or wondering what the best OBD2 app for your smartphone/tablet (iOS or Android) is and want to buy the most suitable Bluetooth adapter for it?
An OBD2 app is installed on a smartphone or tablet and pairs with an OBD2 Bluetooth/Wi-Fi adapter to make a complete set of OBD2 scanners. All the repair reports and live data are shown (in graphs or text) on the devices' screen. Interestingly, what you can do with the scan tool depends largely on the app you pair.
An OBD2 App + an OBD2 Adapter = An OBD2 scanner
While some apps come in their own OBD2 Bluetooth adapters, others are third-party apps that work with a different adapter.
If you're looking to buy a new OBD2 Bluetooth scanner with FREE pro-version app included, go for either Carly, Bluedriver, OBDEleven, or OBDLink MX+.
If you already have an OBD2 adapter in house, get a third-party app such as Torque for Android or OBD Fusion for iOS.
Let's go!!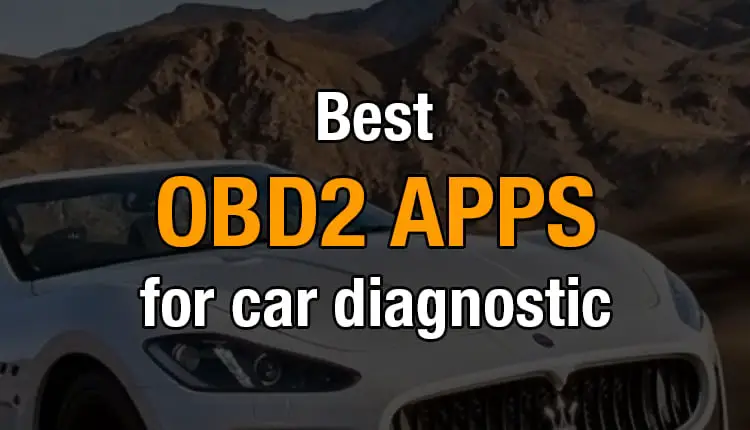 Best OBD2 ELM327 apps for iOS and Android
OBD2 Apps that work on both Android and iOS devices can help you cut costs. If you have both an Android and an iOS device, you won't have to buy a different app on both phones. Perhaps you only have either of the devices, you also won't need to worry about losing your progress on buying a new app or scanner if you change your OS in the future.
With Car Scanner ELM OBD2, Carista OBD2, and BlueDriver, you get the best OBD2 ELM327 apps with dual-OS support on the market. But what makes each of these OBDII apps stand apart?
Top 3 ELM327 OBD2 apps for iOS and Android comparison chart
Car Scanner ELM OBD2
Carista OBD2
BlueDriver
Supported Operating system
Android, iOS, Windows
Android, iOS
Android, iOS
OBD2 Functions
10/10*
10/10
10/10
Enhanced Codes and System Diagnostics
7/10
10/10
10/10
Advanced service functions
1/10
7/10
6/10
Customizations/ Coding
7/10
7/10
1/10
Vehicle Coverage
8/10
All cars 1996 or newer

7/10
Some models made from 2000 till date

9/10
Cars and light trucks 1996 or newer

Best matched adapter

Veepeak OBDCheck BLE+


Veepeak OBDCheck BLE


BlueDriver

*Notes: Excellent: 9-10; Good: 7-8; Fair: 5-6; Poor: 3-4; Very poor: 1-2
Best ELM327 OBD2 apps for iOS and Android: Car Scanner ELM OBD2 Vs. Carista Vs. BlueDriver
OBD2 Functions and System Diagnostics
Car Scanner, Carista, and BlueDriver support all ten OBD2 test modes for full OBD2 diagnostics on your vehicles. This means you can perform everything from reading freeze frame date, live data, emission-related codes, on-board monitoring test results, oxygen sensor monitoring test results, and vehicle information. You can also clear emission-related trouble codes and access control of on-board systems. These are the essential functions that you get on all the supported vehicles for each app.
Car Scanner has an advantage, though. It allows you to add custom or extended on-board diagnostics parameter IDs (OBDII PIDs). With these PIDs, you can get more data from the car, allowing you more diagnostic functions.
Best matched adapter
Veepeak OBDCheck BLE+ Bluetooth 4.0 OBD2 Scanner for iOS & Android
When paired with the Veepeak OBDCheck BLE+, Car Scanner ELM OBD2 not only maintains your car's health but also lets you customize how it functions easily.
When it comes to system diagnosis, Car Scanner only reads the codes from the engine system. To go beyond the engine system, you should download either Carista or BlueDriver. With the Carista and BlueDriver apps, you can diagnose faults in the engine and other non-OBD2 systems like ABS, airbag, transmission, emission systems, etc. Depending on your vehicle, you may even read codes on some manufacturer-specific systems.
For the most advanced diagnostics, download BlueDriver.
Best matched adapter
BlueDriver
Price range: $109-$129
Read more: BlueDriver Vs. Torque: Which App Suits Me?
Advanced Service Functions
While Car Scanner can only reset MIL (Check Engine Light), BlueDriver and Carista provide a more extensive range of advanced service functions. BlueDriver has oil reset, ABS, airbag, TPMS reset, and battery registration. Carista is even more ex allows you to perform reset functions like CEL reset, DPF regeneration, EPB reset, TPMS reset, ABS reset, VSC reset, battery registration, and TRAC inspection.
With Car Scanner and Carista, you can check if your vehicle is ready for emission tests. That way, you don't have to send your vehicle for failed emission tests. Car Scanner also allows you to take acceleration measurements and monitor your fuel consumption.
Your best bet for the broadest range of advanced reset functions is Carista.
Best matched adapter
Veepeak OBDCheck BLE OBD2 Bluetooth Scanner
Carista delivers professional diagnostics on many levels and is easy to use both for beginners and expert repair technicians. You should buy the app with Veepeak OBDCheck BLE.
Read more: VEEPEAK OBDCheck BLE: OBD2 Bluetooth Scanner for iOS and Android Review
Customizations/Coding
Coding and customizations can help you personalize some car controls and even activate some hidden controls. Unfortunately, BlueDriver can't do any form of coding, but Car Scanner and Carista can. Car Scanner can do some coding on VAG Group, Toyota/Lexus, Renault/Dacia cars depending on the firmware and available modules in those vehicles.
To customize your car to your taste with ECU coding, choose Carista.
Best matched adapter
Veepeak OBDCheck BLE
Price range: $29-$39
Supported Protocols and Vehicle Coverage
These OBD2 apps support all cars compatible with SAE J1850 VPM, SAE J1850 PWM, ISO 9141-2 / ISO 14230-4 KWP, ISO 15765-4 CAN, SAE J1939 CAN protocols. The apps can work with all cars manufactured for the United States since 1996, gasoline cars made in the EU since 2001, and diesel vehicles since 2003.
In the Chinese and Australian markets, where OBD2 became mandatory in 2008 and 2005/2006, respectively, the cars made after those years will be supported. In general, as long as your vehicle has an OBD2 port and is made after 1996, it will be supported.
For more specifics, Carista supports some Audi, BMW, Cupra, Infiniti, Lexus, Mini, Nissan, Scion, Seat, Skoda, Toyota, and Volkswagen. Any other models only get basic OBD2 diagnostics. BlueDriver supports cars and light trucks with the model year 1996 or newer.
BlueDriver has the most comprehensive coverage among these apps.
Best matched adapter
BlueDriver Bluetooth Pro OBDII Scan Tool for iPhone & Android
BlueDriver is a free app with no in-app purchases. It uses verified repair data from its millions of users to recommend the best approach for your repair. Its database of successful repairs will save you time and money.
Read more: Never Buy BlueDriver Bluetooth Professional OBDII Scan Tool Before Reading This Guide
Weaknesses
Car Scanner ELM OBD2's main weakness is noticed during its first use when you might encounter a couple of errors.
Carista is quite expensive, and it doesn't offer any free trials on non-Carista adapters.
BlueDriver doesn't really have a lot of cons, although its connection can drop sometimes.
Best ELM327 OBD2 apps for Android
If you only have an Android device and want to conduct in-depth diagnosis on your car instead of taking it to the mechanic all the time, these apps are for you. All you have to do is download the right app for what you need and buy a compatible scanner to boot. Once you have those two, you become your own mechanic.
Interestingly, none of the apps that work perfectly with Android are expensive. In fact, one of them. Torque Lite is absolutely free to use, although you might see some non-intrusive ads. The others are quite affordable for the level of diagnosis they deliver. Torque Pro is a steal at $5, and OBDEleven offers affordable plans based on your needs.
Top 3 OBD2 ELM327 app for Android comparison chart
OBDEleven
Torque Lite
Torque Pro
Supported Operating system
Android
Android, Windows
Android, Windows
OBD2 Functions
10/10
6/10*
10/10
System Diagnostics
10/10
3/10
5/10
Advanced service functions
8/10
1/10
4/10
Customizations/ Coding
7/10
1/10
1/10
Vehicle Coverage
8/10
All post-1996 Lamborghini, VW, Seat, Bentley, and Audi
8/10
All OBD2 compliant cars except Nissan, Chrysler, and Subaru.
9/10
All OBD2 compliant cars since 1996
Best matched adapter

OBDEleven Starter


BAFX Products


BAFX Products

*Notes: Excellent: 9-10; Good: 7-8; Fair: 5-6; Poor: 3-4; Very poor: 1-2
Best OBD2 ELM327 apps for Android: OBDEleven Vs. Torque Lite Vs. Torque Pro
OBD2 functions and system diagnostics
The Torque apps, both Lite and Pro, have some OBD2 test modes, but they are lacking in some particular modes like retrieving freeze frame data. However, Torque Pro has more OBD2 features like reading and clearing trouble codes, monitoring oxygen sensors, viewing live data, etc. If you're looking to perform all OBD2 tests comfortably, OBDEleven is the best of the bunch. Once you connect it to your OBD2 port, which is located below your steering, you can easily perform all ten standard OBD2 tests.
Best matched adapter
BAFX Products for Android/Windows
Despite its sizable range of diagnostic functions, Torque Lite is free and easy to use for car owners. All you have to do is buy BAFX Products for Android, its most compatible app, and use it to find the cause of your car issues.
Read more: BAFX: OBD2 Adapter For iOS & Android Honest Review
Torque Lite and Torque Pro offer limited functionality when it comes to system diagnosis. They can't read codes beyond the engine system. To read codes in all your vehicle's systems, including airbag, transmission, multimedia, and electronic systems, you need a full-system scan tool like OBDEleven. OBDEleven will diagnose all available systems in a compatible vehicle and erase pull codes after repair.
OBDEleven is the app to buy for complete OBD2 and advanced system diagnosis.
Best matched adapter
OBDEleven Starter
Price range: $99-$119
Read more: OBDeleven Standard: Bluetooth OBD2 VAG Car Scan Tool Review
Advanced service functions
Torque Lite only does the basic function of resetting engine error codes and displays MPG for gasoline vehicles. Torque Pro can also reset error codes and read transmission temperature and MPG for both diesel and gasoline vehicles, alongside its support for ABS sensor and Turbo boost. OBDEleven is the only one with some advanced service reset functions.
OBDEleven is packed with service functions like EPB release, oil service reset, brake pads replacement, control unit reset, BEM reset. Battery registration, DRL reset, oil pressure monitoring, etc. Please note that these functions are packaged as "One-Click Apps" within the broader OBDEleven app.
One-Click Apps are like add-ons you can buy with provided or purchased credits on the OBDEleven app. Luckily, your new purchase comes with some credits, depending on the OBDEleven plan you buy. For example, the OBDEleven Starter Edition comes with 100 credits. You can also get credits daily if you watch some ads.
Need advanced service functions for your repairs? Download the OBDEleven app from Play Store.
Best matched adapter
Obdeleven Starter Edition Next Generation Professional OBD2 Bluetooth Diagnostic Scan Tool for Android and iOS
Despite its sizable range of diagnostic functions, Torque Lite is free and easy to use for car owners. All you have to do is buy BAFX Products for Android, its most compatible app, and use it to find the cause of your car issues.
Customizations/Coding and Programming
The only app that offers a comprehensive ECU coding functionality to customize your car is OBDEleven. Torque Lite is meant for light diagnostics by novices, so it makes sense that it doesn't support a sophisticated feature like ECU coding. Torque Pro could have supported it, given its better feature set, but it doesn't.
OBDEleven doesn't just support customizations and coding, it also supports ECU programming. There are few Bluetooth adapters with ECU coding and programming support, so OBDEleven is a gem for this. It also supports adaptation if you need that function. However, you must be sure of what you're doing before attempting to code or program a module to avoid bricking it.
OBDEleven is the tool to buy to code and program your vehicle.
Supported protocols and Vehicle coverage
Torque Lite supports all OBD2 vehicles made after 1996 except Nissan, Chrysler, and Subaru vehicles. Torque Pro has no such restrictions. It supports any OBD2 vehicle regardless of where it was made. However, it warns that some vehicle ECUs may limit functionality. OBDEleven is designed to support diagnostics on Volkswagen Group (VAG)vehicles. This means it can work on Audi, Bentley, Seat, Skoda, Lamborghini, Volkswagen vehicles.
Best matched adapter
BAFX Products for Torque Lite and Pro App
Price range: $19-$29
OBDEleven Starter For OBDEleven App
Price range: $99-$119
Weaknesses
Torque Lite is free, which begins to explain its limited functionality and lack of support for diesel vehicles.
Torque Pro is quite technical to use and can be confusing for newbies.
OBDEleven's main con is that it requires credits to use more features.
Best OBD2 ELM327 apps for iOS
Gone are the days of diagnosing vehicles solely through wired connections and computers. Now your iPhone or iPad can be used as the interface for OBD2 scanners to display crucial vehicle data and initiate excellent repairs. All this is done through an app made specifically for that purpose.
We've reviewed the best OBD2 app for iOS in great detail. Since some of them can work with different adapters, we did the work of finding the perfect adapter for each scanner. We recommend avoiding fake ELM scanners since they can seriously limit these apps or not work at all. Here are the best OBD2 apps for iOS and their best-matched adapters:
Top 3 OBD2 ELM327 apps for iOS comparison chart
OBD Fusion
My Carly
OBDLink
Supported Operating system
iOS, Android
iOS, Android
iOS, Android, Windows
OBD2 Functions
10/10*
10/10
10/10
System Diagnostics
3/10
Engine System Only
10/10
Full System

10/10
Full System
Advanced service functions
1/10
CEL only
8/10
1/10
Customizations/ Coding
0/10
7/10
0/10
Vehicle Coverage
All cars and light trucks made after 1996
All car models made in 2000 and later
All 1996 and newer model-year vehicles
Best matched adapter

BAFX Products for iOS


Carly Scanner+


OBDLink MX+

*Notes: Excellent: 9-10; Good: 7-8; Fair: 5-6; Poor: 3-4; Very poor: 1-2
Best OBD2 ELM327 apps for iOS: OBD Fusion Vs. Carly Vs. OBDLink
OBD2 functions and system diagnostics
OBD2 diagnosis allows you to ensure your car is healthy and safe for the environment. All three apps, OBD Fusion, Carly, and OBDLink, all support full OBD2 diagnostics to allow you to test your car's health. The OBD2 protocol has 10 test modes, which all the apps support. These test modes include reading live powertrain data values, requesting stored, pending, and permanent Diagnostic Trouble Codes (DTC), requesting vehicle information and freeze frame data, requesting the results of on-board monitoring tests and oxygen sensor monitoring tests, and gaining control of on-board systems.
System diagnostics are quite different in that your scanner probes for the source of an issue in any of the other non-OBD2 or emissions-related systems in your vehicle. For example, Carly and OBD Link can diagnose your vehicle and return actionable error codes in the engine system, TPMS system, airbag systems, and so on. OBD Fusion, on the other hand, is only limited to diagnostics on the engine system. System diagnosis will help you proactively prevent damage to your vehicle and save you the money you would have paid your mechanics. For mechanics, it affords you a holistic approach to your client's vehicle.
For manufacturer-level diagnostics, choose the Carly app.
Best matched adapter
Carly Scanner+
Price range: $69-$109
Read more: My Carly: OBD2 Bluetooth adapter review (for iOS & Android)
Advanced service functions
OBD Fusion doesn't have much in the way of advanced service reset functions, although it performs basic OBD2 diagnostics pretty well. The only advanced service function OBD Fusion offers is CEL reset. The same goes for OBDLink, which can only clear the Check Engine Light as well.
Best matched adapter
BAFX Products for iOS
OBD Fusion meets many of the needs of car owners and enthusiasts who want to monitor their engines and get the best of OBD2 diagnostics. Download the app and use it with BAFX for iOS for best results.
Carly app has multiple service functions, including battery registration, EPB reset, DPF, NOx, service interval reset, transmission reset, and many more. As long as you have the paid version, Carly Scanner+, you can maintain your car better with these functions from your smartphone.
However, the available reset functions on Carly vary from vehicle to vehicle. To help you find out which features work with your car, Carly offers a free Carly Lite app that you can use with the scanner. You get to test it over a period of 14 days, during which you may return the scanner if you don't see the features you need.
Carly offers multiple services reset functions for different vehicles, making it the app to buy for better car maintenance.
Best matched adapter
Carly Scanner+
Carly can fix both commonplace and in-depth car issues with its advanced diagnostic functionality. The Carly Scanner+ is ideal for professionals and mechanics and comes with its own proprietary scanner.
Customizations/Coding
Coding helps to customize your vehicle according to your preferences. Modern vehicles have a wide range of modules that you can code, including beeping when locking or unlocking doors, seatbelt warning sounds, and automatically folding mirrors. Of the three apps, only Carly has this functionality to code your car without visiting a mechanic. You can also unlock some of the hidden functions in your vehicle.
If you're wondering how safe coding your car is, let me alleviate your fears by saying that coding won't affect your car performance when done well. Moreover, Carly makes it incredibly easy, even for beginners. All you need to do is find the function you want to code and activate or deactivate it. But you should be careful not to deactivate safety features that can put you at risk. As a failsafe, Carly backs up your coding data the first time it connects to your vehicle so you can quickly revert back to it if something gets messed up.
Carly is the best OBD2 app for coding on iOS phones, and I recommend it.
Best matched adapter
Carly Scanner+
Price range: $69-$109
Supported protocols and Vehicle coverage
OBD Fusion, Carly, and OBDLink support the 5 popular OBD2 communication protocols in the US, including J1850 PWM, J1850 VPW, ISO9141-2, ISO14230-4, and more recently, ISO15765-4/SAE J2480. OBD Fusion can support electric vehicles as well. However, you have to contact its customer service first for instructions and coverage. Apart from the US, OBD Fusion supports EOBD for European OBD2 vehicles and JOBD for Japanese OBD2 vehicles.
In general, OBD Fusion supports all cars and light trucks made after 1996. OBDLink also supports all models made after 1996, but it typically works with Ford, GM, Infiniti, Lexus, Toyota, Mazda, Scion, and Nissan. Carly supports cars made after 2000 to date, but it typically supports BMW. You can unlock all vehicle brands and the advanced diagnostics that come with it on the Carly Scanner+.
Best matched adapter
BAFX Products for iOS
Price range: $19-$29
Download: OBD Fusion App for iOS
Carly Scanner+
Price range: $69-$109
Download: My Carly App for iOS
OBDLink MX+
Price range: $89-$129
Download: OBDLink App for iOS
Read more: OBDLink MX+: OBD2 Bluetooth ABS SRS Scanner Review
Weaknesses
OBD Fusion doesn't allow you to share diagnostic data with other people, such as your mechanic.
Carly offers a couple of in-app purchases that can add up, especially if you want all brands and maximum features.
OBDLink may sometimes freeze, although this is not a regular occurrence.
Recommendation
Modern cars with OBD2 ports have become incredibly easy to diagnose right from your smartphone's screen. Once you have the right app and best-matched scanner with the features you want, you can connect wirelessly to your vehicle and repair it with ease. Here are my top recommendations depending on your phone's OS:
Best OBD2 Apps for iOS/Android: BlueDriver app + BlueDriver Scanner
Price range: $109-$129
Best OBD2 apps for Android: OBDEleven app + OBDEleven Starter Scanner
Price range: $99-$119
Download: OBDEleven App for Android
Best OBD2 apps for iPhone iPad: Carly Scanner+ app + Carly Scanner
Price range: $69-$109
Download: My Carly App for iOS
Bonus 2: [review&tips] Best ELM327 OBD2 adapters 2021 (Bluetooth, Wifi, USB)
Steps to Choose a Suitable OBD2 ELM327 App for iOS or Android devices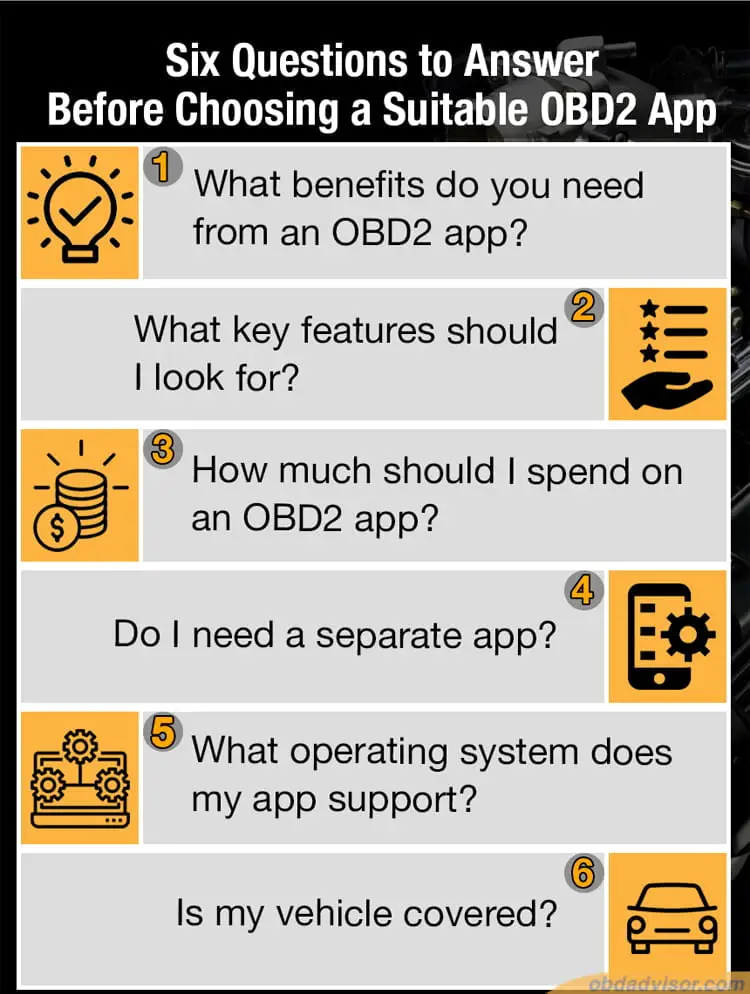 Step 1: Benefits
Because it will help you get to the cause of the problem quickly and find the information you need to put it right – so you can be quicker and more effective at doing your job.
OBD2, the letters standing for 'on-board diagnostics,' is the name for the industry standard for the warnings produced by a vehicle's electronic control unit, or ECU. Equipped with a smartphone, tablet, or laptop computer, and a compatible connector to link the two devices together, you can then download an OBD2 app to get lots of useful information in an easily-understood way, often with suggestions for rectifying the problem.
Using an OBD2 app and compatible scanner, you can check the fault codes programmed into the engine management unit (EMU) and determine what has caused any warning light to illuminate a car, van, or truck dashboard. These fault or error codes pinpoint precisely where in the vehicle the issue is stemming from, so give useful information as to how you can best go about fixing the problem.
Step 2: What Key Features Should I Look for?
As OBD2 apps can read the brain of any vehicle's engine and control systems, they are versatile tools that help you analyze many of the parameters for measuring how efficiently your engine performs.
It will give you a visual representation of many of the primary gauges and measurements collected by a car's on-board computer. The best apps will then give you a comparison against the criteria considered optimal for any particular vehicle's performance.
Because you get an overview of how the vehicle you are working on performs in 'real-time,' you can also get information about what might be triggering a particular problem, which is useful for finding the right fix.
Step 3: How Much Should I Spend on an OBD2 App?
You can get many of the OBD2 apps reviewed below for free via one of the leading app stores, but you often have to pay extra to access their full suite of features. We suggest paying no more than about $20 for this, as you also need to consider that, if you are setting up from scratch, you may need to buy again an OBD2 scanner to read and interpret the codes.
Be sure also to check that, although you might get an app for free, to begin with, you should pay for any updates which will keep your data current. Free apps give you a way into using OBD2 apps, so they are undoubtedly useful to help you explore their features. But for professional use day-to-day, the outlay on a full-service app, such as BlueDriver, or the Pro version of ScanMaster (see more in the descriptions below).
If you are fixing cars regularly, then an OBD2 scanner is essential because it will significantly speed up your work by directing you straight to possible cures. It possibly even lets you print out the information to give you or the vehicle's owner a permanent record.
A budget of $200 will expand your choice to the most capable scanners on the market – so you need to consider whether you will get a return for this level of outlay in the shape of it, helping you fix more cars, more quickly.
Step 4: Do I Need a Separate App?
Reading live data from an OBD2 scanner will be much easier if the scanner already contains a database of fault or error codes. Some do not have this feature, so that you will need access to a separate database – and possibly have to pay more for it.
Before you buy an OBD2 scanner, you should check the vehicle manufacturers' list with which the particular scanner is compatible. These do vary between scanners, so be sure to do some homework and consider how many different vehicles you want to use the scanner with. If you're specializing in a single marque, your choice will be much simpler than if you're offering a diagnostic service for all manufacturers' vehicles.
For the record, of the OBD2 apps listed below, OBD Fusion, AutoDoctor, and Torque Pro all offer adapters to work across the broadest possible range of vehicle scanners.
However, BlueDriver, Carista, and FIXD are proprietary apps that are only used in conjunction with a manufacturer-specific adaptor and their respective dedicated app.
Step 5: What Operating System Does My App Support?
Operating system compatibility is an essential question if you are using an OBD2 app downloaded to your smartphone or tablet. There is no single OBD2 app that is compatible with or collects data that every device is readable. Therefore, you need to check in the specifications for the app you are looking to use or buy whether it is compatible for use with the Android, Windows, or iOS operating system, as appropriate.
We have included this information under the description of each app, where appropriate.
Any vehicle built or imported into the USA after 1 January 1996 will be OBD2 compliant – so that will cover most cars on the road – but if your car is older than this, you can find checklists online to check compatibility.
Step 6: Is My Vehicle Covered?
We suggest using the checklist available here, as this shows a full list of US-spec vehicles with which an OBD2 app and scanner can be used.
You might find a sticker under the hood in some countries, including wording such as 'OBD2 compliant'.
Every OBD2 app is designed to read the information stored on a vehicle's diagnostic computer chip. But there is no common standard for storing and reading such data. So as well as the app, you will need a compatible wireless adapter to allow you to download the information gathered and produce printed copies of and store it for future use.
How to Choose a Suitable Wireless OBD2 ELM327 Adapter
Before we look at the available apps and help you compare them against each other, if you want to use them to work on any vehicle, you need to know the following information about it:
– The model and model year: If your car was made from 1996 or newer for the US market, or 2001 for the EU market, it must be OBD2-compliant.
– Whether the car has an OBD2 port to which you can connect the car with your phone, tablet, or PC.
– Do you have an Android or iPhone?
If you know the answer to the first question and have answered 'yes' to the other two, you're ready to take your first steps into the world of iOS/Android OBD2 apps and how they can make tracking down and solving any problems more manageable. To find the right OBD2 Bluetooth Adapter for your car, read the Buying Guide HERE.
The Final Thoughts
To round up, all OBD2 scanner apps listed above will give you high-quality and reliable data if you use them with a compatible adapter. So please read our recommendations to get the full benefit from the particular app you want to use.
Beside OBD2 apps installed on your smartphone, you can also try OBD2 software for Laptop/PC to have a better view on a large screen. Let's check out this post!
Read more: Honest Review of the Best Professional Automotive Diagnostic Scanner 2020/2021 [Review]