Hey, you are searching for an OBD2 app to pair with your Bluetooth obd2 adapter, aren't you?
Or wondering what the best OBD2 app for your smartphone/tablet (iOS or Android) is and want to buy the most suitable Bluetooth adapter for it?
An OBD2 app is installed on a smartphone or tablet and pairs with an OBD2 Bluetooth/Wi-Fi adapter to make a complete set of OBD2 scanners. All the repair reports and live data are shown (in graphs or text) on the devices' screen. Interestingly, what you can do with the scan tool depends largely on the app you pair.
An OBD2 scanner = an OBD2 App + an OBD2 Adapter
While some apps come in their own OBD2 Bluetooth adapters, others are third-party apps that work with a different adapter.
If you're looking to buy a new OBD2 Bluetooth scanner, go for either Carly, Bluedriver, or OBDLink to have the app included with the adapter.
If you already have an OBD2 adapter in house, get a third-party app such as Torque for Android or OBD Fusion for iOS.
First, let's see what the editor recommend?
Best OBD2 Apps [for iOS/Android] Comparison
(*)Price per month (relatively).
(**)This price is for Audi/VW/Seat/Skoda.
Want to read the detailed reviews? Let's go!!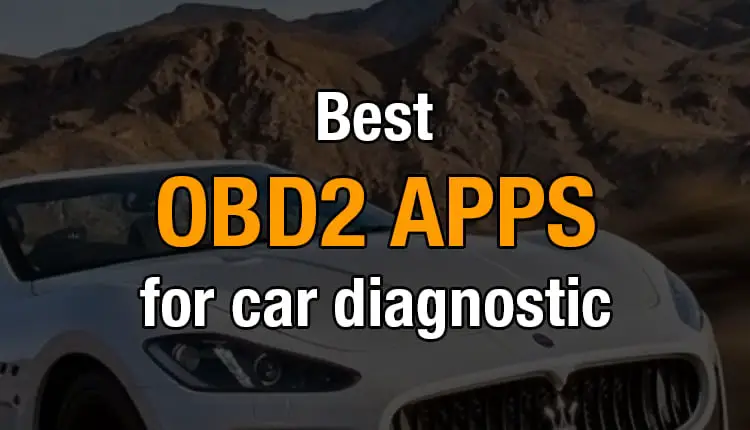 Best FREE OBD2 Apps for iOS/Android
This list includes the top FREE options Bluedriver, Carista, FIXD, and OBDLink. These apps are professional ones that are specifically developed by the same company for its own adapter. You will get it for FREE (and lifetime free update) when you buy the adapter.
If you haven't got any OBD2 Bluetooth adapter or you're considering to buy a new one, go for one of these 2 FREE options. I highly recommend Bluedriver.
BlueDriver
Supported operating systems: any iPhone, iPad, iPod Touch running iOS 10.2+ | Android phones, tablets running Android 6.0+
Price: Free (no in-app purchases) (included when you buy Bluedriver scan tool)
BlueDriver is widely acknowledged as the best app of its kind. It was initially developed as an iOS OBD2 app to go along with Apple devices but has become so popular that an Android version has been added.
This app does far more than just read and reset any fault codes. With the BlueDriver car diagnostic app, you can read and clear codes, freeze frame data, see live data, and perform enhanced diagnostics, including reading and clearing airbag codes, ABS, and transmission codes. When you install BlueDriver on your iOS/Android devices, you will be able to check engine light trouble codes, perform smog tests, and even find verified fixes from its database that contains 6.6 million fixes. You can also use it to get detailed repair reports with the trouble code, what it means, and how you can fix it.
Regularly, free software updates help ensure that the data available to diagnose problems is as up-to-date as possible. The app is compatible with the systems used by most big car manufacturers, including General Motors, Ford, Toyota, Nissan, BMW, Volkswagen, and Honda. The BlueDriver Bluetooth adapter keeps track of new engine management systems thanks to frequent free software updates. Furthermore, both the adapter and the app have been certified by the Professional Engineers in North America.
Pros
Lets you send messages to the manufacturer.
Exports pdf reports.
No add-ons to worry about.
Global compatibility.
Updates are free and released regularly.
Automatically connects to Android and iOS devices.
Cons
The auto diagnostic app for iPhone is a non-updated software that might freeze many times.
It's great as it's free and easy to use and offers some amazing features as well.
Best matched adapter
BlueDriver is designed to work on the same company's own hand-held portable OBD2 Scan Tool, onto which you can save data collected from any vehicle. While the app itself is free, you need to buy the BlueDriver adapter to link to any vehicle's computer. Note: BlueDriver App is not compatible with other ELM327 adapters.
BlueDriver Bluetooth Professional OBDII Scan Tool for iOS and Android
The BlueDriver Bluetooth Professional OBDII Scan Tool does everything you'd expect an OBD-II scanner to do. Once you buy the BlueDriver adapter, no more in-app purchases are needed.
Read more: BlueDriver Vs. Torque: Which App Suits Me?
OBDLink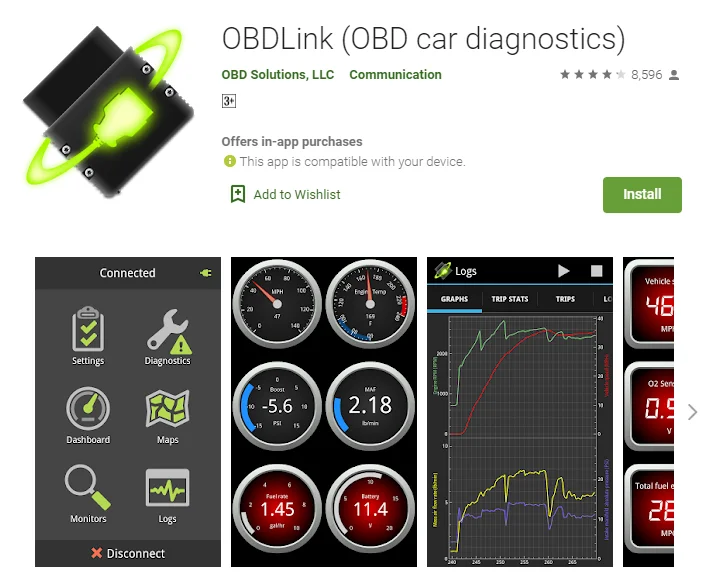 The OBDLink app has proved itself an excellent choice for Android and Windows users. This ELM327 OBD2 app gives you access to various professional diagnostic tools, including a range of features from GPS tracking to 'freeze-frame' data, showing the parameters you need to check and the values that triggered the warning from the OBD system. The app also monitors the vehicle's fuel economy, emissions, oxygen sensors, and much more. You can even use the app to recover the VIN or calibration ID of the car you're working on. The data collected can be exported to an Excel spreadsheet. Additionally, the app gives readings in both English and metric units.
If you use the OBDLink App, you'll find the whole system more comfortable to use, data will be read and retrieved more quickly, and you'll eliminate any risks of information being hacked.
Pros
Email diagnostic reports directly.
Works very quick and can help you save time.
Is very easy to use thanks to customization options.
Free unlimited updates.
Ad-free.
Displays over 90 parameters in real-time data.
Cons
Hangs in a few cars.
Supports version 4.0.3 and up only.
Best matched OBD2 adapter
If you have an OBDLink Adapter, OBDLink App is the best choice for you. OBDLink is an exclusive software and supports only OBDLink adapters, which is why it is so powerful and compatible.
This unit works with the following OBDLink ELM327 adapters:
The OBDLink app works lag-free when used with OBDLink MX+, and I highly recommend it.
OBDLink MX+
OBDLink MX+ is a Professional OBD2 Adapter for iOS, Android, and Windows.
Download: OBDLink for Android | OBDWiz for Windows
Read more: Best OBDLink Scan Tools Review 2021
Best paid OBD2 ELM327 apps for iOS/Android
Below come the best options for iOS fans. Most of these apps also work well on Android devices. One thing, they are paid apps. You can only access the full features of the app after purchase the add-ons.
But anyway, from my experiences, they are worthy to try. They pay for themselves when you think about what they enable you to do.
My recommendation is Carly.
Supported operating systems: iOS/Android
Price: $2.42+/month (depending on the car brand)
We'll round out the list with the most versatile OBD2 diagnostic app: the Carly OBD2 car scanner. It can provide diagnostic information for any vehicle that has an OBD2 port. While not all its features are available for every car, it supports more brands and functions than other options.
Along with broad compatibility, Carly has more features and functions than most apps offer. This includes ECU coding to customize your vehicle settings and repair functions like oil reset and battery registration.
The diagnostic abilities of Carly are equally impressive. Along with OBD functions like freeze frame data and live data, it supports the multi-system diagnosis of the transmission, airbag, and anti-lock brakes. For the most thorough diagnostic app, Carly is your answer.
Pros
Customization and coding functions
Automatically saves reports to Digital Garage
Works with any OBD2-compliant vehicle
Supports maintenance functions like oil light reset
The free version includes vehicle health report and emission tests
Cons
Full features won't be available for all car models
Advanced features require paid upgrade
The Carly OBD2 Car Scanner is compatible with more vehicles and offers more functions. With ECU coding and other maintenance features, it's an excellent choice for advanced home mechanics.
Choose the right vehicle version and plan on developer website: https://www.mycarly.com/
Carista
Supported operating systems: iOS, Android
Price after 1-month trial: $4.99/month; $49.99/year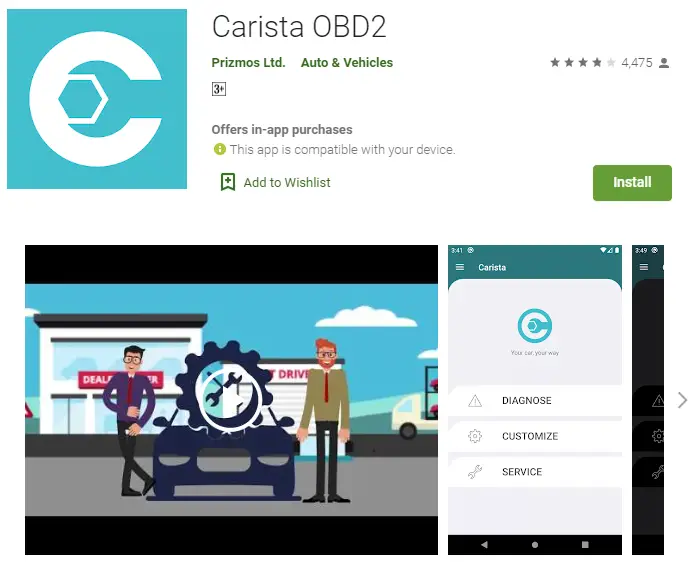 The Carista OBD2 lets you use basic OBD2 features for free, but to use the advanced features, such as TPMS, customization, coding, ECU, EPB, and ABS/Airbag, you must buy the software. If you do not want to buy the vehicle diagnostics app, you can still perform functions like reset engine light codes, see live data, smog test using the free tool.
However, the main aim of Carista OBD2 is to offer you a professional automotive diagnostic software that can perform advanced features including ABS, airbag, and navigation in models including SEAT, Volkswagen, Audi, Skoda (VAG), Mini, BMW, Toyota, Scion, and Lexus. Other advanced features include auto-locking doors, see ECU information in detail, and perform service reset as well. This auto diagnostic app supports all OBD2 models that were manufactured after 2000.
Pros
Offers customization options.
Excellent customer support.
1st month is free if you use with the Carista adapter.
Generates overheating message if the engine is heating.
Cons
Sometimes shows connectivity errors in some vehicles.
A little expensive than other options
Though the price is a little bit high, Carista OBD2 is a great OBD2 iOS app with a number of advanced functions.
Best matched OBD2 Adapter
Carista OBD2 works flawlessly when connected to the Carista OBD2 Adapter for iOS devices.
Carista OBD2 Bluetooth Adapter
Carista works greatly when pairing with the Carista Adapter.
Download: Carista App for iOS | Carista for Android
FIXD
Supported operating systems: iOS/Android
Price: $59/year
Our second featured app is the one most suitable for all-around use by those with little technical knowledge. FIXD lists information by fault code, tells you how serious the problem is, how to fix it, and finally, how to turn off the Check Engine light.
FIXD compiles all fault reports into a comprehensive logbook so that the vehicle's driver, or any mechanic, can keep a record of all incidents and what was done to fix them. It can even deliver reminders of when specific consumable parts, such as engine oil and tires, should be replaced, so is a handy companion for the busy driver.
The standard app gives one month's access to the premium version of the app. Still, at the end of this trial, it's worth spending a little extra to extend this access, as it gives you unlimited helpline access, with a professional mechanic on hand to answer your queries.
FIXD works only with iOS and Android, making the lack of a Windows version one of its drawbacks.
Best matched OBD2 adapter
Unsurprisingly, the FIXD app is most compatible with the proprietary FIXD OBD-II Active Professional Scan Tool. Combining the two gives you access to simplified diagnostic reports with additional suggestions for fixes.
FIXD OBD2 Scanner
FIXD is an excellent car health monitor for cars in a family.
Already have an OBD2 Bluetooth adapter? I recommend you get one of the third-party apps in the lists below.
OBD Fusion
Supported operating systems: iOS (and Android)
Price: Free Trial | Add-on: $9.99/vehicle (one-time purchase)
The OBD Fusion is highly recommended when it comes to car diagnostic apps for iOS (iPhone / iPad) or Android. With this app installed on your iOS devices, you can check engine light errors, clear them, prepare diagnostic reports, measure performance, see battery voltage, customize the dashboard, and see multiple sensor data from this paid app.
Many in the motor trade favor BlueDriver because of the sheer amount of information it can give them about any problem. But the OBD Fusion OBD2 app is excellent because you can export details of any fault as a PDF. This information can then be shared with a mechanic or anyone else who can do the work needed or needs to keep a record of any vehicle faults.
In day-to-day use, it also makes extensive use of GPS data, giving a constant readout of a vehicle's speed or fuel economy. You can also use this to find where you've parked your car if you're one of those who often forget! Using the monitor option, you also get engine performance data and alerts for when something needs checking. Lastly, the logs will display all your real-time and recorded data in an easy-to-understand Excel format.
OBD Fusion is famous not only among DIYers but mechanics as well because of its compatibility with all OBD2 and EOBD compliant cars and enhanced features it offers. It won't be wrong to say that OBD Fusion is a car diagnostic app as it can process data 100 times a second.
Pros
Supports more than 150 PIDs.
Stores reports and even allows you to email them.
Real-time GPS tracking and even allows you to find your car in offline mode.
Enhanced diagnostics add-ons available for many vehicles.
Shows real-time graphs that you can upload to the Dropbox.
Cons
GPS drains phone battery quickly.
MS-CAN and HS-CAN not supported
Best matched adapter
As OBD Fusion supports most of the standard OBD2 adapters, you should easily be able to hook this up to whatever car on which you're working. VEEPEAK OBDCheck BLE is our choice.
Veepeak OBDCheck BLE - best adapter for OBD Fusion
The VeePeak OBDCheck BLE is a great choice for anyone who owns a car and wants to discover more about what's going on with it.
We believe that OBD Fusion is one of the best OBD2 scanner apps for Android/iOS devices. You can check engine light errors and clear them, prepare diagnostic reports, measure performance, see battery voltage, customize the dashboard, and see multiple sensor data from this paid software.
Just one warning – users report that some functions are especially power-hungry, so you need to check that your output device is well powered up before you hook it up to the OBD Fusion app.
We recommend this app to people who want to keep their car's engine running and in good shape using iOS devices or Android. It's professional and offers many features.
Read more: OBD Fusion Detailed Reviewed by Tim Miller
OBD Auto Doctor
Supported operating systems: iOS (and Android)
Price: Free
Pro Version: $20/year; $5/month
Auto Doctor is an aptly-named fount of knowledge, boasting an in-built database of more than 18,000 Diagnostic Trouble Codes (DTCs), including several manufacturer-specific options. The OBD2 parameters and sensors also keep a constant watch over a compatible vehicle's systems and instantly notify you of any irregularities found. You can also get voice alerts for emergency faults, and the app monitors multiple electronic control units such as the engine, transmission, airbag, and other systems.
This user-friendly app provides a quick step-by-step guide to how to work it alongside your scanner. There is also a responsive customer support service to answer any of your questions.
Pros
Gives detail fuel consumption rate hence allowing you to save money
Gives clear view test emission preparedness and advanced diagnostic
Is timely in providing you with anomalies on your OBD system
Supports sending diagnostic data via email
You have the option of viewing either graphical or numerical diagnostic information
Cons
May have issues connecting with adapters labeled ELM327 v2.1
May not be accurate in providing fuel consumption rates on diesel vehicles
Best matched adapter
This app is best suited for use with the Veepeak Mini WIFI OBD2 Bluetooth Scanner, which, in turn, is compatible with iOS, Android, and Windows devices. The scanner's excellent Bluetooth connectivity makes it more reliable for sending and receiving data than a Wi-Fi adapter. It also allows you to check for and erase all types of general or manufacturer-specific error codes. It is also compatible with both OBD2 and EOBD vehicles, so it works very well alongside the OBD Auto Doctor app.
Veepeak Mini WiFi OBD2 Scanner for iOS Android
Veepeak Mini WiFi OBD2 Scanner suits any iOS/Android devices.
Download: OBD Auto Doctor for iOS | OBD Auto Doctor for Android Devices
Bonus: Read the Full Review of OBD Auto Doctor here.
DashCommand
Supported operating systems: iOS (and Android)
Price: Free
Pro Version: $9.99/year
The DashCommand OBD2 gauges app supports all OBD2-compliant vehicles. The app will monitor an engine's performance and fuel economy, and give you instant fault codes. You can also personalize your display and monitoring system to suit your needs and preferences. DashCommand is also multiple award-winning OBD2 apps. You will also find it easy to learn as the website includes a short introductory video.
The app's best feature is that you can read a range of measurements together at the same time, including:
Engine speed
Acceleration rate
Torque
Fuel level
Current and average fuel economy
Engine coolant temperature
Air/fuel ratio
Fuel pressure, and many more
However, access to this wealth of information comes at a price – DashCommand is the most expensive app featured here, at $15.
Pros
Fast at showing results
Customization makes it easy to use
Does not take a lot of space (size 37.8 MBs)
The customer support is excellent
Cons
Doesn't work well with 8.0 and older iOS version.
Connectivity issues in ELM327.
DashCommand is a good choice to turn your mobile devices into a scan tool. This is one of the best OBD2 iPhone apps for Bluetooth connection.
Best matched adapter
DashCommand is available for iOS 9.0 and above. Regular users report that the Veepeak OBDCheck BLE works best with this particular app. Like DashCommand, this scanner also has customizable features, enabling you to create your display, log in and store your information, and do much more.
Veepeak OBDCheck BLE for iOS
The VeePeak OBDCheck BLE is a great pick for any iOS/Android fan.
Download: DashCommand for iOS | DashCommand for Android
Read more: Full Review of DashCommand
If you've already had an OBD2 Bluetooth adapter in you hand and want to try something special for Android fans only, go for the following options. They are paid apps but you will get back every penny you pay for it.
Note: these apps work on Android devices only.
Torque Pro
Supported operating systems: Android
Price: $5
The Torque Pro is another OBD2 app that will work on any compatible vehicle through an easy connection with the engine's OBD2 system via a Bluetooth ELM327 adapter. Torque Pro is a perfect OBD2 application for Android since it supports a wide range of car models and offers a variety of functions.
This OBD2 ELM327 app is very useful in bestowing information on horsepower, dynamometer, car emissions, and its influence on the environment. It will also help you fix DTCs. You can set voice alarms when something is wrong such as if the engine's coolant temperature rises above 120oC. Moreover, it can read a range of data from transmission temperature to speed and acceleration details. The logged data can be shared via email, converted into Excel files for more straightforward analysis, and then saved onto a hard drive or into a DropBox folder. It also has a built-in GPS tracking system and a head-up display to read its output more easily when you're driving at night.
However, the version of Torque Pro with the most comprehensive functions is a paid app – the free version is heavily dependent on advertisements that can become invasive when trying to get into your workflow.
Pros
Is very effective in repairing your car and minimizing cost
Improves the functionality of your car
Has alarms to alert you in case of a problem
Displays temperature transmissions
Uses various color schemes to show you the condition of your car
Uses GPS and can help you know where the car was at a specific time
Best matched adapter
Torque Pro can support all third-party adapters apart from the cheapest or any defective, but we would recommend the BAFX for Android as an excellent fit for use with it.
BAFX Products for Android & Windows
In general, the BAFX Adapter is built for users who want a diagnostic tool that will deliver good performance.
Download: Torque Pro for Android
Read more: BlueDriver vs. Torque Review and Comparison
OBD Harry
Supported operating systems: Android
Price: $4.99 per item
The broad compatibility of the OBD Harry is one point in its favor. This OBD2 app for Android will read and clear trouble codes from any OBD2-compatible vehicle and can be used with Wi-Fi and Bluetooth ELM327 adapters.
The range of readings you can get is impressive, too. You can see a range of real-time live data and parameters that are well-organized in the app for easy navigation. It's the right choice for beginners because it lets you look up trouble code meanings and potential repairs without leaving the app.
Like other apps on this list, there's a paid version and a free version of the OBD Harry Scan. The good news is that you'll still get all the necessary diagnostics in the free app and the ability to read and clear codes.
Pros
Compatible with all OBD2-compatible vehicles
More than 70 available parameters and ten live data parameters
Search for DTC definitions and solutions through the app
No restrictions on freeze frame data
Compatible with Bluetooth and Wi-Fi ELM327 adapters
The customer service team is responsive and quick to fix issues
Cons
No version for iOS devices
Some functions require a paid upgrade to use
Best matched adapter
Veepeak OBDCheck BLE - best adapter for OBD Harry
The VeePeak OBDCheck BLE is a great choice for anyone who owns a car and wants to discover more about what's going on with it.
OBD Harry Scan has complete compatibility for both vehicles and adapters, with useful in-app functions that make it an ideal choice for beginning home mechanics.
Download: OBD Harry Scan for Android
Steps to Choose a Suitable OBD2 App
Step 1: Benefits
Because it will help you get to the cause of the problem quickly and find the information you need to put it right – so you can be quicker and more effective at doing your job.
OBD2, the letters standing for 'on-board diagnostics,' is the name for the industry standard for the warnings produced by a vehicle's electronic control unit, or ECU. Equipped with a smartphone, tablet, or laptop computer, and a compatible connector to link the two devices together, you can then download an OBD2 app to get lots of useful information in an easily-understood way, often with suggestions for rectifying the problem.
Using an OBD2 app and compatible scanner, you can check the fault codes programmed into the engine management unit (EMU) and determine what has caused any warning light to illuminate a car, van, or truck dashboard. These fault or error codes pinpoint precisely where in the vehicle the issue is stemming from, so give useful information as to how you can best go about fixing the problem.
Step 2: What Key Features Should I Look for?
As OBD2 apps can read the brain of any vehicle's engine and control systems, they are versatile tools that help you analyze many of the parameters for measuring how efficiently your engine performs.
It will give you a visual representation of many of the primary gauges and measurements collected by a car's on-board computer. The best apps will then give you a comparison against the criteria considered optimal for any particular vehicle's performance.
Because you get an overview of how the vehicle you are working on performs in 'real-time,' you can also get information about what might be triggering a particular problem, which is useful for finding the right fix.
Step 3: How Much Should I Spend on an OBD2 App?
You can get many of the OBD2 apps reviewed below for free via one of the leading app stores, but you often have to pay extra to access their full suite of features. We suggest paying no more than about $20 for this, as you also need to consider that, if you are setting up from scratch, you may need to buy again an OBD2 scanner to read and interpret the codes.
Be sure also to check that, although you might get an app for free, to begin with, you should pay for any updates which will keep your data current. Free apps give you a way into using OBD2 apps, so they are undoubtedly useful to help you explore their features. But for professional use day-to-day, the outlay on a full-service app, such as BlueDriver, or the Pro version of ScanMaster (see more in the descriptions below).
If you are fixing cars regularly, then an OBD2 scanner is essential because it will significantly speed up your work by directing you straight to possible cures. It possibly even lets you print out the information to give you or the vehicle's owner a permanent record.
A budget of $200 will expand your choice to the most capable scanners on the market – so you need to consider whether you will get a return for this level of outlay in the shape of it, helping you fix more cars, more quickly.
Step 4: Do I Need a Separate App?
Reading live data from an OBD2 scanner will be much easier if the scanner already contains a database of fault or error codes. Some do not have this feature, so that you will need access to a separate database – and possibly have to pay more for it.
Before you buy an OBD2 scanner, you should check the vehicle manufacturers' list with which the particular scanner is compatible. These do vary between scanners, so be sure to do some homework and consider how many different vehicles you want to use the scanner with. If you're specializing in a single marque, your choice will be much simpler than if you're offering a diagnostic service for all manufacturers' vehicles.
For the record, of the OBD2 apps listed below, OBD Fusion, AutoDoctor, and Torque Pro all offer adapters to work across the broadest possible range of vehicle scanners.
However, BlueDriver, Carista, and FIXD are proprietary apps that are only used in conjunction with a manufacturer-specific adaptor and their respective dedicated app.
Step 5: What Operating System Does My App Support?
Operating system compatibility is an essential question if you are using an OBD2 app downloaded to your smartphone or tablet. There is no single OBD2 app that is compatible with or collects data that every device is readable. Therefore, you need to check in the specifications for the app you are looking to use or buy whether it is compatible for use with the Android, Windows, or iOS operating system, as appropriate.
We have included this information under the description of each app, where appropriate.
Any vehicle built or imported into the USA after 1 January 1996 will be OBD2 compliant – so that will cover most cars on the road – but if your car is older than this, you can find checklists online to check compatibility.
Step 6: Is My Vehicle Covered?
We suggest using the checklist available here, as this shows a full list of US-spec vehicles with which an OBD2 app and scanner can be used.
You might find a sticker under the hood in some countries, including wording such as 'OBD2 compliant'.
Every OBD2 app is designed to read the information stored on a vehicle's diagnostic computer chip. But there is no common standard for storing and reading such data. So as well as the app, you will need a compatible wireless adapter to allow you to download the information gathered and produce printed copies of and store it for future use.
How to Choose a Suitable Wireless OBD2 ELM327 Adapter
Before we look at the available apps and help you compare them against each other, if you want to use them to work on any vehicle, you need to know the following information about it:
– The model and model year: If your car was made from 1996 or newer for the US market, or 2001 for the EU market, it must be OBD2-compliant.
– Whether the car has an OBD2 port to which you can connect the car with your phone, tablet, or PC.
– Do you have an Android or iPhone?
If you know the answer to the first question and have answered 'yes' to the other two, you're ready to take your first steps into the world of iOS/Android OBD2 apps and how they can make tracking down and solving any problems more manageable. To find the right OBD2 Bluetooth Adapter for your car, read the Buying Guide HERE.
The Final Thoughts
To round up, all OBD2 scanner apps listed above will give you high-quality and reliable data if you use them with a compatible adapter. So please read our recommendations to get the full benefit from the particular app you want to use.
Beside OBD2 apps installed on your smartphone, you can also try OBD2 software for Laptop/PC to have a better view on a large screen. Let's check out this post!
Read more: Honest Review of the Best Professional Automotive Diagnostic Scanner 2020/2021 [Review]