Bluetooth and Wi-Fi-based OBD2 scanners combine accurate diagnosis with ultimate convenience. Unlike hand-held scanners, they can provide continuous maintenance and are often much easier for non-car experts to use.
Comparing BlueDriver vs. BAFX—two of the best scanners of this style—you'll see they're both excellent scanners. They're definitely designed for different users, however. Let's go through the features and specs to give you a better idea of what we mean.
But first, let's see how the BlueDirver compares to the BAFX Android and the BAFX iOS.
BlueDriver Vs. BAFX Android Vs. BAFX iOS: Complete Comparison Table
| | | | |
| --- | --- | --- | --- |
| | Editor's Pick | Runner-up | Best affordable |
| | BlueDriver | BAFX for iOS | BAFX for Android |
| Customer Rating | | | |
| Price | | | |
| Read & Clear Codes | ✔ | ✔ | ✔ |
| O2 Sensor Test | ✔ | ✔ | ✔ |
| Freeze Frame Data | ✔ | ✔ | ✔ |
| Third-party apps Compatibility | -- | ✔ | ✔ |
| Transmission Diagnosis | ✔ | -- | -- |
| SRS/ABS Diagnosis | ✔ | -- | -- |
| TPMS Reset | ✔ | -- | -- |
| Oil Reset | ✔ | -- | -- |
| Battery Registration | ✔ | -- | -- |
| DTC Lookup | ✔ | N/A (app dependent) | N/A (app dependent) |
| System Compatibility | Android, iOS | Android, Windows | iOS |
| Vehicle Compatibility | All OBDII-compliant vehicles | All US vehicles 1996 and later | All US vehicles 1996 and later |
| | | | |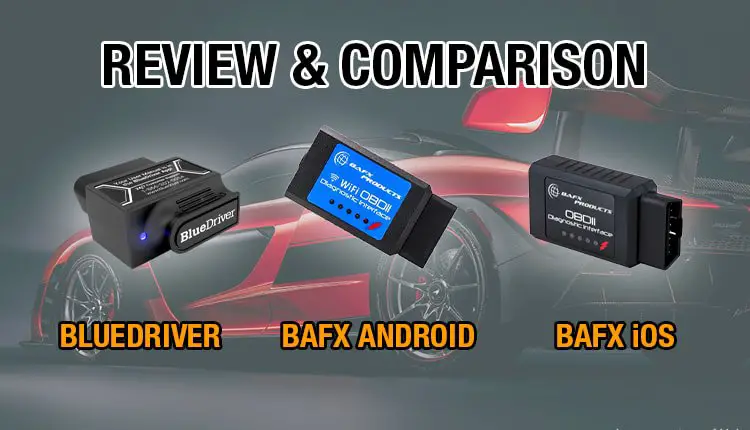 Recommendation: Who Is Each For?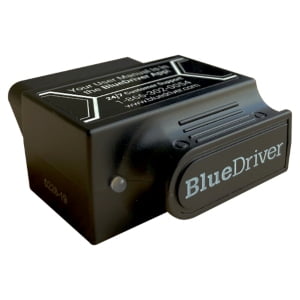 BlueDriver LSB2 Bluetooth Pro OBDII Scan Tool
BlueDriver is designed for everyday car owners who want insights into their vehicle diagnostics.
BlueDriver is designed for everyday car owners who want insights into their vehicle diagnostics. You don't need any technical knowledge to set it up. Repair suggestions help to demystify the trouble codes, providing education along with information.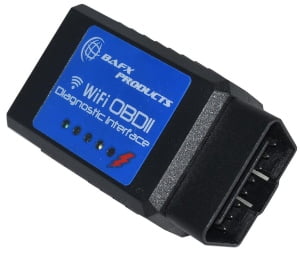 Bafx Products Wireless WiFi OBD2 / OBDII Code Reader & Scanner for iOS Devices
Bafx can be significantly cheaper than BlueDriver, making it a good choice for drivers on a budget.
If you'd rather have options of which diagnostic app you use, Bafx will be a better option. You're not locked into one specific software, allowing you to shop the field. With the right combination, Bafx can be significantly cheaper than BlueDriver, as well, making it a good choice for drivers on a budget.
Key Things In Common: BlueDriver Vs. BAFX
BlueDriver and BAFX share a lot of key features. Both adapters can read and clear diagnostic trouble codes that cause the activation of your check engine light. You can also count on the BAFX code reader and BlueDriver to give accurate reports on a wide range of vehicles, supporting all OBD2 protocols.
These two devices share a lot of similarities from a design standpoint as well. You can plug either unobtrusively into your OBD2 port and leave it plugged in long-term. BlueDriver and BAFX OBD2 scanners only run when your car is on, so they won't drain your battery if left in place when you're parked.
Key Differences of BlueDriver Vs. BAFX
Here is probably what you wanted to know to best compare BAFX vs. BlueDriver. The main differences between the BAFX OBD2 scanner and the BlueDriver scan tool are:
The BlueDriver can diagnose more systems
Repair Reports and suggested fixes provided with the BlueDriver
BAFX supports few vehicle manufacturers
BlueDriver has a proprietary app, while BAFX uses 3rd-party apps
The number and cost of in-app fees vary comparing BlueDriver vs. BAFX
Let's go into more detail on each difference in the section below.
BlueDriver Vs BAFX: Key Differences Explained
1. Features And Functions
The BlueDriver scan tool and app offer some built-in features you won't be guaranteed to get with the BAFX app and OBD2 scanner.
Most importantly, BlueDriver can read codes from select non-OBD2 systems, which allows diagnosis of the transmission, airbag, anti-lock brake, and even electronic systems like climate control.
The BlueDriver app also has a lot of helpful things built-in. You'll automatically get technical service bulletins and alerts on component recalls. Continuous monitoring also tracks your mileage and lets you know when it's time for regular maintenance. The Repair Report feature shows suggested fixes from verified mechanics, speeding up your diagnosis.
2. Supported Vehicle Models/Makes
As a code reader, BlueDriver supports more vehicles than BAFX. With BlueDriver, you can scan any vehicle made after 1996, regardless of its origin. The BAFX sensor is only guaranteed to work on vehicles made in the United States.
There is one caveat on BlueDriver's compatibility: enhanced codes aren't available on all vehicles, including the diagnosis of all non-OBD2 systems. At the moment, these functions are available on 14 manufacturers. BlueDriver does continuously update so that they may add more in the future.
BlueDriver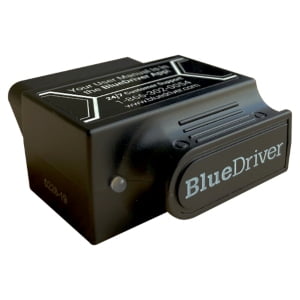 BAFX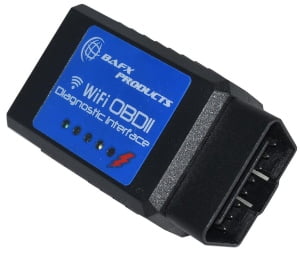 3. Apps, Software, And Updates
BlueDriver works exclusively with the BlueDriver app. The app is free to download and is compatible with all major platforms (Android, iOS, and Windows). Once you have it installed, the app updates automatically for free.
There are two versions of the BAFX app. One of them uses Bluetooth and is compatible with devices that use Windows and Android operating systems. They also have a Wi-Fi version that will work with iOS devices. 
One thing to note is that there is no BAFX app. The sensor sold here is compatible with a wide range of third-party applications, which gives you more variety to choose the app that best meets your needs. However, it also adds a step to the set-up since you'll first need to select which app you want to use.
4. Price, Extra Fees, And In-App Fees
At first glance, comparing BlueDriver vs. BAFX, it seems as if BAFX is significantly cheaper. The device itself costs less than thirty bucks, compared to the nearly $100 you'll pay for BlueDriver. 
Keep in mind, however, that BAFX doesn't come with an app. While some compatible free apps are out there, most will cost you—somewhere between $10 and $50. Also, some of these apps may require extra fees to get full access to all tests.
The price of the BlueDriver may still be higher, but it's at least more straightforward. The initial cost will get you both the BlueDriver sensor and access to the app. While there are paid in-app upgrades, most users won't need them—they're mostly to add additional vehicles and other extras.
5. BlueDriver Pros And Cons
Pros
Has the capability to read SRS, ABS, and Transmission codes
Provides freeze frame data and live data
Get access to certified fixes through Repair Reports
Easy app set-up is guaranteed to be compatible with the device
Licensed to use with all major operating systems
Reads codes on vehicles made in the US, Europe, and Asia
Can save and export data easily
Cons
It doesn't support the use of third-party apps
Enhanced Diagnostics not available for all vehicles
BlueDriver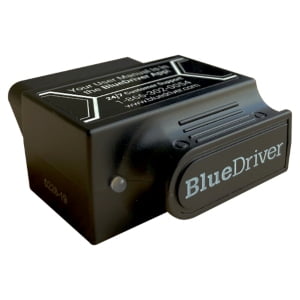 FAQs
Q: Do I have to remove BlueDriver or BAFX when the car is parked?
A: No. You can safely leave either device plugged in full-time without draining your battery. 
Q: Do I need to have a smartphone to use BlueDriver and BAFX?
A: No. While the app is designed for use on a mobile phone or tablet, it can download onto any device with the right operating system and a Wi-Fi connection or Bluetooth, including both laptops or desktops from both Mac and Windows
Q: What is the best BAFX app
A: OBD Fusion is the most popular OBD2 app compatible with BAFX. It costs only $10 and is compatible with both iOS and Android devices. Other popular apps include Torque Pro ($4,99, Windows and Android) and Carista (free for many features, compatible with iOS and Android). 
Q: Will these scanners work with heavy trucks?
A: BAFX can work with some heavy trucks, including semis and even construction vehicles, like dump trucks. However, there is no mass-market software currently available for reading these codes. You won't be able to read the scanner without access to proprietary software from a fleet management company (or the ability to create your own app).
Q: Can BlueDriver or BAFX perform bi-directional tests?
A: At the moment, no. The makers of BlueDriver are working on adding this ability into their app, so it may become available in the future. At the moment, however, this is the one major drawback of BlueDriver and BAFX compared to professional scan tools.
---
RELATED POSTS:
---