Do you want more horsepower from your GM engine? Or maybe you wish to get better gas mileage from your GM car/truck.
Tuning software lets you do all of this and more, customizing the vehicle's performance to your unique driving needs.
While most tuning software suites are made for experienced enthusiasts or professionals, there are more straightforward (and free) options that are great for hobbyists. In this article, I'll compare my favorite GM tuning software in both categories. Whether you're an experienced mechanic or a complete beginner, one of these programs is bound to fit your needs.
RELATED POST: Best GM Scan Tools Review 2023 [Update]
Editor's picks of GM tuning software
1. For GM cars: HP Tuner MPVI2
With robust tuning and scanning capabilities, the software suite included with the HP Tuner MPVI2 has the features that professional car tuners need to customize engine performance. This versatile GM tuning software is compatible with many engines, including gas and diesel models.
Read more about this software: https://www.hptuners.com/mpvi2plus/
2. For GM light trucks and heavy-duty trucks: EFIlive V8 Scan and Tune
EFILive V8 Scan and Tune is compatible with both light and heavy-duty trucks and offers control of the ECM/PCM and TCM in addition to full OBD2 diagnostic scanning. While it works well with many gas engines, it's a powerful tuning software for Duramax V8 diesel engines.
Read more about this software: https://www.efilive.com/v8-scan-and-tune
3. Best free GM tuning software: TunerPro
Tuning software can be expensive. For hobbyists or beginners, a free program like TunerPro can be a better choice. It offers lesser functionality and vehicle compatibility than the other options but a great way to get started with GM tuning.
Read more about this software: https://www.tunerpro.net/
RELATED POST: Best Car Tuning Software 2023 [Review]
Best GM car/truck tuning software review
1. HP Tuner MPVI2 – best tuning software for GM cars
HP Tuners MPVI2 tuning kit
Everything you need to use this ECM/PCM tuning software comes included in the VCM Suite kit. That consists of a VCM Editor, VCM Scanner, and all the programming cables you need to connect the MPVI2 to your computer.
MPVI2 supports several GM engine models
The MPVI2 supports 11 gas GM models with a range of engine sizes, from the 2.0-liter Terrain to the 8.1-liter Yukon. You can view the full list of compatible vehicles and model years on their website.
MPVI2 covers tens of GMC car models
Chevrolet models covered are relatively broad on the MPVI2, with 29 supported models including popular makes like Impala, Corvette, and Trailblazer. You can also use it with many diesel engines from GM, such as the Sierra 6.6-liter diesel and the Canyon 2.8-liter diesel. 
Whether you want to tune PCM, ECM, or TCM controllers, MPVI2 does it for you
MPVI2 is primarily designed to work with ECM controllers. It can also tune chassis control for Corvettes and Camaros, fuel system, fuel injector, and 8- and 10-speed transmission controllers. 
Wide range of chip tuning procedures
The VCM Editor software included with the MPVI2 can read and save flash memory from most vehicle control modules. It gives you full control to adjust complex parameters and write them into the vehicle's control modules. The ability to manually fine-tune parameters like RPM limits, torque, and transmission shift points allows you to perform a wide range of chip tuning procedures. 
RELATED POST: SCT Tuner: What's the Truth About It?
HP tuners MPVI2 is also a comprehensive OBD2 scanner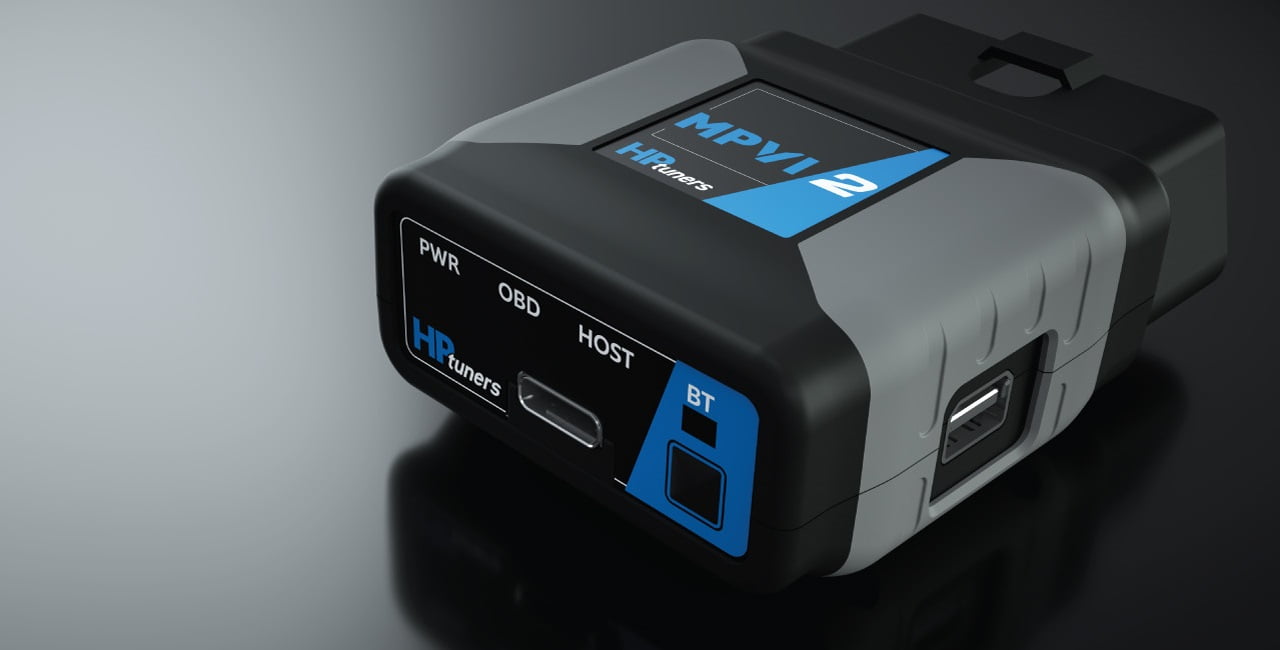 VCM Scanner is the diagnostic software in the VCM Suite. It's a comprehensive OBD2 scanning program, allowing you to view, graph, or log live data in real-time, along with reading and clearing DTCs. Its PID reading capabilities are robust, and it has real-time command control functions like gear select and air-fuel ratio.
For Windows' fans
The HP Tuner's VCM Suite software is compatible with Windows operating systems. Windows 10 is the preferred version, though it will work with any version from Windows 7 and later. It's not compatible with Mac, Linux, or Android systems. You can download all the latest MPVI2 drivers from the HPTuners website, as well as two versions of the VCM Suite software. The stable version uses the latest fully-tested features, while the beta version will include all the latest updates, including new features the company is trying. The software's on-screen wizard walks you through the set-up, so it's a very painless and easy process. 
Single-vehicle and unlimited vehicle group licenses available
A single-vehicle license for the HP Tuner MPVI2 works with the specific ECM or PCM it is locked to. If this is replaced, you'll need to relicense the program. Alternatively, you can get unlimited vehicle group licenses that allow tuning of any vehicles within that group category, as well as year/model licenses. These options offer great value to mechanics and professional automotive tuners.
The suite and credits are reasonable
The MPVI2 tuning kit's base price is $299, or $549 if you want Pro Features like Pro-Link. For this price, you'll get both the tuning and the scanning software, as well as the hardware you need. To add a vehicle for tuning requires credits. Credits cost $49 each and can be included in your initial purchase or added separately. Most vehicles require 2-4 credits to tune, though some can need up to 10. Typically these are vehicle models that are only supported by MPVI2.
6-month warranty
All of HP Tuners' products come with a 6-month warranty from the date of first purchase. Check the company's warranty page for information on what to do if you need to use it. 
Free updates
The MPVI interface comes with firmware update capabilities built-in. If a new update is available, you'll see an alert in the VCM Suite software when you use it. Just plug the interface into your PC via USB, and the update will run automatically. They're free and quick, usually taking less than 30 seconds to install.
Read more: What Does a Car Tune-up Consist of? How Much Does It Cost?
2. EFILive V8 Scan and Tune – best GM truck tuning software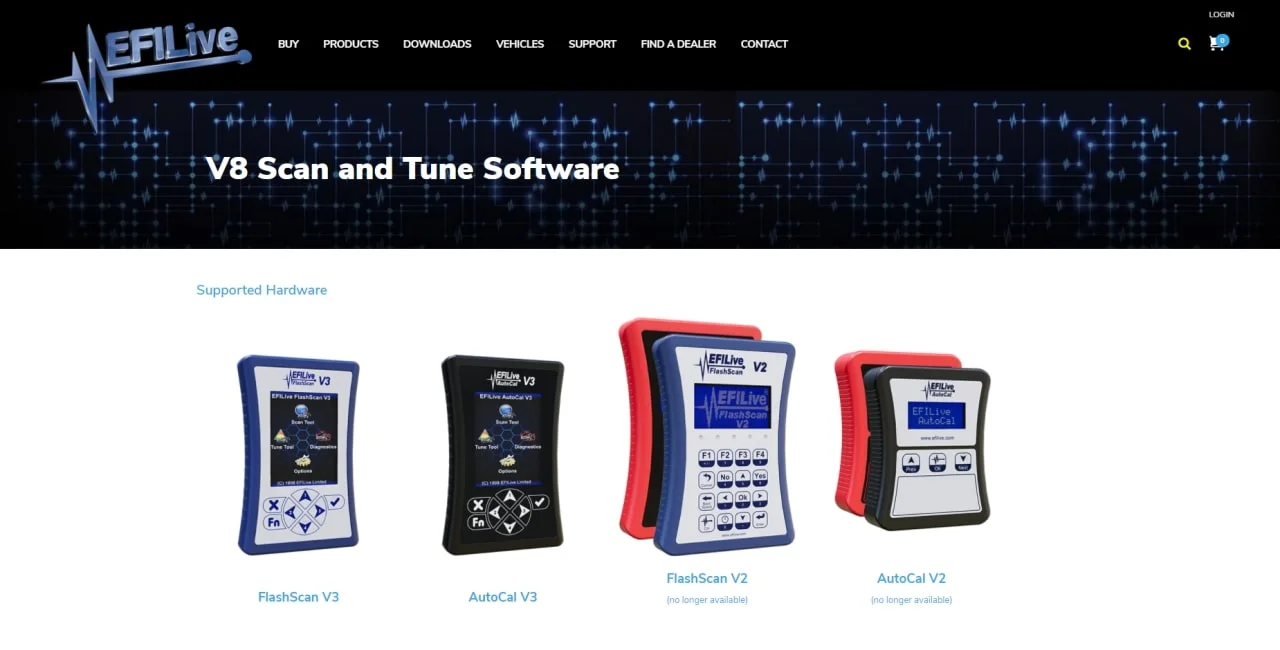 The EFILive tuning kit
When you download EFILive V8 Scan and Tune, you'll get powerful Scan Tool and Tune Tool software. This software works exclusively with diagnostic scanners made by EFILive, like FlashScan V3 and AutoCal V3. You can research or purchase both these products on EFILive's website.  
Perfect for Duramax V8 engine tuning
EFILive V8 Scan and Tune works perfectly with the Duramax V8 engine in most GMC diesel vehicles manufactured from 2001.
For both light trucks and heavy-duty trucks
EFILive V8 will work with both light and heavy-duty trucks, the main reason we prefer it over other programs for GM diesel engines. Popular GM light truck models that can use EFILive V8 include the Savana, Sierra, Terrain, and Yukon. It also supports many GM heavy-duty trucks like the Chevy Silverado 3500HD and GMC Sierra 2500HD. You can look up whether it works with your vehicle on their supported vehicle list. 
Various controllers covered
EFILive V8 Scan and Tune supports LB7, LLY, LBZ, and LML Duramax engine controllers, as well as E98 and E20 engine controllers. Along with that, it has support for transmissions (TCM) controllers like Allison AL5, A40, and A50 and the T43 6-Speed TCM. 
Vehicle tuner and diagnostic tool 2in1
The diagnostic capabilities of V8 Scan and Tune are as comprehensive as you'll find on any handheld scanner on the market. Live data can be logged and graphed in real-time, with the option of viewing data from both the TCM and ECM simultaneously. Along with a wide range of PID monitoring functions, it includes the opportunity to create and define custom PIDs.
Robust V8 editing capabilities
With a 3D display and precise, customizable data plotting, the V8 editing capabilities of this GM ECM/PCM programming software are robust. Its scripting support provides users total control over the calibration of parameters, and it's easy to create your calibrations or compare tuning files. This makes it an excellent tool for fast and secure chip tuning.
For Windows, Linux, and Mac
The EFILive software only runs on a Windows operating system. However, some users have had success running it on Linux or Mac through a Windows emulator, which can be an option for Linux or Mac users who want to use the software. One great thing about EFILive is that you can download a demo version from their website to give the software a try before you buy it. You can then easily open up its full features by entering your product registration after purchase. 
Individual and bulk VIN licenses are available and easy to purchase
The FlashScan V3 hardware costs $599 and comes with two VIN licenses included, which you can use to tune the supported controllers. Additional licenses can be purchased individually or in bulk, which can be a convenient and affordable option for professional tuners. Individual VIN licenses for either the FlashScan V3 or the AutoCal V3 are $125 each through the EFILive website. All purchased licenses can be imported and managed through the V8 Scan and Tune interface.
12-month warranty
EFILive's product warranty covers all their products for 12 months after the date of original purchase. If you need to use the warranty, you can go to the "Support" section of their website for instructions. 
Automatic updates
As long as you have the "Check for Updates" function active, the V8 Scan and Tune software will automatically check if there are any firmware updates available and let you know if so. You can download all the most recent drivers and software from EFILive's website. All updates are free for the life of the product.
2 Best free GM tuning software
1. Tuner Pro
For hobbyists, Tuner Pro isn't just a free GM tuning software option. It's a great way to join a community of home GM tuning enthusiasts, and that robust community support is one of the main strengths of this program.
Tuner Pro was initially developed as an educational program to help home mechanics tune older GMs made from 1985-1995. Community members have adopted it to include other models, including pre-1996 and LS-based GMs.
The current features of Tuner Pro include full bin editing and bin definition editing. You can do both 2D and 3D graphing and view bins graphically, with the option to compare the current bin to up to 4 others simultaneously.
One great thing about Tuner Pro is that it's always in a state of active growth and development, so its features will only improve and expand with time. Of course, the main limitation is that it won't work with the newest model years, and the vehicle makes. It also needs to be used on a Windows operating system (version 7 or higher).
For owners of OBD1 GM vehicles, Tuner Pro is a free, easy way to make modifications to your engine. The emphasis on education and skill-building makes it an excellent choice for beginners and novices, especially since there's an active forum of other users who can answer any questions you have along the way.
2. RomRaider
Historically, RomRaider hasn't offered support for GM vehicles and was initially developed for use with Subarus. This changed with the release of open-source reflashing software, which allowed RomRaider to add support for some GM vehicles from the early 2000s.
Like with the Tuner Pro, the vehicle compatibility of the RomRaider is limited and sporadic. However, it is likely to expand in the future now that the capability exists to interact with GM ECM/PCM files using free software.
RomRaider can be used on Windows or Linux operating systems. Its intuitive user interface groups ROM maps based on function, making it easy to find and review the files you're looking for. The intelligent map display uses color-coding, which makes it easier to understand and tune. Along with that, it offers 3D graphing, map comparison, and a copy/paste function for quick tuning.
While RomRaider doesn't have the diagnostic functions you'll get from paid programs, it's an excellent free way to tune various vehicle ECM/PCMs. Just keep in mind that it won't work with every GM, especially newer models.
FAQs
What is chip tuning?
Tuning is reprogramming the engine computer or other electronic control modules. By adjusting the settings and parameters it uses to guide the vehicle's performance, you can often remove maximum speed limits, increase overall engine power, or otherwise enhance its capabilities. 
What hardware will I need to use a free tuning software program?
The main thing you'll need is a way for the software to communicate with your engine computer. This means getting either an OBD1 or OBD2 adapter, depending on your vehicle's age and make. 
Most vehicles made after 1996 for sale in the United States use a 16-pin diagnostic port. Vehicles made before 1996 that don't use the OBD2 diagnostic system may use a different protocol. You can find out what your car uses in its repair manual. Your manual may even specify the type of cable that will work best for diagnostics and tuning. 
Can tuning damage the vehicle?
Not if it's done by a professional. Editing vehicle parameters will change how the engine behaves, which can cause damage to the line if it's not done correctly. This is why it's smart to always save a back-up copy of the file you're editing so you can restore the original settings if something goes awry. 
Does turning the engine void the warranty?
No. The warranty won't cover repairs for issues caused by chip tuning, but the act of tuning your engine won't invalidate other aspects of the warranty. 
How long does it take to tune an engine?
That depends on the complexity of the tune and the experience level of the person doing it. A typical tuning done by a trained professional can take as little as 15 minutes from start to finish. Even more complex tunes typically take no more than an hour.
Read More: