The key to keeping your car in top shape is to catch issues early on. 
But what is the most cost-effective way to do it?
The solution is OBDWiz software.
The fact is, this software has limited functions. Still, it's packed with enough features to help you save time and money on car repairs.
So, let's dive in and explore how OBDWiz can help you keep your car running smoothly.
Quick Review
OBDWiz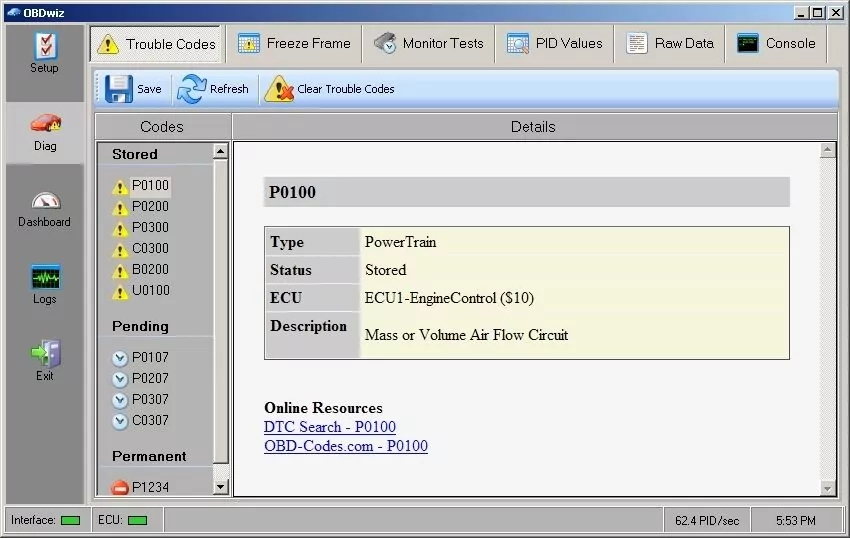 Price: $0.00
OBDWiz is a versatile and FREE software that's great for beginner DIYers. It's also a lifesaver for people with poor eyesight.
Pros
Fast scan rate

Intuitive interface

Provides your fuel consumption data

Gives more information than its competitor
Cons
Limited advanced functions 

Incompatible with Apple computers
Vehicle Coverage
OBDWiz supports all OBD-II compliant cars and light trucks, excluding hybrid vehicles, but including EOBD and JOBD vehicles.
I've tested the device on several cars, including the 2008 Acura TSX, 2017 Mazda MX-5, 2009 Toyota Highlander, 99 Nissan Altima, and 2015 Range Rover Sport, and it connected with no issues.
To verify compatibility, check the vehicle compatibility chart on the OBDLink official website.
Interface
1. Customizable dashboard
You won't believe it, but OBDWiz has FOUR unique dashboards to choose from! 
But let me tell you, my personal favorite is the digital dashboard.
It's sleek and modern. This makes it a breeze to keep track of my fuel mileage stats, engine temperature, RPM, and more.
And the best part?
You don't need to be a tech wizard to customize it to your liking. The process is super simple and intuitive.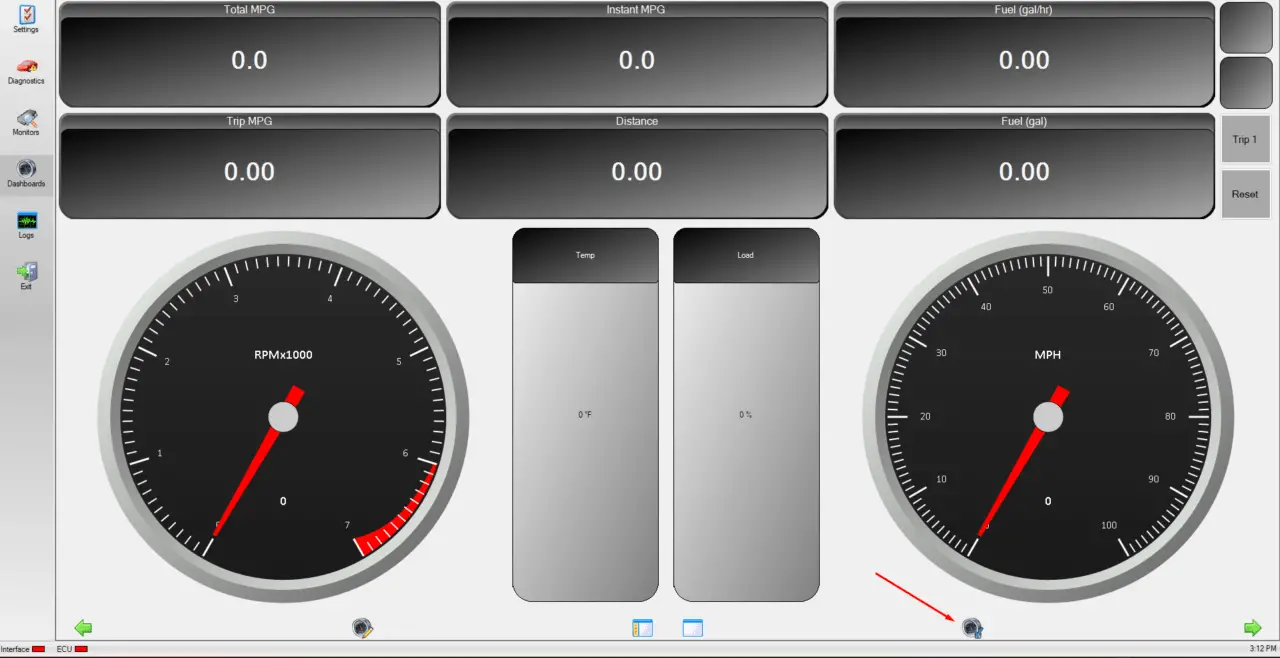 2. Easy to use
I find OBDWiz easy to use, even if you're not a gearhead, and there are a couple of reasons for that. 
First, the diagnostic codes are nicely organized into three categories, namely pending, confirmed, and permanent. So it's an easy move from section to section.
Moreover, when I click on a code, it provides a description of what the code means, so I don't have to look it up on the web.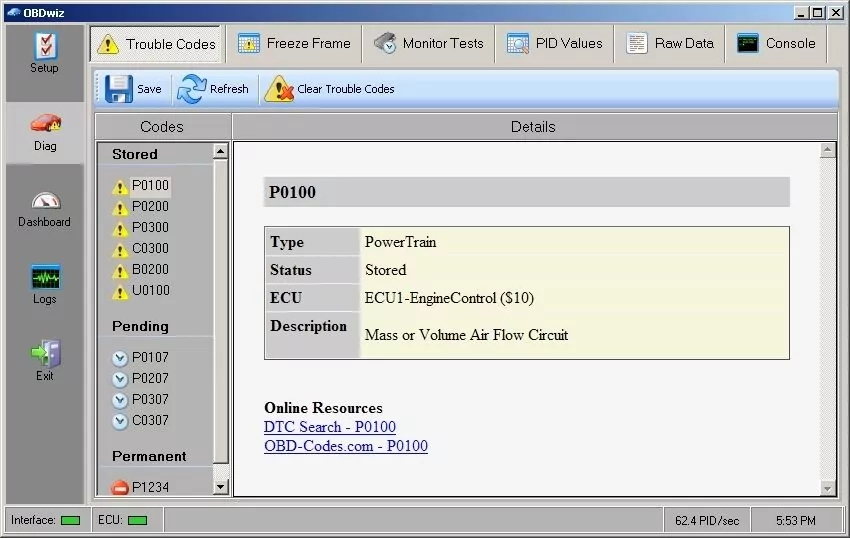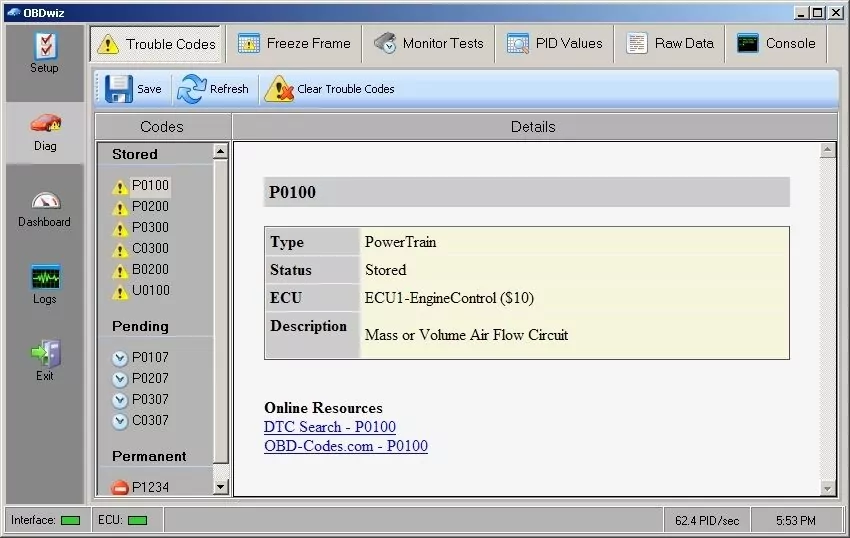 However, I do recommend double-checking with Google to ensure that the code's definition matches your specific vehicle make and model. 
Sometimes, different manufacturers have different definitions for the same code. This can prevent you from fixing a problem that doesn't actually exist.
Performance
1. Read & clear trouble codes
OBDWiz is effective at reading, interpreting, and clearing fault codes. 
In fact, I've personally used this software to clear TCM error codes on a 2014 Ford Fiesta.
So, if it worked for me, there's no reason it can't work for you too. 
By using OBDWiz, you can save hundreds of dollars that you would have otherwise spent at a repair shop.
Keep that money in your pocket where it belongs!
2. Check if your car is ready for an emission test
To see if your car is ready for an emissions test, simply use the OBDWiz. 
It'll display whether your car is ready and even show you which sensors still need to be prepared.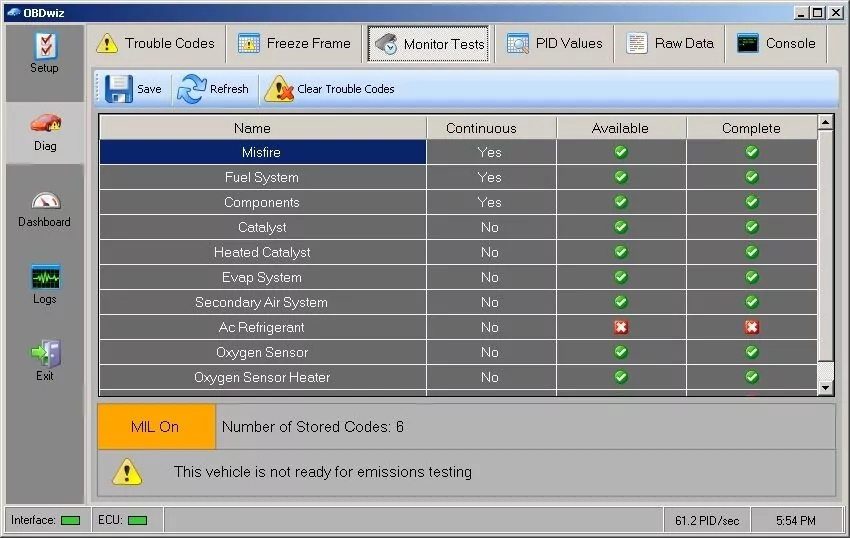 This software is incredibly helpful in ensuring that your car is performing at its best and meeting all necessary regulations.
3. Large screen for reading graphed live data
OBDWiz monitors several systems in real-time, and it enables me to determine which sensor has an abnormal reading or has failed completely.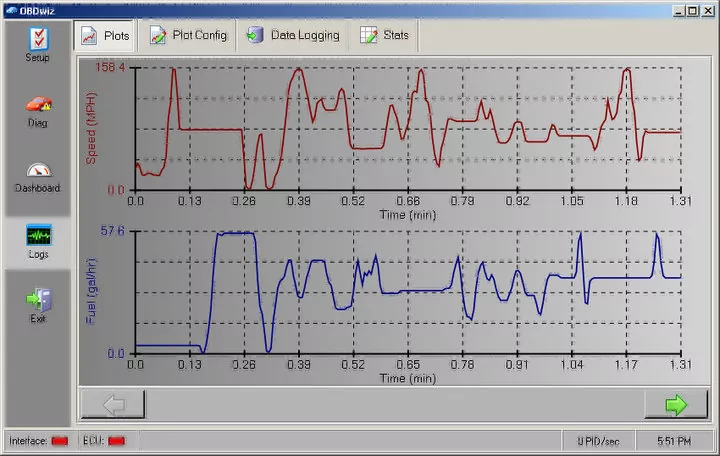 I find that this data is much easier to read on a laptop since its screen is much larger than the screens of handheld scanners.
However, I can only add up to 4 graphs on the OBDWiz. For the 5th one, I would need to pay $45 for a professional add-on. After that, I can add as much strip data as I want.
4. Can be inconvenient since you can't bring it everywhere
The biggest downside to using the OBDWiz is that you have to have a laptop to use it. 
Taking out your laptop to just read codes can be inconvenient, especially when you consider that there are dozens of handheld scan tools out there.
Price, Warranty & Update Fee
The OBDWiz software is essentially FREE.
You get a license key that gives you lifetime access to this software when you buy any OBDLink adapter.
You also get free lifetime updates.
If you don't have an OBDLink device, you can buy the OBDLink SX or OBDLink LX for the low prices of $45 and $70, respectively.
That investment is well worth considering the amount of diagnostic information this software provides.
How To Set Up?
OBDWiz has a straightforward setup process. I had no issues installing or running the software. In fact, the whole setup was up and running in about 10 minutes. 
Below are the 6 steps in setting up the OBDWiz:
Download and install the OBDwiz software. 
Connect the USB end of the OBDLink adapter to your PC.
Turn ON the ignition then connect the other end of the adapter to the DLC port (under your dash).
Run the OBDWiz program and select connect.
Check and clear the codes. (You may also save the diagnostic reports for future reference).
Select disconnect in OBDWiz and unplug the device.
Key Takeaway
The OBDWiz is a versatile and FREE software that's great for beginner DIYers. It's also a lifesaver for people with poor eyesight.
No doubt, its functions are basic, but for software that's essentially free of charge, that's nothing to cry about. 
---
Recommended Adapters
Recall that the OBDWiz works with only OBDLink adapters. Below, I highlight 2 OBDLink scanners you can combine with the OBDWiz.
#1. OBDLink SX: Cheapest adapter for Windows 
If you're on a tight budget, the OBDLink SX USB cable is the best option to combine with OBDWiz. The adapter costs less than $50. And it enables you full-function access to the features of the OBDWiz.
Note that it works on Windows PCs only.
Check OBDLink SX's latest price now:
#2. OBDLink MX+: Stronger Bluetooth adapter for PC & smartphone
You can also buy the OBDLink LX  wireless adapter. Only, it's more than 2 times more expensive than the SX
Unlike the OBDLink SX, the MX works with Windows, Android, and iOS devices. 
It also comes with FREE OEM support for  Ford, GM, Mazda, Toyota, Lexus, Honda, Hyundai, Nissan, Infinity,  and a few other manufacturers.
Check OBDLink MX+'s latest price now:
Thank you for reading my review of OBDWiz, one of the best FREE OBD2 software for DIYers.
Will you give it a try?
Leave a comment below and share your thoughts.