Wondering what is the best ECU tuning software on the market today? You're in the right place!
Let's get a piece of car chip tuning software installed on your laptop/pc, and you will not be disappointed.
In fact, by using this kind of software, you can not only upgrade hardware in the intake system or fuel system but also make more adjustments electronically, and customize the settings in the vehicle computer to maximize performance. Some software with advanced features requires professional mechanics or experienced users.
In the article today, I'll review the ten best ECU tuning software packages today after spending hundreds of hours testing and using.
Let's jump right in!
Top 3 Car Tuning Software Comparison Chart
Editor's Pick
Runner-up
Also Great
TOAD PRO
Read Review
Viezu K-Suite
EcuTek
Our Rating
9.7/10
8.6/10
8.4/10
Read Original ECU
✔
✔(most vehicles)
✔ (supported vehicles)
Write ECU files
✔
✔
✔
Manual ECU mapping
✔
✔
✔
Automatic ECU mapping
✔
✔
--
Live tuning
✔
--
--
3D Maps
✔
--
✔
Supports Gasoline Vehicles
✔
✔
✔
Supports Diesel
Vehicles
✔
✔
✔
Software Compatibility
Windows XP, Vista, 7, 8, 8.1, 10
Android, iOS
Windows 7 - 10
Check Price
Read Review
Read more
Read more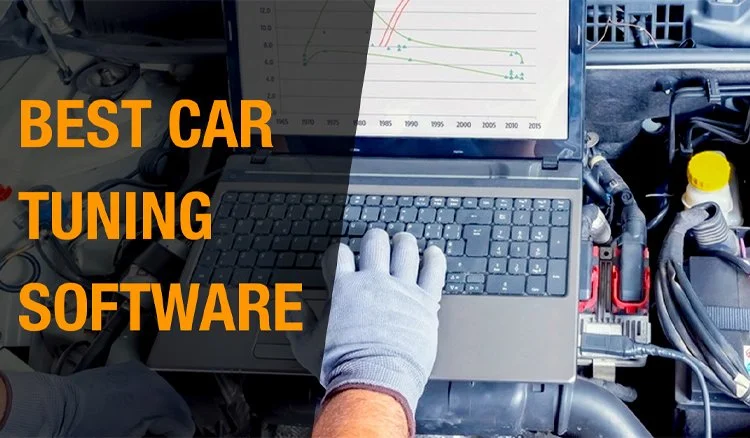 Top 10 ECU Tuning Software Review
[for any brands but Dodge, GM/Chevy, Jeep, and Land Rover]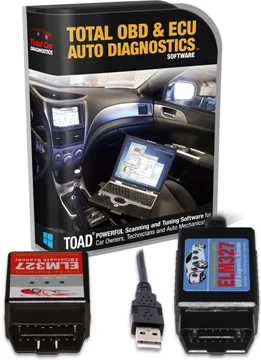 TOAD Pro ELM327 Car Tuning Software
TOAD Pro is the best car tuning software for experienced home mechanics and pros.
Both professional mechanics and home enthusiasts can make great use of the TOAD Pro software. It strikes an excellent balance between functionality and usability. While you can perform in-depth diagnostics using this software, it also allows you to tune and customize your engine. In other words, TOAD Pro gives you complete control over your vehicle's health and performance.
TOAD stands for "Total OBD Auto Diagnostics," and that's an apt description of what you'll get with this software. You can read trouble codes from the engine and transmission and perform emissions tests and view data from all 10 OBD2 modes. It also supports all-system diagnostics for any manufacturers, including Volkswagen, Ford, Audi, and Mazda, and so forth (except for Dodge, GM/Chevy, Jeep, and Land Rover).
What's impressive about TOAD Pro, though, is that it allows you to edit ECU data, as well. This means you can analyze and adjust your horsepower, torque, fuel efficiency, and other vital metrics.
We also love how easy TOAD Pro is to use. While the wealth of options can still be overwhelming for a DIY novice, the customizable graphs and dashboards make it easy to get the exact data you're looking for. It's also convenient that you can order it with the adapter included, making it a great all-in-one diagnostic package. 
Pros
It's compatible with both OBD1 and OBD2 vehicles.
It's easy to navigate and use.
It reads and clears codes from engine and transmission on any vehicle.
It supports chip tuning to optimize performance and fuel economy.
It provides in-depth diagnostic reports.
The option to get an ELM327 adapter is included.
You can view live data in a customizable dashboard.
It comes with OBD2 programming.
Cons
It requires Windows OS (no Mac or Android support.)
The ABS/SRS diagnostics are not supported by all manufacturers.
TOAD Pro provides users with complete diagnostics, even beyond OBD2. The inclusion of tuning and optimization features makes it one of the most powerful car tuning software pieces on the market. 
Toad Pro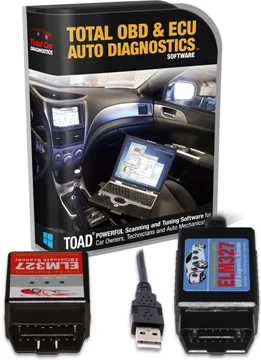 2. Viezu K-Suite Car ECU tuning software
For the ultimate in automotive performance tuning software, the Viezu K-Suite is what you want. It includes two powerful car tuning programs and helpful features that make it easy to remap any ECU.
The Vehicle List and Protocol list in the main window of Viezu K-Suite are helpful references. Use the Protocol List to see all the information you need about the ECU, along with what accessories you'll need to tune it. The Viezu K-Suite Vehicle List shows all vehicles supported and makes specific tuning suggestions.
The KESS program that comes included in the Viezu K-Suite is one of the most comprehensive pieces of remapping software you'll find, though it's a bit tricky to use. The K-Suite also includes K-TAG, which uses guided programming that's easier to use. By far, this is the best option if you're looking for a combination of usability and functionality.
Pros
It includes both KESS and K-TAG.
It's easy to navigate and use most features.
It comes with a wide range of tools and mapping options.
It can buy a full kit that includes adapter and hardware.
Updates are free and automatic.
All software is written in-house.
Cons
It requires Windows (no Apple compatibility.)
Using advanced options can be complicated.
The Viezu K-Suite software is feature-rich with comprehensive vehicle and protocol compatibility, making it an excellent option for professionals and hobbyists alike.
---
RELATED POST:
---
3. PrecisionCodeWorks ECU remapping & tuning software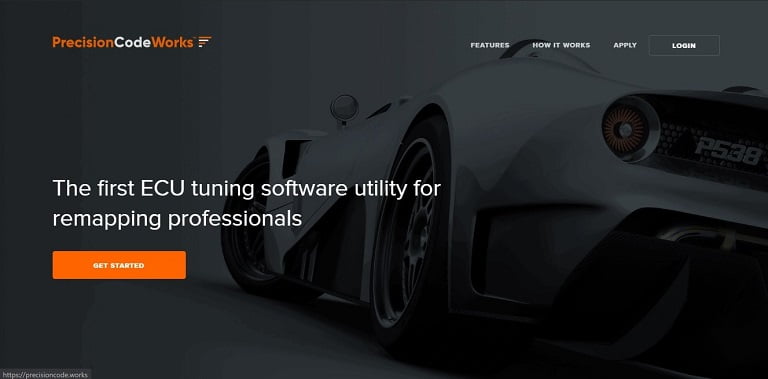 PrecisionCodeWorks simplifies and automates the ECU remapping process. It's the best car tuning software if you lack the time or knowledge to code the computer yourself. Read and upload the original ECU file, select which modifications you want to make, and PrecisionCodeWorks will send you a new build in a matter of seconds.
One downside of PrecisionCodeWorks is that it works on a credit system. Each new build costs credits, so it's not the most cost-effective system if you'll be working with multiple vehicles. You're also limited to the build options PrecisionCodeWorks offers—it doesn't give you the freedom to manipulate the tables yourself. 
Overall, this is a better choice for hobbyists than professionals. PrecisionCodeWorks gives you less freedom, but there's also less worry that you'll mess up the ECU.
Pros
It includes a custom fuel tuning platform.
It offers multiple calibration options for diesel engines.
Quick operation.
The build your Tune function auto-writes maps to your specifications.
It can modify EGR and DPF systems.
It comes with a Wiki database and protocol lookup.
Cons
It requires the purchase of credits for each tuning.
There are more limited mapping options.
PrecisionCodeWorks is an excellent option for hobbyists, taking the guess-work out of ECU tuning. The credit system makes it more expensive for mechanics who need multiple builds.
---
RELATED POST:
---
4. EcuTek car engine tuning software
[EcuTek is one of the best ECU/PCM tuning software for BMW, Ford, Mazda, Honda, Subaru, Mitsubishi, Nissan, and Great Wall.]
EcuTek's tuning suites are available for seven vehicle manufacturers, including popular brands like Ford, BMW, and Honda. It supports many ECUs within each of these brands, but this does limit its overall versatility compared to other car tuning software.
The best thing about EcuTek is that it's fast and efficient. For some vehicles, you can complete the reprogramming in less than a minute. This is a program designed for professionals, and the interface assumes a certain level of knowledge. Beginners may find navigating this software confusing.
This is the best car tuning software for optimizing engine performance after you make modifications. All of the maps are based on the OEM reading, so you don't have to worry about compatibility issues. It also retains all safety features of modified parameters, limiting your chance to cause unintended damage.
Pros
It can reprogram some vehicles in less than 25 seconds.
It comes with high-speed data logging and detailed map definitions.
Maps can be duplicated and exported.
It retains all safety features of modified parameters.
Robust tuning features and options.
It allows modification of pre-set tuning programs.
Cons
Limited vehicle compatibility.
It can be confusing to navigate for beginners.
The EcuTek Tuning Suites are designed for professional tuners. While the software is powerful and relatively intuitive, it's not ideal for hobbyists unfamiliar with engine coding. 
5. KESSv2 car performance tuning software
KESSv2 is another ECU remapping software program designed for professionals and experts. This Master Kit does come with training courses that help you better utilize it, but it's designed for skilled auto mechanics. For hobbyists or DIY-er, it could be overwhelming.
However, few programs offer control over remapping the ECU that you'll get from KESSv2. This is an updated version of KESS over what's available in the K-Suite, and it shows in the functionality. It offers the most comprehensive range of ECU customization of any car tuning software on the market.
The support available for KESSv2 is worth mentioning, as well. Their database is updated daily, and they frequently add vehicles to their compatible list. Reading and writing the ECU is quick and easy using KESSv2.
Pros
It offers complete control over the modification of your ECU.
The database of maps and protocols is updated daily.
It includes training courses.
It comes with high-speed operation with both reading and writing.
It provides wide vehicle compatibility.
Cons
It can be overwhelming for inexperienced users.
Some features require a subscription.
KESSv2 is the best car tuning software if you want complete control over remapping and tuning your vehicle, though it may be too complicated and overwhelming for inexperienced users. 
6. K-TAG Slave
Here's another excellent option from Alien Tech. K-TAG Slave is a tool you can use to customize any aspect of your ECU safely. It gives you full access to the ECU but keeps things safe by guiding the programming.
From the user perspective, K-TAG is incredibly easy. Just read the original, get the custom-mapped modification, then write it back into your ECU. Now the downside of this is you'll have to pay for each change you make. That can add up if you work with many vehicles.
K-TAG Slave also offers broad compatibility. The updated vehicle list lets it work with all major brands—more than 90,000 vehicles in all. It's also very efficient, allowing you to make whatever modifications you need without worrying quickly.
Pros
Guided programming for safer modifications.
It offers complete access to the ECU.
It reads and writes ECU files.
It's compatible with all vehicle brands.
It comes with cloning and backup features.
Cons
Each modification requires payment.
There's no option for independent modifications.
K-TAG Slave enables you to easily and quickly create custom ECU maps for more than 90,000 vehicles. It gives safe, full access to the ECU for risk-free modifications.
7. Q-Tuning
Quantum Tuning is a global brand for chip tuning, with dealers in 83 countries around the world. Their remapping programs include RVs, large trucks, passenger cars, vans, and trucks.
The Q-Tuning software is an excellent choice for garages that want to offer retuning for a broader range of vehicles. It gives you three remapping options. Quantum Green improves diesel engines' performance, Quantum Blue is developed for hybrid performance, and Quantum Red boosts power and performance in any gas or diesel engine.
Q-Tuning isn't your best software option if you want to make independent customizations or view live or graphic tuning. For quickly optimizing performance, however, it's a great choice.
Pros
It's compatible with more vehicle types.
It's easy to use.
It works well with diesel engines.
It can be installed on up to 10 devices simultaneously.
The optimized maps deliver improved engine performance.
Cons
It only supports Windows devices.
It doesn't allow independent ECU coding.
Q-Tuning is the best car tuning software for diesel engines, with multiple remapping options that can be implemented quickly and safely.
8. DeltaECU
DeltaECU is EcuTek's software for reprogramming the ECU. It allows for accurate remapping and is designed with professionals in mind. Like other advanced programs, professionals will find its use easy and intuitive, but it's not the best option for beginners. You have to be a professional tuner to get it.
DeltaECU is fast and efficient. With most vehicles, you can reprogram the ECU in two minutes or less. Tunable parameters include ignition timing, throttle input, speed limiting, and many more. DeltaECU also has graphic map views so you can identify issues more quickly.
DeltaECU puts a world of customization and programming options at your fingertips. There's a reason you have to be a professional to use it. This is one of the most powerful pieces of car tuning software you'll find.
Pros
It allows reprogramming of the original ECU.
It reprograms vehicles in less than 2 minutes.
It supports cloning and duplication of maps.
It provides a wide range of tunable parameters.
It includes graphic map views.
Cons
It requires professional knowledge to use.
It's only available to commercial tuners.
Commercial tuning experience is required to purchase the DeltaECU software, a powerful and comprehensive option for ECU tuning.
9. Celtic Tuning
Celtic tuning writes the ECU maps for you when you use their Super Chip service. Among the maps offered are optimizing the air/fuel ratio, changing the boost pressure, and updating exhaust gas temperature settings.
Now, this isn't a program that lets you get inside the ECU and customize it yourself. You will be able to customize your remapping fully, but the Celtic Tuning programmers ultimately write it. That's a great thing if you're less experienced, but it does limit its functionality.
The technical support you get from Celtic Tuning is top-notch. You can count on their remaps to optimize performance, and their tuning services are available for most vehicle brands.
Pros
It offers a range of options, from component upgrades to full engine conversions.
It works on all ages of ECU, including older models.
It has a wide array of compatible manufacturers.
The technical support is excellent.
It supports diesel tuning and DPF removal.
Cons
There are no independent ECU coding options.
It doesn't offer live or graphic tuning.
Celtic tuning lets you work with experts to customize any aspect of a vehicle's ECU, though it doesn't offer the hands-on mapping options of other car tuning software.
10. Tactrix software
Tactrix uses an XML-based interface to translate ECU data into a language that's easier to read and understand. This makes it easier to manipulate the maps and make your modifications. It also supports live tuning and shows graphical representations of data, though it lacks the sophistication for 3D modeling.
One thing to note: Tactrix Software is a work in progress. At the moment, the vehicle support is limited to Subaru and Mitsubishi. However, the company is working to improve the software and expand its functions, so it's likely to become more powerful in the future.
At the moment, Tactrix Software is an intriguing option for recoding the ECU, even if its applications are limited. It certainly has the promise to be a powerful tool for tuning and remapping.
Pros
It allows the editing of ECU data in a user-friendly interface.
It supports live tuning.
It comes with a graphical data view.
It comes with an interactive database, which allows for more editing options in the future.
It's easy to install and learn.
Cons
It currently only supports Subaru and Mitsubishi.
There are no pre-loaded maps or programs.
Tactrix Software is a bit rough around the edges and has limited vehicle compatibility, but it's an innovative approach to editing the ECU.
What is car tuning?
Car tuning is when you adjust the parameters and settings in the ECU of a vehicle to optimize them for your ideal performance. It's most commonly used to increase the engine's handling, response, power, or fuel economy, though there are many ways you can adjust engine parameters to alter how the car performs.
In a modern vehicle, many aspects of the engine's performance are controlled electronically through the engine control unit (ECU), also called the PCM (powertrain control module) or PCU (powertrain control unit). Thus, tuning is predominantly a software-based process, though it may also involve upgrading or replacing mechanical components of the engine.
Vehicles are tuned at the factory to satisfy the needs of the majority of drivers. Typically, engines tuned at the factory are to maximize safety and user comfort and limiting harmful emissions. These settings often come at the sacrifice of overall power and performance.
 Tuning has traditionally been associated with racing, allowing drivers to push their engines harder than would otherwise be possible. That said, the popularity of tuning has expanded in recent years, and many people who get their engines tuned have no interest in racing. With the expanded culture of car modification, the term has also included more cosmetic alterations, such as low-riding vehicles.
What areas can a car tuning software modify?
The short answer is pretty much all of them. Especially given today's expanded definition of tuning, it can include everything from mechanical alterations to the engine block to adjusting the interior environment, like the sound system and climate control.
With that in mind, let's look at the most common areas that are modified during tuning.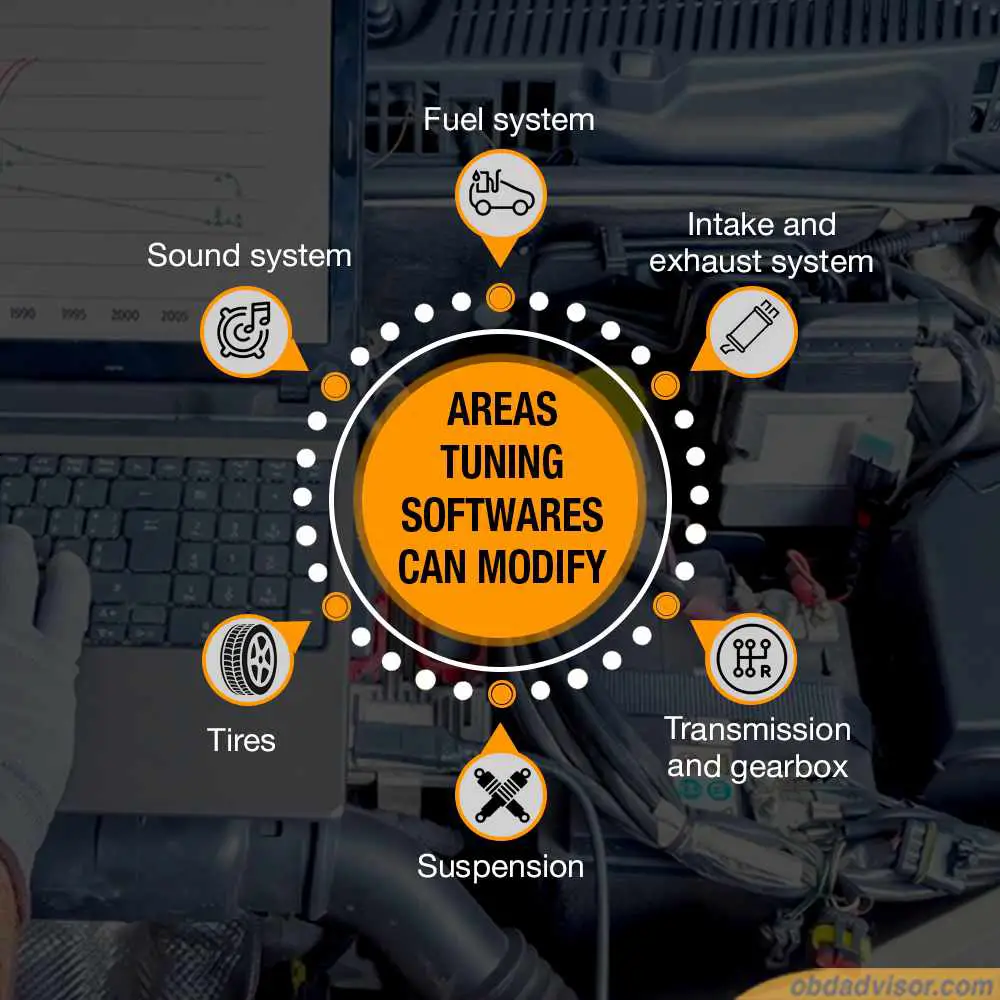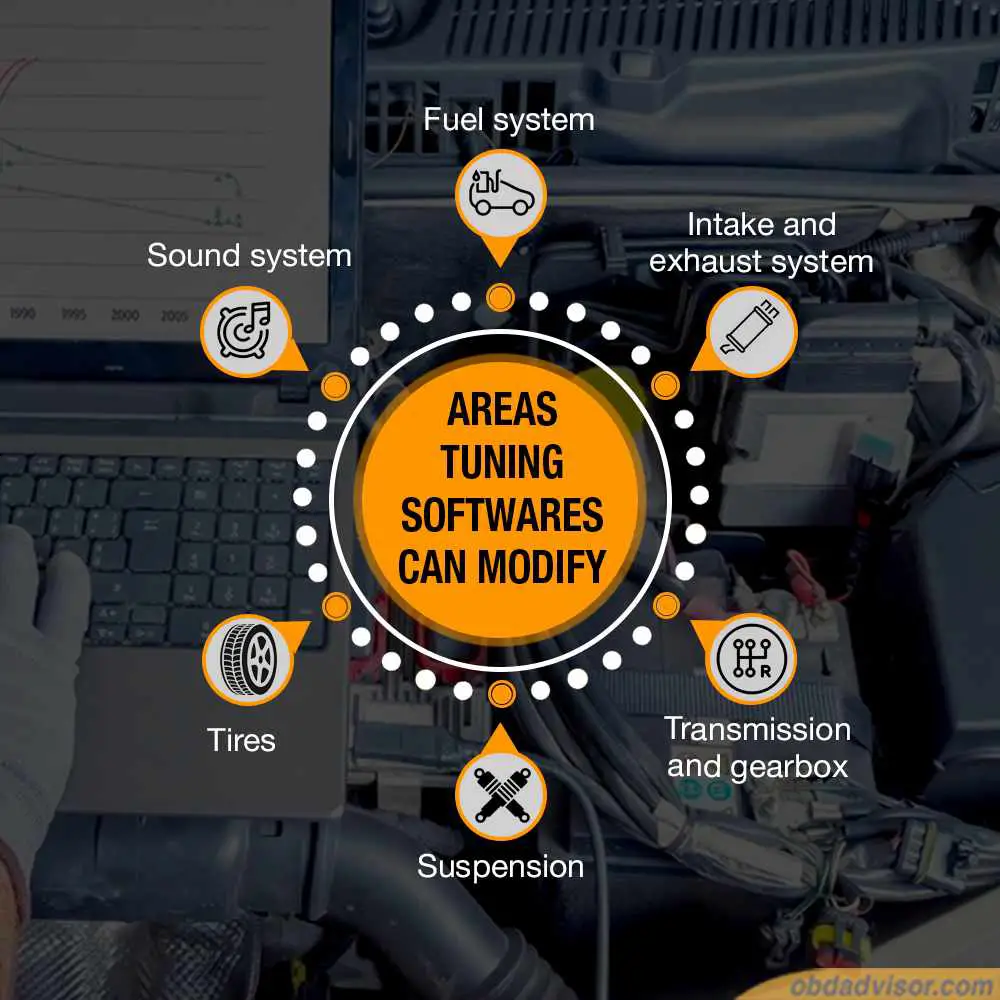 Fuel system. This is the main area modified during performance tuning. You can adjust both the ignition timing and the amount of fuel injected to provide more power from the engine. You can also make alterations to ensure your car is achieving the right air-to-fuel ratio.
Intake and exhaust system. Improving the cold air intake system or upgrading to a high-performance cat-back exhaust can increase the engine's horsepower. These upgrades usually involve installing new components, such as dual exhaust, in addition to chip tuning.
Transmission and gearbox. "Short-shift" modifications are one popular tuning option. This reduces the amount of time between gear shifts, increasing your acceleration. These modifications can improve horsepower, torque, and fuel efficiency.
Suspension. Modifying the springs, anti-roll bars, shock absorbers, and other suspension components changes how your vehicle handles rough roads. This can improve the handling and response of the car, especially when you're going around corners.
Tires. Changing the tires' size affects how the car handles and changes the distance between the undercarriage and the road. Many tire replacements are made to customize the vehicle to specific driving conditions, such as wintery weather or off-roading.
Sound system. Not all tuning involves the engine. One of the most common areas modified in vehicles is the audio system. Stock speakers and sound systems aren't known for their sound quality and volume output. Adding subwoofers, amplifiers, or new speakers to your car can fix this common lack.
What do I need to for car tuning?
Tuning a vehicle requires you to access the input tables in your vehicle's engine control unit (ECU). This requires two things:
Automotive tuning software. The ECU access level you need to tune a car requires specialized software, like the ten above. 
An OBDII adapter for Windows like OBDLink MX+. Diagnostic data is transmitted through your vehicle's OBDII port. An OBD2 adapter lets the software communicate with the ECU for retuning.
Can I remap my ECU myself?
With the right tools, yes. The ECU remapping software programs above grant anyone access to a vehicle's ECU. Having said that, though, remapping an ECU is a delicate and complicated process. It's not something that's advised for just any home mechanic to undertake.
You can think of the ECU map as the computer's instructions to the engine. Hundreds of parameters are defined in the various tables, dictating the spark timing, air-to-fuel ratio, and other essential engine processes. If you don't know what you're doing, you can cause severe and irreversible damage.
There are vehicle-specific guides online explaining how to remap the ECU best. If you don't have much experience with engine coding and programming, it's advised to download one of these guides and read through it before you start. Taking the time to know what you're doing can save you a lot of money and headaches down the line.
Final thoughts
A tuning tool can greatly improve your vehicle's performance. It's not something for a novice to undertake. For experienced home mechanics, however, the best car tuning software can save you a lot of money on a professional ECU remap. Software programs that offer custom remapping written by experts are a great way to go if you're not confident in your ECU coding skills. This lets you quickly optimize engine performance without the risk of causing any problems.
Tuning a vehicle's ECU is not a simple task, and I guess there are still many arising questions about using this software on your mind. So don't just stay here, let's read the FAQs and tell me your thoughts in the comment box!
FAQs
Does tuning the engine void my vehicle's manufacturer's warranty?
Unfortunately, the answer is yes, in many cases. Whatever aspect of your vehicle has been modified will, in most cases, no longer be covered under warranty after modification. This is the big reason you want to have your car tuned by a verified professional rather than doing it yourself at home unless you're professionally trained or highly skilled in automotive repair.
The good news is, any parts of the vehicle that haven't been altered will still be covered. Suppose you tune the transmission and driveline to enhance performance, for example. In that case, the powertrain portion of your warranty will be voided, but your warranty covering things like the AC or window controls will still be valid.
Does tuning an engine increase fumes and emissions?
Not if it's done correctly. All vehicles still need to comply with state regulations for emissions, and professional mechanics are aware of these standards. A reputable mechanic will not tune your car in such a way that it's illegal to operate in your state.
Will my car go faster after a performance tune?
In many cases, yes, though this isn't the primary goal. Engine tuning aims to improve the engine's torque and response in its lower and middle speed ranges, giving the car more "pick-up" so it can go from 0 to 60 more efficiently. Increased maximum speed is often a side-effect of this boost in torque, as well, though it's relatively minor, rarely more than 10 miles per hour faster than its previous maximum speed.
What is an engine remap? Is that the same thing as tuning?
A "remap" is a blanket term used to describe a set of modifications to the ECU and is a popular form of engine tuning. During a remap, multiple aspects of the engine's performance are recalibrated together with the aims of accomplishing a specific goal, most commonly boosting the output and power.
Will getting my car tuned affect my insurance premium?
That depends on what kind of modification you get and the policies in place at your insurance agency. Some will raise your premium if you retune your engine to improve its output. If you're concerned about this, check with your insurance company before making any modifications to your vehicle.
How does tuning an engine improve fuel efficiency?
The higher the gear your engine is in, the more efficiently it runs and the less fuel it uses. Tuning your engine allows you to reach higher gears more quickly, reducing the amount of time you're in a gas-guzzling lower gear. This is the main reason tuning your engine can often improve your vehicle's MPG.
What is detuning?
This is the process of restoring a vehicle to its original factory standards. It means removing the modifications or un-doing whatever tuning has been done to it.