You are searching for OBD2 software to use with ELM327, but there doesn't seem to be any quality software suitable for your case?
The best adapter is useless if it's not paired with the right OBD2 software.
Therefore, it's a waste when you choose the wrong car diagnostic software.
Many of my clients have the same problem as you.
So, I'll make your choice ends here as I did with my customers.
But first, let's take a look at the car diagnostic software.
The main advantage of an OBD-II ELM327 software system is that they provide accurate data on a range of metrics with no mechanical intervention required.
They monitor all the major components of a vehicle and depending on the marque, a selection of optional sensors generates data for wear and tear, emissions, efficiency analysis, and a lot more.
Amazing, right?
But which one is the best bet for your needs?
In this in-depth review, I'll look at the various brands on offer and discuss their pros and cons. I'll also check out the differences between the paid and free versions of the software. 
Moreover, I aim to cover a wide range of budgets, so there'll be something for everyone who reads on.
Also, you will find the best-matched ELM327 adapter for each software option right in this article.
---
Bonus 1: Best ELM327 OBD2 apps for iOS Android Windows 2023 [Review]
Bonus 2: Best ELM327 OBD2 adapters 2023 (Bluetooth, Wifi, USB) [Review]
---
First, let's check out the Editor's Picks!!
Best OBD2 ELM327 Software Comparison Chart
What Is (ELM327) OBD2 Software?
OBD2 software is designed for a laptop/PC (Mac OS, Windows, or Linux Operating Systems) to connect with a vehicle via an ELM327 interface and collect, analyze, share, and store your OBD2 data.
Over time, it has spawned a competitive niche of software providers, specializing in analytics, diagnostics, and reprogramming.
Want to know more about OBD2? I have everything you need here.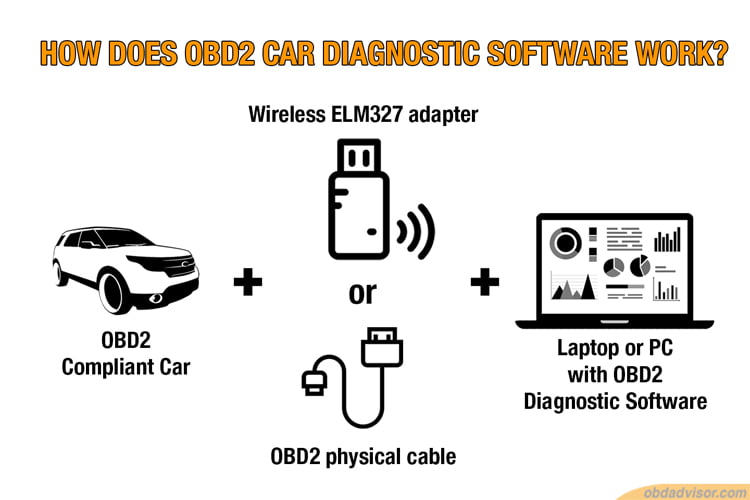 Best ELM327 OBD2 software package review
1. Toad Pro: best OBD2 programming software for Windows
Operating System: Windows XP, Vista, 7, 8, 8.1, and 10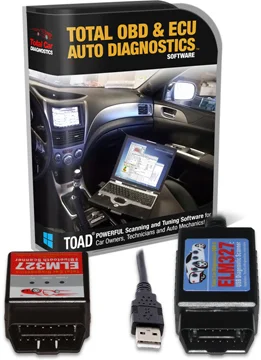 TOAD Pro - Affordable ELM327 OBD2 Programming Software
TOAD Pro is the best OBD2 automotive programming software today. It offers almost any diagnostic functions an experienced home mechanic need. This OBD2 software is reliable and affordable. It works well with any ELM327-based interface.
Toad Pro is suitable for experienced enthusiasts and professional mechanics.
Apart from the more practical applications like the CO2 emissions readout, reading error codes, resetting your Check Engine Light (Click here if you're finding the ways to reset the Check Engine Light). You can create a personalized dashboard with all your favorite data displayed as convenient graphs. 
Another key feature of the Toad Pro setup is that it can reprogram your car's ECU. Editing the values allows you to increase both fuel efficiency and performance. Always follow local laws and declare any changes you make to your insurance company as required.
Bi-directional controls, adaptations, and actuator functions are among the vast features that this professional automotive diagnostic software lets you do.
There appears to be no free version of this software; however, you will need their included scanner to make it work.
There's currently a hefty discount off the usual price of $397, down to $117. 
For this, you will receive the OBD/ECU diagnosis and remapping software bundle, with the ELM327 scanner, comprehensive manuals, and lifetime software updates.
There's a very generous 1-year money-back guarantee, should you not remain happy with the product.
A good deal, right?
This OBD2 programming software works perfectly for Windows XP right up to Windows 10, but there is no support for Linux or Mac OS.

Researching customer reviews for Toad Pro reveals a consensus of high quality and great functionality. People are satisfied with the range and depth of the information they can monitor, and the simplicity of bundling everything you need to get started.
One common complaint is that the software is too complicated and that some features are not easily accessible.
The take-home message seems to be Toad Pro is for people who already know the basics of OBD.
Pros
Great value with scanner included
An extensive library of technical guides
Toad Pro can read a vast array of data compared to some simpler options
Remapping/editing function included
Cons
Toad Pro does not support Dodge Ram, Jeep, Land Rover, Tesla
No Mac OS or Android version

Toad Pro comes with an ELM327 adapter. It supports USB, Bluetooth, and WIFI connections for data transfer and mapping updates. You will need to specify which connection type you require when you order. 
You get a lot of software for your money with this bi-directional scan tool software for laptops. The price is remarkable when the ELM327 adapter comes as a part of the package and lifetime software updates. There's so much functionality for such a low price tag.
Toad Pro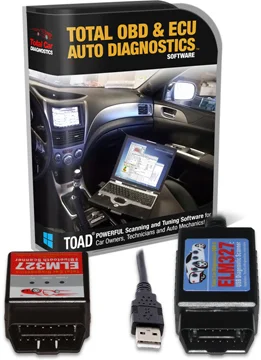 Read more: Get to Know Everything about TOAD PRO Before Buying
2. OBDwiz: best Free OBD2 ELM327 software full version for laptop/PC
Operating System: Windows 7 – Windows 10
Price: Free [full version], included when you buy an OBDLink scan tool such as OBDLink MX+.
OBDWiz is a product of OBDLink, the owner of OBDLink OBD2 adapters today.
If you're interested in scanners from OBDLink, don't forget to read my review on the 3 best of OBDLink Scan Tools.
OBDwiz can read and erase engine codes, test emissions readiness, monitor fuel economy, display live sensor data, etc. Whether you want your data as text or graphs, this OBD2 software will deliver.
Plus, it can record and save the data, which may come in handy when you need to analyze the data later on.
Pros
Works on ALL OBD2-compliant vehicles
Can read and erase engine codes. The software can reset the Check Engine Light
Offers real-time display of sensor data in text and graphical formats
Displays vehicle information; both VIN and calibration ID
Can monitor fuel economy and give statistical data, including max, min and mean values
Dashboards are customizable
Free software updates for the life of the software
Cons
Only works with Windows systems
Not free
Does not support the diagnosis of other systems besides the engine
This OBD2 software for Windows is most suitable for ordinary car owners. And the specialty is that it is free.
But, how to get OBDWiz for free? OBDWiz is included when you buy an OBDLink's OBD2 adapter such as:
My recommendation is OBDLink MX+ Bluetooth OBD2 Adapter. Check its latest price now:
OBDLink MX+ - Best Matched Bluetooth Adapter for OBDWiz
OBD2 vehicle adapter for iOS, Android, Windows | Enhanced OEM support | Perfect for Car and Truck Home Mechanics| Designed for OBDWiz | Turn you iPhone, Android devices, and Windows PC into a diagnostic scanner | Under $100
But if you're looking for something affordable, take OBDLink SX USB OBD Adapter.
Check its latest price now:
OBDLink SX - Best Matched USB Adapter for OBDWiz
OBD2 vehicle adapter | Perfect for Car and Truck DIY| Designed for OBDWiz | Turn you Windows PC into a diagnostic tool | Under $40
Bonus: Best Car Tuning Software 2023 [Review]
3. FORScan: Free ELM327 OBD2 software
Operating System: Windows
FORScan allows you to read and erase any DTCs from all available systems.
FORScan for Windows is FREE. With a base FORScan, you can retrieve vehicle information, read parameters, read and clear DTCs, run diagnostic tests, perform some service functions, etc.
In addition to that, this software can display live sensor data, test status, and service procedures.
Its most significant consideration comes in vehicle compatibility. Although it's an OBD2 software, FORScan only works on Ford, Lincoln, Mazda, and Mercury vehicles.
To have access to the configuration, programming functions, and service functions (such as PATS programming), you need to buy a FORScan Extended License for Windows. There are free Extended Licenses and paid long-term licenses.
The best way to get a 2-month free Extended License is to register an account on the FORScan forum.
Read more: Best FORScan Adapters Review 2023
Pros
Can read and clear engine codes. As already mentioned, a software that does that also allows you to reset the Check Engine Light.
Gives you access to codes from other systems like transmission, ABS and SRS. As such, you can use FORScan to reset warning lights for those systems
Displays live sensor data
Can display the status of onboard tests and also run test diagnostic procedures
Runs service procedures
Supports multiple hardware adapters, including ELM327, J2534, CANtieCAR, OBDLink EX, OBDLink MX+, and ELS27 (STN1170).
Cons
Not entirely compatible with all vehicle brands. Please check above for compatible makes
Doesn't install on Mac or Linux computers
FORScan is for DIYers and enthusiasts who need deep access to onboard systems. It offers significantly more than entry-level software.
What you need is to install FORScan on your laptop/PC, and connect the computer to your car via an OBD2 adapter. The best USB adapter for FORScan is the OHP ELM327 FORScan USB Adapter.
Check its latest price now:
OHP ELM327 FORScan USB Adapter
ELM327-based | Perfect for Ford, Mazda, Mercury and Lincoln | Designed for FORScan | Windows only | Under $30
Note: FORScan Lite for iOS and Android smartphones is paid.
4. TouchScan: best OBD2 software for Windows 10
Operating System: Windows 7 – Windows 10
Price: Paid Add-ons from $24.95-$64.95
TouchScan is another product of OBDLink. As you would expect, TouchScan and OBDWiz are similar in functionality.
Touchscan is excellent for clearing your check engine light, reading trouble codes, and monitoring your car in real-time.
Find the Meaning, Symptoms, Causes, and Diagnostic Steps of the codes you have here.
You can design custom dashboards and graphs to display your data, and it has the all-important emissions readiness testing functions.
This PC OBD2 software presents itself as a comprehensive package at a very reasonable price. It's designed to be intuitive to use, and has excellent customer support should you encounter any problems.
There is a free 2-week trial available, at the end of which you will need to pay.
The standard version costs US$29.95, but there are add-ons available, discounted to around US$60 per vehicle manufacturer.
Their Pro-addon costs $24.95 and contains lots of more in-depth technical functions, including sensor calibration.
The price of the add-ons are as below:
Professional Add-on: +$24.95
Ford Add-on: +$64.95
Mazda Add-on: +$64.95
Toyota Add-on: +$64.95
Nissan Add-on: +$64.95
FCA Add-on: +$64.95
A popular feature is an integral database for trouble codes, so clearing faults is a straightforward process. They offer free updates, so there are no surprise charges for keeping your software up to date. Reports are that the customer service is very responsive and knowledgeable, and they typically respond promptly via email.
Along with the standard features, TouchScan offers real-time tracking and all your sensor data is displayed as a chart, which is much more comfortable for diagnosing a fault.
This ELM327 software is only compatible with Windows (Windows 7, Windows 8, Windows 8.1, and Windows 10.)
Pros
Free 2-week trial
Cheap initial purchase cost
Comprehensive set of functions with the basic software
Cons
Manufacturer add-ons are a bit pricey
TouchScan works with all standard ELM-327 OBD2 adapters including:
My recommendation is the OBDLink MX+:
OBDLink MX+ - Best Matched Bluetooth Adapter for OBDWiz
OBD2 vehicle adapter for iOS, Android, Windows | Enhanced OEM support | Perfect for Car and Truck Home Mechanics| Designed for OBDWiz | Turn you iPhone, Android devices, and Windows PC into a diagnostic scanner | Under $100
Read more: Best Bluetooth OBD2 adapters review 2023 [by Tim Miller]
TouchScan's Developer Website: https://www.obdsoftware.net/software/touchscan
Free trial TouchScan: https://www.obdsoftware.net/software/touchscan/trial
5. OBD Auto Doctor: best OBD2 ELM327 software for Linux
Operating Systems: Mac OSX10.12 or later, Windows 7 and later, any Linux
Price: Paid
OBD Auto Doctor reads both generic and manufacturer-specific OBD trouble codes (DTCs). The software will clear the all-important Check Engine Light faults and contain a massive DTC database with more than 14000 DTCs.
Emissions test data is supported, enabling the owner to resolve any issues before booking an expensive test appointment with their mechanic. 
There's a free version, but the functionality is minimal. Even clearing the Check Engine Light faults isn't supported. You need to buy a subscription for US$5/month or USD$20/year to access many useful features.
Alternatively, 3 Price points are available for the Pro version; Express, Standard, and Business. They cost US$39.95, US$59.95, and US$119.95, respectively. It is a single, one-off payment, not an ongoing license agreement.
Hitting the web for customer reviews reveals some similar comments. For example, the software syncs to the ELM327 quickly and easily. It met people's expectations in all cases, and they were able to reset errors, faults, and warnings easily and with no pain.
Overall, people enjoy using OBD Auto Doctor, and it sounds like they have created a very user-friendly interface.
OBD Auto Doctor software is available for Mac OS, Windows, and Linux. (Windows 7 and later, Mac OSX10.12 or later, and any recent instance of Linux). It has the usual features I would expect, but you'll need to buy separate scanning hardware to access your data.
There are lots of good-looking analytics features, including custom charts, graphs, and real-time monitoring displays.
If you are ready to pay for one of the full versions, this software looks great. Once you have it set up, it's very usable, but there are issues with storing and sharing historical data, test results, and analytics. Overall, it's a thumbs up.
Pros
It connects seamlessly
WiFi Dongle or Bluetooth connections are solid
There is a free version to get a flavor before you buy
Cons
Free version provides too few essential functions
No facility to upload info to a cloud service
Not entirely stable, with logon not possible unless scanner is connected
OBD Auto Doctor software requires a standard ELM327 adapter (USB or Bluetooth).
OBDLink LX is highly recommended.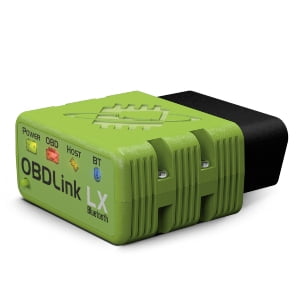 OBDLink LX USB Adapter for Touch Scan
OBD2 Blueooth adapter | Perfect for Car and Truck DIY| Turn you Windows PC into a diagnostic tool | Under $60
6. LapLogger: best OBD2 ELM327 software for Mac OS
Operating systems: Windows, Mac OS
LapLogger has versions for your laptop (Mac OS, Windows) and your mobile devices (Android, iOS, Windows Mobile, Blackberry).
Again, it provides all the expected fault diagnosis and resetting functions, but this application's real power is the suite of real-time telemetry recording and analytics features.
As the name suggests, you can use LapLogger at the race track to record and compare lap times, racing lines, and tuning strategies. It displays real-time throttle, speed, RPM, and coolant temp data, displaying the results in custom-built charts and graphs for instant analysis.
The GPS function ensures that this ELM327 software knows exactly where your device is on track at each moment, so you can compare racing strategies for each section of the circuit.
The price is low at $20 for Windows versions and $25 for Mac, and there's even a free version with limited functionality. The free software does have the fault code reading and resetting functions activated. So it's worth considering in its own right.
It's worth noting that LapLogger gets more than its fair share of complaints about software stability issues. Reports of the application crashing when trying to display data in charts were common, and perusing customer reviews gave us some concerns about paying the $20.
Overall, this is an excellent application for racing and tuning fans to communicate with their vehicle's electronic systems. The reviews stress its ease of use and reliability, so it's an excellent deal for the money.
Free Download: http://laplogger.com/
7. Engine Check LE: OBD2 free software full version
Operating System: Windows XP – Windows 10
Free Version Request Form: https://www.enginecheck.co.uk/requestform.php
If you are in the market for an OBD2 software that can reset the Check Engine Light, then Engine Check is worth considering. Compatible with OBD2 vehicles, this software can display live engine data, freeze frame data, fuel system status, etc.
Pros
Reads and clears stored and pending engine codes. By doing so, Engine Check allows you to reset the Check Engine Light.
Provides code definitions to help you understand the code better and how to fix the problem
Displays live engine data either as text or in graphical format
Can read freeze frame data and fuel system status
Shows the status of onboard tests
Can save and print diagnostic data
Cons
Compatible with Windows PCs only
Doesn't have professional-level diagnostic functions
Like most other OBD2 software on our list, Engine Check is designed for ordinary car owners. Although it's a premium product, you can try it for free.
The best-matched ELM327 adapter for Engine Check LE is OBDLink SX.
OBDLink SX USB Adapter
OBD2 vehicle adapter | Perfect for Car and Truck DIY| Designed for OBDWiz | Turn you Windows PC into a diagnostic tool | Under $40
8. EOBD Facile: best ELM327 software for EU vehicles
Operating Systems: Macbook OS X; Windows 7, 8.0, 8.1, & 10.
Another well-presented diagnostic software tool with all the critical functions is the EOBD Facile (EOBD is the European version of OBD2). With a built-in library of 11,000 error codes in the basic version of this software, you can quickly diagnose and clear faults.
It supports almost all cars in Europe, but the more paid version has a range of more in-depth functions. There are too many to mention here, but there's a complete list on their website.
There's a free download with some essential functions, plus two other versions with extra features. The Basic package costs around €39.90 with the fully-featured Plus coming in at approximately €59.90.
If you already own a scanner, this software will work with it, so there's no need to buy extra hardware. Customers enjoy using the application and find it intuitive, comparing it favorably with other software.
European customers should take a look at EOBD Facile. It has all the diagnostics and fault identification tools most people will need.
Download the free version before buying to confirm that it functions well and reads all the codes and data you require. There are versions for Macbook OS X and Windows 7, 8.0, 8.1, & 10.
If you are in Europe or you service European marques, EOBD Facile is the right choice. It's not expensive, and you can try it out for free in a trial version.
Pros
Free trial
Good Value
Works with your current scanner
Cons
Targeted at the Euro market
Some WiFi connection issues
All ELM 327 adapters are supported, along with EM320, 320 & 323. They recommend you buy their KlavKarr hardware, but any generic interfaces will work fine. I would buy OBDLink SX for Windows if I were you.
OBDLink SX - Best Matched USB Adapter for Windows
OBD2 vehicle adapter | Perfect for Car and Truck DIY| Designed for OBDWiz | Turn you Windows PC into a diagnostic tool | Under $40
Free Download: https://www.outilsobdfacile.com/software-eobd-facile-elm327.php
9. PCMSCAN: best ELM327 software for Windows 8 PC laptop
Operating System: Windows 95 – Windows 8
Free Download: https://www.palmerperformance.com/downloads.php
PCMSCAN is a diagnostic software package that works on all OBD2-compliant vehicles. It is compatible with generic OBD2/ELM327 hardware interfaces.
This professional automotive diagnostic software can work with most versions of Windows, from Windows 95 to Windows 8.
Unfortunately, there's no version for Mac or Linux systems. Also, if your version of Windows is newer than Windows 8, there's a chance this OBD2 software won't be able to install.
Regardless, it features highly customizable dashboards & gauges, Drag Strip & Dyno, data logging, DTCs, etc.
Pros
Reads and clears engine trouble codes. As such, PCMSCAN can tell you why the Check Engine Light is on. And you can use it to reset the light.
Displays live sensor data from over 220 sensors
Supports data logging. You can record and playback diagnostic data. You can also print the data
Can display the status of monitored tests (both continuous and non-continuous tests)
Has built-in alert systems to notify you when a condition has been achieved. You can modify the terms to whatever you want. E.g., you can let the software inform you when a new code is recorded.
Drag Strip has a timer and countdown that measure launch and reaction times
Dyno measures the horsepower and torque of aftermarket parts
Cons
Only works on Windows OS
Doesn't support the diagnosis of other systems besides the engine
Who is PCMSCAN made for?
PCMSCAN is designed for ordinary car owners. It's simple to use and installs on almost all versions of Windows.
OBDLink LX is my recommendation for this software.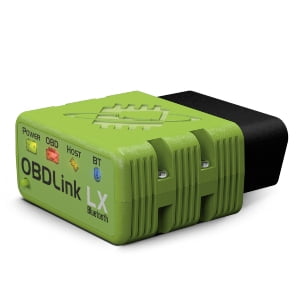 OBDLink LX - Best Matched USB Adapter for Touch Scan
OBD2 Blueooth adapter | Perfect for Car and Truck DIY| Turn you Windows PC into a diagnostic tool | Under $60
Read more: https://www.palmerperformance.com/products/pcmscan/index.php
10. DashCommand: best OBD2 software for OLD Windows PC laptop
Operating systems: Windows 95, 98, ME, NT, 2K, XP, Vista, and Windows 7
For the same $40 price tag, you can get a copy of DashCommand, another ELM327 compatible application, specially designed with touchscreens in mind.
It runs on Windows OS from Win95 to Win10 and includes all the usual functions like clearing the check engine light and reading and resetting trouble codes.
The most impressive features are the technical analysis algorithms and the graphical interface. You can design your dials and gauges to recreate your vehicle's dashboard or modify one of the great-looking standard layouts.
This software is fantastic for tuning specialists as you can playback, analyze, archive, or share your real-time data using customizable graphs and charts.
There's an onboard simulator to analyze tuning parameter changes before you make them in real life. It enables you to write and implement scripts to reprogram your ECU (Electronic Control Unit) and monitor the changes' effects.
You can adjust torque, fuel efficiency, turbo boost, acceleration profile, etc. to fine-tune your vehicle for each track you visit.
The test data from your laps can be compared to previous visits to compare the effectiveness of your tuning efforts.
Overall, this is a great tool for racing enthusiasts.
Dashcommand gets good customer ratings, but common gripes include unintuitive navigation between the important screens, compatibility issues with older iPhones, and some sensor accuracy concerns. None of these issues are show-stoppers.
All in all, DashCommand delivers what it claims and does it well.
If you love DashCommand, get an OBDLink MX+ for the best experience.
OBDLink MX+ - Best Matched Bluetooth Adapter for OBDWiz
OBD2 vehicle adapter for iOS, Android, Windows | Enhanced OEM support | Perfect for Car and Truck Home Mechanics| Designed for OBDWiz | Turn you iPhone, Android devices, and Windows PC into a diagnostic scanner | Under $100
Read More: DashCommand Review: Useful OBD2 App for Car Diagnostics
Free Download: https://www.palmerperformance.com/products/dashcommand/windows/index.php
How does OBD2 car diagnostic software work?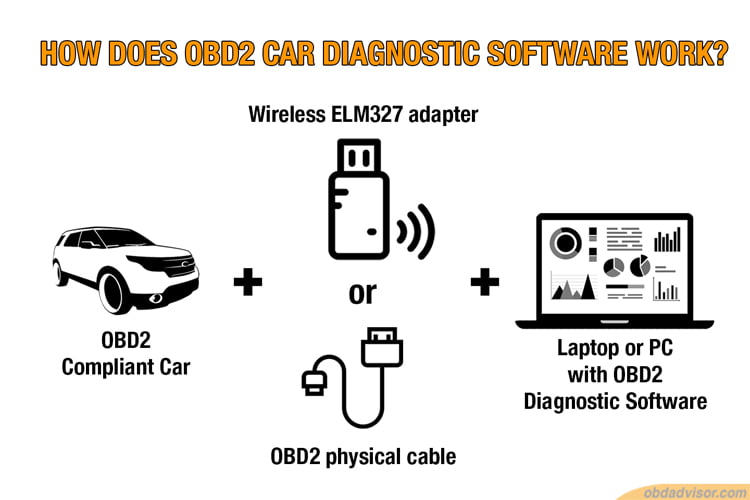 OBD2 employs a network of sensors located around the engine, transmission, and drivetrain of your vehicle. This network collects and transmits data using an agreed industry protocol. The data are then analyzed to give the user a description of the car's performance, general health, and emissions.
The OBD-II software can be downloaded from the providers' website and installed on a laptop or PC, just like any other application. Once installed, the computer is connected to the car with either a wireless ELM327 adapter or an OBD2 physical cable.
All cars now have an OBD2 connector socket, which connects via a USB OBD2 adapter to your laptop. The OBDII USB software can capture, organize, and display this data. Some brands can also reprogram your ECU to improve efficiency and performance.
OBD2 ELM327 software buying guide
What are the benefits of OBD2 auto diagnostic software?
OBD2 diagnostic software allows the average car owner to diagnose their vehicle's problems before taking it to the repair shop. You can test your emissions, make sure your brakes are functioning well, and clear any faults without paying your mechanic.
Some OBD2 programming software packages allow you to remap your car's ECU chip, increasing both power and efficiency.
The most significant advantage of computer OBD2 software is it can analyze and display the data from your vehicle.
You can view the information in intuitive charts and graphs, which makes it much easier to understand. It helps you get the maximum utility from your data. Also, you can store and share your findings with a growing network of other users.
Apart from giving the motorist confidence about their vehicle's health, the primary motivation for using OBD software is saving time and money. You can avoid expensive, time-consuming, and sometimes wholly unnecessary trips to your service mechanic.
It's becoming essential for a professional mechanic to present data analysis to the customer in an understandable and widely shared format. Having all the metrics stored and easily accessible helps the pro-mechanic provide the best customer service.
Typical prices and updated information
There's a range of price points from the low hundreds to thousands of dollars. Most offerings have several options, from free basic options and free trials to paid, full versions.
The prices vary between hobbyist systems and professional setups. Some packages come with proprietary OBD-11 scanners and cables; others are software only.
Operating system requirements
Not all OBD2 software packages for laptops are compatible with all the major operating systems (Windows, Mac, or Linux).
It's essential to ensure that your intended device and operating system (OS) are supported before deciding to buy.
I will look carefully at this for each product I consider.
Vehicle coverage
Although OBDII generates data according to an agreed industry standard, at least five popular protocols may apply. Different software packages cover different makes of vehicles.
So it's essential to buy the software that will meet your present and future requirements. 
Free versions Vs. paid Versions
Most software providers will release a free version with basic functionality. They enable the full version once you decide to hand over your cash. You'll need to weigh up the functions you require against the price you're willing to pay.
I'll look at the purchasing options for each of the products I include in this post.
Key features an OBD-II software package should have
No two systems are the same, but some essential functions are common to all OBDII software. The most critical needs for most amateurs are the Check Engine Light, error codes, and resets. All the following OBD2 scanner software packages have these capabilities. Standard features include:
Final thoughts 
With my list of the best ELM327 OBD2 software package, I am confident that you'll pick the right one for you.
When looking for car diagnostic software, the first thing to consider is your requirements.
People's requirements vary according to their circumstances, so the most effective options for a professional mechanic may be different from those of an experienced hobbyist or home tinkerer.
Aside from a wide range of prices, this software niche varies significantly in the functions they include.
There's considerable variation in the prices, licensing terms, update schedules, and other fees. The most expensive is not always the most suitable, however. Some products come bundled with scanners, cables, software, access to technical information libraries, and direct customer support.
If it's still hard for you to choose, here are my top choices:
FAQs
Q. I am not a technical person. Will I be able to understand the laptop OBD2 software?
A. Some professional brands are aimed at trained technicians, but there are less complicated hobbyist versions. Some packages come with training and support through videos and online manuals. There is something to suit everybody.
Q. Will PC OBD2 software save me money?
A. Generally yes. You will make fewer trips to your mechanic.
Q. Can I reprogram my car's ECU with OBD-2 software for PC, and is it legal?
A. Some brands of OBD-2 software allow for this, others can only clear faults. Toad Pro has this facility. Generally, you are required to inform your insurance company and update any DMV-related documentation
Q. Can I measure performance with OBD-II software?
A. Yes, you can accurately assess your 0-60mph times and calculate your optimum fuel consumption. There are several performance-related analytics and diagnostics.
Q. Will my PC or Laptop run OBD2 diagnostic software?
A. As long as you have a recent version of Windows or OSX, then there will be a package for you. You need to confirm which version you require when you download.
Q. How do I install OBDII software on my computer?
A. The same way you install other software – you download it from the website then follow the installation instructions.
Q. Can I try the software for free?
A. In some cases, yes. For example, Toad Pro does not offer a free trial, but Touchscan and OBD Auto Doctor both do. You should check out their websites for details.
Q. Does it matter what car I own?
A. No, all recent cars are compatible with OBD2 diagnostic software. You may need a software add-on, depending on whether you are in Europe or the US.
Q. Where can I learn about OBD2 scanner software?
A. Some providers organize online training courses and offer technical libraries. There are lots of Youtube videos to watch for both beginners and experts. There are also large online communities of users, and plenty of forums if you need advice.
Q.  Will using OBD2 software invalidate my warranty?
A. This is a very important question. If your car is still under warranty, you need to check with your warranty plan provider.
Q. So which software should I buy?
A. This depends on your circumstance. For a professional setup try AutoEnginuity. If you are a novice, try one with a free trial, or a fee basic version. There is something for everyone.