Are you finding the best OBD2 software for Windows that can meet your requirements when diagnosing cars? 
I've got you covered. 
Knowing you might have difficulties determining which software fits you the best. In this article, I'll list my top 5 OBD2 software for laptop that is suitable for everyone's needs.
Short on time? See my recommendations and find your match!
Comparison Table of 5 Best ELM327 OBD2 Software for Windows Laptop
[Note: Swipe left for full table]
---
Table of contents:
---
#1. TOAD Pro – Best OBD2 Software for Windows
What Makes Me Like TOAD Pro?
1. Read & clear trouble codes from the engine and transmission system
TOAD Pro allows you to access your vehicle's engine and transmission, helping you retrieve trouble codes. 
And what's more?
This software has a built-in database of over 15,000 fault code definitions, for both generic and manufacturer-specific ones. There's no need to spend time searching online to find out what it is.
For what it can do for engine & transmission diagnostics, TOAD is fine. But you can read and clear these codes for free in OBDWiz and ScanMaster below.
2. Fast and responsive live data on a big screen
Accessing real-time data while your car is in motion or when the ignition is on has never been easier with TOAD Pro.
This software offers up to 90 PIDs of powertrain data, allowing you to monitor vital statistics such as:
engine temperature, 
O2 sensor, 
RPM, 
speedometer, 
battery voltage, etc.
Whether you're driving an older or a newer car, you can expect fast update refresh rates. These can range from 4-6Hz with generic OBD1 to 6-16Hz with generic OBD2.
What I like the most about this feature is its ability to alert me with an audible warning. It happens when a parameter value goes outside the normal operating range.
It will be easier to catch issues before they become serious.
3. Edit your car's file map
I find that TOAD Pro offers the ability to edit the ECU map file. Basically, it plays as an ECU HEX editor, nothing more.
To use this function, you need to buy a tuner that supports your car. The tuner will extract the car's data to the computer as a file. Then it's easy to edit inside TOAD Pro's editor. 
I can make changes to the file and upload it back to the car using the tuner.
What I Dislike?
1. ABS, SRS, and other systems are not supported
Although TOAD Pro supports reading and clearing trouble codes, I can't pull codes from ABS SRS, and other systems.
It's quite inconvenient because it limits the systems you can diagnose on. 
2. Cannot work on some car brands
This software is not compatible with 5 car makes:
Dodge/Ram
Jeep
Chevy
LandRover
GMC
Tesla
If you own these cars, TOAD Pro is not for you!
Vehicle Coverage
TOAD Pro's vehicle coverage is extensive, as it supports all car manufacturers except for 6 car brands I mentioned above. 
It can also read many older OBD1 vehicles and all new OBD2 cars.
Recommended Adapter
TOAD Pro can work well with any ELM327 adapter. However, like the ScanMaster, I would recommend OBDMonster. 
With its fast and stable connection, you can quickly get access to your car's information. 
Key Takeaway
TOAD Pro is an ELM327 software which is suitable for experienced enthusiasts and professional mechanics. 
If you are looking for personalized dashboards with data displayed as convenient graphs, it can meet your needs.
#2. Forscan – Best OBD2 Programmer Software for Ford
What Makes Me Like Forscan?
1. Read any codes for your car, both generic and manufacturer-specific 
Forscan is specially designed for Ford, Mazda, Lincoln, etc. so it supports specific protocols for these car brands. 
Thanks to MS-CAN and HS-CAN, I can pull various rare codes from each module, like PCM, ACM, HVAC, HCM, etc.  
But that's not all!
Combining the fault codes with useful live data of this software, it's easier to confirm the hidden causes. 
2. Make your car maintenance easier with Forscan
Besides scanning codes, I can perform a wide range of service functions.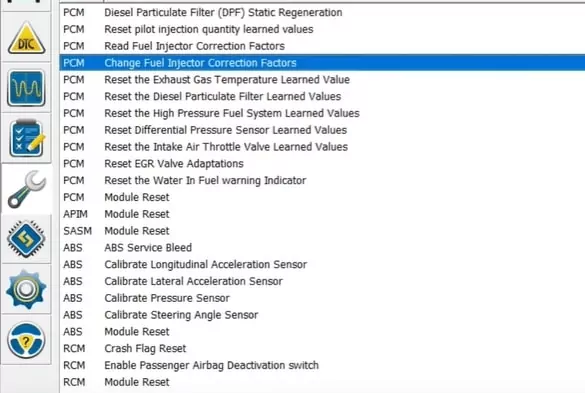 Ford utilized the PATS key system in many vehicles throughout the late 1990s and early 2000s.
There are many functions I tested on my customer's vehicle. All of them worked well!
Such as ABS bleeding, battery system reset, EGR valve adaption, PATS programming, SAS calibration, etc.
With Forscan, you can take control and perform these functions yourself.
Gone are the days of spending a fortune at the dealership to have your car serviced!
3. Perform car programming with Forscan
Here it is!
Forscan's ability to perform car customizations is the main reason why I put it in the first position.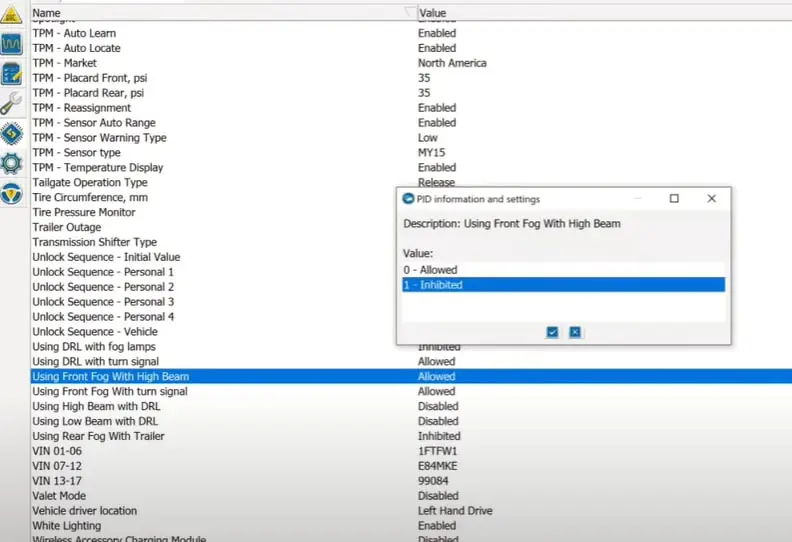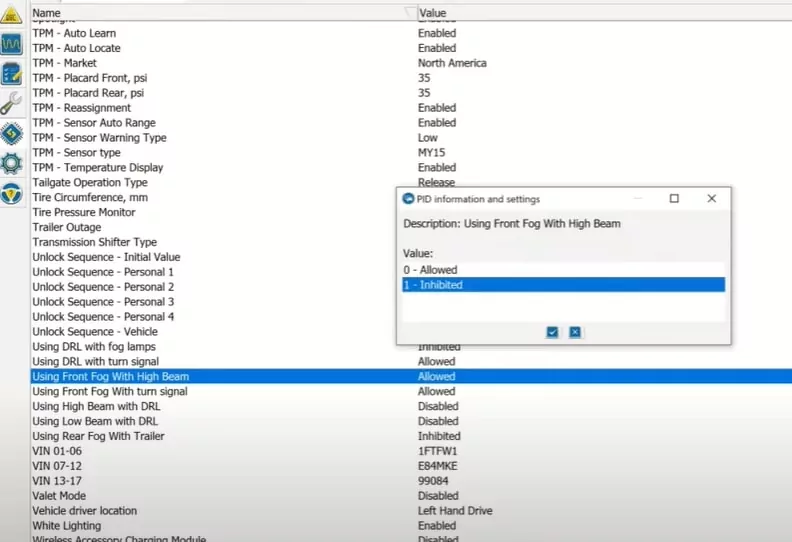 This software lets me change or adjust many features on Ford vehicles. My customers often bring their trucks to my shop and have me enable the Bambi mode.
Also, I helped others disable Auto Start/Stop feature or Pedestrian alert speaker.
And note that for beginners, you should use the "Written format" instead of "As-built format". For more details, read my detailed review of Forscan.
What I Dislike?
While Forscan can do wonders for your car, its interface can be a bit daunting for first-time users.
Especially, programming and configuration numbers can be overwhelming for beginners. 
It's like trying to learn a new language – but once you get the hang of it, you'll be fluent in Forscan in no time!
Vehicle Coverage
Forscan only works on Ford, Mazda, Lincoln, and Mercury vehicles. 
Before buying the license, I recommend confirming its compatibility with your specific car. You can either reach out to Forscan via email or consult the list of supported vehicles available on its website.
Recommended Adapter
OBDLink EX is a highly recommended adapter for Forscan, designed for stable connections. 
Pairing OBDLink EX with Forscan is an ideal combination for diagnosing and fixing your vehicle without the risk of data corruption.
Key Takeaway
Forscan is a professional automotive diagnostic software for laptop, which is designed specifically for Ford, Mazda, Lincoln, and Mercury vehicles.
It is an excellent choice for anyone looking to customize or fix their cars.
---
#3. OBDWiz – Free OBD2 Software for Windows
What Makes Me Like OBDWiz?
1. Scan trouble codes from CEL
With OBDWiz, scanning trouble codes from your car's Check Engine Light is easy.
Whether you're a newbie or a backyard mechanic, OBDWiz helps you know the codes and get a description from its built-in database of codes. 
Each code comes with a detailed description, so you can understand exactly what's going on under the hood.
For example, I got the P0223 code on a 2011 Infiniti G37, and it gave me a description: "Throttle/Pedal Position Sensor/Switch "B" Circuit High."
2. Identify problems easier with real-time data.
OBDWiz supports over 90 sensors (PIDs), and you can identify car problems with ease. Whether you need to monitor oxygen sensors or onboard monitoring OBDWiz has got you covered.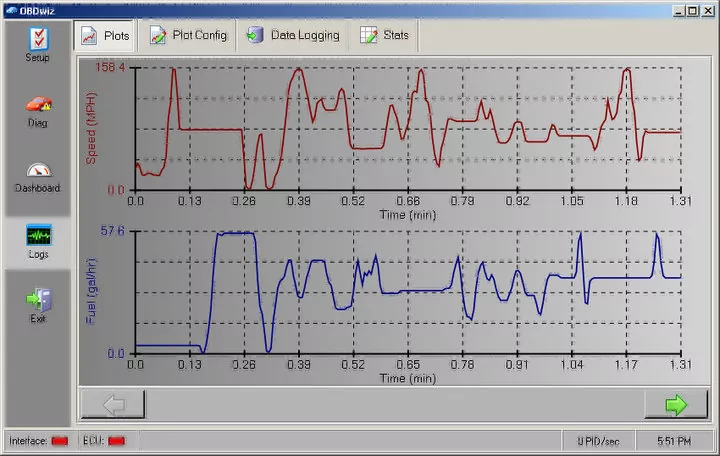 By providing live data, OBDWiz makes it easier than ever to help you fix car's issues before they become major problems. 
And if you need to take a closer look at your car's performance, it's possible to playback the recorded sensor data for later analysis.
3. Pass the smog check with ease
Unlike a cheap handheld scan tool, the software with this tool will monitor several systems in real time. OBDWiz lets me see if any monitored sensor has abnormal readings or has failed completely.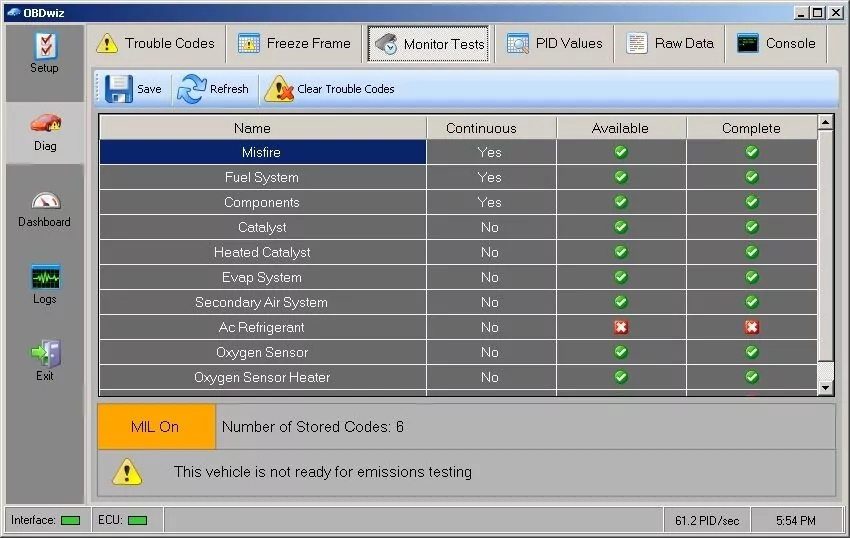 After clearing my problem code, in this case, the P0430, the vehicle has to complete a particular driving cycle to be ready for emissions testing. 
What I Dislike?
One thing I have to remind you of is that this software supports engine and transmission codes only.
For anyone looking for software scanning ABS or SRS systems, you can try Autonenginuity.
Vehicle Coverage
OBDWiz is compatible with all OBD2-compliant cars and light trucks, except for hybrid vehicles. This includes EOBD and JOBD vehicles as well. 
To ensure compatibility with your vehicle, simply refer to the vehicle compatibility chart on the OBDLink official website.
Recommended Adapter
When it comes to using OBDWiz, any OBDLink adapter will do the trick. 
Whether you prefer the OBDLink MX+, the OBDLink SX, or any other adapter in the OBDLink family, you can trust them. Because they are tailored specifically to OBDWiz.
Key Takeaway
OBDWiz is the best free OBD2 software if you need software that can help you reset CEL easily. 
Combining it with an OBDLink adapter, it's not a big deal to diagnose and repair your cars!
---
---
#4. ScanMaster – Best Free OBD2 Software for Windows 10
What Makes Me Like ScanMaster?
1. Use live data to detect and troubleshoot fault codes
By efficiently linking with the OBD2 adapter, ScanMaster can rapidly check, interpret and erase error codes. 
After getting the codes, you'll need the live data to diagnose your car.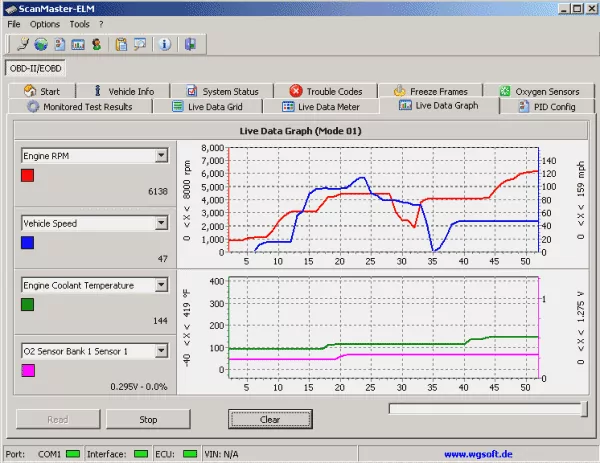 Thanks to it, you can gain insight into the vehicle's systems, which simplifies the process of identifying issues. 
Note that while the live data cannot be customized, it allows you to monitor four parameters simultaneously.
2. Comes with bi-directional control
It's remarkable that ScanMaster, a free software, offers bi-directional control support. 
This unique feature can significantly reduce the time it takes to diagnose your car's problems, eliminating the need to disassemble your vehicle. 
It's worth noting, however, that this function is only available on vehicles with an ECU that supports mode 8.
3. Friendly interface
The developers of Scanmaster software had user-friendliness in mind during its creation, ensuring even newbies can easily navigate. 
Finding the desired information is straightforward, thanks to the various options available in the main menu display.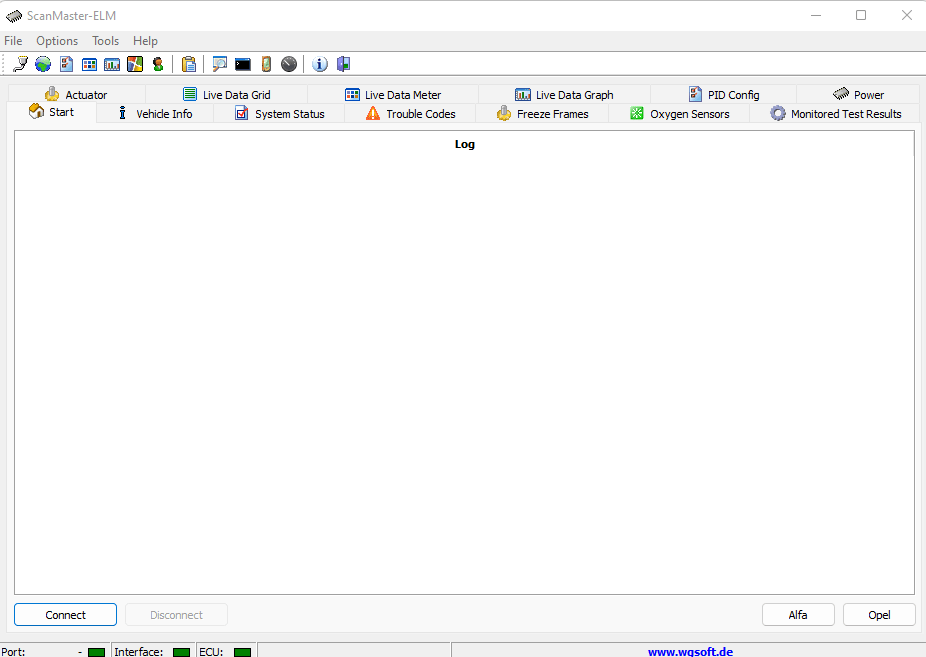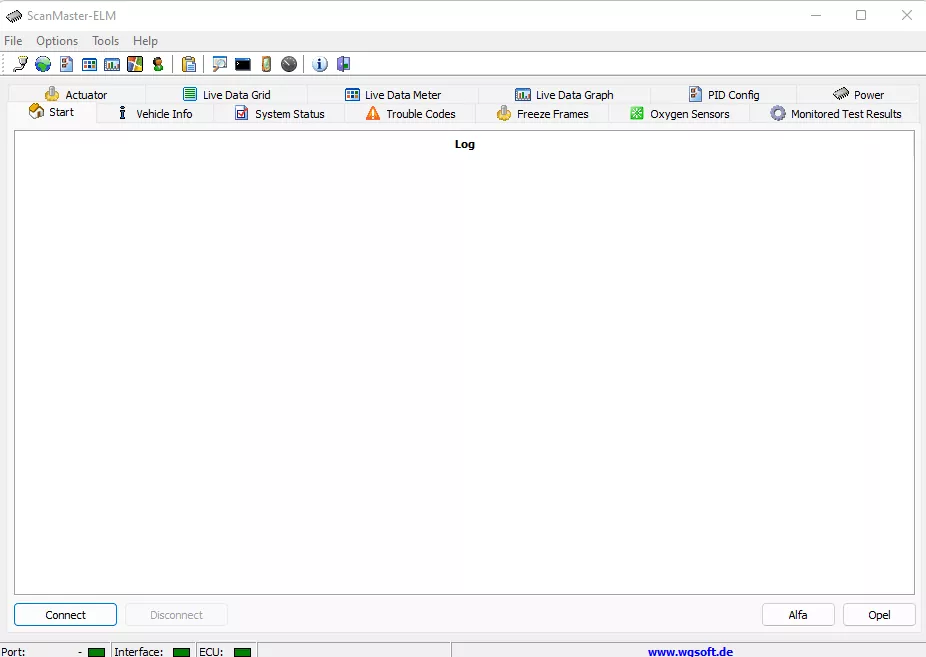 With such an intuitive interface, I believe you can seamlessly access the data you want.
What I Dislike?
1. Slow startup time
If you're running the software on the Windows 11 operating system, you may experience a slight delay when attempting to open it. 
It can take 10-20 seconds before the program responds to your double-click.
2. Challenging installation for beginners
For those who are new to the software, installing Scanmaster can be difficult and time-consuming, especially if you don't know where to download it from. 
However, if you're having trouble, don't fret; I've provided some helpful tips in my detailed review. You can find them here (How To Set Up?).
Vehicle Coverage
Scanmaster software is compatible with all OBD2 vehicles, including cars and light trucks that meet the OBD2 requirements. Nonetheless, compatibility may vary depending on the make and model of the vehicle. 
To determine whether your vehicle is compatible with Scanmaster, you can use this link to check its compatibility.
Recommended Adapter
To use Scanmaster, you'll need either a Bluetooth or USB adapter. You have two options: purchasing an ELM327 Bluetooth adapter or an ELM327 USB adapter.
For recommendations, I think you should go for OBDMonster. It's cheap and reliable to use in long term. 
Check OBDMonster's latest price here:
Key Takeaway
Scanmaster is a user-friendly and efficient software for easy and accurate diagnosis of vehicle problems through its functions.
If you are looking for OBD2 software that can help you scan basic codes, this software is worth trying!
---
#5. Autoenginuity – Bi-directional Scan Tool Software for Laptop
What Makes Me Like Autoenginuity?
1. Perform full-system diagnostics
One of the reasons I put AutoEnginuity in this Top 5 OBD2 software is its full-system diagnostics. 
Like Forscan, this software allows me to pull trouble codes from any supported systems.
From basic systems such as engine and transmission to more enhanced ones like ABS, SRS, TPMS, etc.
Not only that, with powertrain codes, you can pull unusual codes that other software can't.
2. Identify the cause easier with active tests
One of the standout features of Autoenginuity is its powerful bi-directional capability, which really sets it apart from other software on the market.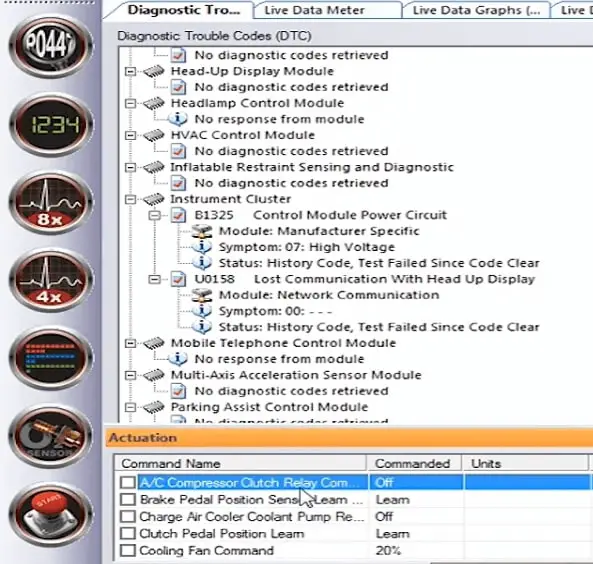 With active tests, I can quickly and easily confirm which part of my car is faulty without having to crawl under the hood or dismantle anything. 
This can save me a lot of time and effort and helps me get to the root of the problem with minimal hassle. 
3. Mode 6 is more detailed than other software
Autoenginuity's Mode 6 stands out for its exceptional level of detail compared to other software. 
With its translated and scaled data, I can easily view important information in a usable form, rather than struggling to make sense of raw data.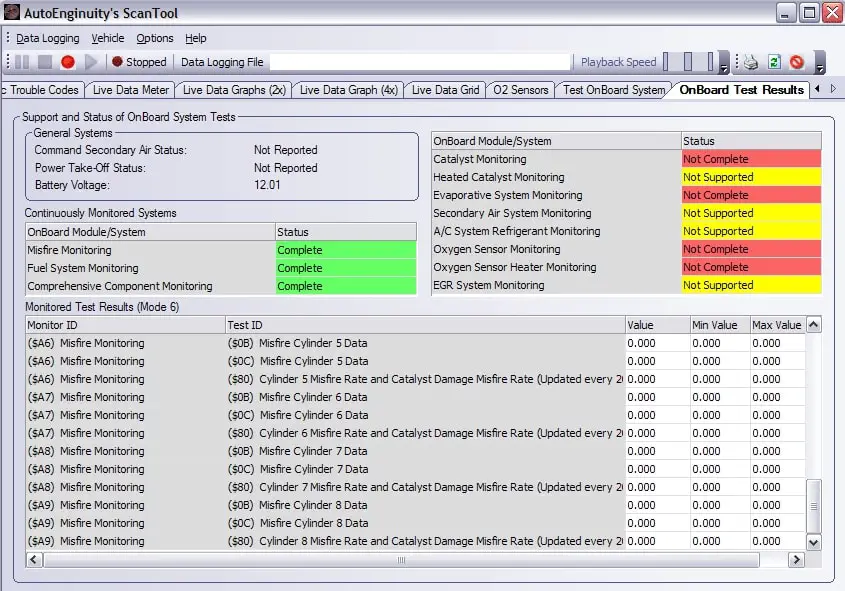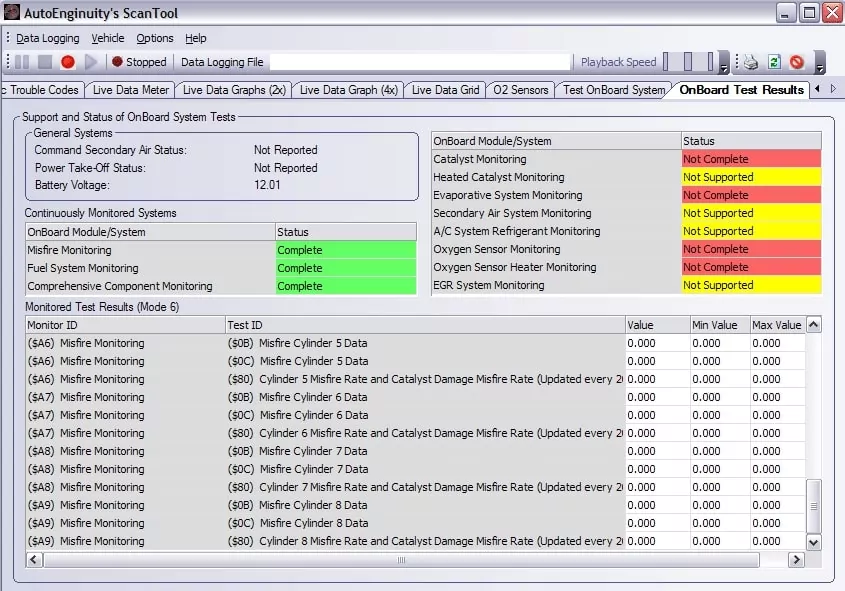 Thanks to it, you can indicate whether your car is ready for a smog check, which can save a lot of time.
What I Dislike?
While Autoenginuity may be pricier than some of the other options on this list.
In my opinion, the investment is well worth it for those who need advanced diagnostic tools for their vehicles. 
However, for those who are looking for a more budget-friendly option, an OBD2 scanner may be a better choice. With the same amount of money, you can potentially get more benefits and features that suit your specific needs.
Vehicle Coverage
Autoenginuity provides coverage for a broad range of vehicles that are from 1996 onwards. It's always wise to check with the manufacturer before purchasing to ensure compatibility with your specific car.
Recommended Adapter
Autonenginuity is bundled with its own adapter, which means you don't need to purchase a separate adapter.
However, it's important to keep in mind that this software only works with the included adapter.
Key Takeaway
Although it may be more expensive than other software on the market, it offers a variety of advanced functions. This makes it a worthwhile investment for serious DIY mechanics and professionals alike.
---
Conclusion
Thanks for sticking with me till the end!
With my list of the best ELM327 OBD2 software package, I am confident that you'll pick the right one for you.
If it's still hard for you to choose, here are my top choices:
Forscan: Best OBD2 software for Ford owners – for experienced enthusiasts and professional mechanics.
TOAD Pro: Best OBD2 programming software for Windows – for backyard and home mechanics.
OBDwiz: Best Free OBD2 ELM327 software full version for laptop/PC – for ordinary car owners.
I hope that my review post for OBD2 software was helpful to you.
I'd love to hear which software you decided to go with!
And if there is any other software you'd like me to review, please don't hesitate to let me know in the comments section below.