TOAD Pro! There's so much buzz around this OBD programming software. Ask any mechanic and either they use it frequently or have heard a lot about it. The same goes for a majority of DIYers and enthusiasts.
It seems people can't stop talking about it whenever they discuss car diagnostics. And since that's what we're talking about today (car diagnostics), how about we jump on the bandwagon and look at the Total OBD software in detail.
Is it worth its salt? Will it serve you well if you are an auto mechanic? What about car owners and the DIY folks?
You can use the software to check a vehicle's information, read codes, clear codes, view live data streams, pull freeze frame data, perform adaptations and so much more.
A pocket-friendly diagnostic software, TOAD works with OBD1 as well as OBD2 vehicles. That's one of the reasons why it's compatible with virtually all car makes and models. But to get the best out of this life-saver app, you will need to pair it with the best ELM327 adapter.
TOAD Pro is a great diagnostic application. But how does it stack up to other popular diagnostic software? Here's a comparison: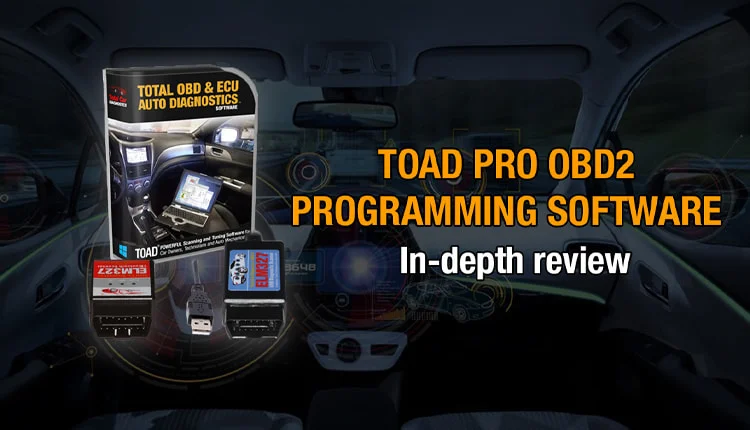 TOAD Pro OBD2 programming software detailed review
TOAD is short for Total OBD & ECU Auto Diagnostics. It's basically an on-board diagnostic (OBD) software that performs car diagnostics and provides diagnostic reports. It monitors electronic sensors in the car's engine, transmission, and emission systems.
You can also use it for an array of special functions like actuation, adaptation, and bi-directional control. More on that shortly but here's the takeaway point: TOAD is (primarily) an OBD2 software that offers nearly as much as high-end, stand-alone OBD scanners.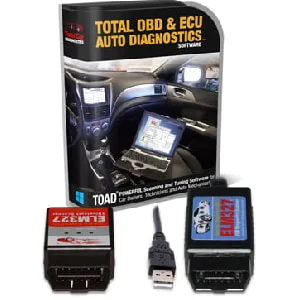 TOAD Pro ELM327 Car Tuning Software
TOAD Pro is the best OBD2 programming/car tuning software for experienced home mechanics and enthusiasts. If you're only interested in the software, you can skip the adapter and order TOAD software alone. In which case you'll get a downloadable software for running diagnostics.
There's a catch though. It's merely a software package and you'll have to buy an ELM327 adapter (also known as a dongle) separately. Also, you will need a Windows PC or tablet to install and use this software.
TOAD has a rather interesting offer that's worth considering. Instead of getting the software from them and then buying the ELM327 adapter somewhere else, you can buy both from TOAD and they will ship the full package to your doorstep. You get to choose between a USB, Bluetooth, and Wi-Fi adapter.
TOAD Pro Auto-mechanic Pro pack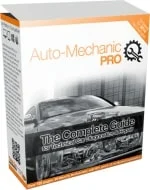 If you're only interested in the software, you can skip the adapter and order TOAD software alone. In which case you'll get downloadable software for running diagnostics. Speaking of which, what's this software capable of?
Compatibility
1. Interface compatibility
As hinted already, this OBD tuning software is compatible with ELM327 adapters. The main benefit of ELM327 dongles is that they give you, at the very least, the ability to read and clear trouble codes. In other words, they can help you pinpoint problems in a car. They have better reading speed than other types of OBD adapters.
On the downside, every ELM327 adapter requires OBD software to work. And that's where TOAD Pro comes in handy. If you install this program in a computer or tablet it will display all the diagnostic data pulled by the adapter.
There's another downside here. TOAD automotive software is only compatible with Windows PCs and tablets (all versions from XP through Windows 10). So if you're using a Mac, Linux, or iOS device then you can't use this software. Unless, of course, you use Parallels or Boot Camp on your Mac.

2. Vehicle compatibility
This is where TOAD edges all other OBD software. It's not just compatible with OBD2 vehicles but OBD1 cars and light trucks as well. Be sure to specify the version that you want before placing an order; whether it's TOAD Pro for OBD1 or TOAD for OBD2.
If it's the latter, then you can use an ELM327 adapter. However, if you're going for the OBD1 version then you will need an ALDL cable with a 16-pin connector.
NOTE: OBD1 vehicles are those made before 1996 (1995 or older models) while OBD2 vehicles are 1996 or newer models.
TOAD Pro ELM327 Car Tuning Software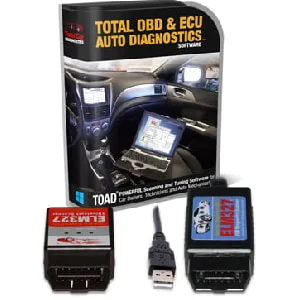 Codes and data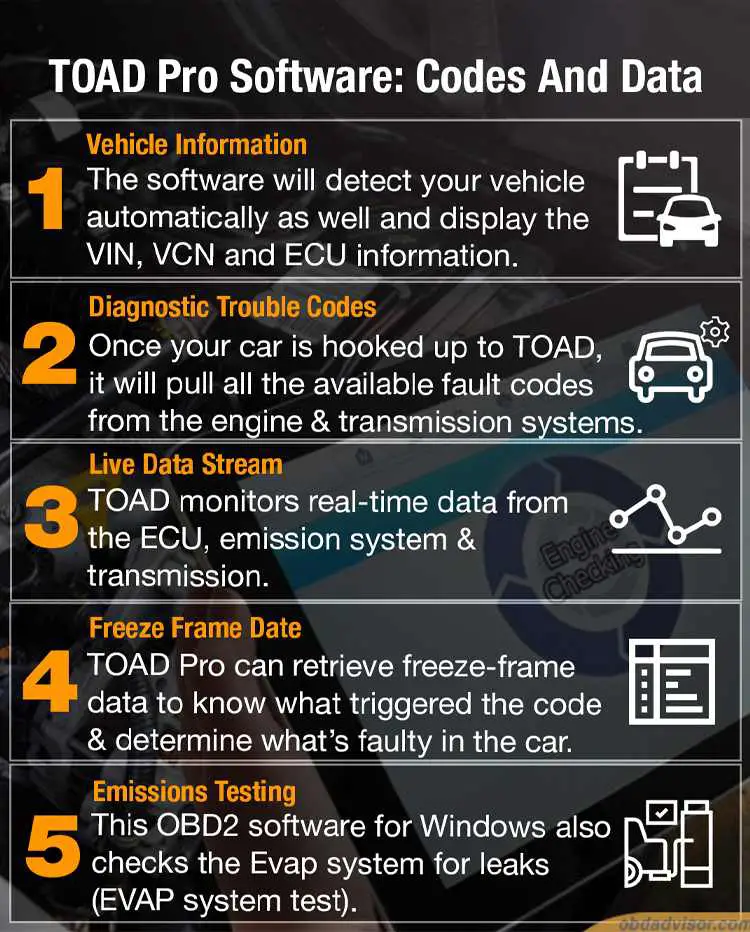 1. Vehicle information
TOAD Pro is pretty straightforward and easy to use. Simply download the software, install it on your PC or tablet and you'll be good to go. There's no configuration required.
The software will detect your ELM327 scanner automatically when you connect it. It will detect your vehicle automatically as well and display the VIN, VCN, and ECU information. That includes the part number, manufacturer, and hardware/software version.
2. Diagnostic trouble codes
Once your car is hooked up to TOAD, the software will pull all the available fault codes. There's a comprehensive DTC code analyzer that features a built-in database with over 15,000 code definitions.
Even if you don't know what a code implies you will know once it's displayed because it will come with a description. That goes for generic as well as manufacturer-specific trouble codes.
The only problem is that the software only pulls codes from the engine and transmission systems. So if the problem is in any other system, say ABS or SRS, you won't know.
3. Live data stream
Like any other reliable OBD2 programming software, TOAD monitors real-time data from the ECU, emission system, and transmission. You can view live values for RPM, engine temp, speedometer, fuel consumption, voltage, LAC, O2 and so much more.
These values are very important because they show sensors, relay, and switch inputs in real-time when the engine is running. They essentially indicate whether the car is performing as it should.
The best part about this OBD2 software is that it has a fast refresh rate. If the car is old, you can still get a rate of 4-6Hz. If you're working on a newer model, then expect a whopping 6-16Hz. So the data you get is, in fact, real-time and live.
You can record that data and play it back for further analysis. Alternatively, you can save it and do the analysis at a later time. Either way, the TOAD diagnostic software gives you enough time to come up with an accurate analysis of the live data.
Better yet, there's an option to view live data streams as PID graphs. You can view up to 90 PIDs! And if a parameter registers an abnormal value, the software will notify you using an audible warning. For example, if the RPM is below or above the normal operating range, you will get an audio notification.
4. Freeze Frame Date
Live data will tell you if there's a problem. Freeze frame data, on the other hand, will inform you when the problem occurred.
TOAD Pro is capable of retrieving freeze-frame data, which is basically a snapshot of sensor data right at the exact time when a code is registered. You need this data to pinpoint what may have triggered the code and ultimately determine what's faulty in the car.
5. Emissions Testing
In addition to performing O2 sensor tests, this OBD2 software for Windows also checks the Evap system for leaks (EVAP system test). O2 sensor data shows whether the car is burning oxygen efficiently. If it isn't then it means your car is a pollutant.
On the other hand, EVAP system tests check whether fuel vapor is leaking. If it is then it means your car is a pollutant. So, both these tests check the emission system to ensure that your vehicle is not causing any pollution and can pass state and federal emission checks.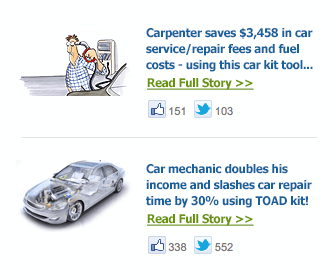 Diagnostic functions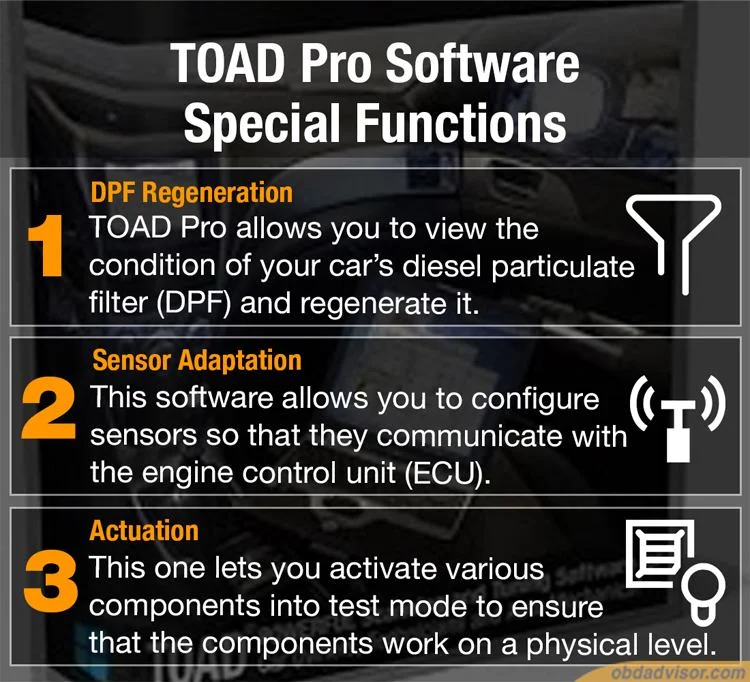 The TOAD diagnostic tool displays codes from two main systems – the engine and transmission. Now, an engine scan pulls and clears trouble codes that are related to the engine. By doing so, TOAD OBD2 software makes it possible to turn off the malfunction indicator light (MIL); also called the check engine light (CEL).
Similarly, a transmission scan displays and erases transmission codes. As long as there's a fault in the transmission, a code will be registered and the Automatic Transmission/Automatic Gearbox Warning Light will come on. When you use the TOAD scanning tool to clear the code, the light will turn off.
The only problem with this application, as far as diagnostic functions, is that it only checks those two systems (engine and transmission). You can't use it to diagnose the ABS, SRS, EPB, and any other OBD system.
Special functions
1. DPF Regeneration
TOAD Pro allows you to view the condition of your car's diesel particulate filter (DPF) and regenerate it. In case you don't know this, DPF regeneration is simply the process of emptying and cleaning the DPF.
2. Sensor Adaptation
This is actually programming in a sense because adaptation allows you to configure sensors so that they communicate with the engine control unit (ECU). For example, when you replace a TPMS, you will need to calibrate the new one for it to communicate with the ECU.
You can only do that using a scan tool or in this case the TOAD diagnostic software and an ELM327 dongle. This OBD2 programming software brings some more amazing abilities to the table, like ECU chip tuning, remapping, and correction.
3. Actuation
Another handy feature that you'll get with TOAD OBD software is the actuation function. This one lets you activate various components into test mode. For example, before running emission tests you may need to do an I/M Readiness test.
The purpose of actuation is to ensure that the components do, in fact, work on a physical level. And with this software, you can go a step further and actuate bi-directional controls. That's usually a feature that's limited to high-end scan tools.
TOAD PRO Auto-mechanic Pro Pack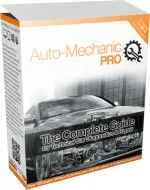 Service And Maintenance
Here you get an inspection and maintenance system, as well as a vehicle manager. The latter is for mechanics, dealers, or ordinary folks (and families) who own several cars. With this feature, you will be able to see all the diagnostic data of each vehicle that's registered in your TOAD automotive software.
The inspection and maintenance system analyzes diagnostic data and informs you whether the vehicle needs servicing or a mere inspection. It may also tell you the type of service that's required.
Pros
More bang for your buck
One year, risk-free warranty
Real-time and freeze frame data display
Lifetime software updates
Detailed definitions and analyses
Basic and advanced diagnostics
Wide vehicle coverage
Cons
Only checks two car systems (engine and transmission)
Not compatible with Mac, Linux, iOS and Android
Only compatible with ELM327 adapters
Who Should Have TOAD Pro?
TOAD is not the most complicated diagnostic software out there, but it does pack an array of advanced features. It can be quite a handful if you're completely new to diagnostics and diagnostic software. For that reason, this application is best suited for enthusiasts and DIYers.
Remember that you need a Windows PC (preferably laptop) to install and use TOAD. That's to say if you don't have a PC and aren't planning to get one then this software is not for you either.
TOAD PRO – OBD2 Programming Software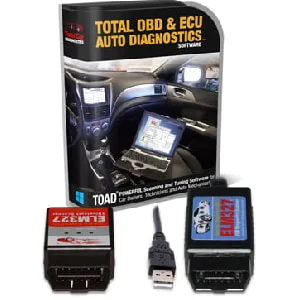 TOAD Pro's Alternatives
TOAD Pro Vs. FORScan Vs. OBD Auto Doctor Comparison Chart
| | | | |
| --- | --- | --- | --- |
| | TOAD Pro - Editor's Pick | Forscan | OBD Auto Doctor |
| Vehicle coverage | All OBD1 & OBD2 | Ford, Mazda, Lincoln & Mercury (OBD2) | OBD2 vehicles |
| OS compatibility | Windows | Windows, iOS & Android | Mac, Windows, iOS & Android |
| Compatible adapter | ELM327 | ELM327 & J2534 | All except ELM327 & J2534 |
| OBD2 Diagnostics | 10/10* | 8/10 | 9/10 |
| System Diagnostics | 9/10 | 8/10 | 7/10 |
| Advanced Service Functions | 9/10 | 8/10 | n/a |
| ECU Coding | 8/10 | 8/10 | n/a |
| Bi-directional Controls | 8/10 | 8/10 | n/a |
| | Check Price | Read more | Read more |
*Note: Excellent: 9-10; Good: 7-8; Fair: 5-6; Poor: 3-4; Very poor: 1-2
TOAD Pro FAQs
Q. What is TOAD Pro?
A. It is a Windows-based software for running car diagnostics.
Q. Can I use TOAD software on my car?
A. Yes. TOAD Pro is compatible with OBD1 and OBD2 vehicles. Be sure to use an adapter that's compatible with your car.
Q. Which systems can I scan with TOAD?
A. Engine and transmission. TOAD Pro doesn't scan ABS, SRS, and other systems.
Q. Is there a different version of TOAD?
A. Yes. There's TOAD Lite, which is designed specifically for amateurs and car owners. It's basically a code reader that displays and erases engine and transmission codes. It doesn't offer any more functions.
Q. Is the TOAD software too complicated for me?
A. Its advanced functions like actuation and adaptation may prove too complicated for an amateur. So if you're completely new to OBD and car diagnostics, this software can be a bit challenging.
Q. What will I get when I buy TOAD Pro?
A. You will get downloadable software for Windows. You can order TOAD the software with an ELM327 adapter and the package will be delivered to your door.