Toyota Techstream Software allows any mechanic or technician full access to the ECU of any Toyota, Lexus, or Scion vehicle. It goes beyond the capabilities of hand-held OBDII scan tools. With this software, you can reprogram the ECU, make keys, and customize electronic systems, along with diagnosing and repairing issues. 
Obtaining the full professional subscription for Toyota Techstream Software can be expensive. If your shop sees a lot of Toyotas, it's often worth the investment. You can also try other workarounds that can save you some money if the full software is outside of your garage's budget. 
Want to learn more? Let's look at what Toyota Techstream Software can do, how to use Techstream, and what options you have to get its functionality for less.
What is Techstream Software?
Toyota Techstream is a diagnosis software explicitly designed for Toyota vehicles. Using it grants you access to all Toyota-specific trouble codes, along with Technical Service Bulletins and repair information for cars back to 1987.
Techstream software goes beyond basic diagnostics, as well. With Techstream software and cable, you get access to all ECU calibration files. This allows customization of electronics and repair and maintenance functions you can't access with standard OBDII scan tools. 
Now one thing to note with Toyota Techstream: it's not free. Using the full functionality requires a paid subscription, which you can obtain on a 2-day, monthly, or yearly basis. This subscription isn't cheap, either. Depending on what level you subscribe to, it could cost more than $1,000 a year. 
Whether or not you need the paid subscription depends on what you need Techstream for. There are multiple subscription levels, including "Security Professional," which gives access to IMMO and key coding functions. 
How to use Toyota Techstream?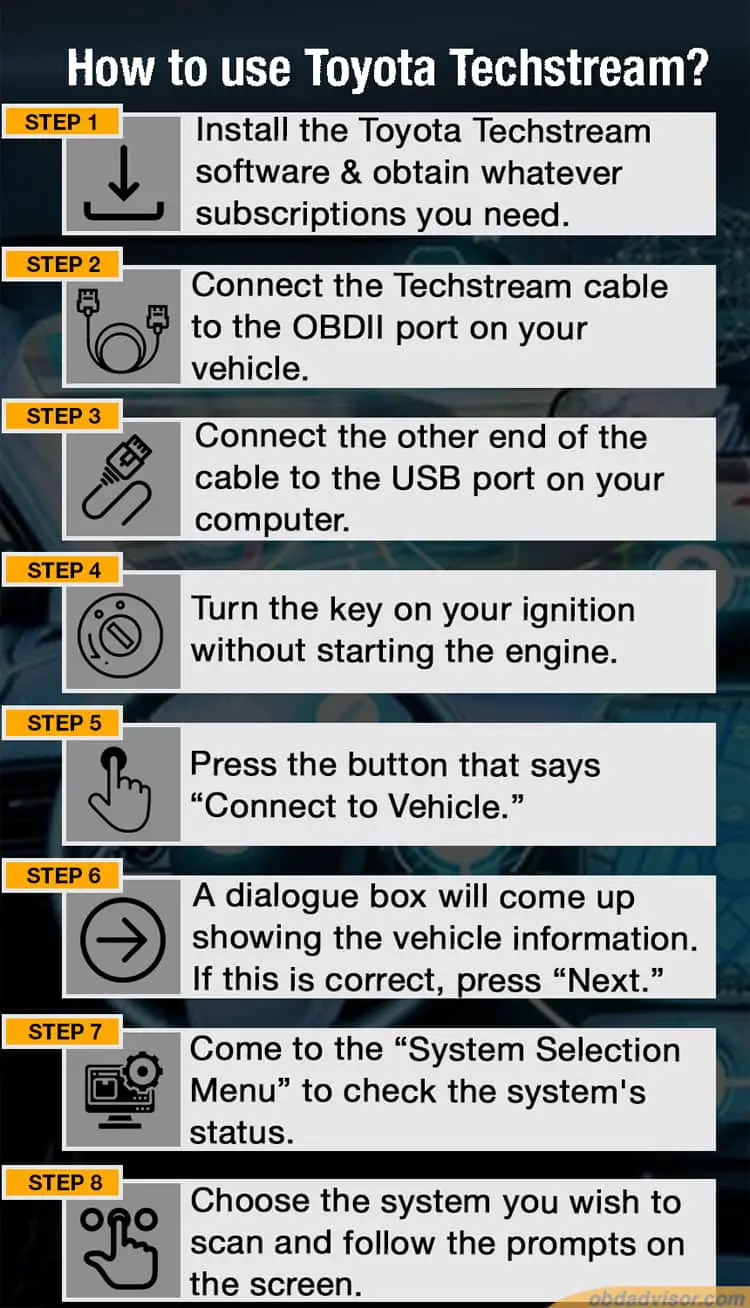 Install the Toyota Techstream software on your computer following the included instructions for your operating system. Once the software is installed, you can obtain whatever subscriptions you need for the services you require.
Once the installation is complete, connect the Techstream cable to the OBDII port on your vehicle. This usually is somewhere around the steering wheel. In most Toyotas, it is underneath the dash on the left of the steering wheel.
Connect the other end of the cable to the USB port on your computer. Verify that the connection is secure and that data is sent before continuing. 
Turn the key on your ignition without starting the engine, which will be the key position that turns on electronic systems, like the radio and lights. 
Look for the button in the upper right corner of the Techstream interface that says "Connect to Vehicle." Once you press that, the computer will begin communication, and Techstream will automatically recognize the VIN information. 
A dialogue box will come up showing the vehicle information read by Techstream. If this is correct, press "Next."
Now you'll come to the "System Selection Menu." You'll see the systems are divided into tabs, including "All ECUs," "Powertrain," "Chassis," and "Body Electrical." If the system is all clear, it is in white. Systems with unknown ECU status are highlighted in yellow. 
Choose the system you wish to scan and follow the prompts on the screen. 
Best VCI cables for TIS techstream
Mini VCI J2534 TIS Techstream Cable
VCI J2534 Cable for Toyota TIS Techstream
Washinglee OBD2 Diagnostic Techstream Cable for Toyota
Toyota Techstream software free download
As we mentioned above, the professional subscription of the Toyota Techstream download can be pretty expensive. But is there a way to find a Toyota Techstream software free download?
If you go through official channels, Toyota Techstream Lite is your best option. This inexpensive software comes with a basic Toyota OBDII cable and provides most of the full version's functions.
Now keep in mind, you will still need a professional-level subscription to reprogram the ECU or access calibration files. Without this, Techstream Lite can only provide basic diagnostic information. 
You can find the full Toyota Techstream Software available for free on some websites. However, keep in mind that any software downloaded from a third-party can be suspect and may not function as smoothly as the original.
Free download link: http://blog.obdii365.com/2021/05/12/free-download-toyota-techstream-v16-00-020-v16-00-017/
The bottom line
Many garages find Toyota Techstream Software is worth the investment, but it's not something every mechanic can afford. 
The good news is, there are alternate download methods, and you don't need Toyota's specific OBDII cable to use the software. The DIAGKING Mini Techstream Diagnostic Cable is an excellent third-party option for those looking to save some dough.
Only you can decide which option serves you best! It really comes down to which features you need and how many Toyota, Lexus, and Scion vehicles you typically work on. We hope this guide has helped you make your best choice.
Read more: TOAD Pro: Perfect OBD2 Programming Software For Laptop.