Listen up! I know diesel scanners ain't exactly cheap, but that doesn't mean you have to break the bank. 
All it takes is a little research and a smart buying decision, and you'll be saving some serious cash.
If you're short on time and can't do the research yourself, don't worry! My comparison table of the 4 best truck scanners below will come to your rescue.
Top 4 Heavy-duty Truck Scanners You Should Buy:
[Mobile users: Swipe left for full table]
Additionally, I have categorized these best diesel truck diagnostic scanners into 2 groups.
Within each group, I'll delve into the pros and cons of each scanner, giving you all the details you need to make an informed decision.
Now, scroll down to the Table of Contents below, choose your preferred group, and let's get started!
---
---
Group 1: Best heavy-duty truck scanners for owner-operators
Note: Before you buy any scanner, always, and I mean always, contact the seller to make sure it's compatible with your truck.
Don't trust those cheap scanners that claim to work with every type of truck out there – they're lying! 
If you wanna know how I contacted the seller and asked them directly, check out this infographic.
#1. Nexas NL102 Plus: Cheapest heavy-duty truck scanner for DPF regen
NEXAS NL102 Plus
Pros
DPF regen function

Oil service reset
Cons
Limited DPF regen coverage
Nexas NL102P isn't a perfect scanner. But let's be real, most of the other options in this price range are even worse. So, I'm still giving this scanner a chance and reviewing it.
When I first got my hands on this scanner, I was pleasantly surprised to see that it came with all the cables I need. No need to go out and buy extra cables.
I even took a picture of the attached cables to show you guys how cool it is. Check it out!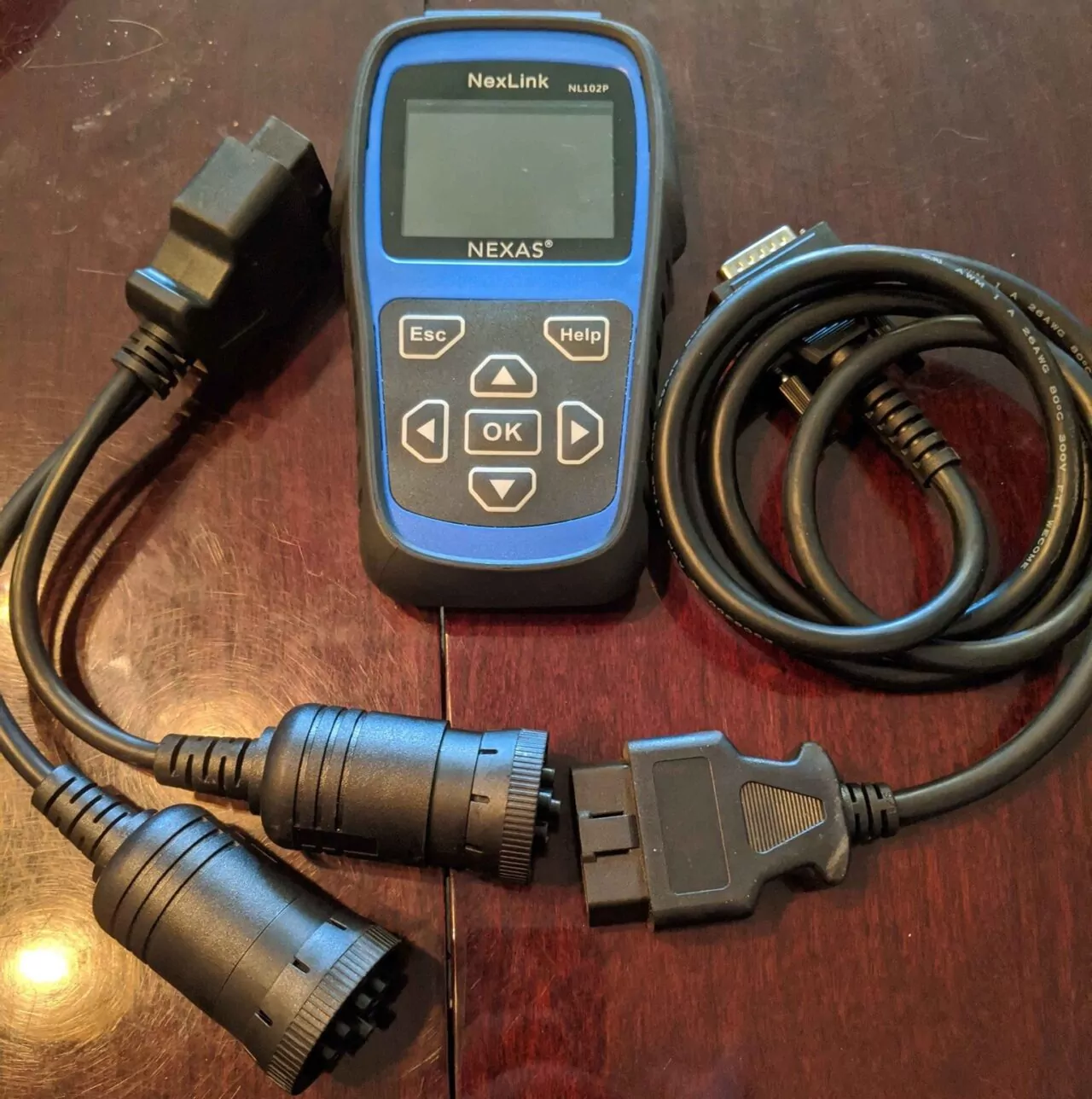 The highlight of the Nexas NL102 Plus is its DPF regen function. 
I know some of you have read some angry reviews out there claiming that this function doesn't work. Well, let me tell you, it does work, you just gotta be patient with it. 
First, you have to release the clutch,
put the parking brake in and out,
then manually flip the high and low switch up and down.
Once you do it, DPF regen will work just fine!
One thing to keep in mind is that the scanner may say "not compatible" at first. Don't panic, this happened to me too. You just gotta let the scanner tool catch up with your truck ECM. You know what I mean?
Now, let's talk about code reading function. 
Nexus NL102P does a good job of pulling trouble codes from all systems. And get this, a lot of truck mechanics charge you at least 60 bucks, and sometimes even 120 bucks, just to read codes! Honestly, going to the mechanics twice is enough money to buy this scanner. So it's totally worth the try.
But, and this is a big BUT, if you're planning on buying it on Amazon as I did, make sure to visit this link and ask the seller if it's compatible with your truck. Trust me, you don't want to waste your hard-earned money on something that doesn't work for your truck.
Overall, if you're willing to put in a little extra work in performing DPF regen, the Nexas NL102 Plus is a solid option, especially for its price point.
Today's best Nexas NL102 Plus price:
#2. Nexas NL102: Cheapest code reader for diesel trucks
NEXAS NL102
Pros
Cheap
Support all heavy duty trucks
Can read

live

 

data
Cons
No DPF regen
Not recommended for Cummins
First things first, let me clarify that the Nexas NL102 doesn't have DPF regen. So, if you're looking for that feature, you'll want to check out the NL102P instead.
When it comes to Nexas NL102's performance, it's pretty decent. I tried it out on a few trucks (Ford PU, F750, and KW T370 w/PX8), and it worked flawlessly in finding the trouble codes in 30 seconds.
But when I tried to scan my old friend's 2019 Freightliner XCM with a Cummins ISB 6.7L engine, it failed. What gives, right?
So, if you're planning on buying this scanner, make sure to hit up this link and ask the seller if it's compatible with your truck first. 
Now, for all you newbies out there, remember that these code readers won't magically erase the codes for you. What they do is give you information to diagnose the problem, so you know what to fix.
And if you can't fix it yourself, don't you dare delete those codes! Capture that information and give it to your mechanics. With this information, they'll be able to find the cause faster and fix it. It'll save you some serious cash and time.
All in all, if you're looking for the best diesel truck diagnostic scanner (under $200) , I'd definitely recommend giving Nexas NL102.
Today's best Nexas NL102 price:
---
Group 2: Best heavy-duty truck scanners for mechanics/pros
#1. Ancel X7HD: Offer tons of advanced functions, but a bit slow
ANCEL X7HD
Pros
15+ reset functions
Active tests
Advanced ECU coding
Remote diagnostic
Cover most trucks & heavy equipment
Cons
Interface isn't the most user-friendly
A bit slow
As a mechanic, I'm always on the lookout for tools that can help me get the job done without breaking the bank. So when I heard that "Ancel X7HD covers 80% of the functions of the Autel MS908CV at only 1/4 of the price", I knew I had to give it a try.
And let me tell you, I don't regret spending $650 on it one bit (I got it at a discount of 19% on ancel.com). With DPF regen and active test capabilities, this scanner has almost everything I need to diagnose and fix those pesky truck problems. 
But, like anything in life, you gotta trade off some things, and in this case, it's your time.
Don't get me wrong, the X7HD can scan all systems and perform active tests on most heavy-duty trucks. However, the interface isn't the most user-friendly yet, so it takes a bit of time to find the function I need. 
And sometimes, I gotta stare blankly at "Connecting ECU…" for like 20 seconds while it loads the next step. I blame the Bluetooth connection for slowing things down.
I wish Ancel would improve the speed and keep the functions I often use, like Service functions, out of the menu for convenience. 
If speed is your top priority, you might want to shell out the extra dough for the Autel MS906CV. But if you're on a budget, the Ancel X7HD is definitely worth considering.
Not only is it cheap, but it also comes with 2 years of free updates. And when that expires, the update fee is only $199/year (that's like 1/5 of what I'd pay for the Autel MS908CV).
In fact, choosing Ancel X7HD over the Autel MS908CV could save you anywhere from $2,000 to $7,600 over the first 5 years (depending on how often you need to update). Now that's a deal you can't ignore!
Today's best Ancel X7HD price:
#2. Autel MS908CV: All-in-one solution for professionals
Autel MaxiSys MS908CV
Pros
48+ reset functions
Active tests
Advanced ECU coding
Wide diesel truck coverage
Cons
Expensive

Can't support heavy equipment
Let me tell you about my experience with the Autel MS908CV – the ultimate tool for truck mechanics!
First off, I gotta say, the sturdy black case is a real eye-catcher. It keeps everything (tablet, cables, and VCI) organized and secure. Check out the picture I snapped below, ain't it cool?
However, I have a complaint –  this scanner did not come with a printed manual. I mean, c'mon Autel, how do you expect me to figure out all these features without a little guidance?
Had to go online and hunt down the manuals, then print them out myself. Ain't nobody got time for that!
However, once I got past that, I gotta admit, Autel MS908CV is a real "all-in-one" tool. It's like having a diesel laptop in a compact tablet design – perfect for my messy garage that's packed tighter than a sardine can.
When I say "all-in-one scanner", I'm not kidding. This scanner has got all the functions I need to repair trucks, and it works on any heavy-duty vehicle out there. No more switching between multiple scanners or dealing with those pesky "no supported" messages. 
Plus, the scanning speed and advanced functions (active testing and ECU coding) are lightning-fast. And you know what that means? I can speed up my repairs and get my customers back on the road in no time. After all, happy customers mean happy me!
One thing to note, though, is that after the first year, updates will cost you around $1,500/year. It's pretty high, right? But even without the updates, I can still use all the offline functions  (except for a few service functions and ECU programming). So, I'm still good with that.
Overall, this scanner ain't cheap, but it's worth every penny. If you're looking for the best heavy duty scan tool to repair any heavy-duty vehicle, look no further than the Autel MS908CV. 
It's the ideal solution for repair shops and fleets of any size.
Today's best Autel MS908CV price:
---
I hope you've enjoyed reading this far and found the perfect truck scanner that fits your needs and budget. 
But don't go just yet! I want to hear from you! 
Do you think my grouping of products is helpful? 
Are there any other product groups you'd like to see me cover? 
Let me know in the comments below so I can keep improving and giving you what you need.
And if you want to support me, be sure to use the link provided in this post when you make your purchase.

Remember, I don't get any commissions from brands, so your support is what keeps this website up and running.
Thanks for reading and happy trucking!