Listen up! I know diesel scanners ain't exactly cheap, but that doesn't mean you have to break the bank. 
All it takes is a little research and a smart buying decision, and you'll be saving some serious cash.
If you're short on time and can't do the research yourself, don't worry! My comparison table of the 5 best truck scanners below will come to your rescue.
Best Truck Diagnostic Tools Comparison Chart
Don't forget to use our gift code:
OBDADVISOR
for a 5% discount on any product at the
Ancel.com
.
Beside, a special discount of $50 is applied to ANCEL X7HD when you use the code TIMOBD.
[Mobile users: Swipe left for full table]
Click HERE to see full comparison chart (PDF, Free Download)
---
---
Best Heavy-duty Truck Scanners Review
#1. iCarsoft HD V3.0: Cheapest code reader for diesel trucks
iCarsoft HD V3.0
Pros
Easy to use
Fast
Graph live data
Cons
Poor customer support in English
iCarsoft HD V3.0 is a budget-friendly option perfect for beginners looking to dive into DIY truck diagnostics.
We've discovered that this scanner covers all the essential functions like full-system scans and smog checks. Surprisingly, it even allows you to view live data in graphing format.
Don't let its affordability fool you; the live data refresh rate is quite impressive, with just a 0.5-second delay. You won't even notice it if you don't look too closely.
Additionally, using the iCarsoft HD V3.0 is a breeze. It comes with clear, step-by-step instructions, making it accessible even for newcomers. You'll be able to put it to use on your truck right away.
However, when it comes to compatibility, we'd rate this scanner at 8 out of 10. From our tests, it connected and read codes successfully in 8 out of 10 trucks. To ensure it meets your specific needs, we recommend checking with the seller before making a purchase.
In summary, we highly recommend the iCarsoft HD V3.0 for its unbeatable price point, offering the same functionalities as scanners that cost twice as much.
Today's best iCarsoft HD price:
#2. Ancel X7HD: Best affordable scanner for pros, home mechanics
ANCEL X7HD
Pros
15+ reset functions
Active tests
Advanced ECU coding
Remote diagnostic
Cover most trucks & heavy equipment
Cons
Interface isn't the most user-friendly
A bit slow
Ancel X7HD scanner is the one that really caught our attention during our testing.
We know how heavy-duty truck diagnostics can be quite pricey. And finding a scanner with all the essential functions like DPF regen, 15+ service functions, and active tests can easily set you back over $2,000 (just look at the Autel MS908CV, for example).
But the Ancel X7HD covers all of these functions, and it's priced at just $600! It's safe to say it offers about 85% of the features of the Autel MS908CV, but at only a quarter of the price.
Ancel X7HD can scan all systems and perform active tests on most heavy-duty trucks. But, as with anything in life, there are trade-offs, and in this case, it's a bit of your time. 
The interface might not be the most intuitive, so it takes a little extra time to find what you need. We do wish Ancel would consider keeping frequently used functions, like Service functions, more easily accessible for convenience.
Ancel X7HD scanner also gets a perfect 10 from us for compatibility. Its advanced functions aren't restricted to diesel semi-trucks and pickups but extend to construction and mining machines, agriculture equipment, and off-road machinery. 
Just take a look at the screenshot of the heavy equipment covered in the CONSTRUCTION interface below – it's proof of its versatility.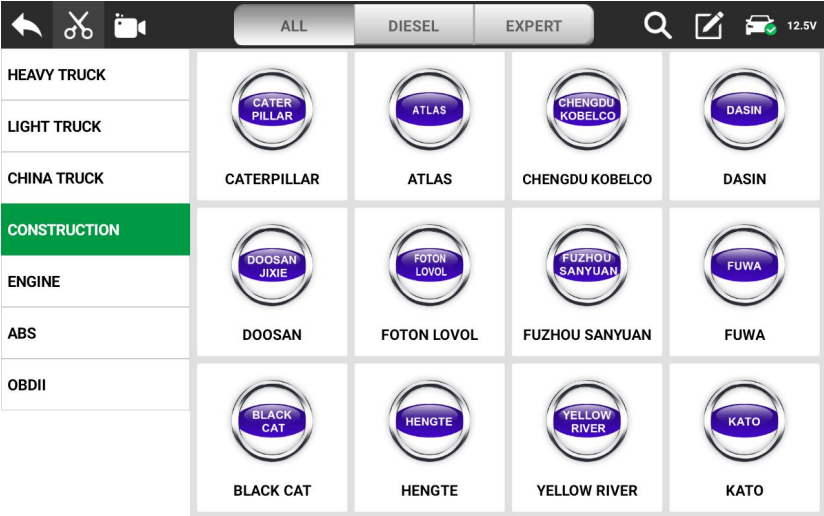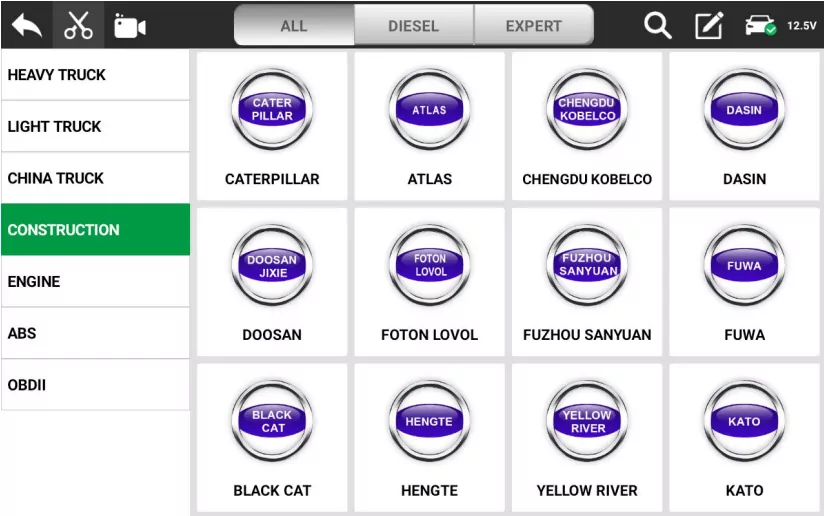 With its fantastic array of features and a price tag of just $600, the Ancel X7HD stands out as the most budget-friendly choice for both professionals and home mechanics.
Here's a pro tip – to buy it at an even cheaper price, head over to ancel.com and use the code $50 off: TIMOBD.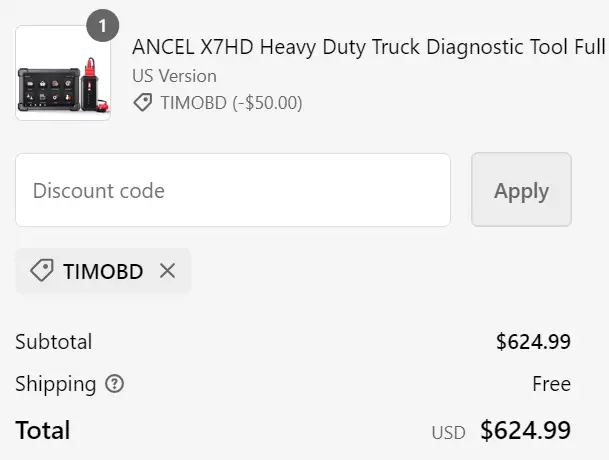 Trust us, it's a steal compared to Amazon's price, which is over $200 more.
Today's best Ancel X7HD price:
#3. Autel MS908CV: All-in-one solution for shops
Autel MaxiSys MS908CV
Pros
48+ reset functions
Active tests
Advanced ECU coding
Wide diesel truck coverage
Cons
Expensive

Can't support heavy equipment
Autel MS908CV is as versatile as the Ancel X7HD, but with some added reliability and user-friendliness.
Autel MS908CV is designed with the user in mind, making it a breeze to navigate. They've smartly placed frequently used functions like Service functions and Oscilloscope right on the Main Menu, which is a game-changer for convenience and time-saving.
And let's talk about durability. This scanner is built like a tank! We even dropped it from a height of 3.9 ft, and it kept on going. That thick, robust design really pays off.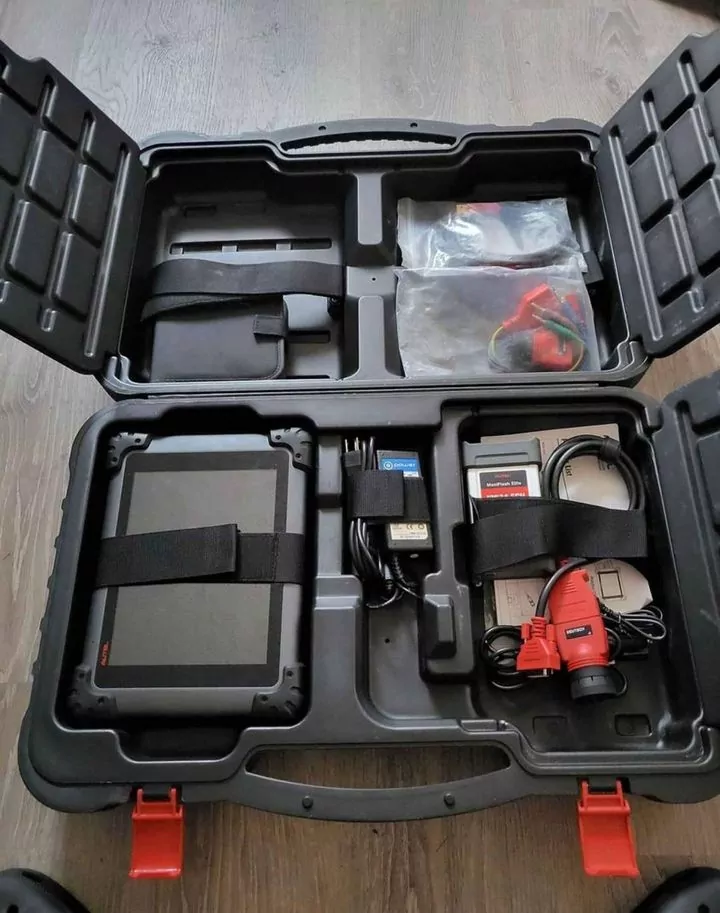 Autel MS908CV promises coverage for almost 99% of all truck models, and it delivers. Its ECU coding is available on several brands that Ancel X7HD might miss. 
However, it's important to note that it doesn't support heavy-duty equipment. This is where the nearly $3000 Autel MS908CV loses out to the Ancel X7HD. 
When it comes to processing speed, both the Autel MS908CV and Ancel X7HD are on par. Our measurements show that both complete auto scans in just 12 seconds.
For truck mechanics seeking reliable truck coverage, the Autel MS908CV is an excellent choice. However, it's worth noting that it comes with a higher price tag – four times the cost of the Ancel X7HD. 
So, if you're all about the Autel brand and trust in their products, the Autel MS908CV is a solid choice. But if you're looking to save some serious cash, the Ancel X7HD is the budget-friendly choice.
Today's best Autel MS908CV price:
Read more: Autel MaxiSYS MS908CV Heavy-duty Truck Scan Tool Review
#4. Nexas NL102 Plus: Cheapest heavy-duty truck scanner with DPF regen
NEXAS NL102 Plus
Pros
DPF regen function

Oil service reset
Cons
Limited DPF regen coverage
Nexas NL102P is not a perfect scanner. But considering the other options in this price range, it's actually one of the better choices. That's why we've ranked it among the top 6 scanners for trucks.
Now, what really sets the Nexas NL102 Plus apart is its DPF regen function.
We've heard some frustrated reviews claiming it doesn't work. But trust us, it does. You just need to be a bit patient.
First, you have to release the clutch,
put the parking brake in and out,
then manually flip the high and low switch up and down.
Once you do it, DPF regen will work just fine!
And don't be surprised if the scanner initially says "not compatible." This happened to us during testing as well. Just give it a little extra time to sync up with the truck ECM, and then you can use the DPF regen as usual.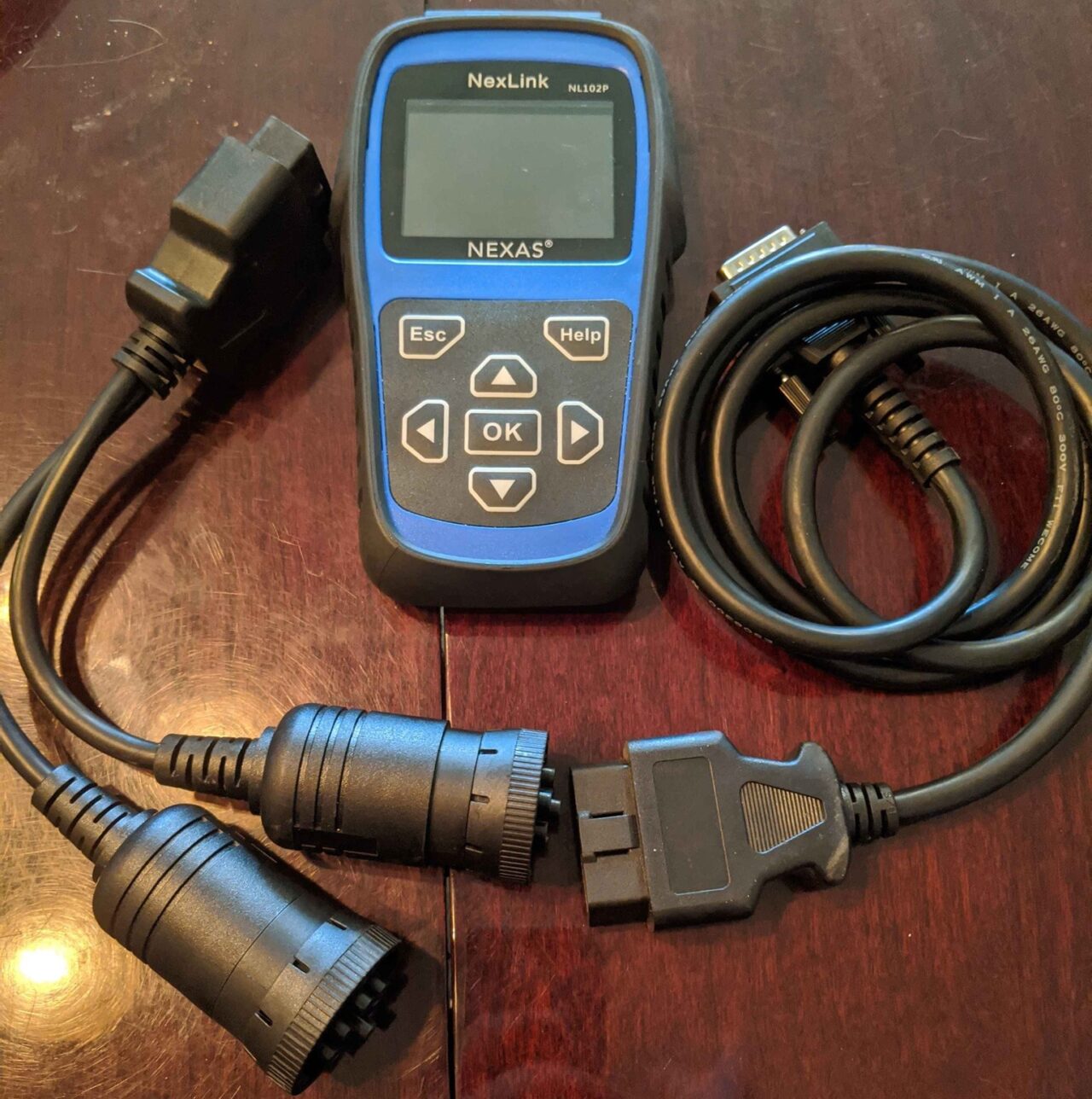 Nexas NL102P does an impressive job of pulling trouble codes from all systems. Many truck mechanics charge at least $60, and sometimes even $120, just for code reading!
Honestly, the money you'd spend visiting the mechanic twice is enough to cover the cost of this scanner. So,  Nexus NL102 Plus is really a smart investment.
If you're willing to put in a bit of extra effort for the DPF regen, the Nexas NL102 Plus is a solid choice, especially considering its price point.
Today's best Nexas NL102 Plus price:
#5. Ancel HD3400: Best Cummins diagnostic tool
ANCEL HD3400 Plus
Scanner type: Full-system scan tool
Made for: Heavy-duty truck owners
Vehicle covered: Heavy-duty trucks
Connection type: Corded
Pros
Support Caterpillar, Cummins, Detroit, and Paccar engines

1-tough update

Powerful DPF regen
Ancel HD3400 is another great truck scanner with a DPF regen for beginners and home mechanics.
We put it to the test with 10 trucks, and it passed with flying colors. It read codes accurately and showed live data flawlessly. We're really impressed with its performance.
The 5″ screen provides a much better experience when viewing graphed live data compared to the smaller 2.8″ screen on the Nexas NL102 Plus. Plus, we can easily select and view up to 4 PIDs on one screen at the same time.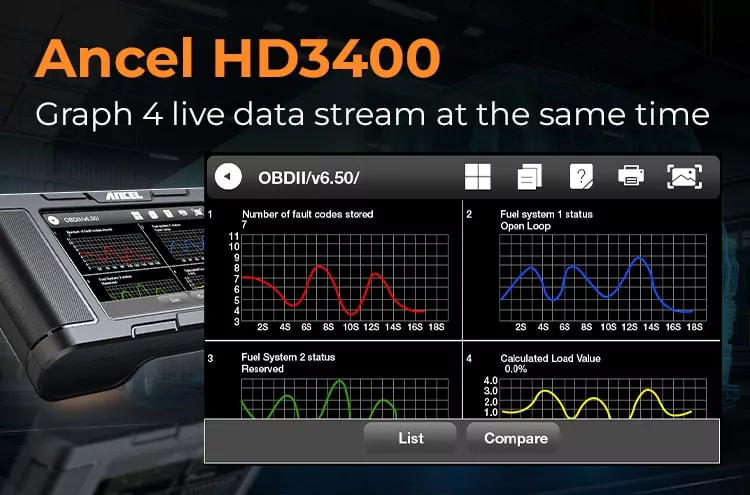 Using the DPF regen feature is a breeze, and it works like a charm. Although, it's worth mentioning that it supported DPF regen on 7 out of the 10 trucks we tested. To make sure the Ancel HD3400 is the right fit for your specific needs, just reach out to the seller via live chat on Ancel.com. They'll get back to you within 24 hours, giving you the confidence to make your purchase.
The Ancel HD3400 is a handy tool to diagnose their trucks and clear codes after making repairs. It's designed to make your truck maintenance experience a breeze!
Today's best Ancel HD3400 price:
---
Best Heavy-duty Truck Scanners Full Comparison Chart
Note for mobile users: Swipe left for full table.
| | Ancel X7HD | Autel MS908CV | Ancel HD3400 | Nexas NL102P | iCarsoft HD V3.0 |
| --- | --- | --- | --- | --- | --- |
| | | | | | |
| | Under $1,000 | Under $3,000 | Under $500 | Under $200 | Under $100 |
| DIAGNOSTICS | | | | | |
| Full-system diagnosis | ✅ | ✅ | ✅ | ✅ | ✅ |
| Active tests | ✅ | ✅ | – | – | – |
| OTHER FUNCTIONS | | | | | |
| Reset functions | 15 | 45 | 1 | 2 | – |
| Oil Reset | ✅ | ✅ | – | ✅ | – |
| DPF Regen | ✅ | ✅ | ✅ | ✅ | – |
| ABS Bleeding | ✅ | ✅ | – | – | – |
| ECU Coding | ✅ | ✅ | – | – | – |
| 1-touch update | ✅ | ✅ | ✅ | – | – |
| VEHICLE COVERAGE | | | | | |
| Semi trucks | ✅ | ✅ | ✅ | ✅ | ✅ |
| Pickup trucks | ✅ | ✅ | ✅ | ✅ | ✅ |
| Heavy equipment | ✅ | – | – | – | – |
| DESIGN & HARDWARE | | | | | |
| Connection type | Bluetooth | Bluetooth | Wired | Wired | Wired |
| Screen size | 10.1″ | 9.7″ | 5.0″ | 2.8″ | 2.8″ |
| Battery capacity | 6000mAh | 11000mAh | – | – | – |
| Processor | ARM 32-bit Cortex | Samsung Exynos 1.4GHz | Quad-Core ARM Cortex-A7 | – | – |
| Storage | 2G – 32G | 2G – 32G | 1G – 8G | – | – |
| Android OS | 8.1 | 4.0 | N/A | – | – |
| Touch screen | ✅ | ✅ | ✅ | – | – |
| AFTER-SALES SERVICE | | | | | |
| Free update | 2 years | 1 year | Lifetime | Lifetime | Lifetime |
| Waranty | 1 year | 1 year | 1 year | 5 years | 5 years |
| Update fee | $199/year | $1,295 /year | $0 | $0 | $0 |
| | Check Price | Check Price | Check Price | Check Price | Check Price |
| | | | | | |
*Reset functions, Active tests: Vary by vehicle models.
---
Final Thought
If we had to pick the top two scanners for trucks, here they are:
iCarsoft HD V3.0: This is a great choice for beginners. It's not expensive and can save owner-operators a lot on diagnostic fees.
Ancel X7HD: This one's fantastic for heavy-duty trucks and equipment. It's affordable and comes with a bunch of advanced features like active tests, DPF regen, 15 service functions, and even ECU coding. It's a real multitasker!
---
FAQs
1. Do you need a different OBD2 scanner for diesel?
To determine the type of OBD scanner required for a diesel vehicle, the crucial factor is the OBD port itself.
Standard 16-PIN port: If your diesel truck is equipped with this port, you can use a regular OBD2 scanner, similar to the ones used for cars.
6-PIN or 9-PIN port:if your truck's port is a 6-PIN or 9-PIN configuration, you will need a heavy-duty truck scanner with compatible connectors (9-PIN and 6-PIN connectors).
Make sure to identify the type of OBD port in your diesel truck to select the appropriate scanner.
Note: This article reviews scanners designed specifically for 6-PIN and 9-PIN trucks. You can consider purchasing one of these scanners if they meet your requirements.
2. What is the best heavy duty truck scanner?
Choosing the best heavy-duty truck scanner depends on your specific requirements and budget. However, if you would like a quick recommendation, here are two top options to consider:
Ancel X7HD: This scanner is highly regarded as the best choice for diesel trucks and heavy equipment. It includes features such as active testing, DPF regeneration, and more. This makes it an excellent choice for comprehensive diagnostics.
iCarsoft HD V3.0: While it may not have as many advanced functions as the Ancel X7HD, it is still highly capable. It can handle tasks such as scanning full systems and preparing for smog checks, providing significant cost savings by eliminating the need for expensive truck diagnostic fees.
3. Which is the best diagnostic tool for heavy equipment?
Ancel X7HD is an excellent diagnostic tool for heavy equipment. Priced under $700 (when purchased on Ancel.com), it offers unbeatable value.
Firstly, take a look at the image below to see its wide vehicle and equipment coverage:
The Ancel X7HD isn't just affordable, it's also packed with power. This scanner will provide you with tons of advanced functions, including active tests, ECU coding, and over 15 service functions (including DPF regeneration). 
With the Ancel X7HD, you'll have everything you need to tackle any diagnostic challenge with ease.
4. Which is the best Cummins diagnostic tool?
Ancel HD3400 is my answer. This device can work perfectly with most Cummins heavy duty trucks. 
Plus, it has the added advantage of being able to perform forced DPF regeneration. 
With this Ancel HD3400, you'll have all the features you need to keep your Cummins truck running smooth.
---