Listen up! I know diesel scanners ain't exactly cheap, but that doesn't mean you have to break the bank. 
All it takes is a little research and a smart buying decision, and you'll be saving some serious cash.
If you're short on time and can't do the research yourself, don't worry! My comparison table of the 7 best truck scanners below will come to your rescue.
7 Best Truck Diagnostic Tools: Comparison Chart
[Mobile users: Swipe left for full table]
Click HERE to see full comparison chart (PDF, Free Download)
---
Table of content:
---
Best Heavy-duty Truck/ Heavy Equipment/ Semi-Truck Diagnostic Tools
#1. Ancel X7HD: Editor's Pick
As a mechanic, I'm always on the lookout for tools that can help me get the job done without breaking the bank. So when I heard that "Ancel X7HD covers 80% of the functions of the Autel MS908CV at only 1/4 of the price", I knew I had to give it a try.
And let me tell you, I don't regret spending $650 on it one bit (I got it at a discount of 19% on ancel.com).
With DPF regen and active test capabilities, this scanner has almost everything I need to diagnose and fix those pesky truck problems. 
But, like anything in life, you gotta trade off some things, and in this case, it's your time.
Don't get me wrong, the X7HD can scan all systems and perform active tests on most heavy-duty trucks. However, the interface isn't the most user-friendly yet, so it takes a bit of time to find the function I need. 
I wish Ancel would keep the functions I often use, like Service functions, out of the menu for convenience. 
Despite its minor drawback, the Ancel X7HD scanner truly stands out when it comes to value for money. 
The advanced functions it offers are not limited to just diesel semi trucks and pickups, but also extend to a wide range of heavy equipment, including:
Construction and mining machines
Agriculture and forestry machines
Off road equipment
The screenshot of the heavy equipment covered in the CONSTRUCTION interface below is proof of its versatility: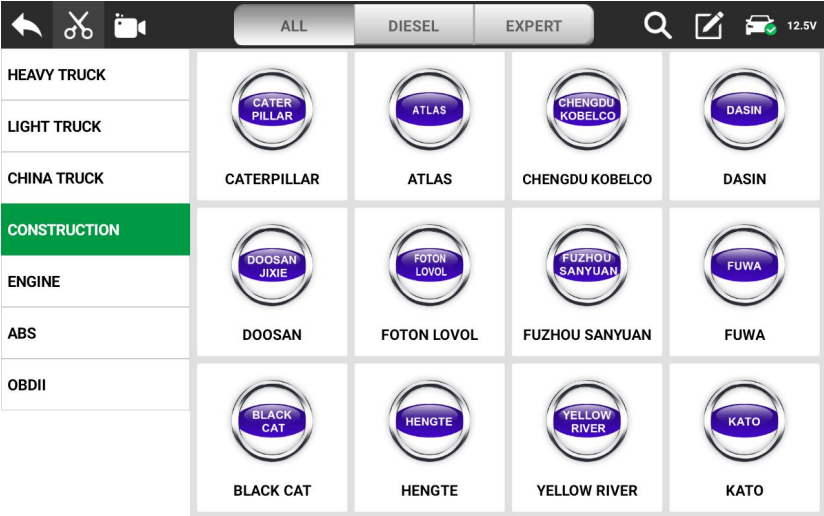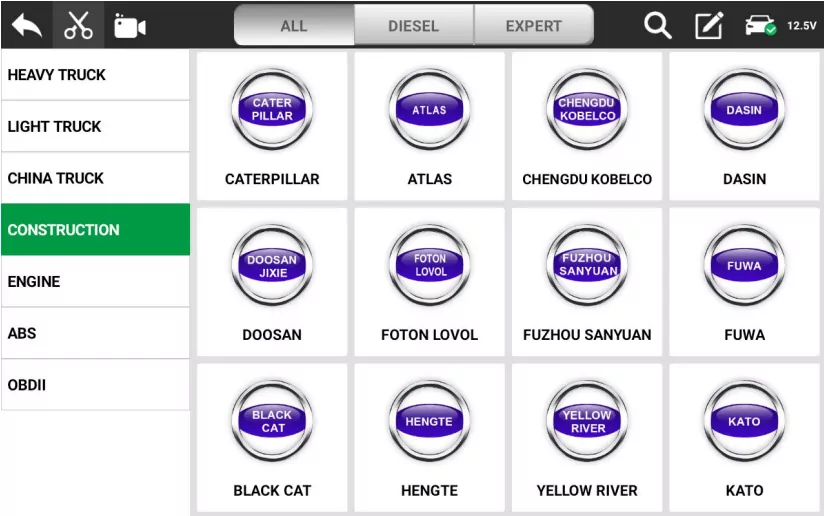 Considering that even scanners costing $2000 fail to support heavy equipment, the fact that the X7HD can handle it impresses me greatly. It truly stands out in the market.
If you're in need of the best scanner for heavy equipment, I highly recommend investing in the Ancel X7HD. 
Its performance, combined with its affordability, make it an excellent choice.
Not only is it cheap, but it also comes with 2 years of free updates. And when that expires, the update fee is only $199/year (that's like 1/5 of what I'd pay for the Autel MS908CV).
In fact, choosing Ancel X7HD over the Autel MS908CV could save you anywhere from $2,000 to $7,600 over the first 5 years (depending on how often you need to update).
That's a deal you can't ignore!
Today's best Ancel X7HD price:
#2. Autel MS908CV: All-in-one solution for professionals
Let me tell you about my experience with the Autel MS908CV – the ultimate tool for truck mechanics!
First off, I gotta say, the sturdy black case is a real eye-catcher. It keeps everything (tablet, cables, and VCI) organized and secure. Check out the picture I snapped below, ain't it cool?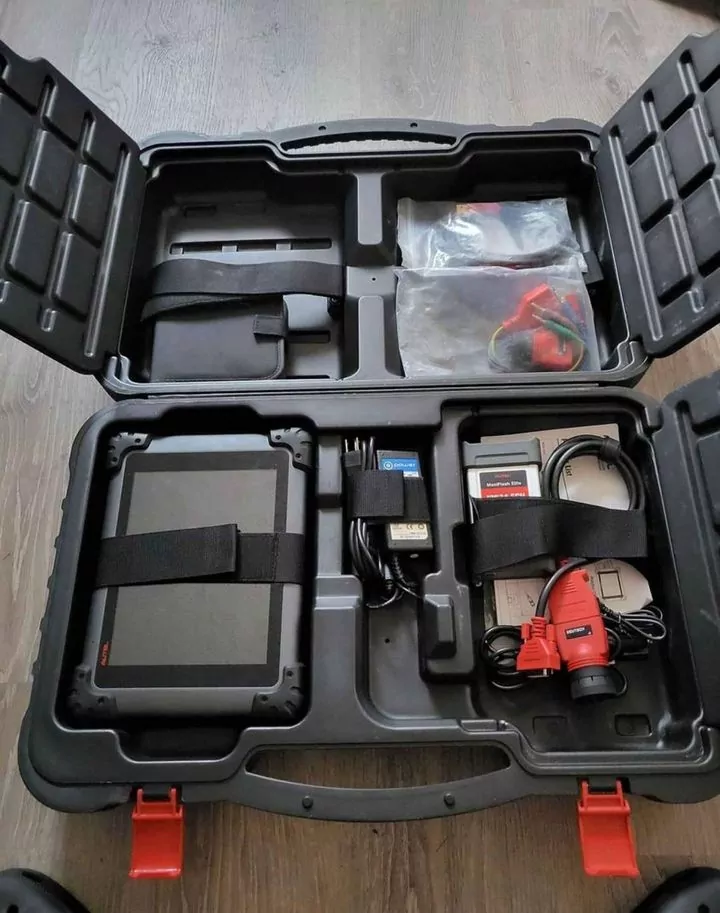 However, I have a complaint –  this scanner did not come with a printed manual.
Fortunately, it's not a significant issue. You can easily find the manuals online and print them out yourself.
Aside from that minor drawback, the Autel MS908CV is truly an "all-in-one" tool. It's like having a diesel laptop in a compact tablet design – perfect for my messy garage that's packed tighter than a sardine can.
When I say "all-in-one scanner", I'm not kidding.
This scanner has got all the functions I need to repair trucks, and it works on any heavy-duty vehicle out there. No more switching between multiple scanners or dealing with those pesky "no supported" messages. 
Plus, the scanning speed and advanced functions (active testing and ECU coding) are lightning-fast. And you know what that means? I can speed up my repairs and get my customers back on the road in no time. After all, happy customers mean happy me!
One thing to note, though, is that after the first year, updates will cost you around $1,500/year. It's pretty high, right? But even without the updates, I can still use all the offline functions (except for a few service functions and ECU programming). So, I'm still good with that.
Overall, this scanner ain't cheap, but it's worth every penny. If you're looking for the best heavy duty scan tool to repair any heavy-duty vehicle, look no further than the Autel MS908CV. 
It's the ideal solution for repair shops and fleets of any size.
Today's best Autel MS908CV price:
Read more: Autel MaxiSYS MS908CV Heavy-duty Truck Scan Tool Review
#3. Ancel HD3600: Best diagnostic tool for heavy equipment
The Ancel HD3600 stands out as the only scanner available under $500 on the market that offers support for heavy-duty equipment.
No matter the heavy equipment you have, the Ancel HD3600 covers them all, including Caterpillar, Komatsu, John Deere, Volvo, Bobcat, Case, Hitachi, and Yanmar.
Its broad vehicle coverage, coupled with a diverse range of functions, makes it suitable for handling most regular repair jobs.
One notable feature is its ability to conduct full-system diagnostics, providing a comprehensive understanding of your vehicle and swiftly identifying the root causes of any issues.
During my testing time, I found the scanner to give impressively accurate results, instilling confidence in its reliability.
Another significant benefit is the DPF regen function, safeguarding your truck from DPF filter clogging, which can lead to reduced fuel efficiency. By preventing clogging, Ancel HD3600 helps you save considerable money on DPF filter cleaning costs, ranging from $99 to $695, depending on location. 
Moreover, the convenience offered by the Ancel HD3600 enhances its appeal. The user-friendly touchscreen design simplifies navigation and access to essential functions like: activation, update, screenshot, and printing. 
While the HD3600 has impressed me, I must mention one minor disappointment—I did not receive the expected free carry case with the scan tool.
Ancel HD3600 offers remarkable value for its price, especially when considering that alternatives like John Deere's service advisor can cost around $1300 when purchased used.
It's a reliable and cost-effective option that you'll undoubtedly appreciate.
Today's best Ancel HD3600 price:
Best Heavy Duty Truck Scanners with DPF Regen
| | Nexas NL102P | Ancel HD3400 |
| --- | --- | --- |
| | | |
| | Under $200 | Under $500 |
| FUNCTIONS | | |
| Full-system diagnosis | ✅ | ✅ |
| Active tests | – | – |
| Reset functions | 2 | 1 |
| Oil Reset | ✅ | – |
| DPF Regen | ✅ | ✅ |
| ABS Bleeding | – | – |
| VEHICLE COVERAGE | | |
| Semi trucks | ✅ | ✅ |
| Pickup trucks | ✅ | ✅ |
| Heavy equipment | – | – |
| | Check Price | Check Price |
| | | |
#1. Nexas NL102 Plus: Cheapest heavy-duty truck scanner with DPF regen
Nexas NL102P isn't a perfect scanner. But let's be real, most of the other options in this price range are even worse. So, I'm still giving this scanner a chance and reviewing it.
When I first got my hands on this scanner, I was pleasantly surprised to see that it came with all the cables I need. No need to go out and buy extra cables.
I even took a picture of the attached cables to show you guys how cool it is. Check it out!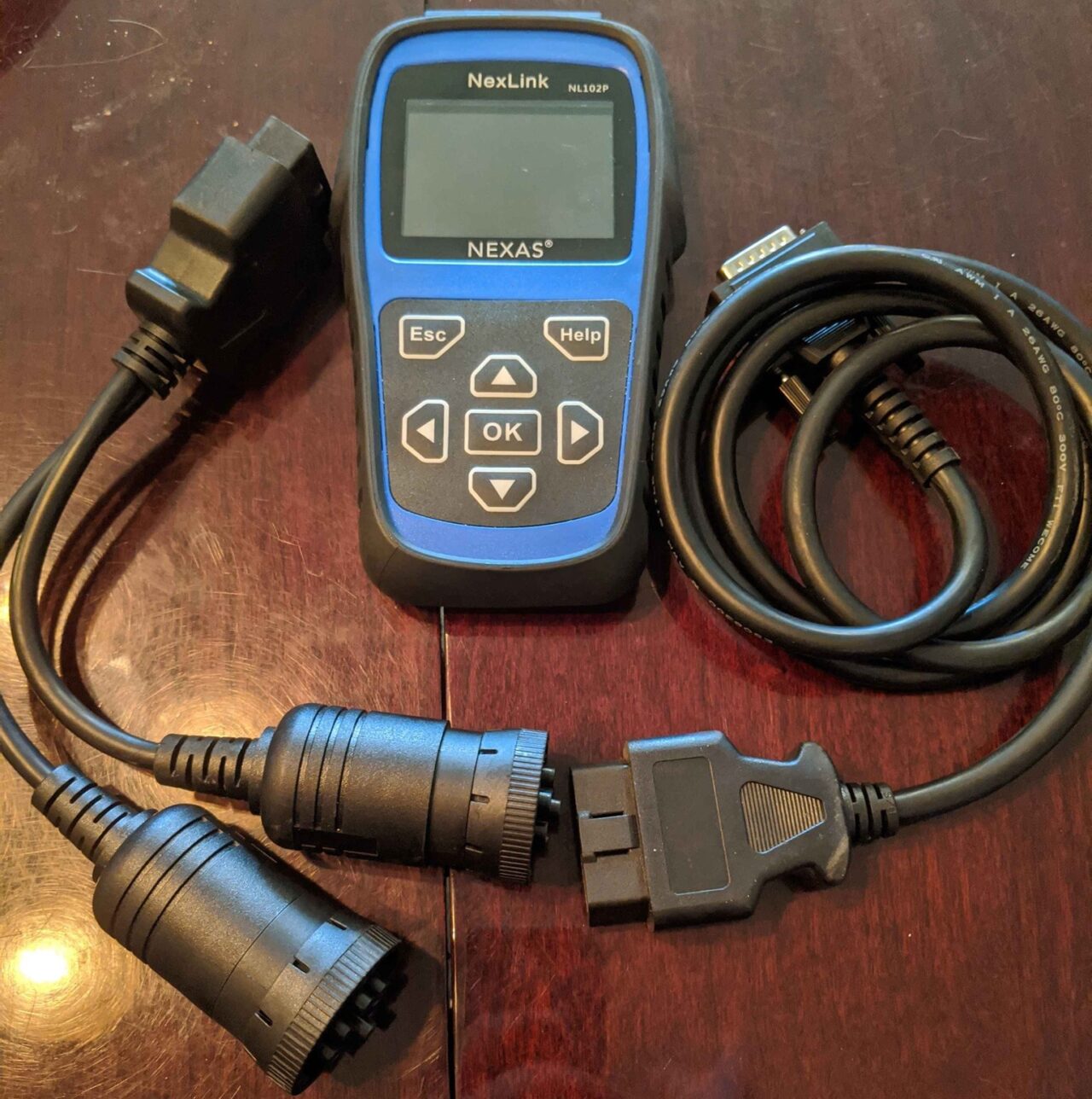 The highlight of the Nexas NL102 Plus is its DPF regen function. 
I know some of you have read some angry reviews out there claiming that this function doesn't work. Well, let me tell you, it does work, you just gotta be patient with it a little bit. 
First, you have to release the clutch,
put the parking brake in and out,
then manually flip the high and low switch up and down.
Once you do it, DPF regen will work just fine!
One thing to keep in mind is that the scanner may say "not compatible" at first. Don't panic, this happened to me too. You just gotta let the scanner tool catch up with your truck ECM. You know what I mean?
Now, let's talk about code reading function. 
Nexus NL102P does a good job of pulling trouble codes from all systems. And get this, a lot of truck mechanics charge you at least 60 bucks, and sometimes even 120 bucks, just to read codes!
Honestly, going to the mechanics twice is enough money to buy this scanner. So it's totally worth the try.
Overall, if you're willing to put in a little extra work in performing DPF regen, the Nexas NL102 Plus is a solid option, especially for its price point.
Today's best Nexas NL102 Plus price:
#2. Ancel HD3400: Best Cummins diagnostic tool
Ancel HD3400 is a reliable choice when working with a wide range of diesel trucks, especially Cummins trucks.
It's compatible with various heavy-duty truck models as long as they are equipped with Cummins, Detroit, Paccar, and Caterpillar engines.
What sets the Ancel HD3400 apart is its dedicated menus, private protocols for these four engine brands, and powerful DPF functions tailored specifically for models under these engine categories.
I had a 2012 Cascadia and a 2016 Peterbilt with Cummins ISX15 that had DPF/regen issues. This scanner helped me force regen and also pull out all trouble codes from these semi trucks as well. 
I have to say that the Ancel 3400 is the best Cummins diagnostic tool I've ever used.
Though it may not boast advanced features like active tests or ECU coding, the Ancel HD3400 delivers all the necessary functionalities to address common truck problems: 
scan all systems, clear trouble codes, 
view graph live data with a fast refresh rate, 
and even perform a forced DPF regen.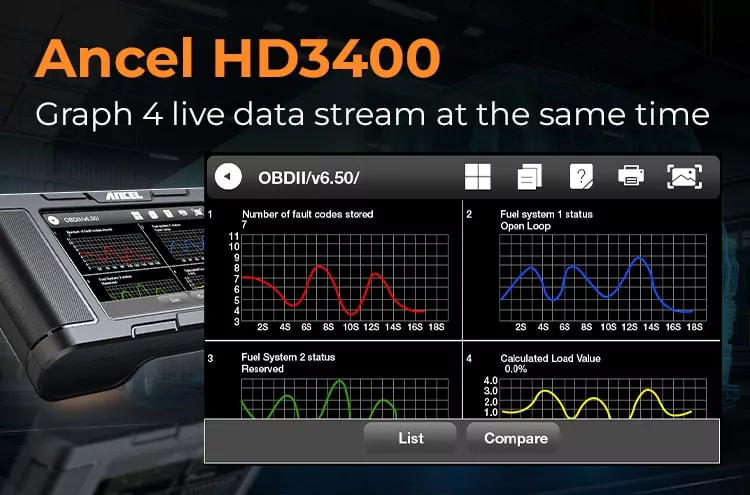 For those new to truck repairs, the Expert Function on the Ancel HD3400 is a game-changer. 
It provides valuable information about your truck, including connector details and wiring diagrams. This knowledge will greatly assist you in completing your repairs with ease.
In conclusion, Ancel HD3400 is an outstanding tool every diesel truck owner should have.  It's reliable and efficient, providing the essential functionalities you need.
Today's best Ancel HD3400 price:
---
Best Diesel Truck Diagnostic Scanners
| | Ancel HD3500 | iCarsoft HD V3.0 |
| --- | --- | --- |
| | | |
| | Under $500 | Under $100 |
| FUNCTIONS | | |
| Full-system diagnosis | ✅ | ✅ |
| Active tests | ✅ | – |
| Reset functions | 15+ | – |
| Oil Reset | ✅ | – |
| DPF Regen | ✅ | – |
| ABS Bleeding | ✅ | – |
| ECU Coding | – | – |
| 1-touch update | ✅ | – |
| VEHICLE COVERAGE | | |
| Semi trucks | – | ✅ |
| Pickup trucks | ✅ | ✅ |
| Heavy equipment | – | – |
| | Check Price | Check Price |
| | | |
#1. iCarsoft HD V3.0: Best code reader for diesel trucks
iCarsoft HD V3.0 is a highly capable scanner that works with all heavy-duty trucks with standard protocols such as J1587, J1939, and J1708.
Using this scanner is incredibly simple. Just plug it in, read the trouble codes, address the issue, and clear the codes. After that, no check engine lights or active codes will remain on your truck's dashboard.
The screen size is large enough to ensure clear readability of codes and live data.
The live data feature is particularly impressive, providing detailed information on total miles/hours and fuel usage. The ability to view live data as colorful graphs, along with the speedy refresh rate, enhances its functionality.
The only drawback worth mentioning is the technical support from iCarsoft. When reaching out for assistance, the customer service may be conducted by a Chinese representative, which can be a bit challenging to understand.
Despite this minor drawback, the iCarsoft HD scanner is undeniably worthwhile.
I'm delighted to give this scanner a full 5-star rating for its impressive capabilities at a surprisingly affordable price (under $100).
Today's best iCarsoft HD price:
Read more: Nexas NL102P: Does This Scanner Work Like a Charm?
#2. Ancel HD3500: Best scan tool for diesel pickups
If you own a pickup truck, the Ancel HD3500 is a worthy investment.
Typically, dealerships charge a considerable fee just to connect your vehicle to their scanner for diagnostics (often exceeding $100). With the HD3500, using it merely 3 or 4 times for diagnostics can practically pay for itself, saving you valuable money in the long run.
When connected to your truck, this scanner provides a comprehensive overview of all issues requiring attention, such as:
number of trouble codes in each system,
and suggested actions to pinpoint the root of the problem.
Having this valuable information before heading to the mechanic's shop is incredibly beneficial.
Beyond full-system diagnostics, the Ancel HD3500 offers actuation tests that significantly contribute to pinpointing the truck's problems more accurately.
With this feature, you can delve deep into each truck component, turning them on and off to determine their normal functionality.
One of the scanner's most appealing features is its FREE lifetime updates, ensuring it stays up-to-date with continuous vehicle software/firmware updates. This feature is rare to find in a bi-directional scanner.
Ancel HD3500 also boasts a wide range of service functions, such as ABS Bleeding, DPF Regen, Oil Reset, Throttle Reset, and more, adding to its versatility and value.
However, Ancel HD3500 doesn't come with a protective case. 
While the lack of a protective case may be a minor drawback, you can easily purchase an extra one at the Ancel Store for added protection.
In summary, the Ancel HD3500 is truly a powerful tool, equipped with diagnostics, service resets, and bidirectional communication for active testing of various vehicle systems. 
Considering its price tag, it is an exceptional investment that outperforms many truck scanners available in the market.
Today's best Ancel HD3500 price:
---
7 Best Heavy-duty Truck Scanners: Full Comparison Chart
Note for mobile users: Swipe left for full table.
| | Ancel X7HD | Autel MS908CV | Ancel HD3500 | Ancel HD3400 | Ancel HD3600 | Nexas NL102P | iCarsoft HD V3.0 |
| --- | --- | --- | --- | --- | --- | --- | --- |
| | | | | | | | |
| | Under $1,000 | Under $3,000 | Under $500 | Under $500 | Under $500 | Under $200 | Under $100 |
| DIAGNOSTICS | | | | | | | |
| Full-system diagnosis | ✅ | ✅ | ✅ | ✅ | ✅ | ✅ | ✅ |
| Active tests | ✅ | ✅ | ✅ | – | – | – | – |
| OTHER FUNCTIONS | | | | | | | |
| Reset functions | 15 | 45 | 15+ | 1 | 1 | 2 | – |
| Oil Reset | ✅ | ✅ | ✅ | – | – | ✅ | – |
| DPF Regen | ✅ | ✅ | ✅ | ✅ | ✅ | ✅ | – |
| ABS Bleeding | ✅ | ✅ | ✅ | – | – | – | – |
| ECU Coding | ✅ | ✅ | – | – | – | – | – |
| 1-touch update | ✅ | ✅ | ✅ | ✅ | ✅ | – | – |
| VEHICLE COVERAGE | | | | | | | |
| Semi trucks | ✅ | ✅ | – | ✅ | – | ✅ | ✅ |
| Pickup trucks | ✅ | ✅ | ✅ | ✅ | – | ✅ | ✅ |
| Heavy equipment | ✅ | – | – | – | ✅ | – | – |
| DESIGN & HARDWARE | | | | | | | |
| Connection type | Bluetooth | Bluetooth | Wired | Wired | Wired | Wired | Wired |
| Screen size | 10.1″ | 9.7″ | 5.0″ | 5.0″ | 5.0″ | 2.8″ | 2.8″ |
| Battery capacity | 6000mAh | 11000mAh | – | – | – | – | – |
| Processor | ARM 32-bit Cortex | Samsung Exynos 1.4GHz | Quad-Core ARM Cortex-A7 | Quad-Core ARM Cortex-A7 | Quad-Core ARM Cortex-A7 | – | – |
| Storage | 2G – 32G | 2G – 32G | 1G – 8G | 1G – 8G | 1G – 8G | – | – |
| Android OS | 8.1 | 4.0 | N/A | N/A | N/A | – | – |
| Touch screen | ✅ | ✅ | ✅ | ✅ | ✅ | – | – |
| AFTER-SALES SERVICE | | | | | | | |
| Free update | 2 years | 1 year | Lifetime | Lifetime | Lifetime | Lifetime | Lifetime |
| Waranty | 1 year | 1 year | 1 year | 1 year | 1 year | 5 years | 5 years |
| Update fee | $199/year | $1,295 /year | $0 | $0 | $0 | $0 | $0 |
| | Check Price | Check Price | Check Price | Check Price | Check Price | Check Price | Check Price |
| | | | | | | | |
*Reset functions, Active tests: Vary by vehicle models.
---
Final Thought
I hope you've enjoyed reading this far and found the perfect truck scanner that fits your needs and budget. 
But don't go just yet! I want to hear from you! 
Do you think my grouping of products is helpful? 
Are there any other product groups you'd like to see me cover? 
Let me know in the comments below so I can keep improving and giving you what you need.
And if you want to support me, be sure to use the link provided in this post when you make your purchase.
Remember, I don't get any commissions from brands, so your support is what keeps this website up and running.
Thanks for reading and happy trucking!
---
FAQs
1. Do you need a different OBD2 scanner for diesel?
To determine the type of OBD scanner required for a diesel vehicle, the crucial factor is the OBD port itself.
Standard 16-PIN port: If your diesel truck is equipped with this port, you can use a regular OBD2 scanner, similar to the ones used for cars.
6-PIN or 9-PIN port:if your truck's port is a 6-PIN or 9-PIN configuration, you will need a heavy-duty truck scanner with compatible connectors (9-PIN and 6-PIN connectors).
Make sure to identify the type of OBD port in your diesel truck to select the appropriate scanner.
Note: This article reviews scanners designed specifically for 6-PIN and 9-PIN trucks. You can consider purchasing one of these scanners if they meet your requirements.
2. What is the best heavy duty truck scanner?
Choosing the best heavy-duty truck scanner depends on your specific requirements and budget. However, if you would like a quick recommendation, here are two top options to consider:
Ancel X7HD: This scanner is highly regarded as the best choice for diesel trucks and heavy equipment. It includes features such as active testing, DPF regeneration, and more. This makes it an excellent choice for comprehensive diagnostics.
Nexas NL102: While it may not have as many advanced functions as the Ancel X7HD, it is still highly capable. It can handle tasks such as scanning full systems and preparing for smog checks, providing significant cost savings by eliminating the need for expensive truck diagnostic fees.
3. Which is the best diagnostic tool for heavy equipment?
Ancel X7HD is an excellent diagnostic tool for heavy equipment. Priced under $700 (when purchased on Ancel.com), it offers unbeatable value.
Firstly, take a look at the image below to see its wide vehicle and equipment coverage:
The Ancel X7HD isn't just affordable, it's also packed with power. This scanner will provide you with tons of advanced functions, including active tests, ECU coding, and over 15 service functions (including DPF regeneration). 
With the Ancel X7HD, you'll have everything you need to tackle any diagnostic challenge with ease.
4. Which is the best Cummins diagnostic tool?
Ancel HD3400 is my answer. This device can work perfectly with most Cummins heavy duty trucks. 
Plus, it has the added advantage of being able to perform forced DPF regeneration. 
With this Ancel HD3400, you'll have all the features you need to keep your Cummins truck running smooth.
---