As automotive technology advances, vehicles are becoming more complex.
Troubleshooting even the most basic automotive problems are increasingly becoming complicated.
Luckily, Autel MaxiSYS MS908CV heavy-duty scan tool is an incredibly powerful scanning tool designed to match the complex drivetrains that have been introduced to vehicles.
If you're looking for an in-depth review of the Autel MaxiSys MS908CV, this is the right place.
The heavy-duty scan tool performs enhanced diagnosis on more commercial vehicles than most diagnostic tools.
More than 80 commercial vehicles, including heavy-duty, medium-duty, and light-duty, can be scanned using this great scan tool.
Let's see how it compares to two other scan tools.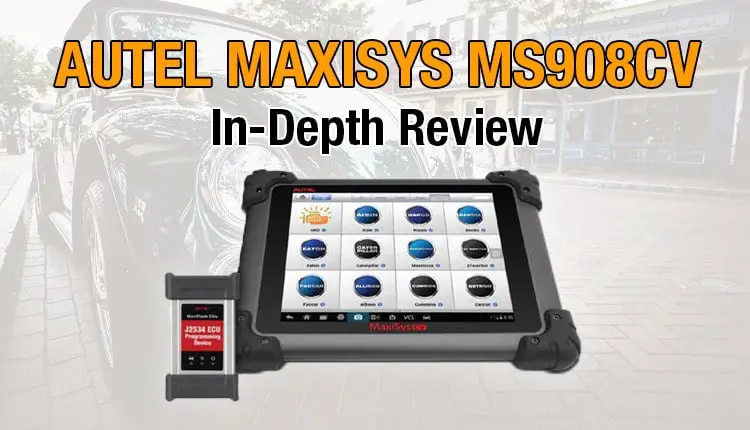 Detailed review of Autel MaxiSYS MS908CV
Compatibility
The Maxisys CV heavy duty scan tool is built and run on MaxiSYS Android-based platform.
The first thing you will notice is a state-of-the-art Autel 7″ tablet that runs on the Android system. It is also delivered with a sturdy adapter, build-a-cable kit, OBDII to 6-Pin, OBDII to 9-Pin, and OBDII cables.
Equally, it has web browsing capabilities, Adobe reader, and TeamViewer installed.
Included also is the latest J2534 MaxiFlash Elite that can perform a comprehensive pass-through programming function.
Additionally, this vehicle programming tool performs complete tool-guided maintenance functions and services and diagnoses specific manufacturers' systems.
Some specific system diagnosed by MS908CV include:
Eaton
Detroit Diesel Engines
Wabash ABS trailer brakes
Bendix ABS brake system
Allison Transmissions.
Display
The Maxisys CV heavy duty scan tool will treat you to an incredible user experience.
It has a 9.7″ backlit glossy Multi Touch high capacitive display equipped with IPS technology.
Whenever you need to record images, its powerful 5-megapixel rear camera equipped with autofocusing capabilities and flashlight will help you get crystal clear shots.
Even better, you will access live data in the form of text, digital and analog gauge, and graphs for both data analysis as well as review.
The table is also equipped with different configure options, record and playbacks, and set triggers with one touch. As a result, you will be able to playback the recorded data for enhanced ability to pinpoint the possible troubles in your trucks accurately.
Software
The strength of Autel MaxiSYS MS908 CV heavy-duty scan tool lies squarely in its powerful software system.
We all know how the Android operating system has practically ushered us into a new and exciting age of technology.
And Autel Maxisys CV truck Scan Tool has leveraged on the Open source Android Operating System to introduce heavy truck scanning in just one touch.
The scanning device takes truck diagnostics to the next level with auto scan and auto VIN based systems.
What does this mean to an average truck owner or a mechanic? It means that you are able to scan and detect your vehicle in a breeze.
Moreover, its advanced ECU coding and programming enhanced by MaxiFlash Elite are capable of performing J2534 pass-thru comprehensive programming.
Subsequently, the availability of a reliable Bluetooth VCI communication between the MaxiSys CV tablet and your truck incredibly enhances user experience.
Features and functionality
When it comes to any diagnostic tool's functionality, it is where the rubber meets the road.
And do you want to know the honest opinion of the Autel MaxiSYS MS908CV heavy-duty scan tool?
Well, MS 908 CV excels beyond expectations.
Here are the features and functionality that set this diagnostic tool apart.
1. DOC/DPF instant replacement reset
This truck scan tool demonstrates a high level of accuracy in establishing and resetting DOC/DPF. As a result, you can confidently read and clear DOC/DPF data using MS 908 CV.
MS908CV doesn't stop to amaze as it allows you to perform DPF regeneration, configuration, as well as maintenance monitoring.
2. Fuel pressure adaptation accurate reset
If there is any problem with your fuel system, then this scan tool device will help you diagnose and reset it.
On the other hand, you can be able to reset injector CEOM and do O2 sensor calibration on your vehicle.
It further allows you to make injection quantity adjustments, De-Aeration of DSI system, MAF sensor calibration, and parameter setting.
3. After treatment maintenance
You will be amazed by the number of after-treatment services Autel MaxiSYS MS 908 CV heavy-duty scan tool provides.
The services include filtration installation, matter sensor regeneration, SCR system health check, and cold soak override.
You can accurately undertake other functions with MS 908 CV heavy-duty scan tool, including calibration of rack sensor and calibration of injector trim.
4. Wireless VCI
If you are looking for a device that can connect wirelessly to your car, then MS 908 CV heavy-duty scan tool will exactly do that.
In fact, you can be able to take a reading and clear codes in up to a 230-meter working range.
5. Record and playback data
It is equipped with the ability to record and playback data. It implies that you can access the data even when you are not near your truck.
These features and functionality make Autel MaxiSYS MS 908 CV heavy-duty scan tool stand out from the crowded market.
Pros
It has a glossy LED-backlit multi-Touch display.
It provides wireless connectivity up to a range of 230 meters off your vehicle.
It has comprehensive coverage of more than 80 US, European, and Asian makes.
It can provide live data, codes, adaptation, and actuation tests.
It configures records, sets triggers, displays options, and playbacks capabilities.
It has highly effective remote technical support to enhance customer satisfaction.
It covers both heavy-duty, medium-duty, and light-duty vehicles.
Cons
It is considerably pricey as compared to other models.
It takes longer to set up.
Autel MS908CV vs. MS906CV vs. MS906S comparison chart

Autel MS908CV


Autel MS906CV


Autel MS906S

Customer Rating

Price
OBD2 Functions
10/10
10/10
10/10*
System Diagnostics
10/10
10/10
10/10
Advanced Service Functions
25
25
31+
Bi-directional Controls
✔
--
✔
Coding/Programming
Advanced ECU Programming and Coding
Simple programming
Advanced ECU Programming and Coding
RAM
2GB
2GB
2GB
Storage
32GB
32GB
64GB
Battery Capacity
11,000mAh
5,000mAH
10,000mAh
Specialties
Has 23 adaption service functions for personal vehicles.
A heavy-duty scanner available worldwide.
Has all advanced service functions.
Supported Protocols
SAE J1939.
SAE J1708.
Manufacturer customized J1939.
Manufacturer customized J1708.
KWP.
VPW.
UDS-CAN.
CDL.
ISO 9142-2.
ISO 14230-2.
ISO 15765-4.K-Line.
L-Line.
Flashing Code.
SAE-J1850 VPW.
SAE-J1850 PWM.
CAN ISO 11898.
Highspeed, Middlespeed, Low-speed and Singlewire CAN.
GM UART.
UART Echo Byte Protocol.
Honda Diag-H Protocol.
TP 2.0.
TP 1.6.
SAE J.
SAE J1939.
SAE J1708.
KWP.
VPW.
UDS-CAN.
CDL.
Vehicle Coverage
Supports virtually all commercial vehicles and machines from North America, Europe, and Asia. A few examples include Toyota, Freightliner, Volvo, Dodge, Kenworth, Hyundai USA, Isuzu, Nissan, Renault, Mercedes-Benz, MAN, Peugeot, and DAF, among many others.
It has a solid commercial vehicle coverage for light, medium, and heavy-duty units across Class 1 to Class 9.
With a vehicle coverage of 99%, it supports over 10000+ American, Asian, and European vehicle models.
Recommendation
Are you a heavy-duty truck mechanic or a professional DIY owner of a commercial vehicle?
If yes, then this incredible Autel MaxiSYS MS 908 CV heavy-duty scan tool is built for you.
It is a comprehensive diagnostic tool that can pinpoint problems in more than 80 commercial vehicles built in the US, Europe, and Asia.
Check Price at Amazon
The bottom line
Do you want a detailed diagnostic report of your car? Or you simply want a tool-guided maintenance service for your vehicle?
Whatever you need, Autel MaxiSYS MS 908 CV heavy-duty scan tool will provide a fast and detailed car diagnosis.
And the best part is that if you are a mechanic or professional car technician, you will be spoiled for choice as you can diagnose more than 80 vehicles with Autel MaxiSYS MS 908 CV heavy-duty scan tool.
Read more: JPRO Professional Heavy Duty Truck Scan Tool Review