OBD2 was first introduced in the USA in 1996 to help car owners diagnose problems as conveniently as possible. DashCommand makes the diagnosis process much easier with the use of Bluetooth and WiFi technology.
All you need is an ELM327 adapter and any compatible smartphone or tablet to use the DashCommand app. We tested the iOS version of the app and are quite impressed with the results.
In case you are an Android user, you can also try out DashCommand for Android or even the Windows version if you want to use your laptop.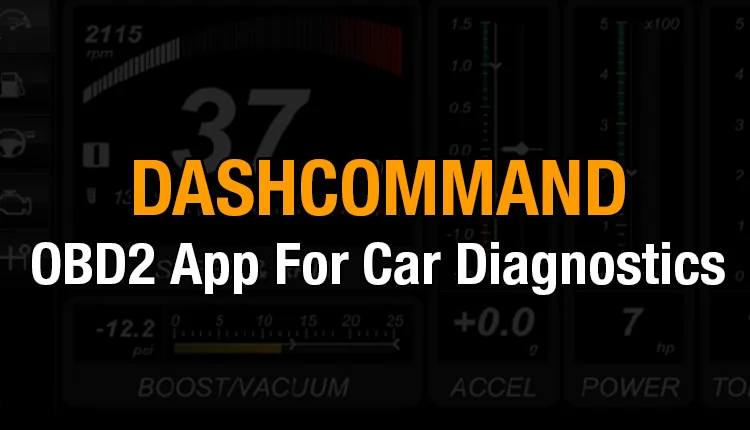 Setup and usage
When we first fired up the DashCommand app for car diagnostics, it let us connect to the OBD2 adapter in a matter of seconds. We were able to get a full diagnostic scan in less than a minute, which is quite impressive.
However, the results may vary depending on your hardware. We recommend opting for a WiFi-based ELM327 device for the best results, as Bluetooth connectivity can be clunky.
Setting up the app is a breeze, and all you need to do is enter details about your car like year, model, engine type, and make.
The app does the rest of the job for you and retrieves your VIN.
Once it displays your VIN, tap the confirmation button if everything looks accurate, and you can start using the app. The first time you sync the app to your car can take some time.
Features
Customizable display
You will be able to display a custom HUD on your phone or tablet using DashCommand and monitor error codes on your system.
Many customization features and custom metrics are locked behind the paid version of the app, so you may want to consider upgrading to get the most out of DashCommand.
Error code monitoring
DashCommand can monitor all generic and manufacturer error codes seen in cars.
You can use the error codes to identify which components are faulty and need fixing or replacement.
Performance metrics
You can get in-depth performance metrics of your cars using a virtual dashboard.
The app is capable of displaying torque, acceleration, and performance. You can also measure fuel flow and efficiency to ensure your vehicle is operating normally.
The visual graphs make all of the data much easier to read, making DashCommand the perfect app for beginners and enthusiasts alike.
Verdict
While DashCommand is designed to be user-friendly, it also caters to people like me who like getting into the technical details.
You can view raw OBD2 data in real time instead of relying on the gauges. You also have a Skid Pad feature for measuring the number of Gs your vehicle can pull.
The only downside that we can think of when it comes to using DashCommand is the racetrack feature.
There is not much on offer here, and the developers could have added a lot more to the app for racing enthusiasts.
However, racing features are not meant for everyone, and the standard suite of features is more than enough for the average user. Overall, we are quite impressed with how DashCommand functions.
Pros
Fuel efficiency monitoring
Racing features
Car incline monitoring
Customizable dashboard
It is compatible with all OBD2 vehicles
Cons
The sync process is time-consuming
It does not work with non-OBD vehicles
Who should have DashCommand?
DashCommand is the perfect app for auto-enthusiasts and DIY mechanics alike. We like monitoring things like fuel efficiency and coolant temperature to ensure our vehicles are working as intended.
If you are a car owner who wants a more hands-on approach to diagnosing problems, you should definitely try out the app.
DashCommand is also ideal for mechanics who want to identify issues instead of using a trial-and-error method quickly.
Download the DashCommand OBD2 app:
Compatible OBD2 adapters
Veepeak OBDCheck BLE+
Veepeak OBDCheck BLE+
Veepeak's OBDCheck BLE+ scanner turns your phone or tablet into a high-end diagnostics tool.
Veepeak is an iOS and Android compatible app that lets you transform your smartphone or tablet into a real-time diagnostics tool.
You can use DashCommand and a suite of other downloadable apps from the App Store and Play Store.
Being able to address engine trouble codes yourself is genuinely satisfying, and you will also be able to perform smog tests, get real-time sensor readings, and more.
Veepeak OBDCheck BLE OBD2 bluetooth scanner
Veepeak OBDCheck BLE OBD2 Bluetooth Scanner
The Bluetooth connectivity means that you do not have to rely on confusing settings or wiring to connect to your car, and everything is truly wireless.
This Bluetooth adapter by VeePeak is one of the best suited for DashCommand users for a variety of reasons.
Firstly, it works with not only OBD2 but also EOBD cars and trucks. It is challenging to find scanners that support light trucks, and Veepeak comes to the rescue with their OBDCheck device.
Bluetooth connectivity means that you do not have to rely on confusing settings or wiring to connect to your car, and everything is truly wireless.
ScanTool OBDLink LX Bluetooth
ScanTool OBDLink LX Bluetooth
If you are looking for maximum vehicle coverage for cars, ScanTool's OBDLink device is one of the best out there.
If you are looking for maximum vehicle coverage for cars, ScanTool's OBDLink device is one of the best out there.
With a 90-day money-back guarantee and a 3-year repair and replacement manufacturer warranty, the scanner can be your car's companion for years.
It comes with its own Android and Windows apps, but you can also use third-party apps like DashCommand and Torque Pro for better features.
[table "631" not found /]
FAQs
Is DashCommand ELM compatible?
Yes.
Can I use the free version of Dashcommand for diagnostics?
Yes, but the free version of the app is for evaluation only. You need to unlock the premium version for full functionality.
Can DashCommand monitor fuel economy?
DashCommand can monitor multiple economy stats, including average fuel economy, fuel remaining in the tank, distance to empty, and more.
Can DashCommand store data on past trips?
DashCommand can store data for up to five past trips.
Does DashCommand offer emission testing features?
Yes, you can monitor IM readiness using DashCommand.
Read more: Honest Review of The Best OBD2 Apps (IOS, Android) 2023.