Ancel VD700 is one of the most worth-trying scanners for VW/Audi under $150. 
Being the upgraded version of Ancel VD500, VD700 is designed with more enhanced features. 
And Ancel VD700 is suitable for newbies and DIYers who need to perform some complex tasks. 
But to know if it really matches your needs, keep reading my review to know the answer.
Quick Review
Ancel VD700
Price: $138.99 $148.99 -7%
Scanner type: Full-system scan tool
Made for: Newbies, Home mechanics
Vehicle covered: OBD2 cars/light trucks
Connection type: Corded
Buy this product if you want to:
Perform full-system diagnostics

Prepare for smog check

Perform advanced service functions
Pros
Read codes from all systems for VAG cars

Perform 10 advanced service functions

Lifetime free update

Stronger hardware than VD500

Cons
Unclear user manual

Not full OBD2 functions
Vehicle Coverage
Ancel VD700 can work well on OBD2-compliant VAG vehicles like Audi, Volkswagen, Skoda, and Seat. 
Besides, you can use it with other non-Volkswagen vehicles manufactured in 1996 or later that are OBDII-compliant. But the scanner can only read and clear codes on these cars.
For more information, you can contact Ancel via [email protected] to confirm before buying.
What Makes Me Like Ancel VD700?
Ancel VD700 is an upgraded version of VD500. 
The VD700, in addition to hardware upgrades, can perform more advanced reset functions than the VD500. 
Meanwhile, its OBD2 function also has 6 modes for OBDII vehicles (VD500 has only 3 modes).
Scroll down to find out 4 reasons why Ancel VD700 is worth your buck.
1. Scan all car systems and erase all trouble codes.
This tool is capable of reading various trouble codes, not just from the engine. It can access codes from the ABS, ESP, and SRS as well. 
Apart from reading codes, it also defines what it means, saving you time from looking them up.
Furthermore, I appreciate its accuracy when testing Ancel VD700 on some VW/Audi cars. 
In most cases, this scanner showed the exact same codes on my high-end scan tool.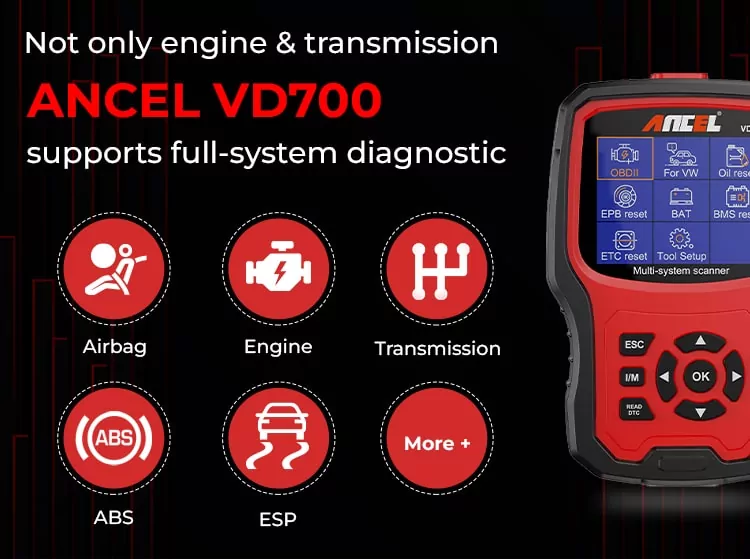 Last week, my client's 2015 VW Golf GTI got a C108313 code: "Left stationary AFS – Open circuit. 
After checking the left corner light, it turned out its bulb was dead. 
The problem was sold with a new bulb.
Besides, I fixed the P0172 and P0136 codes on a 2014 Audi A4 four days ago. 
Then use the "Live Data" function to identify the faulty part. 
I found the cause of P0172 was the dirty MAF sensor, which needed cleaning. 
About the P0136, the O2 sensor connector was shorted, and replacing it is the only solution.
Overall, Ancel VD700 identified exactly most of the trouble codes on many VW/Audi cars I've tested.
2. Perform service functions on most VW/Audi cars. No need for expensive Ross-tech.
Ancel VD700 provides more service functions than VD500. Not only can you reset the oil light and EPB light or adapt TPS, but you can also:
Reset TPMS
Calibrate SAS
Relearn injectors
Regenerate DPF
Register a new battery
If you want regular maintenance on your TDI, this scanner will help you a lot. 
It can reset the "service due" and "oil interval".
If you change your fuel filter, VD700 will also allow you to prime your fuel filter/ fuel system. 
There's no need for expensive Ross-tech.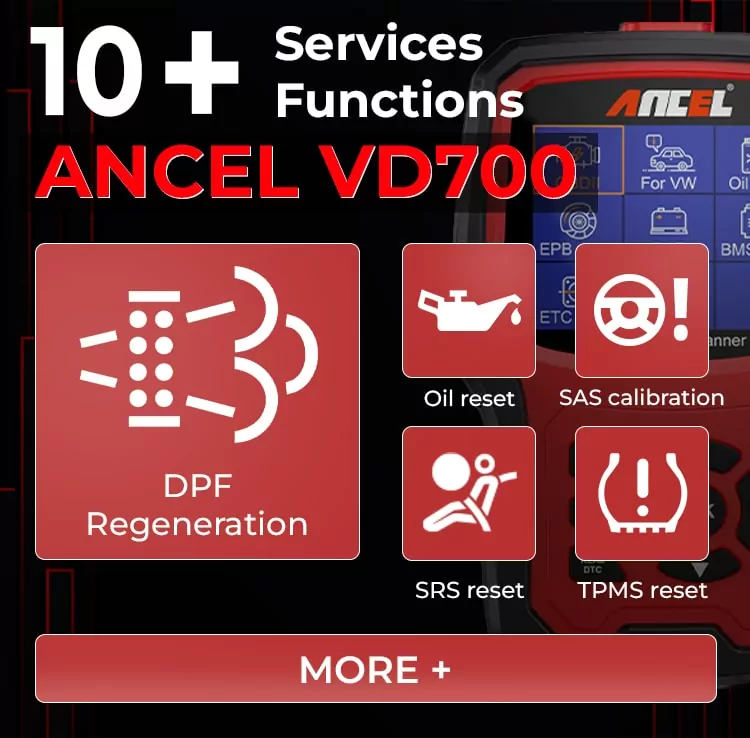 With Ancel VD700, I tested its service function's compatibility on some vehicles.
My customer's 2018 Audi A4 had the inspection light come on. 
There isn't a way to reset it without taking the car to the Audi dealership. 
Thus, I selected "Reset inspection" on VD700 and chose the maintenance interval I wanted. 
It took about 10 seconds, and then you're all done. 
I recommend you watch the video on YouTube first to know exactly what choices to select. 
This video is a tutorial on using VD500, but VD700 is the same.
Besides, Ancel VD700 can perform service functions on older to newer vehicles. 
I replaced a brake caliper and bled the ABS on a 2005 VW Passat months ago. 
And recently, I've retracted brake pads on newer VWs like a 2019 VW Golf AllTrack. 
This will eliminate your worry and save you thousands of dollars by not going to the dealer. 
3. Work more efficiently thanks to the user-friendly interface.
Ancel VD700 features "Battery Test" function, which can help you diagnose your battery life. 
Regarding reading error codes, both have similar capabilities, but the interface of the VD700 is vital to me. 
Its interface is a significant improvement over the VD500. 
The all-system test runs itself versus the older version, where one has to select each test individually.
4. Easily update your Ancel VD700 via PC/laptop.
Ancel always actively works hard to update its software. 
It's super easy to update and doesn't require any special registration. 
Go to the Ancel website.
Select your model, 
And download the update. 
Then you have to plug in the device to your Laptop or PC with a cable to do the upgrade. 
What I Dislike?
1. You cannot perform O2 sensor tests or read freeze frame data.
Similar to Ancel VD500, VD700 is not a full OBD2 scanner. 
But it has added extra 3 functions other than VD500. 
You will get more options to shorten your diagnosis process, like:
I/M readiness: check if your car is ready for a smog check or not.
Live data: assist you while diagnosing your car problem.
EVAP test: check your car's EVAP system.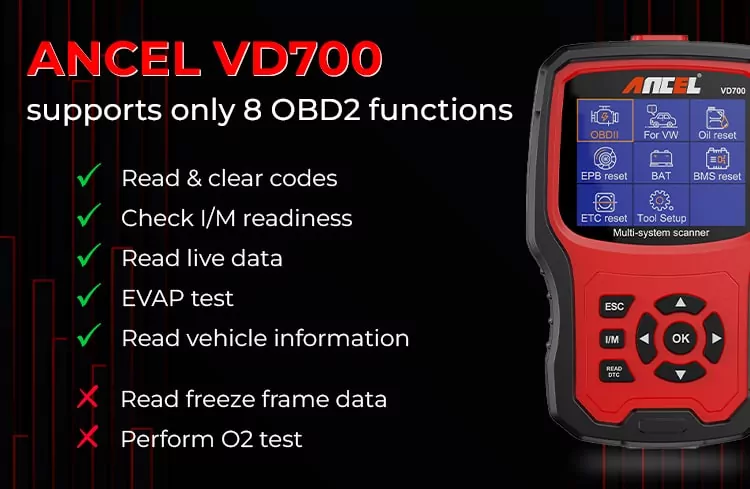 2. The user manual is poorly written and lacks detailed instructions.
Because VD700 and VD500 have the same manufacturer, their manual is as unclear as each other.
The manual is poorly written, probably by someone whose primary language is not English. 
It does not explain to the newbie the purpose of some functions and features on the device. 
For a mechanic like me, it will not take much time to learn these unfamiliar features. 
But for beginners, you will find it hard without finding a guide on Youtube.
Since this is a VAG scanner, it would be better for Ancel to include clearer and more complete instructions for VAG vehicles. 
It's way too much guessing and trial to get it to work correctly. 
Although I said VD700's interface is improved compared to VD500, it has a minor drawback.
Let me explain.
Accessing a control module and populating groups/channels will not give you a description of the live data being given. 
This makes it difficult to know which readings are which. 
An example is when you are looking to find the transmission fluid temp. 
It will give you the expected 3 temperature readings in the channel (fluid, mech unit, clutch), but won't tell you which ones they are.
Price and Update Fee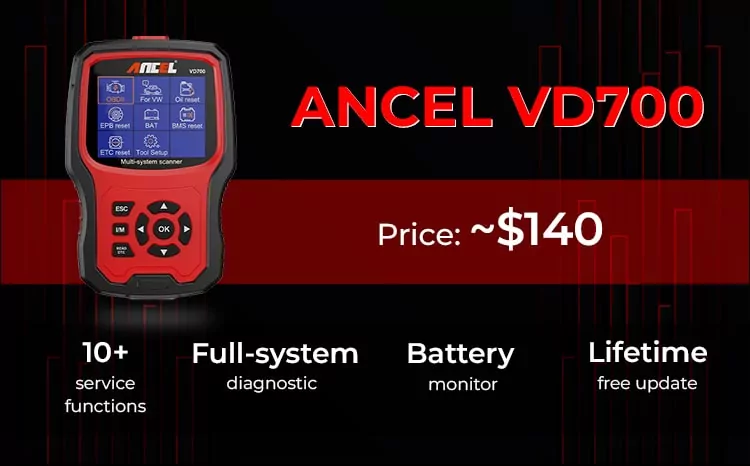 For many benefits Ancel VD700 brings to me, I believe this scanner is worth $139. Besides saving you money on clearing codes or resetting the oil light, you no longer waste your precious time at the repair shop.
And similar to its brother, Ancel VD500, VD700 comes with free lifetime update. You won't need to pay any fee to keep your scanner up-to-date.
Key Takeaway
Ancel VD700 is your best bet if you:
don't want to spend money on a VCDS.
prefer a simple but convenient scanner.
Although Ancel VD700 can't dig into the programming to change DRLs, it provides most of the diagnostic power like a VCDS.
It also allows you to reset/recalibrate the major stuff.
A great tool to have for VW/Audi enthusiasts.
Check Ancel VD700's latest price:
Ancel VD700's Alternative: Autophix 7610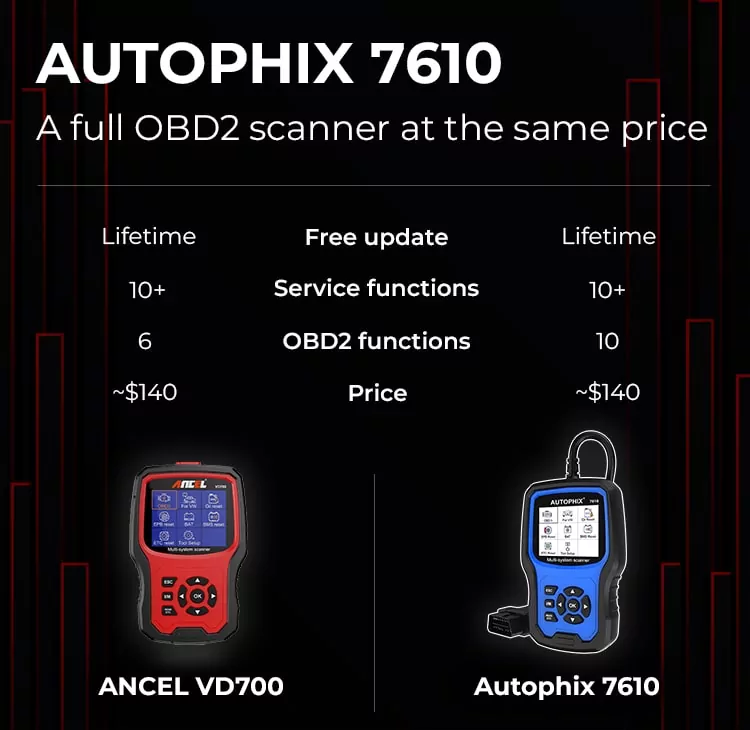 In the price range under $150, Autophix 7610 is Ancel VD700's biggest competitor.
Generally speaking, these two scanners have almost the same functions. So, you can consider buying one of them by comparing their aftersale service. 
For me, Ancel always supports and answers any questions I have about the scanner. About Autophix, I rarely contact them, so there's nothing I can claim about their's service.
Check AAutophix 7610's latest price:
What's Next?
Are Ancel VD700's functions worth the investment? Or do you decide 
If you scroll down to this end, I believe you have the final decision.
But if not, don't hesitate to ask me any questions in the comment section below.