In this in-depth comparison, we're putting Ancel X7 and Autel MK808 to the test across three key aspects:
Performance
Design & hardware 
And After-sales service
So, if you're curious about what sets these two apart, keep reading. 
By the time we're done, you'll have all the details you need to make a choice that suits you perfectly. Let's get started!
Ancel X7 vs. Autel MK808: Full Comparison Chart
| | Ancel X7 | Autel MK808 |
| --- | --- | --- |
| DIAGNOSTICS | | |
| Full-system diagnostic | ✅ | ✅ |
| Live data | ✅ | ✅ |
| Active tests | ✅ | ✅ |
| SERVICE FUNCTIONS | | |
| Number of functions | 10 | 28+ |
| Oil Reset | ✅ | ✅ |
| ABS Bleeding | ✅ | ✅ |
| Throttle Relearn | ✅ | ✅ |
| Key Programming | ✅ | ✅ |
| Transmission relearn | ✅ | ✅ |
| Crankshaft relearn | – | – |
| OTHER FUNCTIONS | | |
| AutoVIN | ✅ | ✅ |
| ECU coding | VW, Audi | – |
| VEHICLE COVERAGE | | |
| OBD2 car/light truck | ✅ | ✅ |
| DESIGN & HARDWARE | | |
| Screen size | 10.1″ | 7" |
| Processor | Cortex quad-core | Cortex quad-core |
| Android OS | Android 10.1 | Android 11 |
| Storage | 2G+16G | 4G+64G |
| Battery | 6000mAh | 5000mAh |
| Wireless connection | ✅ | – |
| AFTER-SALES SERVICE | | |
| Free updates | 2 years | 1 year |
| Yearly update fee | $99 | $125 |
| Warranty | 1 year | 1 year |
| Customer support | 8.5/10 | 8.5/10 |
| | Check Price | Check price |
| | | |
---
Ancel X7 vs Autel MK808: Key Differences & Quick Recommendation
Both scanners are under $500 and can do a lot, but what are the big differences between Ancel X7 and Autel MK808S?
Relearn functions: Autel MK808S can help you relearn throttle, transmission, and crankshaft after fixing stuff. Ancel X7, though, can only handle throttle body sensor relearning.
ECU coding: Only Ancel X7 has this feature. However, it only works for Audi and VW cars.
Screen size: Ancel X7 has a big screen, like super big – 10.1 inches! Autel MK808? Not so much, only 7.1 inches.
Bluetooth Connection: Ancel X7 stands out with its wireless connection. This means you can use the scanner without being inside your car. Autel MK808, on the other hand, uses a wired connection.
Quick suggestion time:
Ancel X7. It's around $400 and gives you 10 reset services, active tests, and ECU coding. A great deal!
If you like wireless and have an Audi or VW, go for
Autel MK808 is your choice.
But, if you care more about reset functions and relearning, like Crank and Transmission Relearn,
---
Ancel X7 vs Autel MK808: Detail Comparison Review
Performance
Let's start with what Ancel X7 and Autel MK808 have in common. They can:
Scan all your car's systems,
Program new key fobs,
Perform active tests to pinpoint faulty parts accurately.
Speaking of active tests, I slightly prefer Ancel X7 because of its Bluetooth. No cords mean I can observe car parts/components closely during tests, even outside the car.
Now, here's another cool thing about Ancel X7 – it can do online ECU for VW and Audi. That means after you've done some component replacements, you can reprogram them for a perfect fit. Hard to believe a scanner under $400 can do this, right?
Now, what's Autel MK808S's special ability?
Well, it's got 28+ reset service functions.
And among those 28, the relearn functions got my attention: throttle, transmission, and crankshaft relearn.
Autel added these relearn features only in December 2022. I haven't tested them extensively, so I can't confirm their coverage. However, I did use it to relearn the crank sensor position on a 2013 Chevrolet Caprice. Worked perfectly. No complaints at all.
On the other hand, Ancel X7 is limited to throttle body relearning.
So, if you need a scanner with 28+ service functions, pick Autel MK808S.
But if you own an Audi or VW, Ancel X7 is your pick for its ECU coding capability.
Today's best Ancel X7 price:
Today's best Autel MK808 price:
Design & Hardware
When it comes to design, Ancel X7 takes the lead over Autel MK808S. This superiority leads to a more comfortable user experience.
For instance, Ancel X7 offers a wireless connection – a truly impressive feature. This means you don't have to stay in the car while using it! You can freely move around your vehicle whenever you perform the active tests. Super convenient, right?
And that's not all! Ancel X7 comes with a LARGE 10.1″ screen. From my experience, Ancel X7 is the only one with such a big screen in this price range. Compared to Ancel X7, the 7″ screen on Autel MK808S seems much smaller.
However, if you prefer a more compact scanner, Autel MK808S with its 7″ screen works just fine. It's large enough to clearly view live data graphs.
Moreover, Autel MK808's memory is twice that of Ancel X7. With 4GB RAM and 64GB on Autel MK808S, you can store more data and even download more apps from the Play Store to enhance your work.
Today's best Ancel X7 price:
Today's best Autel MK808 price:
After-sales Service
I got Ancel X7 from Ancel.com and my experience was pretty good. They have live chat there, so if I need help with the product, I can send a message. The response isn't lightning-fast, but it never took more than 24 hours.
With Autel, I usually reach out through the seller on Amazon. The answers I get are detailed and satisfying, but just like with Ancel, it takes around 24 hours for a reply.
Both scanners come with a 1-year warranty for free maintenance. 
But if you prefer a scanner with 2 years of free updates, Ancel X7 is the one for you. Autel MK808 offers just 1 year of free updates.
Today's best Ancel X7 price:
Today's best Autel MK808 price:
---
Recommendation
After a thorough comparison of Autel MK808 and Ancel X7, here's my recommendation:
Ancel is your top pick if you're looking for:
a super large 10″ screen,
wireless freedom to move around your cars,
ECU coding for VW and Audi.
Today's best Ancel X7 price: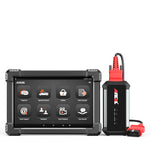 For Autel MK808, it's the one to get if you:
Need 28+ service functions,
Relearn abilities: Crank and Transmission Relearn.
Today's best Autel MK808 price: