ANCEL Scanners are among the most user-oriented OBD scanners on the market.
Most of them pack some impassive features, yet they retail at affordable prices. That's precisely why ANCEL is the go-to brand for many car owners, DIYers, enthusiasts, and professional mechanics.
With that in mind, which ANCEL scanner is the best for you?
My team tried and tested several models, and 5 of them performed outstandingly well and were included in this review.
Let's get started with the comparison chart of the 5 best ANCEL scanners.
Best ANCEL Scanner Comparison Chart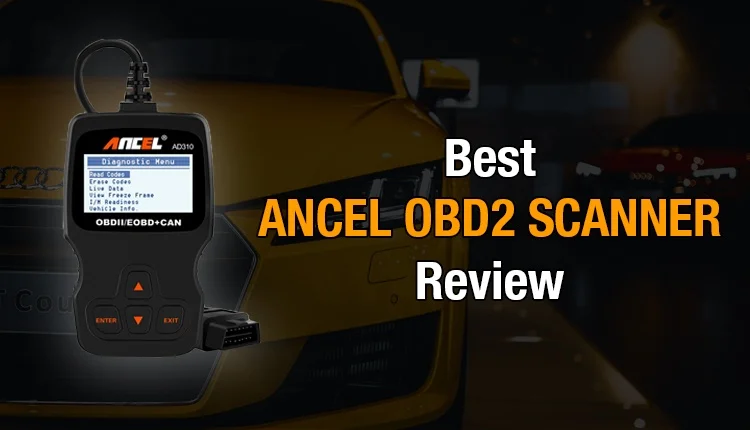 You may have got the hint that we tested a series of ANCEL scanners before settling on these six ones. Our team weighed their functions, pros, cons, and price tags to determine whether they are practical tools for their intended purposes.
We then did this review based on our team's professional analysis and feedback. I hope it helps you figure out which ANCEL scanner fits your needs best.
Check it out!!
Is ANCEL A Good Scanner?
If you're looking for a reputable scanner brand, ANCEL is a great place to start.
On their official website, ANCEL has claimed that: 
"ANCEL persists on technological innovation and has independent intellectual property rights, factory, and technical team. With the mission of providing customers with high-quality products, technologies and services in the automotive field."

Anceltech.com
And they did what they promised.
According to my research, ANCEL has done well in providing users with excellent and high-quality products. The proof is that many Ancel scanners are trusted by the majority of customers and rank among the top 100 best-selling scan tools on Amazon. ANCEL AD310, AD410, BD200, and FX2000 are the models I confidently want to mention.
Despite the fact that ANCEL's products range in price from $35 to $1000, they all receive a lot of positive feedback from users. ANCEL scanners in the top 100 all have more than 2,000 feedback (or even 30,000 reviews on the ANCEL AD310) and a rating of at least 4.4 out of 5.
What does it imply?
It indicates that the majority of buyers that have used ANCEL scanners are extremely pleased with them.
So all of the numbers I mentioned above are green flags that you can trust ANCEL and buy their products.
Furthermore, most ANCEL diagnostic tools come with up to a three-year warranty. This can provide buyers with the peace of mind. This long-term warranty is much better than other brands, which always provide a 12-month warranty for their scan tools, including Autel, Launch, and Snap-on.
The 3-year warranty also shows that the Manufacturers are fully confident in each high-quality product they produce. 
Last but not least, ANCEL is committed to providing free lifetime updates for the majority of ANCEL products (except for Ancel DS600 and DS700). Updates will correct the most recent errors, add new parameters or add new vehicles, ensuring that the scanners you purchase always have the most recent fault code database.
The ANCEL devices are top-rated for you to buy.
However, one potential issue with ANCEL products that can be inconvenient is their customer service.
I have sent 2 emails to support@anceldirect.com. Neither email was returned with any sort of response. 
But then I also tried 2 other ways to contact the manufacturers, and fortunately, they worked. They are:
Sending an email to the manufacturer on the "contact us" area of their home website. And the very next day, I received their reply email. 
Contacting ANCEL on Facebook. I have received the first detailed reply from customer support in the next 24 hours. I prefer this method as I can chat live with the ANCEL staff during their working hours and get an immediate answer.
ANCEL Product Lines: All You Need To Know
Here's a quick overview of ANCEL's product line.
ANCEL has 15 product lines in total, each with a different price point and target audience.
First, I'd like to highlight 8 universal product lines for general car brands. I mean, you can use scanners along these lines for the majority of the car manufacturers on the market. They are as follows:
ANCEL AD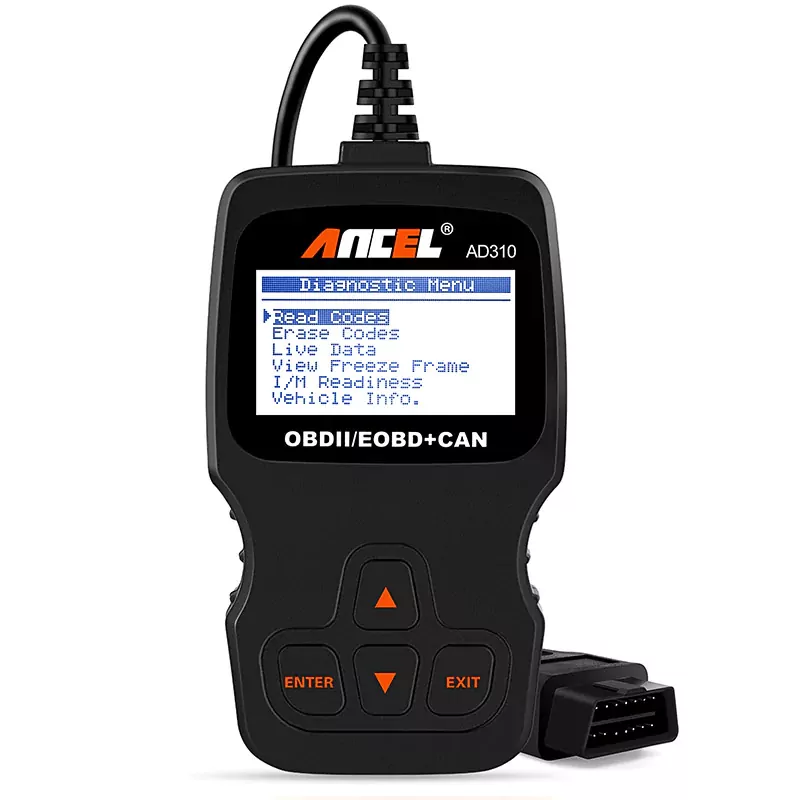 AD offers a variety of handheld scanners, ranging from:
ANCEL BD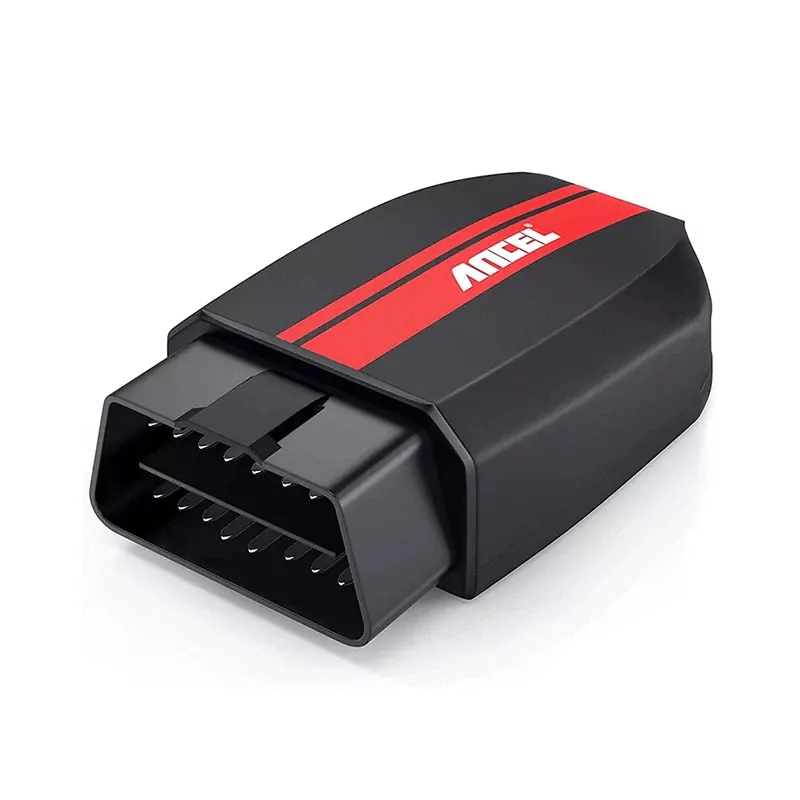 The B in BD stands for Bluetooth. Therefore, all ANCEL's products starting with BD (ANCEL BD310, BD200, BD300, and BD500) can be used as hands-free scanners thanks to the Bluetooth connection. 
With Ancel BD scanners, it will be easier to diagnose your car problem as you can use these scanners through your phone's app called "ANCEL". These wireless scan tools also take up very little space inside your cars.
ANCEL FX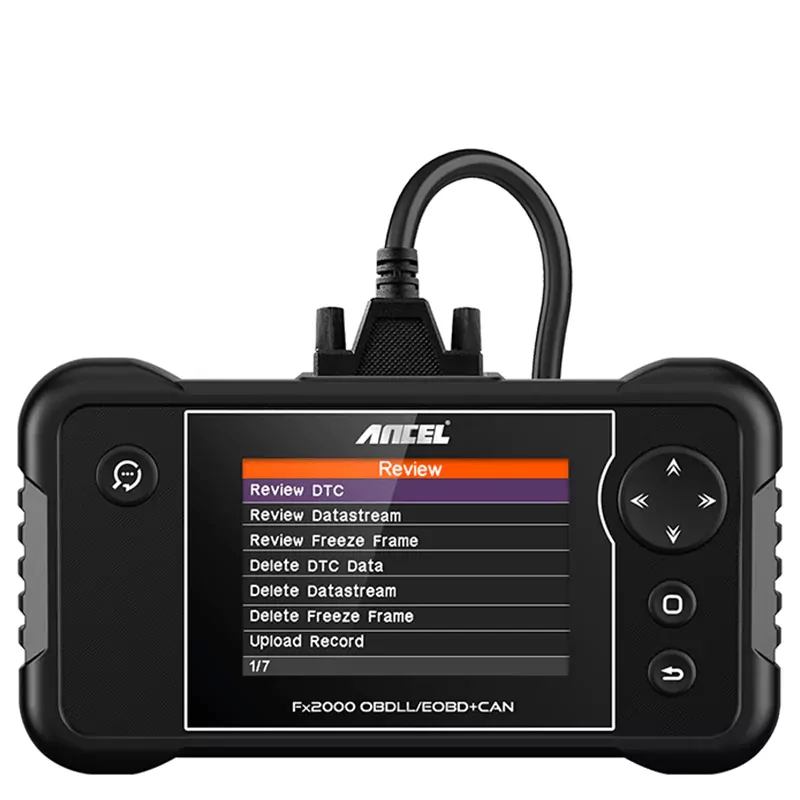 FX scanners (FX1000, FX2000, FX3000, FX4000, FX6000, FX9000) are aimed at experienced home mechanics. These products all have advanced features that allow you to repair your cars at home. 
ANCEL V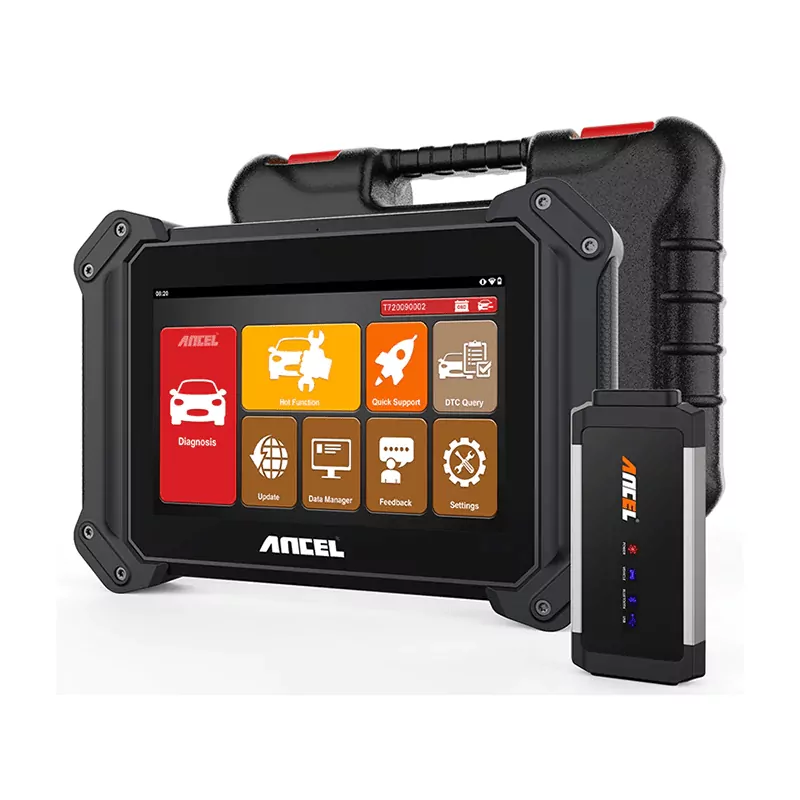 Besides the full system diagnostics and active test functions, ANCEL V scan tools (V6 Pro and V6) can provide you with up to 25+ Services, including IMMO. 
ANCEL DS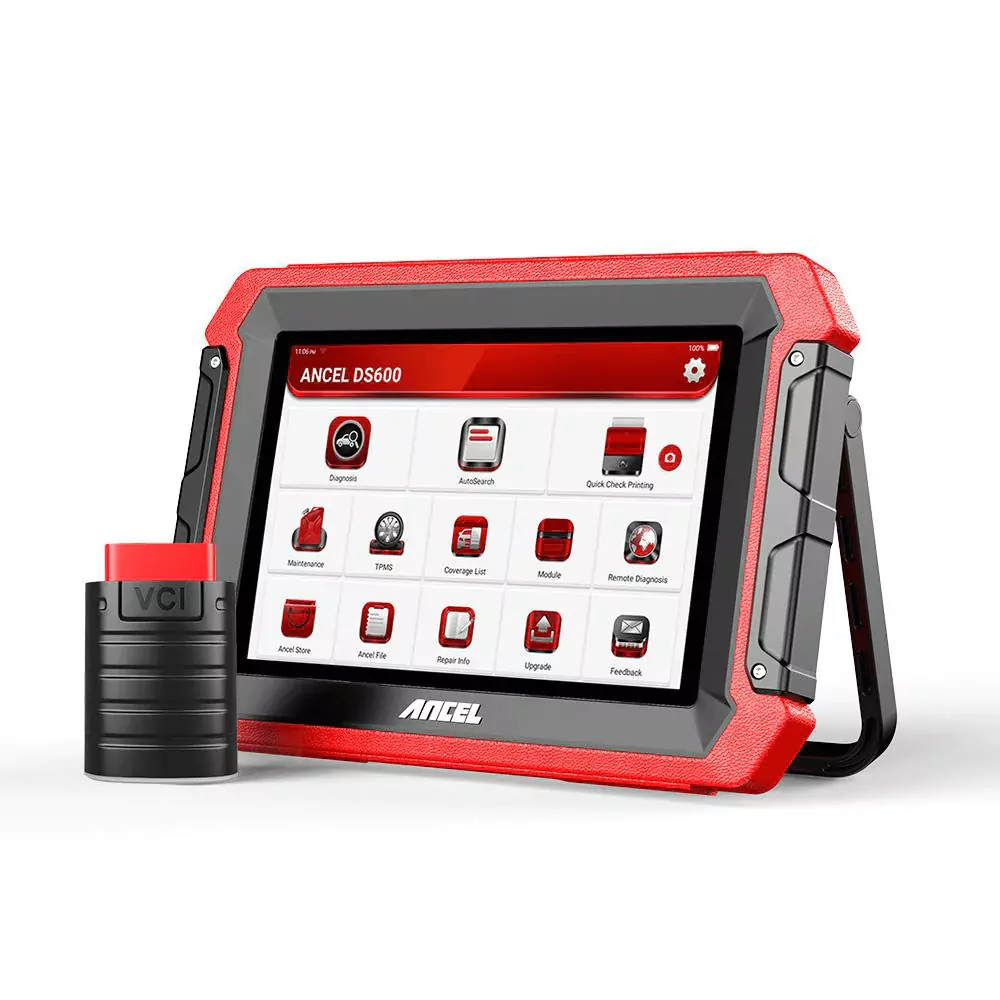 ANCEL DS600 and DS700 are advanced professional diagnostic scanners providing more than 34 service functions. They also support ECU coding function to help you match, learn, and code car ECU.
ANCEL AS
ANCEL AS500, AS100, and AS200 from this product line are basic OBD2 scanners that can work on most cars sold in the USA since 1996.
ANCEL HD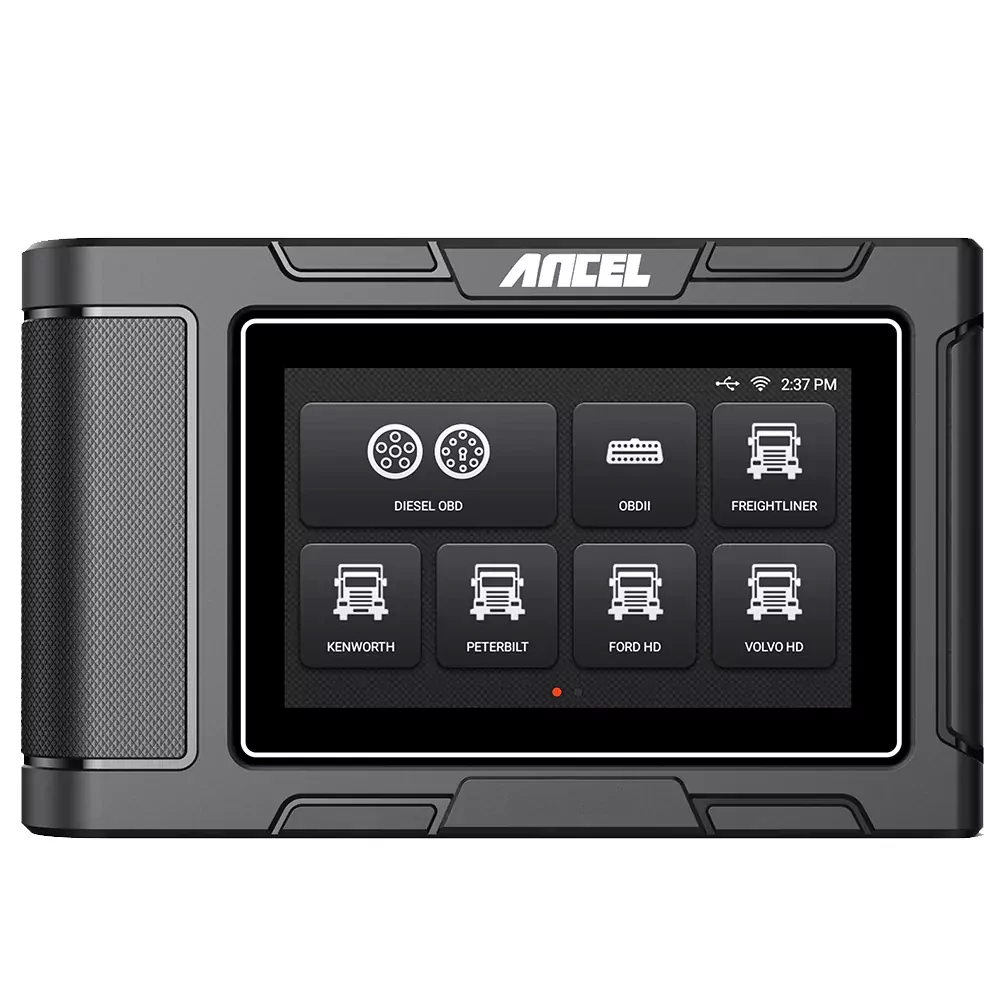 With the aim to support heavy-duty vehicles, ANCEL HD can work perfectly on Cummins, Volvo, Caterpillar, Detroit, Paccar, and more. Here is the list of Ancel HD scanners for your truck: ANCEL HD601, HD3100 Pro, HD3100, HD3200, HD3300, HD3400, HD3500.
ANCEL X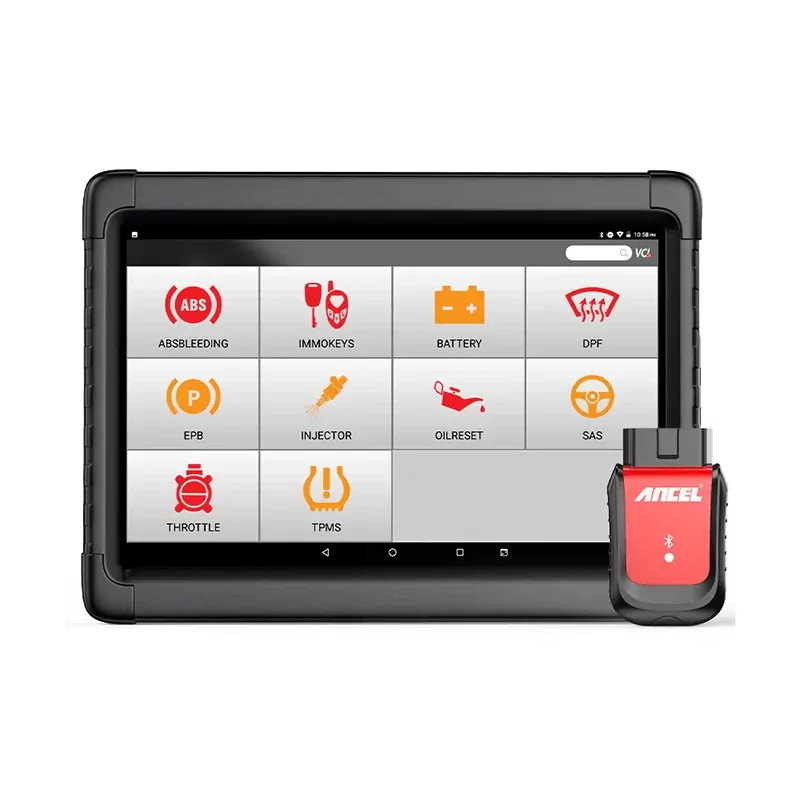 ANCEL X is another product line for heavy-duty trucks. ANCEL X6 HD, and X7 HD, with up to 15 advanced service functions, will allow you to do much more truck repairs than ANCEL HD ones. With a big touch screen, these bidirectional diagnostic tools can help you analyze, then find diesel vehicles' problems in all systems correctly and quickly.
---
Following that are 8 product lines for specific car manufacturers. 
Let's begin with ANCEL VD.
ANCEL VD
ANCEL VD covers cars from Volkswagen Group (VW/Audi/Skoda/ SEAT). If you need a scan tool for your VW cars, you can consider buying ANCEL VD500 or VD700.
ANCEL BZ
ANCEL BZ scanners are designed for only Mercedes Benz vehicles, including diesel ones. There is only 1 product in this line: ANCEL BZ700.
ANCEL VOD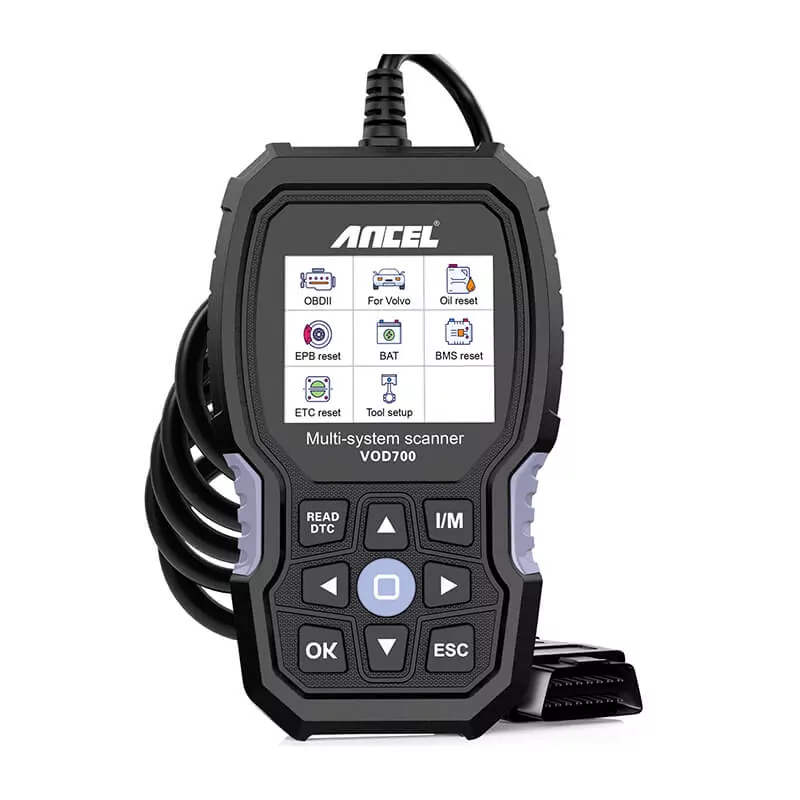 ANCEL VOD700 is the only scanner in this product line that is specially designed for VOLVO vehicles. This four-system scanner even allows you to perform Advanced Functions such as ABS bleeding, Oil reset, EPB reset, TPMS reset, etc.
ANCEL BM
This product line includes ANCEL BM500 and BM700. They are exclusively designed for BMW, MINI, and Rolls-Royce.
ANCEL LD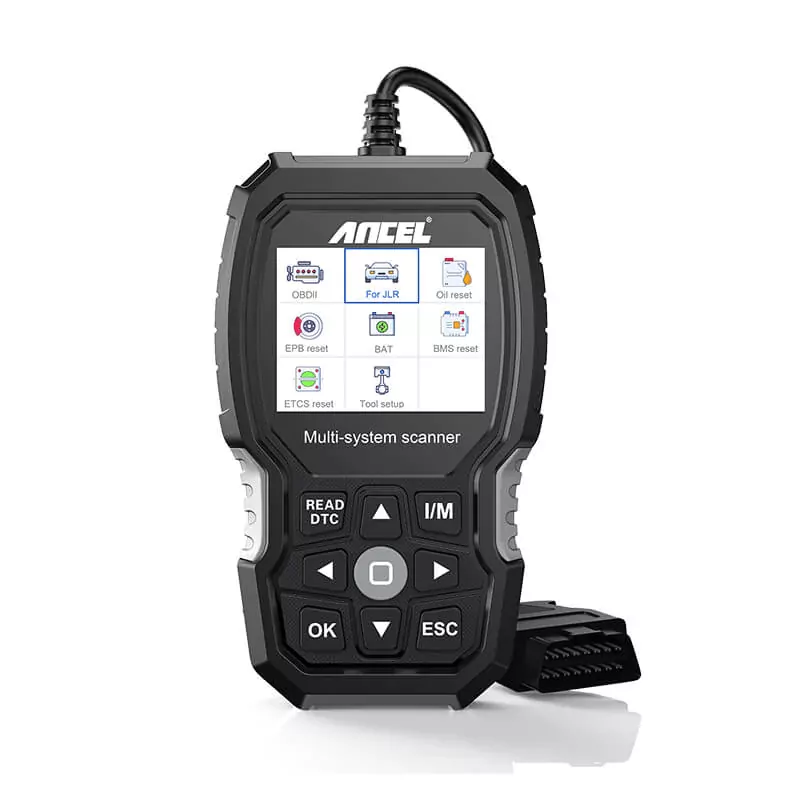 Like VOD700, this product line comes with only ANCEL LD700. This four-system scanner is designed for all Land Rover and Jaguar car owners and home mechanics.
ANCEL FD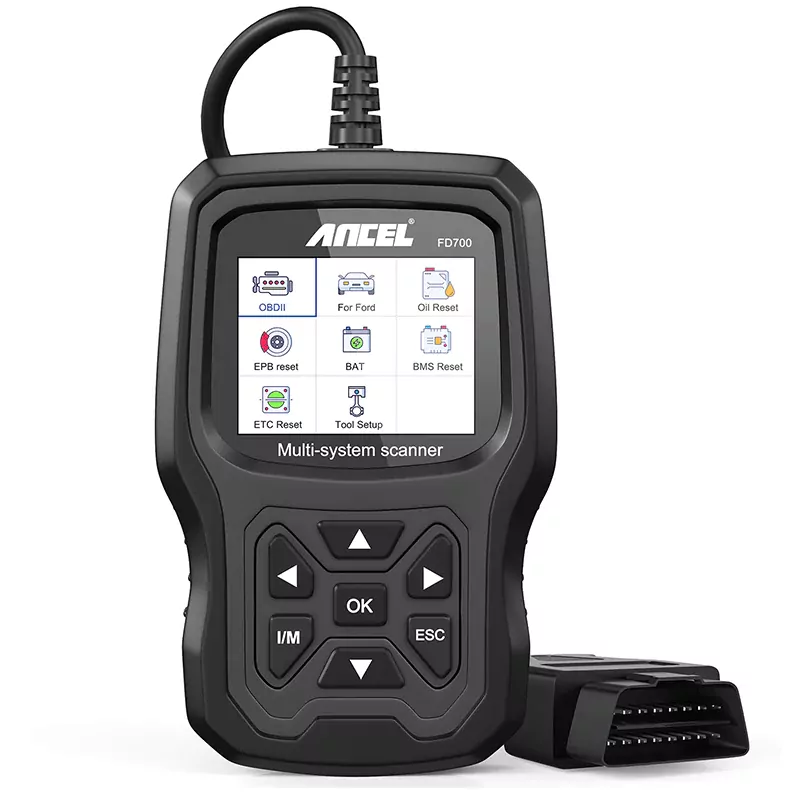 This line's ANCEL FD700 and FD500 scanners are compatible with all Ford Group vehicles manufactured after 1998 (including Ford, Lincoln, and Mercury). Not only will these scan tools assist you in diagnosing 4 main systems: engine, ABS, SRS, and transmission, but they will also perform some special service functions.
ANCEL EU
Ancel EU scanners (ANCEL EU510, EU410) are made to work on most European petrol and diesel vehicles from 2000. 
ANCEL JP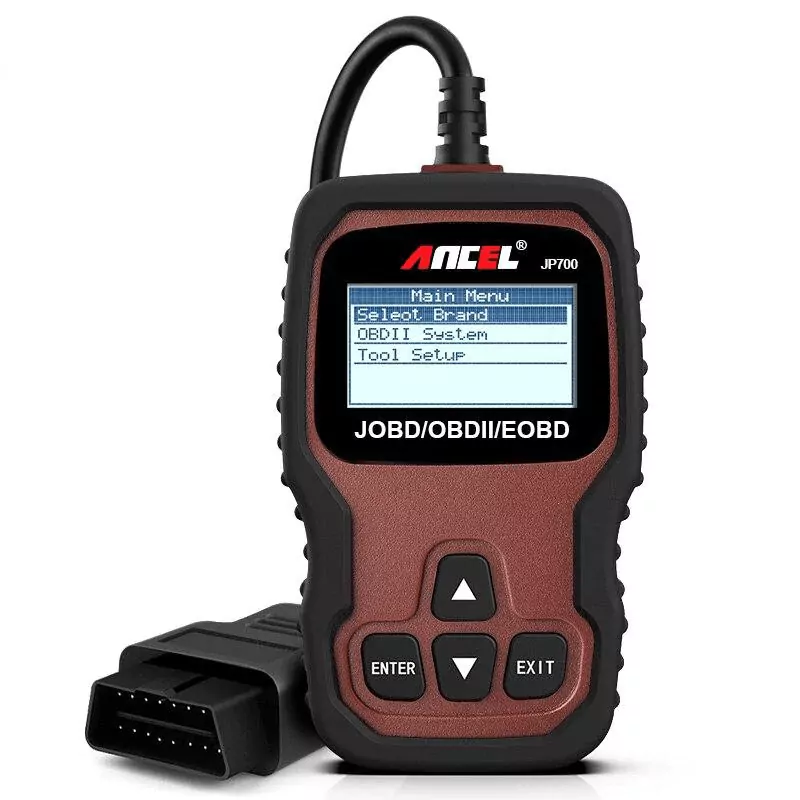 If you're looking for a scanner with JOBD protocol specially designed for Japanese cars, the ANCEL JP700 code reader is a good option. Thanks to the 6 OBD2 modes on JP700, you can save tons of money on car repairs every year by fixing them yourself.
With the variety of scanner types available, I believe ANCEL can provide you with a scan tool that will meet all of your needs, whether you are a novice, a home mechanic, or a professional.
Read more:
---
Best 5 ANCEL Scanners Review
#1. ANCEL AD310
Scanner type: Code Reader
Fit For: Newbies
Vehicle type: Car/Light truck
(Gasoline/Diesel)
Connection type: Corded
Work on: OBD2 Vehicles
Price range: Under $50
Buy this scan tool if you want to …
DON'T buy it if you want to …
Pros
Inexpensive compared to others on the market
Solid, durable design
Quick start and fast results displayed
Well-written manual
Nice and bright screen
Long cable
Cons
No protective case
Small instruction manual print
What Makes Me Like ANCEL AD310?
1. The things that make me love ANCEL AD310 at first use are its quick start, and the fast result I got!
Here is my experience after using this scanner to test 7 different cars of my customers.
The scanner automatically recognized all cars I connected, so I didn't need to enter their year, maker, engine, or any other information. Honestly, I was surprised at how quickly this cheap scanner connected and pulled the information. 
I used ANCEL AD310 to do a variety of diagnostics, from checking engine lights to EVAP leak tests and the live data function. It reported the error code effectively and gave me test results instantly after waiting for 15 seconds or less. 
It's a great code reader at this price point!
2. The first time you pick up the ANCEL AD310, you will understand why I give it the top mark for best ANCEL scanners. ANCEL AD310 is well-designed with a nice fit and finish. This will give you a good feel in your hand. 
The screen is large and bright. Besides, the wire is long enough to put the scanner on your knees and use it while sitting in the driver's chair. 
Not only well-designed, but it's also super easy to use. Just find the OBD2 port on your car, plug this code reader in, turn your key on, and let it do its thing. ANCEL AD310 will tell you precisely what the error is and allow you to erase it.
3. ANCEL AD310 is exactly what you need to pre-check your vehicle before a smog check, especially if you are living in California. 
This scan tool can easily determine when the monitors are ready for the smog test. Then you will pass emissions on the first visit to the Emission Test Center. 
4. Finally, ANCEL AD310 is a great gift for your family members or friends on special occasions like birthdays or Christmas. 
No matter who they are, they can use this scanner to determine what is wrong with their cars and fix it. In case they can't fix the problem themselves, they can at least avoid wasting money on unnecessary labor when taking their vehicles to the mechanic. 
Trust me, and they will definitely love your surprise gift.
Last month, I purchased the ANCEL AD310 as a gift for my nephew because I knew he didn't have any code readers.
A few days later, he called to tell me how much he appreciated my gift.
He said: "The code reader you gave me is super cool. My car always has a check engine light on. And this ANCEL AD310 can display the code as well as a description of what is wrong with my vehicle. Now I know where to begin to solve my own problems. Uncle Tim, you saved my life!"
Nothing makes me happier than giving a gift that the receiver enjoys.
What I Dislike?
1. My first complaint is that the included manual has very small print. If you get older, you will need a magnifying glass to read it clearly. I'm not sure why they don't print a readable manual.
An online manual, however, is available for easier reading. You can download it from ANCEL official website.
2. The second thing I dislike about this scanner is that it doesn't come with a carrying case.
But you can consider buying the ANCEL case recommended for ANCEL AD310. It's nearly half the cost of the scanner, but I believe it's well worth keeping your scanner protected.
Vehicle Compatibility 
The ANCEL official website says that ANCEL AD310 will support 1996 and newer vehicles.
However, from my experience, it doesn't work on some early 2000s Chevy Silverados trucks.
To avoid buying a useless tool, remember to check the vehicle's compatibility before buying by contacting their tech support on ANCEL official page.
Bottom Line
I would recommend this if you need something simple to read codes and check for emission readiness.
For the price of around $35, ANCEL AD310 is a must-have for your toolbox.
ANCEL AD310
---
#2. ANCEL AD410
Scanner type: Full OBD2 scanner
Fit For: Newbies
Vehicle type: Car/Light truck
(Gasoline/Diesel)
Connection type: Corded
Work on: OBD2 Vehicles
Price range: Under $50
Buy this scan tool if you want to …
DON'T buy it if you want to …
Pros
Well-designed and sturdy
Big digital screen
Graph live data
Lifetime free software updates
O2 sensors test supported
Record and Print functions supported
Cons
Warranty started from manufactured date not purchase date
Can not read transmission, ABS, and SRS codes
Cannot update on Mac
What Makes Me Like ANCEL AD410?
I'm a huge fan of ANCEL AD410 because I find it a better value than AD310 while still preserving the low cost. 
So what upgrades does AD410 bring over AD310?
1. Firstly, AD410 has a more detailed colored display and a different user interface.
This bigger screen allows you to view the graphing data stream. And based on what the graph shows, you can determine if your mass air flow sensor is working properly or not, for example. 
2. Secondly, this AD410 scanner not only supports the same seven modes as the previous model AD310, such as: read and erase code, View Frame Freeze, Data Stream, read VIN, I/M readiness, and EVAP system. It also provides: 
Record & replay data: Diagnosis info can be recorded and reviewed. Then you can use that data to analyze your car problem more easily.
Printing function: With the included USB cable, you can connect to a computer to review and print diagnostic reports.
O2 sensors test: Allow you to monitor live fuel and O2 sensor function. Thus, you can identify and fix issues related to fuel efficiency and vehicle emission.
On-board monitor test: Also known as Mode 6, it helps you correctly identify which cylinder is misfiring.
3. Finally, AD410 provides lifetime free software updates to fix the latest bugs and add new DTC or parameters. However, you might have some difficulty updating, especially if you are using a Win 7 computer. 
Here is my advice for you: First of all, make sure you read the Update Guide carefully. Then use your computer to go to ANCEL website, download the update package for AD410 and start the update process. It will take only 2-3 minutes to upgrade your scanner completely.
Note: Be sure to unzip or extract the download file before executing it.
What I Dislike?
1. The biggest flaw is that you can only update the software on Windows 7/8/10, so Mac or Linux users are out of luck keeping the unit current. 
This key point should have been stated from the start, but it was buried as a note in the owner's manual.
2. ANCEL's warranty begins on the manufacture date, not the purchase date.
As a result, if you purchase a scanner that has been on the shelf for a long time, you will not receive a one-year warranty.
For a full warranty, I recommend you ask for the manufactured date and only purchase the most recent ANCEL scanner.
Vehicle Coverage
The ANCEL AD410 is compatible with most cars and light trucks sold from Jan 1996, when OBD2 was implemented.
As a result, if you require a scanner that supports the JOBD protocol or can work on heavy-duty diesel trucks, this is not the scanner for you.
In case you are unsure whether this ANCEL AD410 will work properly on your vehicle, simply contact customer service via ANCEL Fanpage. You will receive an answer within the next 24 hours.
Bottom Line
ANCEL AD410 is a great scanner and worth the extra money over AD310.
If you are looking for a Full OBD2 scanner below $50, this is a great choice. With this, you can find the codes, research what is causing them, and if you're so inclined, you can even fix the problem yourself.
ANCEL AD410
---
#3. ANCEL FX2000
Scanner type: Four-system scan tool
Fit For: Home mechanics
Vehicle type: Car/Light truck
(Gasoline/Diesel)
Connection type: Corded
Work on: OBD2 Vehicles
Price range: Under $200
Buy this scan tool if you want to …
DON'T buy it if you want to …
Pros
Big and easy-to-see the screen
ABS/SRS/transmission codes supported
User-friendly design
Lifetime free updates
Cons
Software updates might take time
Protective case not included
What Makes Me Like ANCEL FX2000?
1. I'm really into the high-resolution TFT screen on ANCEL FX2000. The screen is large, clear, and crisp. This is really nice to clearly read all the information on the scanner, especially for older people.
This gives you live data readings for most of the OBD2-monitored systems on your vehicle. And it has the ability to capture and record streaming data.
2.  I can't go any longer without mentioning the product's primary standout trait: ANCEL FX2000 can perform diagnostics on ABS, SRS, and transmission systems. This really separates FX200 from other cheap code readers in the list, like AD310 or AD410.
Thanks to this function, you can know exactly where to look at. 
For example: When using this ANCEL FX2000 to scan the ABS, it can point you to which ABS tire sensor is out, so you don't have to waste money fixing all four.
Car repairs always cost us an arm and a leg. In the long run, I believe that using this Four-System scan tool to narrow down the possible causes will help you save a lot of money. 
3. I'm also thoroughly impressed with its user-friendly design. The rubberized grips on the case make it easy to hold. The selection and navigation buttons are also rubberized, making navigation easy even when wearing mechanics gloves.
What I Dislike?
1. Updating the software on ANCEL FX2000 might be a complicated task. 
But I'm here to provide you with helpful instructions to easily update the software:
Step 1: Before you start upgrading, please connect this device to a computer via a USB cable and establish a stable network connection.
Step 2: Visit https://anceltech.com/download.html, then open a free account and log in.
Step 3: Select the right software for FX2000. Now download and install it on your laptop/ PC.
Step 4: Open the software tool, select the connection mode "USB", and click "OK" to continue. The "Product Serial Number" will be read automatically, then click "Device Upgrade".
Step 5: Go to the register page, and enter your email address. You don't need to enter the registration code, it will be read automatically. Then click "Submit".
Step 5: Choose "Select All" and then click "Download" to start the download.
Step 6: The upgrade is complete when the 2 progress bars reach 100%. Click "Quit" and disconnect the USB cable.
Please Note:
If the screen freezes during the upgrade process, disconnect the USB cable and try again.
A video to help you update your ANCEL FX2000 scan tool in only 7 minutes.
Vehicle Compatibility 
ANCEL FX2000 is compatible with most 1996 and newer US vehicles, 2002-2017 EU cars & light trucks, as well as Asian vehicles after 2008.
However, please note that abilities to scan ABS/SRS transmission systems are only supported on most cars after 2005. 
If your car is manufactured before 2005, ANCEL FX2000 only supports 4 OBD2 modes: read and clear fault codes, display live data streams, and retrieve vehicle information.
Bottom Line
The ANCEL FX2000 performs nearly as well as a $2,500 SnapOn Genius scanner. I also strongly recommend it to:
DIY car enthusiasts who prefer to perform minor car repairs yourselves.
DIY mechanics who intend to learn and improve their mechanical skills in the future.
ANCEL FX2000
---
#4. ANCEL BD200
Scanner type: Code Reader
Fit For: Newbies
Vehicle type: Car/Light truck
(Gasoline/Diesel)
Connection type:
Work on: OBD2 Vehicles
Price range: Under $50
Buy this scan tool if you want to …
DON'T buy it if you want to …
Pros
Easy app installation
Free lifetime updates
Quick diagnostics
User-friendly
Great tech support
Cons
No bi-directional controls
No third-party apps supported
Entry-level functions only
What Makes Me Like ANCEL BD200?
1. I'm pleased with the portable design that ANCEL BD200 has.
Unlike traditional cable scanners with their own screen on them, this ANCEL code reader uses your phone to show you what you need to know about your car, which is definitely awesome.
ANCEL BD200 will fit in the palm of your hand. Therefore, you can throw it in the glove box and have it on hand to immediately diagnose anything that pops up. Very convenient!
2. What surprises me the most is the ANCEL app.
I was initially hesitant to download the ANCEL app because of its low ratings. However, it is a reliable app. The app displays all engine specifications. I also discovered that the ANCEL app includes links to websites where I can find more information about the codes.
This is more helpful than the limited information provided by some cable code readers.
3. Another feature I like is that I can use this phone-based scanner to set alarms for speed, water temperature, and driver fatigue time. ANCEL BD200 will measure actual data and notify me via voice alert if it exceeds the values I set.
It's a really cool feature that will assist you in driving safely!
What I Dislike?
1. My first complaint about this device is that the app is useless if it is unplugged from the car. You can access nothing on the dashboard functions (even DTC history). All you get now is the notification "Device not connected"!
This is inconvenient if you want to show the mechanic what this scan tool actually read.
I suggest you should capture or record your phone screen immediately after receiving the results. Therefore, when you go to the auto repair shop, you'll have enough diagnostic information to discuss your car problem with the mechanic.
2. Another thing to keep in mind is that ANCEL BD200 isn't compatible with third-party apps like Torque Pro. If you've been using Torque for a long time, like me, it might take you time to get used to with ANCEL app.
Furthermore, the ANCEL app for Android is approximately 188Mb in size, which is extremely large. It is about 3-7 times larger than many other apps, such as the BlueDriver app (52Mb) or the OBDLink app (23Mb).
3. Like many other Bluetooth scanners, ANCEL BD200 can cause a battery drain problem if you always plug it into your car.
To avoid unnecessary problems, remember to disconnect the device after use.
Vehicle Compatibility 
ANCEL BD200 supports nearly all OBDII-compliant vehicles sold in the USA from January 1996.
However, ANCEL customer service also informs that Ancel BD200 does not support the 2002 BMW Mini Cooper and pure electric vehicles.
You'd better send your car's model and year to customer support on ANCEL's official website to ensure that the scanner you buy has all of the functions you require.
Bottom Line
If you want to turn your smartphone into a fancy scanner, ANCEL BD200 is the way to go.
This little guy will meet your expectations with none of the bulk.
Try it, and you'll realize: "What a handy scan tool I have!"
ANCEL BD200
---
#5. ANCEL FX3000
Scanner type: Four-system scan tool
Fit For: Home mechanics
Vehicle type: Car/Light truck
(Gasoline/Diesel)
Connection type: Corded
Work on: OBD2 Vehicles
Price range: Under $250
Buy this scan tool if you want to …
DON'T buy it if you want to …
Pros
Support 5 advanced functions
High-resolution color screen
Solid design to avoid broken if drop
Lifetime free updates
Cons
Software updates might take time
What Makes Me Like ANCEL FX3000?
1. My first impression of this four-system scanner is its super solid design.
The scanner has an over-molded rubber grip that wraps around the entire unit. This protective design is ideal for a mechanic, like me, who may drop the unit when using it in the shop on a daily basis.
The rubberized case also makes the ANCEL FX3000 comfortable to hold. The 4 navigation buttons are also rubberized, making it possible to navigate even while wearing mechanics gloves.
I believe the person who designed the scanner must be a real mechanic. Otherwise, he wouldn't have been able to create a scanner like the FX3000 that was perfectly suited to the mechanic's needs.
2. I'm also amazed at how inexpensive this four-system scan tool is compared to what it can do on my car. 
Unlike its brother FX2000, FX3000 is upgraded with more 5 advanced functions: EPB reset, SAS calibration, Oil light reset, ABS reset, and BMS reset.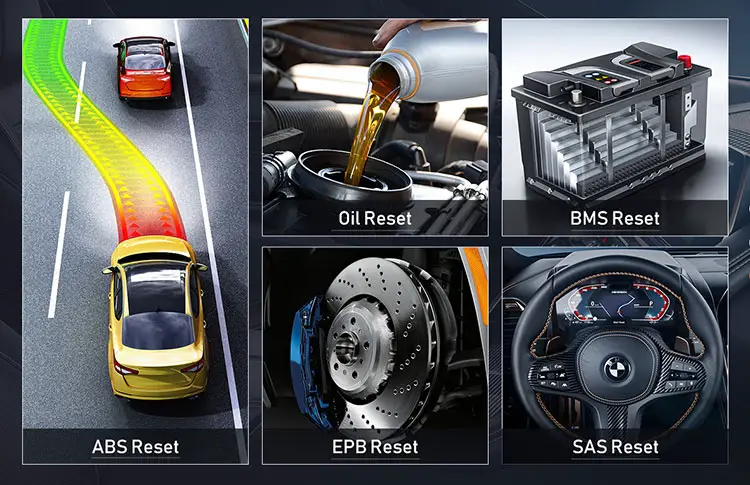 I tested this scan tool on two vehicles: a 2005 Nissan Frontier and a Mazda 626 2000 (they are my client's cars). I attempted to use all of the functions available on this four-system scan tool, including scanning the ABS, SRS, and transmission systems, as well as performing Oil light reset and SAS Calibration. Everything worked perfectly. I gave it a 10 out of 10.
ANCEL FX3000 is a must-have in my toolbox. It saves me a lot of time by quickly diagnosing the problems with my clients' cars.
What I Dislike?
1. Software updates might take time.  As a result, before you begin, you should carefully read the Update Guide.
The following are steps I take to successfully update my ANCEL FX3000 on the first try:
1. Navigate to the AncelTech website (no longer AncelDirect).
2. Log in to your account. If this is your first ANCEL product, you will need to create a free account.
3. After that, download and install the updater tool before connecting the scanner to the ANCEL FX3000 via the included USB cable.
Vehicle Compatibility 
ANCEL FX3000 covers most vehicles sold in the USA that are the model year 1996 and newer. 
However, I notice that there are some models that it can't work on, like the Peugeot 407, Chevy 04, 2004/2005 Acura MDX, etc.
It is advisable to contact the manufacturer via Facebook before purchasing to check if this scan tool works properly on your vehicle.
Bottom Line
ANCEL FX3000 is a trusted device to have for any future problems that may arise.
The ability to perform 5 advanced service functions distinguishes ANCEL FX3000 from other products on this list. It is an excellent investment for both professional and personal use.
ANCEL FX3000