Ancel Scanners are among the most user-oriented OBD scanners on the market. Most of them pack some impassive features, yet they retail at affordable prices. That's precisely why ANCEL is the go-to brand for many car owners, DIYers, enthusiasts, and professional mechanics.
With that in mind, which Ancel scanner is the best for you? Our team tried and tested several models, and 6 of them performed outstandingly well and included in this review.
Best ANCEL scanner comparison chart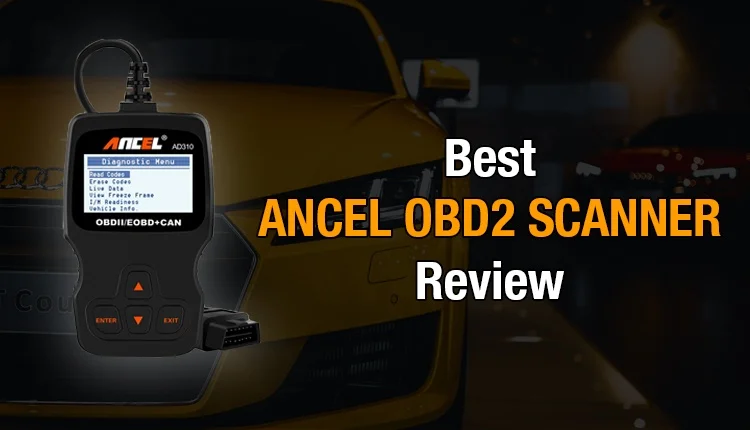 You may have got the hint that we tested a series of Ancel scanners before settling on these six ones. Our team weighed their functions, pros, cons, and price tags to determine whether they are practical tools for their intended purposes.
We then did this review based on our team's professional analysis and feedback. I hope it helps you figure out which Ancel scanner fits your needs best.
Check it out!!
Ancel scanner reviews
1. ANCEL AD310
Ancel AD310 is the one to watch out for. It is one of the lowest and most economical devices in the market.
Classic
User-friendly
Easy to operate
Able to read and analyze codes
This can sit comfortably on the list of the best professional automotive diagnostic scanners
Problem detecting the cause of that "Check Engine light "?
Do not worry!
The Ancel AD310 can quickly determine the reasons. And not only the engine issues, but it can also find out other undetected problems. It can identify the I/M monitor readiness and freeze the data on the frame so that you can come back to it later for a fix.
Weighing around 12 ounces, this one can be plugged into the OBD2 on the car.
The error codes on this one cannot be deleted unless it is fixed. So you have an option to store the data but not delete it unless it is repaired completely.
Prepare for that smog test before you go for it officially.
Battery operated the device, and this one has a large screen that can be used to read the system's data conveniently. Retrieve the vehicle information, make the number, other details with ease once the device is plugged in and the ignition is turned on.
Simple!!
Easy!!
Convenient!!
Save yourself the mechanic appointments every time a light goes off in your car!
Pros
Covers several vehicle models, including US, Asia, and EU-based models
Supports all OBD2 protocols
Starts displaying scan data very quickly
Very simple to use
Comes with a 3-year warranty
Affordable scanner tool
Cons
Doesn't cover some codes like ABS, stability, and airbag codes
Ancel AD310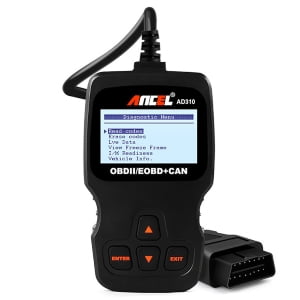 Read more: ANCEL AD210 vs. AD310 vs. AD410: Which one should a Newbie avoid?
2. ANCEL FX4000
ANCEL FX4000 Automotive Scan Tool
The ANCEL FX4000 is an OBD2 tool that works on both gas and diesel vehicles. It works on cars that are 1996 or newer models, domestic and foreign.
Ancel FX4000 has an eye-catchy design that features rubber grips on the sides for easy handling. The buttons include an FN hotkey for customizing your favorites. You can use it to create shortcuts to functions that you use frequently.
Besides the well-thought-out design, this Ancel scanner is compatible with various car brands, domestic and foreign. It also supports both basic and advanced diagnostics.
Special Functions
DTCs
With this device, you can read and clear trouble codes in all the main systems. They include engines, SRS, ABS, transmission, TPMS, and EPB.
Note that when you erase all the codes in a system, the warning light for that system will turn off. Therefore, to reset the MIL using the ANCEL FX4000, simply use it to clear all pending engine DTCs.
Advanced diagnostics
You can also perform advanced diagnostics with this Ancel scanner. Some of the functions supported include EPB service, oil light reset, SAS reset, BMS, and various tests such as car headlight action, instrument cluster, and IMMO.
Data
This scan tool retrieves vehicle information (ECU info and VIN), live data stream, and freeze frame data alongside trouble codes.
You need the ECU and VIN details to know the true identity of the car you are dealing with. They help you know such things as past owners, part numbers, make, model, and year of manufacture.
Live data stream displays the readings of various parameters in real-time. For example, you can monitor things like coolant temp, fuel trim, and engine RPM in real-time. On the other hand, freeze frame data shows emission-related faults that occurred at a past time.
Compatibility
The ANCEL FX4000 is an OBD2 tool that works on both gas and diesel vehicles. It works on cars that are 1996 or newer models, domestic and foreign.
That said, it's not uncommon for such tools to fail to connect with specific models of cars. For example, some owners of 2003 Pontiac Bonneville, 2005 Porsche Cayenne, 2011 Dodge Challenger, 2014 Ram 1500 Hemi, 1997 Vw golf IV, and 2008 Mitsubishi Pajero V6 have had complaints regarding this Ancel scanner's compatibility with their vehicles.
Software & Update
Like most other Ancel scanners, the FX4000 comes with free lifetime software updates. It's shipped with already installed software, so your only job will be upgrading the device when new updates are released.
This tool is suitable for DIYers and enthusiasts who want to take advantage of its ability to do a full system scan. Such users may also like its range of advanced functions, even though they are not as many as you would find in a high-end tool.
ANCEL FX4000
3. ANCEL AD210
The ANCEL AD210 is a handheld scanner used to read, interpret, and clear error codes on On-Board Diagnostic 2 (ODBII) compatible vehicles. These are mainly car models manufactured in and after 1996 in the US and 2000 in the EU.
It reads the error codes and retrieves their meanings from an inbuilt database, then displays them on an LCD screen existing on the scanner itself.
It draws power from the vehicle- no need for a separate scanner battery.
Features
An ANCEL AD210 delivery box contains just the scanner with an attached plug-in cord. The cord attaches to the port on the vehicle. The scanner body comprises an LCD screen that shows the menu and error results.
There are three buttons (Scrool, Enter, and Exit) used to execute commands during the scan. The scanner weighs a paltry 10.4 ounces (294.8 grams) and measures 9.1 by 7.1 by 1.4 inches (23x18x3.6 cm).
Performance
This is a DIY error code reader. Once plugged in, it diagnoses the errors that may be prompting a warning light. Usually, these are engine problem errors. It does not look into Anti-lock/Anti-skid Braking System (ABS) errors.
The scanner reads error codes and fetches their meaning, then displays the results on the LCD screen, which has a white backlight, makes it easy to read the displayed text. The AD210 can be used to clear error codes, but this is only possible once the problem causing the error has been fixed.
It works with vehicles running specifically on a 12v battery and with a 16-pin OBD II specification port. Once the scanner is plugged in, it automatically powers on and prompts the owner to switch on the car ignition. The resultant menu then runs the commands.
Maintenance
The AD210 does not need any more maintenance than proper storage. When not in use, users should coil the cord in loops to avoid breakage and also cover the plug-in end to prevent breaking or bending the pins, although these cases are pretty rare. It is advisable to replace it in the delivery box after every use.
Pros
Very easy to install and use
Very fast in scanning and retrieving codes
Features a sleek design
Covers a wide selection of OBD2 vehicles
Has a multilingual interface
Very affordable
Cons
Doesn't have some of the extra features of other OBD2 scanners, like Wi-Fi.
You can't read specific codes like ABS and airbag-related codes.
ANCEL AD210
4. ANCEL VD500
ANCEL VD500 Diagnostic Tool
Besides trouble codes, the ANCEL VD500 also supports oil service reset, EPB service, throttle position adaptation, and EPB service.
The VD500 is primarily designed for Volkswagen Auto Group, popularly known as the VAG brand of cars. This entry-level Ancel scanner is affordable and simple to use yet supports an impressive number of special functions.
Special Functions
DTCs
The one area where the ANCEL VD500 excels is reading and clearing of diagnostic trouble codes.
It gives you access to ECU, ABS, SRS, transmission, SAS, ESP, TPMS, and IMMO codes (codes only, no relearn functions). For that reason, you can use the scanner to reset the Check Engine Light and warning lights from other systems.
Service Functions
Besides trouble codes, the ANCEL VD500 also supports oil service reset, EPB service, throttle position adaptation, and EPB service. These may come in handy for enthusiasts and maybe beginner DIYers.
Vehicle Information
The other handy function is the ability to pull information from a car. You can view its VIN and ECU info, both of which are very important when you're buying a car.
Compatibility
This scan tool is meant for OBD2-compliant VAG cars. Those are cars manufactured by the Volkswagen Auto Group from 1996 to date.
The specific brands are Volkswagen, Audi, Skoda, and Seat. It supports all the main protocols, including CAN, J1850PWM, ISO9141, KWP 2000, and J1850 VPM.
That said, the scanner offers limited functionality for non-VAG cars that are OBD2-compliant. You can pull the car's information (VIN and ECU info) and read/clear codes from the four main systems (i.e., engine, transmission, ABS, and SRS.)
Software & Update
When you buy the ANCEL VD500, you get free software updates for the product's lifetime. You can download the latest updates from Ancel's website. They have a step-by-step guide on how to update the device.
The ANCEL VD500 is for VAG car owners and enthusiasts. When working on one of those vehicles, you can pull and reset codes from all the main systems.
In other words, this Ancel scanner will help you know what's triggering the CEL or any other warning light.
ANCEL VD500
5. ANCEL Scanner AD610 Elite
ANCEL Scanner AD610 Elite
You can use the AD610 Elite for emission-related tests. More specifically it supports I/M readiness and O2 sensor tests.
With both OBD1 and OBD2 compatibility, the ANCEL AD610 supports up to 62 brands of cars. It allows you to run both basic and advanced diagnostics. This Ancel scanner earns a spot on this list mainly because it has (perhaps) the most impressive bang-for-buck ratio.
Special Functions
Code
The primary function of this Ancel scanner is reading and clearing codes. It allows you to pull engines, SRS, ABS, and SAS codes and erase them. So besides identifying problems in those systems, you can use it to reset the MIL and other warning lights.
Emissions
You can use the AD610 Elite for emission-related tests. More specifically, it supports I/M readiness and O2 sensor tests.
The O2 sensor helps you determine the engine's efficiency in burning gas, and the I/M readiness checks every emission component to ensure that it's working efficiently.
Data
Alongside vehicle information (ECU info and VIN) and codes, this Ancel scanner displays live sensor data and live graphs. You can merge the maps for easy comparison when the need arises.
Compatibility
According to Ancel, this scan tool covers up to 62 car brands. It supports all 10 OBD2 modes and can be used to check all the main vehicle systems. The condition is that the car should be OBD2-compliant.
For US-made models, it covers cars made between 1996 and 2016. EU and Asian models should be made between 2001 and 2016, and 2003 and 2016, respectively.
As is the case with virtually all OBD scanners, there are some car models that the AD610 Elite either struggles to connect with or fails altogether.
Examples include the 2008 Mini Cooper and 2012 Honda Civic. As long as we're talking compatibility issues, you also can't update the software using a Mac computer.
Software & Update
Although this Ancel scanner comes with already-installed software, you will have to update it before use. There's an SD card for downloading the software upgrade onto before installing it on the device.
Once you have the upgraded version on your SD card, insert the card into the scanner and then click the 'Update' button. The package includes free lifetime software upgrades.
The Ancel AD610 Elite neither supports deep scanning nor advanced diagnostics. For that reason, it may not be ideal for professional use.It, however, makes a great diagnostic tool for car owners and beginner DIY enthusiasts. These are generally people who want to figure out why the MIL is on and whether the car will pass emissions.
Ancel AD610 Elite
6. ANCEL FX6000
ANCEL FX6000 Pro Scan Tool
The ANCEL FX6000 supports all 10 OBD2 test modes. It gives you access to all the main systems including engine, transmission, ABS, and SRS.
Ancel FX6000 is one of the mid-range scanners that offer a range of advanced diagnostic functions. While it might not be a high-end professional-grade scanner, it also makes an excellent addition to an auto shop.
Special Functions
OBD2 Test Modes
The ANCEL FX6000 supports all 10 OBD2 test modes. It gives you access to all the main systems, including engine, transmission, ABS, and SRS. You can read and erase codes, and in doing so, turn off the CEL (MIL) and other warning lights.
Advanced Functions
In addition to the main systems above, this Ancel scanner checks emissions, SAS, audio system, IMMO, air conditioning, DPF, ACC, doors, and windows. In other words, you won't need to go to Autozone to find out what's wrong with your car.
Professional Functions
The scanner also supports ECU programming and coding. You can do TPMS relearning and diagnose the powertrain, chassis, body system, and so much more. While that's impressive, it still lacks in one way or another. For example, you can't do forced DPF regeneration or relearn new brake pads.
Compatibility
This Ancel scanner is made for OBD2 and some OBD1 cars. It works on most 1992 and newer models. Note that for OBD1 cars (made between 1992 and 1995), you will need to buy an OBD1 connector separately. But for OBD2, you get the connecting cable in the package.
As long as we're talking compatibility, the ANCEL FX6000 has had several complaints regarding selective compatibility. A few cars that it doesn't cover completely include the 2003 Ford F250, 2002 Honda Accord, Chrysler PT Cruiser, and 2000 BMW 750il.
Software & Update
The ANCEL FX6000 comes installed with the latest software. Over time you will have to update it so that the scanner can support the latest cars. Updates also fix bugs and functional loopholes.
That's an upside. The downside is that free updates only last for two years. After that, you will have to pay for subsequent updates.
This Ancel scanner is excellent for professionals, especially beginners. It offers an impressive range of advanced functions, including ECU coding and programming. Plus, it supports OBD1 and OBD2 diagnostics.
However, some functions still lack, and for that reason, it might not be ideal for use as the primary tool in a shop. So if you are an auto mechanic, you can consider it as a complimentary OBD scanner.
ANCEL FX6000
Read more:
ANCEL FX2000: 4-System Full-OBDII Car Scan Tool Review
Best Car Professional Diagnostic Tools 2021 [Comparison and Review]
Buying Guide For ANCEL OBD2 Scanners
Now that you have the top 3 Ancel OBD2 scanners you may want to narrow it down to just one. What should you look at when choosing between the three? Here are the top considerations:
1. Compatibility
Be sure to check that the scanner you are buying can retrieve codes for your vehicle's make and model. The four scanners above (AD510, AD410, AD310, and AD210) cover OBD2 cars only. Additionally, they are only compatible with some US-based vehicles made from 1996 onwards and some Asia/EU models made from 2000 onwards.
2. Available updates
Scanners usually need the latest updates to ensure that they can handle the latest automotive technologies. A scanner with outdated software may miss a few problems during the self-diagnostic process. Unfortunately, in the case of the three scanners reviewed, only the AD410 can be upgraded.
3. Customer support
You can call them any time of the day for support. They also equip their scanners with a lookup library to help provide definitions and possible causes of problems during the diagnosis process. Alternatively, you can also send them your diagnosis results, and they will give you a full report that includes recommendations for repairs.
4. User reviews
Reviews by other users are strong indications of which scanners are good. Reading them will notify you of the potential positives and drawbacks of owning a particular model. In that regard, Ancel's scanners enjoy very positive ratings and reviews. The AD310 has the best average user rating – 4.6 stars out of a possible 5. The AD210 has 4.4 stars, and the AD410 has 4.3 stars.
Read more: