When it comes to affordability and a wide range of products, Ancel is the real deal. No matter what you ride, Ancel has thought of everything.
However, with such a vast array of Ancel products to choose from, finding the right scanner can be overwhelming.
But fear not! This article is here to help you navigate through the options and find the perfect scanner for you quickly.
---
In this article:
---
6 Best Ancel Scanners: Comparison Chart
[Note for Mobile users: Swipe left for full table]
---
Is Ancel a Good Scanner?
The quick answer is YES.
On their official website, Ancel has claimed that: 
"We are committed to making the cost of car maintenance and repairs affordable. Save money and reduce the burden of car maintenance for every family."

Ancel.com
And they did what they promised.
Since 2013, Ancel has been tirelessly developing scanners that cater to a wide range of vehicles, from cars to trucks, and even motorbikes (as I mentioned earlier).
Their dedication to versatility is impressive.
Many Ancel scanners are trusted by the majority of customers and rank among the top 100 best-selling scan tools on Amazon. 
These scanners all have more than 2,000 feedback (or even 30,000 reviews on the Ancel AD310) and a rating of at least 4.4 out of 5.
These are not just numbers; they are tangible proof that Ancel products can be relied upon. 
The positive experiences shared by numerous customers demonstrate the quality and effectiveness of Ancel scanners.
---
Ancel Product Lines: All You Need To Know
Here's a quick overview of Ancel's product line.
Ancel has 18 product lines in total, each with a different price point and target audience.
Ancel Scanners for All Car Makes (6 Product Lines)
First, I'd like to highlight 6 universal product lines for general car brands. I mean, you can use scanners along these lines for the majority of the car manufacturers on the market.
They are as follows:
ANCEL AD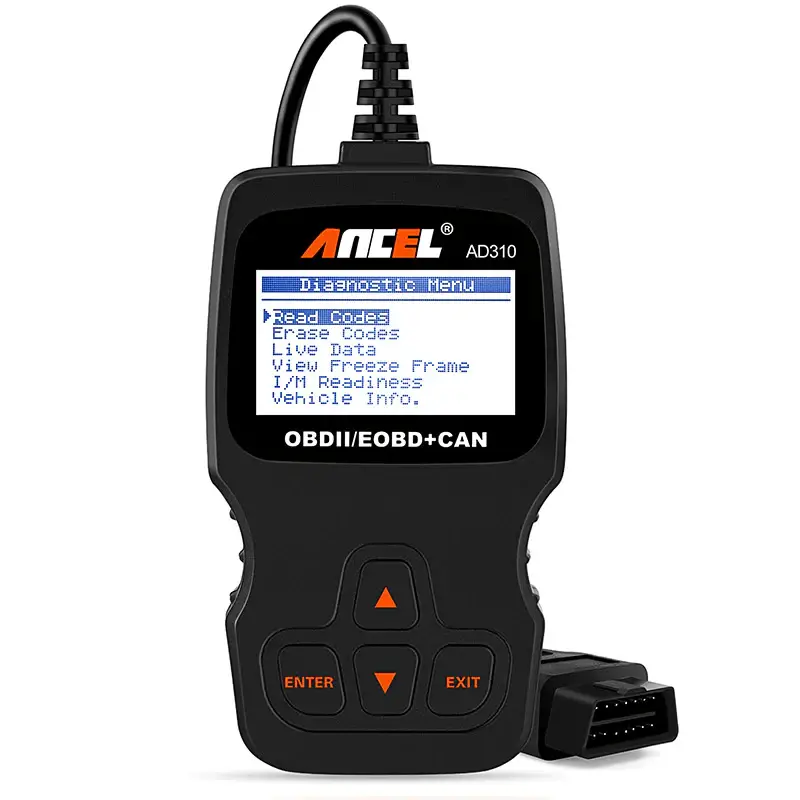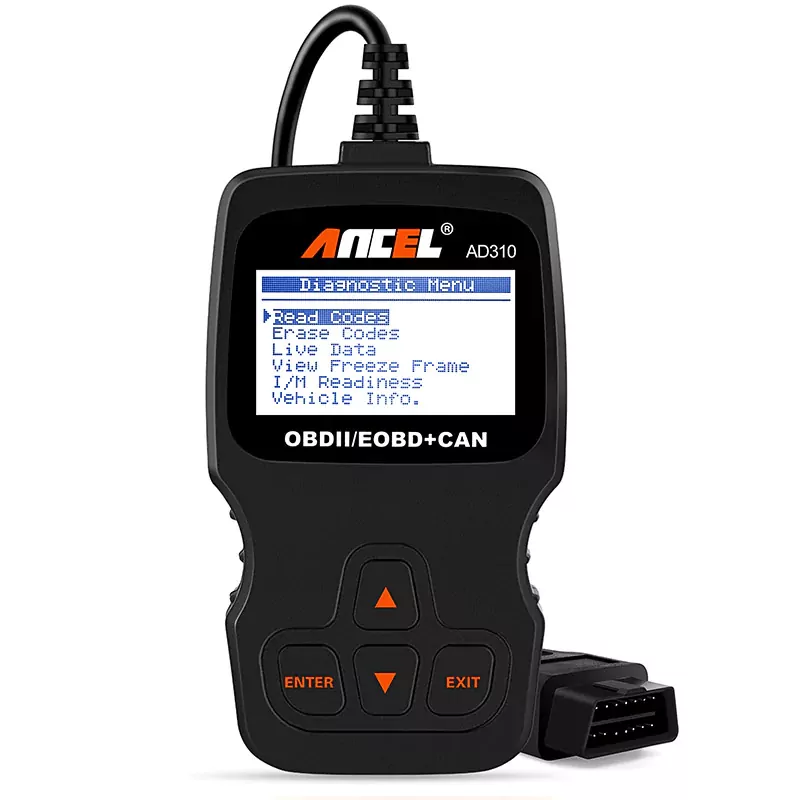 AD offers a variety of handheld scanners, ranging from:
ANCEL BD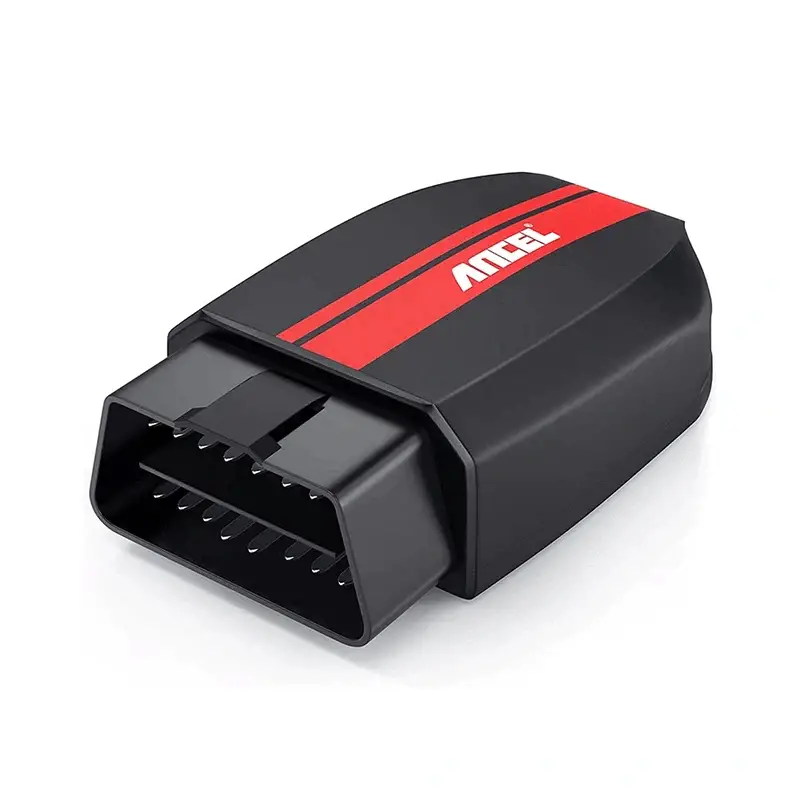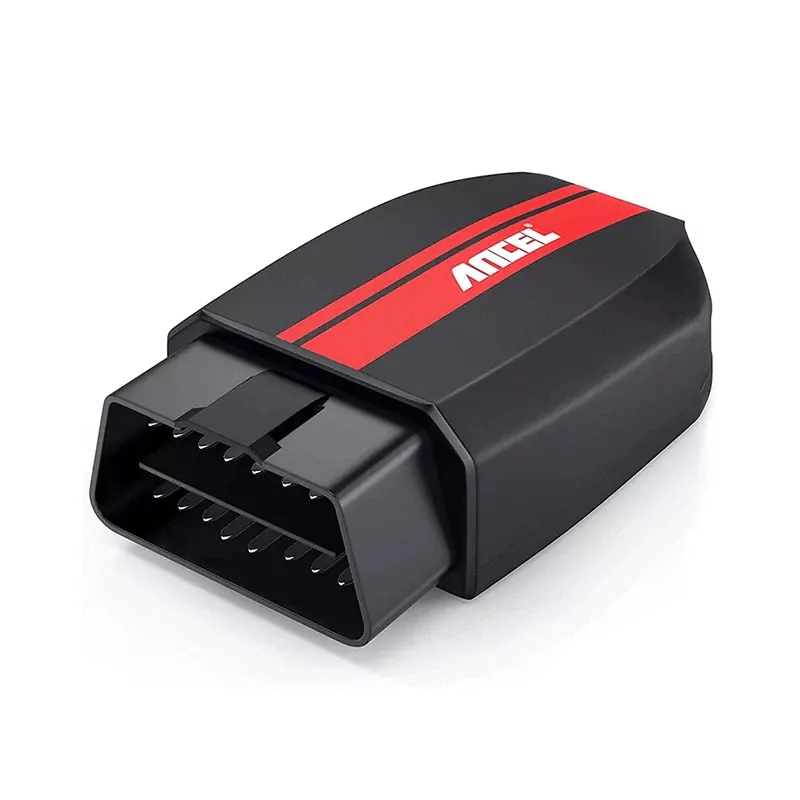 The B in BD stands for Bluetooth. Therefore, all ANCEL's products starting with BD (ANCEL BD310, BD200, BD300, and BD500) can be used as hands-free scanners thanks to the Bluetooth connection. 
With Ancel BD scanners, it will be easier to diagnose your car problem as you can use these scanners through your phone's app called "ANCEL". These wireless scan tools also take up very little space inside your cars.
ANCEL FX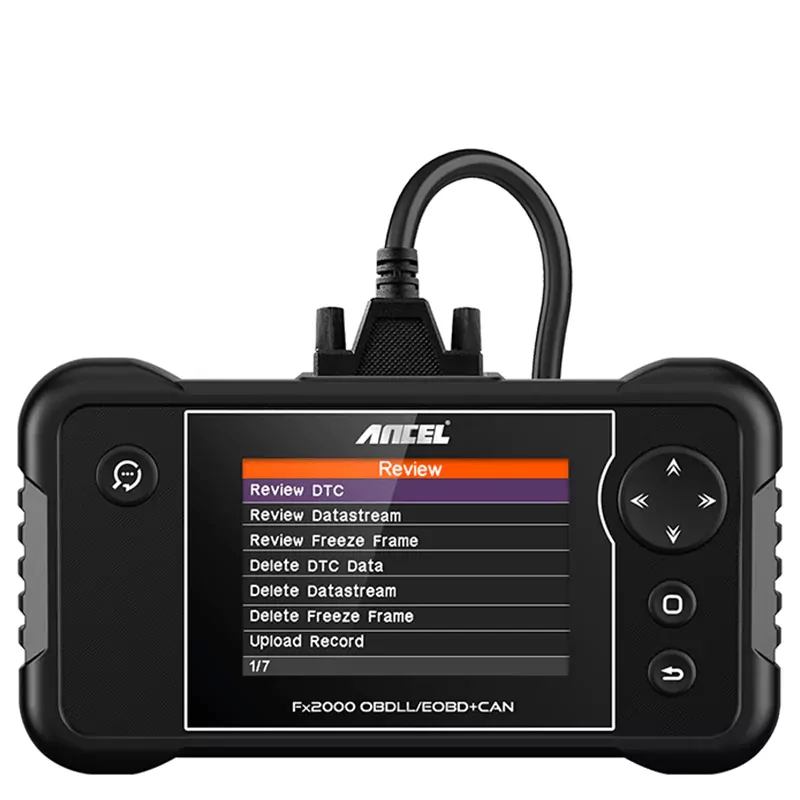 FX scanners (FX1000, FX2000, FX3000, FX5000, FX8000, FX9000) are aimed at experienced home mechanics. These products all have advanced features that allow you to repair your cars at home. 
ANCEL V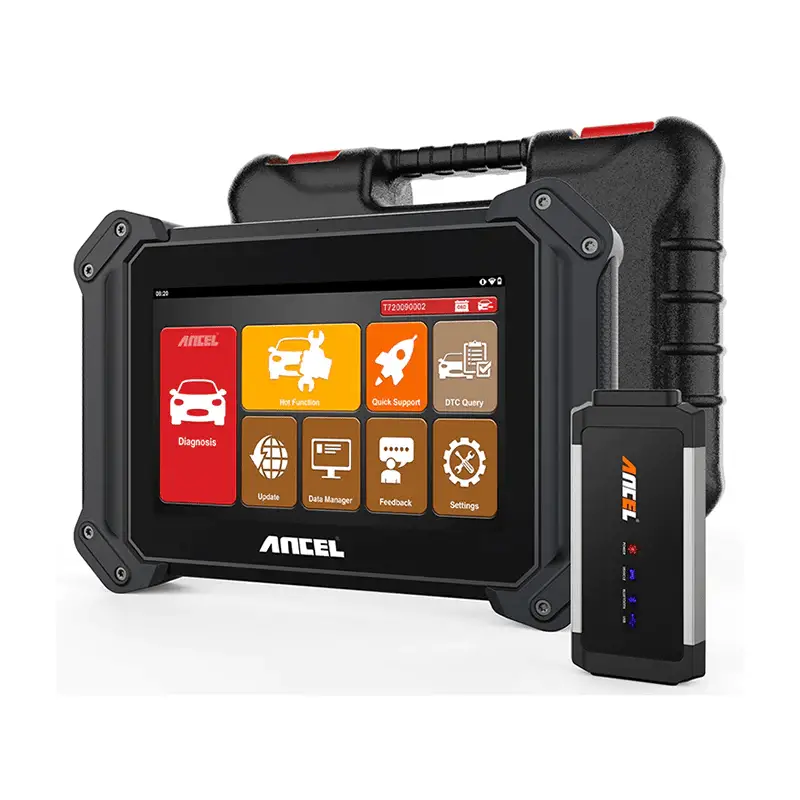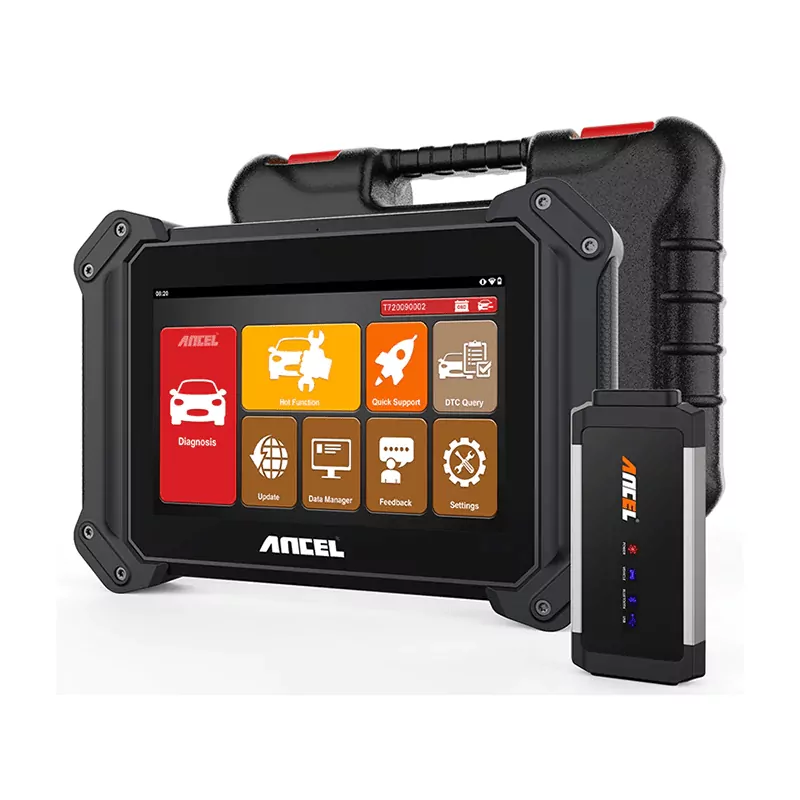 Besides the full system diagnostics and active test functions, ANCEL V scan tools (V6 Pro and V6) can provide you with up to 25+ Services, including IMMO. 
ANCEL DS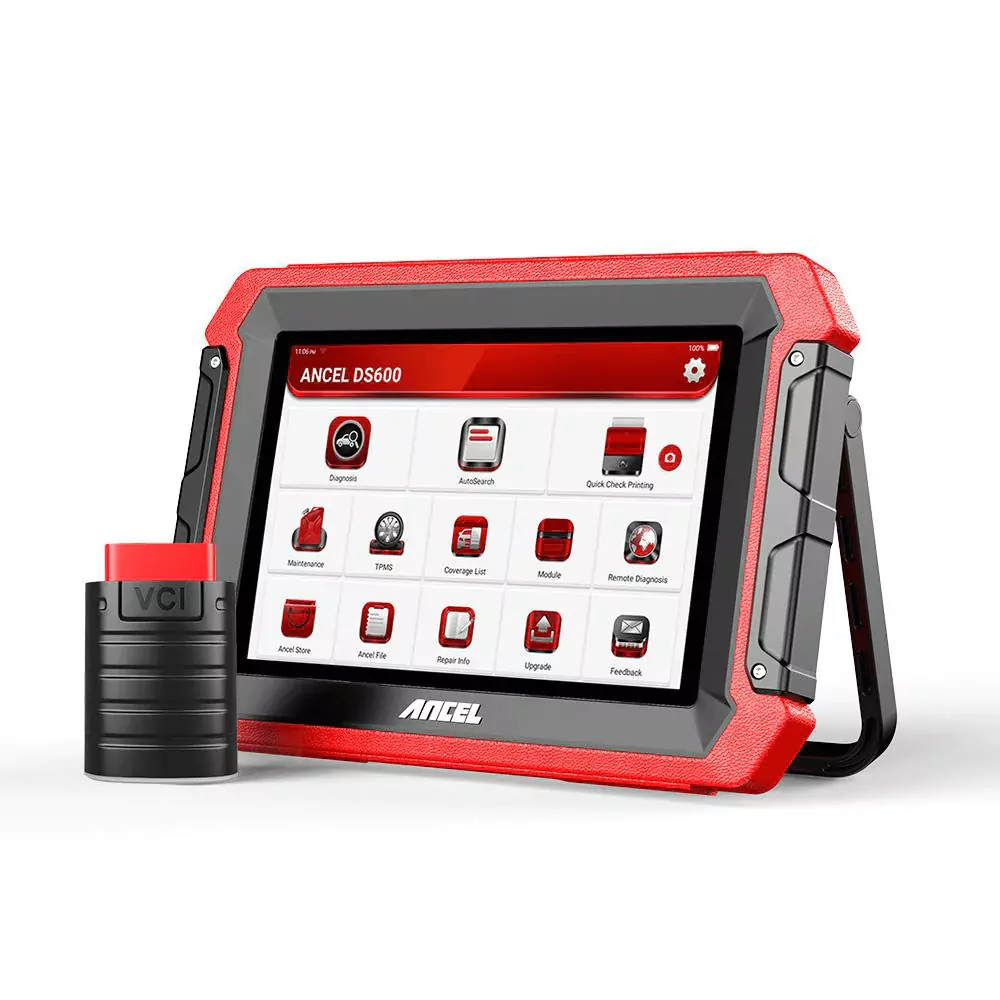 ANCEL DS600 and DS700 are advanced professional diagnostic scanners providing more than 34 service functions. They also support ECU coding function to help you match, learn, and code car ECU.
ANCEL X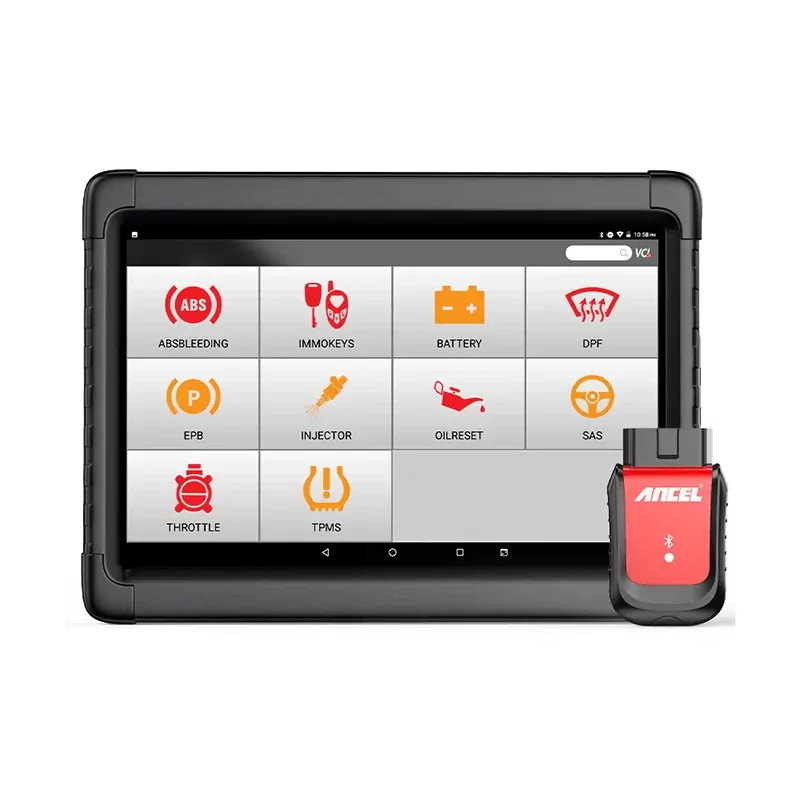 Ancel X is another product line for professionals. Ancel X6, and Ancel X7 with up to 15 advanced service functions will allow you to do much more car repairs than ever. 
With a big touch screen, these bidirectional diagnostic tools can help you analyze, then find vehicles' problems in all systems correctly and quickly.
---
Following that are 8 product lines for specific car manufacturers. 
Ancel Scanners for Single Car Make (8 Product Lines)
Let's begin with ANCEL JP.
ANCEL JP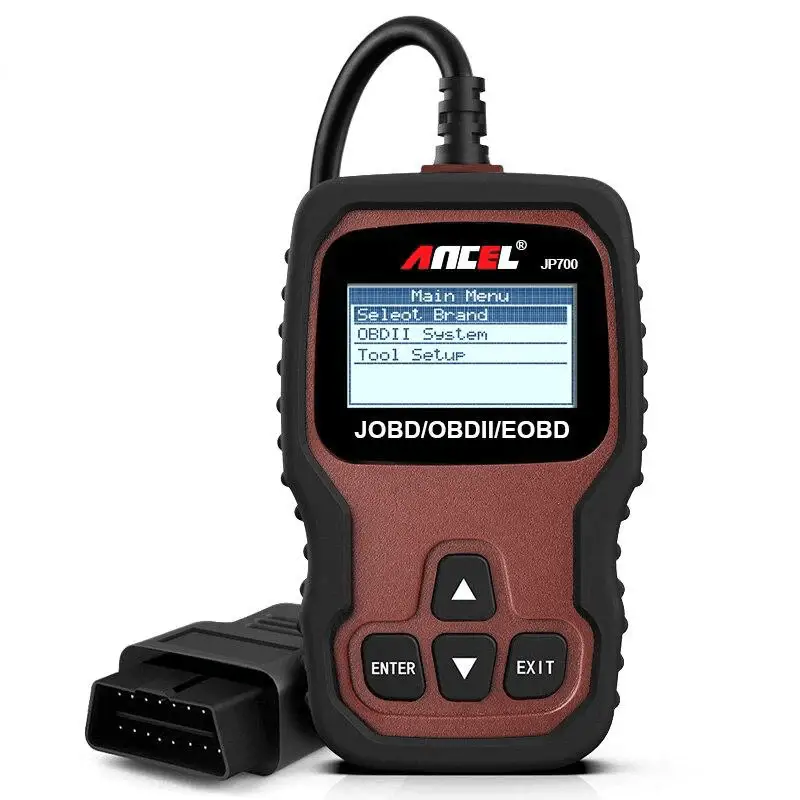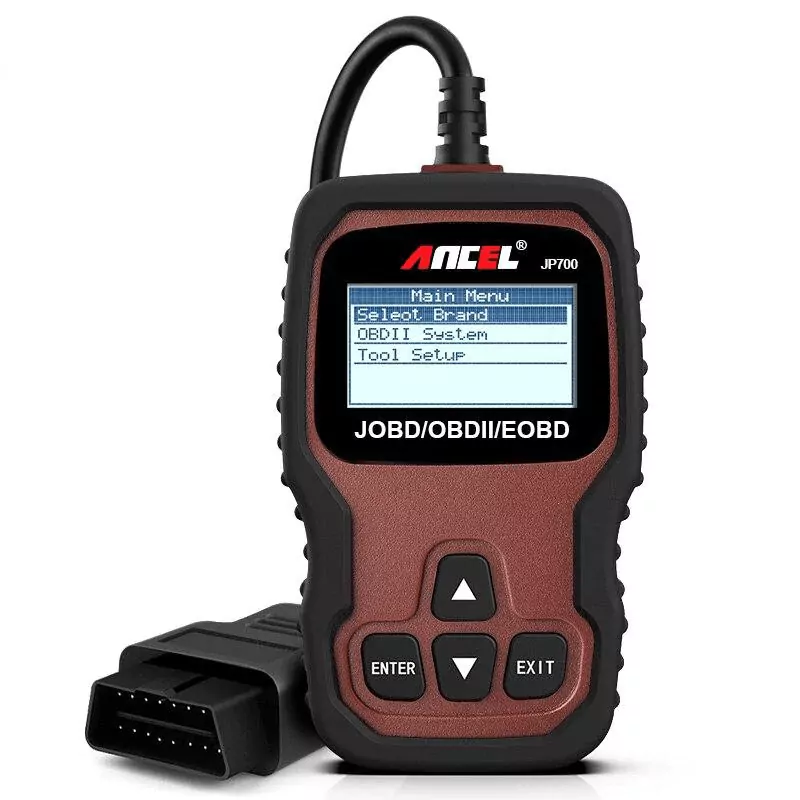 If you're looking for a scanner with JOBD protocol specially designed for Japanese cars (Honda, Suzuki, Toyota), the ANCEL JP700 code reader is a good option.
ANCEL JP700 goes beyond the standard features of reading and clearing trouble codes. It enables you to access live data and even prepare for smog checks.
By utilizing this scanner, you save a significant amount of money each year by fixing your car yourself.
ANCEL VD
ANCEL VD covers cars from Volkswagen Group (VW/Audi/Skoda/ SEAT). If you need a scan tool for your VW cars, you can consider buying ANCEL VD500 or VD700.
ANCEL BZ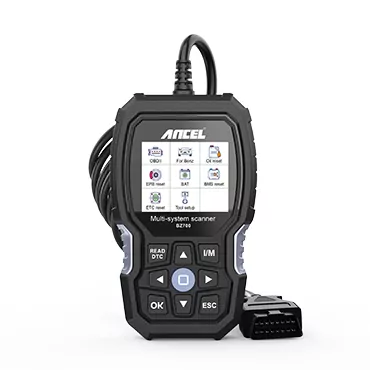 ANCEL BZ scanners are designed for only Mercedes Benz vehicles, including diesel ones. There is only 1 product in this line: ANCEL BZ700.
ANCEL VOD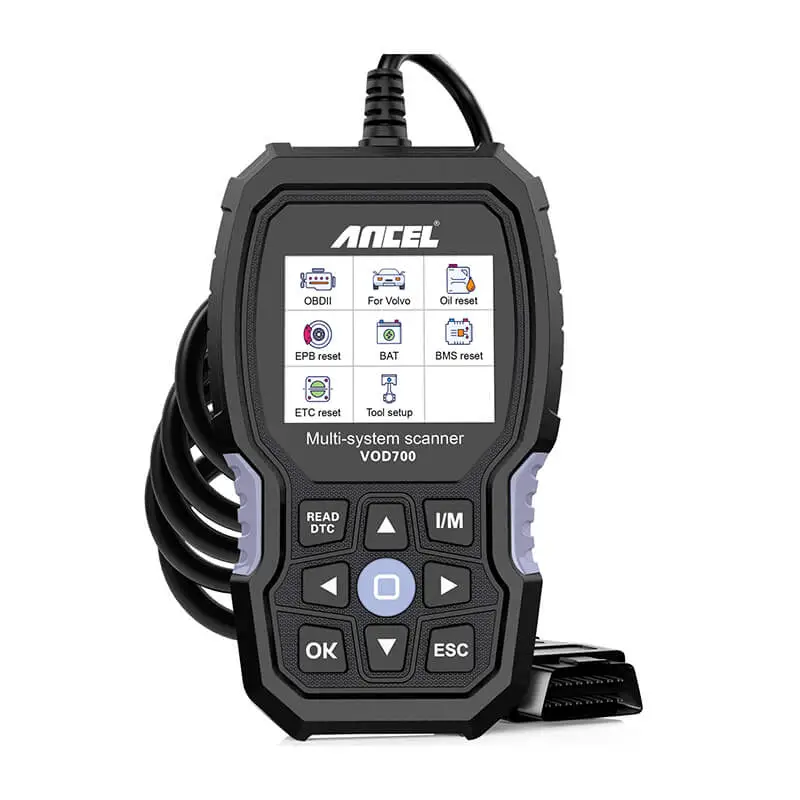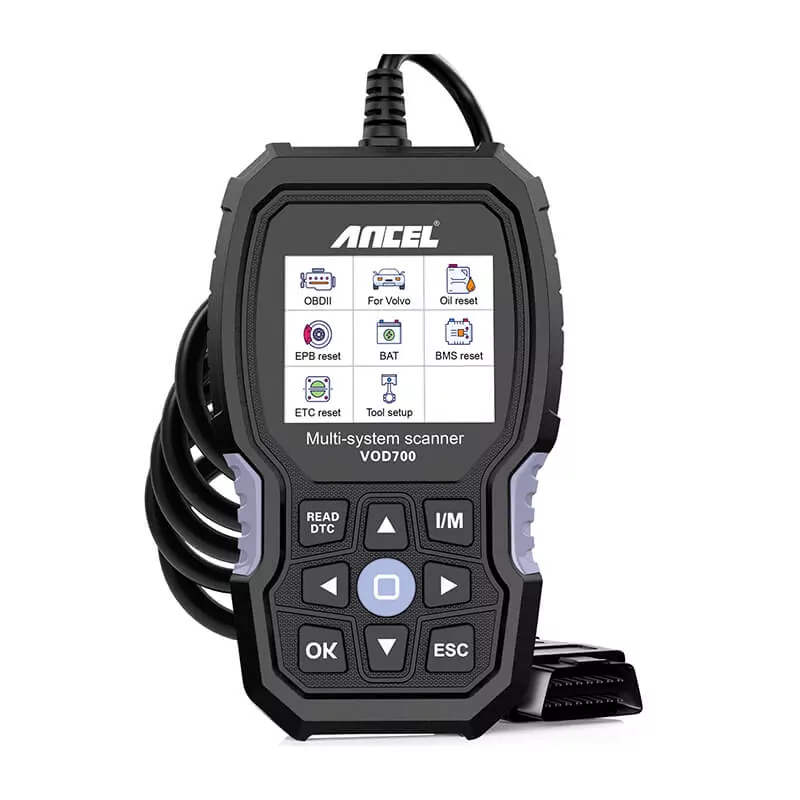 ANCEL VOD700 is the only scanner in this product line that is specially designed for VOLVO vehicles.
This four-system scanner even allows you to perform Advanced Functions such as ABS bleeding, Oil reset, EPB reset, TPMS reset, etc.
ANCEL BM
This product line includes ANCEL BM700 and BM500. They are exclusively designed for BMW, MINI, and Rolls-Royce.
ANCEL LD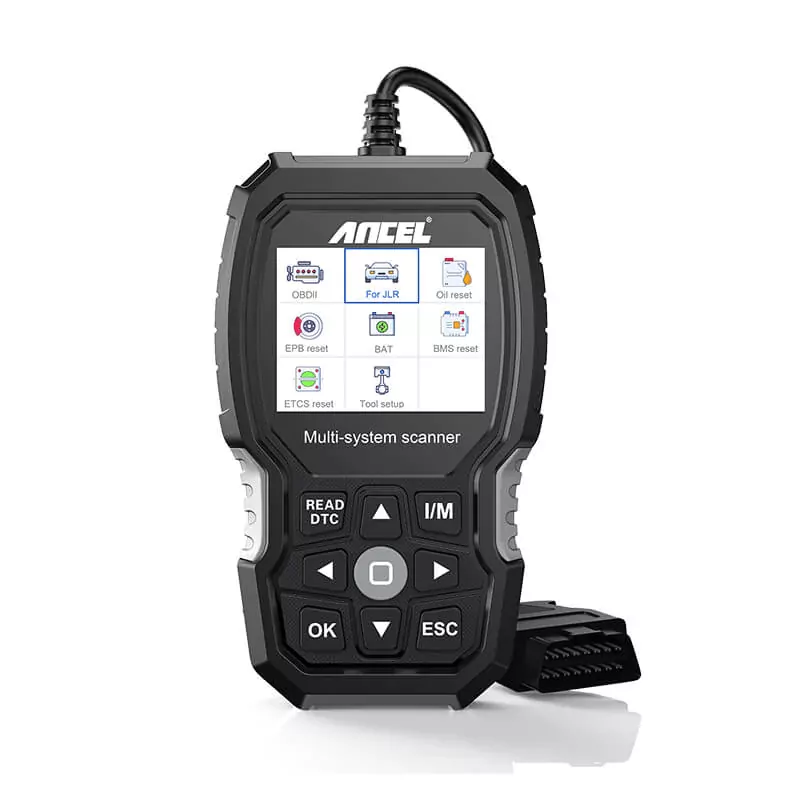 Like VOD700, this product line comes with only ANCEL LD700. This four-system scanner is designed for all Land Rover and Jaguar car owners and home mechanics.
ANCEL FD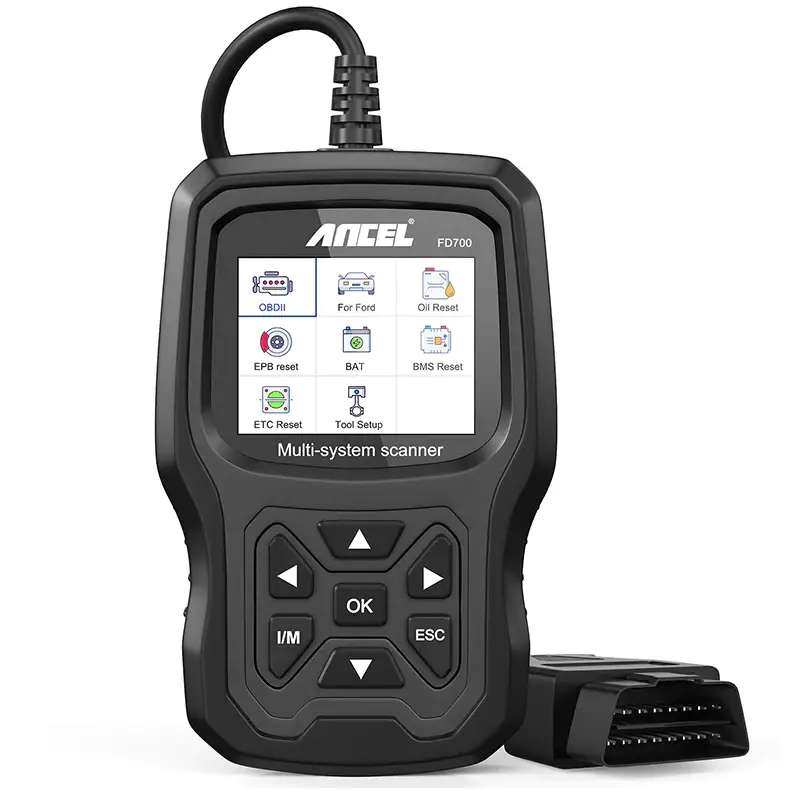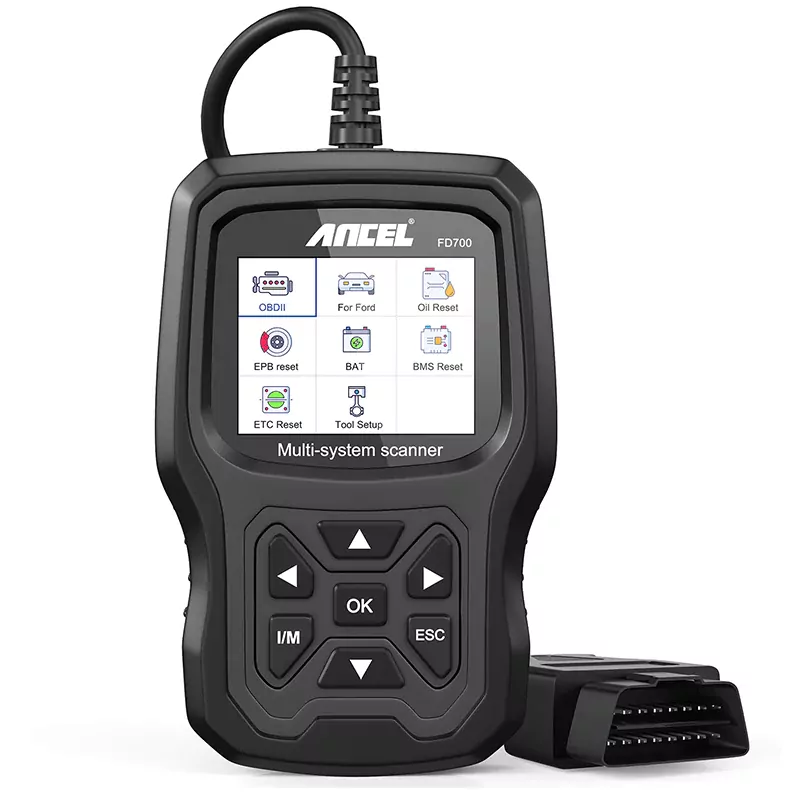 ANCEL FD700 and FD500 scanners in this line are compatible with all Ford Group vehicles manufactured after 1998 (including Ford, Lincoln, and Mercury).
Not only will these scan tools assist you in diagnosing 4 main systems: engine, ABS, SRS, and transmission, but they will also perform some special service functions.
ANCEL EU
Ancel EU scanners (ANCEL EU510, EU410) are made to work on most European petrol and diesel vehicles from 2000. 
---
Ancel Scanners for Heavy-duty Trucks
ANCEL HD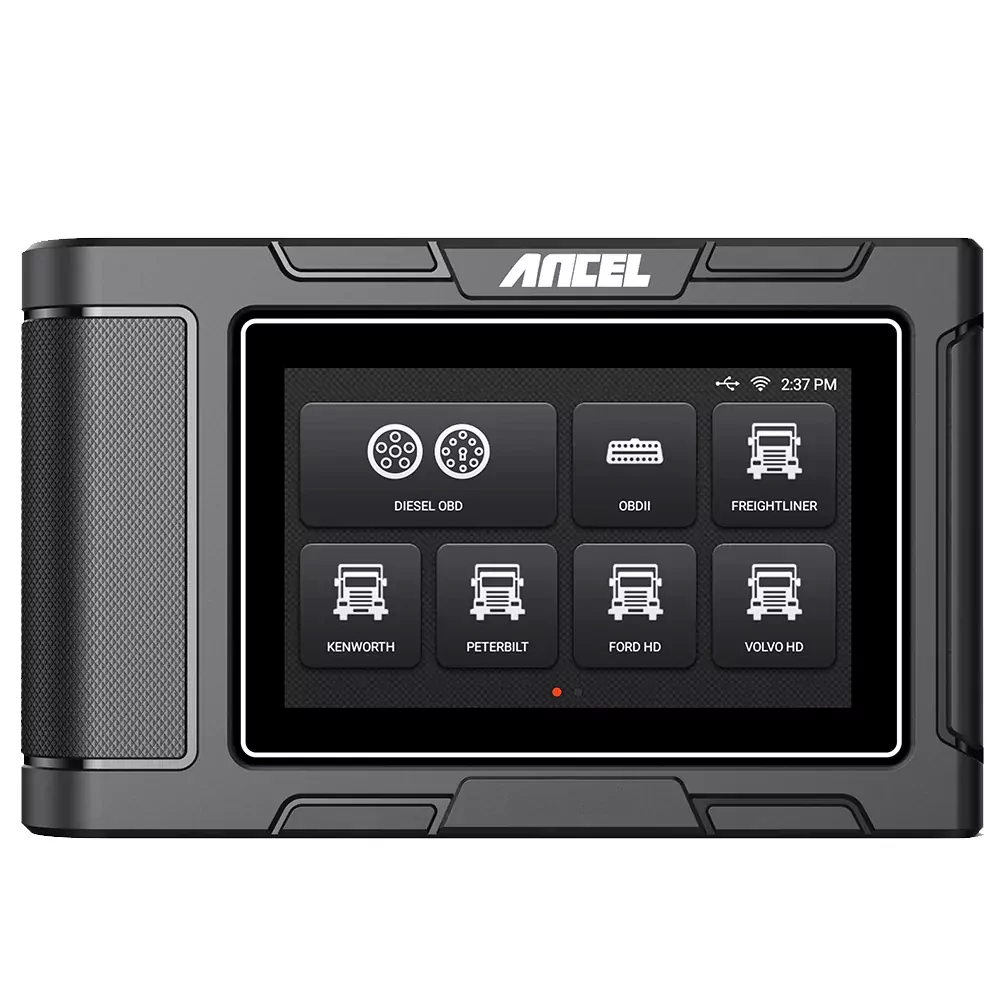 With the aim to support heavy-duty vehicles, ANCEL HD can work perfectly on Cummins, Volvo, Caterpillar, Detroit, Paccar, and more.
Here is the list of Ancel HD scanners for your truck: ANCEL HD601, HD3100 Pro, HD3100, HD3200, HD3300, HD3400, HD3500.
Let's not forget about the incredible Ancel X7HD.
Priced at a reasonable $650, it's the ultimate all-in-one solution for truck mechanics and professionals.
With active tests for all systems, ECU codings, and a remarkable 10 reset functions, Ancel X7HD is a scanner that truly lives up to its worth and is definitely worth the investment.
---
Ancel Scanners for Motorcycles
Ancel MT
Ancel MT500 and MT700 in this product line are designed to be multi-brand motorcycle scanners, capable of even supporting Harley-Davidson models. 
Offering comprehensive diagnostics for all systems, these scanners are your go-to solution for identifying and resolving any issues your motorcycle may have.
---
Now, let's dive into the in-depth reviews of each Ancel scanner I have recommended.
Best Ancel Scanners for DIYers/ Newbies
#1. Ancel AD310: Cheapest code reader. Accurate, easy to use.
The Ancel AD310 is the superhero of car diagnostics, here to rescue you from any CEL trouble. And the best part? It won't break the bank!
This scanner is compatible with all cars manufactured after 1996, making it a reliable choice for most vehicles. 
I used ANCEL AD310 to do a variety of diagnostics, from checking engine lights to EVAP leak tests and the live data function.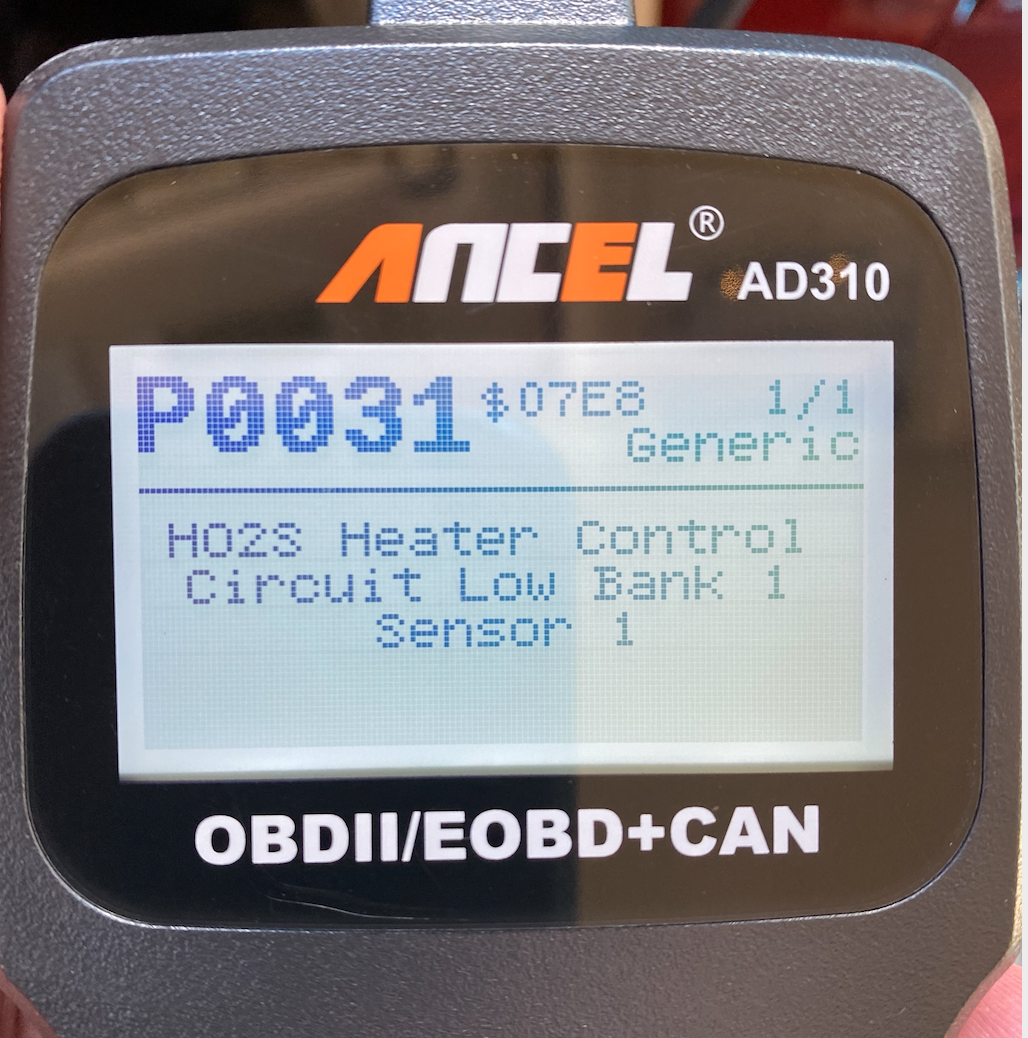 It reported the error code effectively and gave me test results instantly after waiting for 15 seconds or less. 
Although it lacks the ability to display live data in graph form, the AD310 still provides digital live data, making it perfect for beginners.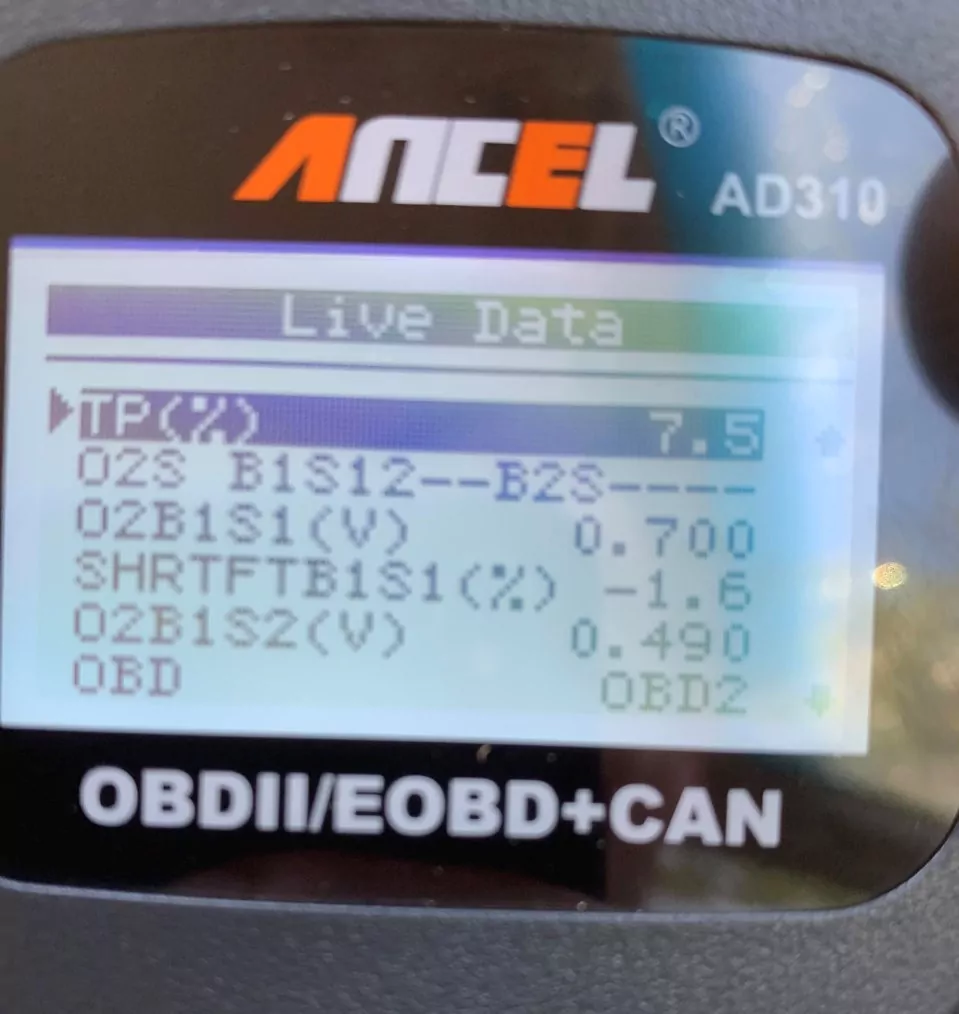 However, if graphing live data is a priority for you, I recommend considering the Ancel AD410 instead.
Sure, Ancel AD310 may not have all the fancy bells and whistles, but it's a pro at reading those annoying check engine light codes. It's perfect for both newbies.
Today's best Ancel AD310 price:
#2. ANCEL AD410: Another cheap code reader. Better for graphing live data.
The Ancel AD410 is another great option because it's got something the AD310 doesn't: graphing live data. 
This is a game-changer for those who crave a comprehensive view of their vehicle's performance.
The AD410 also boasts a larger screen, measuring 2.4 inches. That's right, it's one inch larger than its little brother, the AD310. 
Not only that, but with its vibrant color display LCD screen, the AD410 offers a visually pleasing and clear view. Therefore, you won't miss a single detail of those test results.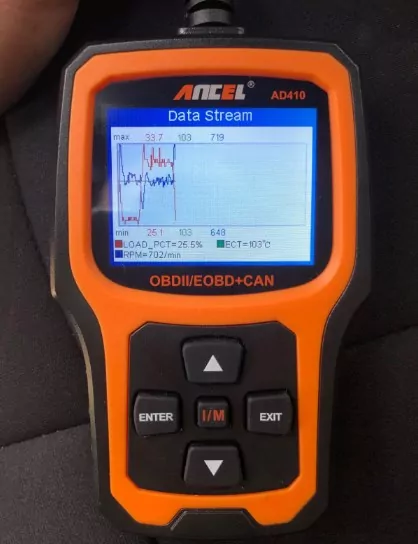 Apart from these impressive features, the AD410 didn't exactly knock my socks off.
Anyway, it's all about finding that perfect balance between functionality and your budget. 
So if you're willing to dish out an extra $20 for the graphing live data, the Ancel AD410 is your go-to.
Today's best Ancel AD410 price:
Read more: ANCEL AD410: OBD2 I/M Readiness MIL Scan Tool Review
#3. Ancel FX2000: Reliable for pulling ABS/SRS/Trans codes
The Ancel FX2000 is a top-notch scanner that offers premium features you won't find in cheaper tools. 
While it may be the priciest scanner in its group, it's definitely worth the investment.
One of the standout features of the FX2000 is its ability to retrieve trouble codes from ABS, SRS, and Transmission systems. Not just the engine codes like the AD310 and AD410.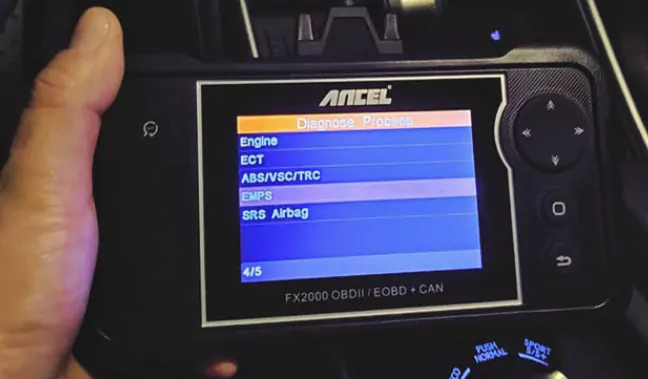 This means you can quickly pinpoint the cause of your ABS/SRS light and resolve the issue in no time.
Another reason why the FX2000 shines is its live data function. 
With a nice big screen, it's easy to read and interpret graphing live data, making it ideal for those of us with less-than-perfect eyesight. 
Plus, you can even capture snapshots and record data for future reference.
I particularly appreciate its capability to read transmission fluid temperature, which is essential when replacing transmission fluid in newer vehicles. 
In fact, this was the primary reason I chose to purchase the FX2000.
The only downside is that it doesn't come with a storage case, but I solved that by ordering the ANCEL Protective Case Storage Bag. 
It may not be cheap, but it fits the FX2000 perfectly, keeping it safe and protected.
Today's best Ancel FX2000 price:
Read more: Ancel FX2000: 4-system full-OBDII car scan tool review
Best Ancel Scanners for Advanced DIYers/Mechanics
#1. Ancel X7: Best bi-directional scanner for the price
Ancel X7 is truly an exceptional product that offers tons of powerful functions.
Considering its affordable price, I didn't have high expectations when purchasing it. However, to my surprise, Ancel X7 exceeded my expectations with its impressive capabilities.
One standout feature of the X7 is its wireless connection, which is something I always look for in bi-directional scanners. 
Typically, Bluetooth scanners under $500 suffer from slow speed, a trade-off that users often make to save money. But that's not the case with this Ancel X7. 
It performs all functions remarkably fast, from auto VIN detection to comprehensive system scanning.
The auto VIN detection is as quick. I tried it on several cars, including a Jeep, and it worked in the blink of an eye.
I've also tested its active tests. I tried turning on and off the courtesy lamps in the Light tests section, and the lamp responded smoothly.
An unexpected feature of the Ancel X7 is its ability to perform ECU coding for VW and Audi. 
Unfortunately, I didn't have the opportunity to test it on those specific vehicles. I will provide an update in the future (if possible).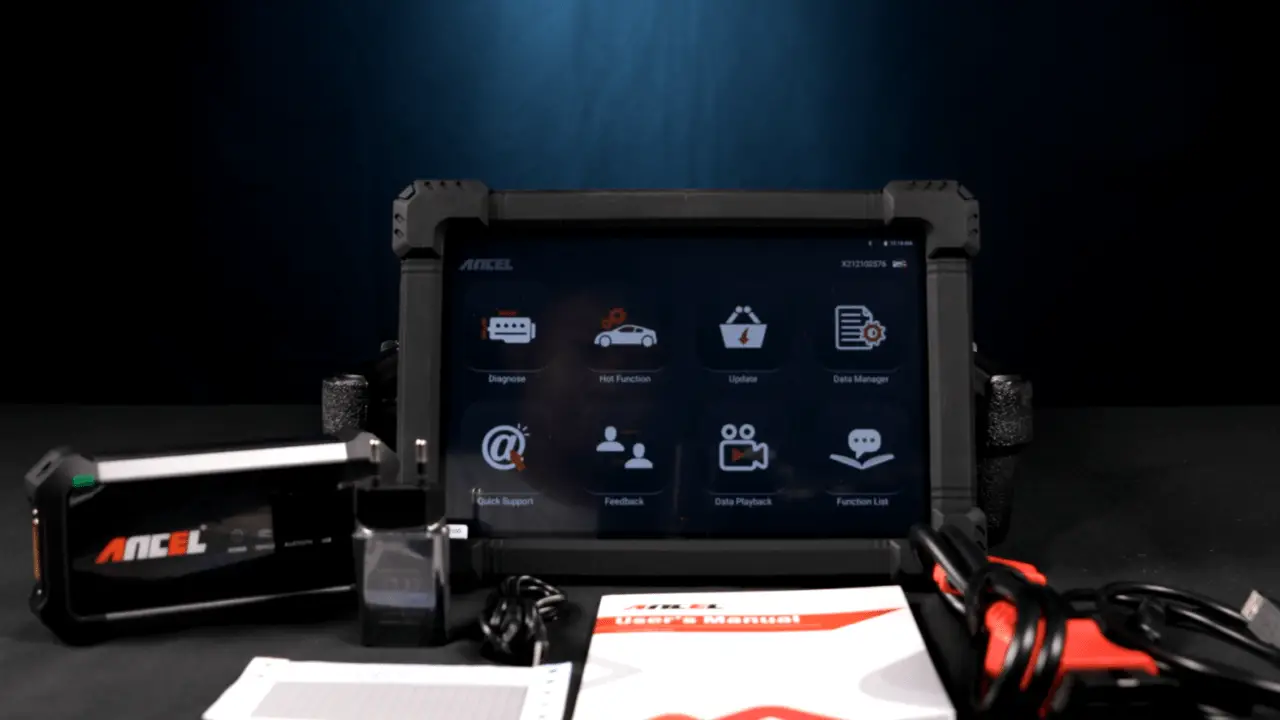 Now, let's talk about what I don't like about the X7—the bulky VCI. You can get an idea of its size from the photo I've included above. 
Honestly, I've never seen such a large dongle before. I personally prefer more compact VCIs for convenience.
Another drawback is that this scanner is not available on e-commerce platforms like Amazon. 
You can only purchase it on Ancel.com. However, buying it from Ancel.com comes with BIG discounts, and free shipping within the US, making it worth a try.
Today's best Ancel X7 price:
#2. ANCEL V6 PRO+: Offer tons of service functions
The Ancel V6 Pro+ is an excellent option to consider if you're in need of a bi-directional scanner with a wide range of service functions. 
But first off, let me tell you why I'm impressed with this scanner. It features a nice large screen that provides a clear view of the information I need. The interface is user-friendly and easy to navigate.
But here's the best part—the kickstand on the back of the device! It allows me to conveniently set it on the dash or console while using it.
Now, let's talk about the service functions. ANCEL V6 Pro+ is a powerhouse, offering a whopping 25+ service functions. 
Whether you need to perform routine maintenance like an Oil reset or more complex tasks like key programming, this scanner has you covered.
Keep in mind that the availability of service functions may vary depending on the model of your vehicle. 
For instance, when I tested it on my trusty 2019 Ford Edge, the V6 Pro+ delivered all the functions I needed. 
However, there were a few missing features, like key programming, when it came to vehicles like the 2012 Dodge, Chrysler.
Here's my advice: Make sure to reach out to the seller and verify compatibility with your specific vehicle. If you wanna know how to contact the seller and ask them directly, check out this infographic. 
Overall, the Ancel V6 Pro+ is incredibly user-friendly, making it an excellent choice for semi-professional use. 
It enables you to handle repairs and perform most maintenance tasks right at home, resulting in substantial cost savings.
Today's best Ancel V6 Pro+ price:
#3. ANCEL AD610 Plus+: Cheapest scanner for ABS/SRS problems
From the moment I started using it, I was impressed by its well-designed build.
Unlike some other scanners in this price range that feel cheap and flimsy, the AD610 Plus+ is rugged and sturdy. 
The rubberized case gives it extra protection, so even if I accidentally drop it, it should hold up just fine. Plus, it comes with a handy case to keep everything organized and easy to find.
Now, let's get to the exciting part: why I consider it the cheapest scanner for ABS/SRS active tests.
Well, the first reason is its unbeatable price. I purchased it for just $100 on Ancel.com. I've saved $39 by purchasing it there, which makes me a happy buyer. 
But don't let the low price fool you, this scanner is packed with power.
The AD610 Plus+ effortlessly reads ABS and airbag codes on almost every car I've connected it to. It can even clear airbag lights on older Honda models from the 2000 Era.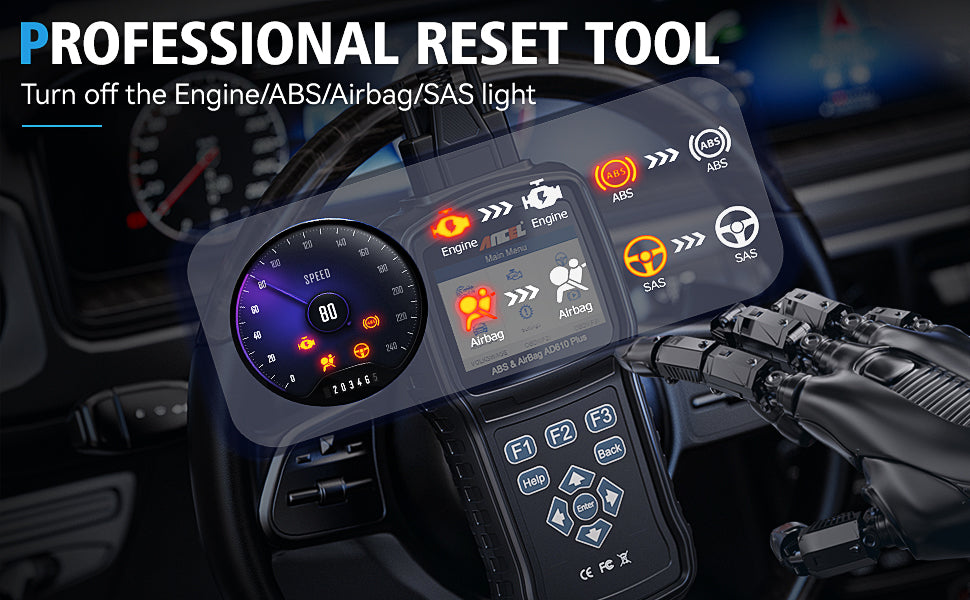 Moreover, the AD610 Plus+ goes beyond basic code reading. It offers convenient features like:
ABS bleeding 
and actuation tests for ABS and SRS systems. 
Please note that the active tests may be limited to a few simple tasks.
However, I must mention that the initial update process can take a bit of time. But you can simply choose the car brands you want to update. This will significantly reduce the waiting time.
To sum it up, while it may not offer as many advanced functions as the Ancel X7, the Ancel AD610 Plus+ is more than sufficient for those who primarily focus on ABS and SRS problems.
This scanner comes with a lifetime of free updates. Once you make the initial purchase, you won't have to worry about any additional fees down the line.
Today's best Ancel AD610 Plus+ price:
---
Conclusion
I hope you've enjoyed reading this far and found the perfect Ancel scanner that fits your needs and budget. 
And if you want to support me, be sure to use the link provided in this post when you make your purchase. I don't receive any payment from the brands mentioned, so your support is what keeps this website up and running.
Thanks for reading!