Ancel is a superior and top-performing brands providing OBD2 scanners. This review will go over 4 best Ancel Automotive Diagnostic Tool so you can choose the right one for yourself.
>> Our Pick – Ancel AD410: Check Price At Amazon.com

>> Best Functionality – Ancel AD510: Check Price At Amazon.com

>> Best Preferred – Ancel AD310: Check Price At Amazon.com
Best Ancel OBD2 Automotive Diagnostic Tools Comparison Chart
Ancel AD510

ANCEL AD410

Ancel AD310

Ancel AD210

- Compatible with cars with OBDII plug.
- Supports most newer models of vehicles in the market.
-Support all OBD2 Vehicles
- Read and Clear all Check Engine Light codes (including O2 and EVAP systems)
- Support US-based vehicles made from 1996 and EU and Asia-based models made in 2000 and later
- Read and Clear all Check Engine Light codes
- Support US-based vehicles made from 1996 and EU and Asia-based models made in 2000 and later
- Read and erase codes



Retrieve vehicle information like VIN, CID and CVN

Retrieve vehicle information like VIN, CID and CVN

Retrieve vehicle information like VIN, CID and CVN

Tests I/M readiness and retrieves vehicle information (VIN, CID and CVN)

Support I/M readiness, comprehensive component and fuel system

Support I/M readiness, comprehensive component and fuel system

- The scanner comes with a 2.8-inch LCD backlight screen that is big enough for one to read without strain.
- You can read, store and playback live data collected on Evap system.

2.4-inch TFT screen, you can view data live or save/print them

Large LCD screen
Live data

LCD screen
Live data, code definitions and information from the lookup library
Bonus: ANCEL FX6000 Professional Automotive Diagnostic Scanner Review
Scroll Down for More Details!
ANCEL AD410 OBD2 Automotive Diagnostic Tool
The Ancel AD410 OBD2 Scan Tool is a budget standalone OBD2 scanner. It's specially made to work with check engine codes, retrieve diagnostic information, and help you diagnose basic problems with your vehicle.
Due to the low cost of the AD410, it's likely that buying this unit will save you money if you want to turn off your check engine light and fix your car.
What can Ancel AD410 fix?
On their own, car diagnostic scanners like the AD410 can't "fix" anything. Instead, they talk to your car's sensors and computers and give you information about the inside of your car.
A Video about ANCEL AD410:
Features and Functionality

Live data
The AD410 can retrieve live data from your car as it runs or views data that was previously recorded when your engine started to have problems. This data can help you pin down the exact cause of car trouble much faster than a trouble code alone.
Retrieving codes
One of the first things that a mechanic will do in order to turn off your check engine light is plug in a scanner just like this one. This is because your check engine light doesn't turn on for no reason.
Instead, it records a "trouble code" that will tell your mechanic why the light is on. The ANCEL AD410 (and other OBD2 scan tools) can retrieve this code in order to tell you what's wrong with your car.
Translating codes
Unlike some budget scan tools, the ANCEL AD410 OBDII Scanner will give you a brief description of what a trouble code means. This makes it much easier for you to diagnose and fix car problems on your own.
Of course, if you're not a skilled mechanic already, you'll probably have to use the internet to find out more. However, the sentence that the scanner displays can help refine your search more quickly.
Clearing codes
Once you've fixed your car's problems, you can use the AD410 to clear the trouble codes and reset your check engine light. This will keep your car's dashboard nice and relaxed!
Wide compatibility
This OBD2 Scanner can work with almost every car on the market such as:
(4.3 / 5)
read the full review
Ford,
Chevy,
Mercedes,
Suzuki,
Land Rover,
Nissan,
Toyota,
Honda,
Audi,
Hyundai,
Volkswagen,
Jaguar,
GM,
and BMW.
The AD410 scanner also supports all OBD2 protocols. These are:
SAE J1850 PWM,
ISO9141-2,
ISO1430-4 KWP,
SAE J1850 VPW,
and ISO15765-4 CAN.
As long as your car has a 16-pin OBD2 port somewhere (and most do), you'll be able to read information and clear codes with the AD410.
PROS
Uses an advanced STM 32-bit CPU for faster processing
Compatible with various vehicle makes, including Europe and Asia-made brands
Supports all OBD2 protocols
Retrieves live data from the car as it runs
Translates &Clears codes
Free real-time software update
CONS
No extra features
Budget engine scanners like this one are somewhat limited in their functionality. They can't read or reset ABS codes, airbag codes, oil codes, or stability control codes. Some car makers add special manufacturer-specific functions to their car's diagnostic system.
ANCEL 410 isn't compatible with most of these extra systems. It'll still read, clear, and reset basic codes on most cars, it just can't tell you everything.
AD410 cannot read some codes like ABS, oil, airbag and stability codes
Odd key layout
This is reaching a bit, but the "enter" button on this scanner is on the left, not the right. It might take a bit of time to get used to this.
Limited code information
A few competing scanners have much better software that will tell you exactly what to do to fix a trouble code. The ANCEL AD410 does not come with this software. Instead, you'll get a vague idea of what's causing the problem.
For most amateur mechanics, this isn't a problem as you'll google your trouble codes anyway. If you work in a shop, however, a more in-depth on-screen reminder might be all you need.
Bonus: Ancel AD410 Detailed Review
ANCEL AD310 OBD2 Check Engine Light Car Scan Tool
Ancel AD310  is the one to watch out for. This is one of the lowest and most economical devices in the market.
Classic
User-friendly
Easy to operate
Able to read and analyze codes
This can sit comfortably on the list of the best professional automotive diagnostic scanners
Problem detecting the cause of that "Check Engine light"?
Do not worry!
The Ancel AD310 can easily determine the reasons. And not only the engine issues, but it can also find out other undetected issues. It can identify the I/M monitor readiness, and freeze the data on the frame so that you can come back to it later for a fix.
Weighing around 12 ounces, this one can be plugged into the OBD2 on the car.
The error codes on this one cannot be deleted unless it is fixed. So you have an option to store the data but not delete it unless it is repaired completely.
Battery operated the device, this one has a large screen which can be used to conveniently read the data published by the system. Retrieve the vehicle information, make the number, other details with ease once the device is plugged in and the ignition is turned on.
(4.6 / 5)
read the full review
Prepare for that smog test before you go for it officially.
Simple!!
Easy!!
Convenient!!
Save yourself the mechanic appointments every time a light goes off in your car!
 Pros:
Covers several vehicle models, including US, Asia, and EU-based models
Supports all OBD2 protocols
Starts displaying scan data very quickly
Very simple to use
Comes with a 3-year warranty
Affordable scanner tool
Cons:
Doesn't cover some codes like ABS, stability and airbag codes
Bonus: Ancel AD310 Detailed Review
ANCEL AD210 Car Code Reader
The ANCEL AD210 is a handheld scanner that is used to read, interpret and clear error codes on vehicles that are On-Board Diagnostic 2 (ODBII) compatible. These are mainly car models manufactured in and after 1996 in the US and 2000 the EU.
It reads the error codes and retrieves their meanings from an inbuilt database, then display them on an LCD screen existing on the scanner itself.
It draws power from the vehicle- no need for a separate scanner battery.
Features
An ANCEL AD210 delivery box contains just the scanner with an attached plug-in cord. The cord attaches to the port on the vehicle. The scanner body comprises an LCD display screen that shows the menu and error results.
There are three buttons (Scrool, Enter, and Exit) used to execute commands during the scan. The scanner weighs a paltry 10.4 ounces (294.8 grams) and measures 9.1 by 7.1 by 1.4 inches (23x18x3.6 cm).
(4.4 / 5)
read the full review
Performance
This is a DIY error code reader. Once plugged in, it diagnoses the errors that may be prompting a warning light. Usually, these are engine problem errors. It does not look into Anti-lock/Anti-skid Braking System (ABS) errors.
The scanner read error codes and fetches their meaning then displays the results on the LCD screen which has a white backlight, makes it easy to read the displayed text. The AD210 can be used to clear error codes but this is only possible once the problem causing the error has been fixed.
It works with vehicles running specifically on a 12v battery and with a 16-pin OBD II specification port. Once the scanner is plugged in, it automatically powers on and prompts the owner to switch on the car ignition. The resultant menu then runs the commands
Maintenance
The AD210 does not need any more maintenance than proper storage. When not in use, users should coil the cord in loops to avoid breakage and also cover the plug-in end to avoid breaking or bending the pins, although these cases are pretty rare. It is advisable to replace it in the delivery box after every use.
Pros:
Very easy to install and use
Very fast in scanning and retrieving codes
Features a sleek design
Covers a wide selection of OBD2 vehicles
Has a multilingual interface
Very affordable
Cons:
Doesn't have some of the extra features of other OBD2 scanners, like Wi-Fi.
You can't read certain codes like ABS and airbag-related codes.
Bonus: Ancel Ad210 Detailed Review
Keep Reading to Know More!
ANCEL AD510 Car Diagnostic Tool
The Ancel AD510 scanner is best for reading codes, its primary function. Its affordable and will get the job done well enough. That is the perfect starter kit for a driver who is learning to take care of their car.
The ANCEL AD510 scanner is a convenient gadget to have with you when you travel. It will save you time and money when your car has a problem.
Compatibility
ANCEL AD510 scanner is compatible with cars with OBDII plug. So it can be used on European 2001, Asian 2005 car models and the US-made cars from 1996 to present. The ANCEL AD510 scanner also supports most newer models of vehicles in the market.
Not only that, the scanner also comes with a USB cable that can be connected to Windows, IOS, and Android run devices to give real-time reading son engine status.
Bonus: Ancel Scanner: The 3 Best Choices on the Market Review 2018
Display
The scanner comes with a 2.8-inch LCD backlight screen that is big enough for one to read without strain. Moreover, the interactive interface is available in eight languages. People can read, store and playback live data collected on Evap system.
In addition, the scanner can withstand falls if five feet from the ground without cracking. Also, the rugged design is anti-slip to make the tool durable.
Software
This scanner is easy to use. The interface is straightforward to read even for a beginner. The scanner has three lights. First, a green light indicates no fault code. Second, yellow means there is a pending fault code. And, red shows there is a permanent fault code.
Also, it supports several operating systems such as iOS, windows and Android. A lot of sensors data is captured like short term fuel-trim, vehicles speed, the status of the fuel system, the coolants temperatures. The built-in DTC library is useful in retrieving general codes and clearing them. You can read fault codes, turns off and reset the monitor.
With over 3000 systems, you will be able to solve many problems with the device.
(5 / 5)
Features
Aside from functionality, this scanner is armed with unmatchable features such as:
Durability
When you dropped the scanner from a five feet height, it maintained its shape without cracks on the screen or dents. Furthermore, the drop did not interfere with the overall performance of the device. The casing is hardened plastic that keeps the inside parts intact making the tool last long.
Functionality
The onboard monitoring system makes it possible to get real-time information about your car. All you need are to plug it and make a diagnosis and use the built-in DTC function which has over 2000 generic codes, which allows you to find the cause of the problem without going online.
This small device will help you solve a lot of your engine problems early enough for them not to be a significant problem in the future.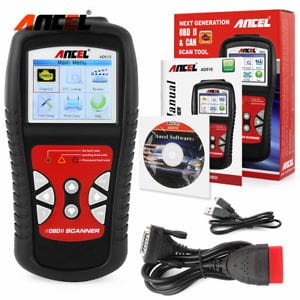 Multi-language support
The scanner supports eight languages. Many late car models from various countries are able to use it. The scanner can be upgraded by connecting to the internet as well. You can print your car diagnostic history too when you join online and check the overall health of your car's engine.
This information is helpful when you experience a significant problem. Your mechanic can use this information to track and do repairs using it.
Battery voltage check
There is a shockproof case for the scanner. It supports battery check function which allows you to check the real-time battery status and to decide if the battery should be charged before or after starting. The battery check helps monitor the condition of the car battery to determine if it has enough power to run your car's systems.
(5 / 5)
Installation
This unit is a plug-n -play tool. All that the user has to do is plug the machine into the car's system and start taking readings.
Pros
It works with eight languages
The 2.5-metre cable is long enough to reach any part of your car
There is no need for a charger
It's easy and fast to use
Also retrieves information about the vehicle
Cons
Does not work on heavy duty trucks
Bonus: Ancel AD510 Detailed Review
RECOMMENDATION
Still not sure which Ancel OBD2 scanner to choose?. Don't worry!. We are here to help you.
Our Best Choice: Ancel AD410
While you may still not be able to read codes for ABS, airbags, oil, and stability, you can update the AD410 to cover the latest automotive technologies. The other two don't have an upgrade option.
The Best Functionality: Ancel AD510 
The Ancel AD510 scanner is best for reading codes, its primary function. Its affordable and will get the job done well enough. That is the perfect starter kit for a driver who is learning to take care of their car.
The Best Preferred: Ancel AD310
BUYING GUIDE FOR ANCEL OBD2 SCANNERS
Now that you have the top 3 Ancel OBD2 scanner you may want to narrow down to just one. What should you look at when choosing between the three? Here are the top considerations:
1. Compatibility
Be sure to check that the scanner you are buying can retrieve codes for the make and model of your vehicle. The 3 scanners above (AD410, AD310 and AD210) all cover OBD2 cars only.Additionally, they are only compatible with some US-based vehicles made from 1996 onwards and some Asia/EU models made from 2000 onwards.
2. Available updates
Scanners usually need the latest updates to ensure that they can handle the latest automotive technologies. A scanner with outdated software may miss a few problems during the self-diagnostic process. Unfortunately in the case of the 3 scanners reviewed only the AD410 can be upgraded.
3. Customer support
You can call them any time of the day for support. They also equip their scanners with a lookup library to help provide definitions and possible causes of problems during the diagnosis process. Alternatively, you can also send them your diagnosis results and they will give you a full report that includes recommendations for repairs.
4. User reviews
Reviews by other users are strong indications of which scanners are good. Reading them will notify you of the potential positives and drawbacks of owning a particular model. In that regard, Ancel's scanners enjoy very positive ratings and reviews. The AD310 has the best average user rating – 4.6 stars out of a possible 5. The AD210 has 4.4 stars and the AD410 has 4.3 stars.