Are you tired of which scanner you should pick, Ancel VD500 or Ancel VD700?
Ancel VD700 is the upgraded version of the VD500 and of course, it offers more functions. But Ancel VD500 is the cheaper option. 
Both scanners are designed to scan codes from engine, transmission, ABS, and airbag systems. 
However, there are some key differences between these two that you should know before buying.
Keep reading my review to compare these two options side-by-side and then find out the best-suited scanner for you.
---
First, let's begin with my overall rating of these two scanners before diving in each aspect.
---
Performance
1. Read codes from all systems for VAG cars
Both Ancel VD500 and VD700 allow me to scan trouble codes on any supported systems on VW/Audi cars. These two scanners performed well on my customers' cars like:
2005 VW Beetle TDI
2006 Audi Quatro A6
2007 VW Jetta
2012 Audi A4
2016 Audi A6
2019 VW Atlas
Yet, there are two cars that I couldn't pull codes: 2014 VW Jetta (ABS) and 2014 VW Passat TDI (transmission).
Also, the only difference here is that Ancel VD700 can scan all system's codes at once while VD500 makes me select each system individually. 
In terms of reading error codes, both have similar capabilities, but the interface of the VD700 is easier to navigate.
2. OBD2 functions
When it comes to OBD2 modes, Ancel VD700 reigns supreme over its predecessor, Ancel VD500. 
While VD500 offers only three modes – reading codes, erasing codes, and retrieving VIN information – VD700 boasts an impressive six modes, including live data stream, I/M readiness, and EVAP (mode 8). 
What sets the VD700 apart from the VD500 are its live data and I/M readiness functions. 
With live data analysis in text mode and a refresh rate of 2-3 times per second, the VD700 is a solid choice for its price point. 
Plus, its I/M readiness function can help you easily pass the smog checks.
3. Service functions
When it comes to advanced service functions, Ancel VD700 is the absolute winner. This scanner offers not one, not two, but a whopping seven more service functions than Ancel VD500.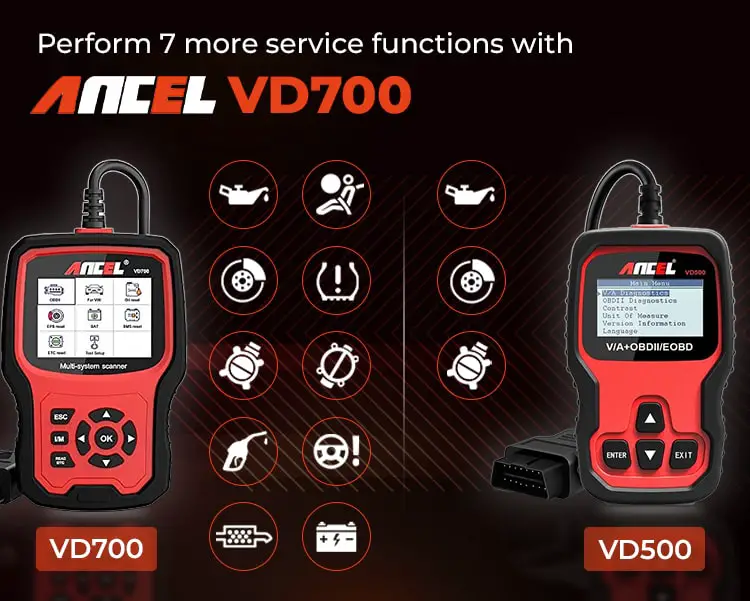 With Ancel VD500, you can perform 3 service functions: oil reset, throttle reset, and EPB reset. 
Meanwhile, except for the 3 mentioned ones, upgrading to the Ancel VD700 gives you access to 7 more functions. They are
throttle position adaption 
TPMS reset 
SAS calibration 
injector learning 
battery registration 
DPF regeneration
fuel pump reset.
One of the most worthy functions is battery registration. 
This function is a game-changer if you want to save some serious cash by avoiding expensive trips to the dealer. 
With the VD700, you can easily register your car's battery yourself.
4. Battery test
Did you know that Ancel VD700 has a useful function that the VD500 doesn't have? It can test your car's battery!
This feature is awesome because it allows you to ensure your vehicle's stability and safety while extending its life. By checking the real-time voltage, you can easily determine how good your car battery is and make necessary adjustments.
No more guessing whether your car battery is healthy or not, Ancel VD700 gives you the power to know for sure.
---
Design
Now, let's talk about the stylish and functional design of the Ancel VD500 and VD700 scanners.
At first glance, these two scanners seem pretty similar with their red and black colors and non-slip silicone protective cases. But don't be fooled, some major differences make the Ancel VD700 the superior choice.
VD700 has more buttons than the VD500, including handy hotkeys for I/M readiness and Read DTC functions. This makes it easier and faster to navigate through the scanner's features and get the information you need.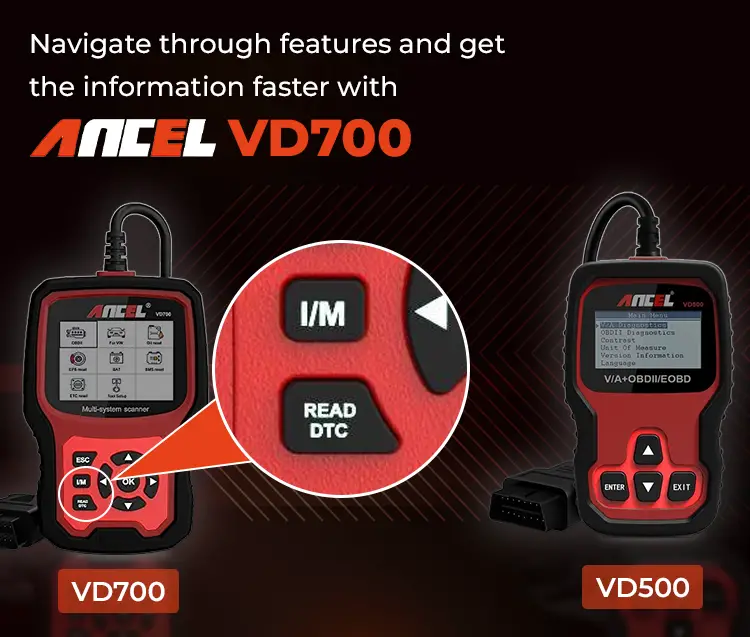 But that's not all, VD700 also has a vibrant color screen, while the VD500's display is non-color. Plus, Ancel VD700 lets you switch between light and dark modes, so you can use it comfortably even in low-light conditions.
---
Vehicle Coverage
Ancel VD500 and Ancel VD700 specialize in diagnosing Volkswagen Group vehicles like VW, Audi, Skoda, Seat, etc. 
As long as your VAG cars are manufactured from 1996 to 2023, these two scanners are compatible with them.
Overall, I don't see any differences between the two scanners. Both can work well on many cars I tested, as mentioned above.
After-sale Service
Ancel VD500 and VD700 come with a fantastic deal: a 1-year warranty and lifetime free updates. 
That's peace of mind for your investment! 
As for their customer support, let me tell you my experience. 
While it's not top-notch, it's not too shabby, either. Whenever I've contacted them via email for some inquiries, they've been quick to respond and help me solve any problems I had. 
The only slight challenge is their non-native English, which can make communication a bit tricky. 
But hey, with their top-notch warranty and updates deal, it's a small price to pay!
---
And The Winner Is…
After deep diving into the features and functions of Ancel VD500 and Ancel VD700, the clear winner is Ancel VD700! 
Ancel VD700's price is twice as much money as Ancel VD500's, but its service functions are three times as many as Ancel VD500's.
Also, the design of VD700 is improved in some points compared to its predecessor. 
That's the reason why this scanner beat its brother in two key areas: performance and design. 
Not to mention, these two scanners share equal coverage of vehicle models and excellent after-sale service. 
So, if you're looking for a top-of-the-line scanner for VAG cars, Ancel VD700 is the way to go!
Check Ancel VD700's latest price:
---
What's Next?
So, which one is right for you? 
That depends on your needs and budget. 
If you have a tight budget and need to perform simple tasks, Ancel VD500 is worth trying.
If you want to own more service functions, Ancel VD700 wins the race.
But for me, I would go for Ancel VD700. With the advanced functions it offers, I can perform more tasks on VW/Audi.
Once you have the final decision, don't hesitate to let me know your chosen scanner in the comment section below!