The ANCEL VD500 is an entry-level diagnostic scan tool that's primarily designed for the VAG (Volkswagen Auto Group) brand of cars.
First of all, the ANCEL VD500 is a pretty decent scanner compared to others that fall in the same price range.
It's perfect for any VAG owner.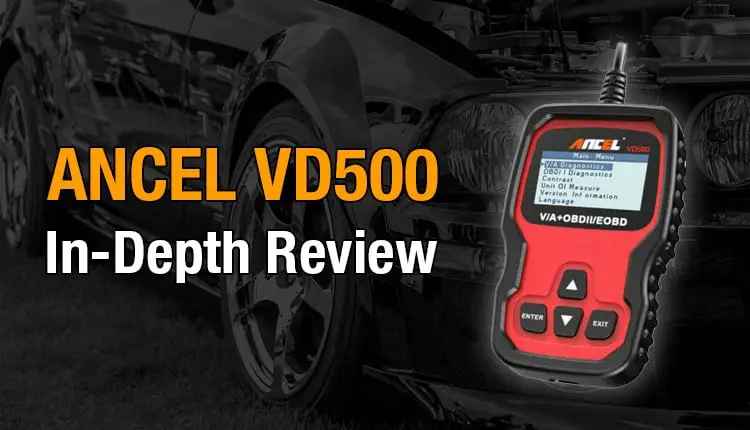 VD500 OBD2 Scanner Detailed Review
ANCEL VD500 OBD2 Scan Tool for Audi Skoda VW Seat
The VD500 is specialize in diagnosing Volkswagen Audi Group vehicles (VW, AUDI, SKODA and SEAT), it can also diagnose engine system for other OBD-II Vehicles.
Although the comparison above gives a glimpse of what the ANCEL VD500 has to offer, it doesn't entirely cover the details you need to know. This section gets into the nitty-gritty details of this scanner's functions.
Diagnose both VAG and non-VAG vehicles
VD500 can read and clear engine fault codes, read vehicle information for non-Volkswagen vehicles but can't read ABS, SRS, and transmission codes.
For VAG series vehicles (Seat, Skoda, VW Volkswagen, Audi), VD500 can do Oil Service reset, EPB reset, Throttle Position Adaption, all systems diagnostics, etc. As such, you can read and clear the engine, SRS, ABS, transmission, SAS, ESP, TPMS, and IMMO codes.
It also allows you to pull emission-related codes and determine whether your car will pass a smog test. By reading and erasing codes, you will be able to turn the Check Engine Light (CEL or MIL), and other warning lights off.
Vehicle Information
In addition to codes and the functions outlined above, the ANCEL VD500 can read a vehicle's information. It retrieves both the VIN and ECU info. The two are very important when you are dealing with a new car.
While VIN gives you the unique identity of a car, ECU information relates to the engine's parameters. It basically indicates the performance and condition of the engine module. That's the kind of information you need before you buy a car.
ANCEL VD500
Overall Usability
The ANCEL VD500 is one of the most straightforward diagnostic tools. Built with a backlit screen, it has easy-to-navigate menus. There are only four buttons; one for selecting an item, one for exiting, one for scrolling up, and the final one for scrolling down.
Once connected to a car, it will take you to the main menu. From there, you can choose to either do a VAG specific diagnostic or a general OBD2 diagnostic (for non-VAG cars). From there, it will display all the available systems and pull their codes.
You will be glad to know that the scanner provides code definitions to help you understand each problem. You can then decide whether to take the car to the shop or fix it the DIY way. It updates the software and database quickly via the Internet through a PC connection.
Compatibility
As mentioned, this scan tool is primarily for VAG cars that are OBD2 compliant. Those are 1996 or newer models of Volkswagen, Audi, Skoda, and Seat vehicles. For those cars, you can use all the functions of the ANCEL VD500.
The ANCEL VD500 supports all OBD2 protocols, including ISO9141, J1850VPM, J1850PWM, KWP2000, and CAN.
Pros and Cons of Ancel VD500
Pros
Simple to use
Very affordable
Has rugged construction and ergonomic design
Compatible with virtually all OBD2 VAG cars
Supports full OBD2 diagnostics for main systems in VAG and non-VAG cars
Can switch between English and German menusCons
Offers limited advanced and professional functions
Could use better code definitions
Cons
Offers limited advanced and professional functions
Could use better code definitions
Who is it for?
The ANCEL VD500 is still an excellent tool for DIY people and enthusiasts.
ANCEL VD500
But of course, no device is flawless, and the limitations of the VD500 might lead you to consider other options.
Two that come closest in terms of functionality are the XTOOL VAG401 OBD2 Scanner and the ANCEL VD700.
ANCEL VD500 vs. ANCEL VD700 vs. XTOOL VAG401
Both allow you to read and clear ECU, transmission, ABS, SAS & SRS codes. However, the ANCEL VD700 supports just a few more advanced diagnostics than the VD500. For example, you can use it for DPF regeneration and injector adaptation in addition to battery registration.
ANCEL VD500 vs. XTOOL VAG401
XTOOL VAG401 and ANCEL VD500 offer the same basic diagnostic functions. You can pull and erase codes from all the main onboard systems (ECU, transmission, ABS & SRS). Besides that, both devices support the oil reset and clearing SAS codes.
However, these two scanners differ rather widely when it comes to their range of advanced functions. While the VD500 checks the TPMS, ESP, immobilizer, and battery systems, the VAG401 doesn't offer access to any of those.
Instead, it allows you to reset mileage, make throttle adaptations, and perform long coding and adaptation. The two also differ in vehicle compatibility.
You can do basic diagnostics (ECU, transmission, ABS & SRS) on any mainstream OBD2 car (including non-VAG vehicles) using the ANCEL VD500. The same can't be said about the VAG401, which strictly covers VAG cars only.
Despite its low price tag and simple design, this ANCEL scanner does support an array of advanced functions. But is it suitable for your diagnostic needs? Let's find that out.
ANCEL VD500 FAQs
1. Will this work with an OBD1 car?
No, the ANCEL VD500 is strictly for OBD2 cars
2. Can I use the ANCEL VD500 on a vehicle that's not Volkswagen?
Yes, if it is OBD2 compliant. VD500 can read and clear engine fault codes, read vehicle information for non-Volkswagen vehicles but can't read ABS, SRS, and transmission codes.
3. Does it read live and freeze frame data?
No, this device doesn't support either of those
4. Can it reset my TPMS?
No. It can only read TPMS codes and allow you to turn the TPMS light off.
5. What other scan tools can I buy apart from the ANCEL VD500?
Although several scan tools are out there, the XTOOL VAG401 OBD2 Scanner and the OBDeleven Pro make great alternatives for the VD500.
6. Can I use the ANCEL VD500 on multiple vehicles?
Yes, you can, provided the vehicles in question are compatible. Please check the compatibility section for more information.
Read more: ANCEL AD210 OBD II Car Code Reader Review