I've tested the ANCEL V6 Plus+ for 2 months on 51 different OBD2 cars, light trucks, SUVs, vans, and GM motorhomes before writing this review.
In fact, Ancel V6 Plus+ is advertised to have all the features a backyard mechanic would need, including bi-directional controls and 25+ advanced service functions. 
But,
Is it good enough for you to buy or upgrade your old scan tool?
Read on and find out.
Scanner type: Bi-directional scan tool
Fit for: Backyard mechanic/DIY enthusiast
Vehicle type: Car/Light truck
Connection type: Bluetooth, Corded
Work on: OBD2 vehicles
Price range: Under $650
| | |
| --- | --- |
| Value for money | 4.5 |
| Bi-directional control | 4.8 |
| Tech Support | 5.0 |
| Vehicle Coverage | 3.9 |
Buy this scan tool if you want to…
Work with OBD2 gasoline/diesel cars/light trucks
Try and fix it yourself
Test used cars/light trucks of multiple brands before buying
Read trouble codes of all systems
Perform advanced service functions
Perform bidirectional controls (active tests)
Program a car key
It is not for you if you want to…
⬜ Work with heavy-duty trucks
⬜ Code a car's ECU
Pros
Helpful bi-directional controls
25+ advanced service functions
Big VCI for wireless connection
Powerful Android 10 tablet
High capacity battery of 8,000 mAh
Easy to use
Cons
ECU coding not supported
Can't work on OBD1 vehicles
Need better and more detailed instruction manual
Only 2-year free updates
Check Price at Amazon
The Ancel V6 Plus+ is the improved version of the Ancel V6 PRO. 
The most obvious upgrade is the Bluetooth VCI box.
The wireless connection makes V6 Plus+ more convenient than the traditional wired scanner. 
It allows you to work outside your car up to 10 meters away.
In addition, compared to the Ancel V6 Pro, the Ancel V6 Plus+ has 10 more special service functions.
I've had the opportunity to use it many times and had almost no issues updating and using the device. 
However, the scan tool has some problems that I will show you through this review.
Let's scroll down to find out more.
ANCEL V6 Plus+ Pricing: A Worthwhile Investment
Ancel V6 Plus+ was released on August 25, 2022, for $645. 
However, if you buy this product on Amazon in October 2022, don't forget to use the promo code 9TAOE8GX to get 7% off. 
Prime members can get this scanner for only $600, saving up to $50.
The Ancel V6 Plus+ is a great upgrade for your old scanner. 
It provides more than enough useful functions for backyard mechanics, DIY enthusiasts, and car mechanics in small shops. 
Key Takeaway: 
The price of ANCEL V6 Plus + is affordable and reasonable.
ANCEL V6 Plus+ Vehicle Coverage: Work Well If You Have a Standard OBD2 Port
ANCEL V6 Plus+ is compatible with most OBD2 vehicles, including cars, light trucks, SUVs, vans, and some GM motorhomes. 
As long as they have standard OBD2 ports.
I've only had this Ancel V6 Plus+  for two months, but I've already used it on 51 different vehicles in my shop. 
The list includes:
2016 Ford F-150
2018 Toyota RAV4
2014 Honda Civic
2014 Ram 1500
2012 Honda CR-V 
2007 Toyota Camry 
2004 GMC Sierra 1500
2001 Chevy Silverado 1500
2017 Toyota Tacoma
1998 Ford F150 
It worked flawlessly on every vehicle I've connected to.
My only complaint is that this scan tool does not support OBD1 vehicles. So, if you own a pre-1996 car, you should not buy it.
You'd better contact the seller before purchasing to ensure that the V6 Plus+ will work properly on your vehicle. 
Below are the 2 effective methods of asking ANCEL for help. 
You shouldn't have to wait too long. 
I'll share them with you right now:
Send your car model directly to the seller through Amazon's "Buyer-Seller Messages".
Or you can contact Ancel Tech via Messenger. You will receive a comprehensive response from Ancel customer service within 12 working hours.
Don't overlook this important step. 
And once you've made a purchase, you won't regret it.
Key Takeaway:
ANCEL V6 Plus+ supports almost all OBD2 vehicles in the US. 
But it's better to confirm the compatibility with the seller before buying.
ANCEL V6 Plus+ Hardware & Design: Made for Ease of Use
1.  Quickly determine the status of your connection at a glance
The Ancel V6 Plus+ comes with a big-sized Bluetooth OBD2 VCI (Vehicle Communication Interface).
From my experiences of using and testing more than 230 scan tools, the VCI on most bi-directional Bluetooth scan tools below $1,000 only has 1 indicator light or 2. 
It means that you must identify power and Bluetooth connections based on the color of the light.
Thus, for example, you have to remember that:
Flashing red light: Bluetooth is turned on but not connected.
Flashing blue light: Communicating.
etc.
It's something complicated to keep in your mind, right? (At least it's difficult for me).
The Ancel V6 Plus+, on the other hand, has a four-light indicator system. 
So, you can quickly determine the status of your connection at a glance. 
It's extremely convenient.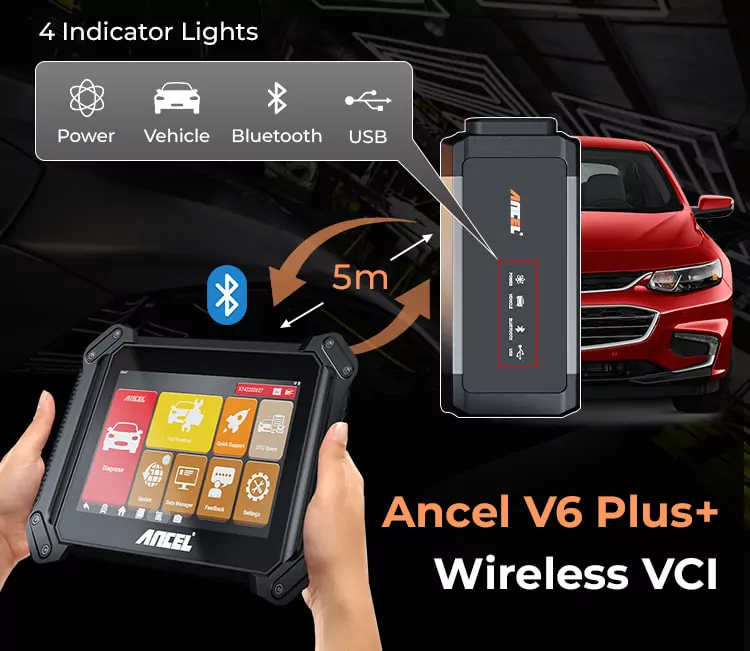 The Bluetooth dongle is really "huge". 
Ancel has a large 8″ tablet, and the width of this VCI is almost the same as the width of the tablet. 
It sometimes gives me the impression that it takes up a lot of space in my car.
But it's not a big deal because the large VCI helps prevent me from losing it. 
I'm the type of person who frequently loses things. 
But this big VCI is very eye-catching, I can easily find it in my garage.
Overall, the tool is easy to use and works well. 
Great for the price, I highly recommend it to messy backyard mechanics!
2. Work the whole day without recharging the battery
The tablet runs very fast with the Android 10 operating system. 
In performing diagnostics, I have to say the V6 Plus+ is easily twice as fast as my aging Snap-on scan tool in my shop.
It also has a front and a rear-facing camera so that I can use it to take pictures if I need to.
No ''Low Battery Anxiety'' anymore is another plus. 
With an 8,000 mAh battery, this diagnostic scanner can last more than 10 hours of continuous use. 
I can work all day in the shop without charging the battery, despite the increased screen light adjustment.
3. View vivid live data stream
Ancel V6 Plus+'s screen is large and easy to see. 
I'm super impressed with how fast V6 Plus+ can generate a live data stream. 
There is no delay in the signal changes.
This separates Ancel V6 Plus+ from other cheap scanners, whose data refresh rate might be up to several seconds. 
Besides, Ancel V6 Plus+ lets me record the live data or scanning process for later review. 
I love this function as I sometimes need to replay the live data stream so many times and analyze them. 
Therefore, I can find out the culprit of the car's problem in a short time.
The downside of the hardware is the case. 
It is a little flimsy light plastic. 
Key Takeaway:
ANCEL V6 Plus+ comes with a 4-indicator big VCI, which ensures that you'll never lose it around your messy garage.
The 8,000 mAh battery in an Android 10 tablet lets you work longer and faster.
The 8" screen provides you with vivid and fast live data.
Check the latest price of ANCEL V6 Plus+ now:
ANCEL V6 Plus+
ANCEL V6 Plus+ Performance: Make Yourself a Pro
1. Enjoy active tests with powerful Bi-directional controls
I've been a mechanic for over 14 years, and I guarantee you that this Ancel V6 Plus+ scan tool will perform well beyond your expectations.
Ancel V6 Plus+ can do full diagnostics with bi-directional control, enabling you to turn many modules on and off. 
It's great to have a versatile scan tool that can assist you in resetting the EVAP system or deactivating the cylinder, etc.
For example, I used this V6 Plus + to do an injector buzz test of a 2003 Ford 7.3L Powerstroke.
I also did a crankshaft sensor relearn on a 2004 Savana 6.0L.
It will save you a lot of time. 
Also, it's several hundred dollars less than the comparable name-brand automotive tools. 
You could not be more pleased! 
2. Key lost? No worries. Program a new one with ANCEL V6 Plus+
You will love the powerful key programming function of this scan tool.
Ancel V6 Plus+ can program keys for most car models you have. 
Consider the situation in which you lose your key fob. 
You must go to the dealer immediately to disable the lost key. 
Otherwise, you'll risk having your vehicle stolen.
However, if you own this fantastic scanner, you can remotely disable the unwanted key fob and add a new key whenever possible. 
This saves you not only money but also trips to the mechanic. 
Ancel V6 Plus+ is a game changer.
You can use the key programming function on global brand vehicles as below:
Remember that key programming is not a universal function. 
It differs depending on the vehicle's model and year. 
It can support the 2007 Nissan Titan in my shop, but that doesn't mean it will work well on your vehicle.
Thus, before ordering, send the seller your vehicle information to confirm.
3. Go wireless is awesome
The VCI not only provides you with bi-directional interaction. 
It also allows you to move freely around the vehicle without being limited by the length of a cable like corded scanners.
This is especially useful when you need to check things like the EVAP system and quickly find problems you're not aware of.
If you're a mechanic, you also love the ability to carry it to a customer and explain what you see on the live data stream. 
It'll bring you a long list of loyal customers.
Stable Bluetooth connectivity is another plus.
Every time you use the Ancel V6 Plus+ scanner, you'll be pleased that Bluetooth communications always remain stable.
Therefore, when reading code or real-time data, you will always get quick responses.
Overall, everything works flawlessly within a 5-meter connection range.
4. Offer more services and earn more
I really love that this scan tool enables me to offer 25+ advanced service functions to my customers.
I tested ABS brake bleeding, TPMS reset, TPMS relearn, and Injector coding. 
All of them worked very well. 
I used this V6 Plus + to perform the "automatic bleed" procedure on the ABS module in a 1998 Chevy K1500. 
As soon as I purchased this scan tool, I was able to test it out on a 2006 Mazda owned by one of my customers. 
The brake pedal on this 06 Mazda became spongy, and I knew the ABS valve needed to be bled. 
So I used the Ancel V6 Plus+ to perform the ABS module's "automatic bleed" procedure. 
This professional scan tool performed as expected.
I was very pleased when it helped me repair my customer's car on the first try.
The downside: 
I cannot use the Battery Registration as advertised. 
Many European cars in my shop require an electronic update after I install a new battery. 
Last month, I decided to use Ancel V6 Plus+ again to see how the Battery Registration function worked on this newly bought scan.
And V6 Plus+ made me disappointed. 
It allowed me to go to the service menu for Battery and select my vehicle. 
I chose "Touareg" because I was working with a 2008 Touareg at the time. 
After a few seconds of communication with the ECU, it failed and returned me to the Hot Service screen. 
I tried to repeat that process several times but I didn't succeed.
Key Takeaway:
ANCEL V6 Plus+ is a professional scan tool that enables you to:
Perform active tests (bi-directional control),
Provide 25+ advanced service functions, and
Do everything wirelessly.
Check the latest price of ANCEL V6 Plus+ now:
ANCEL V6 Plus+
ANCEL V6 Plus+ Setup: As Easy as Pie
Before using the ANCEL V6 Plus+ scanner, it must be activated and logged in. 
Below are 4 steps to complete the activation process:
You must activate the product during your first login. Firstly, click the Update button on the home page.
Fill in the activation details. Remember to enter your correct email address. Then press the ACTIVATION button.
To complete the activation, log in to the mailbox and click the activation link.
Congratulation! You did it.
You can also refer to the video below for a step-by-step guide:
Additionally, you do not need a PC to update the Ancel V6 Plus+ scan tool.
The WiFi connection on the V6 Plus+ allows you to update everything with a few clicks on the tablet.
Follow these steps for updating the software before using: 
Connect to wifi.
Navigate to Settings.
Select Version Update
Check for updates.
And Update. Done
Key Takeaway:
Just follow the steps above and you will quickly set up and update your scanner.
ANCEL V6 Plus+ Warranty: Only 2-Year Free Updates
It is bad news that the Ancel V6 Plus+ only has 2 years of free updates.
I don't know why Ancel recently changed their decision. 
The Amazon page still said Lifetime Free Updates as early as a couple of weeks ago. 
And from Aug 2022, Ancel stopped providing lifetime free updates for a V6 Ancel series, including Ancel V6 Plus+, Ancel V6 Pro, and Ancel V6 Pro+.
So how much does it cost for updates after 2 years?
Once the included 2 years have passed, you'll pay an annual fee for updates as follows:
Renewal fee for 1 year: $149
Renewal fee for 2 years: $238
Renewal fee for 3 years: $298
But from my experience, you can still use the scanner normally even when the free updates period expires. 
Tip: 
Only purchase the subscription if you work in a repair shop and may need to work on the most recent car models. 
If not, simply continue to use the scan tool with available functions. It is not a problem at all.
Key Takeaway:
I wish ANCEL offered free life-time updates like most of its entry-level scan tools.
You don't have to update the scan tool if you are still happy with what it offers.
ANCEL V6 Plus+ Customer Support: As Good as Gold
I had a question about the supported functions for Kia cars 2 months ago, so I left a message for Ancel sellers on Amazon.
"I noticed on the Ancel website that Kia/Hyundai are not listed for this model, does this V6 Plus+ support the key fob programming function for them?"
And then, I quickly received a response from Ancel Tech Support in 12 hours. 
Below is the answer from Ancel. 
It's so detailed and useful.
"Hi, thanks for contacting us. 
ANCEL V6 Plus+ supports Kia/Hyundai and key fob programming. 
Because ANCEL V6 Plus+ is our latest version, it has not been updated on the Ancel website yet. 
It will be updated soon.
Any questions, please feel free to contact us via Buyer-Seller Messages". 
Useful Tips:
ANCEL Facebook is a good choice for getting a quick response within 12 hours. 
I've messaged Ancel customer service several times via Messenger. 
And, to my surprise, they responded within the next 4-5 hours. 
Ancel staff are all enthusiastic and proficient in English communication. 
They bring me great experience when looking for a manufacturer's assistant. 
Trust me! 
ANCEL's Tech Support team is the best at providing both pre and after-sales services.
Check the latest price of ANCEL V6 Plus+ now:
ANCEL V6 Plus+
Ancel V6 Plus+ Alternatives
As I mentioned, the Ancel V6 Plus+ only offers 2 years of free updates. 
Therefore, in case you're interested in trying new functions and working on new car models,
XTOOL D8 is a good option to go for with 3-year updates.
XTOOL D8 and V6 Plus+ are very close in function. 
They're all Bi-Directional diagnostic scan tools that can scan all systems on cars.
The Ancel V6 Plus+ only has 25 service resets and 2 years of updates.
This XTOOL D8 Pro has over 31 resets and up to 3 years of free updates. 
So if you buy this XTOOL scan tool, you can save up to $200 for the renewal fee for the third year compared to buying the Ancel V6 Plus+.
More importantly, this $600 XTool D8 scan tool can support ECU Coding. 
Wondering why XTOOL D8 offers us many advanced functions at the same price point as Ancel V6 Plus+? 
Of course, they have to cut down something else to reduce the product price while ensuring this scan tool has everything you need.
And for this XTOOL D8 scanner, the wireless connection is eliminated. 
XTOOL D8 doesn't have a Bluetooth connection that allows you to do diagnostics from the remote.
So if the wireless connection isn't that important to you, just get this cheaper XTOOL D8 scan tool for more advanced functions.
I highly recommend it. 
The 3 years of included updates are just the sweet icing on the cake.
Check the latest price of XTOOL D8 now:
XTOOL D8
ECU coding is an essential function for professionals that the Ancel V6 Plus+ missed. 
If you want to do more complicated repairing tasks, consider spending a little more and getting the Launch X431 V Pro.
Top reasons to spend more than $250 buying LAUNCH X431:
You can code the car's ECU. I mean, you can customize your car in minutes with the help of this professional LAUNCH X431 V Pro scan tool.
You get 35+ Reset Functions. It offers 10 more advanced functions than Ancel V6 Plus+.
LAUNCH X431 V Pro comes with many OBD1 adapters that earlier vehicles use. This enables you to work on any vehicle, even those manufactured before 1996. 
LAUNCH X431 V Pro is more expensive but provides ten times the value. 
I highly recommend it. 
Key Takeaway:
Take XTOOL D8 if you want to perform ECU Coding and extend the free update time from 2 up to 3 years
If you frequently perform ECU Coding and work on OBD1 vehicles, LAUNCH X431 V PRO is the best choice in the market today.
Launch X431 V Pro 4.0
Read my in-depth review of LAUNCH X431 V PRO HERE.
What's Next?
So,
I've walked you through the in-depth review of ANCEL V6 Plus+.
I hope the review is useful and helpful to you before making the purchase.
Now, it's your turn.
Please leave a comment and let me know:
Is ANCEL V6 Plus+ a suitable scan tool for you? Why?
What should I improve to make the review more useful and helpful?
I'm sure to reply to your comment within 48 hours.