Why will owners of Caterpillar, Cummins, Detroit, or Paccar engines buy Ancel HD3400 for $500?
That's a great deal when you first consider that it's a two-in-one car and truck scan tool specially made for these engines. 
The HD3400 is even able to provide various DPF capabilities that not many scanners of this grade offer. It can handle active regen, passive regen, DPF-related information reset, DPR state reset, forced DPR check/regen, and many more.
Yet, there's more to learn about the HD3400's versatility in my professional review below.
Let's dive in!
Quick Review
ANCEL HD3400
Price:
Scanner type: Full-system scan tool
Made for: Heavy-duty truck owners
Vehicle covered: Heavy-duty trucks
Connection type: Corded
Pros
Supports Caterpillar, Cummins, Detroit, and Paccar engines

Lifetime free upgrades

DPF capabilities

Full OBD2 & HD OBD functions

All-system diagnosis

One-click activation
Cons
Occasional slow

DPF regen doesn't work for all vehicles

Vehicle Coverage
Ancel HD3400 supports all cars with OBD2 standard protocols and HD OBD (J1587, J1939, J1708, and the latest J27145 protocols).
As mentioned earlier, the HD3400 is particularly designed for the Caterpillar, Cummins, Detroit, and Paccar engines. It has private protocols for each of them, which allows it to cover a lot of vehicles
Here are some examples of supported engines:
Caterpillar: C7, C9, C11, C13, etc.
Cummins: X12, X15, IX15, etc.
Detroit: DD13, DD15, Series 50, MBE900, etc.
Paccar: PX-7/PX-9, MX-11/MX-13.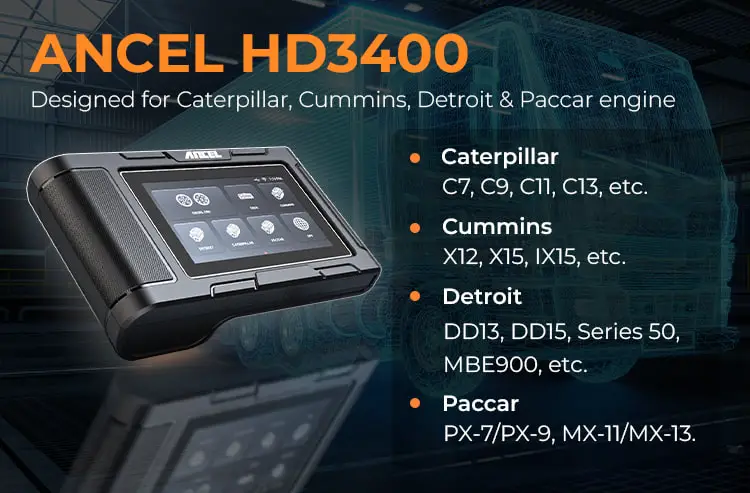 Note: I realized that Paccar engines from 2017 and later require another crossover adapter to be compatible with DPF regen.
To avoid buying an incompatible scanner, verify the HD3400's vehicle coverage before ordering it by: 
Hardware & Design
1. Hardware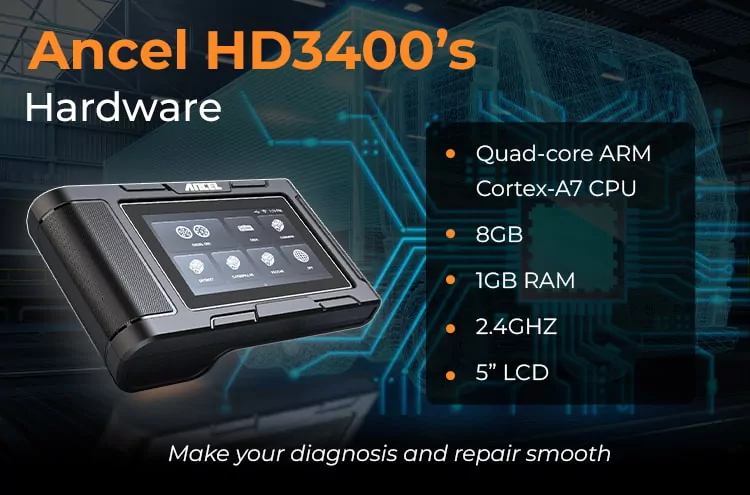 Ancel HD3400 comes with a Quad-core ARM Cortex-A7 CPU; which is smaller, simpler, and less power-consuming than the Cortex A-8.
There's an 8GB of flash for the scanner's OS and the software. And the 1GB RAM is adequate for the device to run smoothly.
But it would have been better if it was 2GB RAM. This is because I experienced slow responsiveness and slight hanging occasionally. Still, this drawback isn't a deal breaker.
Keep in mind that the HD3400 requires an older 2.4GHz WiFi for its updates. It doesn't support 5GHz.
Furthermore, the long cable that comes with HD3400 can link from the OBD2 port to the engine bay. This lets you perform diagnostics on the engine.
Overall, the HD3400's superior hardware is powerful enough to get the job done.
2. Design
The large touch screen is easy to operate even while wearing my work gloves. It's a 5-inch color display that's always clear under bright lighting or sunlight.
This scanner comes with a durable plastic exterior that has been withstanding heavy usage in my workshop.
There are rubberized grips on either side of the device that helps me hold it securely. I can even hold it comfortably with one hand while using the other hand to use the controls.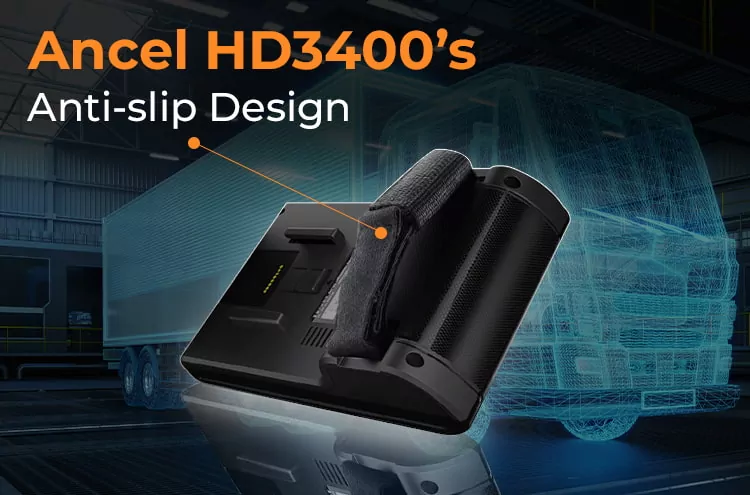 Performance
1. Perform Full-System Diagnostics on Your Trucks with Ancel HD3400
Full-system diagnosis is necessary when a trouble code locks your unit and you're alone on the road. Ancel HD3400 allows you to read and erase the code temporarily, then taking it to the nearest auto repair shop for a fix is easy.
My customers who had such experiences were grateful to be recommended to own a scanner that provided such a function.
Supported systems for this scan tool include the engine, transmission, ABS, SRS, throttle, fuel system, emission system, TPMS, ESP, EVAP, etc.
2. DPF Forced Regeneration for Caterpillar, Cummins, Detroit, and Paccar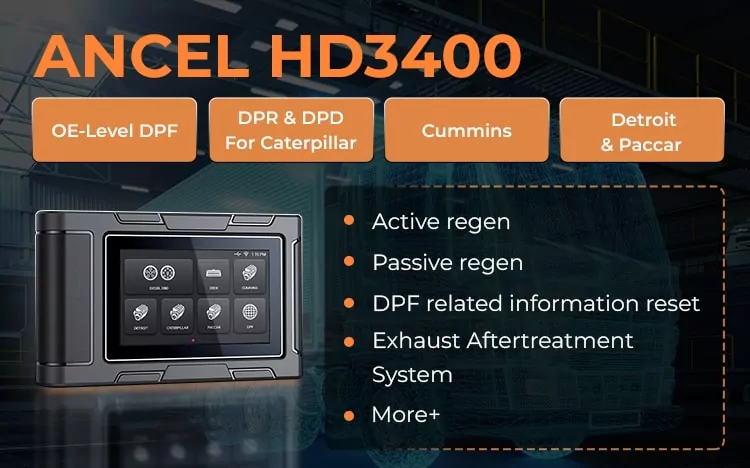 I found out that the DPF regen works well on vehicles such as Cummins X15, which scanners like Nexas NL102 Plus aren't compatible with.
However, the HD3400 couldn't perform the function on Detroit DD15 and ISB Cummins no matter how I tried to force it.
Still, I was able to force the regen on other trucks that couldn't allow it through dash controls.
3. Ancel HD3400 can work on OBD2 vehicles apart from HD OBD trucks
The HD3400 works as a 24V heavy-duty all-system scanner as well as a 12V OBD2 scanner for cars. 
Its full OBD2 function includes read/erase codes, live data, freeze frame, I/M readiness, vehicle information, O2 sensor test, and so on.
There was a time I fixed a faulty No1 NOx sensor when the vehicle's MIL (malfunction indicator lamp) was on. I used the scan tool to check the code and the whole repair took me only a couple of hours.
Generally speaking, I was able to get trouble codes from C15 CAT and X15 Cummins, it performed well more than I expected.
4. Show 4 Vivid Live Data Streams in Graph at the Time
This scanner displays many parameters when reading live data streams or checking DTCs. It can also store and playback live data easily.
Such a function gives Ancel HD3400 an advantage over other diagnostic scan tools like my previously-owned Ancel HD3300.
Responsive live data is another merit. The parameters change so fast and don't delay in providing the information I need.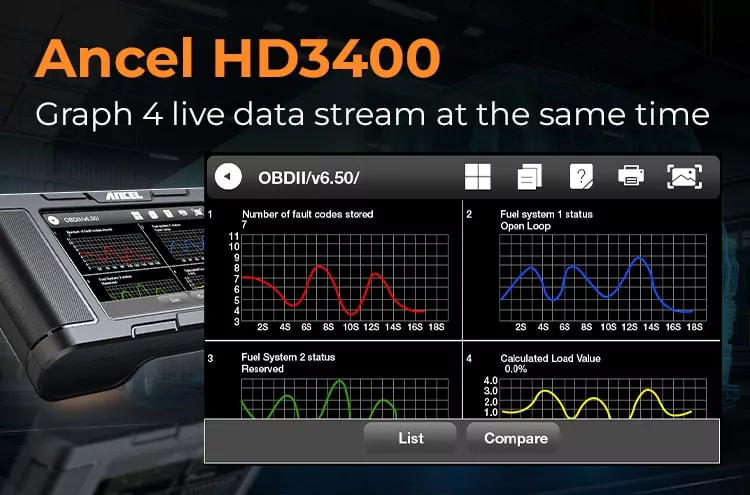 When I tried to make the device display the EGR valve position as graphs, I was surprised by the speed at which the results were presented. I didn't have to wait for the parameters to refresh.
Price, Warranty, & Update Fee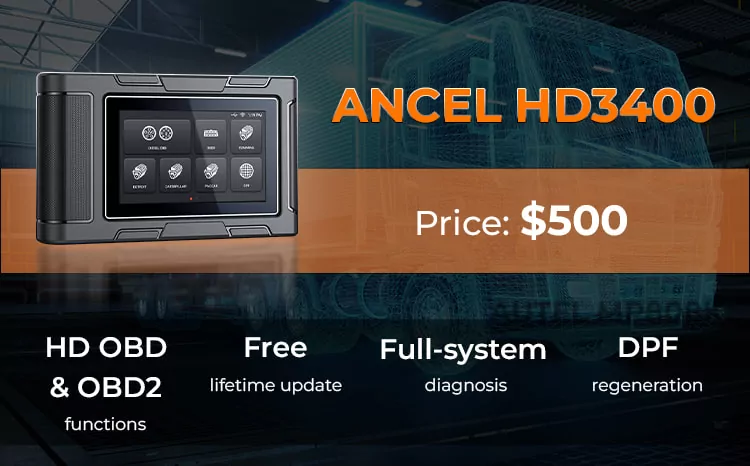 You can buy Ancel HD3400 for $500. But I appreciate the device's value because of the many repairs it has helped me to execute.
Better still, it comes with a one-year warranty as well as lifetime free updates!
And it would be wise to update this scan tool before using it. One of the common problems that people have with scanners like this is that they don't update the system before usage.
Thankfully, the update process is straightforward with the aid of a WiFi connection. It took me about an hour to download and update the scanner's software packages, but it was fully autonomous. I faced no issues during the process.
How To Set Up
Ancel HD3400 can be set up with one-click activation, so time will be saved.
I didn't need to register the machine. I simply activated the scanner with the steps below.
Step 1: Go to "Settings" on the main menu and click on "WiFi".
Step 2: Connect to WiFi. Ensure to have a strong network signal nearby when following this step.
Step 3: Go back to "Settings" on the main menu and click on "User".
Step 4: Click on "Activation" to show the "Activate" button.
Step 5: Click on "Activate". The page will show a notice that the activation has succeeded. If the activation doesn't work, the notice will read that the activation has failed including stating various possible reasons why.
Key Takeaway
I'll recommend Ancel HD3400 to heavy-duty truck owners and professional auto repairers who want to perform:
full vehicle maintenance.
DPF capabilities for the four engines mentioned earlier.
But if you just want to check error codes and take the car to auto repairs, you could opt for a cheaper scanner like Nexas NL102. 
Check Ancel HD3400's latest price:
Ancel HD3400's Alternative: Launch X431 V+ Pro + HD Module
Launch X431 V+ Pro + HD Module is an alternative to Ancel HD3400 that works very well with both HD OBD and OBD2 vehicles. It offers features like ECU coding, bi-directional control, and 30+ advanced functions which HD3400 doesn't.
However, the drawback of the combo is that it's $1,500 more expensive than Ancel HD3400. You need to consider carefully if you really need these functions or not. 
Check Launch X431 V+ Pro's latest price:
What's Next?
Thank you for reading my whole review!
Now, can you answer one question? Is Ancel HD3400 the scanner you are looking for?
If yes, I am glad to know your opinions about it. Feel free to leave a comment below.