If you are a car enthusiast or just a professional mechanic, Ancel FX2000 is an excellent tool to use.
With the Ancel FX2000 scanner, you can thoroughly diagnose using OBDII in 46 vehicle makers, including most vehicles from 2002 EU-based, 1996 US-based, 2005 Asian-based, or other newer OBD II and CAN import or domestic vehicles.
While most generic scanners allow you only to read the engine control module, the fx 2000 enables you to scan several control units for several cars, such as ABS control units and SRS (Airbag) and transmission.
ANCEL FX2000 is a scan tool that aids users to avoid blind maintenance and save time and money.
Now,
Let's see how good it is in comparison to the competitors.
Ancel FX2000 vs. OBDLink MX+ vs. Foxwell NT630 Plus comparison chart
| | | | |
| --- | --- | --- | --- |
| | Ancel FX2000 | OBDLink MX+ | FOXWELL NT630 Plus |
| Customer Rating | | | |
| Price | | | |
| Product Dimensions | 9.1" x 1.8" x 7.8" | 2" x 0.9" x 1.8" | 17.7" x 9.8" x 2.4" |
| Item Weight | 1.59lbs | 1.28oz | 2.65lbs |
| Reset CEL | ✔ | ✔ | ✔ |
| OBD2 full function | ✔ | ✔ | ✔ |
| I/M Readiness status test | ✔ | ✔ | ✔ |
| View freeze frame data | ✔ | ✔ | ✔ |
| O2 Sensor | ✔ | ✔ | ✔ |
| Evap system test | ✔ | ✔ | ✔ |
| DTC lookup | ✔ | ✔ | ✔ |
| ABS/SRS | ✔ | ✔ | ✔ |
| Transmission | ✔ | ✔ | ✔ |
| ABS Bleeding | -- | -- | ✔ |
| | | | |
| | | | |
Read more: FX2000 vs. FX3000 vs. FX4000: Which Best Suits A Home Mechanic?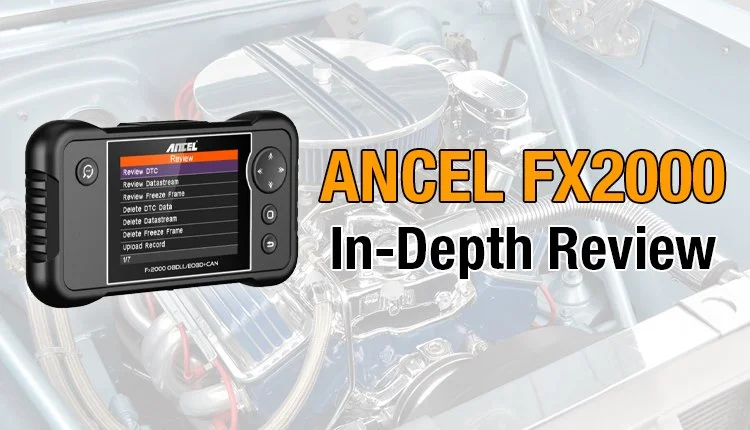 Ancel FX2000 detailed review
Full-OBD2 functionality
Ancel FX 2000 has a standardized system for gathering data known as the OBD2 or Onboard Diagnostics 2. The system is a self-diagnostic functionality that allows a vehicle to monitor and regulate its primary functions.
Due to the OBD II functionality, Ancel fx 2000 can do the following:
Get access to present live powertrain data values.
Obtain freeze frame information that is emissions-related data stored at the time this code was set.
Have access to emissions-related Diagnostic Trouble Codes (DTCs) that are in emissions-related modules.
Clear emissions-related diagnostic information.
Obtain the test results of the engine control module's oxygen sensor monitoring.
Access test results for on-board diagnostic monitoring tests of specific components that are both non-continuously monitored systems and continuously monitored (misfire monitoring).
Monitor codes that have been stored on the first drive cycle after an ECM reset.
Carryout bidirectional control of an on-board system or test.
Acquire VIN and calibration numbers.
Obtain emissions-related diagnostic trouble codes with permanent status after a clear/reset emission-related diagnostic information service.
Therefore, if you buy the Ancel FX 2000, you will be able to enjoy the OBD2 functionality that is crucial in fixing numerous problems and enhancing a car's performance.
Enhanced 4-system diagnostics
Apart from the OBD/EOBD standard protocol diagnosis, the FX2000 scan tool also performs full determination on vehicles in four main ECU's for Auto Transmission, Engine, Airbag, and ABS. This tool can read and erase fault codes in these four systems and put off warning light when necessary.
Auto Transmission system (AT)
To keep the transmission systems output closely linked to the load and speed, the scanner views live data, reads and clears codes in transmission systems. Retrieving error information from the Automatic Transmission (AT) occurs seamlessly. AT is a kind of automotive transmission that automatically changes gear ratios when the vehicle is in motion, thereby relieving the driver from manually shifting the gears.
Read more: 3.73 vs. 4.10: Which gear ratio should I choose?
The scanner can permeate the ABS to read and clear DTCs data flow. This device actually checks Anti-lock Braking System operating conditions using various bi-directional tests and then turns the warning light off.
Ancel FX2000 makes the vehicle engine work safely and correctly by reading and clearing any fault code in the SRS (Airbag) system and then turing off the airbag's warning light.
Determining a vehicle Engine System's cause is easy, and it even turns the warning light afterward. As a user, it is essential to know that only newer OBD2 protocol and later than 2005 vehicles, systems diagnosis for SRS, ABS, and transmission is possible.
Today's best Ancel FX2000 prices:
Live data stream graph
As an added benefit, the Ancel FX2000 scanner can read data streams for /SRS (Airbag), ABS, ENG, and AT systems as well as various vehicle diagnostic reports.
With the live data readiness from the four systems, you can easily focus on symptom-specific or any suspicious data parameters as it displays historical data reproduction and recording as well as waveform data stream visualization. 
Users are able to determine the root cause of various trouble codes at a faster rate through data logging, graphing visualization, and tips and replay DTCs. You can make analyses efficiently and quickly with the DTC look-up function and DLC location suggestions support.
Unique design
The scanner is ultimate in affordability and power as it features a 4.0″ TFT color display and unique multifunctional keys. Users can save the time needed in repair and diagnosis, making these jobs faster as it has troubleshooter, Graph, and record code tips. You can operate this car device in several languages, including English, Spanish, French, Italian, Portuguese, Polish, German, and Russian.
Update, guarantee
Via a USB cable or TF card, one can assess the ANCEL official website and obtain a lifetime free update online. Even the manufacturer guarantees you a 2-years quality period.
Vehicle coverage
The device can completely diagnose an OBDII test for 46 vehicle makers. Ancel FX2000 generally operates for vehicles from 2002 EU-based, 1996 US-based, and 2005 Asian-based. It can also work for CAN & OBD II import or domestic vehicles.
a) American market area
Some of the automobiles in the American region that have incorporated OBD2 systems include; Ford Lincoln Mustang (USA Ford Group), GMC Chevrolet Buick Cadillac (GM Group), and Chrysler Jeep Cherokee (Chrysler Group).
b) European market area
In the European market, there are also various models with an OBD2 port. The scanner covers BMW, Benz, Volvo, VW, Opel, Land Rover, Fiat, Porsche, Jaguar, Skoda, Audi, SAAB, Smart, Seat, Alfa, EU Ford, VWCV, Renault, Citroen, Peugeot, Lancia, Dacia, and MINI.
c) Asian area
A couple of Asian vehicles are compatible with OBD2 scanners, such as the Ancel FX2000. These model vehicles that one can comfortably use such scanners include Toyota, Mazda, Suzuki, Honda, Acura, Austford, Nissan, Mitsubishi, Hyundai, Subaru, Isuzu, Lexus, Daewoo, Infiniti, Holden, Perodua, Proton, KIA, and TATA.
Just like other scanners in the market, Ancel fx 2000 has advantages and disadvantages of using it. So, get to know about them to make a wise decision about acquiring the scanner.
Pros
Ancel FX2000 scanner comfortably covers a wide variety of vehicles found in the market (US, Europe, and Asia-made brands), especially OBD2 cars.
The device entails a high definition, large 4.0″ TFT LCD screen.
It comes with a new UI interface, hand-held design.
It's able to carry out a diagnosis for 4 systems; Transmission, Engine, ABS, and Airbag (SRS).
It displays Live Data of the four systems.
It provides lifetime free updates on ANCEL's official website.
It entails several DTC tips and Graphing visualization for guiding the user.
It can efficiently identify the Check Engine Light cause.
It provides an intuitive multilingual interface.
Cons
There are high chances of encountering vehicle linking errors.
In other cars, especially the manual ones, reading the ABS is hard.
Deploying the airbags when an accident occurs is not possible as soon as the SRS lights are on.
This scan tool can sometimes freeze, especially when a vehicle's ECU is responding slowly.
Bonus: Honest Review of Ancel FX4000 Full system OBD2 Scanner
FAQs
What does the package contain?
An FX2000 OBD2 scanner, User manual, OBD2 cable, USB Cable, TF Card, and TF Card adapter
What to do if you encounter a Vehicle Linking Error?
Confirm whether the ignition is ON.
Check the scan tool's connector and ensure the device is correctly connected to the DLC of the vehicle.
Turn Off the ignition for some 10 seconds. Turn the ignition back ON and go on with the testing.
 Examine to make sure there is no defectiveness on the control module.
Why is transmission crucial for the Engine?
The vehicle's transmission system collaboratively works with the Engine to power the wheels. Whether manual or automatic, the transmission ensures the Engine optimally performs by matching the vehicle's speed and load. Such collaboration is essential for safe driving.
Why are SRS and ABS functionality important?
ABS prevents wheels from ceasing rotation and avoids uncontrollable skidding. While an SRS is just a Vehicle airbag system, the functionality works collaboratively with seat belts to prevent a collision on the car.
Today's best Ancel FX2000 prices:
Bonus: Honest Review of the Best Ancel Scanners 2021