After 2 weeks of experience, I feel like it is the right time to share my thoughts on ANCEL FD500 (so far).
(Fact: I always like to live on the real thing before giving a full review of them.)
Which ANCEL FD500 information do you care about? Is it how it works on real tests? Or other customers' feedback after using this scanner? Or a short pros and cons table for a quick decision?
I will cover all and more than that.
Let's dive right in.
Key Features:
According to the manufacturer, ANCEL FD500 has these key functions:
BMS Reset, Throttle (KAM) Reset
Live data
I/M Readiness 
OBD II Functions
All System Diagnosis
I know all you want to know is how these functions work in real life. Then scroll down to find the answer.
My First-hand Experiences
1. Vehicle Coverage
I tested ANCEL FD500 on 8 different Ford vehicles last week:
2008 Ford F150
2009 Ford Focus
2013 Ford Fusion
2014 Ford Explorer
2015 Ford Fusion
2016 Ford Escape
2019 Ford F150
2021 Ford E-450 V10
My conclusion is:
ANCEL FD500's vehicle coverage and function are incomplete. Here's why…
This scanner can not work on the 2021 Ford E-450 V10. Thus, advanced functions may vary on particular vehicles.
For example, when I tested ANCEL FD500 on the 2008 and 2019 Ford F150, it turned out that:
ANCEL FD500 supports BMS, KAM, and oil reset on both cars.
However, this scanner only supports EPB Maintenance Mode on the 2019 version.
I recommend doing a compatibility check with ANCEL's support team. To do that, send a direct message including your VIN to their team's Hotmail.
2. Ease Of Use
ANCEL FD500 has a 2.8 inches screen. Quite small, right?
Reading data on that tiny screen is not a good idea for those with bad eyesight.
The good thing is ANCEL FD500's menu layout is super simple. This scanner shows all the necessary things. Nothing more, nothing less.
Want to scan the vehicles? Choose "OBDII"
Want to check the battery? Choose "BAT"
Don't know what to do next? ANCEL FD500 will give the instructions.
Don't understand the codes that popped up? ANCEL FD500 will define them for you.
3. Functionality 
"For Ford" Function and OBD-II Function
You must wonder what's the difference between "For Ford" and "OBD-II" functions.
Let me walk you through a comparison:
"OBD-II" only reads and clears generic fault codes of the main systems (Engine, Transmission, etc.). "For Ford" does the same, and more than that. This function also shows Ford-specific systems' codes.
"OBD-II" shows all systems' trouble codes. "For Ford" lets you choose one particular system to diagnose.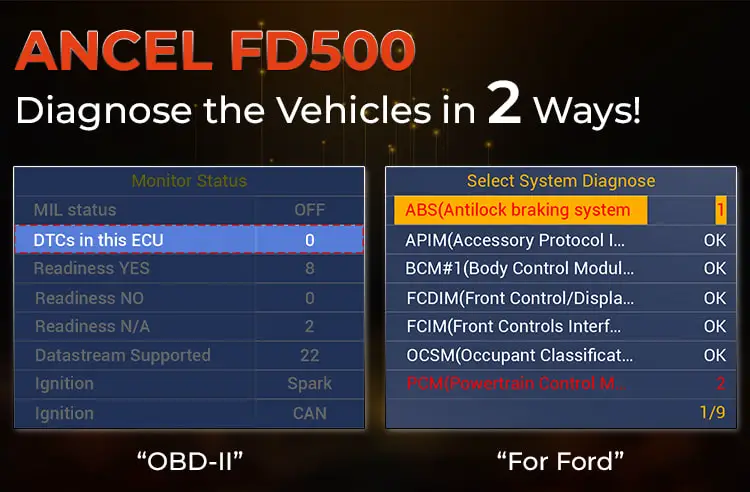 It is a long explanation, but the short version is: "OBD-II" performs basic diagnosis, and "For Ford" performs thorough diagnosis.
However, beware that ANCEL FD500 does not read "full-system" as advertised. It can be hit or miss for your vehicles.
Live Data and I/M Readiness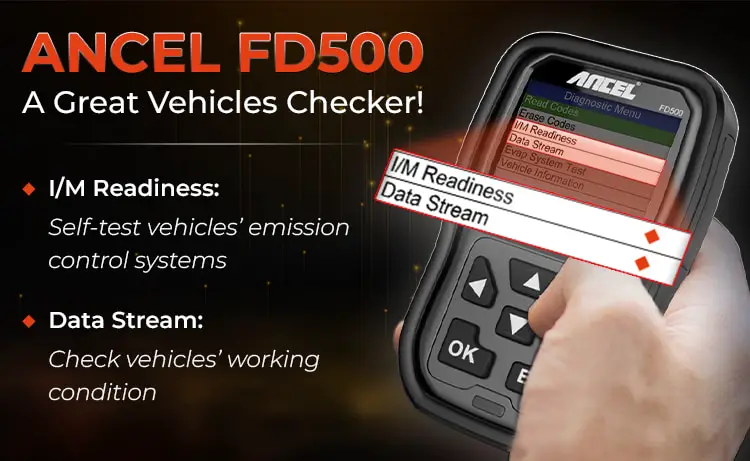 Well, did I mention that ANCEL FD500 can read live data?
I just did something like this on a 2015 Ford Fusion yesterday: 
The car had a rough idle. I connected ANCEL FD500 to the car and checked some live data. Other systems' values were good, but the RPM was "450 rpm", which was too low. It meant the throttle position sensor (TPS) had failed, which caused the unsmooth running. After knowing the problem, I could fix the car with confidence.
That's how live data helps repairs become much easier.
Now it's time for the I/M Readiness function:
Are you tired of spending hundreds of dollars for a private check before a state emission test? 
That's a sign to do it yourself with ANCEL FD500. You can quickly check if the gasoline and fuel monitor are "complete", "not complete," or "not applicable."
Special Reset Functions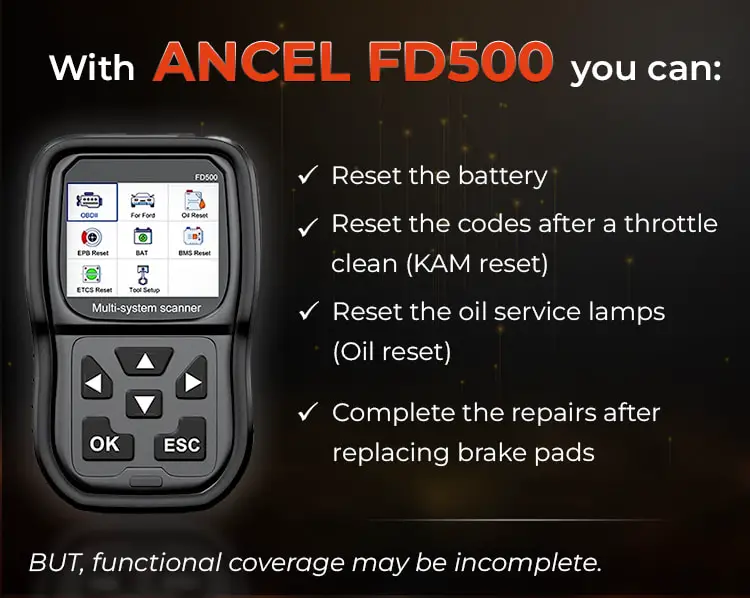 ANCEL FD500 offers quite good special functions for its price. But as I mentioned above, do not expect every special function will support your vehicles.
Anyway, BMS Reset is my favorite function. 
First, you have the "BAT check" on the main menu to check the vehicles' current voltage. 
If your battery is in good condition (11.8V – 12.8V before starting), lucky for you. But if the voltage is lower than 11.8V or higher than 12.8V, it is a whole problem.
There are many possible reasons behind this, including a charging problem or a parasitic battery drain. But if you have used your vehicle's battery for over three years, that aged battery must be the cause. You have to replace the battery.
And after that, you need the help of BMS Reset.
Last week I did a battery replacement on the 2019 F150. Then, ANCEL FD500 helped me with the next step – Battery Registration. 
In short, ANCEL F500 lets the vehicle's system know that a new battery has been installed.
Here, I needed to
Turn Inigition on, Engine off
Enter new battery digits code
Press "OK"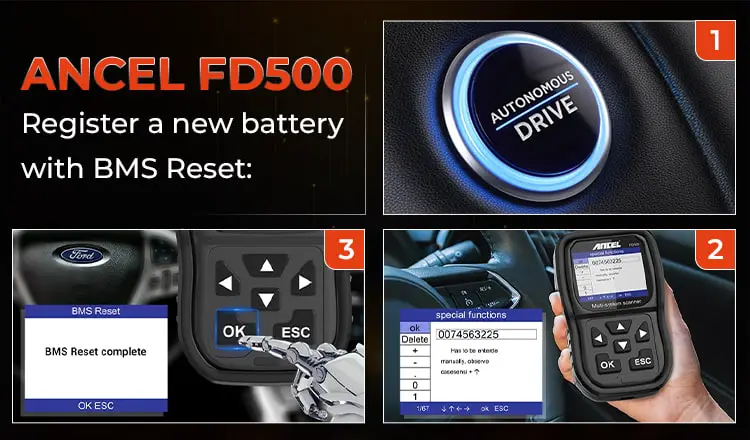 Never forget that Battery Check, Replacement and Registration are super important unless you want to damage the vehicle's battery.
What's more?
You can:
reset the codes after a throttle clean (KAM reset)
reset the oil service lamps (Oil reset)
complete the repairs after replacing brake pads.
In other words, ANCEL FD500 makes your vehicles' maintenance work become more efficient.
What Are Customers Saying?

Let me quickly walk you through all 193 ratings in a short summary below.
Positive comments: 
There are 182 ratings for ANCEL FD500 with 4-star ratings or higher.
Most users said that they could use ANCEL FD500 easily, even if they knew very little about this field. 
"Great value for all of the different scans you can do with this unit. Follow the prompts easy to use if you're a first-timer." – C. Herber
Besides some basic functions, BAT and BMS Reset are customers' favorite ones. 
"Took it to my local Ford dealership to have my BMS reset. They wanted over $130 to do this. This was cheaper and still did the same thing, plus more. Great investment." – CM
"I bought it to check on my battery. Currently, I checking on the status of the battery. If it fails I will use BMS mode to reset it." –  Leonard Penner
Negative comments: 
There are 20 comments with 1-star or 2-star ratings.
Incomplete vehicle coverage is always a problem of any scanner, and ANCEL FD500 is no exception. 
Some users bought ANCEL FD500 but it did not support their vehicles. For others, this scanner did support but could not do some particular functions.
"Did not work on my F150 Truck had to buy a new Foxwell Scan tool do not buy." – P. J Wymbs
"I purchased this to specifically reset the battery charge function on my 2013 escape. This device was unable to access that feature. I ultimately had to use ForScan software to reset the battery registration" – tiger351w
Check ANCEL FD500's latest price:
Alternatives
For the money, ANCEL FD500 is the safe bet for home repairs. But you still want something with broader compatibility and more advanced? 
Consider the two options below:
#1. OBDLink MX+ OBD2 Bluetooth Scanner
With OBDLink MX+, you don't need to worry about the annoying short cable or small screen.
This Bluetooth tool will turn your Windows PC or iPhone and Android devices into a professional scanner.
Did I mention that the vehicle coverage of OBDLink MX+ is much better than ANCEL FD500?
It could work on every Ford vehicle that I have tested.
OBDLink MX+ can work with dozens of popular third-party apps and software. But it fits the most with its free OBDLink app and Forscan software.
Check OBDLink MX+'s latest price:
#2. ANCEL V6 Plus+
In fact, ANCEL V6 Plus+ is on the high-end level compared to ANCEL FD500.
It's no wonder why this scanner can cover all the FD500's lacks.
First, it has an 8-inch screen, much wider.
Second, ANCEL V6 Plus+ offers broader vehicle coverage. It not only supports Ford but other brands like AUDI, BMW, etc.
And most importantly, ANCEL V6 Plus+ is more advanced. 
You can disable lost keys, add new keys, do active tests, etc. 
Check ANCEL V6 Plus+'s latest price:
---
What's Next?
So that's it for my ANCEL FD500 review.
Now let me hear from you:
What's ANCEL FD500's function that you want to try?
Is this review exactly what you need right now?
Comment below!