Diagnose your vehicle with a top-performing OBD2 scanner. We are talking about ANCEL DS600, ANCEL DS700, or ANCEL V6 PRO. Although these diagnostic devices are from the same brand, they are quite different. 
This article lists the features and functions of the ANCEL DS600 vs. ANCEL DS700 vs. V6 PRO. We are excited to tell you all about their similarities and differences so that you can make an easy decision. The bottom line is that each of these gadgets is powerful for home mechanics and professionals. 
Here's our take on the three OBD2 scanners. 
ANCEL DS600 Vs. ANCEL DS700 Vs. V6 PRO: Complete Comparison Chart
[Mobile users: Swipe left for full table]
| | ANCEL DS600 | ANCEL DS700 | ANCEL V6 |
| --- | --- | --- | --- |
| FUNCTIONS | | | |
| Full-system diagnostics | ✅ | ✅ | ✅ |
| Service functions | 34+ | 34+ | 15+ |
| Oil reset | ✅ | ✅ | ✅ |
| ABS bleeding | ✅ | ✅ | ✅ |
| Throttle relearn | ✅ | ✅ | ✅ |
| Key programming | ✅ | ✅ | ✅ |
| AdBlue reset | ✅ | ✅ | - |
| Active tests | ✅ | ✅ | ✅ |
| FCA AutoAuth | ✅ | ✅ | - |
| Guided function (VAG) | ✅ | ✅ | - |
| ECU coding | ✅ | ✅ | - |
| VEHICLE COVERAGE | Cars/Light trucks | Cars/Light trucks | Cars/Light trucks |
| DESIGN & HARDWARE | | | |
| Operating system | Android 10 | Android 10 | Android 10 |
| Memory | 2GB & 32GB | 4GB & 64GB | 2GB & 32GB |
| Screen size | 8" | 10" | 8" |
| Battery capacity | 6000 mAh | 6000 mAh | 8000mAh |
| Wireless connection | ✅ | ✅ | ✅ |
| AFTER-SALES SERVICE | | | |
| Free update | 2 years | 2 years | Lifetime |
| Update fee | $399 | $399 | - |
| Warranty | 1 year | 1 year | 1 year |
| Customer support | 8.5 | 8.5 | 8.5 |
| | Check price | Check Price | Check Price |
| | | | |
Click here to download the PDF (FREE)
ANCEL DS600 Vs. ANCEL DS700 Vs. V6 PRO: Key Similarities and Differences Explained
Design, Display, and Specifications
ANCEL is well known for designing high-quality products. You can expect advanced hardware that protects the product against damage during transit. One of the crucial features of these ANCEL devices is that they all come with a storage case.
The corners feature rubberized grips to prevent dropping the tablet when in use. ANCEL DS600 and ANCEL V6 PRO have 8-inch touchscreens, while ANCEL DS700 has a 10-inch touchscreen. The gadgets are driven by Android 10.0, which ensures diagnosis results are fast. 
ANCEL DS600 and V6 PRO have 2GB RAM and 32GB memory, while ANCEL DS700 has 4GB RAM and 64GB memory. All screens feature 1280 x 800 pixels, meaning the results are clear and natural. 
As for the batteries, ANCEL DS600 and ANCEL DS700 operate on a 6,000mAh battery, while the V6 PRO model comes with an 8000mAh rechargeable battery. All batteries are built-in and rechargeable. While they hold a charge for a decent amount of time, you'll not be able to carry a spare battery to the shop. 
All three scanners support Bluetooth 5.0. This feature ensures a secure and reliable connection whenever you transfer reports to your device. Plus, they all support encrypted Wi-Fi connectivity to prevent hacking and loss of data. 
Another feature that all three scanners share is a rear camera. Both ANCEL DS600 and DS700 have an 8MP camera, while the V6 has a 5MP camera. This feature comes in handy whenever you want to take a closer look at something or share an image with a fellow mechanic. 
Looking at the weight, V6 PRO is the lightest at only 6.89 pounds. ANCEL DS600 comes in second at 10.73 pounds, while the DS700 is the heftiest at 14.32 pounds. 
Finally, you'll find that although ANCEL DS600 and V6 PRO have an 8-inch touchscreen, their dimensions are not similar. V6 PRO is only 13.46" L x 11.85" W x 4.25" H while DS600 measures 18.3" L x 12.2" W x 5.5" H. Again, DS700 is the largest as it measures 21" L x 15" W x 6.5" H. 
ANCEL DS600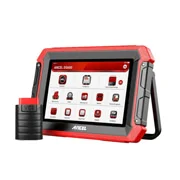 ANCEL DS700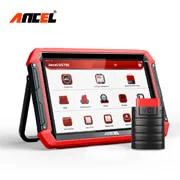 ANCEL V6 PRO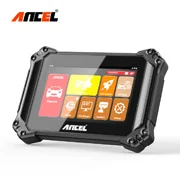 System Diagnostics Functions
ANCEL DS600, DS700, and V6 PRO offer whole system diagnostics. Apart from checking the engine light, you can also tell what's happening when various lights come up. Some of the systems you can diagnose include emission, brakes, fuel, transmission, wiper, and lights. 
Thanks to their auto-VIN feature, there's no need to input vehicle information. The scanner identifies the car for automatic reading of the fault codes on all supported systems. And, we like that the three scanners can clear various lights, including the CEL and maintenance lights.
All scanners can provide live data in text and graph form. ANCEL DS600 has a 9-in-1 live data stream, while ANCEL DS700 has a 12-in-1 data stream. The difference between the two is that you can see more data on the DS700 than on the DS600. ANCEL V6 PRO shows fewer PIDs, but you'll still be able to compare data for easy decision-making. 
You'll also see a detailed report that tells you the exact nature of the problem. As a result, you will know the ideal fix for the problem. If not, all scanners offer advanced remote technical support. As such, you can allow access to the device by an advanced professional if you need help with a diagnosis. 
Furthermore, DS700 has a feedback function that allows you to send a diagnostic report to receive professional guidance. Additionally, you can print the diagnostic information from any device for further input from a friend. 
ANCEL DS700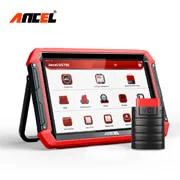 Advanced Service Functions 
All three scanners support special functions. ANCEL DS600 and DS700 provide access to 34 maintenance features. Meanwhile, V6 PRO has only 15 service functions. As you can see, ANCEL DS700 and ANCEL DS600 are more advanced than the V6 PRO.  
The maintenance features that all three scanners support include oil reset, DPF, AT reset, suspension, SAS, TPMS, headlight, gear learning, sunroof, injector, IMMO keys, and EPB. 
Apart from the above functions, ANCEL DS600 and ANCEL DS700 also support battery matching, AdBlue reset, seat calibration, Nox Sensor reset, stop/start reset, and AIF reset, among others. 
ANCEL V6 PRO comes with a free battery tester for new users, so you can get right into battery testing without paying extra. 
DS600 and DS700 can take 6+ modules. These include video scope, module dock, work light, thermal imager, scope box, and battery tester. While none of these modules are offered for free, you can pick one of them for even more capabilities on your device. 
ANCEL DS600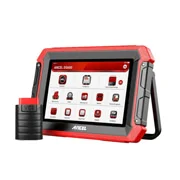 ANCEL DS700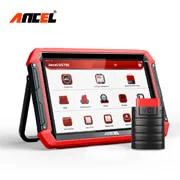 ANCEL V6 PRO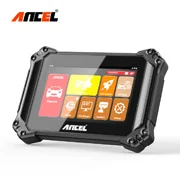 Bidirectional Controls 
ANCEL DS600, DS700, and V6 PRO are all professional scanners. They are capable of bidirectional control, which means you can actuate solenoid values and components. The scanners can access all modules so that you can see if the electronic control system is working as it should. 
Coding and Programming 
ANCEL V6 PRO only supports key programming and injector coding. You can activate a vehicle's Immobilizer control system such that the car identifies and authorizes remote keys that it usually uses. As for the injector coding, the scanner allows you to rewrite code in the ECU. This way, you can control cylinder injection accurately. 
While ANCEL DS600 and DS700 support injector coding and key programming, they take it a little further with ECU coding and online programming on various car makes. Online coding is supported on Ford, Benz, Audi, VW, BMW, Seat, and Porsche.  
ANCEL DS600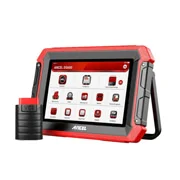 Supported Vehicle Makes 
These scanners are compatible with various car brands and make. All three can work with 12V OBD2 vehicles, including SUVs, minivans, passenger cars, 12V light-duty trucks, and hybrids. 
Some of the supported American vehicles include Ford, GM, Chrysler, Cadillac, Dodge, Chevrolet, and Jeep. 
Supported Protocols 
These scanners work with all OBD2 protocols. These protocols are ISO 9141, CAN, KWP2000, SAE J1850 PWM, and SAE J1850 VPW. The SAE J1850 VPW is used by Ford vehicles, so you can rest assured that ANCEL DS600, ANCEL DS700, and ANCEL V6 PRO are compatible with all Ford vehicles. 
Warranty
All ANCEL products come with a 12-month warranty that covers the scanners against manufacturer defaults. The company also offers a 6-month free warranty extension. It means that you get 18 months of protection for all three products. 
You get two years of free updates on ANCEL DS600 and DS700, while the V6 has a lifetime of free updates. As a result, your device will always be free of bugs, and it can support new vehicle makes instead of buying a new scanner for 2021 and beyond models. 
ANCEL DS600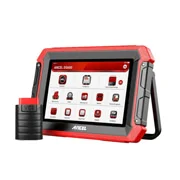 ANCEL DS700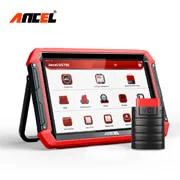 ANCEL V6 PRO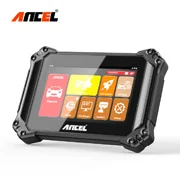 User Manual Download 
You can find the user manual for the ANCEL DS600 here, while the ANCEL DS700 user manual is available on this link.
ANCEL V6 PRO's user manual is simple to be downloaded using this link. 
However, the three scanners come bundled with a user manual.
Weaknesses 
ANCEL DS600 has limited functionality with heavy-duty trucks. For example, it cannot initiate manual PDF regeneration on a Ford F350. You will only access the diagnostics but not the special maintenance functions. 
Looking at ANCEL DS700, it is quite heavy. It's not the best option when you want a portable option that won't tire your hands. Another thing we discovered is that even though it supports battery registration, it does not allow to change the battery's information for some vehicles like BMW. 
ANCEL V6 PRO has similar challenges to the DS600 in terms of support for heavy-duty trucks. Again, it provides diagnostics for the engine and powertrain only. It cannot scan fault codes in the ABS, SRS, or any other module in heavy trucks.
Which Should I Buy?
ANCEL DS600 and DS700 are both professional scanners, with very few differences. If you require the extra functionality of the DS700, then the few extra bucks will be worth it. However, for the most part, we'd recommend going for the DS600. It is cheaper than the DS700, but it offers nearly all the features that you can get from the DS700. 
ANCEL V6 PRO is suitable for drivers and home mechanics who need a device for quick diagnostics and the capability to tackle some maintenance on their vehicle. 
ANCEL V6 PRO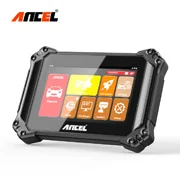 Final Thoughts 
We've come to the end of today's review and comparison. As you can see, ANCEL DS600 and ANCEL DS700 are very similar. They have slight differences, which account for the slightly higher pricier tag on the DS700. As for the V6 PRO, it is a much cheaper offering but with lots of powerful features. Both car owners and home mechanics will find V6 PRO ideal for most functions. 
So, have you figured out which of these ANCEL diagnostic devices is suitable for your needs? 
It's pretty simple from here. 
Good Luck!
ANCEL DS600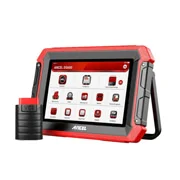 ANCEL DS700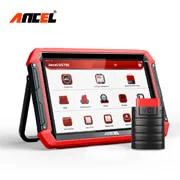 ANCEL V6 PRO