The Ancel AD410 OBD2 Scan Tool is a budget corded OBD2 scanner. It's specially made to work with check engine codes, retrieve diagnostic information, and help you diagnose basic problems with your vehicle.
Due to the low cost of the AD410, buying this unit will likely save you money if you want to turn off your check engine light and fix your car.
On their own, car diagnostic scanners like the AD410 can't "fix" anything. Instead, they talk to your car's sensors and computers and give you information about the inside of your vehicle.
But before buying this code reader, take a look at the chart below to see how good it is compared to the competitors.
ANCEL AD410 Vs. ANCEL AD310 Vs. FOXWELL NT301 Comparison Chart

ANCEL AD410


ANCEL AD310


FOXWELL NT301

Customer Rating

Price
Product Dimensions
9" x 6.3" x 1.6"
9.1" x 6.5" x 1.5"
8.7" x 3.1" x 6.7"
Item Weight
12oz
11.4oz
1.05lbs
Pros
Reading freeze frame data; DTC lookup; Retrieving VIN; Support all OBD2 Functions
Reading freeze frame data; DTC lookup; Retrieving VIN; Support some OBD2 Functions.
Reading freeze frame data; DTC lookup; Retrieving VIN; Support all OBD2 Functions
Cons
Can't read or reset ABS codes, airbag codes;
Limited Code Information.
Not support some models like 2007 Passat, 2005 Toyota Prius.
Not support 2004 Nissan Elgrand E51; Some BMW models; 2008 Hyundai Accent;
Updates with a Windows computer only.
Bottom Line
ANCEL AD410 OBD2 Scan Tool is a great choice for beginners or average car owners.
This scan tool is ideal for beginners with OBD2 cars.
The FOXWELL NT301 OBD2 scanner is a good choice for average car owners or car enthusiasts.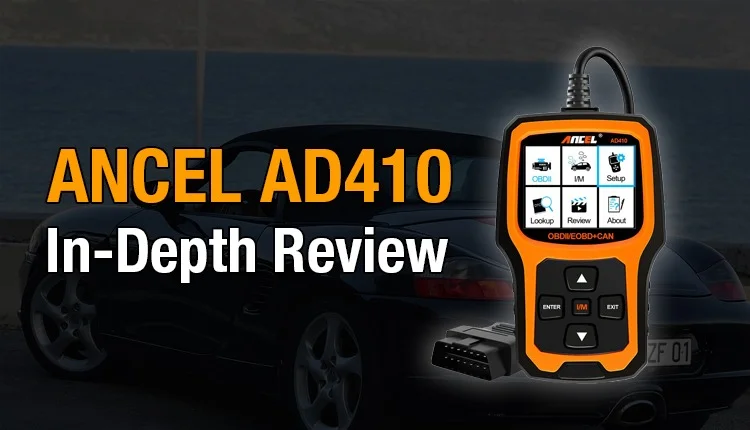 ANCEL AD410 In-depth Review
Live Data
The AD410 can retrieve live data from your car as it runs or views data previously recorded when your engine started to have problems.
This data can help you pin down the exact cause of car trouble much faster than a trouble code alone.
Retrieving, Translating, And Clearing Codes
One of the first things that a mechanic will do to turn off your check engine light is plug in a scanner just like this one.
This is because your check engine light doesn't turn on for no reason.
Instead, it records a "trouble code" that will tell your mechanic why the light is on.
The ANCEL AD410 (and other OBD2 scan tools) can retrieve this code in order to tell you what's wrong with your car.
Unlike some budget scan tools, the ANCEL AD410 OBDII Scanner will give you a brief description of what a trouble code means. This makes it much easier for you to diagnose and fix car problems on your own.
Of course, if you're not a skilled mechanic already, you'll probably have to use the internet to find out more. However, the sentence that the scanner displays can help refine your search more quickly.
Once you've fixed your car's problems, you can use the AD410 to clear the trouble codes and reset your check engine light.
This will keep your car's dashboard nice and relaxed!
Wide Compatibility
This OBD2 scanner can work with almost every car on the market, such as:
Ford,
Chevy,
Jeep,
GM,
Mercedes,
Suzuki,
Land Rover,
Nissan,
Toyota,
Honda,
Hyundai,
Volkswagen,
Jaguar,
Vauxhall,
Citroen,
Audi,
BMW, etc.
The AD410 scanner also supports all OBD2 protocols. These are:
SAE J1850 PWM,
ISO 9141-2,
ISO 1430-4 KWP,
SAE J1850 VPW,
and ISO 15765-4 CAN.
As long as your car has a 16-pin OBD2 port somewhere (and most do), you'll be able to read information and clear codes with the AD410.
Is It Worth Buying?
The low cost of the Ancel AD410 makes itself a good purchase. It's also got a solid interface and does everything you'd expect a dedicated engine scanner to do.
It's very much worth buying if your car's check engine light is on or you need engine diagnostic data to work with vehicles.
AD410 is such a cheap OBD2 scanner that it's probably worth buying even if you only use it two or three times.
Who Should Buy Ancel AD410?
The ANCEL AD410 OBD2 Scan Tool is an excellent choice for beginners or average car owners.
The Bottom Line
You've known everything about the ANCEL AD410 OBD2 Scan Tool. Available at a reasonable price, ANCEL AD410 offers you great values and never fails you.
Get one for yourself, and you would never regret buying it!!
Today's best Ancel AD410 deals:
Read more: ANCEL AD530 Vs. ANCEL AD410 Vs. ANCEL AD510: Review And Comparison