Although XTOOL is a strange brand to many people, it impressed me greatly. 
In addition to basic functions, this scan tool lets me perform ECU coding like unlocking hidden features. 
But what I like the most about XTOOL D8 is the excellent customer service. I always feel they are beside me whenever I have questions or face difficulties with D8.
My statement might make you curious. 
Why do I emphasize customer support? 
Scroll down to know the reason.
Quick Review
XTOOL D8
Price:
Scanner type: Bi-directional scan tool
Made for: Home mechanics, Experienced enthusiasts
Vehicle covered: OBD2 cars/light trucks
Connection type: Corded
Buy this product if you want to:
Read trouble codes of all systems

Perform advanced service functions

Perform active tests

Code car's ECU
Pros
3-year free software updates

Great customer service

Strong battery life
Cons
Can be difficult to put on

Can't work on some early/mid-2000 BMWs
Vehicle Coverage
The company claims that XTOOL D8 can work on 88+ brands. 
However, from my experience and research, this model works poorly on older vehicles. 
For example, with the same model of Toyota, but 2002, 2006, and 2007 Toyota will not work well on D8 compared to 2010 and newer Toyota vehicles. 
Therefore, you should make sure XTOOL D8 is compatible with your car before buying.
What Makes Me Like XTOOL D8?
1. I'm not alone. The tech staff will support me promptly
Tech support is the first plus point. 
I emailed them twice to see if the XTOOL D8 can work on the 2010 Honda Insight. 
They replied to me and explained clearly what kind of functions can be compatible with my car in a polite manner. 
I also love the fact that they were fast, as if I was the only customer they talked with. 
2. Perform any active tests with FULL bi-directional controls.
Besides other high-end bi-directional scan tools like LAUNCH X431 V+ PRO or LAUNCH X431 V Pro, XTOOL D8 is another great scanner that I like to use at a more affordable price. 
I use this tool to perform active tests quite often for two reasons. 
It can work with me for up to 10 hours (battery capacity of 10,000 mAh). 
It also has excellent bi-directional controls. 
It's a full bi-directional scan tool, which means that it can perform any kind of active tests on your car/light truck.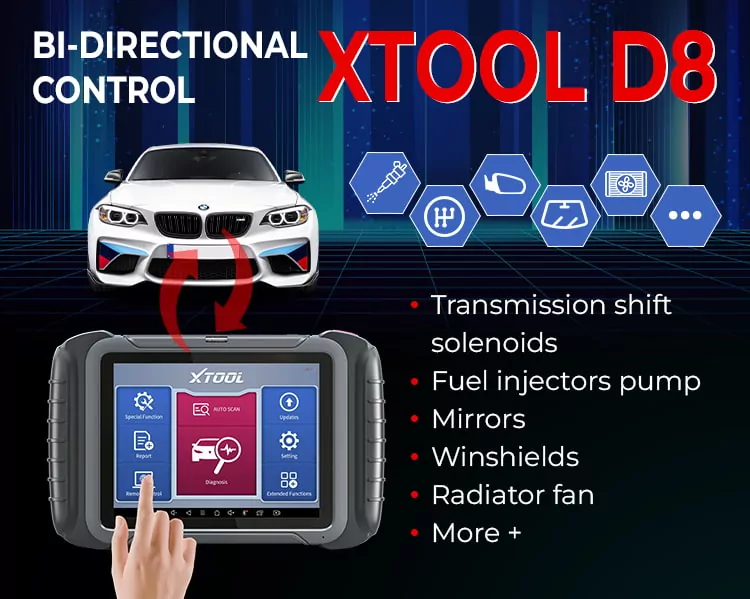 Typical active tests it can do are:
Injector Tests
Fuel Injector Balance
EVAP Tests
Compression Test 
Cooling Fan
A/C Clutch On/Off
ABS Motor Pump
Windows/Wipers/Sunroof/Doors control
I tested this function on a 2010 Honda Insight before putting the D8 into practice. And the automatic transmission solenoid was the part I tested on. 
If you work on this part to see if the solenoid works fine, make sure your surrounding is quiet so that you can know the solenoid's condition via its sound. Also, come to the hood to hear more clearly.
My whole test went like this.
I used XTOOL D8 to test shift solenoids A, B, C… through bi-directional control.
They generated sound as the scan tool turned on and off automatically via active test. 
That was the reason I did not have to do it by myself.
All I had to do was listen to the clicking sound of the solenoids. So convenient.
Luckily, they all clicked in the way they should, which was good.
If you want to test transmission solenoids, here is the tip to determine if they are bad.
If one of the solenoids is not as loud as the others, it means that one is not working properly. 
The whole process only took me about 30 seconds. 
Of course, if the solenoid or any other parts tested by the bi-directional control are faulty, it will take you more time to repair. 
But,
XTOOL D8 makes it much easier and saves you time on diagnosing and fixing. 
You can say that: XTOOL D8 is a real revolution. 
As a professional or a high-level DIY-er, ECU coding sounds familiar to you. 
But the point here is how it becomes so familiar like that and why mechanics always look for ECU coding functions in a scan tool. 
It is obviously due to the needs of customers. 
They want their car to do more than it can right now. 
Or they just want some functions to be locked. 
And to satisfy all those requirements, ECU coding is what you need. 
For example, once, my client's car limited the engine torque because her ECU activated the feature called limitation of engine torque. 
She found it annoying.
With an excellent ECU coding ability, XTOOL D8 allowed me to help her out with that problem. 
All I had to do was just to make it off with some clicks on the tablet and that feature would go away.
At the end, I changed the speed limit as requested by my client, it was 170km/h to be exact.  
By the way, the speed limit defaulted when the car left the factory is normally around 250km/h. 
With this function on XTOOL D8, you can lower that limit following your client's driving style.
4. Key programming is not that hard when you have XTOOL D8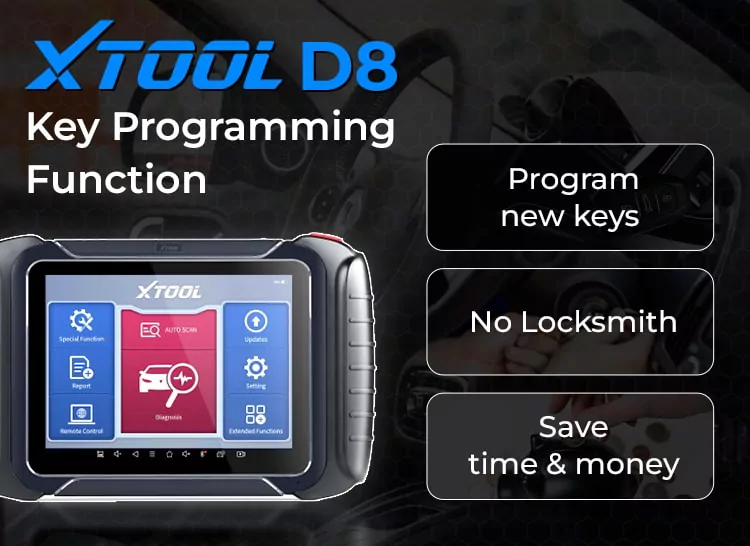 I also would like to give credit to the key programming function of this XTOOl model.
Most of my customers came to my shop to program new keys as they could not turn the ignition on with the old key and saw an immobilizer code. 
With this function, adapting a new key is no longer complex and it can save you some time for sipping a cup of coffee.
D8 will provide step-by-step instructions; the whole process should not take you more than 5 minutes.
5. The only scan tool that offers 3-year FREE updates
XTOOL D8 offers free updates within 3 years, the longest time range I've ever seen in a scan tool at this grade. 
After that, you pay only $199 per year for renewal, which is very cheap. 
If you don't pay after three years, you can still use the old software version to work. 
Yet, you cannot obtain updated vehicle coverage and improve software performance. 
What I Dislike?
1. Superimposed graphing live data
The first thing I want to complain about is the superimposed one grid with remote Y-axes. 
This happens when I select more than one parameter (up to a maximum of four). 
So it seems like nonsense to me. 
I hope the company will improve this soon.
2. Limited mobility
Lastly, because this XTOOL D8's connection type is corded, it somehow limits me physically during work. 
Luckily, the cable length is still enough for you to sit comfortably in the driver's seat while repairing cars.
So, if you want to do diagnosis stuff with unlimited mobility, XTOOL D8BT is right for you. 
With stable Bluetooth connectivity and other great functions like XTOOL D8, I bet this version from the XTOOL company will not disappoint you.
Price & Update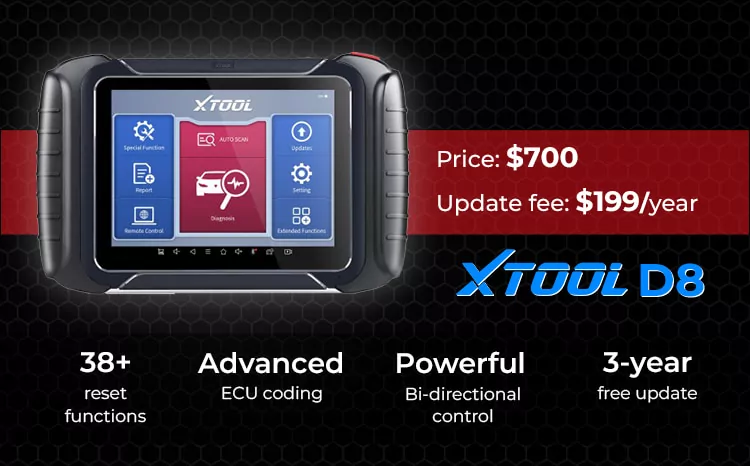 A professional scanner like XTOOL D8 only costs you around $700 to buy.  
This device is a worthy investment for experienced DIYers or home mechanics as it has many useful advanced functions. 
3 years of free software updates is another excellent perk. It means you don't have to spend around $600 on subscriptions in the first 36 months.
After the free update period expires, the new updates cost $199/year.
Compared to its competitors (Launch X431 V Pro: $399/year; Autel MP808K: $349.5 /year), the update cost seems reasonable.
Key Takeaway
Buy XTOOL D8, and you'll get a scan tool with full bi-directional, powerful ECU coding, useful key programming, and other cool functions. 
If you are an experienced enthusiast or a professional looking for a budget buy, I highly recommend this. 
Such a worthwhile investment!
Check XTOOL D8's latest price now:
---
XTOOL D8's Alternatives
#1. XTOOL D7: Cheaper alternative from the same brand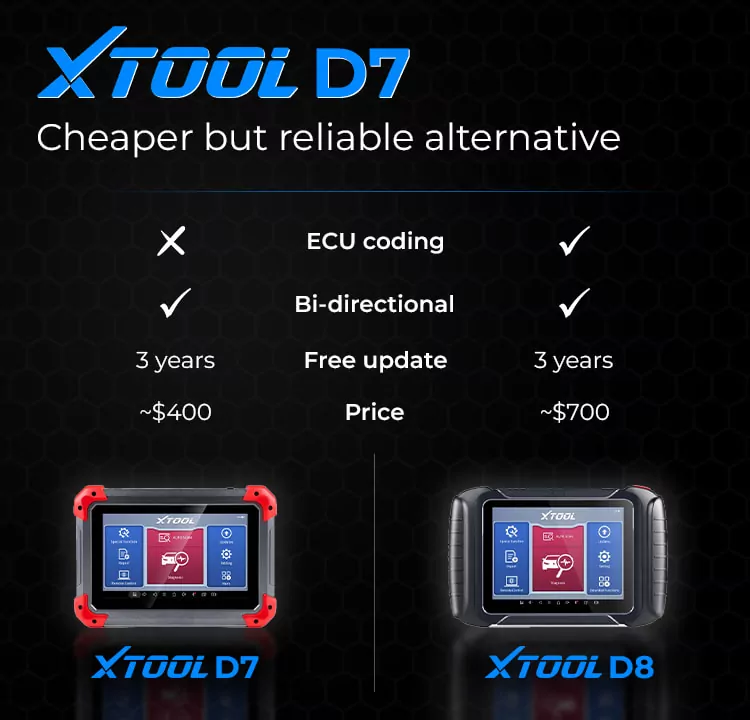 If $700 is a little high for your expected budget, XTOOL D7 at about $400 is a better option.
As D8, XTOOL D7 can provide you with many useful functions such as:
Bi-directional control
36+ service functions
All system diagnostics
However, unlike the D8, it does not support ECU coding or custom configurations.
Therefore, if you need a bi-directional scanner with many service functions, XTOOL D7 is one of the cheapest ones to buy.
If ECU coding is not essential to you, the XTOOL D7 is a much more affordable option.
Check XTOOL D7's latest price:
#2. XTOOL D8BT: Wireless alternative for remote scanning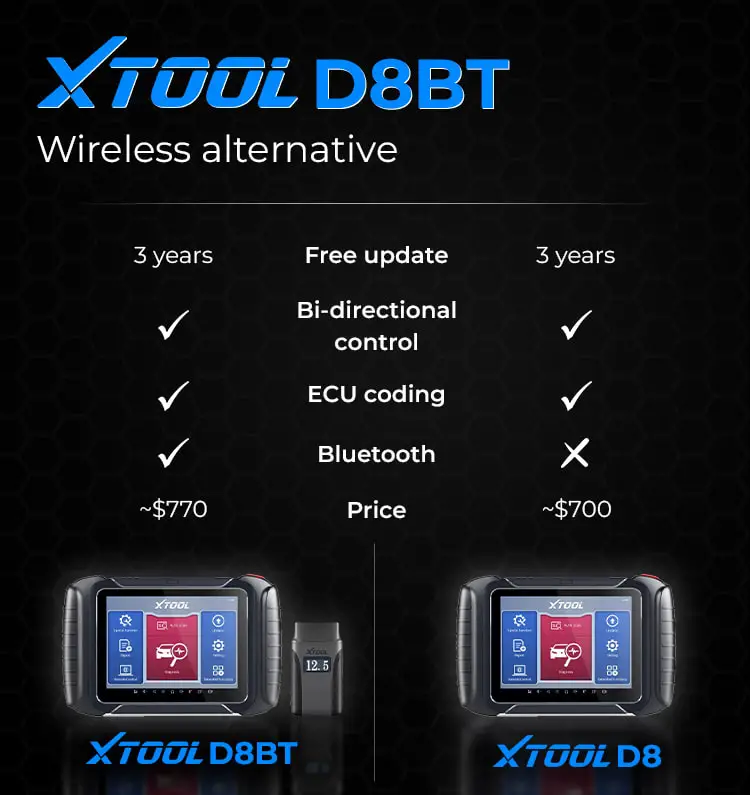 As mentioned above, XTOOL D8 is a wired scanner. It can sometimes limit your working range when diagnosing around the car.
That is why I recommend the D8 Bluetooth edition – XTOOL D8BT. This version allows you to move around the vehicle more comfortably.
The XTOOL D8BT costs $50 more than the corded version. 
And apart from the wireless connection, the D8 and D8BT have almost no differences.
If you don't want to run a cable to a vehicle's OBD2, choose D8BT instead.
Check XTOOL D8BT's latest price:
---
What's Next?
Does XTOOL D8 meet your expectations? 
What specific features of the XTOOL D8 give you an impressive impression?
Please share your thoughts and leave a comment below. I would love to hear from you guys.