Can't decide on XTOOL D7 or D8 because they seem so similar? I get it.
That's why my comparison review is here to help!
In this post, we'll look at:
key differences between D7 and D8
detailed comparison chart
your best solution
Read on for the answer!
XTOOL D7 vs. D8: Full Comparison Chart
| | XTOOL D8 | XTOOL D7 |
| --- | --- | --- |
| DIAGNOSTICS | | |
| Full-system scan | ✅ | ✅ |
| Live data | ✅ | ✅ |
| Active tests | ✅ | ✅ |
| FUNCTIONS | | |
| ABS Bleeding | ✅ | ✅ |
| TPMS Reset | ✅ | ✅ |
| Key Programming | ✅ | ✅ |
| Crankshaft Relearn | ✅ | ✅ |
| Transmission Relearn | ✅ | ✅ |
| Fuel composition reset | ✅ | - |
| OTHER FUNCTIONS | | |
| ECU coding | VAG cars | VAG cars |
| Offline programming | ✅ | - |
| Topology map | ✅ | - |
| VEHICLE COVERAGE | | |
| Cars & light trucks | ✅ | ✅ |
| Latest GM cars | ✅ | - |
| DESIGN & HARDWARE | | |
| Processor | Quad-Core 1.8GHz | Quad-Core 1.6GHz |
| Android OS | 5.1.1 | 10.0 |
| Storage | 2GB+64GB | 2GB+32GB |
| Battery | 10,000 mAh | 4,000mAh |
| Camera | ✅ | - |
| Kickstand | ✅ | - |
| Wireless connection | - | - |
| AFTER-SALES SERVICE | | |
| Free updates | 3 years | 3 years |
| Update fee | $199 | $99 |
| Customer support | 10/10 | 10/10 |
| | Check price | Check Price |
| | | |
---
XTOOL D7 vs. D8: Key Differences & Quick Recommendation
XTOOL D7 and D8 are two highly popular scanners in the market, offering a range of service functions and full-system bi-directional control. 
Despite their similarities, they differ significantly in various aspects:
1. Functions: XTOOL D8 offers 2 significant functions that set it apart from the XTOOL D7:
Topology map to view car's module system layout at a high level,
PMI function to copy data from old to new modules easily (for Ford, Lincoln, and Mazda only).
XTOOL D7 does not include these features.
2. Design: XTOOL D8 comes equipped with a powerful 10,000mAh battery, ideal for extended use throughout the day. It also boasts a kickstand and camera, enhancing its convenience.
D7 comes with a less powerful 4,000mAh battery and lacks the kickstand and camera features.
3. Price: XTOOL D7 offers an attractive advantage in terms of price, being $200 more affordable than the D8.
---
So, here is my quick recommendation:
XTOOL D7! Reliable with ECU coding and bidirectional, but only cost $400-$450.
Budget buy? Get
XTOOL D8 is the better choice.
Want a scanner with cool topology map and offline programming for Ford, Lincoln, and Mazda,
Please note that these are just some key differences between the XTOOL D7 and D8. 
For an in-depth comparison analysis of the performance, design, and vehicle coverage, please scroll down to read the full review.
---
XTOOL D7 vs. D8: Detailed Comparison Review
Performance
While D8 and D7 may seem similar in capabilities such as:
full system diagnostics,
bi-directional control,
23 common service functions,
ECU coding for VAG cars like VW, SKODA, and AUDI.
The D8 has some significant advantages that make it stand out.
From my first-hand experience, I was impressed by the D8's speed. 
Thanks to its 1.8GHz Quad-core processor, D8 scans systems and performs active tests at remarkable speed, significantly faster than D7. It was so efficient that I found myself getting through jobs quicker.
In addition, D8's active tests are far superior to D7's. It even has a "special functions" button under each sub-section, which the D7 lacks entirely. 
For instance, when I tested the "windows" system, the D8 offered additional options, such as a one-touch feature that rolled down the window. This makes repairs more convenient and efficient.
But what truly sets the XTOOL D8 apart is its Offline Programming and Topology map. 
Offline Programming (PMI) is a recent addition to the D8, introduced in July 2023. This feature allows you to copy data from the original module and install it into a new unit, making module replacement easier.
However, please note that Offline Programming is currently available only for Ford, Lincoln, and Mazda vehicles.
Another distinct feature unique to the XTOOL D8 is the Topology map, an impressive addition that enhances the diagnostic process. This vivid and comprehensive map offers a complete view of your car, significantly simplifying the task of identifying and resolving issues.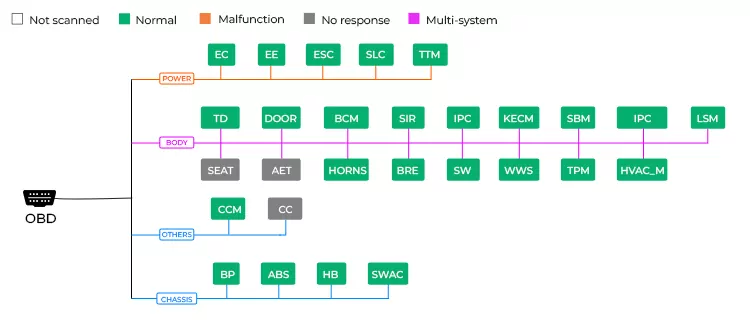 Interestingly, the addition of the Topology feature to the D8 was prompted by customer feedback. Their commitment to continuously enhancing their product has left a lasting impression on me.
Overall, in terms of performance, the XTOOL D8 stands out as the clear winner.
But XTOOL D7 undeniably presents a more budget-friendly option while still offering most of the essential functions available in the D8.
Today's best XTOOL D8 price:
Today's best XTOOL D7 price:
---
Vehicle coverage
When it comes to vehicle coverage, it's hard for me to declare a clear winner.
This is because both tools are equally impressive and can handle most OBD2 vehicles worldwide.
However, the XTOOL D8 does have one advantage over the D7. It is equipped to work on CAN FD protocol vehicles, which allows it to scan and repair the latest GM cars. 
This may be a deciding factor for mechanics who frequently work on these types of vehicles.
However, if you do not typically work on GM cars, then the XTOOL D7 is still a reliable and versatile option.
Today's best XTOOL D8 price:
---
Design & Hardware
Having used both the D7 and D8 models, I can confidently say that the D8 outperforms the D7 in several key areas.
Firstly, the D8 boasts an upgraded 10,000mAh battery compared to the D7's 4,000mAh battery. Therefore, you can use the D8 for up to 2.5 times longer than the D7 before recharging. 
As someone who relies on the scanner for long periods throughout the day, like me, having a long-lasting battery is crucial to avoid any interruptions during repair work.
Secondly, the D8's larger storage capacity of 64GB is double that of the D7's 32GB. With more storage, you can save more data and records, making tracking the history of each vehicle you work on easier.
Thoughtful design is also a plus of XTOOL D8 as it is upgraded with a 1-inch larger screen, kickstand, and camera. These features make repairs more convenient and efficient, saving time and effort.
After weighing the differences and benefits, I find the extra $200 investment in the XTOOL D8 is well worth it for mechanics looking for a tool to keep up with their work demands.
Today's best XTOOL D8 price:
---
After-sale service
I can confidently say that XTOOL's after-sale service deserves more than just 5 stars.
One of the key features that set XTOOL apart from its competitors is their offer of 3-year free updates, which is unmatched in the market.
This is a key reason why I recommend XTOOL products to fellow mechanics.
What's more impressive is that XTOOL releases updates almost every day, whereas other brands only update once a month or even once a year.
If you encounter any issues while using their product, you can report it to XTOOL, and they will resolve it in less than a week. 
This exceptional level of service is reflected in numerous customer reviews, and I have personally experienced it myself.
XTOOL's dedication to fixing bugs and glitches has resulted in a product that runs smoothly and is updated regularly.
In a nutshell, XTOOL's customer support is top-notch, and they always strive to treat their customers right until they are fully satisfied.
---
Recommendation
XTOOL D8 has got you covered with its faster processor, CAN FD protocol, PMI function, and topology functions.
Sure, it's a bit pricier, but trust me, it's worth every penny.
It's reliable, powerful that can handle most of your repair needs.
Today's best XTOOL D8 price:
However, if you're a DIYer on a tight budget, don't worry! XTOOL D7 is still a great option.
D7 is $200 cheaper than the D8, but still performs active tests and service functions like a dream.
Today's best XTOOL D7 price:
Save some cash and go with XTOOL D7, or splurge for XTOOL D8 with all its bells and whistles. Your choice!
Read more: XTOOL D8 vs. D9 vs. D9 PRO: Which is the best for professionals?