Do you own a Toyota or a Lexus and have trouble with your vehicle? If you are looking for a scan tool to help you diagnose these issues, look no further, I have put together a buying guide and review of the best OBD2 scanners for Toyota and Lexus 2021.
After studying this guide, you will know:
Which scanner is the best for your Toyota or Lexus?
The functionality of each device listed for these vehicles.
How much money you should spend on one.
Let's start with the Editor's Picks!!
Top Scan Tools for Toyota/Lexus (Editor's Picks)
Why Do You Need a Toyota/Lexus Scanning Tool?
When thinking about why you need to have a scan tool, there can be many reasons. To check and read codes, diagnose problems, and have a better interaction with your vehicle. Making life a little easier when your dashboard lights up like a Christmas tree, so you can pinpoint particular issues and save yourself some pennies when it comes to going to the auto repair shop.
5 Steps to Choose The Best Lexus/Toyota Scanners
Step 1: Top Brands
These three brands are among the top-rated brands to utilize diagnostics on your Toyota, Lexus, or Scion.
Carista
Website: https://caristaapp.com/
Carista has the knowledge to spot any issues with your vehicle at any given time. With this device, you can skip the long lines and shock charges at the garage. Carista provides an app that communicates with manufacturer-specific modules and even fewer compatible with generic OBD adapters. They specialize in showing you the customization options the dealer does not want you to know about and giving you the power to change them.
Recommendation: Carista Bluetooth OBD2 Scanner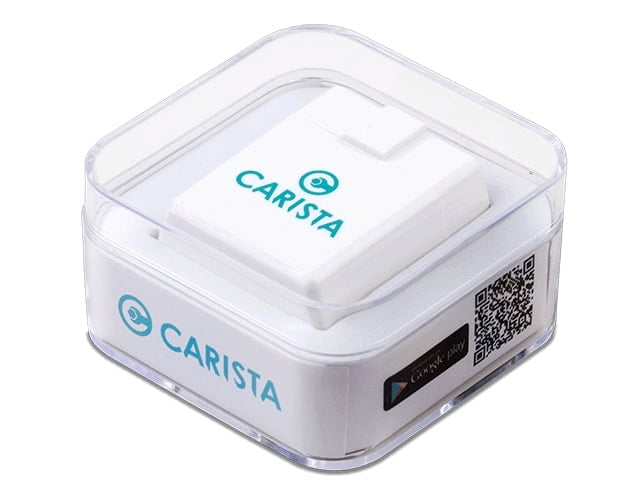 Check Price at Amazon
Autel
Website: https://www.autel.com/
Autel is a specialist company in the research and development, production, sales, and service of diagnostics in the automotive industry, including analysis and detection systems and electronic components. Autel is involved heavily and globally regarding the automotive intelligent diagnosis and testing field for a time greater than ten years; they have now constructed a trio of product lines, including diagnostic products in the auto trade. These include tire pressure monitoring systems (TPMS) and assisted driving systems (ADAS) for intelligent assistive driving systems.
Autel has a mission to create genuine and lasting quality value for all users involved by providing their customers with high ranking services and products. They are virtuous to be one of the leading contributors to automotive equipment globally when it comes to tools, diagnostics, and electronics based on a thorough understanding of customer-based needs and requirements.
Recommendation: Autel Autolink AL319
Check Price at Amazon
Actron
Website: https://actron.com/
Actron aspires to assist you in saving time and money during your vehicle repairs. They offer a vast array of mechanicalized testers, including specialist tools, vacuum pressure gauges, advanced timing lights, and compression testers. Their coding and reading automotive diagnostic equipment works well to swiftly point out problematic integrants for quick, easy, and simple diagnosis while scanning for diagnostic trouble codes (DTC's).
Their fit in your hand-sized diagnostic tool is small, making them ideal for storage as you can keep it in your glove box and pull it out and use it whenever needed. They provide these tools for car DIYers to get to their vehicle diagnostics using just their smartphone.
Recommendation: Actron CP9690 Elite
Check Price at Amazon
Step 2: What Type of Toyota Scan Tool is Suitable for You?
OBD1 or OBD2 Scanner
So what you need to specify here is knowing if your vehicle runs on an OBD1 or OBD2 system. While some code readers will not be able to read OBD1 systems as it could be seen as an old or slightly outdated system, most scan tools on the market today are made for OBD2 vehicles.
Not many OBD2 scanners can diagnose vehicles before 1996 and 80's models. If your vehicle is running an OBD1 system, then Actron CP9690 Elite is built for you as this diagnostic tool covers both OBD2 and OBD1 cars. Also, it comes with OBDI Cables for 1984-1995 GM and Ford vehicles and 1989-1995 Chrysler and Toyota.
For OBD2 systemized vehicles, Autel AutoLink AL319 or Carista is an excellent choice.
Wired or Wireless Tool
Suppose you prefer turning your smartphone or tablet into a scanner and moving around while diagnosing the car. In that case, my advice is to buy a cheap Bluetooth or WIFI scanner like BAFX Products or Foseal WIFI adapter for iPhone iPad and Android. Otherwise, an affordable car code reader like Autel AL319 is just perfect for you.
Check Price at Amazon
Step 3: Compatibility and Vehicle Coverage
On the compatibility side, it is essential to know which vehicles each scanner is compatible with. For example, Carista only supports Tire Pressure Monitoring Sensors (TPMS), ABS/VSC/TRAC inspections, and Detailed ECU information. Unfortunately, Carista can only support these advanced systems on your Toyota, Lexus, or Scion. It is dependent on each car make and model as to which different features Carista supports.
Actron CP9690 Elite meets both OBD1 & OBD2 systems for Toyota. For OBD1 cars, you are a little limited as far as functions go, as you can only check codes and read LIVE engine data. For OBD2 vehicles, you can access and read enhanced codes such as SRS (Airbag), ABS (Anti-lock Braking System), RPM, Fuel Pressure, Coolant Temperature, etc.
Step 4: Pricing
If you are a newcomer to car scanning tools and vehicle diagnostics, don't worry, you do not have to spend too much. You would pay from 25 – 50 Dollars. Toyota Diagnostic Scanners surpassing this cost have increased advanced features that you simply will not use. Don't waste your money on a more complex scanner; you may just get confused by all the additional functions.
For someone in the motor trade or an experienced DIYer, you will need something that can get into those functions and systems of further advancement, so you can expect to spend a little more. A scan tool will cost you anywhere between 50 and 200 dollars, depending on the diagnostics level you wish to achieve.
Check Price at Amazon
Step 5: Other Considerations
Is there anything else I should take into contemplation before deciding to buy one of these scanners?
* Why can Toyota, Lexus, and Scion all Use The Same Scanner?
This is because Toyota, an automotive provider, produces vehicles of five different brands. These brands include Toyota, Ranz, Lexus, Hino, and Daihatsu, and Scion is a discontinued marque of Toyota that debuted in 2003. On February 3, 2016, Toyota announced that it would cease the Scion brand in August 2016, with selected models rebranded as Toyota vehicles for the 2017 model year. However, Scion was discontinued, which does not mean they are not a part of the family, as, of course, some of their vehicles are still on the roads today. So long story short, they all support and use similar parts and systems.
*Connectivity
Something to bring up to thought is the connectivity of the device towards the vehicle. Would you prefer to have a cabled or wireless scanner? That being said, while there are wireless scanners, most of the OBD1 scan tools are corded, like Actron or Autel. So if you have an OBD1 systemized vehicle, you might not have as much room for flexibility.
As for the wireless scanning tools, Carista, Foseal, and BAFX as examples, they sometimes come with different variables. Some are connected via Bluetooth, and others are connected via Wi-Fi. If your Wi-Fi goes down, that could be a problem, especially if you are in the middle of acting like an ECU update. If you've got a strong Wi-Fi connection, you should not run into any problems.
* Techstream Software
An additional aspect to take into consideration is, do the devices have access to Toyota's Techstream software? – A diagnosis software designed specifically for Toyota Lexus or Scion vehicles.
Toyota developed Techstream for internal use and customers who want to be a little more hands-on when dealing with their car.
To diagnose issues with your vehicle, Toyota Techstream is a software designed to connect and interact with your car's internal computer. It will read the sensors and alert you of any errors it finds by providing you with error codes. Aside from the trouble codes, you can also access and modify your vehicle settings, turning certain features on or off.
Read more about Toyota Techstream software HERE
Below comes Tim's review of the top 5 scanners for Toyota/Lexus in 2021. Let's go!!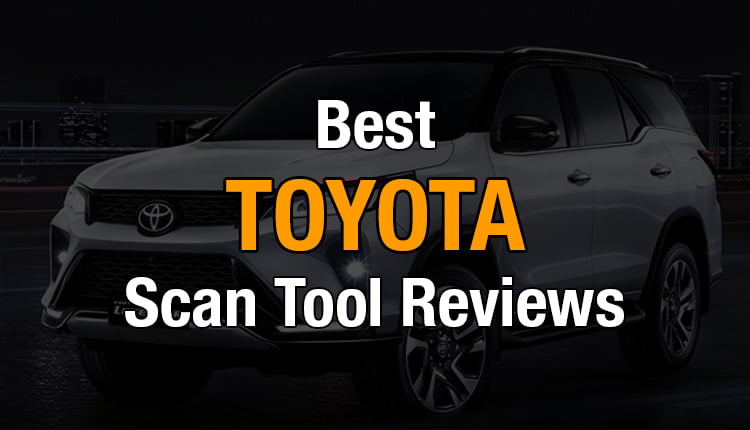 Best Toyota Scanning Tool Review
1. Carista
Carista OBD2 Bluetooth Adapter
Carista is an excellent little attribute to the box because your smart device is your diagnostic instrument.
A nice part about Carista, it's one of the inexpensive scanners in the range. Carista is an excellent little attribute to the box because your smart device is your diagnostic instrument; you've got a scan tool readily available to you only by owning a phone or tablet and an OBD2 connector. Carista is compatible with android and iOS applications.
In terms of functions, Carista can reprogram certain systems, remove warning lights, check locks, and other condolence without advanced devices. Carista's OBD2 adapter comes with a 1-month free trial of all paid serviceability in the Carista app.
Most of the customers who bought this device said it was quick and simple and exactly described. On the other hand, they were not happy that they had to pay additional fees for the app and said that there was upselling and advertising promotion within the app itself.
Check Price at Amazon
FAQs about Carista:
Q – Is this compatible with a 2012 Scion iQ?
A – Yes.
Q – Can I use this to diagnose traction control and battery voltage being too high with a second-generation Toyota Prius?
A – You will only be able to do standard diagnostics on the Toyota Prius of the 2nd generation. Supportive action for the complete Toyota diagnostic specifics is only available from the 3rd generation Prius onwards.
2. Autel AutoLink AL319
Autel AutoLink AL319 OBD2 Scanner
Autel Autolink AL319 is a very good handheld Toyota code reader/diagnostic tool at a hugely affordable price of just under 40 Dollars!
Autel provides the AL319 for regular car DIYers and high-end users such as mechanics. It's a quick and easy plug and plays code reader with a gentle interface, making it easy for you if you are a new user, allowing you to navigate around and get to grips with the system. They have a good customer service team, and the device is coming to you with a 12-month warranty guarantee, so if there are any problems, you will easily be sorted out.
The AL319 will work on most 1996 vehicles and newer vehicles. It runs OBD II and CAN networks, domestic and imported. It has a bright color-coded LED screen and built-in speakers to provide you with both visual and audible indications for readiness verification.
A scanner with customer quotes that scilicet: "Such a helpful diagnostic tool." "It's at a low cost, it saves you money and helps you get the job done!". One customer even said it had saved him close to 5000 Dollars from the dealer to replace the hybrid battery on his 2010 Toyota Prius.
Other clients were a little disappointed that it did not work with every single vehicle.
Overall this is a very good handheld Toyota code reader/diagnostic tool at a hugely affordable price of just under 40 Dollars!
FAQs about Autel AL319:
Q – Does it fit on the 2009 Lexus Rx350?
A – Yes.
Q – Will this work on a 2008 Toyota Sienna?
A – Yes.
Check Price at Amazon
3. Actron CP9690 Elite
Actron CP9690 Elite OBD2 Scanner
The CP9690 Elite AutoScanner Pro is for more advanced technicians and advanced DIYers.
The CP9690 Elite AutoScanner Pro is for more advanced technicians and advanced DIYers. Some of the enhanced features you can expect to include are the powers to read specific DTCs, allowing you to reach your graphically engineered engine data, recording, and playing back the vehicle's stored information. You can also use your PC to print out this data on a datasheet.
This scan tool collaborates with CodeConnect, ABS, and Airbag display and prioritizes troubleshooting to the highest degree of reported fixes specific to the vehicle's year make, model, and engine. The CP9690 is compatible with all cars from 1996 and newer vehicles running OBD II systems while including OBD I Cables for 1984-1995 GM and Ford vehicles and 1989-1995 Chrysler and Toyota vehicles.
It has a CodeConnect hotkey button so you can tether to the most credible fix to the problem. With CodeConnect, you get an across the board database with tons and tons of officially verified fixes for the DTCs that trigger your check engine light to light up on the dashboard. The vehicle fixes they provide have been inspected, verified, and then reported by a team consisting of highly skilled ASE qualified technicians.
Buyers have described it as a really great product for the home mechanic or the garage grease monkey.
FAQs about Actron CP9690 Elite:
Q – Will this scanner indicate drive cycle readiness?
A – Yes.
Q – Will this work on a 1995 Toyota Tercel Dx?
A – Yes.
Check Price at Amazon
Read more: Tim's Review of the Best Audi/VW Scanners 2021
4. BAFX Products
Bafx Products OBDII Diagnostic Car Scanner
BAFX is so perfect for beginners as it is effortless to use.
The BAFX products scan tool is a well-established monitoring, analytical, and secure OBD reader compatible with vehicles purchased in the USA. It can work on all of them considering that they have a year model of 1996 or state of the art, irrespective of the manufacturer! Cheap OBD II Bluetooth reader companies say that they will work on OBD II cooperative vehicles, but the bulk of them appear to malfunction while working on cars that use the J1850 or CAN protocols.
A buyer of this product reports he had been in the automotive industry as a professional for around 20 years and had an ASE Level 1 specialized certification in advanced diagnostics. He said that this was one of the best OBDII scanners he has ever seen at such a low price. A lot of things that the higher-priced equipment can do, unfortunately, it will not do, but for fast and easy checks and looking over live data lists, it was very successful!
If using the BAFX Bluetooth scanning adapter, diagnostic trouble codes (DTC's), you shall easily be able to read and clear! Read engine statistics and display data as well as your vehicle speed (RPM), long and short trim fuel data, advanced timing, the flow rate of your Air Intake and Air Temperature, O2 Sensors, and the list does not end there with the functions available to you!
A little setback I find for this scanner is that it is only compatible with Android, but it also has an IOS compatible version.
FAQs about BAFX Products:
Q – Can it be used on 2008 Lexus RX 350?
A – Yes.
Q – Is this compatible with Android 8.1?
A – Yes.
Check Price at Amazon
5. Foseal WiFi OBDII Scanner
Foseal WIFI OBDII Bluetooth Toyota Scanning Tool
If you are on a tight budget and don't want to seek out a technician, Foseal Car Wifi is a perfect choice. It is not complicated and offers a read and deletes error codes easily.
The Foseal scanner has been described as "the kind of tech that only F1 teams had 20 years ago." The Foseal scanner uses third-party apps to operate its functions. From dyno's to performance meters and real-time telemetry, e.g., boost and throttle position, fuel mixture, spark timing, intake temperature, current torque statistics, engine power, demand percentage, real-time rpm and boost psi, throttle position, and hundreds more!
Customers overall seemed very happy with this device and praised its use. Although some complained about its connectivity, I did some research, which tended to be down to buyers' phones causing problems or the third-party apps. Therefore, if you decide to buy this scanner, do a little digging as to which app works best with it, which may depend on your car make and model as well. Still, it's something that's not too hard to find out.
An ASE certified mechanic found that the OBDCarDoctor application worked well with this device, and he exclaimed that the device was hassle-free and easy to use.
FAQs about Foseal WIFI scanner:
Q – Does it work with Lexus IS 250?
A – Yes.
Q – Would this work on a scion TC 2005?
A – Yes
Check Price at Amazon
Bonus: Tim's in-depth review of Foseal Wifi scanner Improved version
Final Thoughts
When it comes to buying a scanner for your Toyota, Lexus, or Scion, all of these scanners are perfectly adequate. Before buying the scanner, you will need to specify if your vehicle is running on an OBD 1 or OBD 2 system. What you get out of each scanner is also how much you want to spend. If you're new, don't go overboard and get the most expensive scanner, a cheap one will do the job!
Read more: Best OBD2 Scanners Review 2021 [with Buying Guide]