You might have lots of questions in mind needed to be answered like:
"What is the best professional automotive diagnostic scanner 2023?" – or
"Is there any best scan tool for the money? Is there any good scan tool for automotive shop?"
Don't worry! I'm here to help you decide which scanner meets your needs.
7 Best Professional Scan Tools Comparison Chart
[Mobile users: Swipe left for full table]
Click HERE to see full comparison chart (PDF, Free Download)
---
Table of contents:
7 Best Professional Scan Tools Full Comparison Chart
---
#1. LAUNCH X431 V+ Pro: Best Scan Tool for Professional Mechanics with ECU Coding
LAUNCH X431 V+
Price: Under $1,500
LAUNCH X431 V+ PRO is a powerful diagnostic scanner designed for professionals or small to mid-sized shops, with a wide range of shop-level features.
Pros
35+ professional reset services

Full bi-directional control

Offers advanced manufacturer-level

functions

Covers vehicles up to 2023 models

Two years of free updates
Cons
Can be slow to program new key on Audi and VW

Unreliable AutoVIN function
What Makes Me Like LAUNCH X431 V+ Pro?
1. Accurate bi-directional control
After receiving this scan tool, I tested its bi-directional controls on different OBD2 vehicles. 
Although not all of them function smoothly, I was pretty surprised at the number of functions I could use on some models.
From 2002 to 2020 vehicles, it's great to have the ability to control circuits like the IAC and electronic EGR. 
Also, I can control other circuits, such as power windows and door locks, purge solenoids, etc.
In addition, 
LAUNCH X431 V+ Pro can support many active tests (depending on specific car models), like:
transmission solenoids, 
engine vacuum pump, 
fuel injectors, 
set the idle, etc.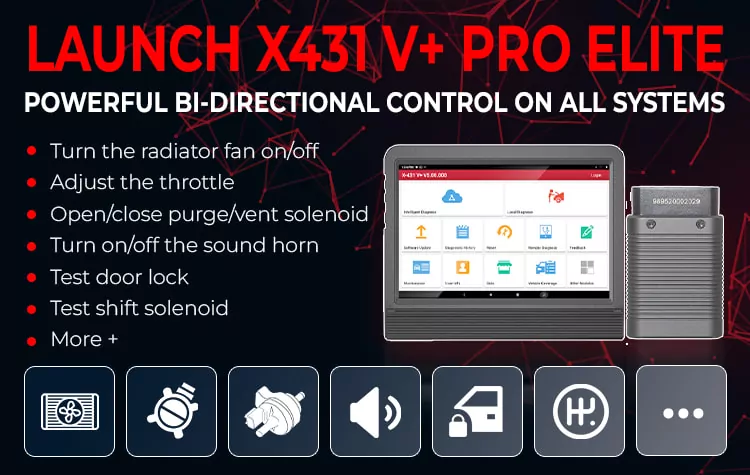 And, of course, bi-directional controls help mechanics like me test individual systems or parts in those systems. 
2. The advanced functions are reliable but not universal
LAUNCH X431 V+ Pro allows you to perform up to 35 advanced service functions.
Most of the prominent functions I often use are:
DPF Regeneration
IMMO Key
ABS Bleeding
Fuel Injector Coding
Throttle Adaptation, etc.
Yet, those functions are not universally compatible.
For example:
Launch X431 V+ helped me run the ABS motor and did a full auto bleed on a 2010 Honda Accord.
Then, I tried the same feature on a 2007 Toyota Tacoma 4×4 but it didn't work.
Maybe there will be an update for Tacoma soon.
3. Walk around the vehicle while running diagnostics
One thing I'd like to add is I really like that the LAUNCH uses a Bluetooth connector instead of a cable. 
You can operate away from the car, which is great. 
You can be at the workbench or any location in the vehicle.
What I Dislike?
1. High annual subscription fee
My first concern is that the annual subscription fee is a bit high (~$500) after two years of free updates. 
But I work at a repair shop, so paying a fee each year for newer vehicles is mandatory. 
If your work is on your own or family cars, you don't need to update every year. 
2. Long battery charging time
Although the battery is sufficient for long diagnostics (4 hours), my biggest gripe is the charging time. 
You have to time your diagnostic process. 
Vehicle Compatibility
From my experience, not all advanced service functions and bi-directional control are available on all vehicles. 
You should check the compatibility on LAUNCH's website before buying.
Key Takeaway
LAUNCH X431 V+ Pro has most of the features that a professional or an advanced home mechanic would need.
With great bi-directional control, this scanner is a must-have tool for you.
In addition to active tests, X431 V+ Pro is a professional scan tool that can offer many service functions.
Today's best Launch X431 V+ Pro price:
Read more: Launch X431 V+ vs. Topdon Phoenix Plus: Which Scanner Fits You Best?
#2. Autel MK808S: Best Professional OBD2 Scanner with Bi-directional Control
Autel MK808S
Price: Under $500
The Autel MK808S is a reliable scan tool with durable hardware, wide vehicle coverage, and bi-directional control, which is ideal for independent DIY auto enthusiasts.
Pros
Features bi-directional control

Touchscreen tablet

Supports over 150 car brands

28+ advanced service functions
Cons
No manual included

Menu is hard to navigate

What Makes Me Like Autel MK808S?
1. Covers a lot of car diagnoses and repairs 
Autel MK808S stands out from other cheaper scanners due to its ability to pull more various trouble codes. 
Unlike cheaper scanners, the MK808S can read factory codes from different vehicle systems, including:
engine, 
ABS, 
transmission, 
SRS,
TPMS, etc. 
Additionally, I could use this scanner to pull the brake circuit code that cheaper scanners couldn't detect.
Regarding other advanced features, Autel MK808S has upgraded to come with active tests. 
You can carry out various functions to command the components like ABS brake, engine cylinders, or any electrical parts. These tests help you a lot in diagnosing and clearing trouble codes.
2. Vivid and responsive live data 
When using the Autel MK808S, it's easy and responsive enough to read graphed live data.
You can use this feature to point out trouble areas and check the real-time status of your car.
For example, I could check the engine misfires with live data and then know the misfire counts.
3. Affordable price with many advanced features
By using many functions available on the Autel MK808S, the price of this scanner is truly unbeatable.
When choosing Autel, you can rest assured that you're selecting a high-quality product that will endure.
Furthermore, Autel MK808S represents an upgrade from its predecessor, the MK808. It features enhanced hardware such as Android 11, 4GB RAM, and a faster CPU.
What I Dislike?
1. No manual included
The scanner does not come with a hard copy of the manual, so you must download one online or learn how to navigate it yourself. 
Not a big deal to me, but for anyone unfamiliar with this type of scanner, it'll be frustrating.
2. Hard to navigate the menu for beginners
Using the scanner is even harder since the menu isn't easy to navigate. Many features are hidden, so you have to dig deep to find them.
But once you understand the layout, you can easily use the scanner.
Vehicle Coverage
Before buying Autel MK808S, you should check if it can work on your car.
Key Takeaway
The Autel MK808S is an ideal choice for car workshops and personal use since it has a wide range of features and is highly versatile and cost-effective. 
Today's best Autel MK808S price:
Read more: LAUNCH CRP919E vs. Autel MK808S: Which One Should I Choose?
#3. XTOOL D7: Best money saver
XTOOL D7
Price: Under $500
XTOOL D7 is the best fit for DIYers/ entry-pro for its wide range of advanced functions, reliable performance and afforable price.
Pros
Active tests
Full-system diagnostics
36+ service functions
Key programming
Excellent customer support
What Makes Me Like XTOOL D7?
1. Numerous advanced functions at an affordable price 
The XTOOL D7 is a budget-friendly scanner priced at under $500. Despite its low cost, it offers advanced functions that I frequently use in my garage, such as
full bidirectional control,
ECU coding,
and key programming.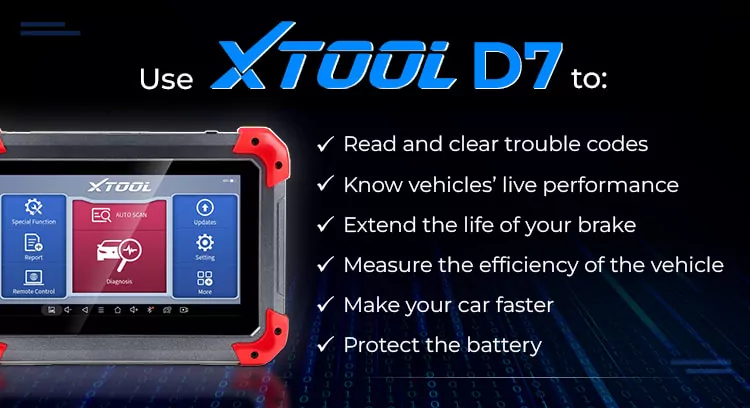 In addition to these advanced features, the XTOOL D7 also includes all the common service functions you would expect, including relearn and calibration functions.
After testing the scanner on various vehicles, I can confidently say that all of its functions work well. It's not only affordable, but it also delivers reliable performance.
2. The best money saver
The fact is XTOOL D7 can cover all the functions at a good price is impressive, but what's even better is that it comes with a 3-year free update, which is longer than what most advanced scanners offer (usually only 1 or 2 years). Additionally, the update fee is only $99 per year, which is really affordable.
3. Great customer support
This is what I always compliment every time I review an XTOOL product. Their tech support is king! You can ask them anything about their products or report any problem and they with answer and solve everything for you as soon as possible.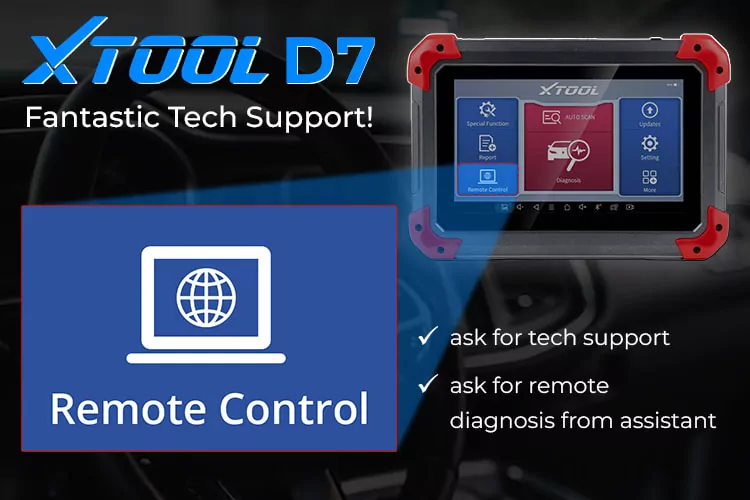 What I Dislike?
Service functions may not work on some vehicles
It's worth noting that just because a product claims to have a certain function doesn't necessarily mean it will work on your specific vehicle. 
In my experience testing XTOOL products, they don't have the same vehicle and functional coverage as the big players in the diagnostics world like Launch and Autel.
But that doesn't mean the XTOOL D7 is a bad product. It still offers a lot of reliable functions for many vehicles, even if it may not cover every single one.
Today's best XTOOL D7 price:
#4. LAUNCH CRP919E Elite: Best for Advanced DIYers
Launch X431 CRP919E Elite
Price: Under $500
The Launch CRP919E is a budget-friendly and effective tool for enhancing your vehicle repair capabilities, with numerous active tests and ECU coding.
Pros
Full-system diagnostics
ECU coding
Active tests
31+ service functions
Cons
Hard to monitor graph live data
Short cable
What Makes Me Like LAUNCH CRP919E Elite?
1. Extensive vehicle coverage
My first impression after using it for a while is that this scanner can work on a lot of cars. I have tested it on over 15 customers' cars, and Launch CRP919E can work flawlessly on most cars. I can perform full system diagnostics and various service functions on these cars.
Thanks to the company's regular updates, it can be compatible with new cars manufactured in 2023.
In addition, this scanner supports CAN FD & DoIP protocols. 
If you own: 
2019+ GM,
BMW (F&G chassis), 
2018 + Volvo models, etc. 
Then you can rest assured that it will work normally.
2. It offers up to 31 service functions
With Launch CRP919E, you can perform many different functions because this scanner supports around 31 service functions like:
Injector coding
EPB reset
ABS bleeding
SAS calibration
Throttle relearn, etc.
I usually use the key programming function. And it must be said that this function is very easy to use. It works well on supported vehicles.
I programmed keys for a 2008 Dodge Ram 1500 and did 2 keys in less than 3 minutes.
Save a lot of time for me.
3. Customize your car with ECU coding
For less than $500, being equipped with ECU coding is rare. Among the scanners I know, there are only a few scanners in the same price range that support that function.
Launch CRP919E can allow you to perform from basic to advanced ECU coding functions. This can boost your vehicle performance, and customize your car faster as needed.
Adjust the hidden features: disable annoying functions.
Component matching: relearn, calibrate, or initialize adaptive data after repairs or replacements.
Customize OEM settings (Retrofitting/Modification)
It can be said that with ECU coding, I can perform many of the features required for a mechanic. But note that the above functions will vary depending on each model. Some vehicles will not be fully supported.
What I Dislike?
1. The graph live data is hard to observe
At this price point, this scanner only displays 4 PIDs at once. It's frustrating that graph live data can only be viewed as combined.
For me, it's much easier to monitor the live data as 4 individual boxes. Other scanners in this price range already have this option, like XTOOL D7.
Vehicle Compatibility 
Advanced functions will vary depending on vehicle models. You should check the compatibility on LAUNCH's website before buying.
Key Takeaway
LAUNCH CRP919E is a versatile scanner for DIYers or home mechanics. Not only is it affordable, but it also offers most advanced functions you will need during your diagnostic process.
Today's best LAUNCH CRP919E price:
Read more: LAUNCH CRP919E vs. Autel MK808S: Which One Should I Choose?
#4. XTOOL D8BT: Best Car Diagnostic Tool For The Money
XTOOL D8BT
Price: Under $1,000
The XTOOL D8BT is an affordable option under $800 with advanced features typically only found in shop-level scan tools.
Pros
Easy-to-follow instructions
Support CANFD protocols
Topology map
ECU coding
38+ service functions
Cons
Doesn't support some older vehicles
What Makes Me Like XTOOL D8BT?
1. It's so convenient to perform active tests with bi-directional control
The bi-directional control (active tests) is a good help to narrow down the problems or for maintenance services. 
For example, I used this feature to perform brake caliper resets when trying to replace the brake pads. 
Besides, it even could assist me in running the fluid bleed procedure after I changed the green fluid on the GM rear differential clutch.
2. Now, you can perform advanced service functions at home like a professional
XTOOL D8BT offers up to 38+ service functions, such as:
SAS calibration, 
DPF regen, 
Injector coding, 
ABS bleeding, 
Key programming,
Throttle and Idle Relearn, etc.
Recently, my customer lost her car keys. 
I tested this scan tool's function by reprogramming and copying keys for her 2012 Acadia and 2016 Jeep GC.
It works smoothly.
Bonus: Best OBD2 Scanners with Key Programming Function 2023 [Review and Comparison]
3. You don't have to worry about the update fee in the first 3 years
I am glad that the first 3 years of updates are free ($600 saved). This makes XTOOL D8BT superior to its competitor in the same price range. 
After that, you can choose to pay for the subscription or continue using the old software. 
You don't have to update the unit, but that might limit what future cars it will work with. 
4. XTOOL tech support made me impressed
They always quickly reached out to me with all my questions before and after my purchase. 
Besides, when I found a bug, they immediately fixed it and put out an update that took care of this issue. 
5. It comes with Topology map, which is rare for this price
Prepare to be amazed by XTOOL's impressive support for Topology map, a feature typically found in high-end scan tools.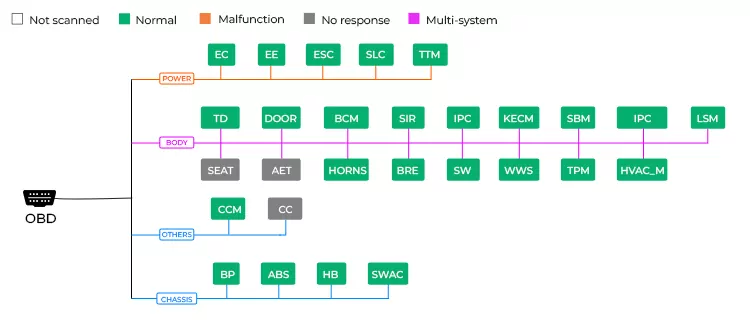 With this incredible capability, scanning your vehicle becomes quicker and more efficient. 
The topology map provides a comprehensive overview of your car's entire system. You will identify systems in trouble at a single glance, providing immediate insights.
What I Dislike?
1. Vehicle coverage of advanced service functions should be improved
Yet, some functions won't work on your car. It's not due to the actual limitations of the unit. Some cars' computers will not support those functions.
I can use almost every service function available with a '09 Acura.
But half of them aren't supported by a '09 Hyundai. Key coding is the same. It works great on the Acura, but it's not for Hyundai. 
Vehicle Compatibility 
Please check the vehicle coverage at XTOOL's website to confirm if this scanner works on your vehicle before buying.
Key Takeaway
This bi-directional scan tool will equip you with many advanced service features. And what XTOOL D8BT will beat other scanners is the excellent tech support.
Today's best XTOOL D8BT price:
#5. TOPDON Phoenix Plus: Best Scan Tool with Topology Map Under $1,500
TOPDON Phoenix Plus
Price: Under $1,500
TOPDON Phoenix Plus is a comprehensive and reliable scan tool for professionals and DIY enthusiasts, with extensive brand coverage and unique topology map.
Pros
Topology map

Advanced ECU coding

Powerful bi-directional control

35+ advanced service functions

Guided function for VAG cars

Cons
Annual subscription fee

Repair Info is for generic codes only
What Makes Me Like TOPDON Phoenix Plus?
1. Topology map at $1,200
Get a scanner with topology map for $1,200? This is what I like the most about TOPDON Phoenix Plus. 
Topology map is a must-have function if you are busy with a lot of cars in the garage waiting to be fixed. 
With this map, it's easy to locate the fault in a minute because everything is converted into a color-coded topology display. By clicking on the module, you can promptly identify its underlying cause.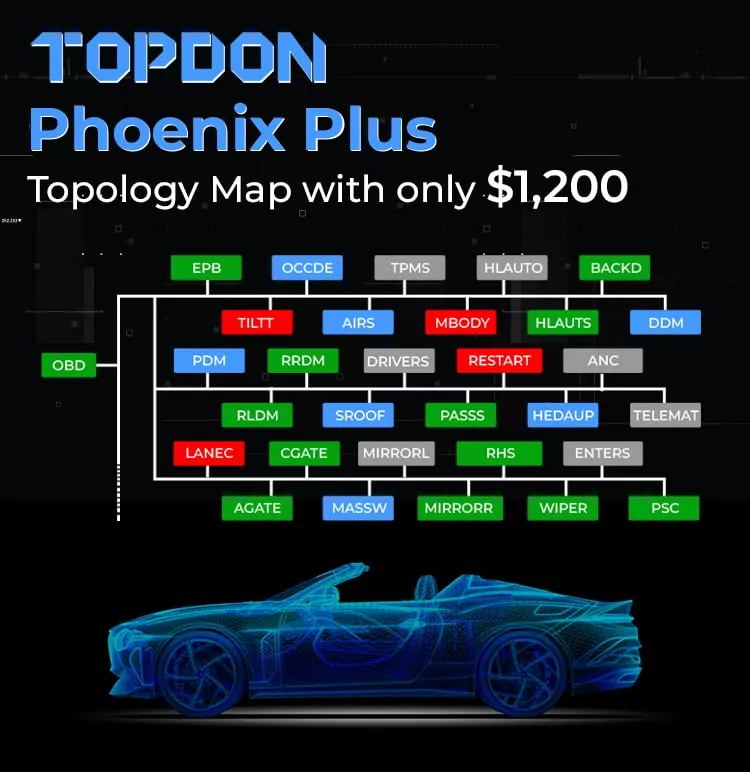 This scanner saved me a lot of time when diagnosing cars!
2. Perform easier diagnosis and repair with advanced functions
With TOPDON Phoenix Plus's 35 service functions and bi-directional capabilities, you can cover many cars with these helpful functions.
For me, these functions are a big help when I diagnose and fix customers' cars in the shop. 
Regarding the service functions, I was impressed by its ability to be compatible with many cars. For example, I performed DPF regen on a 2016 Nissan Titan XD, injector coding on a 2010 Buick LaCrosse, and ABS recalibration on a 2013 Ford Explorer. 
About bi-directional control, this function is designed for vehicle-specific subsystems. I can find and test the component inside the hood, no need to tear everything apart.
3. Guided function for VAG cars
If you work on several VAG cars, the Guided Function on TOPDON Phoenix Plus helps you maximize productivity.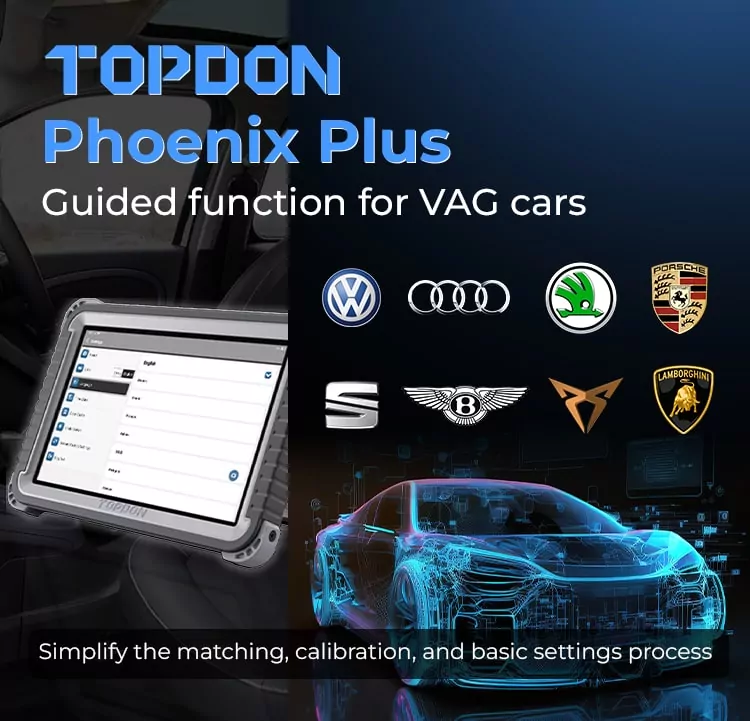 Also, this TOPDON Phoenix Plus scan tool will instruct you through each procedure to perform:
matching 
calibration 
basic settings.
I tested this "Guided Function" by calibrating the steering angle sensor on a 2002 Audi S4. What I have to do is to follow each step on the screen and everything's done. 
4. 2-year free update
TOPDON Phoenix Plus comes with 2 years of free updates. 
Since using this scan tool, it has undergone over 40 updates within a brief period. The update included new features, the latest cars, and bugfix.
This is just the sweet icings on the cake.
What I Dislike?
1. Expensive annual subscription fee
Actually, this is not a big downside to me. But if you buy this tool for a few cars, the update fee of $545 is something you should consider. 
Despite being unable to use ECU coding and active tests, other functions are still available.
2. Repair Info doesn't support manufacturer-specific codes
The Repair Info feature provides you with information or an explanation of the generic trouble codes only. 
But if you manually search manufacturer-specific codes, you are out of luck.
Vehicle Coverage
Always check the compatibility between your car with TOPDON Phoenix Plus through the brand's website. This will ensure to buy the right scan tool that can work on your vehicle.
Key Takeaway
With its Topology map, I can say TOPDON Phoenix Plus defeats most scanners in this price range. It is best suited for anyone who wants to have a quick look at the whole car's systems. 
Not only that, Phoenix Plus is equipped with advanced ECU coding for BMWs and Mercedes like its competitors.
Today's best TOPDON Phoenix Plus price:
Read more: Launch X431 V+ vs. Topdon Phoenix Plus: Which Scanner Fits You Best?
#7. Autel MaxiSys Ultra: Best Scan Tool for Automotive Shop
Autel MaxiSys Ultra
Price: Under $5,000
The Autel Maxisys Ultra is the ultimate diagnostic scanner for professionals and repair shop owners, with advanced features to solve even the most challenging problems.
Pros
5-in-1 VCMI functionality

Advanced BMW and Benz ECU programming and coding

Comprehensive reset services

8+ hours of battery life

Split screen
Cons
Only programs two vehicle brands

Technical support could be bette

What Makes Me Like Autel Ultra?
1. Innovative 5-in-1 VCMI valued $2,000
Autel MaxiSys Ultra has a 5-in-1 VCMI that I find extremely helpful in meeting busy repair demands. 
It functions as an Oscilloscope, Waveform Generator, Multimeter, CAN Bus Tester, and for VCI connection, with dual Wi-Fi.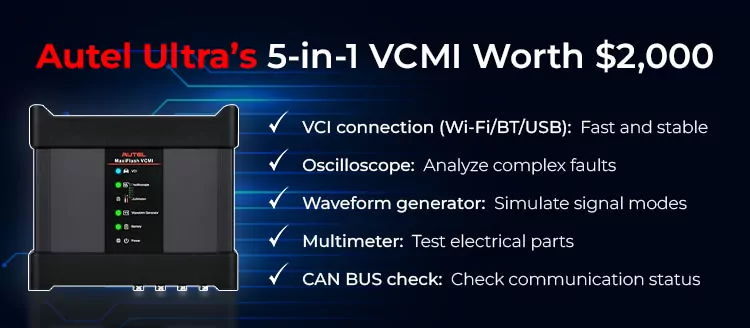 The connection between VCI and the Ultra is fast and smooth. 
Also, thanks to the stable dual Wifi, I downloaded any updates without losing connection to the car.
2. Zooming in and out with topology map
Autel MaxiSys Ultra's topology map lays out every module it can access and tells you whether they are functioning normally or abnormally. 
In addition, the scan tool takes the map to the next level, as it's capable of zooming in and out of the topology map.
By tapping on the orange-colored module, I can see fault codes and their definition to understand why they are present. 
It gives me a view of how everything works and improves efficiency to the highest level.
3. Multitasking with split screen
This scanner supports split-screen functionality thanks to its large 13-inch TFT screen. 
Its multi-window operation helps me monitor live data and see the oscilloscope simultaneously.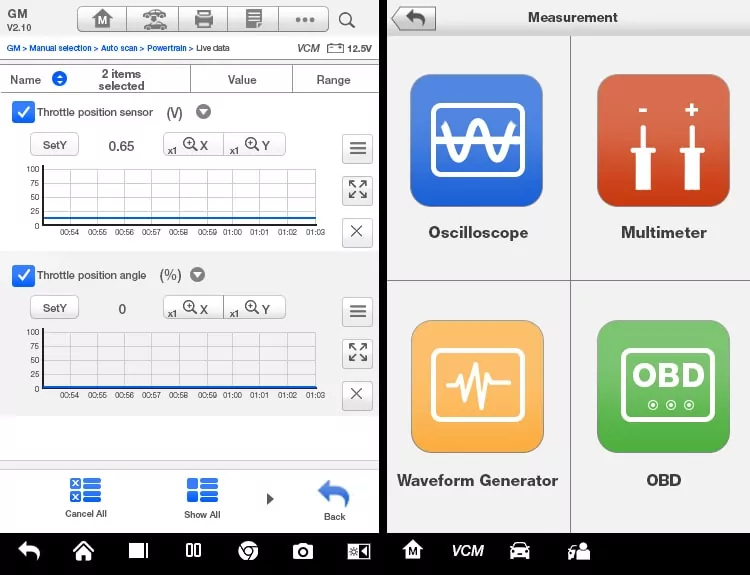 I used it to see diagnostic guidance and test components to confirm repairs.
Save me a lot of time!
4. Large battery capacity
Autel MaxiSys Ultra boasts an 18,000 mAh battery that can work for 8+ hours without losing power.
Its battery life is helpful in optimizing time, and I never worry about putting it on the charger all the time.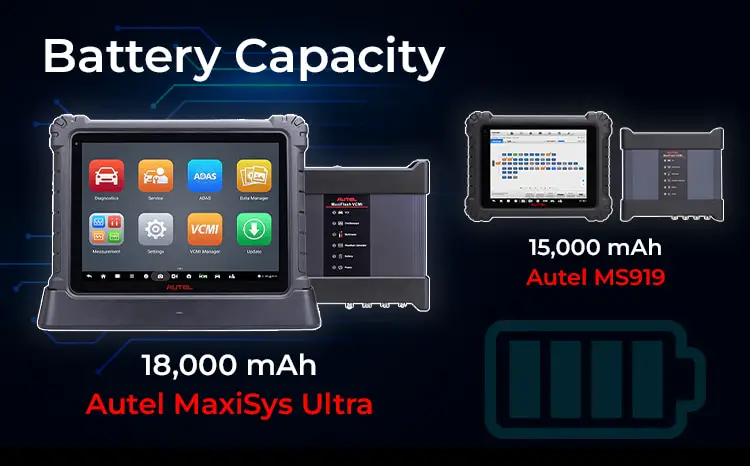 What I Dislike?
1. Too expensive for personal use
Autel MaxiSys Ultra has lots of super-advanced functions, which are more suitable for busy auto shops. 
If you plan to use it on a personal car or don't use many of its features, it will be an expensive scanner you rarely use. 
2. Only 1-Year free update
Unlike Launch X431 Pro 5, Autel Ultra only comes with a year of free updates. Considering that it costs $1,500 for a one-year update, it's pretty expensive.
If you don't want to pay for the update fee, you still have access to available functions on Autel Ultra. Yet, online functions like ECU coding & programming are inaccessible.
Vehicle Coverage
Don't forget to check if the Autel Ultra works on your vehicles. You can check it on Autel website for further help.
Key Takeaway
Autel Ultra is the best professional car diagnostic tool for busy auto shops. 
If you're looking for an advanced scan tool to perform fast maintenance and repairs, Autel Ultra gives you VCMI functionality and dependable battery life.
Today's best Autel Ultra prices:
Read more: Autel Maxisys Ultra Review: A Professional Scan Tool That Can Do Anything
---
7 Best Professional Scan Tools Full Comparison Chart
| | XTOOL D7 | LAUNCH CRP919E | Autel MK808S | XTOOL D8BT | Launch V+ | Topdon Plus | Autel Ultra |
| --- | --- | --- | --- | --- | --- | --- | --- |
| | | | | | | | |
| DIAGNOSTICS | | | | | | | |
| Full-system diagnosis | ✅ | ✅ | ✅ | ✅ | ✅ | ✅ | ✅ |
| Active tests | ✅ | ✅ | ✅ | ✅ | ✅ | ✅ | ✅ |
| OEM-level diagnosis | – | – | ✅ | ✅ | ✅ | ✅ | ✅ |
| Topology map | – | – | – | ✅ | ✅ | ✅ | ✅ |
| SERVICE FUNCTIONS | | | | | | | |
| Number of functions | 36+ | 31+ | 28+ | 38+ | 35+ | 41+ | 40+ |
| Oil/ TPMS reset | ✅ | ✅ | ✅ | ✅ | ✅ | ✅ | ✅ |
| ABS Bleeding | ✅ | ✅ | ✅ | ✅ | ✅ | ✅ | ✅ |
| DPF regen | ✅ | ✅ | ✅ | ✅ | ✅ | ✅ | ✅ |
| Throttle relearn | ✅ | ✅ | ✅ | ✅ | ✅ | ✅ | ✅ |
| Crank relearn | ✅ | ✅ | ✅ | ✅ | ✅ | ✅ | ✅ |
| SAS calibration | ✅ | ✅ | ✅ | ✅ | ✅ | ✅ | ✅ |
| ADVANCED FUNCTIONS | | | | | | | |
| Key programming | ✅ | ✅ | ✅ | ✅ | ✅ | ✅ | ✅ |
| ECU coding | ✅ | ✅ | – | ✅ | ✅ | ✅ | ✅ |
| ECU programming | – | – | – | – | – | – | ✅ |
| VEHICLE COVERAGE | | | | | | | |
| Cars & light trucks | ✅ | ✅ | ✅ | ✅ | ✅ | ✅ | ✅ |
| Heavy duty trucks | – | – | – | – | ✅ | – | ✅ |
| CAN FD protocols | ✅ | ✅ | – | ✅ | – | – | ✅ |
| DESIGN & HARDWARE | | | | | | | |
| Processor | 2.4GHz | UNK | Cortex-A55 | Quad-Core 1.8GHz | 8-Core 1.8 GHz | 4-Core 2.0GHz | 8-Core |
| Memory | 32GB | 3GB + 32GB | 4GB + 64GB | 2GB + 64GB | 32GB + 128GB | 4GB + 64GB | 4GB + 256GB |
| Android OS | 10.0 | 10.0 | 11.0 | 5.1.1 | 9.0 | 10.0 | 7.0 |
| Screen size | 7″ | 7″ | 7″ | 8″ | 10.1″ | 10.1″ | 12.9'' |
| Battery capacity | 4000mAh | 6100mAh | 5000mAh | 10000mAh | 7000mAh | 12600mAh | 18000mAh |
| Docking station | – | – | – | – | – | – | ✅ |
| Wireless connection | – | – | – | ✅ | ✅ | ✅ | ✅ |
| AFTER-SALES SERVICE | | | | | | | |
| Free update | 3 years | 2 years | 1 year | 3 years | 2 years | 2 years | 1 year |
| Warranty | 2 years | 5 years | 1 year | 2 years | 5 years | 1 year | 1 year |
| Update fee | $99/year | $150/year | $125/year | $200/year | $399/year | $545/year | $1695/year |
| Customer service | 10/10 | 7.5/10 | 8/10 | 10/10 | 7.5/10 | 9/10 | 8/10 |
| | Check Price | Check Price | Check Price | Check Price | Check Price | Check Price | Check Price |
| | | | | | | | |
---
Conclusion
Every scan tool in this review has revealed unique features for different professionals. 
Don't forget to share your thoughts and let me know your chosen scanner in the comments.