In January 2023, many readers sent me messages asking questions like:
"What is the best professional obd2 scanner?"
"Should I buy a $1,000 scan tool with ECU coding?"
"What is the best car diagnostic tool for mechanic?"
"What is the best scanner with ECU programming?"
"What scan tools can do everything? etc.
If you're asking one of the questions, this post is for you.
Today I will share my experiences with the top 5 professional car diagnostic tools after 6 years of using and testing them.
Now,
Let's begin with a quick comparison of the scan tools:
Best Professional Car Diagnostic Tools Quick Overview
1. XTOOL D7
Professional OBD2 Scanner with Bi-directional Control
Scanner type: Bi-directional Scan Tool
Fit For: Home mechanics, Experienced enthusiasts
Vehicle type: Car/Light truck
(Gasoline/Diesel)
Connection type: Corded
Work on: OBD2 Vehicles
Price range: Under $500
Buy this scan tool if you want to …
DON'T buy it if you want to …
Pros
Bi-directional control
28 service functions
TeamViewer function
3-year free update
Excellent tech support
Cons
Too bucky to carry the cable
Instruction in English is not good
What Makes Me Like XTOOL D7?
XTOOL D7 is the main competitor of Autel MK808 in the price range of under $500. 
Even though this brand is a new name in the OBD2 scanner market, they are always responsive to customers' complaints. 
Here are what I like about this car diagnostic tool:
1. It's so convenient to perform active tests with bi-directional control
The bi-directional control (active tests) is a good help to narrow down the problems or for maintenance services. 
For example, I used this feature to perform brake caliper resets when trying to replace the brake pads. 
Besides, it even could assist me in running the fluid bleed procedure after I changed the green fluid on the GM rear differential clutch.
2. Now, you can perform advanced service functions at home like a professional
XTOOL D7 offers the same number of service functions as Autel MK808, such as:
Oil Reset, 
EPB, 
SAS Calibration, 
DPF Regen, 
Injector Coding, 
ABS Bleeding, 
Gearbox Match, 
Suspension, 
Windows Initialization, 
EVAP Test, 
Throttle and Idle Relearn, etc.
Recently, my customer lost her car keys. 
I tested this scan tool's function by reprogramming and copying keys for her 2012 Acadia and 2016 Jeep GC.
It works smoothly.
3. You don't have to worry about the update fee in the first 3 years
I am glad that the first 3 years of updates are free. 
This makes XTOOL D7 superior to Autel MK808. 
After that, you can choose to pay for the subscription or continue using the old software. 
You don't have to update the unit, but that might limit what future cars it will work with. 
4. The TeamViewer QuickSupport is amazing! 
Once D7 is connected via the Internet, I can remotely control this unit from a PC or smartphone.
It's possible to run diagnostic services from anywhere. 
So, I can transfer my report from D7 to my computer and vice versa. 
5. XTOOL tech support made me impressed
They always quickly reached out to me with all my questions before and after my purchase. 
Besides, when I found a bug, they immediately fixed it and put out an update that took care of this issue. 
That proves the company is serious about customer service. They are willing to resolve issues promptly. 
What I Dislike?
1. I have to say the cable is too cramped 
Putting the unit and cables into the case is a bit of a pain.
It'd be nicer if I didn't have to unplug the OBD2 cable out of the scanner before storing it. 
2. Another thing I wish XTOOL D7 could improve is the software
It'd be much better if it only shows options/tests that are available for the car you're working on. 
Currently, it shows every option, and when you click it, it'll say it's not available. 
I hope it would grey it out or not even show up on the screen.
3. On-screen instructions are broken English translations
I have to read these messages several times to understand what they mean. 
If XTOOL could improve the translations, this tool would be a home run for me.
4. Vehicle coverage of advanced service functions should be improved
Yet, some functions won't work on your car. 
It's not due to the actual limitations of the unit. 
Some cars' computers will not support those functions.
I can use almost every service function available with a '09 Acura.
But half of them aren't supported by a '09 Hyundai while it only reads basic codes on a '05 Dodge. 
Key coding is the same. It works great on the Acura, but it's not for Hyundai. 
Vehicle Compatibility 
XTOOL stated that D7 works well on more than 85 brands in the world.
However, some service functions are not compatible with some car models like the 2019 Kia, the 2000 Toyota Sienna, etc.
Please reach out via xtoolofficial@hotmail.com to confirm if this scanner works on your vehicle before buying.
Key Takeaway
Are you a backyard mechanic who never visits the "stealership" or local shops? 
With this bi-directional scan tool, you will equip yourself with many advanced service features. 
Saving a boatload of money is so easy when you do your own repairs with XTOOL D7! 
And compared to Autel MK808, D7's performance is not as good as MK808 due to its limited vehicle coverage and functions.
Stable performance and bigger memory (64 GB) are what makes MK808 a better choice than D7. 
Yet, what XTOOL D7 will beat Autel MK808 is the excellent tech support. 
Check XTOOL D7's latest price now:
XTOOL D7
2. Launch X431 V+ Pro
Best Professional Automotive Diagnostic Scanner
Scanner type: Bi-directional Scan Tool
Fit For: Experienced enthusiasts
Vehicle type: Car/Light truck/Heavy-duty truck
(Gasoline/Diesel)
Connection type: & Corded
Work on: OBD2 & OBD1 Vehicles
Price range: Under $1,500
Buy this scan tool if you want to …
DON'T buy it if you want to …
Pros
Wide range of coverage
A lot of useful special functions for professionals
AutoAuth for FCA, SGW vehicles
2-year free update
Loud warning reminds users to remove the VCI after diagnosis
Cons
Unreliable AutoVIN function
Cannot use ECU coding without buying a subscription
What Makes Me Like LAUNCH V+ Pro?
My overall impression of Launch X431 V+ Pro is very positive. 
You will find that it can do all of the features as advertised.
V+ Pro is really more than enough for a professional like me.
Below is the experiences I'd like to share with you after 6 years of using it: 
1. I don't worry about vehicle coverage anymore
I love the large vehicle coverage and versatility of this LAUNCH diagnostic scan tool.
There are two issues that I believe you frequently encounter when repairing vehicles:
The diagnostic tools' functions are NOT ENOUGH.
The diagnostic tools CAN NOT cover all the vehicles you want to fix.
I was in a similar situation 6 years ago, and my decision to buy a V+ scanner helped me get through that difficult time.
The Launch X431 V+ Pro can cover more vehicles than any scanners else I've used. 
I can diagnose even special vehicles such as VAG cars or diesel Fords. 
OBD1 cars (before 1996)? Yes. You can cover them in your shop's list.
Sometimes, I want to scan OBD1 vehicles at the shop. 
Even a high-end Autel MaxiSys Elite can't meet my needs. 
But V+ Pro comes with all the connections for OBD2 and OBD1 vehicles.
So it can work well on any car you have.
LAUNCH V+ Pro can do everything an $8,000 Snap On scanner does, but for 1/6th of the price. 
With X431 V+, you can take control of all systems, find the possible causes of problems, and repair them yourself.
For example, this scan tool programmed one of my customers' 2020 BMW M2 headlight control modules 3 months ago. 
Without the ECU coding function, I would have had to let my client take his car to the dealer.
Last week, it scanned the Ford F150's ABS and told me that the ABS pump was dying and needed replacing.
I can say that LAUNCH X431 V+ Pro is a universal diagnostic machine for all cars.
It's a real-life saver in most situations.
2. I can offer more services and get things done much faster 
LAUNCH X431 V+ Pro also offers all the features you would expect from an upgraded version of X431 V Pro.
With LAUNCH X431 V+, you can perform 31+ advanced service functions, such as
ECU Coding,
Oil Reset, 
TPMS Reset, 
IMMO, 
ABS Bleeding, 
Injector Coding, 
Throttle Adaptation, 
Gear Learning, 
Suspension Reset, 
Seats Calibration, etc. 
Many guys ask me these questions: 
"What's the difference between X431 V and V+? "
"Why should I put forth $300 extra and get this one instead of X431 V ?"
Let me show you the special functions of Launch X431 V+ Pro that V Pro does not have:
LAUNCH X431 V+ Pro supports Guiding Functions for AUDI, SKODA, VW, and SEAT while LAUNCH X431 V does not support this function.
X431 V+ has a 10" screen, which is 2 inches larger than X431 V Pro 4.0's. This allows you to display 15 data streams at the same time. 
There was a time in 2017, software updated on V+ only allowed users to view only 4 DATA PIDS at a time. 
It was really inconvenient to analyze and troubleshoot car problems. 
But LAUNCH has fixed it in the next updated version.
It has a higher battery capacity of 7,000mAh. 
Compared to V Pro 4.0, this scan tool allows you to work with it 1.49 times longer and avoid frequent charging.

LAUNCH X431 V+ Pro can work on heavy-duty vehicles (but you need to buy an HD module separately to use this function).
It runs faster with Android 9.0, with 8-core CPU.
Read more: Launch X431 V+ Pro Elite 4.0 Vs. X431 V PRO 4.0: Which Should a Professional Buy?
3. I love the simple set-up and registration
Another bonus is the ease of set-up and registration.
Some reviews on Amazon mentioned that they had to email tech support to ask for the required information before registering. 
But that was not my case when receiving the X431 V+. 
The Serial Number and Activation Code came in the registration with the product. 
So after unboxing, I could register the device in minutes.
Note: 
You'd better NOT LOSE the initial registration paper that comes with the product. 
From my experience, you will need it if you reinstall the scanner's program in the future.
I suggest that you should make some copies of that paper and store them in multiple locations in your home or your garage.
What I dislike?
The only issue I've had while using LAUNCH X431 V+ Pro is the unreliability of the AutoVIN function. 
This V+ Pro Elite failed to detect the VIN on some Lexus, Jeeps, and BMW in my shop. 
As a result, I had to enter the VIN manually. 
I hope the manufacturer will fix this issue for a better user experience.
Vehicle Coverage
LAUNCH X431 V+ Pro Elite can work on more than 150 car brands worldwide, including pre-96 vehicles. 
According to the seller's description, this scan tool is compatible with all Chryslers. 
But, based on my experience, it will only support Chrysler vehicles up to 2017.
It is best to check the LAUNCH official website for detailed vehicle coverage before purchasing. 
If not, you may regret buying a useless scanner.
Key Takeaway
V+ PRO is an excellent addition to your toolbox.
It'll pay for itself after the first use.
To me, as a mechanic for over 14 years, LAUNCH X431 V+ Pro is the best professional automotive diagnostic scanner I've ever used!
Its vehicle coverage, functionality, and reasonable price make this scan tool the best diagnostic machine for all cars today.
I highly recommend X431 V+ to you if you're a professional looking for a reliable and affordable companion.
Check its latest price now:
Launch X431 V+ Pro Elite
3. BlueDriver
"Affordable but Professional" Car Diagnostic Tool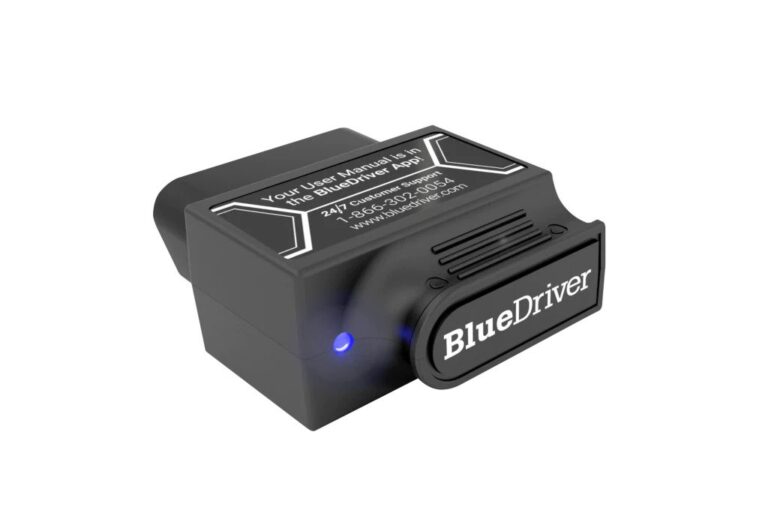 Scanner type: Full-system scan tool
Fit For: Newbies
Vehicle type: Car/Light truck
(Gasoline/Diesel)
Connection type:
Work on: OBD2 Vehicles
Price range: Under $150
Buy this scan tool if you want to …
DON'T buy it if you want to …
Pros
Stable Bluetooth connectivity
Free lifetime updates
Reads ABS, airbag, transmission codes
Quick diagnostics
Cons
No bi-directional controls
No third-party apps supported
What Makes Me Like BlueDriver?
I've followed Bluedriver since 2017 and found that it's been always in the 1st or 2nd place in the best sellers. 
It's had 4.6/5 from 44,985 ratings* since November 9, 2011.
(*) Data updated September 21, 2022
In fact, it is not a high-end professional scan tool, but it is the best choice for you if you are a backyard or retired mechanic. 
I usually use BlueDriver as my backup when going to my friend's house to fix his car. 
This scanner didn't meet all the requirements of a professional mechanic. 
But if you need to find what Mode 6, the live data, and freeze frame data mean, BlueDriver is qualified enough!
1. With Bluedriver, you can read any code in almost all systems
BlueDriver is able to detect codes from the main systems in the car: engine, transmission, ABS, airbag, TPMS, etc. 
After testing it on my clients' cars like the 2006 Ford Ranger, 2018 Mercedes-Benz, etc., 
I can say that BlueDriver pulled the right codes. 
Note: Bluedriver sometimes it shows intermittent codes.
2. You now have a personal assistant helping you with car repair at home
To a try-it-at-home guy or backyard mechanic, it's apparent that you need to diagnose and fix the car yourself. 
So, what's more, convenient if you get a "Repair Report" for a code with one click?
This includes:
code definition, 
code frequency, 
possible causes, and 
reported fixes from qualified technicians. 
This feature tells you what the most likely culprit is causing it. 
Again, you should use this as a diagnostic aid for finding the issue. 
It only narrows down the skeptical area and saves your diagnostic time.
I tested on my customer's 2015 Honda Accord with the code P0113. 
One of its suggested fixes is replacing the IAT sensor. 
I checked this sensor, and it turned out to be faulty.
Besides, you can export your scan report or live data to diagnose further. 
Or, if you face a complex code, it's possible to share it on forums and get help from others.
3. You don't have to worry about oil light and TPMS light
Also, BlueDriver lets you perform basic service functions like:
TPMS light reset, 
Oil light reset, and 
Register a new battery (BMW and Mini only).
Although these services are step-by-step instructions, it is designed for each model. 
Note: Not all vehicles are supported.
What I Dislike?
1. Lag Live data
The first thing BlueDriver disappoints me with is its live data. 
When you select more than 5 PIDs, it displays a warning that there will be lag. 
Though I choose to show all PIDs in numbers (not graphs), I still see an excessive lag. 
And obviously, there is a noticeable lag when graphing even with 1-2 PIDs.
2. No bi-directional controls
For a backyard mechanic (or a try-it-at-home guy), you will find it inconvenient to work with a scanner that is not bi-directional. 
It cannot send commands to open or close individual systems, but for the home and backyard mechanic, this is the best bet. 
Of course, you can't expect that feature at this price.
But it's still great to keep in a toolbox and use for the first hook-up to find out what's happening.
Vehicle Compatibility
BlueDriver claims that it can work on any vehicle supporting OBDII. 
However, some features won't be compatible with your specific car. 
For example, BlueDriver can only register a new battery on BMW and MINI vehicles.
To ensure it works on your vehicle, check its compatibility before buying.
Key Takeaway
If you're a try-it-at-home guy that can use what Mode 6, the live data, and freeze frame data tell you to find the root of the problem, BlueDriver is definitely made for you!
Check the latest price now:
BlueDriver
Should you need to know more about Blueriver before buying, read this post: Never Buy BlueDriver Before Reading This Review
4. LAUNCH X431 PAD V
Best Professional Scan Tool with ECU Programming
Scanner type: Scan Tool with ECU Programming
Fit For: Cars/light truck mechanics
Vehicle type: Car/Light truck/Heavy-duty trucks
(Gasoline/Diesel)
Connection type: & Corded
Work on: OBD2 Vehicles
Price range: Under $2,500
Buy this scan tool if you want to …
DON'T buy it if you want to …
Pros
Online programming supported on 9 brands
Topology Mapping to easily locate faults
50+ Reset service functions
Competitive pricing with a big discount
5 years warranty
Cons
Low battery capacity of 9,360mAh
1-year free update
What Makes Me Like LAUNCH X431 Pad V?
I've used many LAUNCH scan tools in the past and have always been impressed by how they perform, especially for the price. 
But the LAUNCH X431 Pad V that I purchased 6 months ago still makes me surprised. 
Coming to the market in 2021, Pad V has surpassed most competitors and deserves to be the most powerful scan tool in the $2,000-$2,500 price segment.
So far, I've been pleased with the device, and it is working well up to my expectations.
Here are what I like about it:
1. You can program ECUs of 7 more car brands than with Autel Maxisys Elite 
What impressed me the most is that Pad V lets you reflash/reprogram ECU for 9 brands, whereas other scanners often only work for Benz and BMW. 
This feature really separates it from other competitors, especially the Autel Maxisys Elite.
Whether your customer's cars are BMW, Benz, Volkswagen, Audi, Porsche, Nissan, Infiniti, LAND ROVER, or JAGUAR, you can do it. 
It has 4 times larger coverage than its competitor, Autel Elite, does.
I purchased this scan tool to program the ESP control unit online for a 2004 model Mercedes-Benz W211 E320 in my shop. I was satisfied that it worked flawlessly.
Note: ECU programming ability varies on car models and years.
2. I love that my shop can cover more car brands
X-431 PAD V can cover more than 98% of the car models in the market. 
To be more clear, LAUNCH X431 PAD V supports all diagnostic protocols, including: 
J2534 
D-PDU 
RP1210 
CAN FD/ DOIP
It means that you can use X431 PAD V to work on:
New cars, such as: Land Rover, GM, and Ford with CAN FD and DoIP protocols. Until now, PAD V is still the only scan tool below $2,500 to support these protocols on the market 
2017 and later FCA Vehicles with Secure Gateways, such as Chrysler, Fiat, Alfa Romeo, etc.
PEV (pure electric vehicle)
24V commercial vehicles (but you have to buy an additional HD module at around $900.)
3. I love the Topology Mapping of LAUNCH PAD V
LAUNCH X431 PAD V supports Topology Mapping, but Autel Maxisys Elite can't.
Display the entire system through the Topology Map to glance at all the modules with faults, which is easy to locate the system with issues. 
This function will display the status of the entire car's system on one page. 
By noticing the "Red System" on the map, you can locate faults at a glance. 
Time is money. Get this PAD V scan tool if you want to find a car's problems in seconds!
4. You now can work faster with LAUNCH PAD V
The solid Android-based tablet is another great feature.
Although it's not running the latest Android version, it still ensures fast and powerful performance with the Android 7.1 operating system.
Compared to a $2,700 Autel Elite scan tool that is designed with Android Kitkat 4.4.4, the fast speed of the PAD V scanner will never disappoint you.
Additionally, the tablet is protected with a thick layer of rubber to protect it from drops. 
Yet, it's still light enough to work with.
What I Dislike?
1. Low battery capacity
One thing I don't like about the LAUNCH X431 PAD V is its battery capacity of 9,360mAh. 
It is much less than the battery of its competitor Autel MaxiSys Elite, which has a longer battery run time, up to 15,000mAh. 
2. Only 1-year free update
Another significant problem is that PAD V only supports free updates for a year.
After that, you have to pay an annual renewal fee of $399. 
In contrast, Autel Maxysis Elite, its rival, offers free updates for two years, saving you 1-year subscription fee.
Fortunately, you can keep using all the software downloaded onto your scan tool after a year without paying anything. 
In my opinion, only update if you want to test out some new features or you need to work on new car models.
Vehicle Compatibility
As I mentioned above, LAUNCH X431 PAD V is a universal diagnostic machine for all cars. 
You can cover 98% of vehicles on the market when you have this scan tool in your hands. 
But that's for the basic diagnostic functions. 
Keep in mind that the advanced functions vary depending on the vehicle's model and the year. 
For example, X431 PAD 5 didn't let me do ECU coding on a 2009 Nissan Altima, although Launch said that it would allow me to do that task. 
Therefore, you'd better send your car model and year to LAUNCH's customer support at ediagtools@hotmail.com to confirm before making a buy decision. 
Or you can refer to the LAUNCH vehicle coverage website to find the supported functions for your car.
Key Takeaway
If you are looking for the best diagnostic machine for all cars, LAUNCH X431 PAD V is made for you.
When it comes to capabilities, the scanner has exceeded my expectations. 
Definitely worth the buy!
With the purchase of a new LAUNCH X431 PAD V, you will bring your shop to the next level. 
Check its latest price now:
LAUNCH X431 Pad V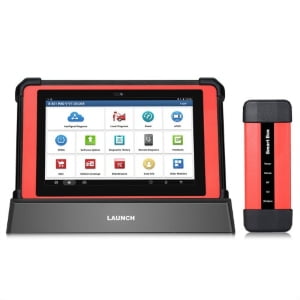 Related post: Autel Maxisys Ultra Vs. Elite Vs. Launch X431 PAD V: Comparison and Review
5. Autel MaxiSys Ultra
Best High-end Automotive Scan Tool That Do Everything
Scanner type: Scan Tool with ECU Programming
Fit For: Cars/light truck mechanics
Vehicle type: Car/Light truck
(Gasoline/Diesel)
Connection type:
Work on: OBD2 Vehicles
Price range: Under $5,000
Buy this scan tool if you want to …
DON'T buy it if you want to …
Pros
5-in-1 VCMI
Great Topology Mapping
Split screen display
Long-lasting battery

Cons
No TPMS services included
High price range
What Makes Me Like Autel MaxiSys Ultra?
The Autel MaxiSys Ultra is considered to be the updated version of the MS919 one. 
As mentioned, they share almost the same software features. 
So, what makes Ultra so helpful that it costs more than $900 compared to Autel MaxiSys MS919? 
And is that $900 worth it?
These two questions were the reasons for me to try the Ultra, and here are my answers to them:
1. I don't have to recharge the scan tool during a working day
Autel Maxisys Ultra has a battery capacity of 18,000 mAh, while MS919's is 15,000 mAh. 
They both can last 8 hours working continuously. 
However, from my experience, the Autel Ultra can work a little longer than MS919 with the same workload.
Please, remember that if you use this car diagnostic tool for ECU coding & programming, the battery will go low way faster.
2. I can view more data at the same time on the split screen
With the split screen display ability, Maxisys Ultra is a great assistant for professionals. 
In other words, I suppose this ability is one of the main reasons that makes Autel MaxiSys Ultra more high-priced than MS919. 
This is because you can view multiple data at the same time, shortening the time to inspect your vehicles.
I first used this function in a 2021 Honda Accord to test the accuracy of Maxisys Ultra. 
I have to confess this. 
At first, I doubted that when viewing all different components' data at once, the scanner may generate incorrect parameters. 
Therefore, I checked it before putting it into practice on my clients' cars. 
My testing process went like this. 
I viewed the throttle position sensor and my car's voltage at once when my car was in "Park" mode. 
All the graph representing data for the sensor and voltage was flat.
Then, I swept the throttle position sensor to see if there were any changes in the graph. 
And yes, the graph displayed on both split screens for the sensor and the voltage were slowly changing at the same time. 
Also, the value was very close to each other. 
Got to say, Autel MaxiSys Ultra delivered on its promise.
3. I don't have to search for repair procedures anymore
One more thing worth mentioning is that this model from the Autel brand provides me with a library. 
Not a library full of books, it's all about useful repair procedures on DTCs troubleshooting.
Don't underestimate this feature. 
If you are a professional technician/mechanic working at a shop, you will need the procedure to make sure everything is done in the correct order. 
And if you are a backyard mechanic, it allows you to discover more knowledge and tips on auto repair procedures. 
Needless to say, it's still helpful one way or another.
What I Dislike?
1. No TPMS service
It's a bit annoying that you cannot perform TPMS services with Autel Maxisys Ultra. 
I mean, how can an ultimate scan tool like this be designed without that advanced service?
But it's still acceptable compared to what other things it can offer.
Anyway, I've already had a TPMS service tool with me like any other professional.
2. "It's too expensive"
Last month, one of my blog's visitors named Kenneth, a professional working at a shop in Texas, sent me an email complaining about the price of Autel Maxisys Ultra and asking for a recommendation.
He said: "…I think its price of $5,000 is too high. Any scan tool with J2534 ECU programming that isn't going to break my bank?…"
I replied: "… Sure. You can take the LAUNCH X431 PAD V at around $2,300. 
But, remember that you'll never have a chance to experience what the advanced 5-in-1 VCMI offers.
With this 5-in-1 VCMI, you have a combination of 5 tools: 
a VCI, 
an oscilloscope, 
a waveform generator, 
a multimeter, and 
OBD2 CAN BUS Check. 
Thus, you don't have to buy the tools separately. All are in one."
I added: "If you want a scan tool with the 5-in-1 VCMI but at a lower price, take the Autel Maxisys MS919.
The key difference between the Ultra and the MS919 is the split screen and screen size. 
You can have the screen of Autel Maxisys Ultra split into 2 to view simultaneous things. For example, viewing an active test and the oscilloscope wave at the same time."
Two days later, he told me that he had decided to buy the Autel Maxisys Ultra because he really needed the split screen for his job.
Related Post: Autel MS919 vs. MaxiSys Ultra vs. MS909: Which Is Best for a Professional Shop?
Note 
After the service subscription expires, you can still use the functionalities of the last update, except for ECU coding & programming.
Vehicle Compatibility 
Autel MaxiSys Ultra is compatible with 99% of domestic, Asia & European vehicles in 1996 and newer sold in the US. 
However, some functions only work on supported vehicles. 
For example, the ECU programming function cannot be applied to all cars.
Thus, you can check the below link for more information to make sure it can work on your car.
https://autel.com/vehicle-coverage/coverage2
Key Takeaway
If you are offering complex services on cars/light trucks/medium duty trucks, Autel Maxisys Ultra deserves to be put in your professional shop. 
This professional automotive diagnostic scanner can meet any picky needs a "big boy" at your shop may think of.
Check its latest price now:
Autel MaxiSys Ultra
Recommendations
Here are my recommendations:
What's Next?
So you and I have walked through the 5 best professional automotive diagnostic scanners in the market today.
Now, it's your turn.
Tell me:
If you have picked a suitable scan tool, which was it? Why did you choose it?
If you couldn't find your fit from the list above, let me know your needs and budget by:
Leaving a comment (in the comment box below), or 
Sending me an email at timmiller.mr@gmail.com.
I will get back to you within 24 hours and give you a suitable option.
---
RELATED POSTS:
10 Best Affordable Bi-directional Scan Tools 2023 [Review & Comparison]