Are you looking for a Bluetooth OBD2 scanner for your cars, SUVs, light trucks, minivans, etc.? You've landed in the right place.
As you may know, when talking about connection, we have two main types of OBD2 scan tools: wireless and wired. An adapter must be plugged into the OBD2 port to connect to the OBD2 app via Bluetooth or WIFI to make a scan tool. Which means:
An OBD2 Bluetooth adapter combining with an OBD2 App makes a Bluetooth OBD2 Scanner.
In this guide, you will find:
The most suitable OBD2 Bluetooth adapter for your vehicle
Options of OBD2 app that best suits the adapter you choose and the smartphone/tablet you have
We all know that it is a waste of time and money to buy something that cannot work as you wish. We've spent a lot of time and effort testing and researching before coming to the final list.
Now, let's check the detailed reviews of the Bluetooth adapters in our list.
Best Bluetooth OBD2 Scanners/Adapters Review 
1. BlueDriver Bluetooth OBD2 Adapter
[for iPhone, iPad, iPod Touch & Android] [Suggested App: Bluedriver App]
BlueDriver Bluetooth Pro OBDII Scan Tool
Bluedriver is a famous brand trusted by tens of thousands of DIY and car enthusiasts in North America because of its various functions, reliability, and affordable price.
This Bluetooth scanner is among the best Bluetooth scanners for iOS and Android. You do not need to be a mechanical geek to use it. Once you plug it in, it connects to the Bluetooth of your smartphone/tablet and is ready for use.
The scan tool comes with a free app and uses its own independent app to provide more accuracy. It can carry out all diagnostic troubleshooting for a reasonable price, not to mention certified mechanics tests. Users loved that real-time logging technology so they could keep track of Engine Oil Temp, Boost Pressure, Fuel Usage, Boost Air Temperature, and Atmospheric Pressure. 
Bluedriver can read and clear and DTCs on your vehicle, check I/M readiness, do the mode 6 tests, etc. Especially after scanning your car, Bluedriver exports repair reports with more than 6.6 million verified repair fixes. This makes it easier for you to know how to fix the problems. Moreover, it also shows your car's divert live data, from the coolant temperature to the fuel system status.
I said that an experienced mechanic was very fond of Bluedriver, and for its price range, you really CAN'T get much better! He even added that he was amazed he could read all the transmission codes, as some handheld scanners even struggle with this. 
However, some users have reported that it sometimes loses connection. Re-connection was not a hard fix. They just had to either unplug and replug the adapter or restart the app. But this may test your patience. One buyer complained that if you are working on more European cars, it is sometimes unable to read.
BlueDriver Bluetooth Pro OBDII Scan Tool
Read more: Best professional OBD2 Scanners for Car Owners 2021 Review
2. Bafx Products Bluetooth OBD2 Scanner
[for Android and Windows]
Bafx ELM327 Bluetooth OBD2 Scanner
The BAFX products is suitable for beginners and average car owners.
Most of the problems that arise in a car are in the sensors. BAFX is known to be a champ when it comes to sensor readings. It can read boost, speed, EOT, EGT, balance rates, RPM's, load value, fuel Trim, DPF Temp, and throttle position. Apart from that, it offers many other basic features, too, including smog checks, CEL codes, oil temp, fuel pressure, air-fuel ratio, coolant temp, O2 sensors, DPF temp, fuel trim, and emission test. If you are searching for an OBDii Bluetooth scanner for Android that can perform a variety of features, BAFX is a good option.
To make BAFX perform various functions such as Throttle boost, speed, EOT, EGT, balance rates, RPM's, load value, fuel trim, DPF Temp, and throttle position, use it with DashCommand or Torque Pro.
If you want reliability and high-quality customer service, BAFX ELM327 OBD2 adapter is for you as it comes with a long 2-year warranty, with a friendly support team happy to help. Customers have praised the team for their support! One said that the Android OBD2 scanner stopped working correctly after five years of use. He contacted Bafx, ran some tests, found some issues, and still replaced his code reader for FREE!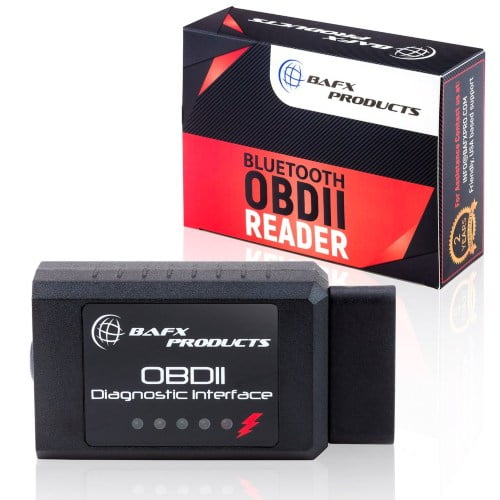 Another customer even had the owner of the company had phoned to check if the customer was satisfied! Now that is good service! BAFX can also be used on various other car models not just based in the US. I have seen many EU and UK users also commenting about the great functionality and performance of this OBD-II scanner, so overall giving you a more expansive range of testing. Many people have said that this handy little tool has saved them 1000's dollars, allowing them to identify exact problems before going to a garage or workshop.
The only downside to this one is that it uses third-party apps, but it is not much of a disadvantage; there might be a little trial and tribulation until you find the app that works best.
BAFX ELM327 OBD2 adapter
---
2. VEEPEAK OBDCheck BLE
[for iOS and Android]
Veepeak OBDCheck BLE OBD2 Bluetooth Scanner
The VeePeak OBDCheck BLE is a great choice for anyone who owns a car and wants to discover more about what's going on with it.
Veepeak OBDCheck offers many basic features and a few advanced ones as well. It is one of the most awesome iPhone/Android OBD2 scanners because of its ability to quickly read live sensor readings. The interface is very easy to use because it displays data in graphical form. Other than that, you can perform smog checks, customize the dashboard, and monitor several real-time engine parameters such as fuel usage, freeze frame, and also show a live route on a map. Some scanners are known to consume a lot of power and drain the battery quickly. It's not the case of this Veepeak version because it operates on Bluetooth 4.0, known for using minimal power. The device might not have its own exclusive app, but it works like a charm when used with Torque Pro and OBD Fusion.
VEEPEAK OBDCheck BLE supports many vehicle connections, ranging from typical cars and light trucks to pickups and even hybrid and electric vehicles. It ticks off the durability as it works well for two years as if you've only had it for one day. The OBD2 adapter for iPhone also comes with a reliable support team. One person experienced bad connection issues with it losing connection frequently, so he decided to email the support team, who provided him with an update to the device itself. Since then, he has had zero problems; the device is fast and easy to use and works well. 
If you are using BimmerCode as an application, check their website, as they will also provide you with a small discount buying this device. People report that it has an excellent interface and easy to use.
If your work consists of many different vehicles or you have a hybrid or electric vehicle, then VEEPEAK OBDCheck BLE is on the top of your buying list when it comes to Bluetooth OBD2 code readers.
VEEPEAK OBDCheck BLE
Read more: Best OBD2 apps for iOS and Android review 2021
More Options of the Best Bluetooth OBD2 Scanners
1. OBDLink LX Bluetooth OBD2 Adapter
[for Android and Windows] [Suggested App: OBDLink]
OBDLink LX Bluetooth OBD2 Adapter for Car & Truck
OBDLink LX OBD2 Bluetooth Scanner is highly recommended for car owners and DIYers.
This tool is a great fit for beginners and DIYers because it is very easy to use and offers many features. Moreover, it supports various vehicles that are OBD2 compliant and manufactured after 1996, excluding electric and hybrid models. What makes OBDLink LX one of the best Bluetooth OBD2 scanners is that it is extremely fast. It can read codes in the blink of an eye.
OBDLink LX offers smooth connectivity over Bluetooth and supports many third-party apps as well. With the right app, you can observe detailed graphs, realistic virtual gauges, and accurate results. Another great feature is this adapter utilizes minimum battery power, and there's also a sleep function that minimizes the power usage to 0.2 watts only. Despite not reading advanced codes, it is excellent to diagnose and display CEL, suggesting repairs, showing graphical data, and even export data.
Thanks to the security, OBDLINK LX is a hack-proof scan tool as there's 128-bit data encryption in it. When you buy it, you'll get a three-year warranty and lifetime free updates. It is also a fireproof scanner and won't suffer any overheating issues. Plus, its performance is amazing because it accelerates app performance by 250%.
Pros
Hack Proof.
Superior build quality.
90-day money back guarantee.
Automatic sleep and wake feature to save power.
Cons
Not suitable for GM-Ford.
No advanced features offered.
OBDLink LX OBD2 Bluetooth Scanner is highly recommended for car owners and DIYers
OBDLink LX
2. FIXD Bluetooth OBD2 Scan Tool
[for iPhone and Android] [Suggested App: FIXD]
FIXD OBD2 Professional Bluetooth Scan Tool
Carista is an excellent little attribute to the box because your smart device is your diagnostic instrument.
The FIXD Car Health Monitor connects your iPhone and Android smartphones/tablets via Bluetooth. Alongside the FIXD app, this OBD2 adapter pulls engine codes and lets you know why the Check Engine Light is on. FIXD app is the best option to go with this adapter as they form a stable connection. The app will tell you what the code means, how severe it is, and possible solutions to the problem. Additionally, FIXD displays live sensor data and maintenance reminders.
FIXD might be a basic OBD2 Bluetooth code reader, but it has a specialty. It can monitor maintenance schedules and alert you for oil changes, which is why it is called a car health monitor. Moreover, FIXD also lets you know about the estimated costs of the required work. CEL codes are the most common ones in a car, but not many scanners can read it accurately. FIXD reads many of them and translates them into simple plain English so that you can also understand the problem.
Most complaints about the app are that it is full of add-on features, and products so when you have already spent 60 dollars to use it the way it's intended fully, you end up having to pay more in unexpected costs. Then you must be careful choosing the add-on features.
FIXD OBD2 Professional Bluetooth Scan Tool
3. PLX Kiwi 3 Bluetooth OBD2 Scan Tool
[for Android, iOS, Windows] [Suggested App: Carista]
PLX Kiwi 3 Bluetooth OBD2 Scan Tool for Android, Apple, Windows
PLX Device Kiwi 3 is one of the best OBD2 Bluetooth code readers for DIYers and car owners with an iOS, Android, and/or Windows device.
This is an excellent plug and play tool and one of the best OBD2 adapters for the iPhone. This scanning tool has its own app called Kiwi OBD App, and it consumes only 0.2W when operational and 0.05W when in sleep mode. Besides, it offers many functions such as data logging, real-time data, GPS mapping, fuel efficiency test, etc.
This wireless adapter works on Instaconnect technology, eliminating the need to pair up the device with Bluetooth every now and then. Just plug the adapter, and Kiwi 3 will do the rest. Another benefit of using this tool is that it is quite slim with a dimension of 0.68" only and quite faster than other scanners in the same price range. In fact, the manufacturers have also claimed that PLX Kiwi 3 is four times faster than others.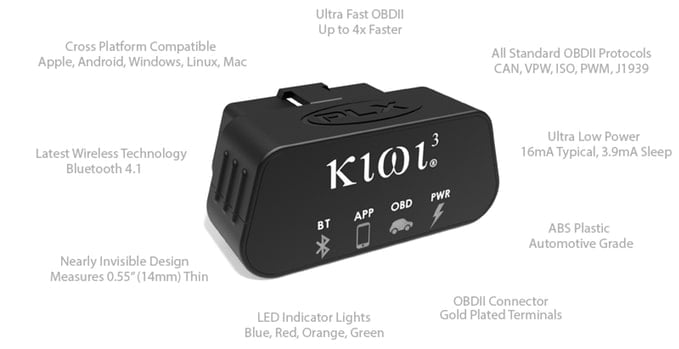 Pros
Works on Bluetooth V4.1 wireless standard which is quite fast.
30 feet range.
Cross-platform compatible (iOS, Android, Linux, Mac and Windows)
The app is free to download.
The device is tiny and can be left plugged into the OBD2 port.
Fast refresh rate (20 Hz).
Cons
You need to buy the subscription to use all the functionalities.
Shows issues and lags if not updated before use.
PLX Kiwi 3 is one of the best OBD2 Bluetooth Scan Tools for DIYers and car-owners with an iOS, Android, and/or Windows device.
LX Kiwi 3
How To Use an OBD2 Bluetooth Scanner?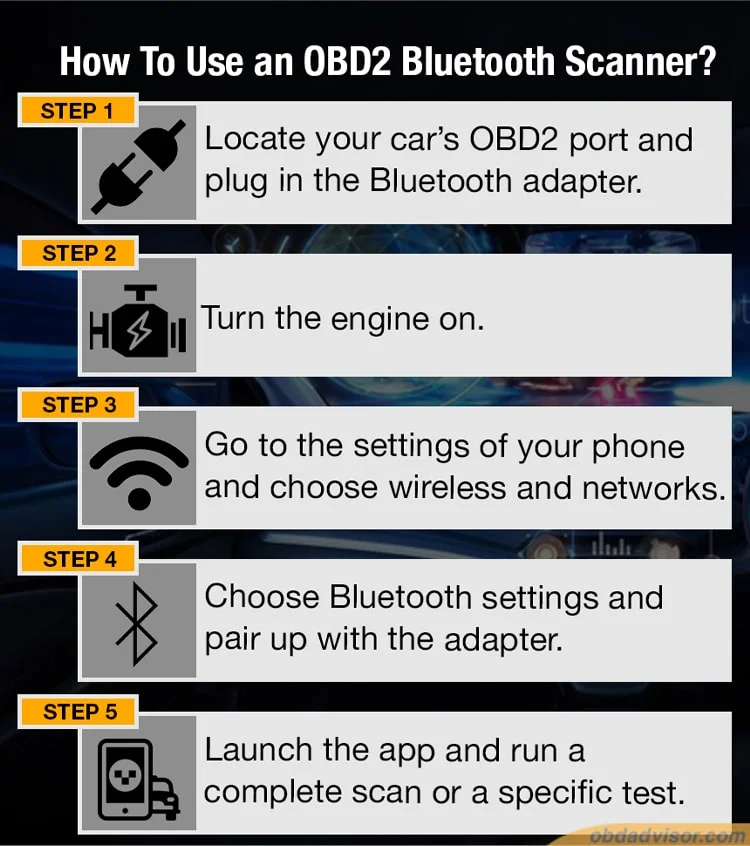 Locate your car's OBD2 port and plug in the Bluetooth adapter.
Turn the car but don't start the engine.
Go to the settings of your phone and choose wireless and networks.
Choose Bluetooth settings and pair up with the adapter.
To use it, launch the app and run a complete scan or a specific test. If something is wrong with the car, it will turn on the CEL and pass a trouble code so that you can refer to and know what the problem is. Some adapters can connect automatically and require no manual pairing.
FAQs
How to know if my car is OBD2 supported?
If your car was manufactured in 1996 or later, most probably it is OBD2 compliant. However, you can check by finding the OBD2 port in your car. It is usually located under the dash.
What if my phone keeps on losing connection?
This problem can be corrected by re-connecting your phone with the adapter. If it doesn't, the adapter might have poor connectivity performance.
Will a Bluetooth adapter depletes a phone's battery quickly?
No, it doesn't. However, in some adapters, it might if the WiFi is on.
Final Thoughts
tooth OBD2 diagnostic adapters are a handy little addition to your arsenal in troubleshooting and diagnosing your vehicle. They give you the upper hand when you go to the garage, so you can go in knowing the exact fault to rectify. If you are a home mechanic looking to fix the defect yourself, make sure to read through this guide to narrow down which device is best suited to you, know what to expect from them, and help you along your way.
Bonus: 7 Best OBD2 Bluetooth Adapters/Scanners 2022 [Review]