Are you looking for a Bluetooth OBD2 scanner for your cars, SUVs, light trucks, minivans, etc.? You've landed in the right place.
As you may know, when talking about connection, we have two main types of OBD2 scan tools: wireless and wired. An adapter must be plugged into the OBD2 port to connect to the OBD2 app via Bluetooth or WIFI to make a scan tool. Which means:
An OBD2 Bluetooth adapter combined with an OBD2 App makes a Bluetooth OBD2 Scanner.
In this guide, you will find:
The most suitable OBD2 Bluetooth adapter for your vehicle
Options of OBD2 app that best suits the adapter you choose and the smartphone/tablet you have
We all know that it is a waste of time and money to buy something that cannot work as you wish. We've spent a lot of time and effort testing and researching before coming to the final list.
And here is our final list of the top 6 Bluetooth OBD2 scanners:
#1. BlueDriver – Best Overall Bluetooth OBD2 Scanner
#2. OBDLink MX+ – Best Bluetooth OBD2 Scanner With Live Data
#3. Veepeak BLE+ – Best OBD2 Bluetooth Scanner For Android
#4. Autel AP200 – Best Bluetooth OBD2 Scanner For Diesel
#5. BAFX – Best Bluetooth OBD2 Scanner For iPhone
#6. Mestart ELM327 – Best Cheap Bluetooth OBD2 Scanner
Now, let's check the detailed reviews below and choose the best Bluetooth scanner for your needs.
#1. BlueDriver
Best Overall Bluetooth OBD2 Scanner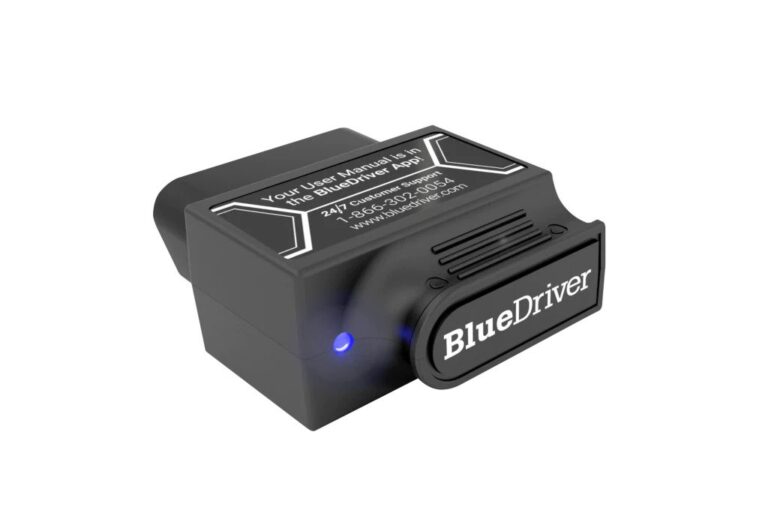 Scanner type: Full-system scan toll
Fit For: Newbies, Home mechanics
Vehicle type: Car/Light truck
(Gasoline/Diesel)
Connection type:
Work on: OBD2 Vehicles
Price range: Under $150
Buy this scan tool if you want to …
DON'T buy it if you want to …
Pros
Simple Bluetooth pairing
Fast, accurate response
Repair advice suggested from Level 6 technicians
Enhanced features to read codes on 4 main systems
Lifetime free updates
Free default app
Cons
Enhanced features are limited to some car brands
Third-party apps not supported
Low refresh data
What Makes Me Like BlueDriver?
1. Top 1 reason why I become a huge fan of BlueDriver is due to its Repair Reports function. 
You want to fix the car yourself but don't know where to start? You're tired of spending time and money taking your car to the auto shop just for some minor repairs? 
BlueDriver knows your pain, and "Repair Reports" is their solution to help you solve your problems.
This function will give you advice from Level-6 auto technicians to fix your car problems, provide potential cost, and also links to buy replacement parts, etc. Thus, you have all the information about what you should look at for troubleshooting car issues at home. 
In my experience, this kind of feature can rarely be found on other same-price scanners. "Repair Reports" really helps to separate BlueDriver from its competitors and become the best overall Bluetooth scanner on the market.
2. Another thing that makes me love BlueDriver is that it's easy to use.
I have received many emails asking questions about BlueDriver, but the number #1 question is: "Should I get BlueDriver if I don't know much about cars?"
You're also concerned if this scan tool is for newbies or not? Don't be! 
Even if you know nothing about car repairs, you can still use BlueDriver to find the root cause of your car problems before taking it to the mechanic.
All you have to do is just install the BlueDriver app on your iPhone/Android smartphone/ tablet, plug the scan tool into the OBDII port, and DONE. 
Now scanning your cars and reading codes to determine possible reasons causing warning lights are easier than ever at your fingertips. BlueDriver allows you to reset all engine, oil, ABS, Airbag, transmission, and TPMS lights.
It gives you peace of mind of knowing what is going on with the car, this prevents you from being ripped off by less honest mechanics.
3. BlueDriver is also an awesome scanner for checking used cars. It means that even if you're a used car dealer or looking to buy a used car, this BlueDrive Bluetooth scanner can both satisfy you. 
If you have to test tens of used cars a day to look at the condition of the vehicle, a fast scanner to accurately check multiple cars like BlueDriver is what you should buy.
Unlike some Bluetooth scanners that require extra fees per year for an additional car brand, BlueDriver allows you to read and clear codes on most OBD2 vehicles for free forever. 
I understand that testing used cars require you to travel a lot to different locations. So I believe that the small BlueDriver is much more convenient for you to carry than a bulky corded one. It can fit in your pocket and is ready to use whenever you need it. BlueDriver is a sleek pocket scanner you have to buy. 
4. I can't go any further without mentioning BlueDriver's primary distinguishing feature: BlueDriver is a perfect gift for your family members and friends.
I got the 2nd BlueDriver for sale at $89.99 last year and gave it to my father-in-law as a X-mas gift. Until now, I still clearly remember how excited he was when receiving that unexpected gift. "This little BlueDriver is the BIGGEST gift I've received in my life." he said.
He brought BlueDriver out to his car, and connected it to the OBD2 port. Then he excitedly shared with me his expression: "Tim, it works! I'm always annoyed by my car's Check Engine light. But now I know why they're on and can turn them off myself. I will definitely learn how to fully utilize this BlueDriver."
So happy that he loved it.
Since then I have bought 4 more to give to my sons and my friends on their birthdays.
This little BludeDriver is really a one-of-a-kind present for any tech-savvy automotive DIY'er.
What I Dislike?
1. Unfortunately, the BlueDriver adapter is only compatible with BlueDriver's app. You can't use other third-party apps like Torque Pro or OBDFusion with this wireless scanner. On the other hand, the positive side is that you can install and use the BlueDriver app perfectly on both Android and iOS with no subscription fees.

2. The data refresh rate is up to 5 seconds, which is way too long for diagnosing intermittent issues. I hope that BlueDriver can improve the refresh rate to at most 1-2 seconds. It will be better for monitoring drivability problems. 
If you're looking for a scanner for instant live data reading to diagnose vehicles, I suggest looking at something like OBDLink MX+ instead. 
Vehicle Compatibility 
For engine codes, BlueDriver covers many brands and models of vehicles you own with an OBD2 port (from 1996).
However, enhanced codes (ABS/SRS/Transmission) only come down to the specific year/model of the vehicle. 
Nothing worse than buying the BlueDriver but can't use its enhanced functions on your car. To avoid being disappointed, remember to check out what enhanced coverage BlueDriver supports for your vehicle before buying.  
The Bottom Line
BlueDriver it's not cheap but packed with many useful features. Even if you're a home mechanic or a beginner with no car knowledge, BlueDriver is definitely the best to fulfill all your needs. 
You get what you pay for. So you can consider putting forth a little bit extra and get this awesome scanner.
BlueDriver
---
#2. OBDLink MX+
Best Bluetooth OBD2 Scanner With Live Data

Scanner type: Four-system scan tool
Fit For: Newbies, Home mechanics
Vehicle type: Car/Light truck
(Gasoline/Diesel)
Connection type:
Work on: OBD2 Vehicles
Price range: Under $150
Buy this scan tool if you want to …
It is not for you if you want to …
Pros
Super responsive live data
Free lifetime updates
Reads engine, ABS, SRS, transmission codes
User-friendly
Good tech support
Free default app and third-party apps supported
Support GM-LAN and Ford MS-CAN
Cons
Random connection troubles
No detailed manual
Entry-level functions only
What Makes Me Like OBDLink MX+?
1. One of the biggest strengths of OBDLink MX+ is its large amount of PIDs per second and fast-responsive live data. 
This Bluetooth scanner offers four times more live parameters per second than its competitors. Especially for anyone who wants to read more OEM-specific PIDs, OBDLink MX+ supports this level of diagnostics for some selected car brands. If there are enhanced OEM add-ons available for your car, you can download all the various packages for free on OBDLink app.
I used this feature on my customer's 2013 Ford Fusion, and the data parameters provided far exceed what I'd ever need! 
2. Also, the "Dashboard" feature on the app is great. The parameters are rapid-updated and responsive. It's more exciting that it allows you to customize what gauges to be displayed and the order of them. I usually set up and track MPH, RPM, battery voltage, fuel economy, airflow, and engine temp to monitor my car's performance.
3. In addition to its most prominent feature, OBDLink MX+ can read codes from four main systems: engine, transmission, ABS, and SRS. It also read more enhanced live parameters (ABS, SRS, TPMS, etc) on Ford, GM, Nissan, Toyota, etc., than any other scanners. But these functions won't cover all the current vehicles, I suggest checking the vehicle coverage first before buying.
4. Furthermore, the ability to work on third-party apps makes OBDLink MX+ set apart from its competitors like BlueDriver, Carly, FIXD, etc. You will have many different options like Torque, DashCommand, FORScan, etc. besides the default app (OBDLink). 
Because the OBDLink app doesn't support resetting Oil Light and TPMS Light, you can choose other third-party apps. For example, Bimmercode ($30) is suitable for BMW cars, Carista ($9/month) will work well with Audi, Volkswagen, and AlfaOBD ($49) is for FCA vehicles.
Note: In any case, make sure your device is compatible with the specific app and buy it first, then the recommended code reader adapter. 
Not only work on smartphones and tablets, but OBDLink MX+ can also perform on your Window PC/laptop using free software suites like OBDWiz or Forscan (for Ford/Mazda/Lincoln/Mercury vehicles). If you like to view everything on a large screen, this feature is for you!
5. Another thing I have to mention is you can let OBDLink MX+ plugged in your car without worry about car battery drain because it will enter sleep mode after 10 minutes of inactivity. The 'Power' LED flashes briefly, once every 3 seconds. The tool will wake up if it notices an electronic disturbance like unlocking or opening a door. 
What I Dislike?
1. When it comes to the drawbacks, an unstable Bluetooth connection is what I don't like about this scanner. Sometimes, it disconnects and then reconnects again. Maybe I am too far away from the car (more than 5m). And the reason for this issue is that OBDLink MX+'s Bluetooth version is only 3.0. I hope it could be upgraded to v4.0 or v5.1 to make the connection more stable.  
Despite this downside, the setup is easy, and I can quickly connect the scanner to my smartphone. No complaints at all!
2. Second, this scanner didn't come with a detailed user manual. You only get a small instruction paper on how to set up the device. For a mechanic like me, it's not too difficult to discover all the functions. But it's not easy for someone who's not super tech-savvy. I wish it had a more elaborate manual explaining all the functions available. 
However, there are many tutorial videos on Youtube. Here are two well-explained videos showing most of the functions on OBDLink MX+. 
Vehicle Compatibility 
OBDLink MX+ works with all 1996+ cars and light trucks sold in the United States. It also supports EOBD, JOBD, and all other international variants of OBD-II. 
However, OEM DTCs such as ABS and SRS codes are not universally compatible. Check the company's website to see if the advanced features cover your vehicle. 
Note: It doesn't work with hybrids or electric cars.
The Bottom Line
All in all, OBDLink MX+ is the best Bluetooth scanner with live data that supports OEM-level diagnostics. If you are a home mechanic or an experienced enthusiast, this scanner can save you and your family a ton of money each year!
OBDLink MX+
---
#3. Veepeak BLE+
Best OBD2 Bluetooth Scanner For Android
Scanner type: Code Reader
Fit For: Newbies
Vehicle type: Car/Light truck
(Gasoline/Diesel)
Connection type:
Work on: OBD2 Vehicles
Price range: Under $50
Buy this scan tool if you want to …
It is not for you if you want to …
Pros
Inexpensive
Accurate codes reading
Clear user manual
Stable Bluetooth connectivity
Easy to use
Good tech support
Cons
No MS-CAN support
Easy to break down
What Makes Me Like Veepeak BLE+?
1. What impressed me when first using this Bluetooth scanner was that, unlike BlueDriver, there is a wide range of app choices for iOS and Android devices.
I have two smartphones, an iPhone for contacting purposes and a Samsung for diagnosis. And after trying various recommended apps, I have to say that OBD Fusion is the best on Android when paired with this scanner. Therefore, I got the app for only $9.99 from the Play Store, and it's just a one-time payment, which means there is no monthly charge for the app.
And by the way, if you are a big fan of iPhone, install Carista for the best performance.
2. With supported apps, Veepeak BLE+ works as a good assistant by your side on the road. You can monitor your vehicle every second to find any faults on time by checking real-time sensor readings such as fuel trim, speed, O2, etc. This fast data transfer speed is another plus point for Veepeak BLE+. 
3. Additionally, apart from reading engine codes, any DTCs from the transmission, SRS, or ABS systems can be erased depending on your installed app. For example, you can get enhanced diagnostics on Ford, Lincoln, Mercury, Mazda, Toyota, Lexus, Scion, Nissan and Infinity vehicles with the OBD Fusion app.
What I Dislike?
What I find pretty annoying is I got problems with pairing the device with my wife's iPhone (iOS 15.6). 
More specifically,  I had her car scanned by this OBD2 can tool when she told me there was a CEL on in the dashboard. My Samsung was low in battery so I used her phone to look at the outcomes. However, the Veepeak BLE+ could not pair to my wife's smartphone. I tried on other cars of my customers pairing with her phone but it didn't work. I gave myself one more chance by using another iOS 15 device. Same result. And that time, I was sure the problem lied in the iOS ver 15.
To prove my point, I did some research and yes, this OBDII is incompatible with the recent iOS versions.
However, except for this operating system version, Veepeak BLE+ works fine on your iPhones.
Note: 
 For those who want to know the difference between BLE and BLE+: The BLE+ is compatible with ELM327 v2.2 commands while the BLE is compatible with ELM v1.4.  
You should unplug the Veepeak BLE+ device when it's not in use to avoid car battery drain (even though the drain is just minimal).
If you are using iOS devices, please do not try to connect the VEEPEAK BLE+ adapter via the default Bluetooth Settings. Instead, directly connect Bluetooth via the app.
Vehicle Compatibility 
Veepeak BLE+ works with cars and light trucks (including hybrids) sold in the United States from 1996 and newer; sold in European Union & UK from 2001 and newer (gas), from 2004 and newer (diesel).
However, BMW is commonly noted for a few incompatibility situations.
Therefore, to make sure it supports your car completely, it is advisable to email the manufacturer at support@veepeak.com. 
The Bottom Line
Just forget all the minor drawbacks, Veepeak BLE+ is a great tool worth putting in every home mechanic or DIY-er's pockets. In other words, this device can complete your search for the best Bluetooth OBD2 scanner for Android.
Worth the try!
Veepeak BLE+
---
---
#4. Autel AP200
Best Bluetooth OBD2 Scanner For Diesel
Scanner type: Full-system scan tool
Fit For: Newbies, Home mechanics
Vehicle type: Car/Light truck
(Gasoline/Diesel)
Connection type:
Work on: OBD2 Vehicles
Price range: Under $100
Buy this scan tool if you want to …
It is not for you if you want to …
Pros
Provide up to 25 advanced service functions
Get 1 car brand updated lifetime free
Can program immobilizer keys on some car brands
Cheap price
Cons
Extra fee required when adding a new car brand
Need to download multiple apps to set up
What Makes Me Like Autel AP200?
1. Autel AP200 is one of the best lower-cost diagnostic tools I can find on the market for diesel and gas vehicles. 
I used this scan tool on a 2009 F350 Diesel. It did an excellent job of providing valuable data to diagnose all systems, including engine, ABS, SRS, transmission, etc. I also used Autel AP200 to perform a DPF regen. And it did initiate DPF regeneration smoothly as well. 
Unbelievable! Autel AP200 goes beyond what I expected from a less than $70 Bluetooth scanner. 
2. I'm also impressed that Autel AP200 provides up to 25 service functions, the same as what an expensive MK808 scan tool offers. This allows you to reset the oil change light, relearn any transmission and throttle body, or even program new key fobs, etc.
Although Autel AP200 is known as a Simplified Edition of MK808, the truth is that these advanced functions are not universally compatible with all vehicles. Each car is supported with different service functions. Therefore, remember to check the detailed vehicle coverage and functions of your car model carefully before buying to avoid unnecessary regrets.
What I Dislike?
1. Autel provides a free lifetime subscription for only one vehicle make. 
If you have multiple cars from the same maker, then Autel AP200 is the cheapest advanced OBD scanner for you to go for. 
But if you need to check multiple vehicles from different manufacturers, you will have to pay $21.99/year for the additional manufacturer support to use the specific diagnostic features. 
2. Another complaint about this product is that it requires users to download multiple apps.
To be more clear: 
To gain additional functionality, you must install two additional apps. These apps are never opened and are only used in the background. When you try to open these auxiliary apps, you only get a message telling you to use the main app.
Luckily, the main app is easy to use and works perfectly on both iOS and Android phones.
Vehicle Compatibility
Autel AP200 OBD2 scanner supports almost all OBDII-compliant vehicles from 1996.
However, as I mentioned before, the coverage of enhanced functions for various vehicles is very inconsistent. 
You'd better check for detailed vehicle coverage to make sure this Autel AP200 has all the functions you need.
The Bottom Line
This scanner is worth the money for both professional and DIY use. At the price point under $100, I can't find any OBD2 scanner else that provides as many features as Autel AP200.
Autel AP200
---
#5. BAFX
Best Bluetooth OBD2 Scanner For iPhone
Scanner type: Code Reader
Fit For: Newbies
Vehicle type: Car/Light truck
(Gasoline/Diesel)
Connection type:
Work on: OBD2 Vehicles
Price range: Under $50
Buy this scan tool if you want to …
It is not for you if you want to …
Pros
Stable Bluetooth connectivity
Easy app installation
User-friendly
Great tech support
Inexpensive
Cons
No ABS, SRS codes
No default apps supported
Entry-level functions only
Battery drain if let it plugged in
What Makes I Like BAFX?
Technically, this scanner's functions are the same as BAFX for Android. The only difference is it uses Wifi instead of Bluetooth and your iPhone is obviously compatible with this code reader. So, needless to say, you can do a lot of DIY things with your car thanks to BAFX. 
1. If you are interested in saving money on check engine light repairs, you need this. It does the same thing that the computers at service centers do to read the information from your car's ECU. With the function of reading and clearing engine codes, you can do everything yourself at home. Just research the code and PID number online, which tells you what the problem might be. Once you get that info, there are lots of YouTube videos showing you how to fix it.
There's no need to take the car to repair shops when a check engine light constantly comes on and off.
2. Besides, taking your car to inspect before the smog check is unnecessary. You can use Emissions Testing Readiness on BAFX to identify if your vehicle is ready to pass the test. This can save you so many trips to the smog check center due to failed tests.
3. In addition to BAFX's functions, one thing I love about this code reader is its fantastic customer support. The company contacted me about 2 days after I received it to make sure I understood how to operate it properly and is always there to answer all your questions. Even though I already know how this scanner works, I really appreciate the way they reach out to customers like this.
4. Similar to other wireless scanners, BAFX can work with third-party apps. For iPhone users, I recommend you to use OBD Fusion ($10) or DashCommand ($10). These two work well on iOS, but personally, I think OBD Fusion's interface is better than DashCommand. 
What I Dislike?
1. The most noticeable downside of BAFX for iOS is once connected to your car, your iPhone can't connect to the internet anymore. But this is not really a big deal because this is the biggest drawback of using a Wi-Fi adapter over Bluetooth. I suggest you take a screenshot of your error codes or record them to research on the internet later.
2. Furthermore, it's important to know that this device draws current all the time. This means it will drain your vehicle battery if it's left installed or you don't drive your car for some time. But it's okay to leave it plugged in for under 2 days.
Note: Unplug the BAFX adapter after use to avoid car battery drain.
Vehicle Compatibility
BAFX works on all vehicles sold in the USA that are from the year 1996 and newer. 
However, I notice that there are some Honda models that it can't work on, like the 2009 Honda Accord, 2012 Honda Pilot, 2005 Honda Element, etc.
So, it is advisable to contact the manufacturer via info@bafxpro.com before purchasing to check if this code reader works on your vehicle.
The Bottom Line
With this small $25 BAFX, you will know why the engine light is on. You can use BAFX to do some minor repairs at a much lower cost. It's easy to avoid being ripped off by mechanics. 
All things considered, this code reader is a MUST-HAVE tool for any newbie DIYers and home mechanics using iPhone!
BAFX
---
#6. Mestart ELM327
Best Cheap Bluetooth OBD2 Scanner

Scanner type: Code Reader
Fit For: Newbies
Vehicle type: Car/Light truck
(Gasoline/Diesel)
Connection type:
Work on: OBD2 Vehicles
Price range: Under $50
Buy this scan tool if you want to …
It is not for you if you want to …
Pros
Inexpensive
Straightforward installation
Pair with third-party apps
Fast Bluetooth connectivity
Cons
Engine codes only
Slow to process data
What Makes Me Like Mestart ELM327?
1. No more wasting money on arrogant mechanics.
I had a chance to use a Mestart ELM327 when my neighbour – a young boy with little   knowledge of car fixing- asked me to deal with it. Got to say, this guy was right in choosing a scanner that fits the expectations of every newbie DIY-er.   
He downloaded a free Android app called Torque Lite as recommended by the manufacturer, and we agreed that it worked like a charm. Once, when scanning his 2010 Honda Accord, he got the P0172 code with what needed to be done displayed on the smartphone's screen. With my instruction, he replaced the MAF sensor by himself without any trouble and successfully cleared the code. 
Of course, there are some DTCs that cannot be erased at home, so mechanic shops are needed here in this case. However, at least this little thing saves you money by fixing on your own, or you can know the problems before taking your car to the shop to avoid being ripped off. 
2. I also love that the Bluetooth connectivity of this OBD2 scanner works so perfectly. This is because it connects to your phone instantly without any delays and stays connected with no signal loss.
What I Dislike?
What annoys me is that the device is a bit slow to process data, so output information like throttle position and RPM gauges have a slight delay. But you should not blame it as this is a typical minor issue from most ELM327 units. 
Hopefully, they can improve it someday.
Notes:
Unplug the Mestart ELM327 adapter after use to avoid car battery drain and abnormal drivability issues.
The scanner comes with a CD as a user manual but might contain viruses. This happens when the installation CD is not compatible with your antivirus software, you can turn off anti-virus software if this is your case. 
Vehicle Compatibility
Mestart ELM327 works with gasoline cars sold in the United States in 1998 and newer.
The Bottom Line
In a nutshell, if you are a newbie DIY-er who wants to get used to fixing cars, or you want to get an insight into problems before talking to the mechanics, this Bluetooth OBD2 scanner will never disappoint you. And it costs you only around $10, so what risk is there?
Mestart ELM327
Final Thoughts
Bluetooth OBD2 diagnostic adapters are a handy little addition to your arsenal in troubleshooting and diagnosing your vehicle. They give you the upper hand when you go to the garage, so you can go in knowing the exact fault to rectify. If you are a home mechanic looking to fix the defect yourself, make sure to read through this guide to narrow down which device is best suited to you, know what to expect from them, and help you along the way.
Bonus: