Do you own an OBD1 vehicle (made before 1996)? Or perhaps you are an auto technician who deals with OBD1 cars frequently. If yes, then you need the best OBD1 scanner for yourself.
In this review, you will find the seven best OBD1 and OBD2 Scan Tools in the market 2021, including two dedicated OBD1 Code Readers (for Ford and GM) and 4 OBD1 & OBD2 Scanners for almost all OBD1 vehicles.
Best OBD1 Scanners Review
Below are the best OBD1 car scan tools in the market today. Some of them even support both OBD1 and OBD2 vehicles. They are more beneficial to those who have more than one vehicle.
If you're a mechanic, you would also benefit from an OBD1&2 diagnostic tool. Rather than having two different ones for different vehicles (OBD1 and OBD2), you can have just one that diagnoses both systems.
And with that in mind, which OBD1 scanner is the best?
Let's see!!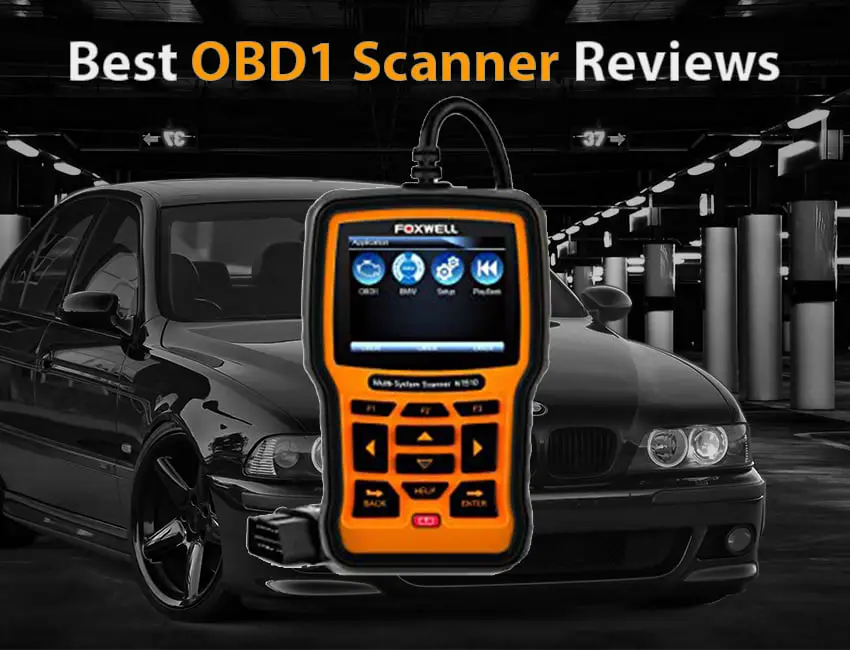 1. INNOVA 3123: Best GM OBD1 Scanner
INNOVA 3123 OBD1 Scanner for GM Chevrolet
No other OBD1 scanner on the list is more affordable than the Innova 3123. With an economy price ,you won't feel a pinch purchasing this unit. The only note is that your vehicle must be a GM model.
The Innova 3123 is designed to work on most GM vehicles. This OBD1 scanner accesses your vehicle's onboard computer systems and retrieves trouble codes. More specifically, it covers US GM cars and trucks between 1982 and 1995.
This OBD1 code reader reads ECM (engine) and ABS (anti-lock braking system) codes. If you have this GM OBD1 scanner with you, it will only take a few minutes to retrieve the DTC codes and understand the problem. The dimensions of 10 x 2 x 6 inches make it compact enough to fit in your vehicle's compartment.
If you're not a mechanic, you probably won't understand what each code means. The good news is that this OBD1 scanner comes with a guidebook that contains definitions of DTC codes. So once the Check Engine Light (CEL/MIL) comes on, you can perform a DIY diagnosis yourself.
Just use this OBD 1 scanner to retrieve all the DTC codes. After that, refer to the guidebook for the definitions to understand what each code means.
Basically, the information you will get is a report of what's wrong with your vehicle's engine. From there, you can either fix it yourself or take it to a repair shop. Obviously, it all depends on the nature of the problem. Either way, once the issues are gone, the CEL will turn off.
Pros
Multilingual manual
A guidebook of code definitions included
Very affordable unit
Compact size
Cons
Metal prongs are not sufficiently strong.
The Innova 3123 OBD1 Scanner is ideal for ordinary GM owners. As long as you have it, you will be able to diagnose your vehicle yourself, saving you a lot of time and money that you would have spent going to a repair shop. You don't have to worry about harming your vehicle even if you don't have any diagnostic knowledge.
Innova 3123 is exactly the best OBD1 scanner for your GM vehicles.
Check Price at Amazon
2. Innova 3145: Best Ford OBD1 Code Reader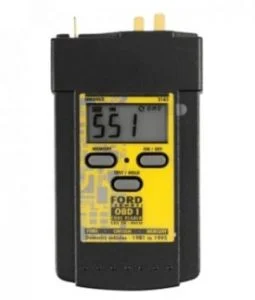 Innova 3145 Ford OBD1 Code Reader
Innova 3145 is perfect for ordinary owners of Ford, Lincoln and Mercury vehicles.
Innova 3145 OBD1 code reader works on most Ford vehicles between 1982 and 1995, including Lincoln and Mercury. While it covers Ford cars and trucks, the cars in question should not be more than one ton heavy.
The scanner diagnoses Ford's EEC-IV and MCU systems. With Innova 3145, you can retrieve engine and transmission trouble codes. The OBD1 code reader will tell you exactly what problems your vehicle's engine has. In case the MIL is on, once you've fixed the identified issues, the Innova 3145 will switch it off.
This Ford OBD1 scanner has a built-in memory for storing codes. It will save the data for the following view even after you have unplugged it from the vehicle.
As a compact and discreet OBD1 scan tool, Innova 3145 measures 10 x 2.1 x 6.2 inches and weighs 1.2 pounds. The Ford OBD1 scanner has a 1.5-inch LCD screen that displays numeric trouble codes.
To make your work easier, Innova includes a user manual that contains codes and their definitions. It also offers step-by-step guides on conducting the KOEO, KOER, cylinder, and relay check tests.
Pros
The user manual contains instructions for OBD1 diagnostics and all Ford OBD tests.
Comes complete. The package contains the OBD1 diagnostic tool and 2AA batteries. That's all you need.
Easy to use and fast operation.
Covers most Ford, Lincoln, and Mercury vehicles that are OBD1-compliant.
Very affordable.
Cons
The OBD1 adapter cable is short.
Innova 3145 OBD1 scanner is the perfect tool for resetting the MIL on Ford, Lincoln, and Mercury vehicles made before 1996.
The scanner provides numeric codes that are very simple to understand, even to a layperson. That is why the scanner is perfect for ordinary car owners.
Innova 3145 is definitely the best OBD1 scanner for Ford, Lincoln, and Mercury.
I recommend that you buy the Innova 3149 extension cable to use with this OBD1 code reader.
Check Price at Amazon
3. Actron CP9690 Elite: Best OBD1 And OBD2 Scanner [with ABS SRS]
Actron CP9690 Elite ABS/SRS OBD1 and OBD2 Scanner
If you own an OBD1 Ford, Toyota, Chrysler or GM vehicle then the Actron CP9690 makes an excellent purchase.
As an OBD1 and OBD2 scanner, the CP9690 reads and clears trouble codes for three main systems. The three are the engine, SRS, and ABS. By clearing engine codes, it makes it possible to turn off the MIL.
In addition to the OBD2 cable, the Actron CP9690 Scanner comes with OBD1 adapters for Ford, Toyota, Chrysler, and GM vehicles. But for it to work, the vehicles must be made between 1984 and 1995.
With regards to OBD2 compatibility, the scanner covers most vehicles manufactured between 1996 and 2015 such as Buick, Cadillac, Chevrolet, Chrysler, Dodge, Ford, GMC, Jeep, Lincoln, Mercury, Oldsmobile, Pontiac, Plymouth, Saturn, etc.
Fitted on the scanner is a clear LCD screen where diagnostic data is displayed. Apart from viewing live engine data, you can record and playback the data at any time.
And if you don't fancy analyzing diagnostic information straight from the scanner you can do so via computer. But you'll need a USB cable (sold separately), which will allow you to connect the CP9690 to a PC.
The total weight of this 2-in-1 scanner is just 3.61 pounds. It measures 10.2 x 13.6 x 5.4 inches. That's a compact enough size for daily use.
Pros
Wide vehicle coverage that includes 1984 to 2013 models.
Large screen for easy navigation.
Contains built-in library with code definitions with recommended fixes.
Easy to use the trilingual menu.
Compact and ergonomic construction.
Cons
Unless you understand English, CodeConnent may not be of much help.
Actron CP9690 doesn't include a USB adapter in the package.
All in all, the flaws are virtually negligible, especially when you look at the benefits.
If you own an OBD1 Ford, Toyota, Chrysler, or GM vehicle, then the Actron CP9690 makes an excellent purchase.
While not the most affordable unit, this scanner covers both OBD1 and OBD2 diagnostics. It also supports scanning of the engine, ABS, and SRS systems. That's almost everything you need from an OBD1&2 vehicle diagnostic tool.
Though it can serve a professional mechanic, it is perfect for the ordinary car owner who doesn't need many advanced functions.
Check Price at Amazon
4. Innova 3120E: OBD1&OBD2 Scanner for OEM-enhanced codes
Innova 3120E for OEM-enhanced and transmission codes
The Innova 3120E is compatible with all mainstream OBD1 and OBD2 vehicles. That goes for domestic and foreign-made brands. So whatever car you own, it's almost certain that this scanner covers it.
If you're a beginner mechanic or DIY enthusiast, you will love the Innova 3120E. Made for OBD1 and OBD2 vehicles, this diagnostic tool features an impressively wide coverage.
As an OBD2 Scan Tool, it covers most of the OBD2 GM, Ford, Chrysler vehicles sold in the USA (made from 1996 onward). That coverage includes cars, SUVs, and light-duty trucks.
Additionally, the Innova 3120E works well on most Ford, Lincoln, Mercury OBD1 vehicles made between 1983 and 1995. But the vehicles in question must have an EEC-IV system, i.e., KOEO or KOER.
For Toyota and Lexus vehicles, the Innova 3120E OBD1 scanner supports those made between 1991 and 1995. The Chrysler, Dodge, and Plymouth models supported by this OBD1 scanner were made from 1984 to 1995. Innova 3120E can also support most 1993-1995 Jeeps and most 1982-1995 GM vehicles.
As a plug-and-play scan tool, the Innova 3120E OBD1 & 2 Scanner can read and erase engine, transmission, and ABS codes. You can reset MIL, ABS, and transmission warning lights in real-time.
It's a very useful diagnostic tool for resetting the MIL. Besides codes, the scanner supports freeze frame data. It refreshes diagnostic data every 30 seconds, which makes it perfect for ongoing repairs.
Also, there's a built-in battery that supports memory backup. It makes it possible to access diagnostic data even when the vehicle is off.
The diagnostic tool is compact and portable. It weighs just 2 pounds and measures 2.5 x 15 x 10.5 inches.
Pros
A great choice for CEL or ABS and transmission warning lights.
Fitted with a patented 2.8-inch color screen.
Provides menus, codes, and definitions in English, French, and Spanish.
Supports one-click reading and erasing of codes.
Can be used when the vehicle is off.
Comes with excellent support from Innova and the ASE Technical Team.
Cons
You can't use the Innova 3120E for advanced diagnostics.
It doesn't cover all vehicles sold in the USA.
The Innova 3120E is an OBD2 and OBD1 Bluetooth scanner that makes it great for a wide range of audiences. With Innova 3120E, you get basic diagnostic functions for the engine, ABS, and transmission. Those are not all a professional technician needs but just enough for ordinary car owners and DIY people.
Check Price at Amazon
5. FOXWELL NT510 Elite: Best Live Data OBD1 and OBD2 Scanner
FOXWELL NT510 Full System OBD2 Scanner
Foxwell Nt510 is Automotive OBD1/OBD2 Scan Tool for professionals, enthusiasts, & amateurs. This OBD1 and 2 scan tool can work on different car makes by installing the appropriate software.
Notes:
FOXWELL NT510 is a Multi-system Scanner. The version mentioned in this review is for BMW, MINI, and Rolls Royce. It can be updated with compatible software for different makes from the company website.
You need to buy an OBD1 to OBD2 cable to get it to work on your OBD1 vehicles.
Foxwell NT510 has very impressive coverage. The diagnostic tool works on almost all vehicles, ranging from OBD1 to OBD2 models. As long as your car was manufactured in 1987 and newer, it's almost certain that you can use this scanner to diagnose it.
So, what functionality features does the Foxwell NT510 Elite bring to the table?
First, this diagnostic tool can read and clear diagnostic codes in all major systems of your vehicle. That includes engine, ABS, transmission, SRS, SAS, and many more systems.
Foxwell NT510 Elite also performs a series of advanced functions like battery registration, brake deactivation, control service interval reset, oil light service reset, ABS module activation, throttle body adjustment, and so many more.
You can use Foxwell NT510 Elite to run active test functions. That is because the OBD1&2 scanner can start the vehicle temporarily and control its systems for active testing.
Regarding data, the Foxwell NT510 Elite OBD1 and OBD2 scanner records live data, provides live data graphing, and displays freeze frame data. Additionally, you can use it to retrieve ECU information.
Another good thing about the Foxwell NT510 is that the OBD1 & 2 diagnostic tool automatically detects your vehicle's model. Upon identification, the OBD1 diagnostic tool will then display all the available systems for you to choose which ones to diagnose.
Pros
Doesn't have a VIN lock, meaning you can use it on multiple vehicles
It's an OBD1 and OBD2 scanner.
Supports TF memory card, which enables backup of diagnostics data.
Comes with free software updates
Compact and ergonomic design.
Cons
Cannot recognize the new battery that is different from the original.
The OBD1 to OBD2 cable is not included.
Cannot use a Mac computer to update the scanner.
Doesn't program keys and other systems.
Overall, Foxwell NT510 Elite features wide compatibility and comprehensive functionality bundled in a well-built device.
If you're new to OBD scan tools, chances are you'll find the Foxwell NT510 Elite a bit complicated. It may even be beyond what most ordinary car owners need.
Also, this OBD1&2 diagnostic tool is the perfect OBD1 and OBD2 scanners for a professional mechanic, especially one who works on OBD1 and OBD2 vehicles very often. Besides codes and live data, the NT510 Elite offers advanced functions like service, actuation, and adaptation.
It practically gives you access to a vehicle's chassis, train, and body systems. That's almost everything that a professional mechanic needs.
Check Price at Amazon
6. LAUNCH CRP429C: OBD1 and OBD2 Scan Tool With Reset Functions
Launch CRP429C is one professional diagnostic tool with powerful function, support obd2 full function such as read and clear DTCs
What makes this the best obd1 scanner is its ability to support 10 OBD modes with 11 special features.
It's an investment as it would reduce trips to the mechanic by helping you read the most basic codes, in addition to 11 special features. These include:
Gear learning
EPB
TPMS reset
Injector coding
ABS bleeding
Throttle position reset
DPF
IMMO matching
SAS
Oil reset
This obd1 reader is a good option if you're concerned about the battery. It helps you check the battery voltage and perform a battery test as well.
You can conduct comprehensive diagnoses in the engine, ABS, airbag, and SRS system. Moreover, it also helps you test wheel sensors, rotation issues, brake problems, airbag-related issues, etc.
It can read and clear codes like a pro as it has an extensive DTC library that provides English explanations of the trouble code.
It supports the Auto Vin technology and will detect your car automatically on the second try. However, there are some problems found in the Nissan Teana 2006 and 2002 Mazda.
Reading the codes is easy, thanks to a 5-inch touchscreen and simple navigation buttons. The company is also known to release regular upgrades that can be downloaded over WiFi.
LAUNCH X431 CRP429C weighs 2.65 pounds with a dimension of 11.4 x 7.6 x 3.3 inches.
It supports more than 46 vehicle brands that are either OBD1 or OBD2 compatible, including BUGATTI, BMW, Chrysler, Citroen, Land Rover, DACIA, ACURA, Daewoo, Euro Ford, Fiat, Alfa Romeo, Audi, Ford, and many more.
Pros
Long battery (4000 mAh).
3-year warranty.
Very easy to use.
It can add new keys.
Fast processing.
Cons
It cannot turn off TPMS sensors.
It cannot program the key fob.
This scanner is for mechanics, professionals, DIYers, and expert drivers who want to solve complex car issues. Just like our first option, this one also supports both OBD1 and OBD2 vehicles.
Check Price at Amazon
The Bottom Line
If you're in the market for the best OBD1 scanner, you can consider choosing one from the five reviewed above. At least one of them will help, as long as your vehicle was made in the period between 1982 and 1995.
Recommendation
Keep in mind that certain scanners like Innova 3145 GM OBD1 Scanner, Innova 3123 Ford OBD1 Code reader, Foxwell NT510 OBD1&OBD2 Scanner are for specific brands of vehicles (Ford, GM, and BMW, MINI, Rolls-Royce respectively).
If you drive any other car, your options are the OBD1 and 2 Scanners like Actron CP9690 and Launch CRP429C, etc.
Read more: Best Bidirectional Scan Tools Review 2021