Like many motorists in these difficult times, there is a fair chance that you are searching for ways to cut costs. DIY mechanics enjoy a renaissance thanks to technology improvements, including a vast array of OBD1 and OBD2 scanners for all enthusiasts. 
Complete beginners, DIY mechanics, hobbyists all have different requirements. GM OBD2 scanners suit every level, and they are generally a compromise between cost and functionality. The trick is only to buy what you need at the best quality for your price range.
These days, almost anyone can save themselves an expensive and inconvenient trip to the mechanic and improve their fuel consumption. Whatever your level of expertise, I will take you on my journey by identifying the best GMC/Chevy scanner for each situation and giving you the benefit of my buying experience.
In this article, I will show you:
Let's go!!
Best GM Scanners Comparison Chart
Below comes the comparison chart of the best scanners for GMC/Chevy.
Best Cheap OBD2 GM Code Reader
Autel MS309
Autel MS309 universal OBD2 code reader
If you're looking to have a cheap code reader, Autel MS309 is for you. It is one of the most superficial code readers to operate.
The same company offers the entry-level MS309, a wired OBD2 code reader that will complement any toolkit. It is lightweight and has the most straightforward user interface we have ever seen, with just two manual data entry buttons. It charges from the vehicle's 12v cigarette lighter, so there is no need to worry about batteries.
Sporting a monochrome LCD screen, it is rugged in construction and is one of the most versatile devices on the market. Autel MS309 is compatible with a vast range of makes from all over Europe, Asia, and the USA and can be configured for the full range of protocols. 
It can also read, interpret, clear fault codes, and reset the check engine light. It also has the freeze-frame function for the contextual data recorded whenever a fault is logged by your vehicle. This helps find the root cause of an issue by analyzing the sensors' performance when the fault was recorded. Complete with lifetime software support, this model gets consistently positive buyer reviews.
There is no physical manual for the MS309, so trouble-shooting will involve searching online. Many forums discuss this model, and information is readily available – a manual would have been friendly, though. Some users report technical problems when trying to hook up to the car's computer.
It can return connection errors, requiring the device to be unplugged and restarted. The chord is a little short, depending on the location of your car's data socket, but overall, it is one of the most superficial code readers to operate. Advice on the forums suggests that it is user-friendly.
Autel MS309 GM code reader
Best Professional GM OBD2 Wired Scan Tools
1. Foxwell NT510 Elite – GM scan tool for programming key fobs
Foxwell NT510 Elite OBDII Full-system Diagnostic Scan Tool
The Foxwell NT510 Elite is trusted by thousands of advanced DIY-ers thanks to its special diagnosis and reliability.
Foxwell NT501 Elite does all the essentials in terms of reading and clearing faults. But the main attraction of this scanning and diagnostics kit is its bi-directional functionality for programming and re-coding. This opens up the possibility of tuning your engine systems for better performance and efficiency. You can adjust for more excellent fuel economy or increased torque, depending on your preferences.
The bi-directional functional testing of sensors and switches helps identify any trouble codes' underlying cause by ensuring that the system is calibrated and configured correctly. You should check with customer support to ensure that your vehicle is programmable using the N510 Elite, as some models are not.
It is touted as a customer-optimized version of their popular NT510 Elite with several improvements, including 40% faster reading and diagnostics. Processing speed has improved but is still noticeably slower than comparable scanners from other manufacturers. 
It retains all of the previous functionality for OBD1, OBD2, and EOBD but adds in the more recent Foxwell innovations. It can access all manner of special service functions (DPF, SAS, ABS, EPB, TPMS), chassis, electronic body systems, key fob programming, and the oil change schedule reset. 
There are far too many functions to list here, so clearly, the NT510 Elite is aimed at the serious hobbyist, and experienced home mechanics.
For cars built before the year 1996, you may need to connect via the 20 pin adapter located in the engine bay. This requires purchasing a separate lead as the OBD2 socket inside a vehicle this old was designed to connect to emissions testers only.
It's aimed at the more experienced user, so it can access every function you are ever likely to need. It is an awe-inspiring package for under $200.
FOXWELL NT510 Elite Full-system GM scan tool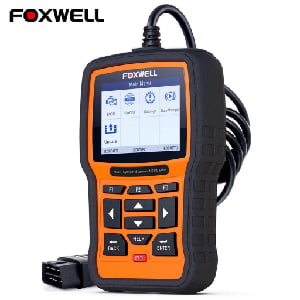 2. iCarsoft i900
iCarsoft i900 GM Diagnostic Scanner
If you are an experienced home mechanics, iCarsoft i900 is excellent for you.
This wired OBD II/EOBD scanning tool is designed and built to be challenging for pro mechanics and technicians in the repair shop and the field. Navigation is simplified to 4 large tactile directional buttons, plus OK, and Esc. There is an impressively large bright screen, and it is as simple to use as many lesser scanners.
iCarsoft i900 offers the full range of necessary options for all OBD2 vehicles, such as:
Reading and clearing fault codes; 
Pre-test emissions check; 
Retrieving vehicle information function for vehicle specifications; 
Maintenance schedules; 
Service bulletins; 
And any recall notifications. 
You also get full access to the safety features (ABS, SRS, etc.) and body/chassis sensor functions.
As with all our recommended devices, it is best to confirm with the vendor whether it is compatible with your make and year of the vehicle. For the i900, you should check for cars older than 2005 or newer than 2014. It has guaranteed lifetime software upgrades, delivered through a USB2 connection.
The user interface is intuitive, making navigation smooth and direct; however, it can be challenging to find what you are looking for when drilling down into the deeper menus. The only other gripe was the frequency of the scheduled software updates and a less enthusiastic customer support team.
After all considerations, this function-packed scanning and the diagnostic device was one of our favorites. The ease of use, robust, professional build-quality, and almost universal compatibility represent excellent value for money. For under $200, there are so many reasons to choose this option.
iCarsoft i900 GM scanner
3. Foxwell NT630 Plus – GM ABS scan tool
FOXWELL NT630 Plus GM ABS Service Scan Tool
Foxwell NT630 Plus is an excellent device for the advanced hobbyists or the home mechanics. ABS services, including ABS bleeding, are the specialties of this scan tool.
Another sub $200 pro-level OBD2 code reader and diagnostic tool, the NT630 Plus, has all the features you expect to decipher fault codes and reset your vehicle's electronics systems. 
Like the NT510, it is bi-directional and features an ABS brake bleeding function, which will remove air from the system while cycling the pump and valves. This is super-useful when performing braking system maintenance. It can also calibrate your steering rack and access all the safety systems blocked on less capable devices.
There is extensive software from Foxwell, allowing you to collect real-time data and display it in professional-looking charts and graphs. The live-streaming graphs are impressive, but the data can also be presented as figures for further remote analysis.
You can save your historical data, back up your test history, and share it with other diagnostic and tuning experts. Apparently, there is no coverage for the transmission systems, but you get a lifetime software upgrade license that directly delivers all Foxwell innovations to your device. 
On the whole, this is an excellent device for the advanced hobbyist or the pro-mechanic. The tuning specialist will love the graphics display, and there are enough functions to keep the pros happy all day. For the price, this is a winner.
FOXWELL NT630 Plus – GM ABS Scan Tool
Read more: FOXWELL NT630 Plus in-depth review
Best GM Bluetooth OBD2 Scanner
Autel MaxiAP AP200
Autel MaxiAP AP200 Obd2 Scanner Bluetooth
With comprehensive instructions and so many functions for under 100$, it's a great all-round wireless OBD2 scanner.
This model can be found in toolboxes worldwide, but what sets this device apart is its extensive range of options. On top of OBD2 code reading and resetting, there are some basic diagnostics and special service functions.
For example, you can access ABS (anti-lock brakes), EPB (electronic parking brake), DPF (diesel particulate filter), SAS (steering angle sensor), and SRS (airbags). 
Data transfer is via Bluetooth to your iOS or Android device, which many find more convenient as you can leave this dongle plugged in. Should you need to scan different makes of vehicles, you need to pay a yearly software subscription, but the Autel MaxiAP AP200 is easy to set up and simple to use. 
When you buy, you have to select which specific brand you receive updates and support, which can be a little restrictive. But overall, with comprehensive instructions and so many functions for under 100$, It's a great all-round wireless OBD2 scanner. 
Autel MaxiAP AP200
Best GM OBD1 Scanners
Innova 3123 – OBD1 GM code reader
INNOVA 3123 GM OBD1 Code Reader
If your car is made before 1996, INNOVA 3123 is ideal for you!
For those who own Cadillac, Chevrolet, and Buick cars built from 1982 to 1995, this OBD1 code reader is great for beginners requiring the essential functions. This device plugs straight into your OBD1 socket and will read fault codes without damaging the vehicle's computer systems. 
Innova 3123 is equipped to read ABS and ECM (Engine Control Module) data; however, it will not reset the faults. The code reader scans the car's computer for alarms, then blinks the check engine light to tell the operator the codes.
The user then needs to look these up in a reference book supplied by Innova. There is now a complete library of these fault codes online.
Given that this module tells you what your problem is but will not let you reset the fault once it is fixed, it has minimal utility. However, if you need OBD1 for an older vehicle, it does the job thoroughly and efficiently.
Innova 3123
2. Actron CP9690 Elite – GM OBD1 and OBD2 scanner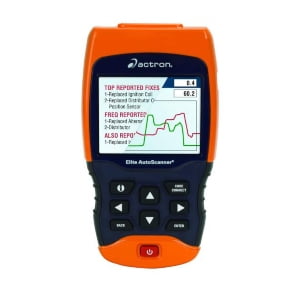 Actron CP9690 Elite OBD1 OBD2 scanner
If you are looking for a scanner that can work on both OBD1 and OBD2 vehicles, Actron CP9690 Elite is the right choice.
The CP9690 has all of the everyday functions for diagnosing and resetting fault codes. It is much more than a basic scanner, however. There are functions for real-time recording and playback of your data, displayed in easy to read graphs on the built-in, large color screen.
A standout feature is a CodeConnect facility, which links to a massive database of over 26 million reported faults and verified fixes. Just press the information button to view suggestions about the most likely causes of the issues and resolve them. This saves time and effort looking up information online, and with every suggested issue comes a recommended fix.
The price is under $200, for which you get an impressive 3.5-inch color display. There is a 6-feet extension cable included and a 12v cigarette lighter charging lead. It is incredibly robust, and the rubberized finger moldings give it a professional, tactile feel in your hands. 
We saw no socket to connect it to a PC for software upgrades, and of course, certain OBD2 functions are not available with the older OBD1 protocols. There is also an issue accessing the documentation, which was not included when we received our device. The manual is available on the manufacturer's website but is unavailable for download. 
Again, this is a top-quality option for experienced hobbyists and pro mechanics. The Actron CP9690 could grace any repair shop, focusing on quality and functionality, but our favorite feature is the CodeConnect facility. Overall we think the whole package is fantastic value for money at under $200.
Actron CP9690 Elite – GM OBD1 OBD2 scanner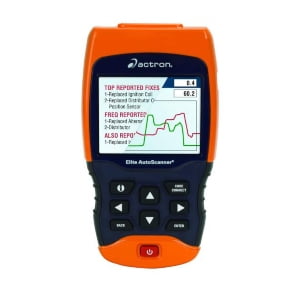 Read more information about best Actron scanner HERE
Bonus: What's the difference between OBD1 and OBD2?
How to choose the right GM scan tool?
Most GM owners want a combination of the most common OBD2 diagnostic functions. After connecting easily via Bluetooth, WiFi, or an ethernet cable, your device should automatically identify a problem once the check engine light comes on and clear the associated fault. 
This tool is a real cost-saver compared to the expense and hassle of trusting your car to a repair shop. Apart from the satisfaction of fixing your vehicle, OBD2 scanning technology puts you back in control.
Most users require essential functions for testing their vehicle's emissions before it fails a costly smog test. Hobbyists want options for fine-tuning ignition timing, fuel consumption, and overall efficiency. Diagnostics experts and pro mechanics demand a full range of functions, including access to safety systems and advanced real-time diagnostics.
To know which type of buyer you are, ask yourself what functions you require and how much your budget is. It's best not to pay for a top of the range, pro-GM scan tool if you never use most options. You can always upgrade once your knowledge becomes more advanced.
Top brands
Of the dozens of companies offering OBD2 scanning and diagnostic tools for General Motors vehicles, the following three are very safe bets. They are all well known, respected, fully supported, and have an excellent track record among car maintenance enthusiasts.
Foxwell
Website: https://www.foxwelltech.us/
Another perennial player in the OBD2 scanning and specialist diagnostic market has a solid reputation for building robust products for all budgets. With at least 20% of annual company revenue invested in technological innovation and product development, they have become top names in the OBD2 field.
Recommended product – Foxwell NT510 Elite
Foxwell NT510 Elite OBDII Full-system Diagnostic Scan Tool
The Foxwell NT510 Elite is trusted by thousands of advanced DIY-ers and professional technicians thanks to its special diagnosis and reliability.
Read more: 7 Best Foxwell Scanners 2021 [Tested & Reviewed]
iCarsoft 
Website: https://www.icarsoft.com/
This manufacturer claims "Honesty, Unity, Seriousness, Effort, and Quality" as its core beliefs. It is a fair claim, according to the online vehicle enthusiast forums. It has a wealth of experience in 60 markets worldwide and supplies OBD2 scanning and diagnostics for all the major vehicle brands. iCarsoft achieves consistently high customer ratings among Buick, GMC, and Chevy drivers. 
Recommendation – iCarsoft i900
iCarsoft i900
Autel
Website: https://www.autel.com/
Autel Intelligent Technology Corporation has been operating out of Shenzhen, China, since 2004. Well established as suppliers of quality OBD2 scanning equipment, they have designed three product ranges – DIY tools, Service Tools, and their Advanced Analysis System.
Recommended product – Autel MaxiAP AP200
Autel MaxiAP AP200 Obd2 Scanner Bluetooth
With comprehensive instructions and so many functions for under 100$, it's a great all-round wireless OBD2 scanner.
Read more: Best Autel scanners 2021 review
What type of GM scanner do you want?
OBD1 code reader for older models
Innova 3123
For older GM vehicles that require the OBD1 protocol, we recommend the Innova 3123. This code reader can retrieve GM engine and electronic transmission codes, including ABS data (anti-lock braking system). It is an entry-level device useful for most older General Motors models as late as 1995.
It can reset your check engine light and be priced at under $50. It is an excellent piece of kit for the home mechanic to keep in your toolbox.
Innova 3121
OBD2 scanner for modern vehicles
Autel MaxiAP AP200
Autel MaxiAP AP200 Obd2 Scanner Bluetooth
With comprehensive instructions and so many functions for under 100$, it's a great all-round wireless OBD2 scanner.
GM, Chrysler, Ford, Dodge, and Jeep owners should consider the Autel MaxiAP AP200. The wireless Bluetooth connection removes those pesky cables, and there are all the functions a competent DIY mechanic would ever need. For example, you can quickly read and clear fault codes and deal with the check engine light.
This affordable device is for DIYers and home mechanics. With a price tag south of $100, it has an imposing list of functions, way beyond what you would expect for the money.
Autel MS309
For a cabled alternative, we suggest looking at the Autel MS309. Another entry-level OBD2 scanner for under $50 is compatible with all GM brands and works with most other North American vehicles. 
It is perfect for first-timers, being very user-friendly and intuitive to operate. It plugs straight into your vehicle's OBD2 socket, and away you go. Again, it has all the most popular functions of diagnosing any fault codes, resetting them, and dealing with the check engine light when it comes on.
Autel MS309
Advanced scan tools for experienced home mechanics
iCarsoft i900
iCarsoft i900 GM Diagnostic Scanner
If you are an automotive technicians or an auto shop owner, iCarsoft i900 is excellent for you.
A step up in price and functionality brings us to the iCarsofti900. For around $200, you get a device targeting the experienced DIY mechanic and serious hobbyist. This analyzing tool gives you access to advanced settings and functions for most GM group vehicles. These include full system diagnostics of the engine, transmission, and ABS / SRS. 
It's a rugged and stable wired device, built to take the punishment of a busy workshop or life on the road.
Foxwell NT510
Another more advanced OBD2 scanner to look at is the Foxwell NT510. It's compatible with Cadillac, Buick, GMC, and Chevrolet models and has a full range of options. It's also bidirectional, enabling you to overwrite and edit parameters, a must for tuning experts and professional technicians.
Priced at under $200, it packs a punch for the money. It has a comprehensive range of special service functions and more options than the average home mechanic would be comfortable using. This model is great for experienced OBD2 aficionados.
Foxwell NT510 Elite
Compatibility & vehicle coverage
You should always confirm with your GM OBD2 scan tool supplier whether your vehicle year and model is compatible with your proposed equipment. Enhanced diagnostics for safety systems such as brakes (ABS) and airbags (SRS) are only activated on more advanced equipment.
For example, the Actron CP9690 Elite is compatible with both OBD1 & OBD2 protocols but will only diagnose ABS and SRS fault codes for General Motors models sold between 1996 and 2015.
Recommended product – Actron CP9690 Elite
Actron CP9690 Elite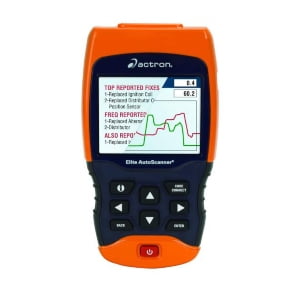 Similarly, the iCarsoft i900, while compatible with models manufactured between 2005 and 2014, might not work with older or newer vehicles. Again, you need to check before you buy it.
Pricing
Your budget will dictate the tools you buy, but from $25 to about $100, a newbie or DIY home mechanic can acquire a code reading setup that will do everything they need.
INNOVA 3123 GM OBD1 Code Reader
If you are have an OBD1 vehicle, INNOVA 3123 is ideal for you!
A more advanced diagnostic scanner for the serious hobbyist or pro mechanic will cost from $100 to around $300. The reviews below will outline the main differences.
Recommendation – Foxwell NT630 Plus 
Foxwell NT630 Plus
Final thoughts
There's a lot of information to digest here, but to simplify the process, ask yourself the following:
What functions do I need?
Wireless or wired connection?
What is my budget?
There's a dazzling array of options out there, but take your time, do your research and compare what you find to our recommendations. Re-read this article, keep it simple, and you will get years of satisfaction out of whatever General Motors scanning and diagnostic equipment you choose.
Read more: