When it's time to buy a scanner, one of the first brands to look at is Foxwell.
There are many considerations and even a certain amount of confusion for those new to the business. 
Before purchasing any of these scanners, ensure to read this best FOXWELL scanner review to the end.
This complete guide will give you all the information you need to make the appropriate buying decision.
FOXWELL scanners have different capabilities, making it difficult to make the right choice.
Breaking everything down, we will be looking at:
That means I have reviewed and compared the best FOXWELL tools for beginners, experienced DIYers, and professionals.
Keep reading for details on the right scanner or diagnostic tool for you.
Best FOXWELL Scan Tools 2023 Comparison Chart
FOXWELL Scanner Series: Which Level Should I Go For?
FOXWELL NT-series code readers
FOXWELL NT series code readers are useful tools for entry-level pro and tech-savvy DIYers. They allow them to quickly and efficiently read and clear error codes. These OBD2 code readers offer the best value for money. Provided your car, light-duty truck, SUV, or minivan, FOXWELL NT-series scanners are for you. You can use them to do the following:
Read and clear codes, turn off Check Engine Light, and reset monitors
View live data stream
Get on-screen code meanings
Read freeze frame data
Quickly access emission readiness status, DTC information, and erase functions.
Retrieve VIN, CID, and CVN
Read manufacturer-specific codes
Typical products under the FOXWELL NT-series include the following:
Who are the marketed users?
FOXWELL NT-series is designed for DIYers who are just beginning their professional careers and savvy DIYers for the home mechanic. I would recommend buying FOXWELL NT201 because it is the most affordable of the three.
RELATED POST: Foxwell NT301 Plus vs. NT301: Never buy it if you still don't know what makes it different from its brother
FOXWELL NT-series service scan tools
FOXWELL NT-series are diagnostic and scan tools with more advanced vehicle diagnostic and service-specific functions. With them, you can perform the following:
View and record live sensor data
Specific service and diagnostic functions such as EPB, SRS, ABS, SAS, DPF, CVT, and oil service reset
Validate new battery
Perform all 10 OBD2 test modes
Read and clear codes – turn off warning indicators
One-key VIN reading
FOXWELL NT-series service scan tools are compatible with the latest 2020/2021 cars, SUVs, minivans, light-duty trucks models from different manufacturers worldwide.
We have the following products under this category:
Who are the marketed users?
These scan and diagnostic tools are for beginners in auto repair and maintenance. They are ideal for home mechanics or car enthusiasts, and I recommend FOXWELL NT630 Plus for its affordability.
RELATED POST: FOXWELL NT630 Plus: Full OBD2 scanner with ABS SRS review
FOXWELL GT-series professional automotive diagnostic tool
FOXWELL GT-series features a range of professional scan and diagnostic tools for advanced DIYers and professional auto technicians. These tools can perform many functions, including advanced diagnostic and specific service functions. Their capabilities include the following:
Accessing powertrain, chassis, and body systems
Diagnosing all electronic control units on any vehicle
Reading and clearing DTCs and resetting Check Engine Light
Viewing live vehicle sensor data as graphs or texts
Recording and replaying back data for future analysis
Reading and clearing freeze frame data
Coding keys for a wide range of vehicle models
Running bi-directional tests
Control module coding
Deactivating breaks, performing service resets, and vehicle transmission
The FOXWELL GT-series professional automotive diagnostic tools are compatible with OBD2 cars, SUVs, minivans, and light-duty trucks, including the new 2017/2018 models.
Who are the marketed users?
These tools are for professional auto technicians and advanced DIYers looking for advanced diagnostic tools. Any of them should be perfect in performing the intended job. FOXWELL GT60 Plus can be a more affordable option but can be limited in functions such as key coding and TPMS programming. FOXWELL GT80 Plus is more expensive but a complete tool with almost all functionalities an auto technician might need.
---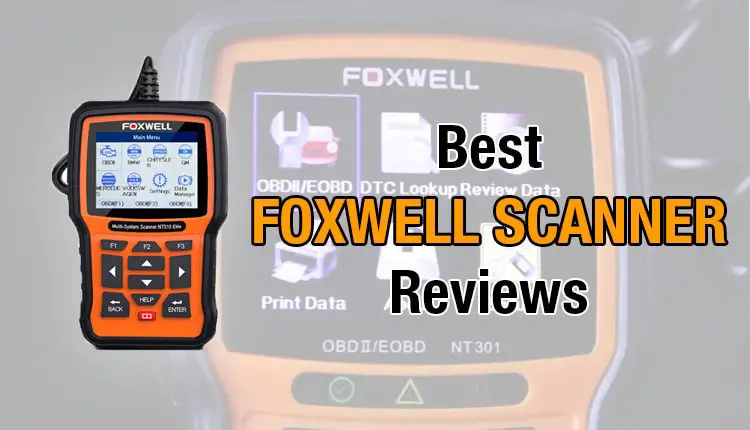 Best FOXWELL Code Readers [for Beginners]
FOXWELL OBD2 scanners for beginners are affordable scan tools used for reading and clearing DTCs on cars, SUVs, minivans, and light trucks. They are mainly for a home mechanic where the 10 OBD2 functions are all needed.
Top 3 Cheap FOXWELL Code Readers Comparison Chart
| | | | |
| --- | --- | --- | --- |
| | FOXWELL NT201 | FOXWELL NT301 | FOXWELL NT204 |
| Customer Rating | | | |
| Price range | | | |
| Generic codes | Read and clear | Read and clear | Read and clear |
| Manufacturer-specific codes | Read and clear | Read and clear | Read and clear |
| Pending codes | Read and clear | Read and clear | Read and clear |
| Enhanced codes | No | No | No |
| Reset MIL | Yes | Yes | Yes |
| OBD2 functions | 10/10 | 10/10 | 10/10 |
| Vehicle coverage | cars, SUVs, Light trucks | cars, SUVs, Light trucks | cars, SUVs, Light trucks |
| | | | |
1. FOXWELL NT201
For accurate and effective code reading and clearing, this NT201 scanner is at the forefront. It is affordable but reliable for diagnosing cars and allows car owners to know the cause of engine problems. With it, you can solve most of the issues without taking your vehicle to a professional mechanic shop for repair.
The NT201 has full OBD2 functions, including on-Board monitor test capabilities. You can use it in many vehicle models worldwide manufactured in 1996 or newer, provided they use OBD2 protocols. Among its functions, Foxwell NT201 can do the following:
I/M readiness test
On-board monitor test
EVAP monitor test
O2 sensor test
Retrieves the recorded DTC
View stream data and freeze frame
Display vehicle information such as VIN, CID, and CVN.
This tool is easy to use and recommended for home mechanics. Lastly, it is a plug-and-play auto scanner that comes with a free lifetime software update.
RELATED POST: MOTOPOWER MP69033 vs. Foxwell NT201 vs. NT301: Which is the best for car owners?
---
2. FOXWELL NT301
Like NT201, the Foxwell NT301 is a full OBD2 scanner. However, it has enhanced functions that allow you to do more. If you are a home mechanic looking to upgrade a code reader, this might be the best tool for you. It is used worldwide for troubleshooting a wide range of vehicles that cause engine problems. You can find most of the issues that trigger check engine lights on the dashboard.
Apart from the OBD2 functions that NT201 can perform, you can additionally use the NT301 auto scanner to do the following:
Print data through a computer
Has built-in DTC lookup library
Show complete live data and set it to show partial live data.
Engine component test
Supports data playback
The NT 301 auto scanner is more advanced and accurate in reporting engine issues with a comprehensive DTC lookup library. However, it is not the best diagnostic tool for non-OBD2 functions such as ABS, SRS, transmission, etc.
RELATED POST: MOTOPOWER MP69033 vs. Foxwell NT201 vs. NT301: Which is the best for car owners?
---
3. FOXWELL NT204
Foxwell NT204 is a comprehensive OBD2/EOBD code reader that every DIYer or home mechanic would wish for. The low-cost auto scanner offers the best value for money because it is equipped with all OBD2 functions. It features a one-click I/M readiness key that allows you to determine if the vehicle is ready for a smog test in one step. Additionally, NT204 has a TFT color display and a speaker for both visual and audio indications.
With NT204 code reader, you can do the following:
Read codes
Clear codes
View live data
View freeze frame
Perform I/M readiness test in a single click
Get vehicle information
Determine the cause of the malfunction indicator light (MIL) and reset it
Retrieves generic (P0, P2, P3, and U0), manufacturer-specific (P1, P3, and U1) codes, and pending codes
NT204 is compatible with 1996 imported and domestic vehicles that have OBD2 and CAN protocol.
Vehicle coverage
The scanners are compatible with almost all OBD2 vehicles, including the 2019 and 2020 latest models. Supported OBD2 protocols include J1859-41.6, J1850-10.4, ISO9141, and KWP2000. These cheap FOXWELL scanners are also compatible with some OBD1 vehicles manufactured between 1994 and 1995. 
The chart below gives specific vehicle brands supported:
Weaknesses
FOXWELL NT201, FOXWELL NT301, and FOXWELL NT204 are basic OBD2 car code readers only for beginners. They have limited functions that an advanced DIYer or auto mechanic can find not very useful. They cannot perform advanced diagnosis of ABS, SRS, and other systems. 
These code readers are also not ideal for off-car code scanning since they depend on the car's power. Many users are also complaining that the user manuals do not give clear instructions on how to use the tools.
In general, these OBD2 code readers are limited in functionality for an experienced DIYer.
---
Best FOXWELL Professional Scan Tools [for Experienced DIYers]
These scan tools can diagnose engine systems, transmissions, ABS, and SRS. Additionally, they are great for servicing and maintenance. They are capable of oil light reset, smog testing, reading and clearing codes, and oxygen sensor testing, among other functions.  
Top 3 FOXWELL Professional Scan Tools [for Experienced DIYers] Comparison Chart
 *Notes: Excellent: 9-10; Good: 7-8; Fair: 5-6; Poor: 3-4; Very poor: 1-2
If you are looking for more than just an auto code reader, then NT630 is the most affordable choice you should consider. It is a full OBD2 scanner but can also perform system diagnostics on ABS, SRS, and SAS. This tool allows you to perform ABS manual control tests, ABS monitor tests, ABS version tests, and actuator tests. Additionally, you can use it to remove from the internal brake fluid chambers after servicing.
The Foxwell NT630 Plus is compatible with vehicle models from 1996 to the newest 2017/2018/2019 models, with great support for cars, SUVs, minivans, and light-use trucks. It supports SAS functionality on over 35 vehicle brands. That gives you a control steering wheel angle sensor.
The NT630 Plus is recommended to advanced DIYers and home mechanics who want to do more than just read and clear the codes.
RELATED POST: FOXWELL NT630 Plus: Full OBD2 scanner with ABS SRS review
---
2. FOXWELL NT614 Elite
The Foxwell NT614 Elite gives you a one-level upgrade from the NT630 Plus. This diagnostic tool provides technicians and home mechanics an affordable solution to determine problems with the engine, transmission, ABS, and SRS.
Fortunately, it can support major American, European, and Asian vehicle brands.
The NT614 Elite offers routine maintenance functions, such as oil light reset and EPB reset, to keep your car engine running at maximum efficiency. You can also diagnose the cause of the engine light on the dashboard to find the problem without involving an auto mechanic, saving you both money and time.
This diagnostic tool also comes with special functions, including:
Activate SBC systems
Adaptations
Perform activation
Replacement
Clutch pedal programming
Sensor calibration, etc.
Perform all OBD2 test modes
Foxwell NT614 Elite comes with a one-year warranty as an assurance to customers about the quality of the product.
RELATED POST: Foxwell NT624E Vs. NT624 Elite Vs. NT614 Elite: What is the favorite of most home mechanics?
---
3. FOXWELL NT624 Elite
The Foxwell NT624 Elite is an advanced auto diagnostic tool for technicians as well as advanced DIYers.
Its major highlight is the complete system diagnosis capability. If your vehicle has problems with any electronic module, this is the right tool to help you know the root cause. It provides this capability on over 60 major vehicle brands used worldwide.
The Foxwell NT624 Elite can perform full OBD2 functions just like any other auto scanner but is more advanced and can be used for comprehensive diagnosis and tests.
Consider it if you want to perform the following functions:
VDM Vertical dynamics management Test
Reset ABS Service Light
EMF Parking brake Test
ICM Integrated Chassis Management Test
EPS Electronic Power Steering Test
EHC Electronic Ride-Height Control Test
Electrical Park Brake Service
Oil Light Reset
ABS-DSC Dynamic Stability Control Test
IHKA Integrated automatic heating/air conditioning Test
The last feature to highlight about the tool is the lifetime free update, supporting newer vehicle brands and models.
RELATED POST: Foxwell NT624E Vs. NT624 Elite Vs. NT614 Elite: What is the favorite of most home mechanics?
Vehicle coverage
These scanners offer a quick diagnosis on all types of systems of almost all car brands from America, Europe, and Asia. They are compatible with cars, SUVs, minivans, and light-duty trucks (12V systems only) from 1996 to the latest 2019 models. The specific supported car models are as listed in the table below:
Weaknesses 
FOXWELL NT630 Plus, FOXWELL NT614 Elite, and FOXWELL NT624 Elite are all professional tools for an advanced DIYer but not what an ultimate mechanic would need. They have limited advanced diagnostic functions and reset capabilities. Only FOXWELL NT624 Elite has IMMO functions and not the rest. It is also not the best you can go for if you need injector coding and ECU programming. If you want to program your car, look for other OBD2 scanners and diagnostic tools but definitely not in this category.
If your car is OBD1 compliant, I encourage you to look for the appropriate scanner elsewhere.
Also, if you had planned to perform active tests on various system components, find other scanners and diagnostic tools to handle that.
RELATED POST: Foxwell NT634 Vs. NT624 Elite Vs. NT630 Plus: Never buy it before reading this comparison
---
Best FOXWELL Diagnostic Tools [for Professionals]
These are professional-level diagnostic handheld tools that allow you to perform the following:
Advanced system diagnosis on systems such as Engine, Immobilizer, Instrument Cluster, Climate Control, ABS, Airbags, Power Steering, Automatic Transmission, etc.
Display live sensor data from different systems
Live sensor data recording
Supports SAS, DPF, TPS, CVT, EPB, oil service reset, and battery configurations.
Supports all 5 OBD2 protocols and 9 test modes
Merges graphs to quicken fault identification.
Top 3 FOXWELL Diagnostic Tools [for Professionals] Comparison Chart
 *Notes: Excellent: 9-10; Good: 7-8; Fair: 5-6; Poor: 3-4; Very poor: 1-2
1. FOXWELL NT680 Pro
The FOXWELL NT680 Pro is an advanced auto scanner and diagnostic tool that allows you to take control of your vehicle.
With it, you can perform a quick scan on all control modules to detect any problem and the root cause. It also has a reliable auto VIN functionality for detecting the vehicle's make, model, and manufacture year.
The NT680 Pro supports 90 car brands and 1,000 different models produced worldwide. You never worry about your vehicle compatibility when you have this tool.
The Foxwell NT680 Pro is a full system diagnostic tool with over 25 service and maintenance functions, including, but not limited to:
ABS and SRS Reset
EPB, BRT, TPMS
TBA/TPS, Throttle Body Alignment
Steering Angle Sensor Calibration
Diesel Particulate Filter Regeneration
Oil Service Reset
Injector Coding
Odometer reset
A/F Adjust
CVT Reset
Seat Match
Prime Fuel Pump
Clutch adaptation
Windows and door, Turbo, Headlamp, etc.
---
2. Foxwell GT60 Plus
This is the one-of-a-kind tool from Foxwell used for a comprehensive diagnosis of automotive.
It can do virtually everything and anything. This diagnostic tool supports almost all vehicle brands and models, including the latest 2020/2021 cars, light-use trucks, SUVs, vans, and some GM motorhomes for over 70 Makes.
Apart from the OBD2 functions, full system diagnosis, and special service functions, the GT6o plus has bi-directional control capabilities.
With it, you can perform the following:
ABS manual control test
ABS motor tests
ABS version test
Actuator test
Auto bleed test
Automated test,
Brake bleed preparation test
Function test
Gear tension relief test
Idle up manual control test
Lamp test
Vehicle component test for wipers, doors, windows, engine fans, air conditioners, etc.  
RELATED POST: Foxwell GT60 vs. GT60 Plus: Which is the best for you?
Which to Buy: NT680 Pro or GT60 Plus?
Advanced system diagnostics
These diagnostic tools allow you to scan all electronic systems in many vehicle models sold worldwide. You can perform ABS, SRS, transmission, engine, body, powertrain, chassis, EPS, LKAS control, air conditioning, among others. I highly recommend the FOXWELL NT680 Pro diagnostic tool because of its affordability yet packed with full-system diagnostics. 
Advanced service functions and bi-directional controls
This category has bi-directional tools with enhanced service functions such as Oil Reset, EPB, TPS, TPMS, BRT, DPF, SAS, CVT, Gear Learning and Injector Coding, and sensors actuation, matching, and adaptation. They are advanced diagnostic tools that allow you to carry out maintenance routines on any system. The FOXWELL GT60 Plus is more expensive than the FOXWELL NT680 Pro, but I highly recommend it to professional auto technicians. It is a complete scan and diagnostic tool.
Coding/programming
Both FOXWELL NT680 Pro and FOXWELL GT60 can perform injector coding. Additionally, FOXWELL GT60 Plus can be used for key coding and TPMS programming. That is why I recommend it to professional technicians and advanced DIYers for home mechanics.
Vehicle coverage
These tools cover OBD2 complaints vehicles and some OBD1 vehicles, ranging from 1995/1996 to 2018/2019. Cars, SUVs, minivans, and light-duty trucks are all supported.
Supported protocols: ISO9141-2, ISO14230-2, ISO15765-4, K/L lines, Double K lines, SAE-J1850 VPW, SAE-J1850PWM, CAN ISO 11898, High-speed, Middle-speed, Low-speed and Single-wire CAN, KW81, KW82, GM UART, UART Echo Byte Protocol, TP2.0, TP16, SAE J1939, SAE J1708, Fault-Tolerant CAN
For specific vehicle models, refer to the table below:
Weaknesses 
FOXWELL NT680 Pro and FOXWELL GT60 Plus are professional auto diagnostic tools any mechanic can dream of buying. However, they also have weaknesses. 
FOXWELL NT680 Pro is an expensive tool but can only do injector coding. FOXWELL GT60 Plus, which is more advanced, can perform key coding, injector coding, and TPMS programming, but nothing concerning ECU programming. Also, its IMMO functionality and battery replacement are limited to some vehicle brands and models.
FOXWELL GT60 Plus is advertised as having live data graphing functionality. Unfortunately, there is no way to slow it down if you do not want to freeze the data. Only a pause button is included for this functionality. Also, subsequent upgrades after the first year on FOXWELL GT60 Plus are charged. That further increases the cost of the auto diagnostic tool if you have to upgrade.
---
Recommendation
FOXWELL Tech designs auto scan and diagnostic tools perfect for both beginners and professional technicians. Using the information provided in this post, you can buy the appropriate product. Note that you need to define the uses of the scanners before making the final purchasing decision.
---
Read more: Best Autel Scanners 2023 [Review and Comparison]
---
FOXWELL Scanners Buying Guide
Benefits
Save Time and Money
There are so many good reasons to own a good OBD2 scanner these days. Everyone can diagnose and clear vehicle fault codes without the time and costs spent visiting a mechanic. 
Save Your Trip
They should be standard equipment on your road trips to fault-find any problems at the side of the highway. If they are minor issues, then they can be fixed right there. If not, you don't have to trust an unknown local mechanic to tell you what the fault might be.
Expert Diagnostics
There are further benefits to Foxwell's brand products, such as its robust build-quality, an excellent reputation, and an extensive user community. Many independent forums discuss their scanners, and sometimes this honest, impartial, independent advice is the best. 
Foxwell also supports a community of experts who are always happy to give advice.
Foxwell Scan Tools Types
What you buy depends on your needs, so we have broken Foxwell's inventory down into three broad sections below.
Basic Code Readers
These are smaller, handheld devices with modest LCD screens that plug directly into your car's OBD2 socket. They're mainly aimed at the newbies and inexperienced home mechanics and fit neatly in a toolbox. They're great for identifying and resetting fault codes whenever the check engine light comes on.
DIY Scanners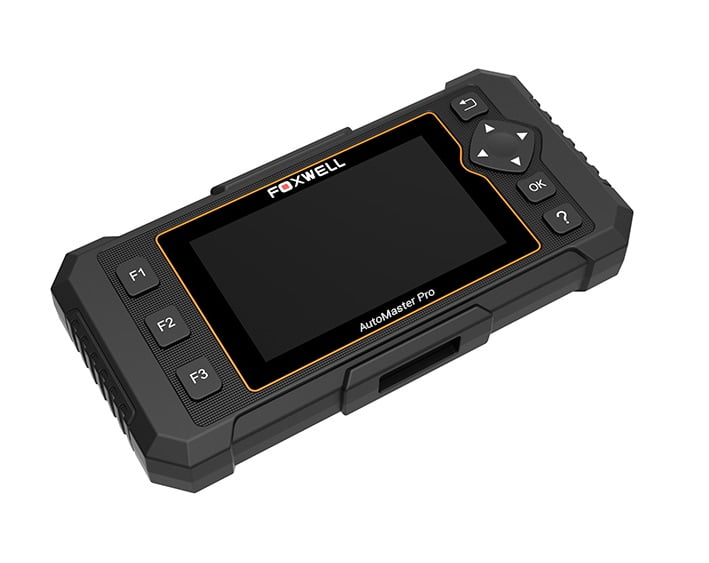 For the keen hobbyist and experienced home mechanic, Foxwell makes a great selection of more advanced scanners. They have bigger screens, more diagnostic functions and come with a range of more sophisticated software options. Besides OBD2 diagnostics, these scan tools let you read and clear codes of Non-OBD systems, perform some popular reset and service functions. Some of them allow you to diagnose all systems in your vehicle.
Professional Diagnostic Tools
Once you have gathered your performance data for the advanced diagnostic experts, you need to analyze it. Foxwell has some of the most impressive hardware and software on the market for this. Their tablet-style Windows/Android-based devices allow you to display real-time data on a much larger screen. They're designed to be tough enough to withstand the harsh environment of the motor mechanic. There's a range of diagnostic tools and software to display your performance data in practical graphs and charts, and they can save and share data across all standard formats.
Many of these devices allow you to reprogram your ECU and access ABS functions or calibration functions to ensure your sensors are measuring accurately.
Price Range
For some, the main aim of investing in a scanner is to save money on auto-repair bills. For others, they want to tinker with their vehicles and enhance their performance. Pro-mechanics generally buy the higher-end devices. 
Budget is always a consideration, and there is no point in a DIY mechanic paying for a set of features they will never use. Conversely, if you are a pro, then you need to have all bases covered. We have broken down Foxwell's products into three price bands to simplify your decision.
Less Than $100: Perfect Choice for Newbies
At the more affordable end of the spectrum, Foxwell offers a quality range of entry-level scanners. There's a wide range of these handheld devices, ranging from $29.99 up to $100. The more expensive models have larger screens, so you will need to decide on your priorities here.
$100-$500: Made for DIYers / Home Mechanics
When you need more than just basic fault finding and diagnostics, you move up a step in functionality and price. There are around a dozen devices in the Foxwell range aimed at hobbyists and experienced DIY mechanics. They range in price from $119 to $450 if you buy a comprehensive set of connectors.
Over $500: For Professional Mechanics or Shops
The upper end of the range is aimed at professional automotive technicians and diagnostic specialists. They are fine-looking devices, sturdily constructed, and are thoroughly reliable. They retail for between $500 to $800, depending on your software package and the connectors you buy. 
However, there is a consensus among the expert community that Foxwell does not produce many diagnostic tools at this price range. The GT60 is among their products in this group.
Compatibility and Vehicle Coverage
There are dozens of makes and hundreds of models of vehicles on the road. Foxwell scan tools are compatible with almost all of them, including cars made by the US, EU, or Asian manufacturers.
Most hobbyists and DIY mechanics only ever work on their cars, but there is a comprehensive range of connectivity options across Foxwell price ranges. Professionals would typically buy a full suite of connectors and software, which can double the price of Foxwell's mid-range scanners. Check the list below to see whether you require a proprietary connector before you buy one.
Toyota 22 Pin & 17 Pin Connectors
BMW 20 Pin Connector
Honda 3 Pin Connector
GM & Daewoo 12 Pin Connector
Mazda 17 Pin Connector
Fiat 3 Pin Connector
Kia 20 Pin Connector
Audi 4 Pin Connector
Mercedes Benz 38 Pin Connector
OBD 16 Pin Connector
Nissan 14 Pin Connector
PSA 2 Pin Connector
Mitsubishi12 &16 Pin Connectors
Key Features
Almost all of Foxwell's diagnostic scanning devices record freeze-frame data, which tells you the engine state when a fault was recorded, a useful tool for establishing the root cause of a problem after the fact. It lets you know what else was playing up at the time.
All basic OBD devices of Foxwell read and clear generic and manufacturer specific codes. They reset the monitoring system and display the DTC code along with its definition. There's an on-screen help button which will show you probable causes and give you repair advice.
Foxwell's OBD2 scanning devices all feature an emissions readiness test and read the latest onboard O2 results. Some entry-level scanners even record live sensor data and present the results in intuitive graphs and charts.
The higher-end models feature larger, tablet-style screens and fully-optioned diagnostic software packages. The upper-end devices are bi-directional scan tools, enabling you to read faults and service/reprogram your car's systems.
Below is a list of the most used functions:
ABS (Anti-lock Braking System) 
SRS (Airbags – Supplemental Restraint System)
EPB (Electronic Parking Brake)  
TPMS (Tire Pressure Monitoring System) 
SAS calibration (Steering Angle Sensor) 
DPF Regeneration (Diesel Particulate Filter)
Other Considerations
Firmware and Software Updates
Foxwell OBD2 scanners are supported by continually evolving firmware and software. Updates are available to download, depending on which software package you bought. You get at least three years of free access to the latest releases, but Foxwell promises free lifetime updates for most of their range. They state that as long as they are manufacturing your scan-tool, you will continue to receive the free updates. 
The process is quite simple; You need to open an account with Foxwell, register your device's serial number, and download your software. The updates are saved to an SD card that slots into your scan tool. Pro-tip – Remember to update regularly to avoid a long sequence of version downloads when you finally get round to it!
Technical Support
Tech support is doubly important when you are buying electronics. There are comprehensive instructions and hours of Youtube videos for those who get lost in the technology. However, Foxwell understands that you may want to talk to a real person eventually so that you can access online customer support via email and over the phone. 
Foxwell Tech Support Website: https://www.foxwelltech.us/support.html
Online Foxwell User Community
Help and advice are also available from a community of Foxwell experts on their home forums and multiple independent forums. Any problems you encounter will likely have already been solved, so scour the topics before starting a new thread. They enjoy helping each other out and giving first-hand advice, so don't be shy about asking should you have a query.
Remember, the decision is about what you need versus what you can afford. You can always upgrade later if required.
---
---
FAQs
Q – Is Foxwell a reputable brand?
A – Yes, very much so. It has a long history of producing high-quality, competitively priced scanners and diagnostic tools.
Q – Are Foxwell products compatible with my vehicle?
A – Yes, there is a selection of connectors to cover all major marques.
Q – What about software updates?
A – Foxwell car scanners all come with at least three years of free software updates. The more advanced models have free lifetime software and firmware support.
Q – I have never used OBD2 equipment before. Will I understand it?
A – Yes. Foxwell offers entry-level scanners that are intuitive and easy to use. Once you learn more, you can progress to using their more specialized diagnostic software.
Q – Will I save money in the long run?
A – Definitely, yes. Many of the Foxwell tools cost less than a single trip to the auto-shop, one of the best things about owning a scanner.
Q – What about emissions testing?
A – By pressing the device's I/M key, you can check that all emissions-related sensors are ready for a smog test, which means there are issues to fix before your official test.
Q – Will Foxwell scanners find faults even if the check engine light hasn't come on?
A – Yes, these diagnostic scan tools will find issues even when the check engine light doesn't turn on.
Q – Do Foxwell's diagnostic tools tell you how to fix the problems?
A – Yes, there is a "?" button displayed next to the fault code diagnosis that will show the onboard technical help library's advice. 
Q – Will Foxwell scan tools show the history of erased codes?
A – Yes. There is a data log that stores your erased codes' history to access them later.