When it's time to buy a scanner, one of the first brands to look at is Foxwell. There are many considerations and even a certain amount of confusion for those new to the business.
What's my budget? Which specific OBD2 scan tool features do I need? Which models of car will it scan? How can I get software updates, and will customer support help me out in a crisis?
These were the questions buzzing around my head when I decided to purchase a new scanner recently. This article will take you through my thought process, reasoning, and what I decided in the end. The best scanner for you will depend on your circumstances, so I tried to consider the purchasing process from all perspectives.
Whether you are a complete newbie, a hobbyist replacing your previous scanner, a committed petrol-head, or a professional mechanic, I look at the decisions you face and offer the benefit of my experience. There will be some useful information for everyone thinking of buying a Foxwell scanner.
Best FOXWELL Scanners (Editor's Picks)
With a product line that includes professional, DIY, and entry-level car diagnostic tools, you can trust that there is at least one Foxwell scan tool that is perfectly suited for your auto needs.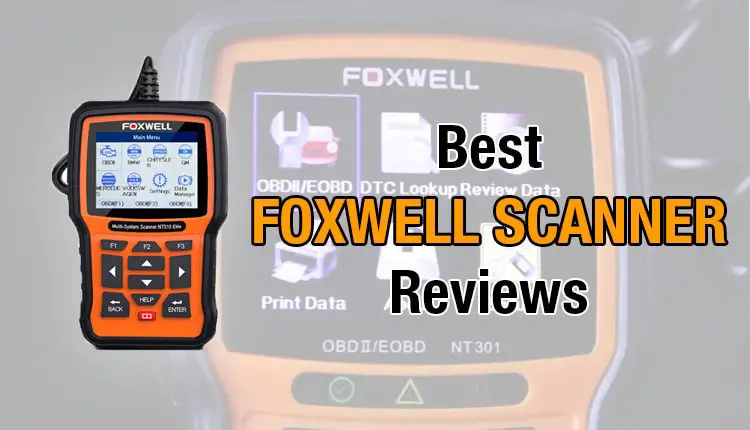 FOXWELL Scanner Buying Guide
Benefits
Save Time and Money
There are so many good reasons to own an OBD2 scanner these days. Everyone can diagnose and clear vehicle fault codes without the time and costs spent visiting a mechanic.
Save Your Trip
They should be standard equipment on your road trips to fault-find any problems at the side of the highway. If they are minor issues, then they can be fixed right there. If not, you don't have to trust an unknown local mechanic to tell you what the fault might be.
Expert Diagnostics
There are further benefits to Foxwell's brand products, such as its robust build-quality, an excellent reputation, and an extensive user community. Many independent forums discuss their scanners, and sometimes this honest, impartial, independent advice is the best.
Foxwell also supports a community of experts who are always happy to give advice.
Check Price at Amazon
Foxwell Scan Tools Types
What you buy depends on your needs, so we have broken Foxwell's inventory down into three broad sections below.
Basic Code Readers
These are smaller, handheld devices with modest LCD screens that plug directly into your car's OBD2 socket. They're mainly aimed at the newbies and inexperienced home mechanics and fit neatly in a toolbox. They're great for identifying and resetting fault codes whenever the check engine light comes on.
Check Price at Amazon
DIY Scanners
For the keen hobbyist and experienced home mechanic, Foxwell makes a great selection of more advanced scanners. They have bigger screens, more diagnostic functions and come with a range of more sophisticated software options. Besides OBD2 diagnostics, these scan tools let you read and clear codes of Non-OBD systems, perform some popular reset and service functions. Some of them allow you to diagnose all systems in your vehicle.
Check Price at Amazon
Professional Diagnostic Tools
Once you have gathered your performance data for the advanced diagnostic experts, you need to analyze it. Foxwell has some of the most impressive hardware and software on the market for this. Their tablet-style Windows/Android-based devices allow you to display real-time data on a much larger screen. They're designed to be tough enough to withstand the harsh environment of the motor mechanic. There's a range of diagnostic tools and software to display your performance data in practical graphs and charts, and they can save and share data across all standard formats.
Many of these devices allow you to reprogram your ECU and access ABS functions or calibration functions to ensure your sensors are measuring accurately.
Check Price at Amazon
Price Range
For some, the main aim of investing in a scanner is to save money on auto-repair bills. For others, they want to tinker with their vehicles and enhance their performance. Pro-mechanics generally buy the higher-end devices.
Budget is always a consideration, and there is no point in a DIY mechanic paying for a set of features they will never use. Conversely, if you are a pro, then you need to have all bases covered. We have broken down Foxwell's products into three price bands to simplify your decision.
Less Than $100: Perfect Choice for Newbies
At the more affordable end of the spectrum, Foxwell offers a quality range of entry-level scanners. There's a wide range of these handheld devices, ranging from $29.99 up to $100. The more expensive models have larger screens, so you will need to decide on your priorities here.
Check Price at Amazon
$100-$500: Made for DIYers / Home Mechanics
When you need more than just basic fault finding and diagnostics, you move up a step in functionality and price. There are around a dozen devices in the Foxwell range aimed at hobbyists and experienced DIY mechanics. They range in price from $119 to $450 if you buy a comprehensive set of connectors.
FOXWELL NT630 Plus
The NT630 Plus, an excellent scanners for DIY, supports a wide range of ABS tests including ABS bleeding.
Over $500: For Professional Mechanics or Shops
The upper end of the range is aimed at professional automotive technicians and diagnostic specialists. They are fine-looking devices, sturdily constructed, and are thoroughly reliable. They retail for between $500 to $800, depending on your software package and the connectors you buy.
However, there is a consensus among the expert community that Foxwell does not produce many diagnostic tools at this price range. The GT60 is among their products in this group.
Check Price at Amazon
Compatibility and Vehicle Coverage
There are dozens of makes and hundreds of models of vehicles on the road. Foxwell scan tools are compatible with almost all of them, including cars made by the US, EU, or Asian manufacturers.
Most hobbyists and DIY mechanics only ever work on their cars, but there is a comprehensive range of connectivity options across Foxwell price ranges. Professionals would typically buy a full suite of connectors and software, which can double the price of Foxwell's mid-range scanners. Check the list below to see whether you require a proprietary connector before you buy one.
Toyota 22 Pin & 17 Pin Connectors
BMW 20 Pin Connector
Honda 3 Pin Connector
GM & Daewoo 12 Pin Connector
Mazda 17 Pin Connector
Fiat 3 Pin Connector
Kia 20 Pin Connector
Audi 4 Pin Connector
Mercedes Benz 38 Pin Connector
OBD 16 Pin Connector
Nissan 14 Pin Connector
PSA 2 Pin Connector
Mitsubishi12 &16 Pin Connectors
Foxwell NT624 Elite - Full-system Scan Tool
FOXWELL NT624 Elite works perfectly for all cars and all systems.
Key Features
Almost all of Foxwell's diagnostic scanning devices record freeze-frame data, which tells you the engine state when a fault was recorded, a useful tool for establishing the root cause of a problem after the fact. It lets you know what else was playing up at the time.
All basic OBD devices of Foxwell read and clear generic and manufacturer specific codes. They reset the monitoring system and display the DTC code along with its definition. There's an on-screen help button which will show you probable causes and give you repair advice.
Foxwell's OBD2 scanning devices all feature an emissions readiness test and read the latest onboard O2 results. Some entry-level scanners even record live sensor data and present the results in intuitive graphs and charts.
Foxwell NT301 Full-OBD2 Scan Tool
Foxwell NT301 lets you perform any OBD2 functions on your car, including reading and clearing DTCs, O2 sensor testing, to viewing freeze frame data, live data.
The higher-end models feature larger, tablet-style screens and fully-optioned diagnostic software packages. The upper-end devices are bi-directional scan tools, enabling you to read faults and service/reprogram your car's systems.
Below is a list of the most used functions:
ABS (Anti-lock Braking System)
SRS (Airbags – Supplemental Restraint System)
EPB (Electronic Parking Brake)
TPMS (Tire Pressure Monitoring System)
SAS calibration (Steering Angle Sensor)
DPF Regeneration (Diesel Particulate Filter)
Foxwell NT614 Elite OBD1 and 2 Automotive Diagnostic Scan Tool
FOXWELL NT614 Elite offers a number of reset functions besides OBD2 diagnostics.
Other Considerations
Firmware and Software Updates
Foxwell OBD2 scanners are supported by continually evolving firmware and software. Updates are available to download, depending on which software package you bought. You get at least three years of free access to the latest releases, but Foxwell promises free lifetime updates for most of their range. They state that as long as they are manufacturing your scan-tool, you will continue to receive the free updates.
The process is quite simple; You need to open an account with Foxwell, register your device's serial number, and download your software. The updates are saved to an SD card that slots into your scan tool. Pro-tip – Remember to update regularly to avoid a long sequence of version downloads when you finally get round to it!
Technical Support
Tech support is doubly important when you are buying electronics. There are comprehensive instructions and hours of Youtube videos for those who get lost in the technology. However, Foxwell understands that you may want to talk to a real person eventually so that you can access online customer support via email and over the phone.
Foxwell Tech Support Website: https://www.foxwelltech.us/support.html
Online Foxwell User Community
Help and advice are also available from a community of Foxwell experts on their home forums and multiple independent forums. Any problems you encounter will likely have already been solved, so scour the topics before starting a new thread. They enjoy helping each other out and giving first-hand advice, so don't be shy about asking should you have a query.
Best Foxwell Scanner
1. FOXWELL NT301
Foxwell NT301 Full-OBD2 Scan Tool
If you need an automotive scanning tool that can perform any OBD2 tests and prepare for the next smog check, Foxwell NT301 is a perfect choice for you.
For its price, you would think that the Foxwell NT301 is just a code reader. The truth is that it does more than just read and clear codes. This OBD2 scan tool analyzes the Engine Control Unit (ECU) and retrieves beneficial information. You can use the info to determine the kind of repairs needed on the car. Also, it will tell you if repairs are even necessary in the first place.
Foxwell NT301 can read and erase engine-related DTCs. It will pinpoint and report all the causes of the Check Engine Light. With that information, you can turn the light off by fixing the faults.
Besides reading and clearing MIL (engine) codes, this Foxwell scan tool can reset monitors. It supports I/M readiness and O2 sensor tests. You can also use it for VIN retrieval, which in turn supports reading of manufacturer-specific codes and mode 6 data, viewing freeze frame data and live data of sensors.
There's a built-in lookup library that not only defines each code but also suggests possible fixes. Understanding the codes is very simple, thanks to the on-screen definitions provided by the device.
When you purchase the Foxwell NT301, you get free software updates for the lifetime of the device. The updates fix bugs and expand diagnosis coverage to include the latest auto technology.
The device works on OBD2 compatible vehicles of all mainstream vehicle brands, including Ford, GM, BMW, VW, Peugeot, Audi, Jaguar, Toyota, Nissan, Hyundai, Subaru so many more. More specifically, it covers US-based vehicles that were made from 1996 to date and Asia and Europe-made cars manufactured from 2001 to date.
Pros
Software updates quickly through the internet.
Offers full OBD2 diagnostic services.
An easy-to-use interface that features hotkeys and LED lights.
Very affordable scan tool
Supports multiple languages, including English, Spanish, French, Portuguese and Swedish.
Cons
No built-in battery relies solely on the car battery to function.
The software cannot be upgraded using Mac computers.
The diagnostic scope is limited to ECU.
No support for ABS, airbag, or oil service.
If you need an automotive scanning tool that can perform any OBD2 tests and prepare for the next smog check, Foxwell NT301 is a perfect choice for you.
Check Price at Amazon
2. FOXWELL NT630 Plus
FOXWELL NT630 Plus
The NT630 Plus supports a wide range of tests including ABS tests, function test, lamp test and so on.
The NT630 Plus is another Foxwell diagnostic tool that combines basic and advanced functions in a well-built and ergonomic device. It doesn't require a battery because it draws power directly from the OBD interface.
Like all other professional-level Foxwell scanning tools, the NT630 Plus supports full OBD2 functions, which means you can use it for deep scanning of the ECU. In other words, it can pull and clear all engine-related codes. Keep in mind that clearing engine codes will reset the Check Engine Light. So if you are looking for a device that will help you turn that nagging light off, this is one of them.
Alongside engine diagnostics, this code reader also checks other main systems of a car and reads/clears their codes, including the ABS and SRS. It also runs I/M readiness tests and displays vehicle information, freeze frame data, and live data, making it one of the most comprehensive scan tools made by Foxwell on the market.
While its system diagnosis is impressive, the NT630 Plus comes alive when running tests. In addition to I/M readiness tests, it supports a wide range of others. They include ABS tests (manual control, motor, and version tests), actuator test, automated test, ABS bleeding test (auto bleed test), ABS brake bleed preparation test, function test, lamp test, hydraulic control test, pump motor test, idle up manual control test and gear tension relief test.
You can use the NT630 Plus on any OBD2-compliant vehicle. If the car is a 1996 or newer model, it should be covered. Actually, its vehicle compatibility includes a whopping 52 brands that include all mainstream makes like GM, Ford, Honda, Hyundai, Subaru, Toyota, BMW, Chrysler, VW, Audi, etc.
Pros
Supports a wide range of bi-directional tests
Offers full OBD2 functions
Well-built for use in the rugged environment of a workshop
Displays live sensor data in text and graph
Has a very wide vehicle coverage
Cons
Not compatible with Mac systems
Doesn't cover the transmission system
Hundreds of experienced DIYers love this professional car diagnostic tool due to its wide array of advanced diagnostic features.
Check Price at Amazon
3. FOXWELL NT614 Elite
Foxwell NT614 Elite OBD1 and 2 Automotive Diagnostic Scan Tool
If you are an auto enthusiasts (advanced DIYers) or beginner technicians, you will be overwhelmed by NT614 Elite, surely!.
With a package deal that includes free lifetime software updates, fast and accurate diagnostics, and wide vehicle coverage, Foxwell NT614 Elite makes a list because of its reliability. So, what exactly should you expect to get when you buy this Foxwell diagnostic scanning tool? Here are the main features:
The NT614 Elite primarily diagnoses, reads, and clears codes of the engine, ABS, airbag, and transmission systems. That, in turn, makes it possible to clear the MIL, SRS, and ABS service lights. Also, this auto scanner offers the EPB service functions and supports the oil light reset.
The Foxwell NT614 Elite provides live sensor data in text and graph (PID) formats. It is possible to view two PIDs at the same time for comparison. You can even merge them if you want to know how they affect each other.
Of all the products on this list, the NT614 is the only one that supports OBD1 and OBD2 vehicles. It works on over 52 brands of American, Asian, and European vehicles, covering cars, light trucks, minivans, and SUVs made before 2016. It's worth noting that OBD1 cars are those manufactured from 1982 all the way to 1995. The OBD2 system came into use in 1996 and has been applied in vehicles to date. So if your car was manufactured any year starting from 1982, it's almost certainly compatible with this OBD2 code reader.
Pros
Works on OBD1 as well as OBD2 compliant vehicles.
Internet access makes software updating very easy.
Free software updates for life.
Comes with an SD card for data backup.
Ergonomic and solid design for durability.
Cons
A tad bit overkill for the ordinary car owner.
Supports light trucks and vans, but the OBD cable might be too short for such vehicles. You will have to bend downwards to read the screen.
If you are auto enthusiasts (advanced DIYers) or beginner technicians, you will surely be overwhelmed by NT614!
Check Price at Amazon
4. FOXWELL NT624 Elite
Foxwell NT624 Elite - Full-system Scan Tool
If you're an automotive technician, the Foxwell NT624 Elite is ideal for you!
A professional-grade scanner, the Foxwell NT624 Elite features a multilingual menu and very fast diagnosis. With a built-in code troubleshooter, you don't need to be a professional technician to use this tool. It will give you a description of each code, which makes it pretty reliable.
The scanning tool is compatible with almost all OBD2 compliant vehicles, including cars, light trucks, SUVs, and minivans. In total, the NT624 Elite's coverage consists of over 61 auto brands. While most other scanning tools only work on gas engines, this device covers hybrid and diesel vehicles manufactured from 1996 to date.
As far as functionality goes, the NT624 Elite supports all the 10 test modes of OBD2 diagnostics, which means that it can read and clear DTCs, run the O2 monitor and onboard monitor tests, provide live data, support OBD2 mode six and retrieve a vehicle's information.
Besides the OBD2 functions listed above, the device also supports advanced diagnostic functions. It scans all the main systems, including ECU, transmission, ABS, EPB, EPS, and air/heating conditioning, among others. You can run all those scans with just one click of a button. For certain vehicle models, the NT624 Elite allows for special functions like resetting oil service, ABS light, and EPB service.
This scanner tool identifies the vehicle and imitates a scan very quickly by retrieving a vehicle's VIN. That is part of the reason why it supports one-touch scanning.
Pros
Supports basic and advanced diagnosis.
Full-system diagnosis with service functions
Free updates for the life.
Comes with TF memory card for storing data.
Cons
Offers limited functions on diesel vehicles.
The software cannot be upgraded using Mac.
If you're an automotive technician, the Foxwell NT624 Elite is ideal for you!
Check Price at Amazon
5. FOXWELL NT201
Foxwell NT201 OBD2 Code Reader
If you are a newbie, FOXWELL NT201 makes a perfect fit.
Like most other Foxwell tools, the NT201 is a well-built and easy-to-use tool. It is made with the ordinary car owner in mind, and the features are proof of that.
First, this Foxwell OBD2 code reader is compatible with OBD2 vehicles. In case you're not sure, OBD2 cars are those manufactured in America from 1996 to date. As for foreign-made brands, it covers European and Asian-made vehicles manufactured from 2000 and 2008 respectively. That goes for cars and light trucks.
In terms of OBD2 functionality, NT201 offers full test modes from reading and clearing DTCs to view live data, retrieve I/M readiness, or test the EVAP sensor (Mode 6). Rather than taking the car to the shop every time the MIL comes on, you can use this device to determine the problem yourself and turn off the light.
Another handy feature of the Foxwell NT201 is that it retrieves a vehicle's information. You'll be able to view a car's ECU information, including the history of erased codes and replaced parts. That's quite handy when you're buying a new car.
Pros
10 OBDII test modes
Multilingual
For all OBD2 protocols
Deep ECU diagnosis
Easy to update online using a USB cable
DTC Lookup with code definitions
nteractive interface and self-explanatory menus make it easy to use.
Cons
Use manual has poor instructions.
Not support for the diagnosis of ABS, SRS, and transmission.
If you are a beginner that needs a car scanner that can perform basic OBD2 functions, don't miss NT201!
Check Price at Amazon
6. FOXWELL NT510 Elite
Foxwell NT510 Multi-System Automotive Scanner
The Foxwell NT510 is excellent for BMW enthusiasts and owners of small garages.
Foxwell NT510 features basic, advanced, and special service functions. Other than reading and erasing codes, diagnosing all systems in your car, it supports actuation, adaptation, programming, and essential service features.
As you probably expect, the tool reads OBD2 DTCs, which means if your car is OBD2 compatible, you can use this device to read and clear ECU codes. Each code comes with a brief description to help you understand the fault and possible fixes. Basically, clearing ECU fault codes will turn off the Check Engine Light. So if you're looking for a Foxwell code reader for doing that, then this is it.
If your BMW/MINI/Rolls-Royce was manufactured from 1996 to date, you could certainly use this tool for its diagnosis.
The Foxwell NT510 is excellent when it comes to scanning systems and performing special functions. First off, you can use it for coding/programming, deactivation, the adaptation of components, and resetting replacement control modules. For example, it does service oil reset, TPMS programming, SAS calibration, and regeneration of DPF. Secondly, it gives access to various systems, including chassis, powertrain, and body. As such, you can use it to service those systems, including EPB service, ABS service, and airbag service. Finally, the Foxwell NT510 retrieves vehicle information, precisely ECU information. It's essential to have such info because you'll know things like the last time the engine's codes were erased, parts that were replaced, and so much more.
Fitted on this scanner is a 2.8-inch color TFT screen with a backlight. It displays live sensor data in both graphical and text format. That should make it easy to analyze diagnostic results. Even better, you can tune it to a language of your preference. Your options include English, French, Spanish, German, Swedish, Russian, Chinese, and Hungarian.
Pros
Low budget scanner with high-end features.
A Plug-and-play device because the software is pre-installed.
Supports full system OBD2 diagnosis.
Easy to use and provides handy definitions and suggested fixes.
Sturdy and ergonomic design.
Cons
The manual is not so easy to understand.
The Foxwell NT510 is excellent for BMW enthusiasts and owners of small garages.
Check Price at Amazon
7. FOXWELL NT650 Elite
Foxwell NT650 Elite
This Foxwell NT650 Elite is trusted by hundreds of DIYers and auto technicians because of its various advanced and service functions
Featuring a sleek and modern design, the Foxwell NT650 Elite combines basic diagnostics with over ten service functions. As such, it makes a handy scan tool for car owners and professionals alike.
This diagnostic tool from Foxwell is made to provide diagnostics for OBD2-compliant cars and light trucks. It covers all 10 OBD2 test modes. So what's the implication of that? You can pull and clear codes from the car's engine system (ECU) in simpler words. When you clear those codes, you will be able to reset the Check Engine Light. Besides scanning the ECU, the NT650 Elite also reads and clears codes from ABS and SRS systems. Whenever their respective warning lights come on, you can easily erase the codes and turn off the light.
We already hinted that professionals could use this tool. That's because it packs many advanced diagnostic functions. The most notable are SAS calibration, bi-directional control tests, activation of TPMS sensors, battery management service (BMS), camshaft gear learning, injector coding, and throttle body alignment, just to name a few. These are typically functions that auto technicians need to maintain a car.
Also, the Foxwell NT650 Elite allows you to perform service reset functions. These, too, are essential for mechanics and DIY enthusiasts. Specifically, you can do ABS reset, SRS reset, EPB calibration, DPF regeneration, oil service light reset, and TPMS reset, enabling you to do almost any repairs at your shop.
Pros
Supports all 10 OBD2 test modes
Has an impressive design with a rubberized case
Large (480 x 272), backlit display makes navigation easy
A multilingual supported menu with over 10 languages. But you have to specify your language of preference when ordering
Comes with free lifetime updates
Cons
Doesn't have a reliable code troubleshooter
Might be too complicated for beginners because of the many advanced functions
Foxwell NT650 Elite is trusted by hundreds of DIY enthusiasts and auto technicians because of its various advanced and service functions.
Check Price at Amazon
Final Thoughts
If you've read this far, you should have a clear idea about which product from the Foxwell scan tool range is for you. The common denominator of all Foxwell's products is quality. They are robust and can take the knocks you'd expect in an engineering environment.
The Foxwell organization and community will guide you through any issues you may have. Remember, whatever stumbling blocks you face, someone will have already found the solution. It's just a case of searching the web and reading the forums.
To summarize the advice in this article, you should decide on your budget, current needs, future requirements, and skill level. Once you establish these factors, choosing the right Foxwell code reader will be a much simpler process.
Remember, the decision is about what you need versus what you can afford. You can always upgrade later if required.
FAQs
Q – Is Foxwell a reputable brand?
A – Yes, very much so. It has a long history of producing high-quality, competitively priced scanners and diagnostic tools.
Q – Are Foxwell products compatible with my vehicle?
A – Yes, there is a selection of connectors to cover all major marques.
Q – What about software updates?
A – Foxwell car scanners all come with at least three years of free software updates. The more advanced models have free lifetime software and firmware support.
Q – I have never used OBD2 equipment before. Will I understand it?
A – Yes. Foxwell offers entry-level scanners that are intuitive and easy to use. Once you learn more, you can progress to using their more specialized diagnostic software.
Q – Will I save money in the long run?
A – Definitely, yes. Many of the Foxwell tools cost less than a single trip to the auto-shop, one of the best things about owning a scanner.
Q – What about emissions testing?
A – By pressing the device's I/M key, you can check that all emissions-related sensors are ready for a smog test, which means there are issues to fix before your official test.
Q – Will Foxwell scanners find faults even if the check engine light hasn't come on?
A – Yes, these diagnostic scan tools will find issues even when the check engine light doesn't turn on.
Q – Do Foxwell's diagnostic tools tell you how to fix the problems?
A – Yes, there is a "?" button displayed next to the fault code diagnosis that will show the onboard technical help library's advice.
Q – Will Foxwell scan tools show the history of erased codes?
A – Yes. There is a data log that stores your erased codes' history to access them later.
Read more: Best Autel Scanners Review and Comparison