If you ask me which brand of OBD2 scanners is the most reliable and efficient, Foxwell is likely to come to mind.
Foxwell scan tool is considered a must-have device for any car owner or mechanic due to its advanced features and user-friendly interface.
But which Foxwell scanner is best for you?
It can be challenging to tell as so many Foxwell scanners are on the market.
Fortunately, I've got you covered with a list of the 5 best Foxwell scanners.
Need a quick recommendation? Here are my top 5 picks!
---
5 Best Foxwell Scanners: Comparison Chart
[Mobile users: Swipe left for full table]
---
In this article:
---
5 Best Foxwell Scanners: Detailed Review
#1. FOXWELL NT301: Best OBD2 code reader
Foxwell NT301
Pros
Affordable

Easy to use and understand

Useful live data

Quick and accurate code reading
Cons
Hard to update

No detailed manual attached

No ABS/airbag resetting
What Makes Me Like Foxwell NT301?
1. Quick and accurate code reading
The Foxwell NT301 is an excellent diagnostic tool that provides accurate and reliable results.
This feature allows me to quickly identify and resolve any issues with the engine and transmission.
Recently, I had the opportunity to use the Foxwell NT301 on a 2005 Honda Accord, and it performed exceptionally well. 
Specifically, I was able to identify and clear thermostat temperature and battery errors. 
Overall, I am impressed with the Foxwell NT301's performance, and it has become an invaluable tool in my garage.
2. Live data function is excellent but has minimal lag
Live data is one of the handy features that works magic. I always use it when doing my repairs; its capabilities are truly amazing.  
Foxwell NT301 provides accurate and detailed real-time data for easy diagnostics and troubleshooting. 
Live data monitoring is very quick in gathering information. Therefore, you can see changes in sensor voltage in real time.
This is useful for finding the roots of troubles in components such as O2 sensors and TPS. 
The refresh rate is around 5-10 times a second, therefore, expect minimal lag.
What I Dislike?
1. No detailed manual attached
My product only came with a quick start guide which isn't very helpful, but you can download the manual from the Foxwell website using this link.
Additionally, you can watch the video below and learn how it works:
2. Hard to update
Foxwell NT301 works perfectly, but I found it hard to update the software. 
First, I can't update it since the update tool does not support Mac computers.
Additionally, I had to download the NT Wonder application – the update software I installed on my Windows computer to update Foxwell NT301.
3. Can't reset ABS/airbag lights
Foxwell NT301 supports engine and transmission systems only. Therefore, it can't reset the ABS or airbag lights.
If you need more features like reading and clearing ABS, and SRS codes, I recommend buying FOXWELL NT630 Plus or FOXWELL NT604 Elite instead.
Vehicle Coverage
Foxwell NT301 is compatible with most OBDII cars and light-duty trucks. However, I suggest you check your vehicle compatibility before purchasing using the link.
For further assistance, use this email link: [email protected]
Key Takeaway
If you are a newbie looking for a cheap and basic code reader, then Foxwell NT301 is a perfect choice. 
Knowing what check engine lights mean allows you to decide whether to fix the car yourself or hire a professional.
You won't have to pay diagnostic fees or waste money on unnecessary repairs with the NT301.
Check its price out below:
---
#2. FOXWELL NT630 Plus: Best scanner for solving all ABS/SRS problems
Foxwell NT630 Plus
Pros
4 main system diagnosis

Useful ABS bleeding

User-friendly interface

SAS resetting
Cons
Requires extra connectors on some cars

No screen brightness adjustment
What Makes Me Like Foxwell NT630 Plus?
1. Work perfectly for ABS Bleeding
Foxwell NT630 Plus is very useful for bleeding the ABS and removing air from the brake system after replacing components.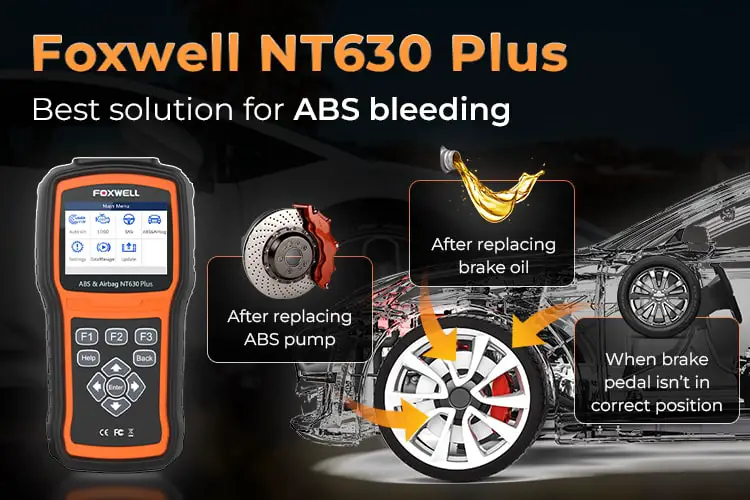 I have managed to cycle individual components within the ABS to improve brake pedal firmness, brake performance, and clear warning lights. 
Honestly, I feel it's fair to call the Foxwell NT630 Plus the best solution for ABS bleeding.
2. Easily reset ABS/SRS lights
I found the Foxwell NT630 Plus to be a versatile scan tool.
It can diagnose ABS and SRS issues, and reset warning lights that remain illuminated even after disconnecting the battery.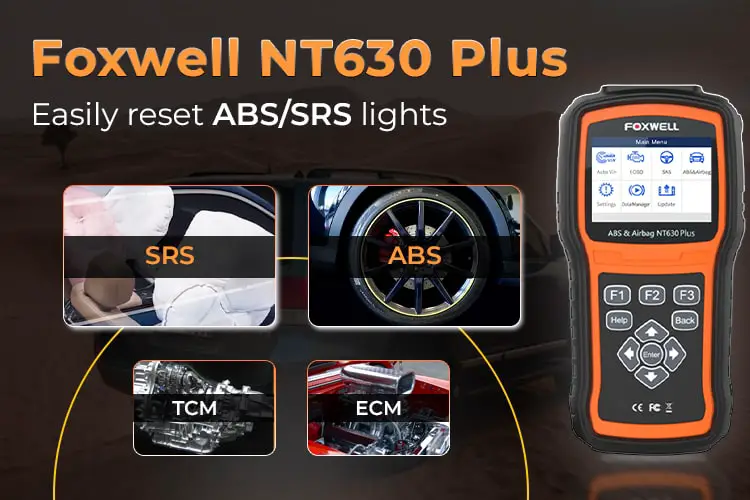 The device also provides valuable information about codes and their likely causes.
When I used it to diagnose a faulty impact sensor on a 2007 GMC Sierra, the process was simple and fast. 
Likewise, resetting the airbag light on a 2004 Honda Pilot was like a walk in the park with the Foxwell NT630 Plus.
3. Work perfectly to reset SAS
NT630 Plus can perform SAS recalibration tasks on various vehicles.
Using the scanner, you have the ability to rest SAS on your own and reduce your maintenance costs.
This function will save you tons of money since the dealerships charge $240/hr to perform this task in 2 hours.
What I Dislike?
1. Need extra connectors for some car models
The Foxwell NT630 Plus requires extra connectors for certain car models. Unfortunately, Foxwell does not sell the adapters. You have to buy the adapters from Amazon. 
In my case, I had to buy a CCD adapter from Amazon to perform ABS bleeding on a Chrysler. 
2. No screen brightness adjustment
While the Foxwell NT630 Plus is a well-made scanner that functions well, it lacks screen brightness adjustment. When doing my repairs outside, I find it difficult to read the information under direct sunlight.
Additionally, the small screen and font size can be challenging for users who require reading glasses. Despite these issues, it is still a good option.
Vehicle Coverage
Foxwell NT630 Plus is compatible with OBD II cars and light-duty trucks. However, please confirm the compatibility on the Foxwell vehicle coverage page.
For further assistance, use this email: [email protected]
Key Takeaway
Foxwell NT630 Plus is ideal for those seeking a four-system scanner that can perform ABS bleeding.
With this unit, you can have control over your car's maintenance and save money by avoiding dishonest mechanics.
It's the cheapest option in the market that can auto-bleed most vehicles.
---
#3. FOXWELL NT604 Elite: Best OBD2 scanner for live data
FOXWELL NT604 Elite
Pros
Easy to use

4 system diagnostics

Compact and portable

Rugged design

Large display screen
Cons
Slow speed to pull codes & autoVIN

No reset service functions

Difficulty understanding menu items
What Makes Me Like Foxwell NT604 Elite?
1. Rugged and handy design
The Foxwell NT604 Elite's rugged and handy design is a major selling point for me. Its protective case is of great help if you accidentally drop the scanner.
The letters and numbers on the buttons are durable, they have held up well despite my abuse.
2. Large screen for live data stream
The scanner comes with a large (4.3 inches) display as opposed to the small screens on the NT630 Plus and NT301 scanners. 
Therefore, you can view various data points like engine RPM, coolant temperature, air temperature, and much more at the same time. 
The live data graph display is large enough for me to identify ABS malfunction easily. 
I also like the ability to scan in real-time while the engine is running. As a result, I can assess overall performance and identify any flaws as quickly as possible.
3. A powerful four-system scan tool
Foxwell NT604 Elite is a powerful and quality scan tool that can analyze and detect problems in a vehicle's ABS, SRS, Engine, and transmission systems. 
I'm always impressed by its ability to identify engine and ABS light problems and highlight the wheel causing the issue. 
Honestly, NT604 Elite is an amazing 4-system scan tool able to diagnose and clear codes easily as well as save you from those costly trips to dealerships.
What I Dislike?
The biggest issue when using Foxwell NT604 Elite scan tool is its slow processing speed. 
From my experience, the slow response time is evident when I'm pulling codes, using live data, or scanning VINs. 
In some cases, I observed that NT604 Elite took around one minute to communicate with the vehicle's module. 
The auto VIN feature is faster than typing manually, but it's a bit slow.
Vehicle Coverage
Before making a purchase of the Foxwell NT604 Elite scanner, it's important to check if it covers your vehicle.
Visit Foxwell's website to view the complete vehicle coverage list, or contact [email protected] for assistance.
Key Takeaway
If you are tired of small screens, the Foxwell NT604 Elite is a perfect option. It gives you exceptional beauty and experience when streaming live data on its large and clear display. 
The ability to read and clear codes from 4 main systems make NT604 an excellent investment for any home mechanic.
See Foxwell NT604 Elite's latest price here:
If you need an alternative, then the Foxwell NT624 Elite is another great option – it can carry out full system diagnosis. 
---
#4. FOXWELL NT624 Elite: Best All-system Diagnostic Scan Tool
Foxwell NT624 Elite
Pros
Easy to use design

5 service functions

Full system diagnostics

Large display
Cons
Confusing to update software

No bi-directional control
What Makes Me Like Foxwell NT624 Elite?
1. Easily read and clear codes on all modules
The Foxwell NT624 Elite is a great scanner, it is able to read and clear codes on all modules of a car, including tricky codes like ABS. 
Its speed at gathering information is something to talk about. It took less than 3 minutes to identify a faulty sensor on the right front wheel on a 2012 BMW 328i. This took me by surprise.
2. Repair more with 5 service functions
From the 2022 version, Foxwell added: ABS bleeding, SAS calibration and throttle reset to make a total of 5 service functions.
The 5 service functions enable you to perform more repairs on your own in the comfort of your home.
Using the NT624 Elite, I replaced the rear brake pads with an electronic park brake on my neighbor's 2019 Audi Q3. It worked flawlessly as advertised.
For sure, the number of things you can achieve using NT624 Elite 5 service functions is undeniably satisfying. 
3. Easy-to-use design
The scanner has well-laid-out rubberized buttons that make it easy to navigate even when I am wearing gloves. 
Additionally, there is a 4.3″ TFT clear display with well-laid-out information screens for easy reading. 
Finally, the tool is intuitive to use. By using screen prompts alone, I can navigate comfortably without the help of a user manual. 
What I Dislike?
1. It's confusing to update software
Foxwell NT624 Elite requires a software update before use. To update the scanner, you have to use the NT Wonder program. Get it here – https://www.foxwelltech.us/support-tools.html
This can be time-consuming for Mac users since you require a Windows-based computer and USB cable. Also, the NT Wonder program is a little bit confusing, slow, and buggy.  
Overall, NT624 Elite is a great tool but I feel that the software update process should be improved to provide a better user experience.
2. No bi-directional control
Foxwell NT624 Elite isn't a bi-directional diagnostic tool. Therefore, you cannot perform active tests as well as bi-directional control of vehicle's systems. 
This may be a limitation for some users. However, the Foxwell NT809BT is a great option – it has bi-directional control and active testing capabilities.
Read the Foxwell NT809BT bi-directional scan tool review here.
Vehicle Coverage
The scanner is compatible with more than 60 OBD2 car brands from 1996 to date.
However, you need to update the software to cater to the latest cars in the market.
Get the vehicle's coverage page on Foxwell's website or contact their support team at [email protected] for any inquiries.
Key Takeaway
The Foxwell NT624 Elite is an excellent tool for detecting problems with your vehicles. It also has 5 service functions, which makes it an excellent choice for car maintenance at home.
Buy it now!
Then there's no need to go to the mechanics unless it's something major like programming ECU.
Check its price below:
But if you need an advanced scanner with bi-directional control, consider buying Foxwell NT809BT instead. 
---
#5. FOXWELL NT809BT: Affordable bi-directional scanner with wireless connection
FOXWELL NT809BT
Pros
Powerful bi-directional control

30+ reset functions

Responsive touch screen

Wireless connection
What Makes Me Like Foxwell NT809BT?
1. Great bi-directional controls for all systems
FOXWELL NT809BT is an affordable option for those who need a powerful bi-directional scanner that can send commands to all vehicle systems.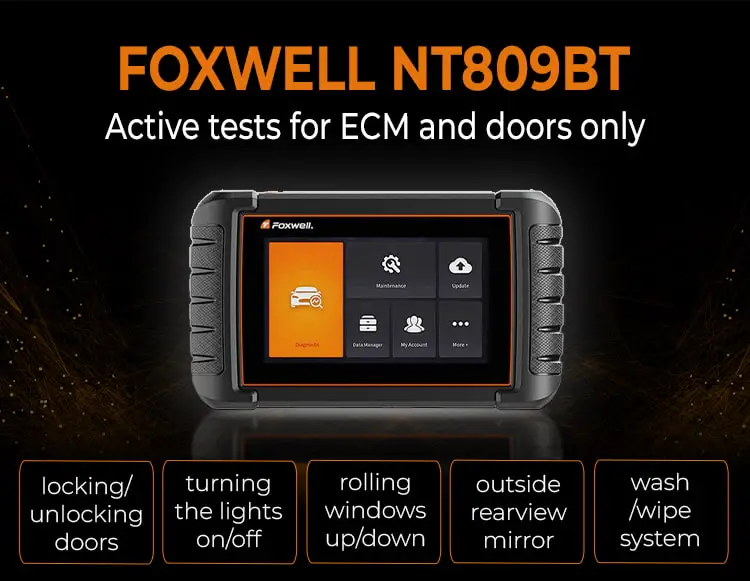 With the ability to perform active tests and control various systems, I have found NT809BT perfect for testing and confirming the working status of different car modules, such as:
Central locking system
Wash/wipe system
Outside rearview mirror
Main/left temp actuator position
Front mode 1 actuator position
Recirculation door actuator position
Front blower state
Recirculation indicator
Left low beam/ high beam
Right low beam/ high beam
2. Wise design for better user experience
With a touchscreen and intuitive interface, I found Foxwell NT809BT quite easy to use and navigate through the menus even with my gloves on.
It also comes with a Bluetooth VCI that I use to freely move in/out/around the vehicle rather than needing to be close to the OBD2 connector.
Bluetooth works flawlessly without lag.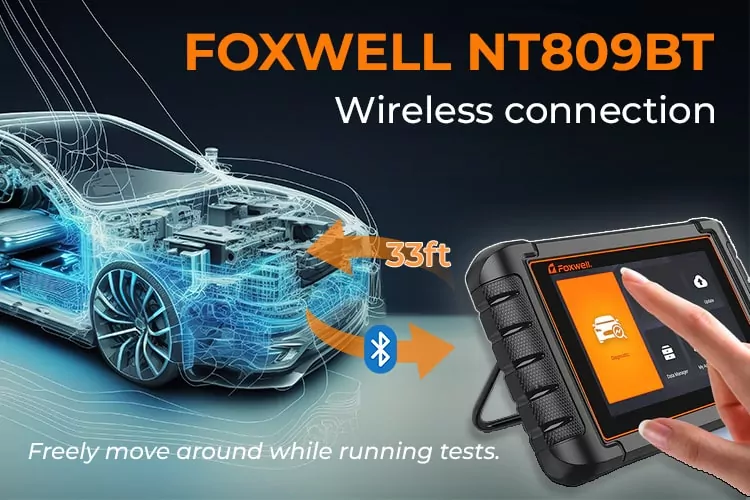 3. Powerful Reset Tool with 30+ service functions
Foxwell NT809BT is a powerful reset tool with more than 30 service functions. 
To mention a few, we have an electronic parking brake, service reminder, and service reminders or condition-based service reset for MINI and BMW. 
One specific example of the tool's effectiveness occurred when I used it to reset the service reminder on a BMW 5 Series. 
With just a few clicks, the Foxwell NT809BT was able to clear the reminder and restore the vehicle's performance to its optimal state.
What I Dislike?
Despite boasting over 30 service functions, the NT809BT scanner might not be a complete solution for car maintenance and repair due to a lack of key programming. 
You might need to spend extra money on a separate key programmer to fill this gap.
However, the NT809BT scanner does provide a broad range of other maintenance and diagnostic features that have been really beneficial in my repairs.
Vehicle Coverage
Before purchasing the Foxwell NT809BT diagnostic tool, I recommend you check the vehicle coverage page for compatibility at their official website.
Also, you can contact their support team at [email protected]
Key Takeaway
If you're a mechanic or experienced enthusiast looking for an advanced scanner, then the NT809BT scanner is a good choice.
Buy it, you will get:
Powerful active tests for all car components 
Wireless connection for remote diagnostics 
Touch screen enables you to navigate easier 
However, this scan tool doesn't allow you to reprogram new key fobs. If key programming is an essential function for you, I recommend you read this review to find your best fit.
Check Foxwell NT808BT's price here:
---
Foxwell has a variety of scanners but the best picks are:
Cheapest Scanner – Foxwell NT301: Basic code reader that is affordable and easy to use.
Best All-round Scanner – Foxwell NT630 Plus: More advanced scanner with ABS bleeding and bi-directional control.
Best Professional Scanner – Foxwell NT809BT: Wireless scan tool for full system diagnostics and bi-directional control.
Leave a comment below and let me know your thoughts after reading my review.
Your feedback is highly appreciated, it helps me provide better content for you.
---
FAQs
Which is the best Foxwell scanner to buy?
The best Foxwell scanner to buy will depend on your specific needs and budget.
If you're looking for a code reader for basic tasks such as reading engine codes or viewing live data, the affordable yet powerful Foxwell NT301 would be a suitable choice.
However, if you require a more advanced scanner for complex repair jobs, you may want to consider the Foxwell NT624, which offers full-system scanning and 8 service functions.
Alternatively, the bidirectional capabilities of the Foxwell NT809BT make it another excellent option for advanced diagnostics and repair tasks.
Is Foxwell a good scanner?
Yes, Foxwell is generally regarded as a good scanner brand. They offer a wide range of OBD2 scanners and diagnostic tools that are known for their quality, reliability, and functionality.
Many users have reported positive experiences with Foxwell scanners, praising their accuracy, ease of use, and comprehensive diagnostic capabilities.
Additionally, Foxwell provides regular software updates to ensure compatibility with newer vehicle models and improve overall performance.
Where are Foxwell scanners made?
Foxwell scanners are manufactured in China. The company has its headquarters in Shenzhen, China, and their products are produced and distributed from there.
While the manufacturing takes place in China, Foxwell products are sold and distributed globally, reaching customers in various countries around the world.