Foxwell is unquestionably one of the best scan tool brands in the market because of its focus on durability and accuracy. It should come as no surprise that theses scan tools are well-known all over the world. The biggest task is narrowing down your choices to a particular one.
It's a good thing you're here because on this page we have reviewed the top 7 best Foxwell OBD Scanners in 2020. We've spent hundreds of hours testing and comparing the accuracy, durability, price, and compatibility of almost all of OBDII scan tools from Foxwell in the market today to come to this shortlist to make sure that they bring the most benefits to users like you.
Types of FOXWELL Scanners
There are three main types of scan tools made by the Foxwell company: basic OBD2 code readers for beginners, enhanced OBD2 Scanners for home mechanics, and professional diagnostic scanners for automotive technicians.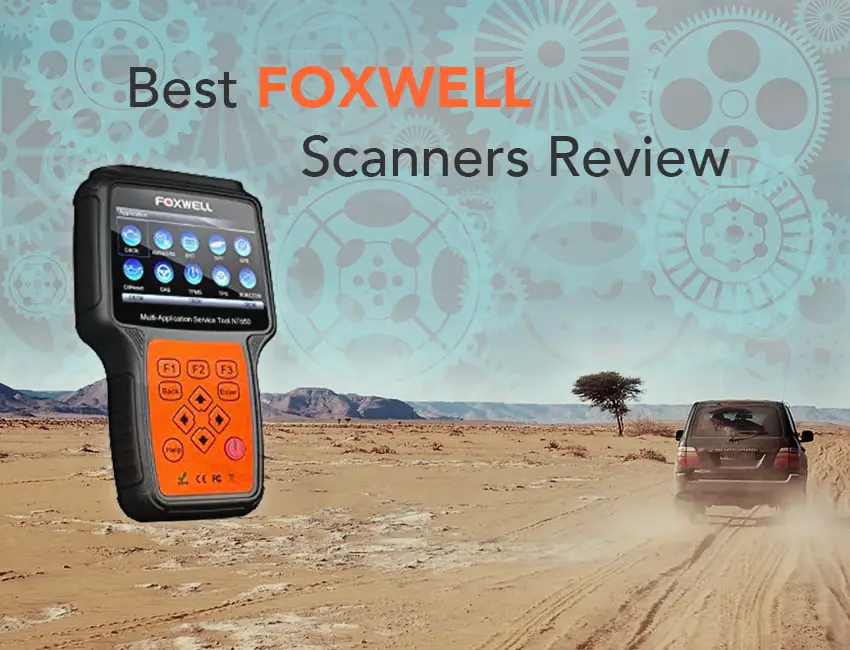 Best Foxwell Scanner
With a product line that includes professional, DIY and entry-level car diagnostic tools, you can trust that there is at least one Foxwell code reader that is perfectly suited for your auto needs.
1. FOXWELL NT624 Elite Full Systems Diagnostic Scan Tool
Foxwell NT624 Elite - Full-system Scan Tool
If you're an automotive technician, the Foxwell NT624 Elite is ideal for you!
A professional-grade scanner, the Foxwell NT624 Elite features a multilingual menu and very fast diagnosis. With a built-in code troubleshooter, you don't need to be a professional technician to use this tool. It will give you a description of each code, which makes it pretty reliable.
The scanning tool is compatible with almost all OBD2 compliant vehicles including cars, light trucks, SUVs, and minivans. In total, the NT624 Elite's coverage consists of over 61 auto brands. While most other scanning tools only work on gas engines, this device covers hybrid and diesel vehicles manufactured from 1996 to date.
As far as functionality goes, the NT624 Elite supports all the 10 test modes of OBD2 diagnostics, which means that it can read and clear DTCs, run the O2 monitor and onboard monitor tests, provide live data, support OBD2 mode 6 and retrieve a vehicle's information.
Besides the OBD2 functions listed above, the device also supports advanced diagnostic functions. It scans all the main systems, including ECU, transmission, ABS, EPB, EPS and air/heating conditioning among others. You can run all those scans with just one click of a button. For certain vehicle models, the NT624 Elite allows for special functions like resetting oil service ABS light and EPB service.
By retrieving a vehicle's VIN number, this scanner tool identifies the vehicle and imitates a scan very quickly. That is part of the reason why it supports one-touch scanning.
Pros
Supports basic and advanced diagnosis.
Full-system diagnosis with service functions
Free updates for the life.
Comes with TF memory card for storing data.
Cons
Offers limited functions on diesel vehicles.
The software cannot be upgraded using Mac.
If you're an automotive technician, the Foxwell NT624 Elite is ideal for you!
Check Price at Amazon
2. FOXWELL NT630 Plus – ABS Bleeding Tool
FOXWELL NT630 Plus
You cannot find any other scan tool at this price that can do ABS bleeding.
The NT630 Plus is yet another Foxwell diagnostic tool that combines basic and advanced functions in a well-built and ergonomic device. It doesn't require a battery because it draws power directly from the OBD interface.
Like all other professional-level Foxwell scanning tools, the NT630 Plus supports full OBD2 functions, which means you can use it for deep scanning of the ECU. In other words, it can pull and clear all engine-related codes. Keep in mind that clearing engine codes will reset the Check Engine Light. So if you are looking for a device that will help you turn that nagging light off, then this is one of them.
Alongside engine diagnostics, this code reader also checks other main systems of a car and reads/clears their codes including the ABS and SRS. It also runs I/M readiness tests and displays vehicle information, freeze frame data, and live data, which makes it one of the most comprehensive scan tools made by Foxwell on the market.
While its system diagnosis is impressive, the NT630 Plus comes alive when running tests. In addition to I/M readiness tests, it supports a wide range of others. They include ABS tests (manual control, motor, and version tests), actuator test, automated test, ABS bleeding test (auto bleed test), ABS brake bleed preparation test, function test, lamp test, hydraulic control test, pump motor test, idle up manual control test and gear tension relief test.
You can use the NT630 Plus on any OBD2-compliant vehicle. If the car is a 1996 or newer model then it should be covered. Actually, its vehicle compatibility includes a whopping 52 brands that include all mainstream makes like GM, Ford, Honda, Hyundai, Subaru, Toyota, BMW, Chrysler, VW, Audi, etc.
Pros
Supports a wide range of bi-directional tests
Offers full OBD2 functions
Well-built for use in the rugged environment of a workshop
Displays live sensor data in text and graph
Has a very wide vehicle coverage
Cons
Not compatible with Mac systems
Doesn't cover the transmission system
Hundreds of experienced DIYers love this professional car diagnostic tool due to its wide array of advanced diagnostic features.
Check Price at Amazon
3. FOXWELL NT301 Professional OBD2 Code Reader
Foxwell NT301 Full-OBD2 Scan Tool
If you need an automotive scanning tool that can perform any OBD2 tests and prepare for the next smog check, Foxwell NT301 is a perfect choice for you.
For its price, you would think that the Foxwell NT301 is just a code reader. The truth is that it does more than just read and clear codes. This OBD2 scan tool analyzes the Engine Control Unit (ECU) and retrieves very helpful information. You can use the info to determine the kind of repairs needed on the car. Also, it will tell you if repairs are even necessary in the first place.
Foxwell NT301 can read and erase engine-related DTCs. It will pinpoint and report all the causes of the Check Engine Light. With that information, you can turn the light off by fixing the faults.
Besides reading and clearing MIL (engine) codes, this Foxwell scan tool can reset monitors. It supports I/M readiness and O2 sensor tests. You can also use it for VIN retrieval, which in turn supports reading of manufacturer-specific codes and mode 6 data, viewing freeze frame data and live data of sensors.
There's a built-in lookup library that not only defines each code but also suggests possible fixes. Understanding the codes is very simple thanks to the on-screen definitions provided by the device.
When you purchase the Foxwell NT301, you get free software updates for the lifetime of the device. The updates fix bugs and expand diagnosis coverage to include the latest auto technology.
The device works on OBD2 compatible vehicles of all mainstream vehicle brands include Ford, GM, BMW, VW, Peugeot, Audi, Jaguar, Toyota, Nissan, Hyundai, Subaru and so many more. More specifically, it covers US-based vehicles that were made from 1996 to date as well as Asia and Europe-made vehicles manufactured from 2001 to date.
Pros
Software updates easily through the internet.
Offers full OBD2 diagnostic services.
Easy-to-use interface that features hotkeys and LED lights.
Very affordable scan tool
Supports multiple languages, including English, Spanish, French, Portuguese and Swedish.
Cons
No built-in battery relies solely on the car battery to function.
The software cannot be upgraded using Mac computers.
The diagnostic scope is limited to ECU.
No support for ABS, airbag, or oil service.
If you need an automotive scanning tool that can perform any OBD2 tests and prepare for the next smog check, Foxwell NT301 is a perfect choice for you.
Check Price at Amazon
4. FOXWELL NT201 Universal OBD2 Code Reader
Foxwell NT201 OBD2 Code Reader
If you are a newbie, FOXWELL NT201 makes a perfect fit.
Like most other Foxwell tools, the NT201 is a well-built and easy-to-use tool. It is made with the ordinary car owner in mind, and the features are proof of that.
First, this Foxwell OBD2 code reader is compatible with OBD2 vehicles. In case you're not sure, OBD2 cars are those manufactured in America from 1996 to date. As for foreign-made brands, it covers European and Asian-made vehicles manufactured from 2000 and 2008 respectively. That goes for cars and light trucks.
In terms of OBD2 functionality, NT201 offers full test modes from reading and clearing DTCs to viewing live data, retrieving I/M readiness, or testing EVAP sensor (Mode 6). Rather than taking the car to the shop every time the MIL comes on, you can use this device to determine the problem yourself and turn off the light.
Another handy feature of the Foxwell NT201 is that it retrieves a vehicle's information. You'll be able to view a car's ECU information, including the history of erased codes and replaced parts. That's quite handy when you're buying a new car.
Pros
10 OBDII test modes
Multilingual
For all OBD2 protocols
Deep ECU diagnosis
Easy to update online using a USB cable
DTC Lookup with code definitions
nteractive interface and self-explanatory menus make it easy to use.
Cons
Use manual has poor instructions.
Not support for the diagnosis of ABS, SRS, and transmission.
If you are a beginner that needs a car scanner that can perform basic OBD2 functions, don't miss NT201!
5. FOXWELL NT614 Elite ABS Airbag Scan Tool
Foxwell NT614 Elite OBD1 and 2 Automotive Diagnostic Scan Tool
If you are an auto enthusiasts (advanced DIYers) or beginner technicians, you will be overwhelmed by NT614 Elite, surely!.
With a package deal that includes free lifetime software updates, fast and accurate diagnostics, and wide vehicle coverage, Foxwell NT614 Elite makes the list because of its reliability. So, what exactly should you expect to get when you buy this Foxwell diagnostic scanning tool? Here are the main features:
The NT614 Elite primarily diagnoses, reads, and clears codes of the engine, ABS, airbag, and transmission systems. That, in turn, makes it possible to clear the MIL, SRS and ABS service lights. In addition, this auto scanner offers the EPB service functions and supports the oil light reset.
The Foxwell NT614 Elite provides live sensor data in text and graph (PID) formats. It is possible to view two PIDs at the same time for comparison. You can even merge them if you want to know how they affect each other.
Of all the products on this list, the NT614 is the only one that supports OBD1 and OBD2 vehicles. It works on over 52 brands of American, Asian and European vehicles, covering cars, light trucks, minivans and SUVs made prior to 2016. It's worth noting that OBD1 vehicles are those manufactured from 1982 all the way to 1995. The OBD2 system came into use in 1996 and has been applied in vehicles to date. So if your car was manufactured any year starting from 1982 then it's almost certainly compatible with this OBD2 code reader.
Pros
Works on OBD1 as well as OBD2 compliant vehicles.
Internet access makes software updating very easy.
Free software updates for the life.
Comes with an SD card for data backup.
Ergonomic and solid design for durability.
Cons
A tad bit overkill for the ordinary car owner.
Supports light trucks and vans but the OBD cable might be too short for such vehicles. You will have bend downwards to read the screen.
If you are an auto enthusiasts (advanced DIYers) or beginner technicians, you will be overwhelmed by NT614, surely!
Check Price at Amazon
6. FOXWELL NT510 Elite Full-System Automotive Scanner
Foxwell NT510 Multi-System Automotive Scanner
The Foxwell NT510 is excellent for BMW enthusiasts and owners of small garages.
Foxwell NT510 features basic, advanced, and special service functions. Other than reading and erasing codes, diagnosing all systems in your car, it supports actuation, adaptation, programming, and essential service features.
As you probably expect, the tool reads OBD2 DTCs, which means if your car is OBD2 compatible, you can use this device to read and clear ECU codes. Each code comes with a brief description to help you understand the fault and possible fixes. Basically, clearing ECU fault codes will turn off the Check Engine Light. So if you're looking for a Foxwell code reader for doing that then this is it.
If your BMW/MINI/Rolls-Royce was manufactured from 1996 to date, it's certain you can use this tool for its diagnosis.
The Foxwell NT510 is excellent when it comes to scanning systems and performing special functions. First off, you can use it for coding/programming, deactivation, the adaptation of components, and resetting replacement control modules. For example, it does service oil reset, TPMS programming, SAS calibration, and regeneration of DPF. Secondly, it gives access to various systems, including chassis, powertrain, and body. As such, you can use it to service those systems including EPB service, ABS service, and airbag service. Finally, the Foxwell NT510 retrieves vehicle information, specifically ECU information. It's important to have such info because you'll know things like the last time the engine's codes were erased, parts that were replaced and so much more.
Fitted on this scanner is a 2.8-inch color TFT screen with a backlight. It displays live sensor data in both graphical and text format. That should make it easy to analyze diagnostic results. Even better, you can tune it to a language of your preference. Your options include English, French, Spanish, German, Swedish, Russian, Chinese and Hungarian.
Pros
Low budget scanner with high-end features.
A Plug-and-play device because the software is pre-installed.
Supports full system OBD2 diagnosis.
Easy to use and provides handy definitions and suggested fixes.
Sturdy and ergonomic design.
Cons
The manual is not so easy to understand.
The Foxwell NT510 is excellent for BMW enthusiasts and owners of small garages.
Check Price at Amazon
7. FOXWELL NT650 Elite Car Diagnostic Tool
Foxwell NT650 Elite
This Foxwell NT650 Elite is trusted by hundreds of DIYers and auto technicians because of its various advanced and service functions
Featuring a sleek and modern design, the Foxwell NT650 Elite combines basic diagnostics with over 10 service functions. As such, it makes a handy scan tool for car owners and professionals alike.
This diagnostic tool from Foxwell is made to provide diagnostics for OBD2-compliant cars and light trucks. It covers all 10 OBD2 test modes. So what's the implication of that? In simpler words, you can pull and clear codes from the car's engine system (ECU). When you clear those codes you will be able to reset the Check Engine Light. Besides scanning the ECU, the NT650 Elite also reads and clears codes from ABS and SRS systems. Whenever their respective warning lights come on you can easily erase the codes and turn off the light.
We already hinted that professionals can use this tool. That's because it packs a number of advanced diagnostic functions. The most notable are SAS calibration, bi-directional control tests, activation of TPMS sensors, battery management service (BMS), camshaft gear learning, injector coding, and throttle body alignment just to name a few. These are typically functions that auto technicians need to maintain a car.
In addition, the Foxwell NT650 Elite allows you to perform service reset functions. These, too, are essential for mechanics and DIY enthusiasts. Specifically, you can do ABS reset, SRS reset, EPB calibration, DPF regeneration, oil service light reset and TPMS reset, which enables you to do almost any repairs at your shop.

Pros
Supports all 10 OBD2 test modes
Has an impressive design with a rubberized case
Large (480 x 272), backlit display makes navigation easy
A multilingual supported menu with over 10 languages. But you have to specify your language of preference when ordering
Comes with free lifetime updates
Cons
Doesn't have a reliable code troubleshooter
Might be too complicated for beginners because of the many advanced functions
Foxwell NT650 Elite is trusted by hundreds of DIY enthusiasts and auto technicians because of its various advanced and service functions
Check Price at Amazon
The Bottom Line
As you may notice scanners from Foxwell come with varying capabilities and prices. So it doesn't matter what you're shopping for and how much you have to spend, you can rest assured that there is a suitable one for you.
Read more: Best Autel Scanners Review and Comparison