Have you been looking for a reliable and versatile scanner for your car? Look no further than the Foxwell NT809BT.
With its advanced features and Bluetooth connectivity, it's a must-have tool for any car enthusiast or mechanic.
In this review, I'll take an in-depth look at the NT809BT and see if it lives up to its reputation.
Let's dive in.
Quick Review
FOXWELL NT809BT
Price: $569.00
Scanner type: Bi-directional scan tool
Made for: Home mechanics, Experienced enthusiasts
Vehicle covered: OBD1 & OBD2 cars/light trucks
Connection type: Bluetooth
Buy this product if you want to:
Perform full-system diagnostics

Perform advanced service functions

Perform active tests
Pros
Powerful bi-directional control

30+ reset functions

Responsive touch screen

Wireless connection
Cons
No key programming

Slow charging speed
Vehicle Coverage
The Foxwell NT809BT is a scanner built for OBD2 cars and light trucks. 
As expected, this scanner has wide vehicle coverage. According to Foxwell's marketing materials, the NT809BT is compatible with over 150 American, Asian, and European vehicle makes.
Note that the compatibility of some of its functions varies by vehicle model and year. So make sure to double-check its compatibility with your vehicle.
To confirm compatibility, use the manufacturer's Coverage Checker or send your VIN to [email protected].
Their customer service team typically responds to inquiries within 24 hours.
Hardware & Design
1. Bluetooth connection for remote diagnostics
This scanner provides wireless convenience. All you need to do is plug in the Bluetooth dongle to your car's OBD2  port.
Then you can freely move in, out, and around your car while running your tests.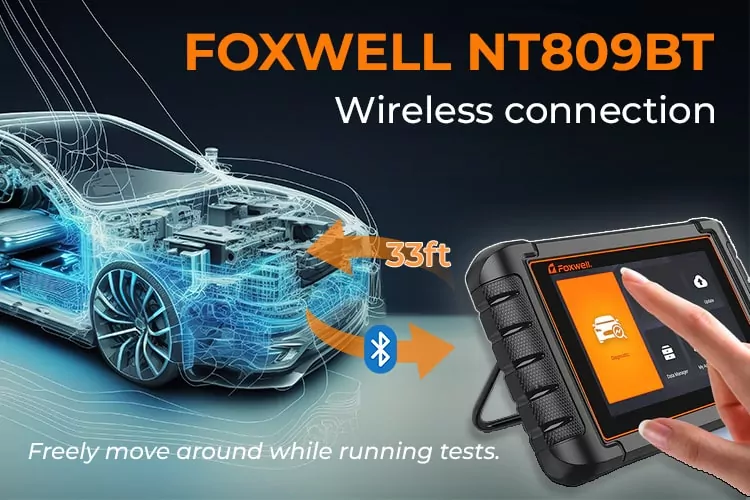 Based on my tests, the Bluetooth connection works best when you're within 30ft from the dongle.
As long as I remained within this range, there was no lag between the scanner and the dongle.
Some warning: 
It's very easy to forget the Bluetooth dongle in the vehicle after completing a diagnostic session.
This is something to watch out for, especially if you're a mechanic — you don't want to forget your dongle in a customer's car.
2. Sturdy design for lasting use
The NT809BT looks and feels well-made. It comes in a sturdy plastic carrying case.
It also has a rubberized side.
Consequently, it's unlikely that it'll slip out of your hands and you'll lose your screen.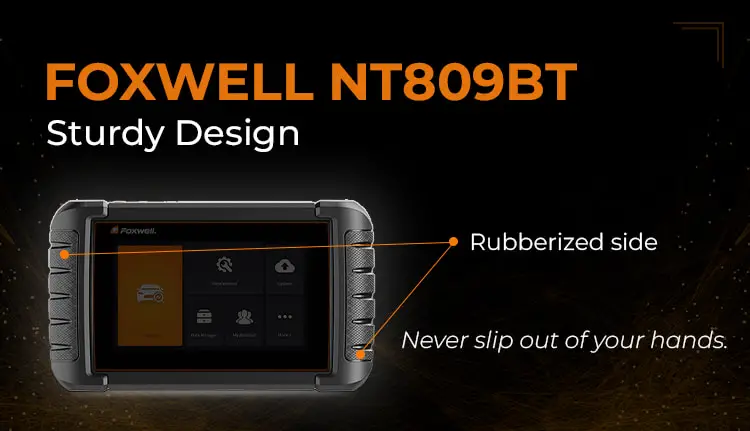 The NT809BT has a 7-inch touchscreen, which is pretty large. The screen is precise and sensitive — you can scroll through the menu even when wearing gloves.
The display is also easy to read, even in daylight, so you won't have to squint your eyes when using your scanner out under the sun. 
4. Adjustable Stand
The NT809BT tablet is a handheld device.
However, it features an adjustable stand that enables you to work with the scanner without holding the tablet in your hands.
You can also use this stand to hang the scanner on your steering wheel.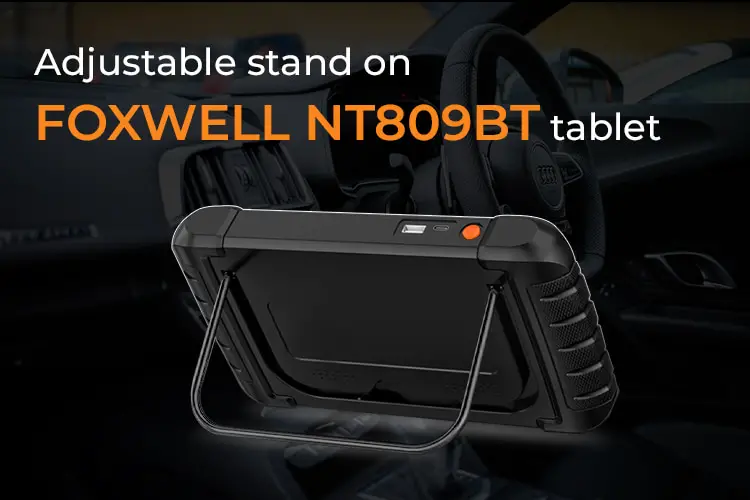 Performance
1. Save you tons of money by finding your car's problems at home
This NT809BT has a wide range of vehicle needs with functions ranging from basic to advanced compatibility. 
If you're a full-time mechanic, you can serve a wide range of clients with this tool. 
And if you are a DIY enthusiast, the NT809BT can help you run system diagnosis on your vehicles and save the money you'd have paid a mechanic. 
Using the NT809BT, I did:
run an ABS diagnosis in less than a minute.
clear the airbag codes on an MK6 GTI in less than 2 minutes.
detect the faulty impact sensor on a 07 GMC Sierra.
reset the airbag light on the 2004 Honda Pilot.
etc.
2. An powerful reset tool, but doesn't support the key programming function
The NT809BT includes 30 commonly-used reset functions, including:
EPB reset, 
ABS bleeding, 
Oil reset, 
SAS calibration, 
Injector coding, 
Tire size change,
more
Specifically, I tested the EPB reset while doing a rear brakes job on an Audi Q3, and it worked flawlessly.
It's also convenient to use the NT809BT for resetting the service indicator. 
Unfortunately, this scan tool doesn't support key programming.
If you're looking for a pro scanner for programming new key fobs, buy another one.
3. Affordable bi-directional scanner
The NT809BT is a full bidirectional scanner, as it supports active tests for both ECM and doors. 
For the number of functions it supports, this scanner is a fantastic bargain for a bi-directional scanner under $600.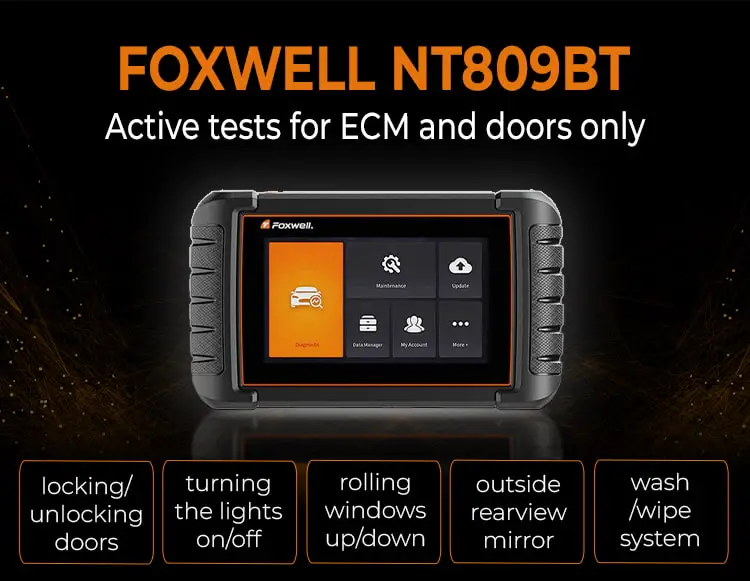 Some of the active tests I usually perform including:
locking/unlocking doors
rolling windows up/down
turning the lights, cooling fan, and fuel pump
turning the horn on/off
etc.
Price, Warranty & Update Fee
At under $600, the Foxwell NT809BT is one of the costliest bi-directional scanners you can find on the market. 
You get a one-year manufacturer's warranty and free software updates for the first 3 years following your initial registration.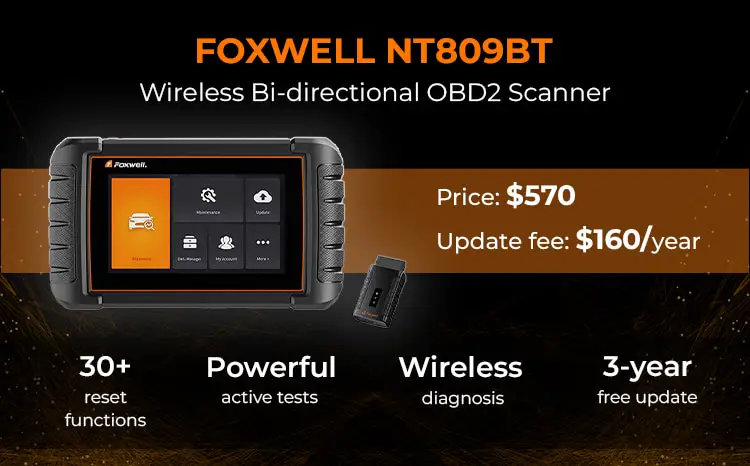 Afterward, software updates cost $160 for one year, $280 for two years, and $400 for three years. 
These updates aren't mandatory, mind you. If you choose not to update your software, your scanner continues to run on the previously installed software.
As you'll soon see, buying this tool might be worth it if you're a professional mechanic or an advanced DIYer who's often working on different cars. 
But if you're a beginner, you're better off choosing a less expensive (and sophisticated) tool.
Key Takeaway
The Foxwell NT809BT is a professional OBD2 scanner that can offer all the active tests you need. 
Wireless connection sets NT809BT apart from other bi-directional scanners at this price point.
Most mechanics and advanced DIYers will consider it a good bargain. 
Check Foxwell NT809BT's latest price:
---
Foxwell NT809BT's Alternatives
#1. Autel MK808S: Cheaper scanner for programming key fob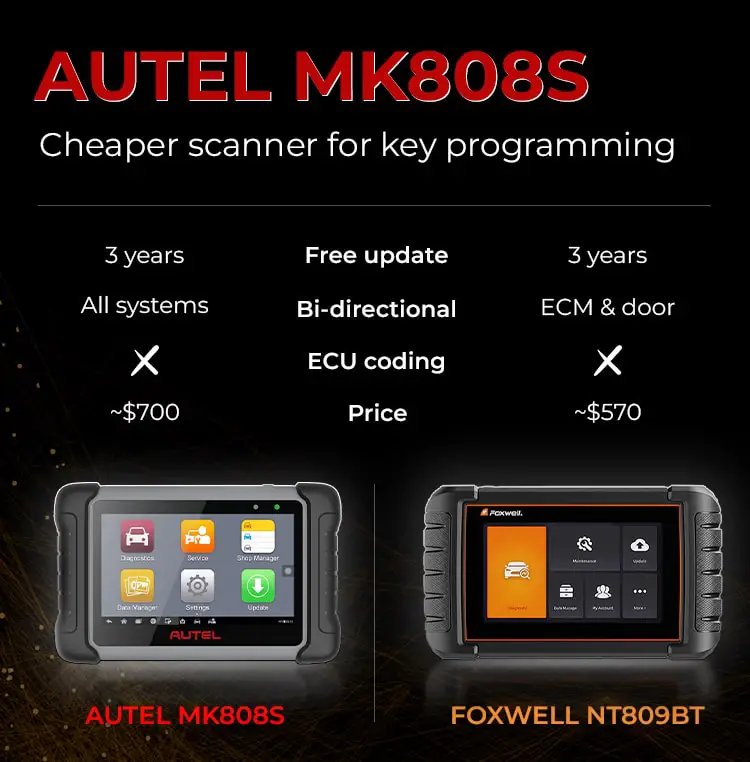 The Autel MK808S costs about the same price as the NT809BT, and has limited bidirectional functions. However, unlike the NT809BT, it offers the key fob programming function. 
Also, note that the Autel MK808S isn't a wireless device.
Check Autel MK808S's latest price now:
So what do you think?
Is Foxwell NT809BT a scanner that you're keen on trying out?
Leave a comment below and share your opinions.