Foxwell NT604 Elite Scanner is a new diagnostic scan tool from FOXWELL. It is a newer version of earlier scanner models – FOXWELL N604 Elite.
Is the scanner a cheap tool to buy? Yes!
However, the low cost does not mean reduced functionality.
To find out if the cost of the NT604 Elite matches its functionality and quality, read my review below.
Quick Review
FOXWELL NT604 Elite
Price: $169.99
Scanner type: Four-system scanner
Made for: Home mechanics
Vehicle covered: OBD2 cars/light trucks
Connection type: Corded
Buy this product if you want to:
Perform 4-system diagnostics

Prepare for smog check
Pros
Easy to use

4 system diagnostics

Compact and portable

Rugged design

Large display screen
Cons
Slow speed to pull codes & autoVIN

No reset service functions

Difficulty understanding menu items
Vehicle Coverage
The scanner supports more than 60 car models from different continents, including Asia, Europe, and America.
I have used it on my car, and it has proven to be a reliable car monitor. 
There are cases when the scanner does not work on some vehicles. For example, it cannot pull ABS codes on a 2005 Ford F250.
If it fails to work, you need to provide the manufacturer with your car model, year, and VIN via [email protected].
Then the issue will be fixed through a hardware or software upgrade.
Design & Hardware
1. Rugged and handy design
The scanner has a medium size LCD screen that gives a clear view even under sunlight. 
Moreover, the interface of the color screen makes it readable. 
The protective case it comes in is sturdy. Unlike other OBD2 tools in plastic bags, its sturdy case allows for an easy and secure grip and prevents the scanner from damage.
It comes with a 16GB micro-SD card to save more information and put it on your PC. The high-speed card enables speeds of up to USB 2.0 when transferring files to your PC.
How easy to use it is!
2. Easy-to-use design for beginners
The NT604 Elite Scanner is a plug-and-play tool you can use right outside its box. You do not have to carry out software updates unless you are diagnosing a newer car model. 
It has different languages you can choose from. But it might take some time to understand the menu and figure out its guidelines. 
The menu items are created in a foreign language and converted to English, so some of the menu items may not make sense, and you have to guess. 
Once you understand the menu, the tool is great for any car and gives value for the money. 
Performance
When you buy the FOXWELL NT604 Elite, you will enjoy most of its features that make it easier to solve most car problems. 
The tool will help you save time and reduce the number of visits to the repair shop the way it does for most people. 
There are different things you can do with this scanner, including: 
1. Accurate but slow in reading codes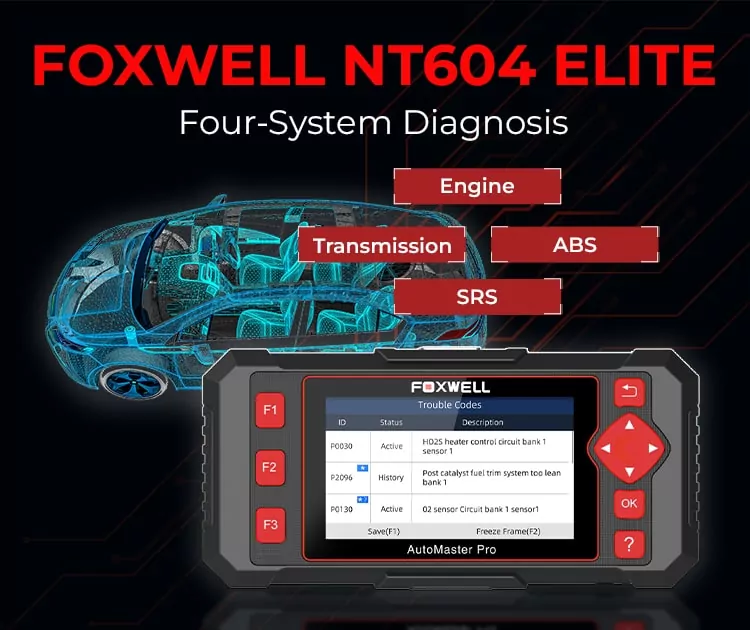 The first reason to love this tool is that it accurately diagnoses 4 car systems: Engine, ABS, SRS, and transmission. 
You can use it to get accurate readings and identify issues on different car models.
Here are some cases that I used this scanner to detect:
ABS issues on a 2002 Toyota sequoia 
trouble with mass airflow sensor on 2005 GMC Sierra 2500HD
driver's side seat belt buckle on 2002 Accord 
and airbag faults on 2002 BMW Z3
After scanning, it showed the meanings of the different fault codes and the possible causes. 
All accurate readings. 
Identifying the issues, I fixed them and easily cleared the codes. 
However, you will have to be patient because of its slow speed to pull codes. 
If you're looking for something responsive and quick, then Foxwell NT604 Elite is not a perfect choice for you.
2. Improve car performance with live data function
The FOXWELL NT604 is a multifunctional scan tool. This implies it can show the engine EPM, coolant, and intake air temperature.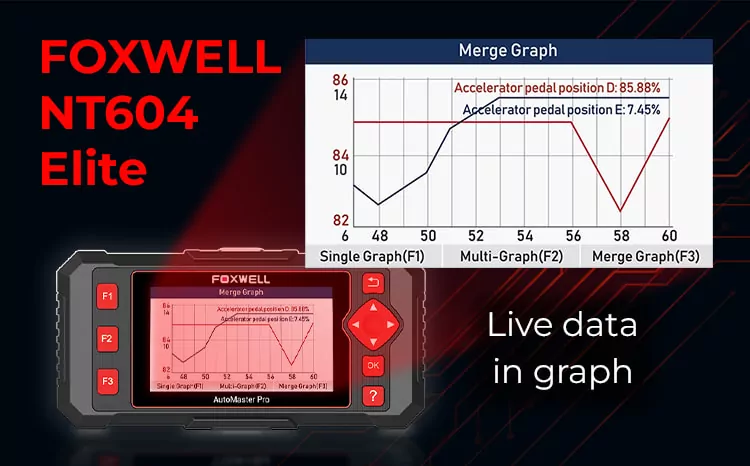 I have used the tool to scan live data when my car engine is running to get the overall performance and identify any faults. 
The scanner pinpointed a fault with my car's O2 sensor, and after fixing it, the car's performance improved. 
Moreover, I have used my NT604 Elite scanner to get live data on the transmission temperature of the pathfinder. 
3. Auto VIN detection is quite unreliable 
The scanner successfully recognized most of the cars I used it on. However, it is slow in scanning VIN numbers, similar to its issue with reading codes. 
When it is slow to scan the VIN, you can enter it manually and proceed to the next step. 
There was a time when the automatic VIN finder did not locate my car's VIN and I had to enter it manually. 
Apart from that, the scanner identified most of the cars I worked with and it even found the information on the older vehicles, showed the codes, and helped identify the issues. 
Key Takeaway
FOXWELL NT604 Elite Scanner costs me around $135, a 20% reduction from its initial cost. 
The price is quite competitive when compared to its competitor – Launch CRP123.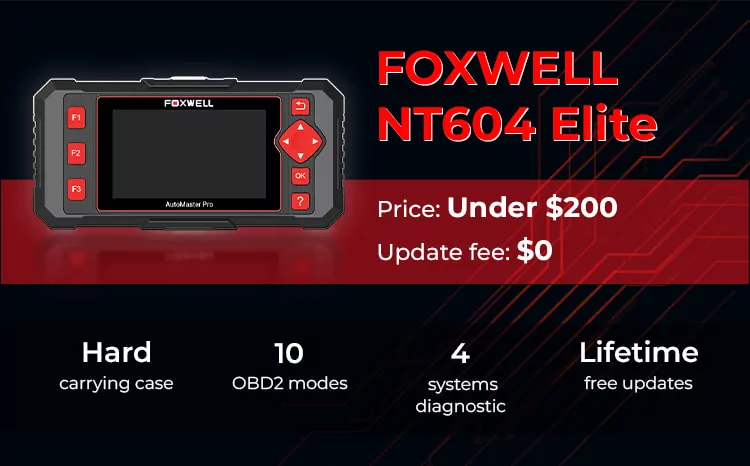 This scanner can perform all the tasks of other expensive units, making it a great choice for those on a tight budget.
The scanner offers lifetime free software updates, ensuring you never have to pay extra fees after purchase.
I recommend this tool if you are looking for a tight-budget four-system scanner. 
Check Foxwell NT604 Elite's latest price:
---
FOXWELL NT604's Alternatives
#1. LAUNCH CRP123: Better alternative for quick code reading
The FOXWELL NT604 Elite Scanner works well, but what do you do if you want a tool for quick code reading within the same price range?
You could try the Launch CRP123.
It goes for approximately the same price and is highly responsive and quick. 
Moreover, it can quickly update data streams while watching live data.  
Check LAUNCH CRP123's latest price:
#2. LAUNCH CRP129E: Powerful alternative with 8 service functions
Do not purchase the FOXWELL NT604 if you need a tool that has service functions and adds value to its usage with hot reset functions. 
Instead, the Launch CRP129E is an ideal choice.
The tool undertakes the main diagnostic functions and resets functions such as injector coding, throttle, and oil reset. 
The CRP129E overcomes FOXWELL NT604's weaknesses related to speed. It scans your car and shows accurate results fast. 
However, it is approximately $100 more expensive than the NT604 Elite Scanner.
Check LAUNCH CRP129E's latest price:
What is Next?
Ready to elevate your vehicle diagnostic capabilities? Invest in the FOXWELL NT604 Elite Scanner and try it now. 
Share your thoughts or any question about the FOXWELL NT604 Elite Scanner in the comments section.
I'm eager to hear from you!