Foxwell NT624 Elite has a wide coverage and works on several vehicle models. With it, you can read and erase DTC codes that cause the Check Engine Light flashed.
Before starting with the detailed review, let's check out the comparison between Foxwell NT624 Elite and the competitors.
FOXWELL NT624 Elite vs. FOXWELL NT650 vs. Autel MaxiCheck Pro Comparison chart

FOXWELL NT624 Elite


FOXWELL NT650


Autel MaxiCheck Pro

Customer Rating

Price
Product Dimensions
7.7" x 1.2" x 3.7"
13.6" x 10.7" x 4.7"
15.1" x 9.4" x 3.8"
Item Weight
2.95lbs
3.09lbs
3.95lbs
Full-OBDII Modes
✔
✔
✔
Engine, ABS, SRS Diagnosis
✔
✔
✔
ABS Bleeding
✔
✔
✔
Transmission Diagnosis
✔
--
✔
Full-System Diagnosis
✔
--
--
Bi-Directional
Control
✔
✔
✔
SAS Calibration
✔
✔
✔
EPB, Oil Reset
✔
✔
✔
DPF Regeneration
✔
✔
✔
Battery Registeration
✔
✔
--
TPMS Reset
✔
✔
--
Injector Coding
--
✔
--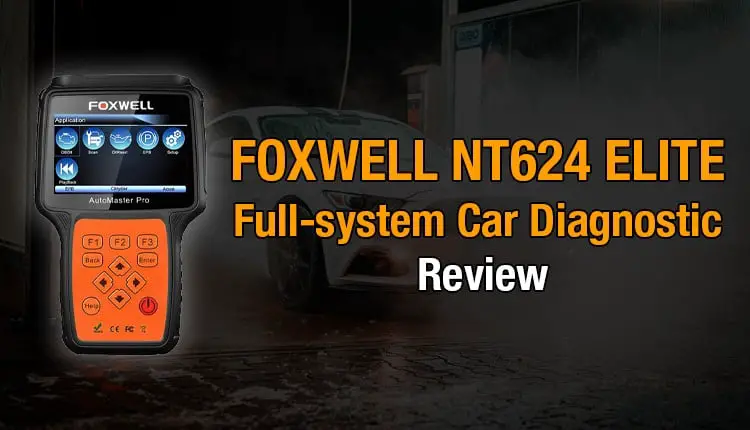 FOXWELL NT624 Elite Overview
This standalone OBD II scanner is lightweight and easy to use. Also, it features a brilliant interface with intuitive buttons and a large, clear screen.
It's also a fully functional OBD II scanner, meaning it can pull engine data, read basic trouble codes, and turn the check engine light off.
What sets this model apart from the crowd is the wide range of compatible makes and models. While the OBD II protocol is universal, many manufacturers put other diagnostics (for non-engine systems) on their unique protocol.
This FOXWELL NT624 Elite Scan tool can read many manufacturer protocols, letting you diagnose ABS, parking brake, airbag, A/C, and transmission problems.
It's also got handy oil features.
FOXWELL NT624 Elite Detailed Review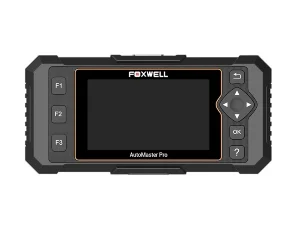 FOXWELL NT624 Elite Professional Automotive OBDII Scanner
Works great in my Chevy HHR and wife's KIA Sportage. Easy to use, all right there for you. Plug and play, very affordable, no apps or "compatibility" to mess with.
Compatibility
One of the best things about the FOXWELL NT624 is the wide range of compatible makes.
This FOXWELL scan tool works with Chrysler, Ford, GM, Acura, Honda, Hyundai, Infinity, Isuzu, Kia, Lexus, Mazda, Mitsubishi, Nissan, Scion, Subaru, Suzuki, Toyota, Audi, BMW, Benz, Mini, Volvo, VW, and more.
If you work with a wide variety of cars regularly, this scan tool's enhanced compatibility makes it a solid choice.
Furthermore, this standalone scan tool doesn't need a phone, tablet, or other devices to run. You can share it with other people in your garage without needing to sync it to a new device or download an app.
Display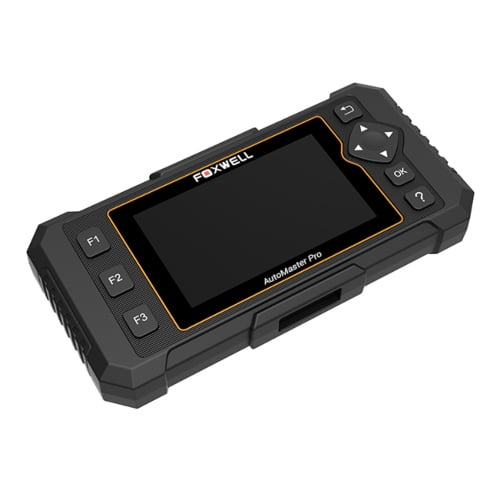 The screen on the FOXWELL NT624 is also large, clear, and bright. It's 4.3″ and has full color. As a result, you can easily read live data graphs without needing to squint or struggle to decipher what's going on.
Additionally, the interface is easy to understand and features big, colorful icons. Overall, while the screen might not be as fancy as the one in your cell phone, it's definitely good enough for this device.
Software
New cars are coming out every day. To accommodate this, Foxwell has provided lifetime free updates for the software on this device.
All you need to do is take an SD card to an online phone or computer every once in a while to keep this device fully updated.
The interface itself on this device is easy to use.
First, the buttons are large, clear, and responsive.
Second, the screen display is bright and easy to read.
Third, the software itself is programmed to be intuitive and has plenty of text that explains what's going on.
Overall, you should have no problems using this scan tool, even if you're not a car expert.
Foxwell NT624 Elite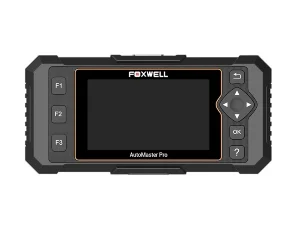 Features And Functionality
The FOXWELL NT624 does pretty much everything you want except program your car, including reading and resetting basic engine codes, turning off most dashboard indicator lights, and reading manufacturer-specific protocols on virtually every make around. This means it can pull data from the airbag system, the brakes, and most cars' transmission. Besides, it can display live data, pull ECU information, and give you freeze-frame data. This useful feature lets you know what was going on when a car's check engine light was turned on.
Pros
Wide compatibility – Foxwell Nt624 Elite can tool works with just about every make of car. If you're only going to have one scanner in your garage, it's a good idea to choose one that works for everything.
Easy to use – You don't have to fiddle with complicated apps or wrestle with a grainy black and white interface to use this device. Instead, it's simple enough that a novice can get things done with ease.
Standalone Device – Many scanners these days require a phone or tablet to work. However, you won't have to go back inside and get your phone to use this device. It's also easy to share amongst multiple people.
Cons
No Programming – Some modern scan tools let you change car settings. This isn't one of them. If you want to program your car, you'll need to look elsewhere.
Who Is Foxwell NT624 Elite Built For?
The FOXWELL NT624 is perfect for beginner mechanics. The fact that you can easily hand it to another machine without needing to give up your phone is excellent, as is the fact that it works with virtually every car.
Despite this, it's still an excellent scanner for home use as well. While it's a bit pricier than some options on the market, choosing this scanner ensures that you'll have a tool to help diagnose any car you buy in the future.
Overall, this is a top pick for anyone who needs an OBDII scanner with great compatibility with most modern makes.
Foxwell NT624 Elite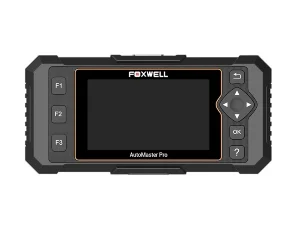 Read more: Foxwell NT644: Full System Automotive Scan Tool Review