Foxwell NT510 Elite is a powerful multi-system scan tool that is highly recommended by professionals and mechanics.
It can work fluently on both OBDI and OBDII.
It's hard to find a better multi-system OBD1 and OBD2 scan tool than this one.
In this post, I will show you how well this scan tool perform and who should buy it.
FOXWELL NT510 Elite Overview
Besides the basic functions, this Foxwell auto-scanner owns self-learning software that will adapt to your car.
You can read DTC codes, reset service indicators, and several other functions, all at an affordable price.
This article will tell you in detail about one of the FOXWELL NT510 Elite Versions: FOXWELL NT510 Elite for BMW.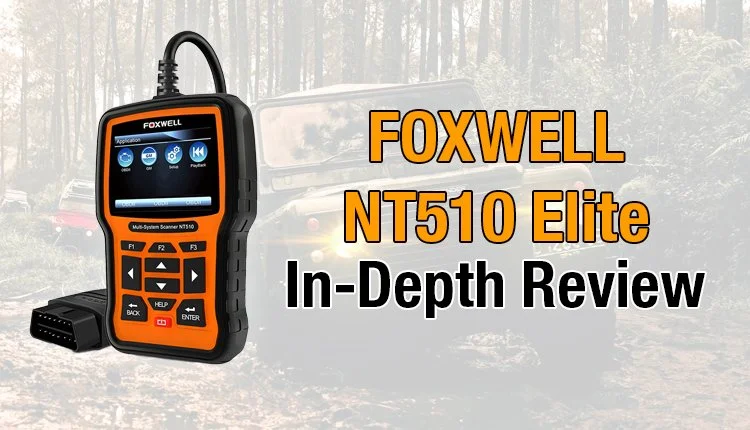 FOXWELL NT510 Elite For BMW Detailed Review
FOXWELL NT510 Elite
Built to be a user-friendly yet power tool, the Foxwell NT510 Elite can save a substantial amount of money in terms of labor and analyzation costs.
Features And Functionality Of Foxwell NT510 Elite
Professional Grade
The Foxwell NT510 Elite is specifically for professionals. However, it has a more accessible interface for those who have little or no experience with scanners.
Handheld
The NT510 Elite fits perfectly in your hand. The product's design makes it functional with one hand, so the other is free to continue doing different tasks as you use the scanner.
Basic Functions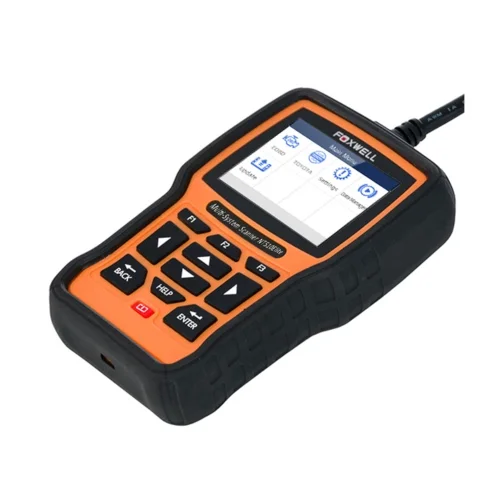 Recommend: Buy Foxwell NT510 Elite, buy the Protective Carrying Case for it
Like other OBD2 Scanners, the NT510 Elite is compatible with both OBD1 and OBD2 brand vehicles.
It can also read codes from models 1996 and newer with special diagnostics limited to 2015 and newer models.
The NT510 Elite has all the basic functional features of a standard scanner with live date and erase codes. This is because it has several different DTCs.
Advanced Functions
The Foxwell NT510 Elite includes advanced functions such as programming, actuation, and adaptation coding.
It comes with software for up to 5 vehicles, which makes it quite reliable.
You can purchase the software for your own car's make, and it is easily uploaded to the device.
Foxwell NT510 Elite models for different makes
Foxwell NT510 Elite can work well for different makes by installing the appropriate software.
There are hundreds of software for brands available, and the cost may change a little bit from the original.
Graphs and Tables Display
The Foxwell NT510 Elite can display information in tables and graphs. This can help to analyze both positive and negative aspects of the car's performance.
What's more, you can access both the graph and the table simultaneously for comparison.
Other Diagnostic Readings
While similar units can only read standard diagnostics, this NT510 Elite can do a bit more.
It can run system tests, actuate components, and even perform programming tasks on control modules.
The unit will complete these tasks with more accuracy according to your specific brand and model due to the software.
Electric Diagnostics
The scanner allows the user to reset service codes, and deactivate brakes, adapt brakes.
Online Updates
Each product is compatible with the online system. It has the latest in updates, new vehicles, bug fixes, new parameters, and more.
This system is free and available for the life of the product once being registered after the initial purchase.
Note: It's quite hard for you to update via PC/laptop. But don't worry. I got you covered.
Below is the easiest guide on how to update Foxwell NT510 scanners. 
Durable Design
As the product was created for technicians, the exterior design of the unit makes it durable. The highest-quality rubber can protect the internal device and extra padding to protect corners. There is also a screen protector.
Each kit comes complete with a user guide, memory card, nylon carrying pouch, USB cable. A limited manufacturer warranty is also enclosed.
Compatibility Of Foxwell NT510 Elite
Foxwell Nt510 Elite is a multi-system scanner that can be compatible with tens of makes, including:
Chrysler,
Ford,
BMW,
Porsche,
Lexus,
VW,
Jaguar,
Audi,
Hyundai,
Rolls-Royce
Toyota,
Maserati,
Honda, and many more.
What you have to do is to install the appropriate software.
Pros
Ability to read standard and advanced codes in an interface for both professionals and amateurs.
Diagnosis electric and brake problems with a reset feature.
Additional models are easily added.
Cons
The unit can only hold up to 5 different car models and brands at a single time.
Runs the special diagnostics on OBD1 and 2 vehicles from 2015 and newer.
Who Is Foxwell NT510 Elite Built For?
The NT510 Elite is specifically for professionals who find the interface simple to use but with enough special features to diagnose the car's system more deeply.They will also appreciate a professional scanner with all the special features and functions, making their task more fulfilling.
Check Price at Amazon
Foxwell NT510 Elite vs. AUTOPHIX 7910 Comparison Chart
[table "598" not found /]
The Bottom Line
While there are many different options available for a scanner in this price range, very few of them compare quality and features to what the Foxwell NT510 Elite can give.
Built to be a user-friendly yet powerful tool, the Foxwell NT510 Elite can save a substantial amount of money in labor and analysis costs.
Read more: