You're a fan of FOXWELL or just want to get an OBD2 scanner for yourself? Well, FOXWELL NT301 will be the best choice for you!
FOXWELL NT301 vs. Bluedriver vs. Ancel AD410 Comparison Chart
| | | | |
| --- | --- | --- | --- |
| | Foxwell NT301 | BlueDriver | ANCEL AD410 |
| Customer Rating | | | |
| Price | | | |
| Product Dimensions | 8.7" x 3.1" x 6.7" | 2.2" x 1.9" x 1" | 9" x 6.3" x 1.6" |
| Item Weight | 1.2lbs | 2.08oz | 12oz |
| CEL Reset | ✔ | ✔ | ✔ |
| Engine Diagnostics | ✔ | ✔ | ✔ |
| VIN | ✔ | ✔ | ✔ |
| Live Data/Freeze Frame | ✔ | ✔ | ✔ |
| Check I/M readiness status | ✔ | ✔ | ✔ |
| Built-in DTC lookup library | ✔ | ✔ | ✔ |
| Full OBD2 Service Functions | ✔ | ✔ | -- |
| ABS, SRS, Transmission Diagnostics | -- | ✔ | -- |
| Life-long Free Updates | ✔ | ✔ | ✔ |
| | | | |
Bonus: Best OBD2 Scanners 2023 Review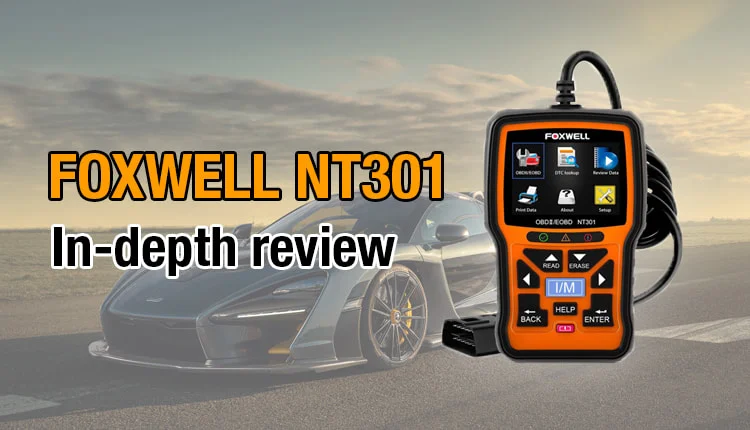 FOXWELL NT301 Overview
The FOXWELL NT301 OBD2 scanner is among the best DIY scanners. DIY scanners go one step further than a basic code reader, offering more features.
This DIY scanner makes easy work of detecting malfunctions in your car.
This unit is simple to use with an easy-to-read display, responsive buttons, and well-organized menu icons.
This device is also compatible with any vehicle created after 1996 (whether it is an SUV, minivan, or light-duty truck).
The FOXWELL NT301 OBD2 scanner supports all ten service modes; thus, it can:
read and erase codes
catch intermittent problems during the present or last finished drive cycle
support multiple code requests
and much more.
Also, the unit is easy to use and is durable.
FOXWELL NT301 Detailed Review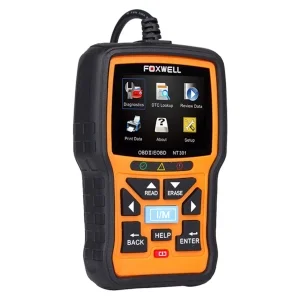 FOXWELL NT301 Enhanced Car OBDII EOBD Automotive Diagnostic Scan Tool
With this FOXWELL NT301 accessing your vehicle's information (identification number and calibration numbers) will be straightforward. Thanks to that, you can find out all about your car without the hassle.
Let's take a closer look at some of the mentioned features.
Compatibility
This unit is used with all OBDII/EOBD compliant vehicles manufactured from 1996 (domestic and foreign cars).
That makes it a great choice for average car owners, car enthusiasts, or mechanics who work with all kinds of vehicles. What's more, this unit supports the following protocols:
J1850-10.4
J1859-41.6
KWP2000 (ISO 14230)
ISO9141
CAN (Control Area Network ISO 11898)
Functionality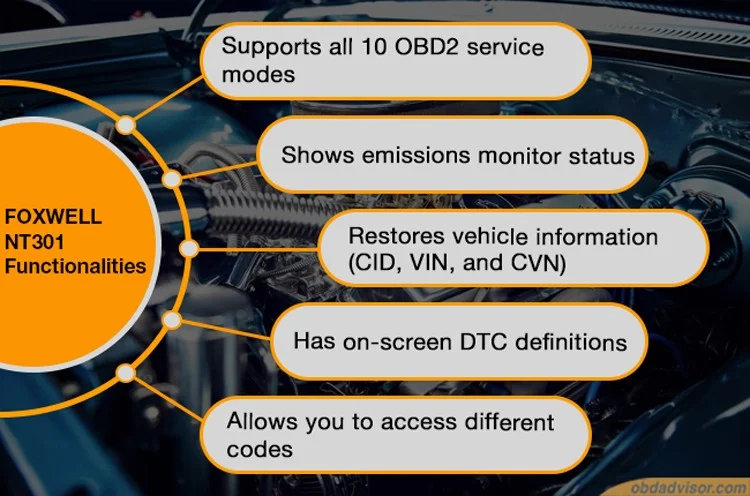 This unit's greatest advantage is that it supports all 10 OBD2 service modes, making it hard to beat (for this price).
Thanks to these service modes, this unit is highly functional.
In case you don't know which ten service modes are, here's a list:
Live data
Freeze frame information
Emissions-related analytic trouble codes
Clearing/resetting stored test data and DTCs.
Access to oxygen sensor monitoring results
Onboard monitoring examination results intended for particular components
"Pending codes" detected during the present or last driving cycle
Bidirectional control or examination of an onboard system
Access to a vehicle's information
Obtaining permanent codes
Emission Reading Capabilities
One of the best features this unit offers (that a few scanners in this price range do) is showing emissions monitor status.
A built-in speaker and Red-Yellow-Green LEDs help determine what is wrong with your car so you can fix it before your vehicle's emissions test.
This OBD2 scanner also catches any irregular problems with your vehicle and confirms repairs during a drive cycle.
For many people, this reason alone is enough to buy this unit.
Restores Vehicle Information (CID, VIN, and CVN)
With this scanner accessing your vehicle's information (identification number and calibration numbers) will be straightforward.
Thanks to that, you can find out all about your car without hassle.
FOXWELL NT301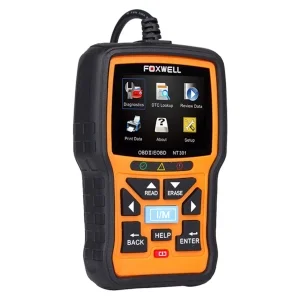 On-screen DTC definitions
On-screen DTC definitions and a built-in DTC work together to find out why the check engine light is turned on in your vehicle.
Various Code Requests
This unit allows you to access different codes such as pending and permanent codes, generic and manufacturer-specific codes.
Bonus: Honest Review of BlueDriver Bluetooth Pro OBDII Scan Tool for iOS and Android
Features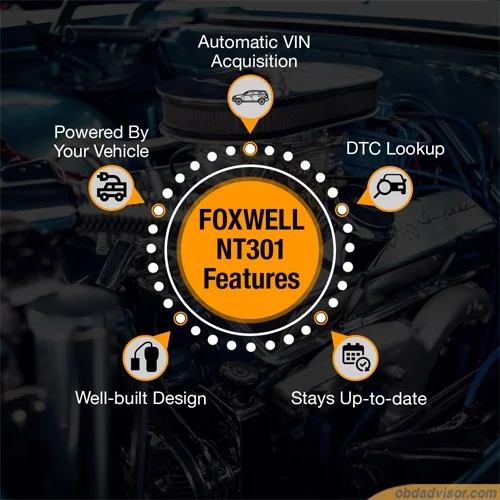 Automatic VIN Acquisition
An automatic VIN acquisition and decoding ability allow you to read the manufacturer's specific code and improve mode 6 data.
DTC Lookup Feature
As you probably already know, most OBD2 scanners don't tell you the meaning of the code. But that's not the case with this one. Not only will this scanner let you know what's wrong with your car, but it will also give you an explanation for that. You just need to enter the code, go to the DTC lookup and find out what the code actually means.
It's much easier to fix something when you know what the problem is, right?
Stays Up-to-date
Best OBD2 scanners stay up-to-date, like this one. Since you get a CD with the software, updating this OBD2 Code Reader will be simple. Having an updated OBD2 scanner is crucial to your car's health and your business if you're a mechanic.
Well-built
When it comes to the design, this unit is well-built. Not only is it sturdy, but it's also protected. It features long-lasting rubber protection around the edges. That way, your device will be protected when put on a coarse surface.
What we also appreciate is an easy-to-read display with multilingual menu options. The menu is easy to navigate, so reading and erasing codes won't be hard.
Powered By Your Vehicle
The Foxwell NT301 OBD2 Code Reader doesn't need a battery to work, which is pretty useful, especially if you're on the go. You only need to plug your scanner into an OBD port in your vehicle, and voila – it will work flawlessly.
Moreover, a three-foot-long cable makes using this unit flexible.
You can drive your car while the scanner reads data on the seat next to you.
Shortcomings
It takes time to get used to the menu, but once you do, using this unit will be easy
It doesn't come with a case, only with rubber protection around the edges
What You Get In The Package
FOXWELL NT301 OBD2 Scanner package contains:
USB cable
CD
The User's Guide
Who Should Take Foxwell NT301?
The FOXWELL NT301 OBD2 scanner is a good choice for average car owners, mechanics, or car enthusiasts.
Average car users or someone who just started learning about cars would probably be overwhelmed with all this unit has to offer.
But, average car owners or enthusiasts will find Foxwell NT301 a pleasure to use and believe this unit is a real deal. We agree.
FOXWELL NT301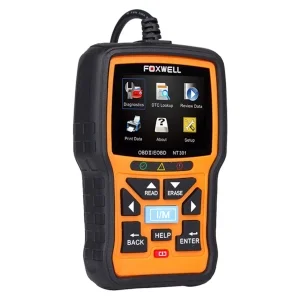 The Bottom Line
The FOXWELL NT301 OBD2 Scanner is indeed a valuable DIY scanner. It can be used with all OBD2 compliant vehicles manufactured after 1996.
Add to that its great functionality (because it supports all 10 service modes), and you can see why this is one of the best-value-for-the-money OBD2 scanners.
If you want to spend your money wisely when buying an OBD2 scanner, this is definitely the way to go.
Bonus: